I've had the XT660Z for just over 18 months now and use it every day, but it's been a slow process getting Nicky fully on board to start touring on it. One of the reasons was that she didn't have any proper riding gear and it's been a rather drawn out process finding clothing she was comfortable with in fit and style. I'd been on about a trip to Morocco for a while, but that was just too big a leap for her, so we agreed to a couple of weeks in the Pyrenees later in the year with a couple of mini breaks to test out the bike and gear before then.
For years Nicky has wanted to go to Monet's (the famous French impressionist painter) garden in northern France. It's located near Giverny so it's not too far for our first trip together and a quick look at the racing calendar showed I could fit it in on the 28th to the 30th of May. I looked at the Euro Star train prices and at £30 or there about's each way I wondered why anyone would bother taking the ferry? I paid slightly extra for the middle ranked ticket as it enables you to move your travel time without incurring any fees. Next I did a bit of Googling and found a nice looking farm B&B at a reasonable rate, very close to Giverny, in a little town called Tilly.
new tyres - odd name, unknown quality, dirt cheap
full review to follow
So the trip was booked and Nicky now had to get her butt into gear and sort out some clothing as the trip was only three weeks away. In the end she opted for some Held gear and I must say it looks very well made and the design is good too, better than my HG gear.
For the trip I needed some new road tyres and was going to buy some Avon's as at £147 on the net they seemed the cheapest of the road orientated tyres. Then I did some more searches and came across Full Bore USA tyres – corny name I know but at £105 for the set delivered, I thought 'what the hell' - I'll give them a go. I'm going to do a full report on them soon but so far I can't fault them.
While I don't talk about the bike in this report in much detail, i have actually reviewed the bike once before in the ABR magazine. However that was a cut down review, shortened to fit into the space available. If you'd like to read the full version check it out here:
One other thing I had to sort out was a rider to pillion headset and after some advice from the ABR forum I opted for the Scale Rider Teamset Pro headset. I like this one as you can plug an mp3 player into it separately. The headsets connect to each other via Bluetooth as does your phone. Looking around on the net I found one for £155 delivered (from a UK company) so shop wisely, as prices can vary by a huge amount. I had it set up during the week and used it to ring home when leaving work. The clarity is amazing and Nicky had no idea I was phoning while on the bike – truly a great bit of kit, more on this later.
all packed and ready to go!
As it was such a short trip we managed to just about fit everything into the two OE Yamaha panniers but I strapped a dry bag on the rear just in case we bought something on the way. Nicky's SLR was carried in a rucksack though. I jacked the rear preload up and set off into Monday morning rush hour traffic along the M25. We reached the terminal with what I thought was plenty of time and booking in was simplicity itself as all you have to do is pop in your debit/credit card that you booked the tickets with and that's it. Then you select your departure time – we were given some options and it prints out your boarding pass. We were waved through passport control without stopping and headed for the terminal/shop. Nicky went for a loo brake while I minded the bike and gear. Then I went into the shop to buy some crisps and choc's for breakfast. All of a sudden I got a phone call from Nicky saying "they are calling 'last call' so get your arse back here". We hurriedly packed things away and zipped round the corner - to sit in the queue until we could get loaded.
parked up at 'terminal' - time for a pee brake and breakfast snack
oh crap time to go - chuck everything back in and jump on bike!
We were loaded last with all the other bikes that were making the trip and after parking up we settled in for the flight, I mean train ride to France. In no time at all we were there and driving out into French sunshine. I have driven in France once before but that was in the car shortly after the tunnel opened and it was only a beer run, so this time it was all new to me. Luckily Nicky has traveled in France a lot with her ex employer, so she was an old hand at it and directed me where to go over the headset, with useful reminders to 'keep right' each time we pulled out of a junction.
Pretty soon we were on our way on the A16 auto route i.e. toll road. Not the most interesting way to travel but I've been told northern France isn't that interesting. It was all new to me anyway, so I didn't mind. After a while we stopped in one of those very useful rest areas that you find all along the French motorways and I plugged in my little IPod shuffle. I've never really used it since I got it as a gift years ago, as I tend to listen to CD's or planet rock on DAB. With a few days before we left I uploaded a whole bunch of metal cd's and now I could rock out while cruising the French motorways. First impression of the French motorways? Not so full, and the drivers appear to have an awareness of bikes that is lacking in the UK.
inside the train
We carried on down south with Nicky giving a running commentary about the things on the way and we discussed the similarities of the French and Southern UK geology and flora & fauna. A bit further on it was time for another rest stop so we pulled into a well equipped service area that had something of a bird sanctuary theme going for it too. We got a couple of baguettes with cheese and ham and chilled out on the grass in the shade for a while just enjoying being on holiday. Nicky said it was strange being here without the high pressure stress of her old job and was starting to enjoy the feeling of being in France. Another UK bike pulled up and it was his first time here too, so he was asking us a lot of questions on how things worked. We offered to keep an eye on his bike so he could go inside, while we finished off our lunch. He had a long trip ahead of him as he was bound for the South of Spain!
Back on the road we stuck to the auto route and continued south towards our destination (Giverny). We plodded on and the Tenere was coping quite well with the load and French motorways but after an hour or so it was time to take another brake. We'd been passed by a group of English riders on the motorway and they were also parked up in the rest area. These rest spots are not like the UK ones as they are just a sort of large layby where you can stretch your legs and go to the loo. I decided to skip parking up with the brit's as they were too close to the entrance and carried on further into the layby and parked up behind a car that had a large trailer/tent type thingy behind it. We stretched our legs and Nicky mentioned that she would love a cup of tea. No chance of that here I replied, as this was only a rest area not a service stop. The lady half of the couple that were parked in front of us spoke to me and it took a moment to realise she was talking English and was asking us if we wanted a cup of tea! They only had one cup to spare so Nicky and I would have to share but that was no problem and I jumped at the chance of a cuppa. They were a lovely couple and full of character, having been all over the world. They were from Cornwall (when they resided in the UK) and it looked like the guy spent all his life in the sun as his face was a deep sun baked brown with longish gray hair blowing in the wind. We sat eating choccy biccies and listened to our host tell us about far flung destinations that we would probably never get a chance to see ourselves. But time was flying past and we still had a way to go so we said goodbye to our new friends and set off following the gps once more.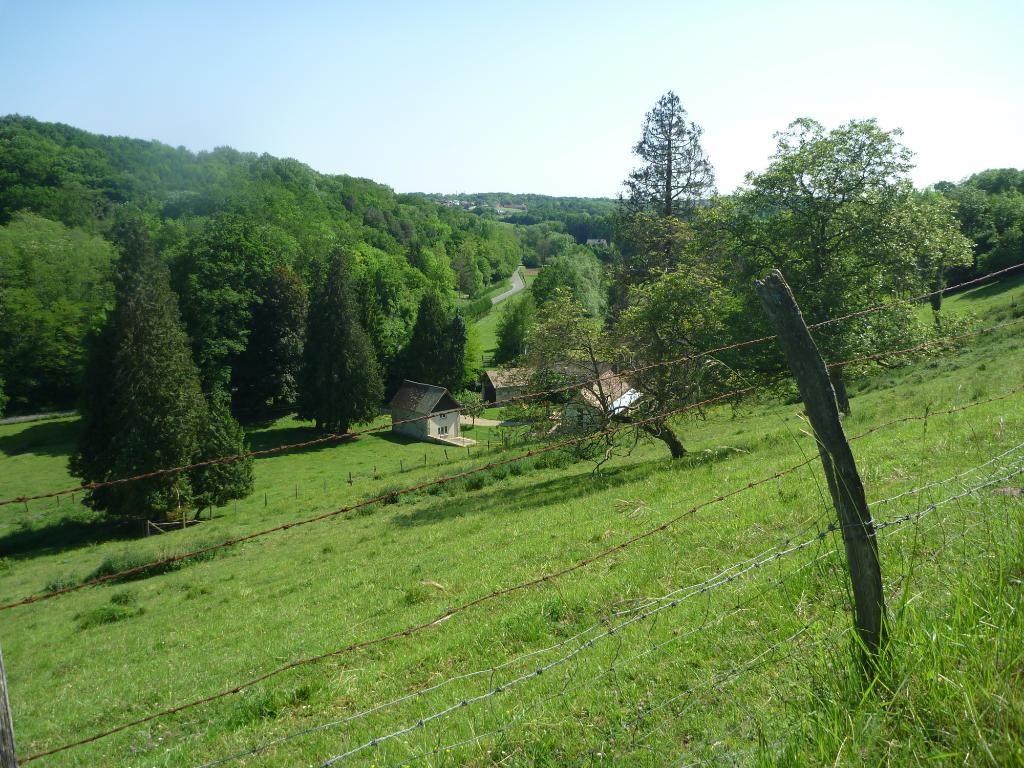 on the gps magical mystery tour
a view down into a small valley overlooking a small house
self portrait - nicky looking at bit wild eyed!
view ahead
Near Rouen Nicky advised me to be careful not to go the wrong way as she's made the mistake before when traveling this way. I took my eyes of the gps and followed her directions as she told me to "turn here" – closely followed by "oh bugger" as she guided me expertly off the motorway straight onto the route she never wanted to take! "Oh I made this mistake the last time too" she informed me as I resorted to following the gps and the road signs once more. While initially this was a mistake, it did mean that we got to see some nice barges on the river as we wound are way along the riverbank. Eventually we got back onto the AutoRoute and paid our fee but within two miles all of a sudden I realised the gps was telling me turn off the toll road again! I quickly quizzed Nicky and then with no time to dither I took the exit. After a few more wrong turns I decided to blindly follow the gps on one of those magical mystery tours that only a gps can take you on. At first we were on single track roads riding through farmland but soon we were back on to minor roads and on our way to Giverny once more. The scenery was great and a welcome relief to the somewhat boring section of the trip i.e. the motorway. This was short lived however as pretty soon we were once again drawn into towns and a relatively busy road. Having reduced our speed significantly the heat climbed and it got a little uncomfortable in our biking gear so we stopped once more despite being very close to our destination.
one last stop
After finishing off our water and a quick pee break for me, we set off again following the gps and within two miles we were turning off to the town of Tilly where we would be staying at a nearby farm for the next two nights. Following the directions to 'take the first dirt road' when entering town we arrived at the farm and parked up in the farmyard. The farmyard was not like the cattle poo infested farmyards that you get in the UK as this was a cider farm and the buildings were straight out of a picture book of what a quaint little French farm should look like.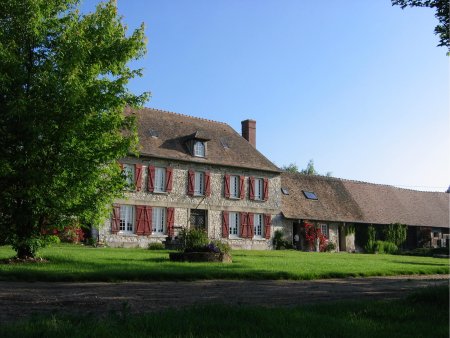 i seem to have forgotten to take a picture of the main farmhouse and yard so i got this one off their website
this was our little place on the left of the main building
with these two views form the window you can see in the roof
the farmyard......
and an outbuilding of some sort to the right
Meeting our hosts we unloaded the bike and carted all the gear up the stairs to our attic accommodation. It was very comfy and well spec'ed and while we were being shown around by the lady Nicky asked if there was anywhere where we could get a bite to eat locally? Our landlord said we could go into Vernon or she could open the shop for us if we liked? She had some bread just about to come out the oven too so that sounded a much better idea than going into town. Once we were ready we went down and knocked on the main farmhouse door and she opened up the small farm shop where they sold home made products like duck pâté, goats cheese and of course their own cider. We picked out two jars of pâté as well as some cheese then went back to sit outside our accommodation as she said she'd bring it all over when the bread was ready.
our room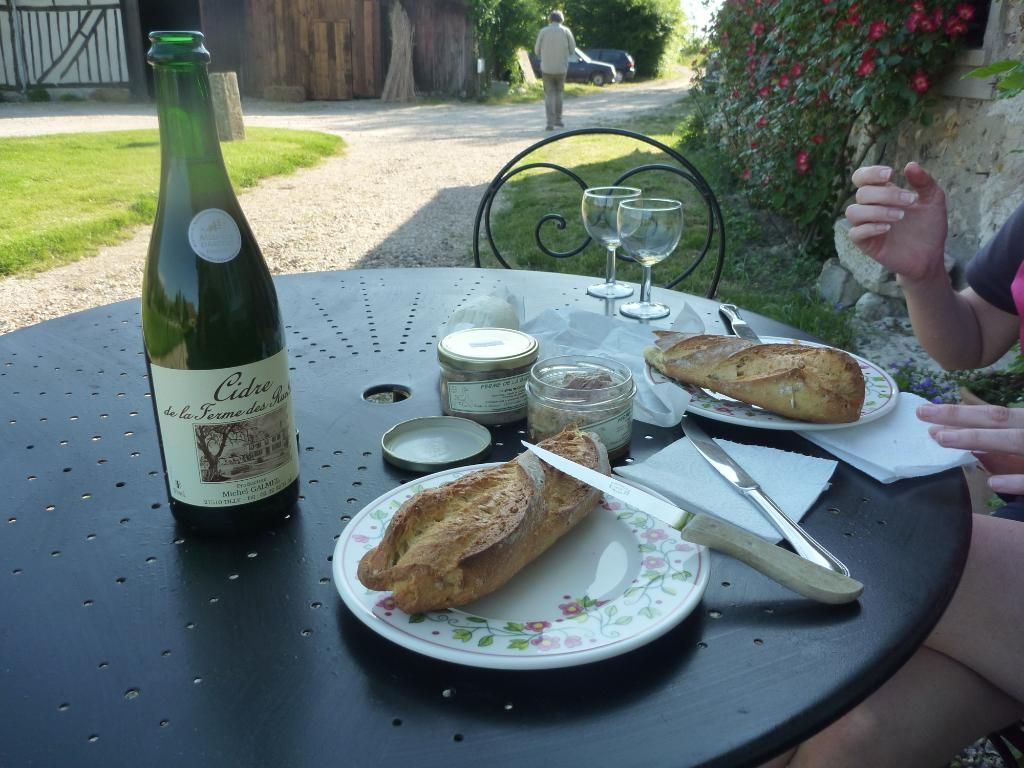 dinner -Yum!
Soon we were drinking a complimentary bottle of the farm's cider and stuffing our faces with some of the best pate and cheese I'd tasted. We had a friend join us for dinner too in the form a sleek black farm cat that rather liked the duck pate too. It sat on the chair next to me waiting (not very patiently) as he (she?) would pat me gently on the leg to remind me it was there! It was funny that we were in Tilly feeding a black cat, as my mum's (now my sister's) cat is black and called Tilly, but I must say she would make a least three of the sleek farm cat!
farm cat who also likes pate!
After a good night's sleep we wondered down to the main kitchen for a continental breakfast ie fresh breads, coffee, yogurt and crêpes etc. Then we jumped on the bike and headed for Giverny, early enough to try and make the opening of Monet's garden. It was obvious that it was going to be a hot day so I'd left the bike pants back at the B&B and opted for a pair of light pants that I could unzip the legs later on, once we were in the gardens. Following the gps once more it brought us right to the entrance so we went round the block and parked up in the car park where we just about managed to stuff our jackets into the panniers. I carry two cheap lightweight cable locks in my handlebar bag and used those to secure the helmets. Standing in the queue to get into the gardens Nicky was like an excited child waiting to get into Disneyland, she'd wanted to see it for so long she couldn't believe she was here at last! It was a very reasonable nine euro to get in, but we bought a slightly more expensive ticket that enabled us to gain access to the art museum/gallery a bit later on once we'd finished in the garden.

tasty looking cows on the way to Monet's garden

I'll let Nicky describe the gardens in full (see lower down the report) but suffice to say she was completely blown away by it and reckoned they more than lived up to the hype and expectation. Which is more than could be said for the gallery later in the day after lunch, it really wasn't to our taste, as all the works were from a particular artist and neither of us thought it was up to much.
the pair of us in the gardens on the bridge...
Nicky must be happy cos she never normally lets me take a photo of her!
As the weather was so good we decided to go and explore a little and we looked at the gps, then selected a point near a river and set off. It was a pleasant ride with hardly any traffic about, well actually there was hardly anything about! There were plenty of towns but I was amazed by the fact that there were no shops or petrol stations. Where does everyone go if they want a pint of milk or a paper? We were looking for a shop to buy a cold drink but like I said that was easier said than done but eventually we found one in a slightly larger town and we packed them into the rucksack and headed back out of town then pulled up in a convenient spot to chill out for a while in the shade. Where we stopped the hedges on the side of the road were cleared and we had a view of what looked like some sort of gravel quarry and we watched as assorted bird life fly around including a family of buzzards, a lapwing and herons.
off exploring later in the day, nice quiet roads
on a road next to the Seine. there were some great chalk cliffs on the road
coming into the next town there were lots of garages cut into the cliffs..
and one or two that looked like houses hewn out of the cliff face fronting straight onto the road
another view and you can see the river in the distance
another shot of the two of us, Nicky is feeling the heat a little
chalk walls next to the road
last stop before heading back to Vernon
Making our way back to Vernon we did a couple of laps of the centre of town looking for a restaurant to have dinner in. In the end we decided on one that overlooked the main square and I could see the car park where we'd left the bike. Limiting myself to one bud was hard after such a long hot day but the steak made up for it and at least the French know how to cook a steak i.e. they don't cremate it like in the UK and it was nice and thick so it was able to seal in the flavour and juices. Nicky went for a seafood platter and after that we both finished it off with deserts, banana split for me and a coffee ice-cream for Nicky that had coffee beans in, something she'd regret later on when trying to sleep!
Back at the B&B we flopped into bed and I was just about to drop to sleep when Nicky asked where my hands were, eh? "Something touched my boob" she said and I made a joke it was only the local friendly ghost copping a feel – which didn't go down too well and I had to get up and turn on the bathroom light as the room was 'too dark'!
travel teddy stands guard!
saying goodbye to the little farm dog.
old as the hills and blind as a bat! it would wonder around the place bumping into things but seems very happy
The next day it was time to head home so after another continental style breakfast (this time with a pan o chocolate) we headed back up to Calais, stopping at the same services and then the euro city supermarket to pick up some Jack Daniels. We were a bit early for our train so I selected an earlier travel time when we were given the option. We got to the UK passport control and he asked Nicky to take her helmet off. I asked if I needed to do the same but he replied that he could see my ugly mug well enough (or something like that) but Nicky had a balaclava on so he couldn't see her face. I said it was to protect her hair and he replied rather wistfully 'yea I can remember those days'. I clocked his hairless head and laughed adding "yep me too"!
We rolled on down to the holding area and were told to go wait in row A. The whole holding area was completely empty and when I got to the front of row A the green light was on, so not knowing what to do I went straight through and turned right – oops the wrong way as I got waved to go back. Heading back I was waved onwards by another person and ended up on the loading ramp. I can't be certain but I think we'd managed to slip onto an even earlier train as they announced they had a slight hold up with loading. Either way I wasn't going to argue, as it was a boiling hot day and we were cooking in our bike gear, we ended up as the only travelers in the last carriage.
Getting back to the UK we fought our way back round the M25 and had to deal with indifferent drivers in tailbacks, who either refused to ease over to allow us to filter past or were too self-absorbed to realise we were trying to move through the traffic while they were cooped up in their metal tin cans. By now our butts were crying out for a rest so we stopped off for a burger and a pee at one of the services where I bought the MCN only to realise I'd not seen the racing yet so didn't want to read it until I had a chance to catch up via sky plus.
So all in all a very successful trip. We proved the small XT660Z Tenere was capable of doing two up touring and got to test out the new gear. I was particularly impressed with the Scala Rider Teamset Pro headset as you can chat with one another at any speed and listen to music on the longer stretches of road. Not only that but like I said earlier you can talk on the phone and the other person doesn't even know you are on the bike. The 'full power' tyres that I'd gambled on performed well too and at the time of writing have done well over a 1000 miles with no discernible wear, a great buy and I'm thinking of stocking up on them if I can get them for that price again. So now for one more trip in the UK to test out all our camping gear (the next phase) and then it's the big one – the Pyrenees!

Nicky's Review Of Monet's Garden at Giverny
After years of traveling on business so close to Giverny and never managing to take time out to visit, it was with a bit of trepidation we stood in the queue to buy the €9 each entrance tickets. Having read about and seen so many sumptuous pictures of the garden I wondered whether I hadn't falsely inflated my expectations. I was not to be disappointed.
Entrance to the garden is through the gift shop, incidentally Monet's third and final studio - I wished I had known at the time as I would have taken closer notice, ironically I did think at the time what lovely light the building had. Monet was apparently embarrassed with this building, considering it crass and lacking the character of his two previous studio's.
The garden is divided into two, the Clos Normand garden is laid out in front of his long pink house with green shutters, the second being procured and developed at a later stage is the water garden on the other side of the road accessible via a road underpass.
riot of colour
The Clos Norman garden although formal in layout was informal in its planting, a riot of colour and textures, to say I was gobsmacked was a bit of an understatement. Masses of chocolate-vanilla scented bearded Irises in frilly lavenders, deep black-purples, violets, whites with lavender trims and bright orange beards, yellows, oranges, plums and pinks. Frothy strands of red, orange, cerise, pink and white wallflowers. Lofty white, yellow and apricot fox-tail lillies. Violet, pink and purple aubrietia, pinks and violas lining the light beige gravel paths. Dinner plate sized blousy white, blushing pink, blood red and brilliant cerise peonies. Scarlet field poppies resplendently vivid against the backdrop of sap green foliage of the borders. Clematises and roses climbing up a network of lightweight green painted metal pergolas. I could go on and on, at one point I must have spent half and hour turning 360 degrees on one spot taking photo after photo because each new view was better than the last.
the water gardens
Finally the assault of colour on the senses overwhelmed so much we retreated to the calm and cool of the water garden. It is in this garden that it hits home just why Monet was so seemingly obsessed with painting water lillies and reflections in the water. The pattern and reflected light on the water is fascinating, especially the reflection of the large willow near the Japanese bridge - zoom in with the camera lens to fill the frame with water reflections and you see a Monet painting. The resident frogs provided an amusing diversion with a brown frog from one lilly patch challenging a loud croaking green frog on another. After a series of jumping upon one another no doubt a test of strength but looked for all intents and purposes as attempted drowning, the green frog was victorious with the brown skulking back to his lilly patch. For me the Japanese bridge with white and purple wisterias trained over and along it was the highlight of the water garden. Unfortunately the purple wisteria was past its best, but the white was still magnificent with up to 60cm long racemes hanging overheard and a sweet scent that recalled childhood memories the wisterias in Windhoek park, Namibia.
Japanese bridge with white and purple wisterias
brown frog retreats as green frog leaps after him
We returned to the Clos Normand garden which spurred another fit of photographing and then took a quick tour of the inside of Monet's house. The house is long and narrow being only the width of one room, very simply furnished and colourful, especially illustrated by the daffodil yellow dining room and blue & white kitchen, with Monet's vast collection of Japanese prints decorating many of the walls. Monet's first studio was later to become and is still laid out as his reception room in which he received guests & clients, being adorned floor to ceiling with replica paintings (all his originals are either held in private collections or museums). The room is very dark which may have prompted a move to his second studio (not open for public view), but presumably this darkness made it an ideal space in which to exhibit the not always lightfast paintings of the time. Upstairs Monet's bedroom has large dual aspect windows with lovely views over his garden and down onto the rose pergola over the terrace that runs the length of the house, I can only imagine how pleasant it would have been to wake up to a summer's morning in that bedroom - no wonder Monet was an early bird rising at 5.30 am every day.
view up towards the main house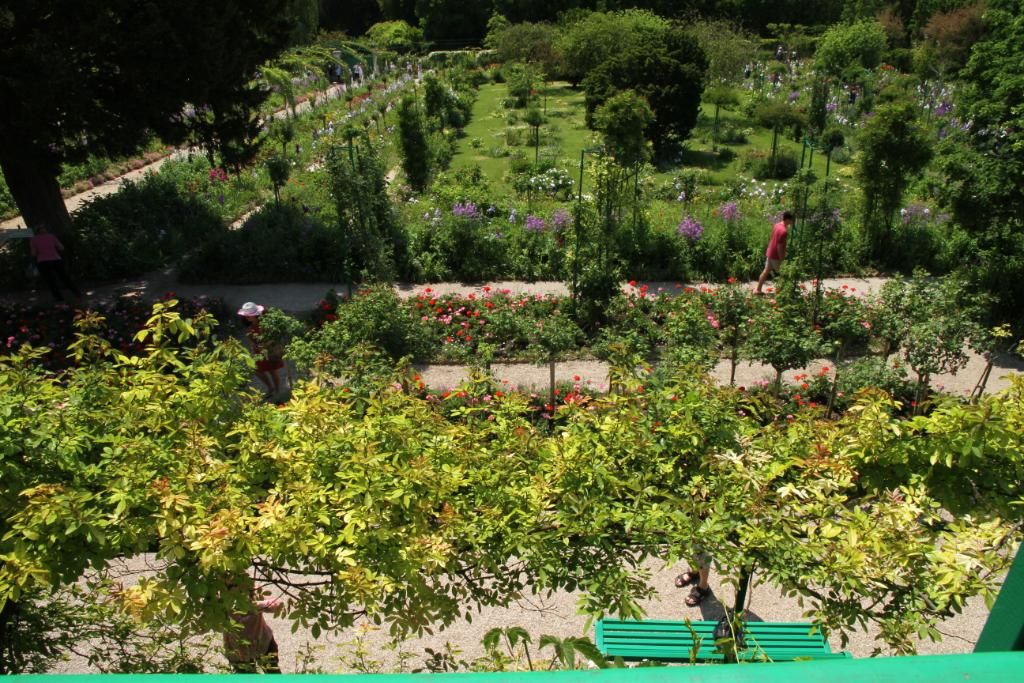 view down onto the garden from Monet's bedroom
Following a quick visit to the gift shop where John bought me another book to add to my growing library, we decided to call it a day in favour of searching out some refreshment. If you are interested in plants, gardens and Monet I can thoroughly recommend a visit.
If you enjoyed this report and would like to be notified of new reports or web site updates then join the mailing list. To sign up to the list just click HERE>> and send me an email.