For more of our photos click here
So the time for the first round of the SEEC championship had arrived. I'd entered it quite a while ago not knowing what it was like. Asking on the ktm forum had a lot of replies – it was tough last year, not many finished. Ah ok, not what I was hoping for having carried over an injury from the snowrun tumbles I took. Nothing for it but to crack on with bike prep. During scrutiny at the WTRA's snowrun it was picked up that there was a tiny amount of play in the rear wheel bearings. I'd not felt that myself and put it down to a soft mousse, but checking back at home confirmed there was a small amount of movement so I ordered an 'all balls' repair kit off of ebay – the ktm centre had the bearings but not the whole kit and ktm main depot did not have any either. Simple job, as long as the spares arrive on time, but alas come Friday morning and I was still waiting for the Wednesday delivery. An early morning ride over to the ktm centre in Hemel to get some bearings was the only answer and when I got back the bloody other ones arrived! I also ordered a new set of proaction pads, as I was told the woods where the Witley classic is held, is hard on pads. The ones I used in wales were still fine but I wanted to start the day with new ones in the rear. The front was running dunlopad pads and they are very hard wearing, so I wasn't too worried about those, as they'd not been in too long.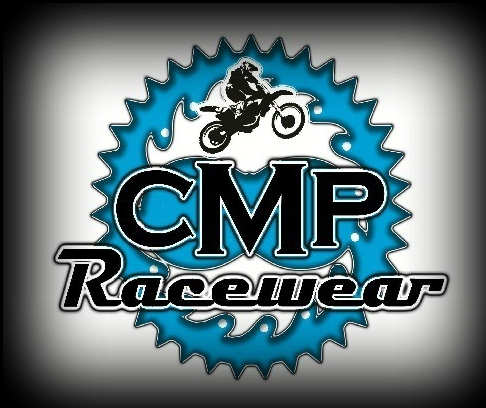 With all the stories about it being so tough, and rain forecast for Sunday, I was getting a little psyched out about the whole affair. In the week preceding the event I suddenly found out that unless I was a member of one of the associated clubs I could not score championship points, so it was a mad scramble to get my membership on my race entry changed to Kingston. Both Witley and Kingston were very helpful in getting me a membership card in the post and amending my race entry.
a quick moment of silent contemplation in the pits shortly before the start
Sunday dawned nice and sunny, but cold, and there was no sign of the dreaded rain – yet. The venue was easy enough to find even though I'd not been there before and I got a parking spot quite close to the pits. Darren was there, as well as Gary, who I'd not seen in ages, so it was good to catch up. I signed on and then started to check out the times displayed. It wasn't long before Steve (who was starting one minute before me) noticed that the check allowances and the times didn't add up. The first check was showing 50 minutes but the time shown worked out to be an full hour. I spoke to one of the Witley guys and he said the times were wrong and that we had to follow the times on the board. Steve queried whether it was the times or the check times and it was confirmed to be the times show that were correct. I went off to get changed, get the bike through scrutineering and move all the kit to the pit area.
a quick chat with Darren before the race kicks off
Shortly before the start I overheard the same conversation between someone else and the Witley person, but this time he was told the check times were the ones we had to follow! Right time to get to the bottom of this so once again we went through it and yes it was now opposite to what we were told earlier! Ok not too happy as all my times were wrong on the bike and now we had to work it out old school, rub out the info on the bike and correct it. I had several people come and copy mine , adding a few minutes or subtracting them as was necessary for their start time, which was also wrong on the board. Luckily the mistake was only in our Vet over 50 class and not the whole field!
Darren just after the start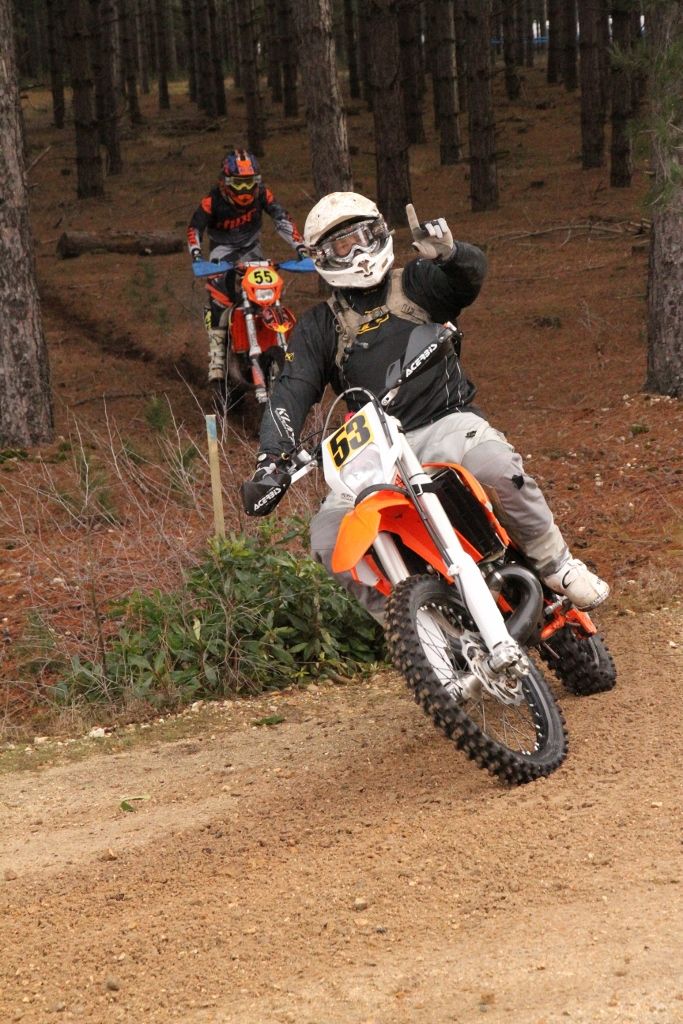 Gary signaling to Nicky he's no:1 or was it "i'm going to be first"
sadly in the end it meant "I'm going to DNF in one hour"!
Steve
and me

We had a pre race briefing where we were told a fair amount of info ref the track, and that they were doing course checks to make sure no one cut the lap. Soon it was time to set off and I was glad to be out on the bike at last, so I could relax and concentrate on my riding. The track had been laid out into two halves, the first part (check one) went off in one direction and contained two timed special tests. One was an 'mx test' and another one which turned out to weave through the trees. But they were still quite far away so I settled into a steady pace making up some time on the guys ahead.
the other steve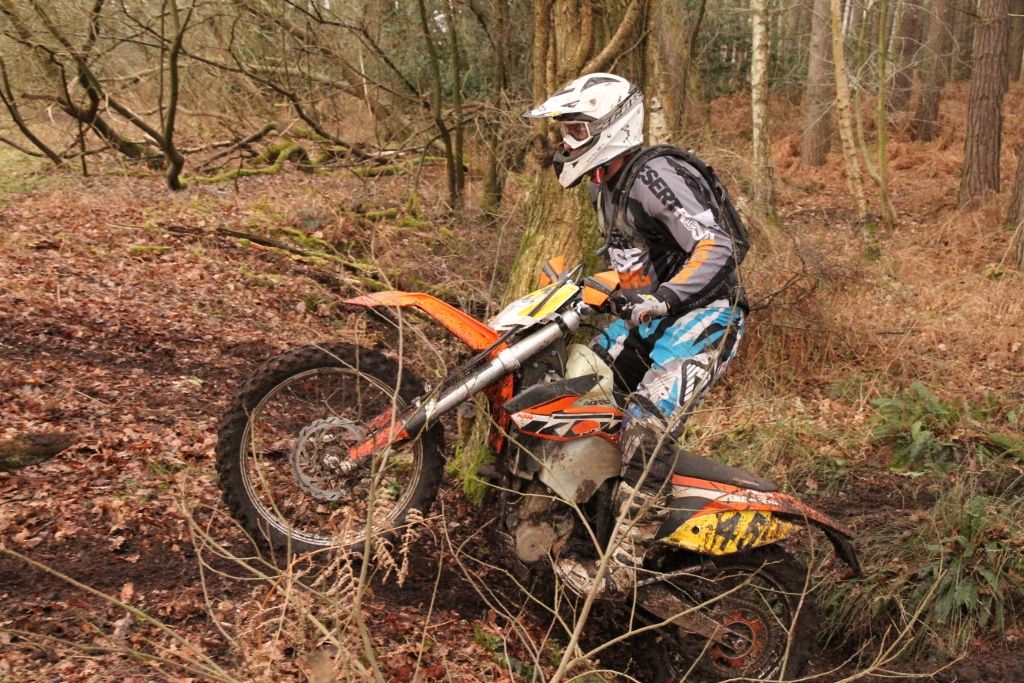 Darren
Gary - is that mud all up the side of your pants? Been having a lay down?
me
The beginning bit was fine, not too boggy, but I was a little weary of the ruts and water channels as I'd been told you had to pick your line carefully or you could get properly stuck. I came up to a bit of a traffic jam where bikes were trying to cross one of these drainage ditches. A sort of a log bridge had been made with a metal channel in the middle. Unfortunately someone had come to grief on the thing and there was about ten bikes waiting to get across. It was simple enough to traverse and soon I was under way again. The going was pretty good, mostly woods riding with the occasional drainage ditch to get across, some of which grew increasingly cut up and boggy. A quick pause and careful consideration was the best course of action , well that and see where the guy in front of you goes and if he makes it follow, if he doesn't, pick a line two or three meters to his side!
Steve
steve again

We came out by the mx special and as mentioned in the briefing we first had to skirt around the area, head off again into a small tight section and come back again. The tests are not timed on the first lap but you need to get your eye in so its best to pick up your speed when on a special. The mx test was a little tricky. It was laid out on a clear cut area and looked like it had been ploughed up too to remove all the stumps. What was left was a very soft surface but it had plenty of small logs and sticks in it to catch you out. It wasn't too far to the next test and this one was real nice. It consisted of a taped track between the trees and flowed nicely, something you could really get into the swing of. After the second test it was time to head back to the pits and the going was mostly ok. There was one section that was a little iffy due the shear amount of cut sticks and log laying crisscrossed on the path, well there was no path just the arrows to follow over the "let me take the front wheel for you sir and put it 90 deg in the opposite direction to where you want to go" debris!
Mr Bolter
steve
Darren
Gary

I pulled into the pits with more than enough time to spare, a good ten minutes if not more. I topped up the bike (making sure to use the anti-spill mat just in case) and cleaned my goggles, took off my helmet to cool down a bit and have half a ham and cheese sandwich.
I set off on check two, nice and relaxed now. The checks seemed to be fairly slack so there was no point in going to mad. I do however like to keep a nice pace up as it keeps you focused, I tend to make mistakes if I slow down too much. Not wanting to slow down I came up behind another rider and looked for a way past. Eventually I spotted a chance as he went into a little dip with a few rut in, he went left and I went right giving it a squirt of gas – and got stuck! Bollox the engine case / foot pegs were dig in and the wheel free turning in the air. I tried to lift it out but just could not get it all the way up and over as the rut was just too deep, the main problem was it was so narrow. After a few tugs I came upon a cunning plan – I stood behind the bike, grabbed the back end with both hands and lifted. This cleared the pegs of the ground so I thrust forwards with my body to push the bike forward enough to get out the worst of the rut. It took several oomphs and the thought did occur to me that this must look rather odd, somewhat like I was shagging the bike! Luckily this worked and I was on my way again. The first part of the second check was quite nice, flowing tracks and plenty of hills, but as it looped around it got a bit more tricky on the hillside and then on the return leg the going became boggy with more and more mud.
me again
me off in the distance getting a push from a marshal where they changed the course slightly
Somewhere in this loop I came across a scene of devastation, sloppy mud everywhere and some bikes stuck. I went for it but this was also an uphill attack so the success of my action was somewhat limited, ok I was stuck. I'd still be there if it was just me but thankfully two marshals were there and with both of them pulling the front of the bike, me off the bike and pulling the rear end and simultaneously hitting the gas (thanks rekluse) the bike inched its way out the bog. I had one small off when the bike lost its front wheel on a stick and I put my leg out to stop myself falling – wrenching my already painful knee. This hurt like hell but I carried on hoping it hadn't cause to much further damage. It settled down after a bit but when I was sitting down it hurt to change gear.

The third special test was somewhat like test two but a bit more technical, it had more mud and rutted going and a few more large dips. I'm not sure exactly but somewhere I stopped to clean my goggles and a few riders came past, looking like they were in a hurry. I followed but wasn't too concerned – rookie mistake. Had I been looking at my watch I'd have seen that the time was rapidly running out for this check! I pulled into the pits, stopped and checked the time, 11:43 I think it was. I wiped the mud off my timing data and check what time I was due out again – 11:43 crap! I needed to go – right now! I went up to the machine and clocked out as the seconds ticked away, thankfully I'd managed to clock out still 'on time'. Right that rattled me a bit, mental note, make sure you go quicker on the second lap! I'm not sure the times allocated were completely correct. Looking at the results now I can see my class (O50 vets B) had a tighter check time ie less time than everyone else, even the experts!? Anyway that was soon to be that last of my worried as things were about to take a whole turn for the worse.

Somewhere half way to the test I could feel my left hand rear brake was hydro locked, as if the rear brake pedal was being pressed. I pondered this for a bit wondering what could be wrong. First I thought it was the adjustment on the lever but then I looked down at the pedal (thinking a branch had jammed it on) only to not see the pedal at all. Ah ok, I picked a spot to pull over to survey the damage. Right this was bad. The pedal had obviously caught on something and had completely bent double. The killer was that it had folded under the bike, bring on the rear brake. The bike had been driving through the brake. I pushed and pulled for ages, trying to free it. I had no tools on me and no marshals came along. Picking up a stick I attacked it but one the stick was too thick and it broke anyway. I then tried stamping on it hoping to brake it off but had no luck. Getting increasing annoyed I eventually bent it enough using a smaller shorter stick in my left hand and pulling it with my right. I set off again a little down as I didn't believe I'd be able to get back in time. Well at least I remembered to switch on the camera when I stopped, so its all on film!
Video from the first check lap 2 - including special tests 1 & 2 (start of lap missed)

It wasn't long before I reached the first timed special test. It went ok, not fantastic but ok. I didn't fall off so that was good. After the test I pressed on hoping to pull back some time in the check. It wasn't very far and I found myself catching someone just as we go to the second test. I followed him up to the clocking in machine and got caught out by the fact that there was no gaps being set between riders. This meant that in no time at all i caught the rider and (as the track was so narrow) there was precious little room to get past - the track was a narrow taped off line through the trees. Eventually I found a place to nip past, just as we had to negotiate a log. I shot off and got into a nice flow but the test was soon over. I clocked out, ah I clocked out – ah crap my tag wasn't working!!!! The light refused to come on and the two marshals checked the machine and I repeatedly swiped the tag over the receiver but had no joy. Two other riders tagged out but mine refused to work. They took my number and I headed off again. So by now you can imagine my mind was in a bit of a spin. I got my head down and headed for home. I pulled into the pits checking my time and amazingly it looked like I'd made it. I went to my spot, someone else's bike was on my mat. I was a bit wild eyed and somewhat hyper. I double checked my times, yes I was definitely ok time wise. More than enough time to top up with petrol, and change goggles & gloves. Now in hindsight what I should have done was walk down to the organisers tent and ask for another transponder, but of course I had no idea it was totally u/s at this time and anyway I wasn't thinking straight at this point as I'd been in a bit of a panic trying to get back on time.
Video of the second check lap 2 - part one
So off I went onto the second check. The machine on the way out came up red when I swiped out so it looked like it was working. I'm not sure if red light meant 'forget it, it ain't working' or what. Anyway, I set off again, a little faster this time as I was aware of the tight time. Low and behold I was trying to pass another slower rider in the same spot and bingo – jammed in the same bloody rut! I took a lot of sheep shagging to get it out that time! There was one other iffy spot where the marshals were redirecting us up a short slope, but I had no run up so i got stuck again. Luckily I got a push and was soon on my way. The mega muddy spot had been cut so that was a relief but by now a few spots of rain were falling. By the time I got to the third special test it was raining properly and of course the transponder was still non responsive.
Video from part two of the second check

The test went ok buy I was struggling a bit with rain etc on the goggles, however I made it back to the pits on time with a minute and a half or so to spare. Nicky was there offering me new clean goggles but I was already wearing my preferred OTG double lens scots so I just asked for a cloth to clean them and set off again, out onto the first check for my final half a lap (vets only had to do two and a half laps). It was raining properly now and the track was getting quite cut up but I didn't get stuck anywhere and wasn't in any sort of panic. One because I knew I could make it in the time allowed (as long as no bog swallowed the bike). By the time I came up to the first special test it was in a right state. Most of the tape had been broken and it was flapping every which way. It was fairly hard to make out the track in some parts but all in all I got round ok.

The final test also went well but the rain and poor light meant I was only one second quicker despite having a clear run of it. Back at the pits I parked up, wet and cold. I walked over to the tent and asked where to check out, and if we were allowed to check out early on the last lap (most timecards you are). Of course this was a moot point really as the tag wasn't working of course. So then a lengthy discussion ensued as the marshals didn't think I should be finished already. Having determined I'd done my two and a half laps they conceded that yes I was finished. And then another lengthy discussion started about the transponder. I'll not go into everything but it wasn't looking hopeful of me getting any sort of result. We did wonder if it was all on film but I doubted the battery would have lasted so I was pretty glum. But things weren't all bad. When I got home I discovered all the tests and the whole of the second and the final half a lap were on film.
Times were calculated and they were sent off. The results came out and ……. I'd won my class!