see all our photos here Photos, free (for personal use only).
Plus see everyone's photos at:


So if you've been keeping up to date with my race reports this year, it's safe to say that so far, it hasn't been going very well! A breakdown in the Snowrun, timing mistakes in the CHEC and dropping out the top ten (clubman A) in the South Reading MCC when I'd previously scored a top five meant I wasn't too pleased with the way things were going. There's nothing like getting kicked while you are down, so having Darren kick my butt at an Enduroland practice day was tough. Some gentle trail riding and touring on the Tenere with Phil was looking more and more enticing instead of bashing myself to bits on enduro tracks.
Time to get all the heat inducing body armour on.
What's the best thing to do when doing extreme exercise in boiling heat?
Cover yourself in plastic and thick padding or course!
Tony rang up to say he'd already signed up for the H&H at Ashdown farm on the 26th of May and while I was keen to take part, as I like these events run by the South Reading MCC, I was wondering if I should be tackling this rough course when I was still rubbing pain gel & aromatherapy oils into most of my joints! Darren was also booked in and I thought it would be a chance to redeem myself a little, so I popped the entry form and cheque into the post. Doing a tough race one day before heading off on a biking short break to France wasn't maybe the best idea and I'm sure this must have crossed Nicky's mind too, but she's always very supportive so said nothing. She would be joining us to take photos too.
Getting the bike to the pits.
if you look carefully you can see the plastic welding repair on the RHS guard ....oops!



(thanks to teamsnapper for supplying some extra pics for the report)

There was a little bike prep to do on the Tenere as we were going away on the Monday, but I also needed to sort out a few bits and pieces on the KTM too. One of them was to clean it as I'd not managed to even look at it since the Enduroland day. Luckily it had been a very sandy track so it only needed a wash off with a bucket and a chain clean/lube. While I was out on the track previously I'd got the impression the bars were a little low. Maybe this was why I'd been having trouble with my arm so much? Anyway I loosened off the clamps and swivelled the bars around to increase the height and set about adjusting all the bits and pieces. The RHS guard was touching the brake master cylinder (it was from the time I fitted the cycra guards) so I pulled it off to adjust. Now these cycra guards are made of pretty sturdy aluminium flat bar, not the cheese like stuff you get on other manufactures sets, and it proved extremely hard to shape properly. Several hours later I was finished ............but the next day I walked into the garage and found that the garage gremlins had been up to their mischief AGAIN and it was now touching the master cylinder once more!? Right that was it – the big hammer came out and I took no prisoners. After I plastic welded the now broken plastic hand guard section back together, the whole thing fitted quite well! A quick oil/filter change and the KTM was ready to rock.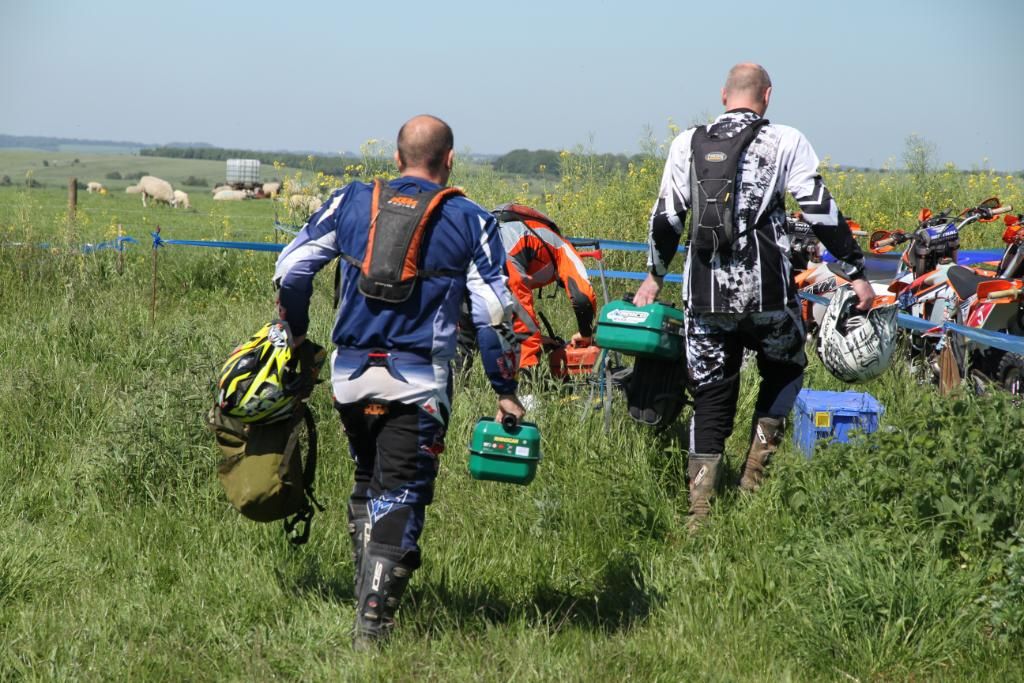 Carting all the spares & fuel to the pits can be a chore sometimes. We were sweating already.
During the week I'd been contemplating loads of things. One was to blow a load of (financed) money on a new 350EXC, while another was to pack it all in, for a year anyway. Unless I get very serious about fitness training, what was the point about getting a new bike? I'm almost fifty FFS! Nope, in the end I decided to try and take things a little more easy and not worry too much about results and to try and enjoy my racing a bit more. I mentioned this to Tony and he laughed down the phone and replied "yea right – good luck with that"!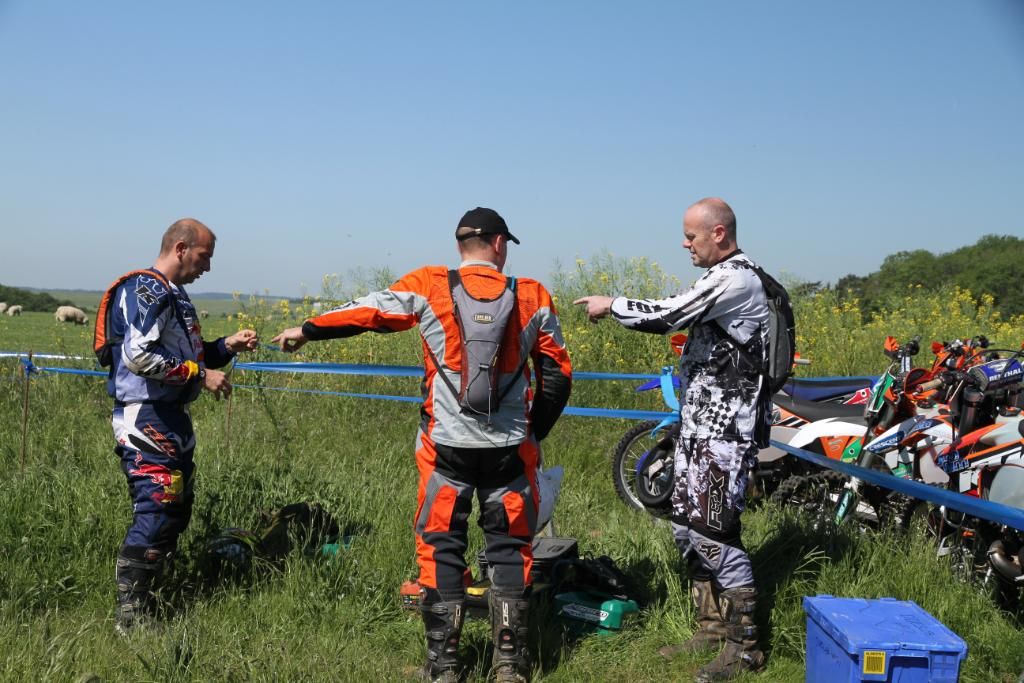 Tony, Darren and myself discussing the best place to set up our pit equipment .....
for best/quickest access when entering the pits during the re-fuel stop
Picking Tony up a little late, we set off to Ashdown Farm. "I'm really looking forward to today" Tony said, " but I'm not looking forward to that bumpy back straight" I laughed and told him that it wasn't too bad now – it was the tracks in the southern woods he had to look out for as they were getting very challenging! He was still suffering from a lingering cold that had been bugging him for a couple of week's, so today was going to be a bit of a battle for him.
Once we'd negotiated the access track, having only ground out the car once, we made our way to the signing on tent to try and beat the rush. Luckily I had all my gear with me this time so there were no last minute panics. As I was pushing the bike to the pits – having signed on – I stopped for a chat with the Teamsnapper crew and scored a nice cap from them.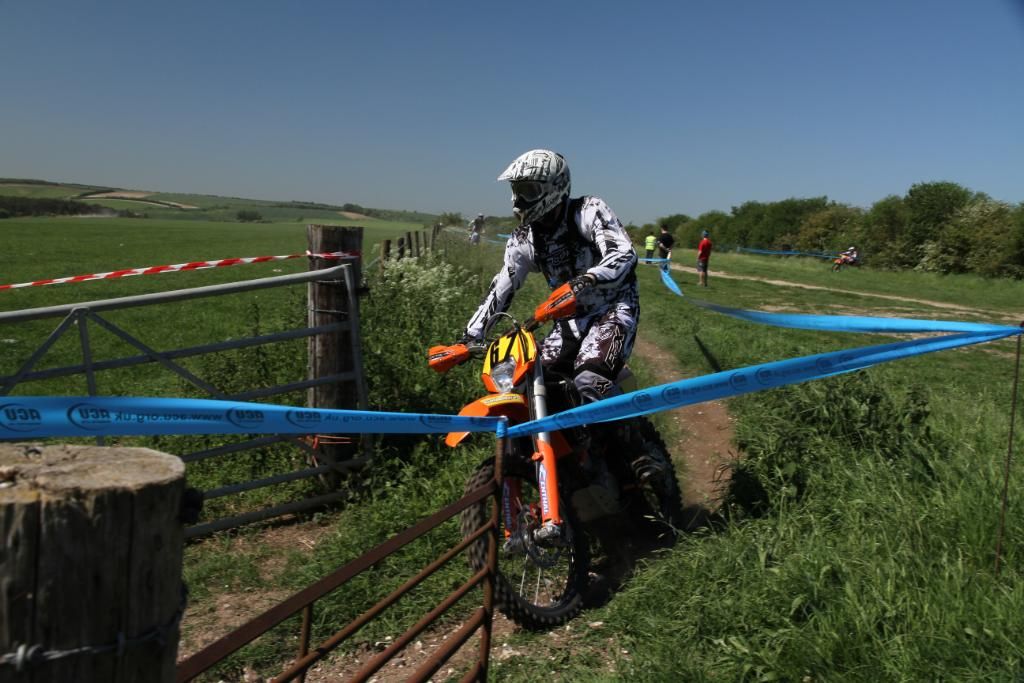 Tony crossing the 'Fair Mile' restricted byway at the start of the event.
Blue tape means walking pace only and it's strictly enforced.
After the briefing and engine warm-up it was time to get going and I found myself a little behind Darren in the queue. This was a good idea I thought, as I could do my normal bit of letting him go first, then put on a burst of speed first thing to try and catch him. Then all I need to do is keep him behind me to win our personal battle – the first rule of racing is that you have to beat your friends! Of course the bike didn't fire again after swiping out and the sooner I sort out my new clutch system the better.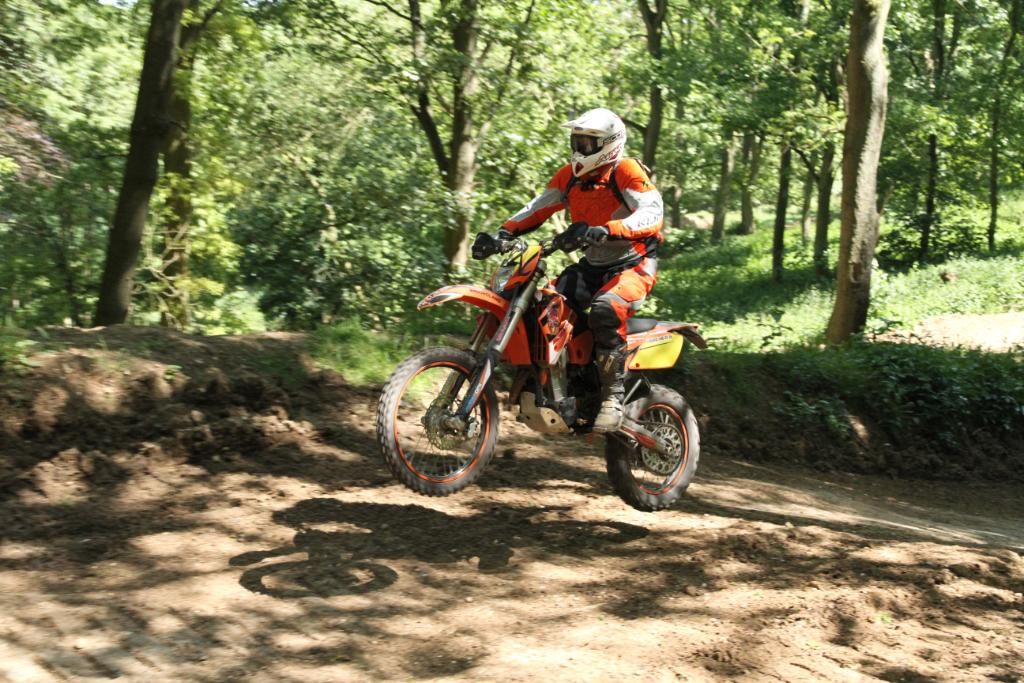 The second set of jumps in the woods mx section on the first/second lap. I'm still hitting it too slow and landing short.
This means that it gets a little out of control when the suspension unloads on the downslope!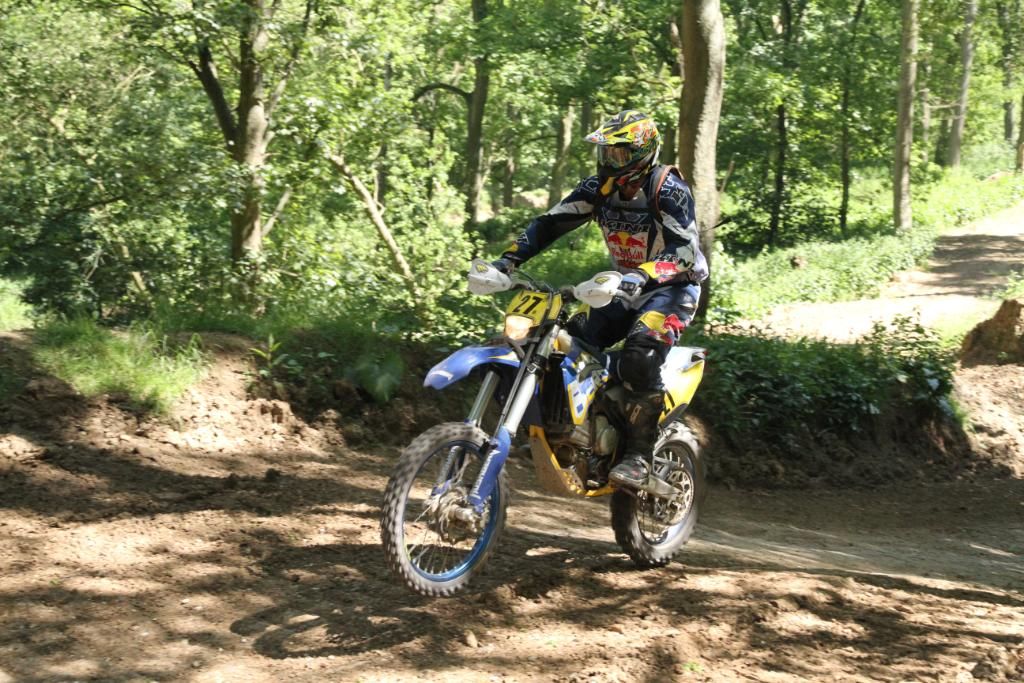 Darren is behind me now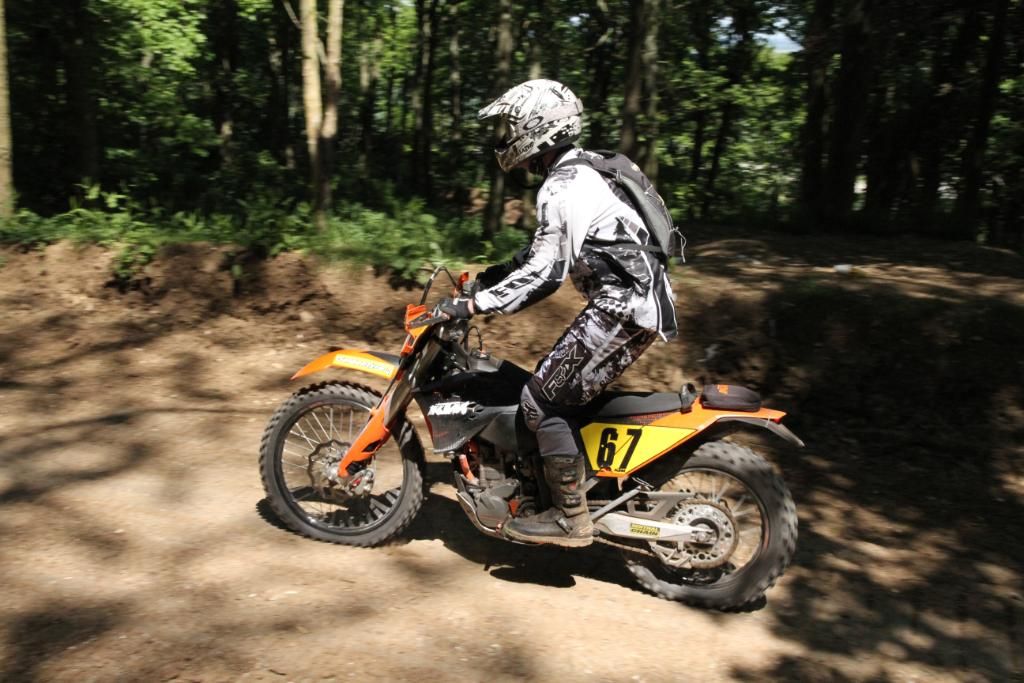 For once tony gets snapped doing the 'who ate all the pies' suspension dance


Starting off we crossed the fair mile restricted byway as this time we were running in the opposite direction to the last event. The long straight that Tony was not keen on had actually been smoothed out so it was full throttle down to the tree line. There were some bumps to keep it interesting but nothing like before. Into the trees and we followed the same routes as previous events but as we were running backwards it took a little time to relearn the way the track went. About halfway through the woods we got to a really tight couple of turns i.e. first gear at full lock and I was amazed to see Darren manoeuvring his bike at a standstill. He'd had some sort of problem so it was time to take advantage of the fact he was stopped and I pushed hard. Well I tried too anyway as there were quite a few slower riders ridding one behind the other in several spots so getting past wasn't easy.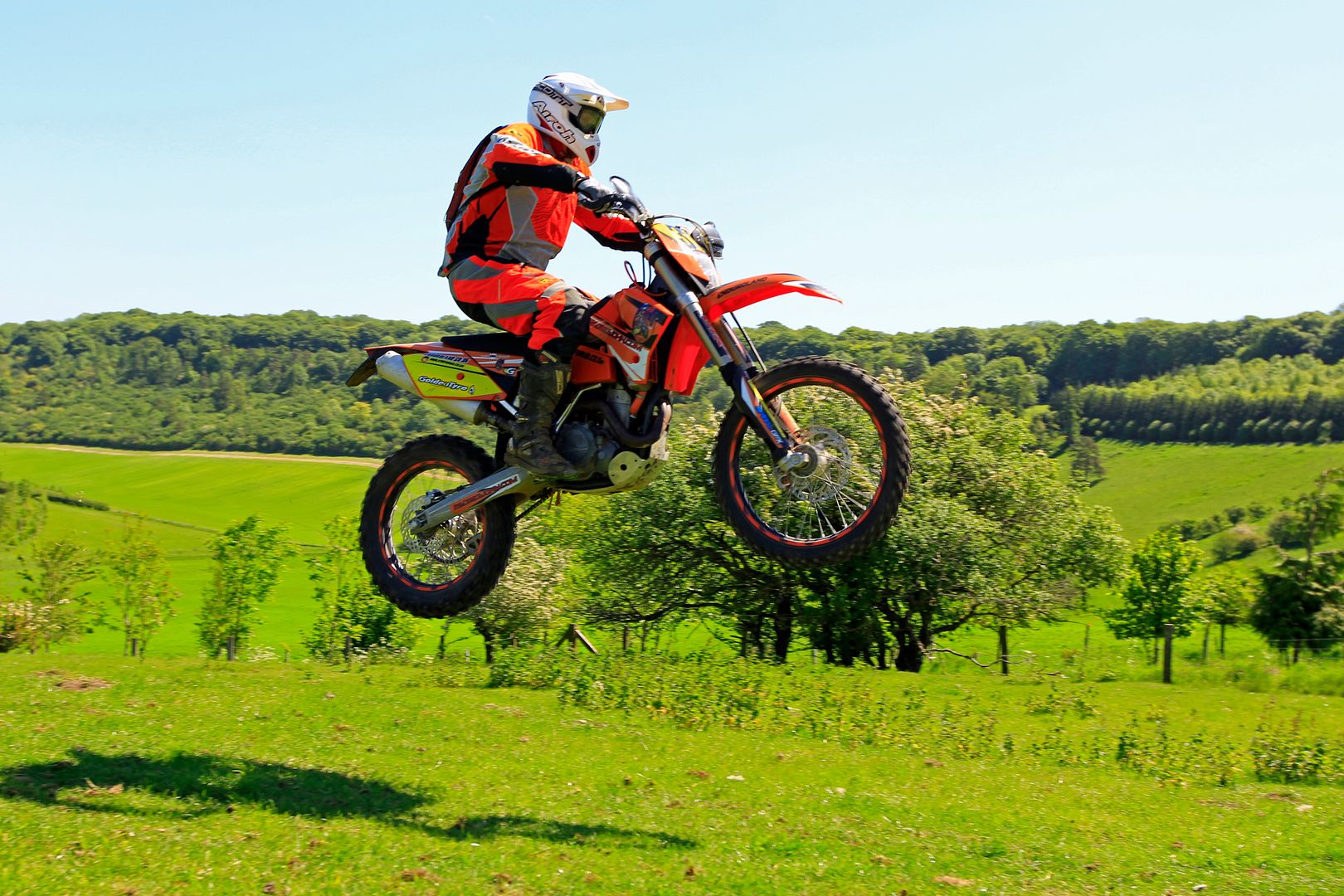 jumping in the far field


Once out into the open I used the bikes power to fly up the fields and jumped a small rise then hit the next slope and WOOAAAAA!!!!! I might need to take that one a little steadier on the next lap! At the top of the field (but on the 'lowest' i.e. most southern part) we turned right and made our way down the single track path, back over the field and up the very bumpy hill. At the top of the slope we turned right and then left which took us back into the woods for a while, before exiting once more onto some flat out blasts up to the fair mile restricted byway, where we crossed over into the middle section of woods.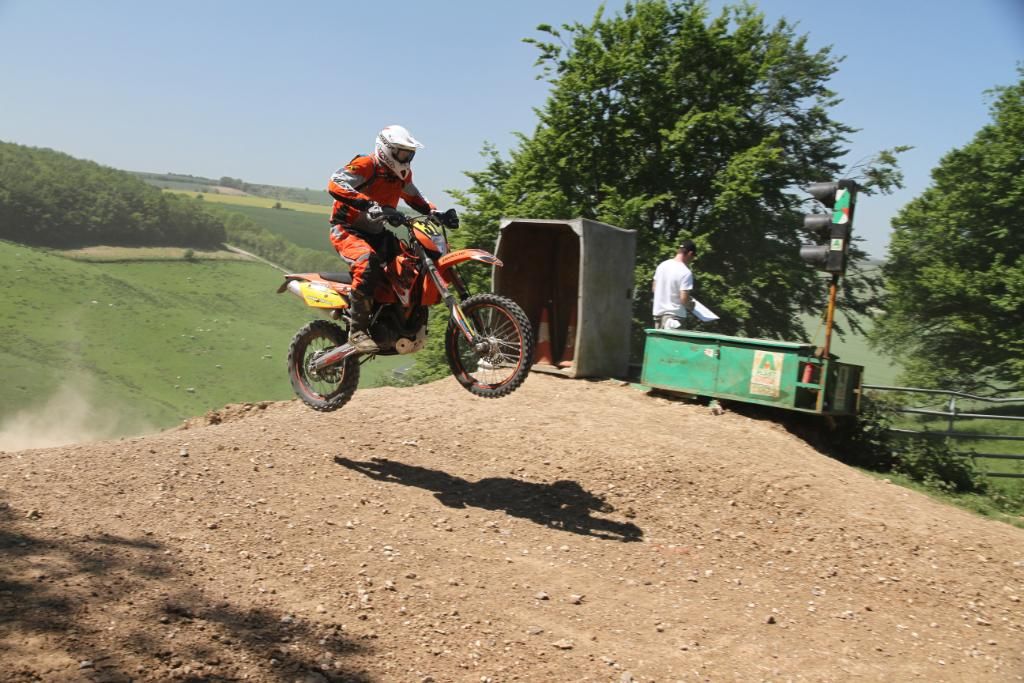 I do a fairly modest jump on about the third lap, but spot nicky so I'll make up for it later.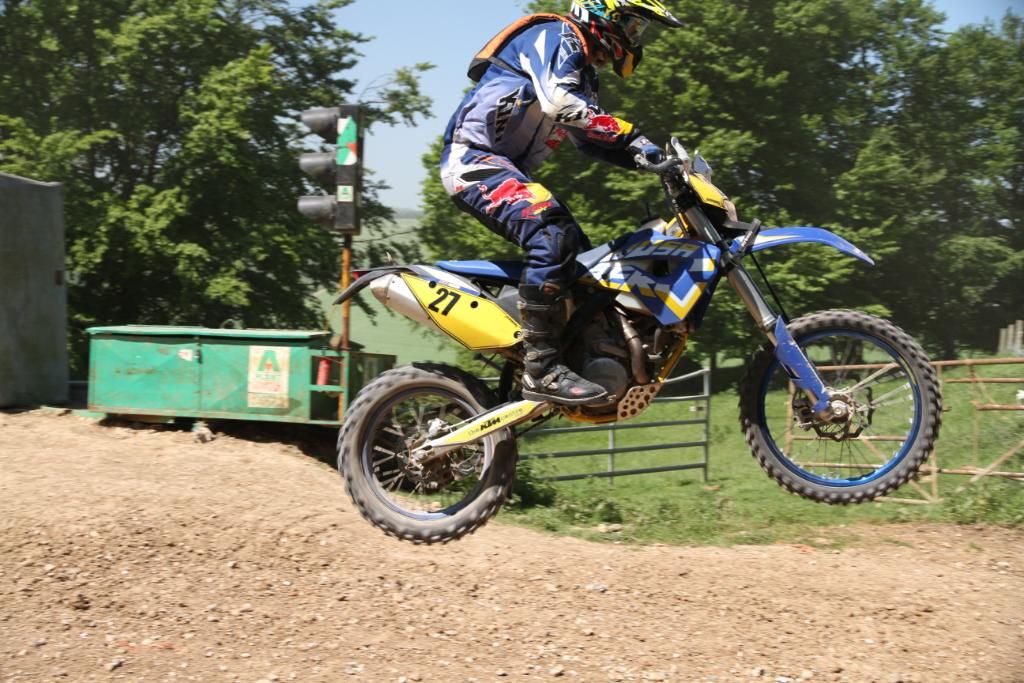 Darren is pushing to catch up no doubt and flies through the air.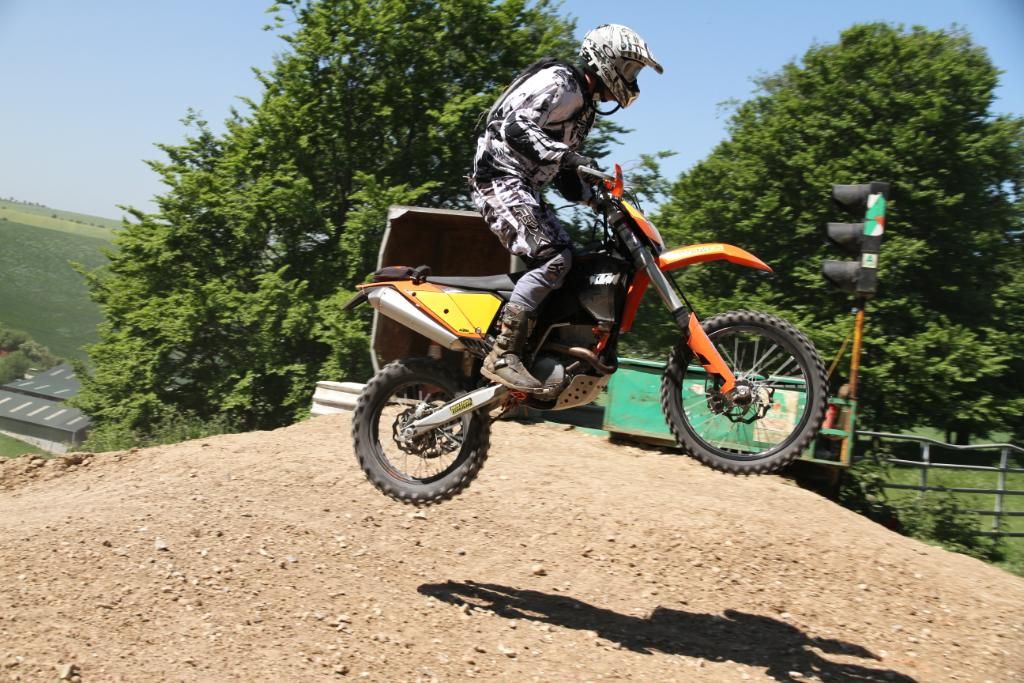 Sickboy has a go too

Here we stuck to a fairly similar layout as before and this flows quite well. Pretty soon we were flying past the farm, turning right and heading for the mx track. We turned left at first, up a short climb into a right turn that could be taken wide or tight, then turned back down the hill, down into the valley and flew round a banked left turn that set you up for the next hill. This slope ends in a jump that flings you high into the air and is a great spot of photos. The surface was a little harder this time too so we could get up a good lick of speed. I'd gone about six clicks harder on the rear and turned the high speed damping right up too, so while I did still use up all the travel, it didn't feel like I was going to brake the bike in half when I landed!

After the landing we turned into the trees once more and again followed familiar tracks to eventually break into the mx track once more. A few turns led to the first jump near the top of the car park and then into a longish right turn before zipping through another couple of turns to hit a largish jump, quickly followed by a table top jump and then another. After that it was a left turn into the trees for the homeward run and back to the transponder pickups.
By the next lap I'm not holding back and hit the slope hard. I flew out of shot first but Nicky snaps me still going
and land waaaayyyyy up the track

Clocking in for the first time I was still ahead of Darren so I put in a bit of a spurt and set my fastest lap of the race. My right hand was tingling a little as the numbness set in so I concentrated on trying to relax in the woods and not use too much front brake. The compression bandage I have started wearing seems to be doing its job as it never got any worse. With the heat and condition of the track I was worried I'd blow myself out too early, so I took it a little easier for a while. Several laps in and after clocking in more or less an hour since the start I was starting to wonder if I'd be able to keep this up for another two hours! The heat was very energy sapping so I tried to sip from the camelpack as often as I could.
The first turn on the mx track .................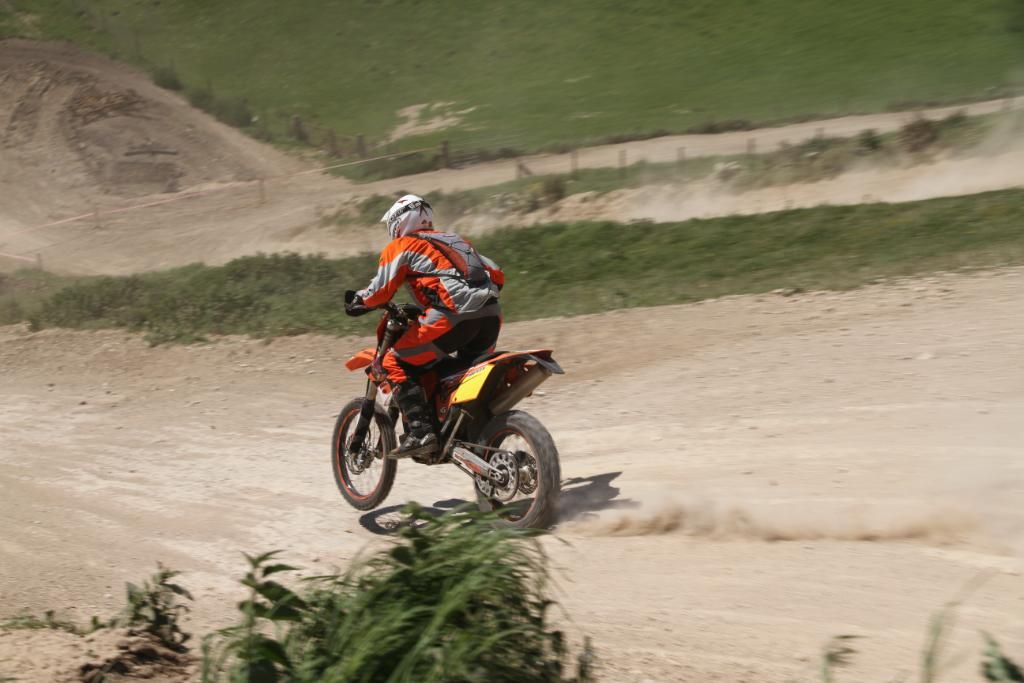 before heading back down the hill..................
the middle turn on the far side of the valley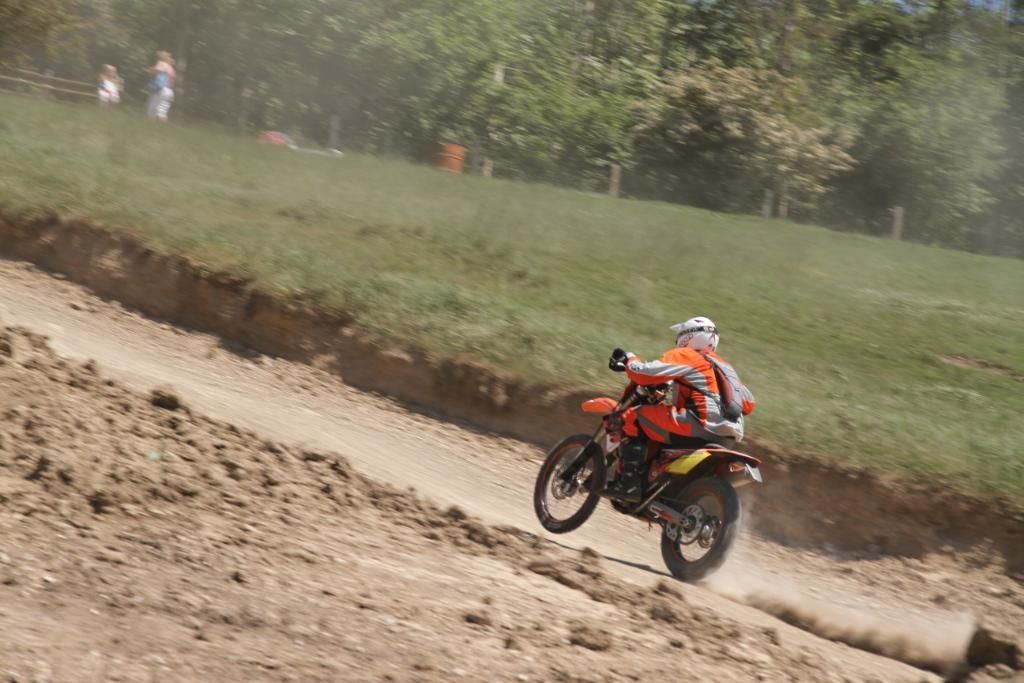 having swung round the top turn its time to fly up the hill.
front wheel floating in the air I'm ready to 'fly' once I get to the top!


A good ninety percent of everyone were very good in making room for faster riders, but when there is a train of six riders following someone it's hard to find room to get past and sometimes you just have to relax a little and wait for the moment to pounce, chomping at the bit and trying to get past at every turn just wears me out so it counterproductive. Now and again my brakes squeal and this is a good notification to other riders that you are looking for a way past.


I was just about getting the jumps in the woods right by the second or third lap. I took the first one fairly steady then nailed the bike for the table top. This worked well and I was regularly landing on the downward slope, but on several occasions I started to over jump the whole thing so I had to dial it back a bit. The next jump never really worked too well for me throughout the day though.
Darren takes a tight line

Having broken my quick filler cap on my petro can I had made a suggestion to Nicky that if she was in the area at around the two hours mark, she might want to fix the filler spout to the petrol can. This wasn't met with much enthusiasm but I hoped for the best. Coming round with about ten minutes to go to my two hour mark I noticed she wasn't there, so I set off for another lap, feeling very hot and bothered by now. I was slowing down now as it was a little rough in places and the heat had taken it out of me. I could put on a spurt of speed as normal when catching slower riders but despite drinking isotonic energy drink from the three litre camelpack (stuffed into a two litre bag) I was running out of oomph. At one point I was sure I spotted Darren by the side of the track but I wasn't too sure why. He was standing up and looked ok so I never stopped. It later turn out that he had stopped to help an injured rider who had fallen and had a suspected broken arm. Darren had recognised the rider from the CHEC series so felt he couldn't not stop to help.
Tony also takes the tight line but it looks like the front end is pushing out
but manages to hold it and swing the back end round


Back round again and then I perked up as I spotted Tony ahead, I'd managed to lap him as I was sure he had started behind me. I tried to find a way round but this was in the run up to the transponders so I ran out of time to make a pass. It was time to pit for fuel now so I swung in and fiddled with the bloody petrol can spout that never seems to want to go on properly.

Getting going eventually I tried to get a move on to catch Tony but it was hard as I was getting seriously tired by now. The course and hot temperatures had thinned the riders out a fair bit and I had to give way to a couple of faster riders now and again. I was in the woods at one pointy having just squeezed past some other riders when I in turn heard a quicker rider coming. I paused momentarily between two turns to allow him past and he flew by, clipping my bars in the process. It was only the smallest of taps but at the time I was swivelled in the seat to the left and the bike overbalanced to the right and I couldn't stop it hitting the deck. As I pulled it up the riders I'd just got past came by, so I had that to do that all over again.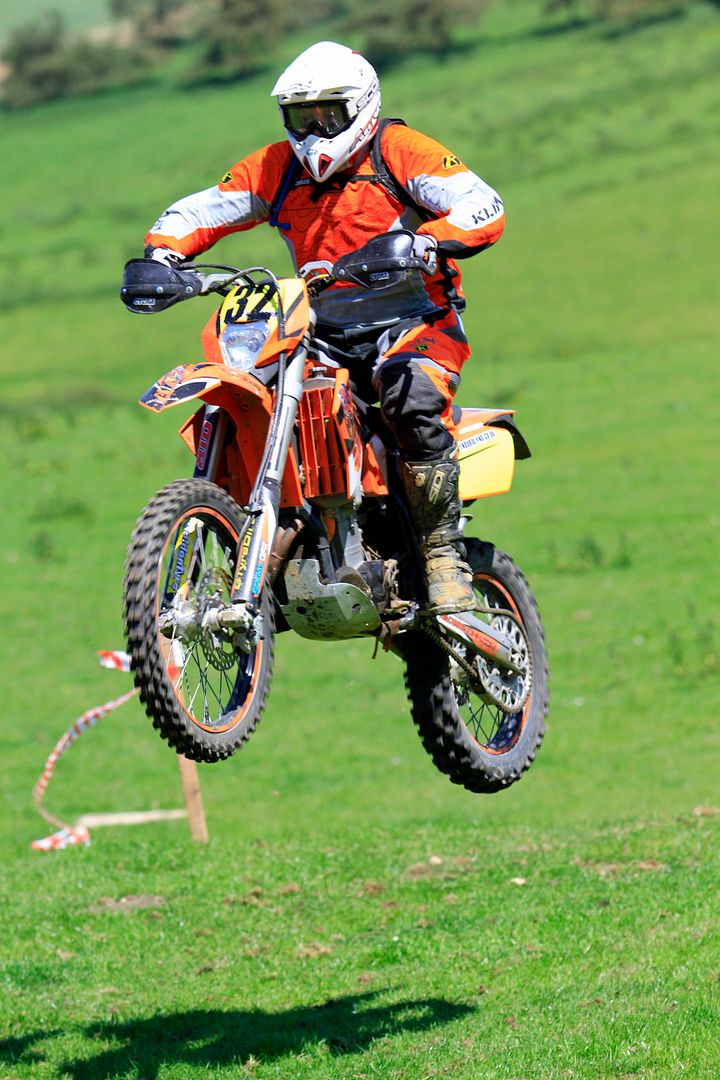 I nearly overcooked it on the jump at the far end of the field as this point. It was late in the day and I was tired so misjudged the speed & weight distribution. The front came right up and for a moment I was a little worried it might go all horribly wrong but luckily it didn't. There was one lone marshal there and I looked at him and shouted 'that was close' and he joined me in laughing at the 'nearly moment'. One chap that didn't get away with it was someone who hit a tree in the middle section of woods. There were plenty of guys with him so I never paid much attention to what was going on but Tony said later on that his bike was looking rather second hand having obviously hit a tree fairly hard.

On what was my third last lap I calculated that if I got a move on during the next lap I should be able to get round in time for a final extra lap. A little voice said "'do you REALLY what to do another two laps?" but I drowned that in sweet sticky energy drink and cracked on. I tried not to slack off too much and sure enough when I came round to the transponders after the next lap there was three minutes or so to go before the three hours were up, so I could get one more lap in yay (I think).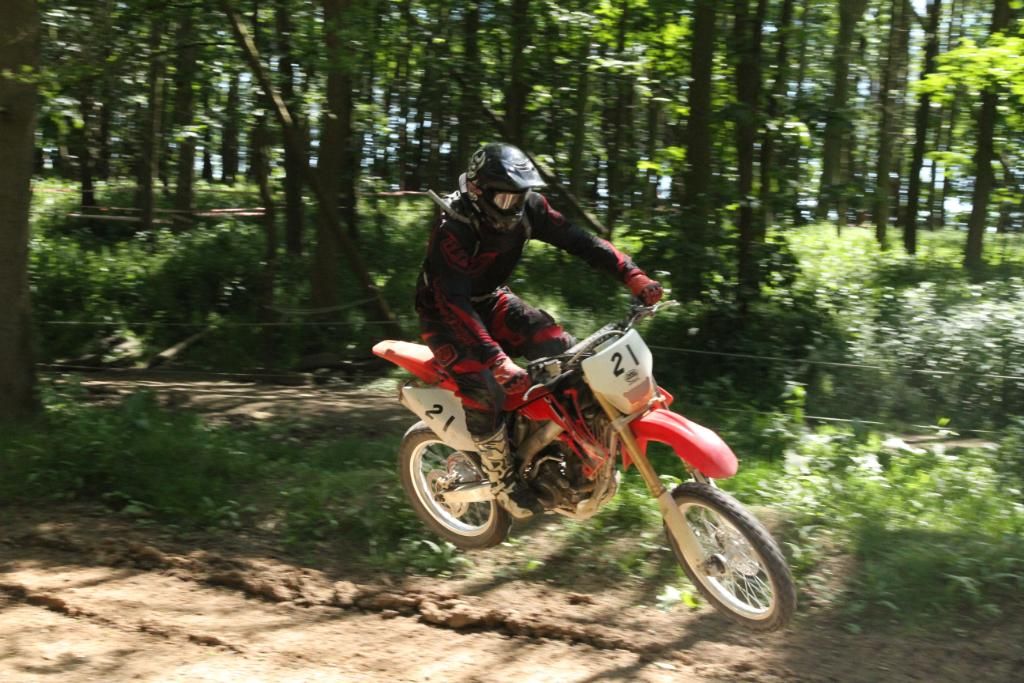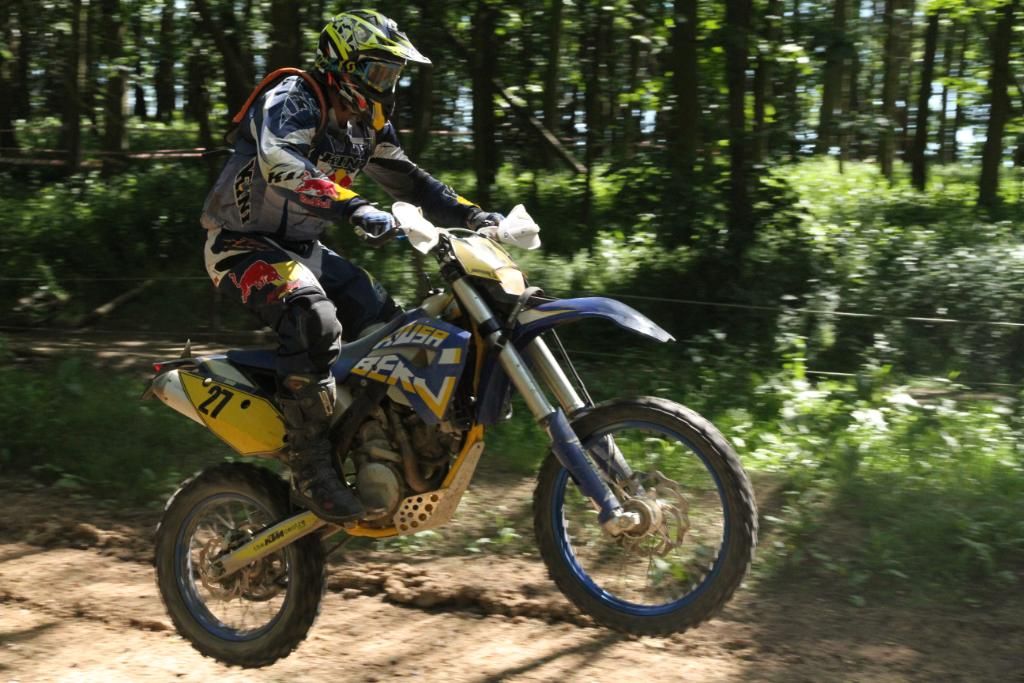 On the last lap I was just about done and starting to make mistakes. But I did have a lift when I spotted Tony on the side of the track having a piss in the woods! I came flying past and tooted the horn to let him know it was me. I came up to a slower rider who moved over for me and I squirted the bike past to the left but went off line a little and clipped a tree with the left bar. This sent me off course to the right and heading for a very solid looking tree! I had both brakes on as hard as possible but the tree wasn't moving and I could see that contact was inevitable. With a bit of quick thinking I knew that if the bars hit the tree it would spin me off the bike. I pushed the bars down to the left and took the impact on the forearm and crumpled into the tree, with my shoulder taking a hard knock as well as my lower ribs on the RHS. The rider I'd just passed paused next to me with a WTF?! look on his face and I looked at him and said "that hurt a bit" before thumbing the starter and setting off again. Passing the farmyard I overtook another rider and made yet another mistake as I out braked myself and took the second, wider line to the right.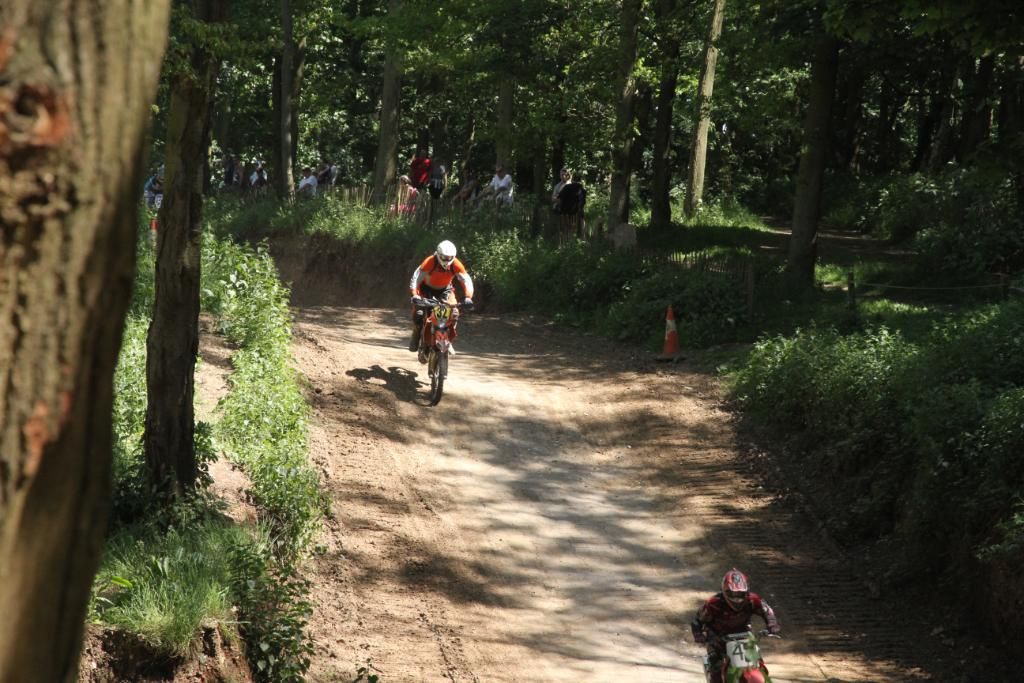 Last lap and landing on the down slope of the tabletop jump

No more dramas for me till the end so I clocked out and sat there exhausted with dried spittle and dust caked around my mouth, hardly able to move. I held out my arm so the marshal could take off my transponder and then trundled back to the car for a cold drink. I sat on the trailer completely knackered but glad I'd managed to get the extra lap in. Nicky brought me a drink and then Tony walked up looking like death warmed up. He flopped onto the ground next to the trailer and Nicky didn't like the way he was looking so white round the mouth, so she took her buff and wet it and placed it round his neck to help bring his temperature down. Slightly less subtle I pick up my five litre water container and dumped a load of water over him.

So heat aside I had a good run of it and once the results were out I managed to finish in the top ten of Clubman A. Not my best results with the SRMCC, but being inside the top ten was an ok result so I can't be too disappointed. Tony (racing with a cold) nearly passed out several times and had to stop to rest on more than one occasion so didn't really stand a chance of getting a decent result. Darren had troubles too with his bike cutting out early in the event which allowed me to catch and pass him, and then he stopped to help the other rider, so he too didn't feature very well in the results. Lee who I spoke to before the race seemed to have some problems too, either it was transponder problems or with the bike I'm not sure. I wasn't feeling too great after the race myself actually and I had to visit the portaloo before heading home. I'm not sure if it was from over exertion or the mix of energy drink I was using but my stomach was really upset and I felt like shit to be honest, I only ate half my dinner I was that rough! Still - it was a good day, see you at the next one!

Tony's Second Opinion


The day of SRMCC's 2nd event of the year at Ashdown Farm dawned dry, bright & windy. We were arriving a little late thanks to RBJ forgetting his surgical truss (or something like that). Meeting up with Darren he commented that had he not already pre-paid he wouldn't have entered the event to the warm conditions – "bit strong" I thought as to me it looked like it would be a great day …….. how right he was though!

The worst part of the Ashdown Farm enduro loop is the unevenly spaced whoops at the end of the lap – but this time someone and seemed fit to grade that part of the circuit. It was much improved and as the course was run in reverse it was a pleasant surprise at the start of the first lap.
Being a three hour straight hare & hounds I had mentally prepared myself for a change of camelpack & a re-fuel on the two hour mark. However after only one and a three quarter hours (lap five for me) my first camelpack ran dry forcing me to pit. The first part of the race or 'session' had gone great so I was looking forward to the last hour until the end of the race.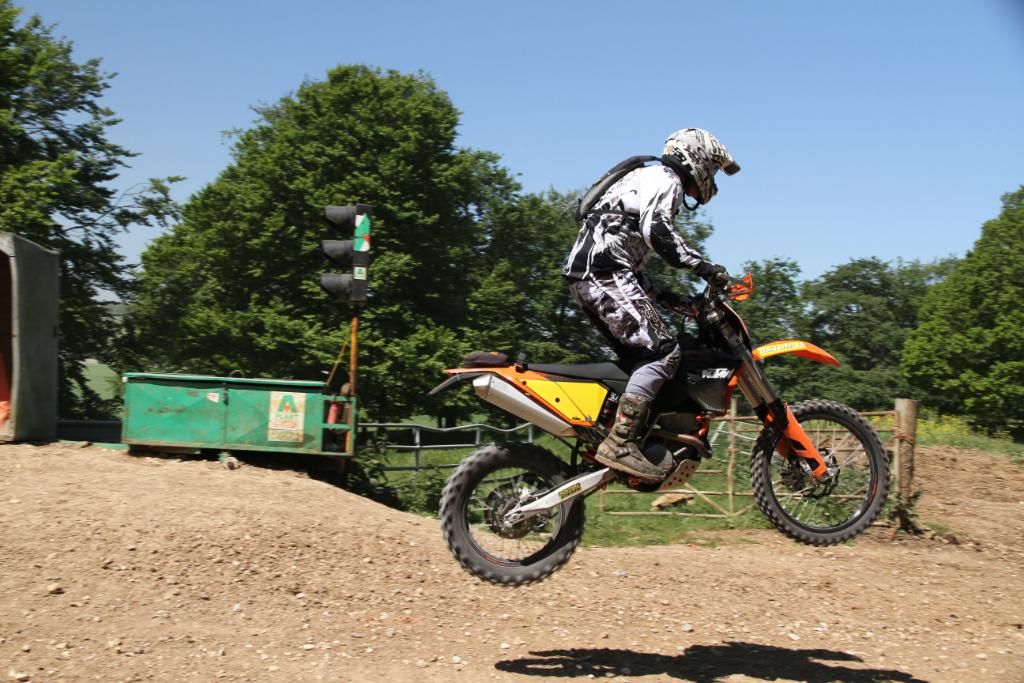 This is where it all started to go wrong. Not long after leaving the pits I started to struggle with my focus – both mentally and physically ….. add to that my head was thumping as it felt my heart was beating in my head! I finished the lap (but only just) and thought that I was making so many mistakes I was becoming a liability to other rides and myself (more than usual) so I pulled over under some trees to cool down for a while.

Now it's at this point that I'll refer to RBJ's (now famous) book of excuses. Page 113, sub section five, paragraph two …… I had a cold……plus I had done five hours of gardening the day before so I was suffering a little! After far too long laid up under a tree (literally) my muscles had tightened up and the thought of getting back in the saddle was far from appealing, but I thought "I can't stay here" and crawled to my feet, preparing to continue – only to be overcome by nausea……."oh cock". Feeling rather pathetic I eventually got going again and tried just concentrating on the course and after a couple of laps I was able to pick up the pace again.

Two o'clock, hooray my race was run. Only to be told by one of the marshals I had time for one last lap …cock! That last lap really was the straw that broke the camel's back and once again I had to stop. I can't remember the last time I had to stop during a race or even if I ever have before, but for some reason I was totally cattle trucked.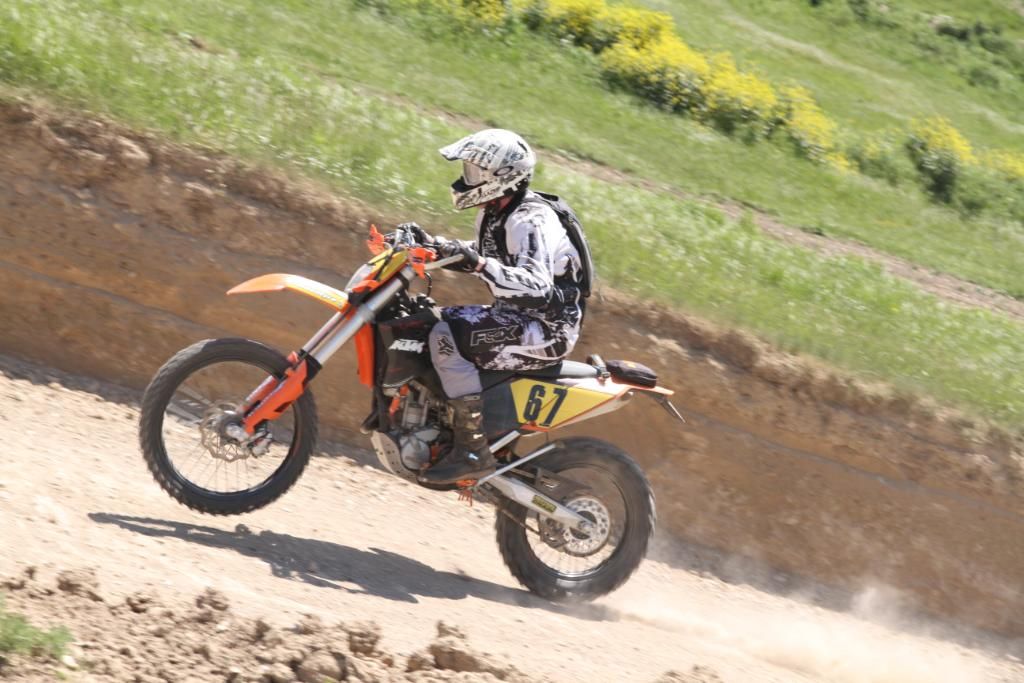 Completing the last lap I rolled back to the car where an exhausted RBJ and Nicky were waiting. I rolled of the bike and landed in a heap on the ground, trying to catch my breath. A concerned Nicky then soaked her headband in cold water and put it round my neck to lower my temperature. RBJ was having none of that and poured five litres of cold water straight over me, gawd bless him!

Nicky went and retrieved my gear from the pits and after a while I came back to life and went for a walk round the pits/carpark where I heard many a tale of woe similar to mine. Despite all the shenanigans it was a great event, well run and well marshalled. That jump on the mx track is worth the entrance fee on its own. The next event I believe is in July, hope to see you there.



If you enjoyed this report and would like to be notified of new reports or web site updates then join the mailing list. To sign up to the list just click HERE>> and send me an email.