So why has it been so long since my last report? Well I had a little problem that involved some repair surgery to fix. Back in December 2013 I tore my left bicep tendon. It went undiagnosed for several weeks when I tore the rest of it off and this time I went private and got it fixed. Initially the surgeon was not keen to try and repair it, as it had been almost six weeks after the initial injury, but I managed to persuade him to try. Luckily there was a tiny slither still holding on, so it had not moved up into the arm too far. In the consultation I asked him what was the harm in trying to repair it, he said I might end up with a large scar and have some numbness in the arm. My exact words were "I don't give a shit about a scar – slice the whole arm open if you have to, but this needs to be repaired".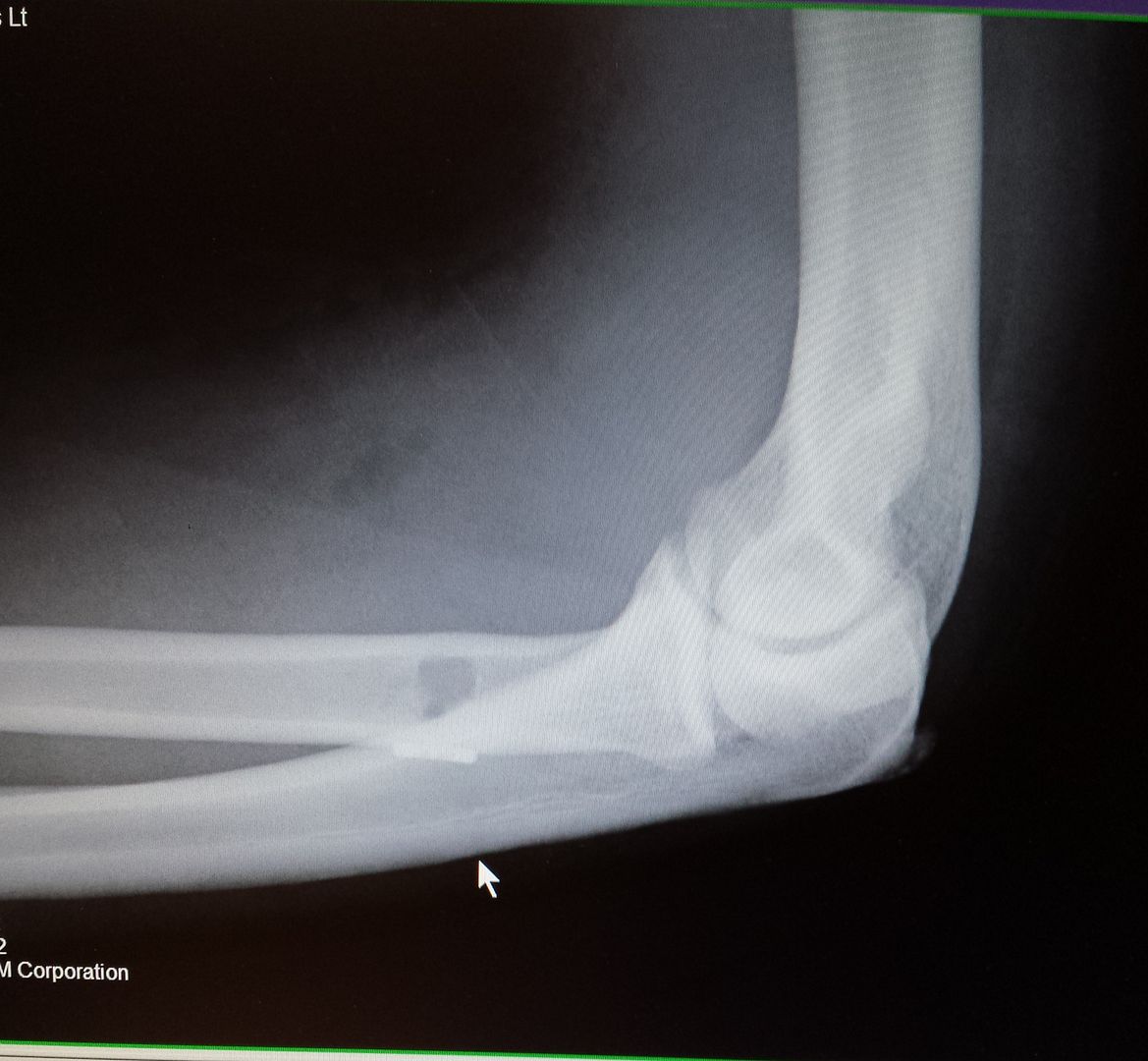 in this photo you can see the hole drilled in the forearm bone to secure the tendon,
below is the metal pin/button the tendon is anchored to
Luckily it all worked out. They cut your elbow open, trim the tendon, seize it and then drill a hole into your forearm. They when ream this hole to fit the tendon, sow a button onto the tendon and push this through the hole. The button is then turned so it anchors the tendon in place. Six weeks in a splint with no movement, four more weeks in a sling, six more weeks with no strain on it. I must admit it was not a good time, very uncomfortable after a few weeks. At one point the dressing was nearly driving me up the wall and I almost had Nicky take me to A&E but she took it off instead and rearranged it all. Once I could see it was all ok, I could relax again, but it wasn't easy. During the first week I'd also had the bad news that my cholesterol was up, so to cap it all I was in a diet. After a couple of weeks I started walking for exercise and the kilos dropped off. Weeks (months) later I was back on the mtb and while the diet is no longer quite so strict, I've lost quite a lot of fat and fitter than i have been for a while.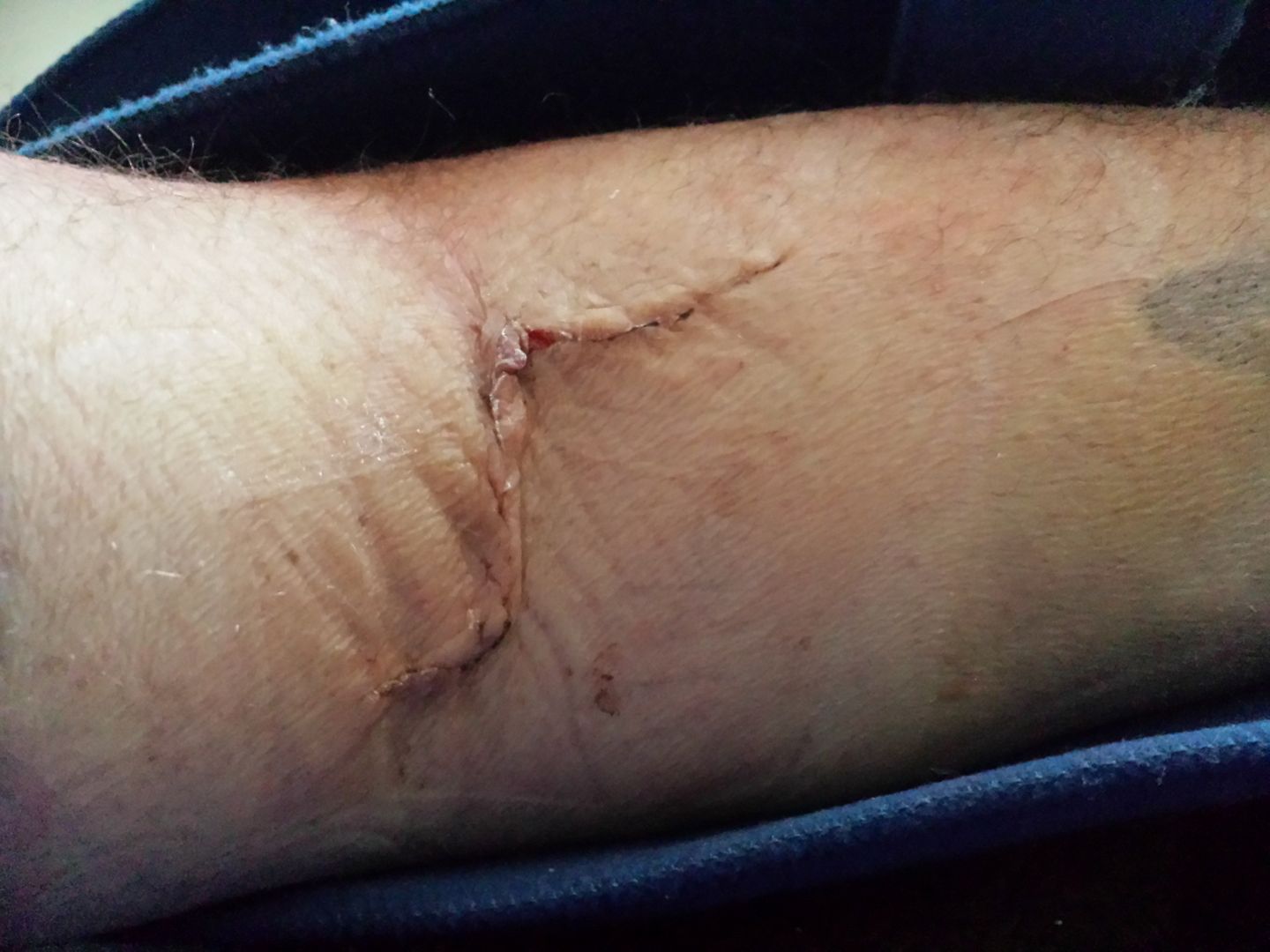 the first time the splint/dressing came off after six weeks

My first ever ride back on the KTM was with the CHEC club but instead of racing I just marshaled the event. Then came a wet and muddy ride with Enduroland where I suddenly realised I'd not lost much speed. Finally I rode for a day at Bagshot with the Blue Light Off Road Club and spent the day there with Tommy, Tony and David. It was a great day, Tommy remarked how much weight I'd lost, David didn't even recognise me when I walked up!

So the next logical step was to get back into the saddle so to speak and get racing again. The next available race was with the South Reading MCC, their final race of the year to be held at Ashdown Farm. I quite like the races there but they can be a little hard sometimes, as it can either be hard going due to braking and acceleration bumps, or slick as a slick thing if it rains.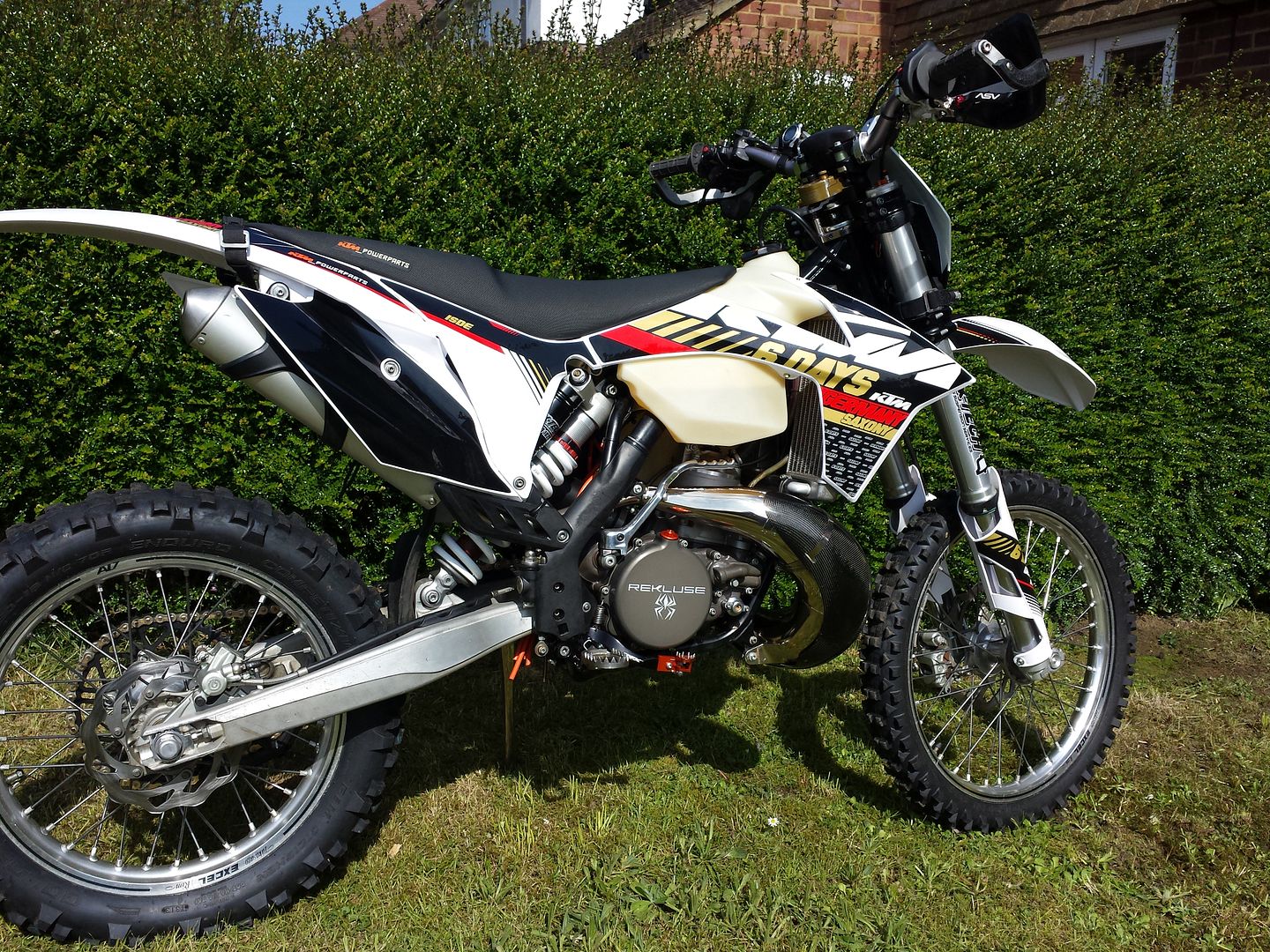 i always love the look of the six days germany so when a set of graphics came up on the forum i jumped at it
I'd already bought OE colour plastics so had to buy more in white!
bling bling

The KTM was ready to go baring the rear tyre needed turning round to get the square edge of the GT240 knobblies in the direction of power output. Ah yes the bike! Well while I was off sick I did a little ebay selling and buying and if I could not ride it I still needed to do something with it, so I got blinged it up big time. The beauty is not just skin deep either, as I had the suspension worked on too. The rear shock had been modified last year into a single piston so that got a progressive spring fitted. The fronts were totally changed too, they had 'mx tech huck valves' fitted so needed shorter springs and these were upgraded for my weight. A re-valve finished the job off. All the work was done by Andy Bell suspension services, he's an ex mx gp mechanic and suspension guru.


Race Day!

Initially there were reports that it was going to cool down for the weekend but come Saturday morning and it was anything but cool, in fact it felt warmer than ever! We'd heard previously that the course had become extremely cut up and was now very rough. But it's always rough so I didn't pay it much heed. Tony, Nicky and I pulled into the track at about 9am. It's nice that the race doesn't start till 11am, as it means there is no mad early start to get there on time. Things were well organised as usual, even more so this time as bikes were being lined up in classes. I must admit I was quite nervous, and had been all week! One side of my brain (the sensible side) was telling me to go out, have some fun and take it easy. The other (more dominant) side was saying – "hey you are fitter and slimmer than you've been in years, get out there and give it your all". So I had this mad mix of emotions to deal with and I felt both sides had merits. I'd try my best but if it got too much for my (still weak) arm I'd either stop or take it easy.
don't forget to look at your start time idiot!

I lined up on the first row as I was racing in Clubman A, just behind the experts. We set off and the track took us straight over the 'fair mile' byway and along the bumpy track into the tress/woods on the other side of the valley. Almost immediately the state of the track set the tone for the day – it was cut up and in terrible condition. The track weaved through the trees on familiar tracks but now they were so bumpy you could not even think about sitting down. Even some turns were bumpy and no berms and been built up. Eventually we dropped out the woods onto the open fields way over the other side of the farm, and nailed the bikes up the hill to the two jumps. It may have been open going but this was bumpy too and hammered the arms. After the two jumps its down the 'goat track' and you double back on the other side of the hill. This leads you to a mega rough slope that really tested the suspension before turning back into the woods for a while, then out into a field again and the only smooth part of the course - the run up to the fair mile again, before entering the other stand of woods. cont below...
first lap and i'm joined by some riders who started in front of me
several go down behind me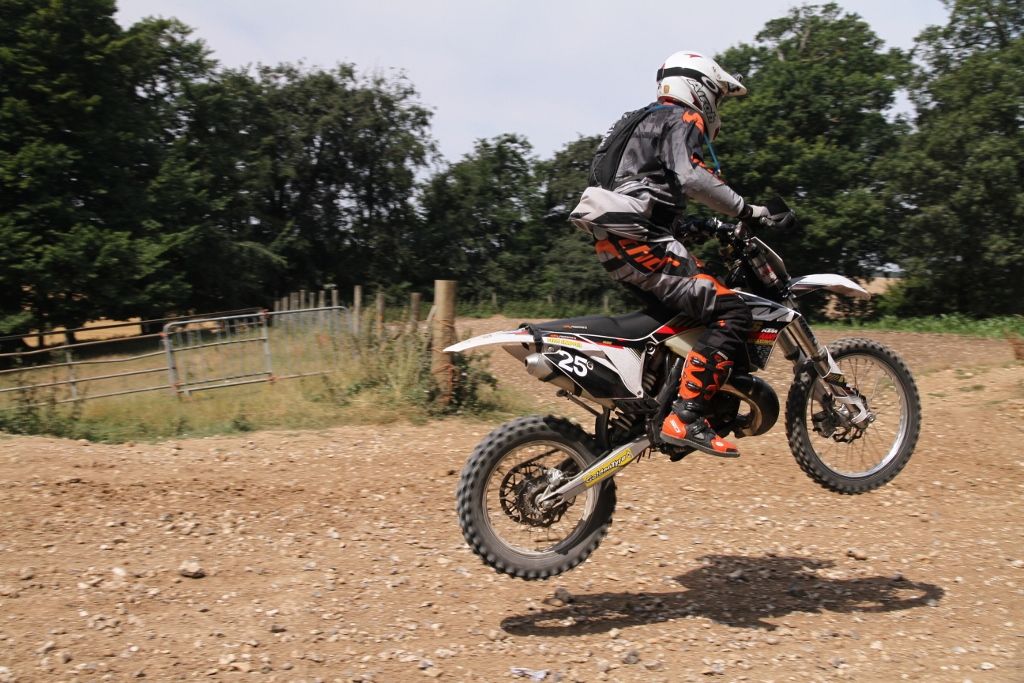 These woods flowed a little better and were not too rough. We excited the trees into that little track that pops out onto the farm track, turned down the hill, took a right before the farm and skirted the farmyard to join up with one of the mx track's access roads. Once on the road we entered the track but immediately crossed over it to the bottom of the big hill. We accelerated up the hill, jumped, but then turned off the track to the left. More flowing track and then back onto the mx track for two turns before once again turning off. It was on this section that several riders came back onto the track having taken a wrong turn somewhere, so that was good for me, I made up time on them and kept most of them behind me as we all got under way again. Several turns in the trees and it was back onto the mx track for a series of jumps. These I took very steady on the first lap, as I still had no idea which way the track went. Finally we turned off again and one final new section brought us back to the timing transponders. Boy it was hot!
tony jumping one of the jumps in the woods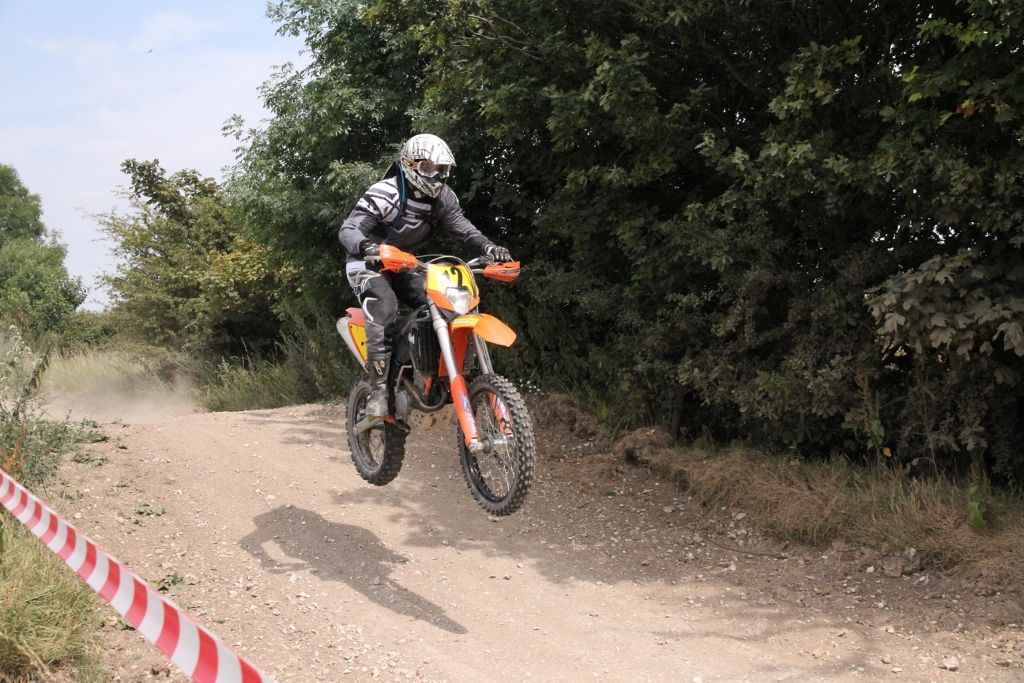 and again just after the start
soft suspension gives him a hard landing though


The second lap I was bedded in a little and set my fastest lap time, but still miss timed the jumps on the final section until I made a point of counting them and from then on I knew I could give it some on three jumps, but the last one you had to be careful as you had to make a turn off the track straight after. The rest of the track was pure hell – there is no other way of describing it. It was so tight and rough it was impossible to get into a flow and the hammering was constant. By lap number three I was wondering how much more I could take and an argument broke out in my head between the sensible side and the racer side!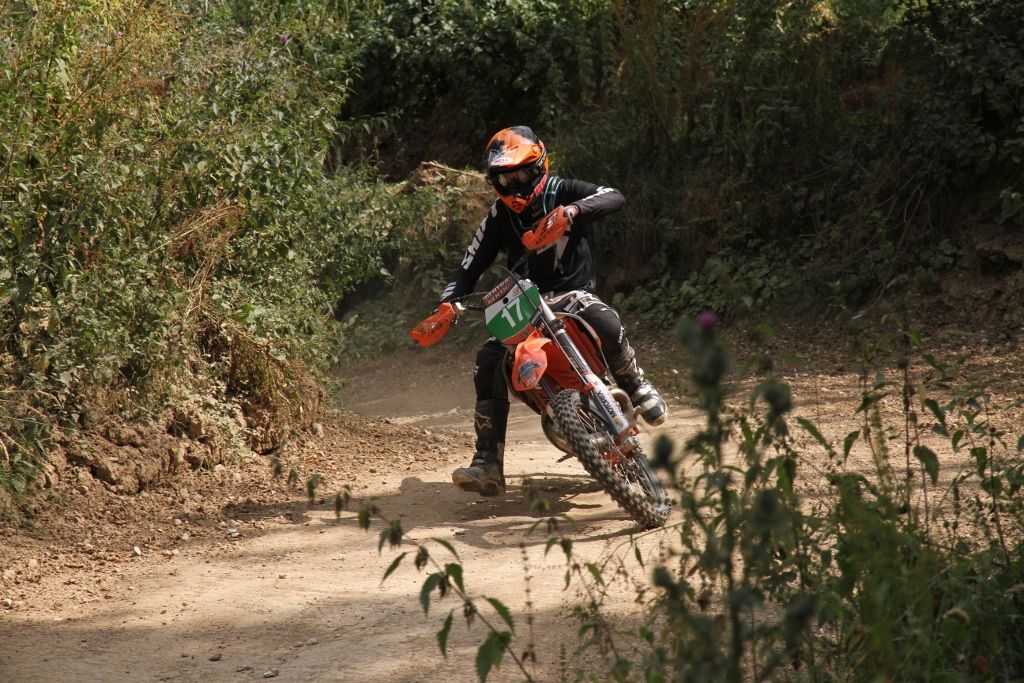 By now I was coming up on slower riders who started on the last row so that helped me focus a little and aimed at passing them. I must say that they all had exception manners and every single one made an effort to help me get past. I had to do the same later on as I also got lapped by a few of the fastest riders. I got quite a scare at the start of one of the laps. I was flat out on the first straight when all of a sudden i realised a flock of sheep had taken refuge for the hot sun under the tree - and was bearing down on them at a rate of knots! i hit the brakes and yelled which put the to flight and thankfully i missed the lot. Its all on film so watch the video further down
I caught Tony and got past at the bottom of the woods where the track splits slightly, I gave him a little wave on the way past. Latter on I saw him again, it was past the two hour mark and he'd refueled and set off again but the heat got to him and his breathing was laboured so he had to pull over into the shad for a while. I looked over at him as I went past and he nodded, I didn't recognise him at first as I was in my own state of pain and suffering at the time!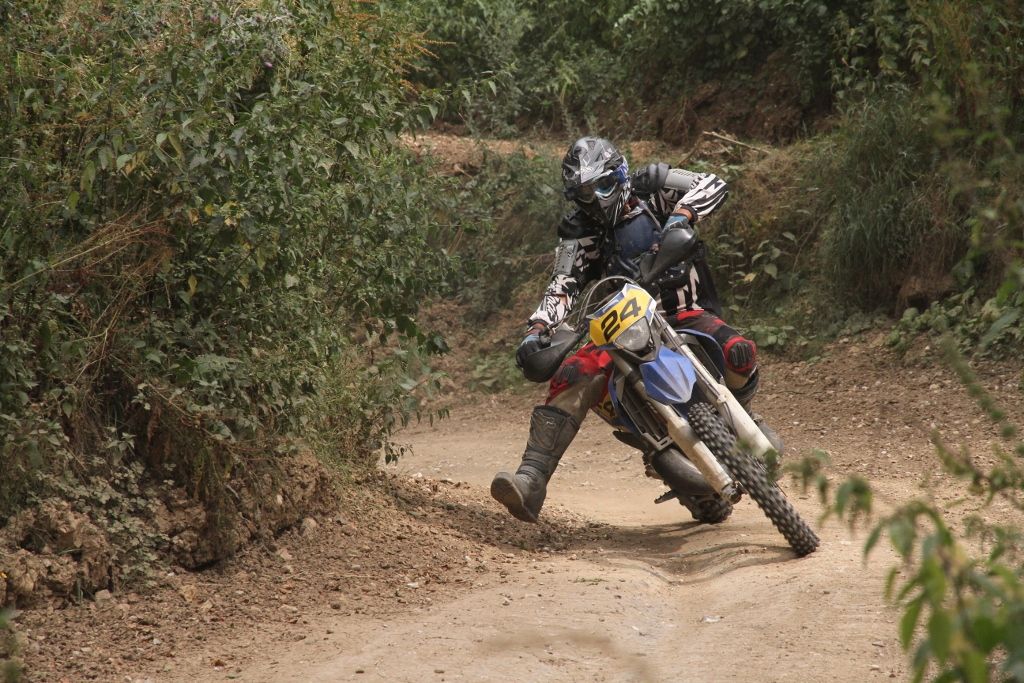 If I pushed too hard my inner core body heat would sky rocket. I could feel my heart pounding and the heat from my trunk was sky high so I had to ease off a little. To be honest I wasn't sure my 50 year old body was going to hold up! Somewhere in the last third of the day a branch raked me across the throat quite painfully. It must have been moved by someone as I'd not been caught by it before. Dam me if it didn't get me again on the next lap too!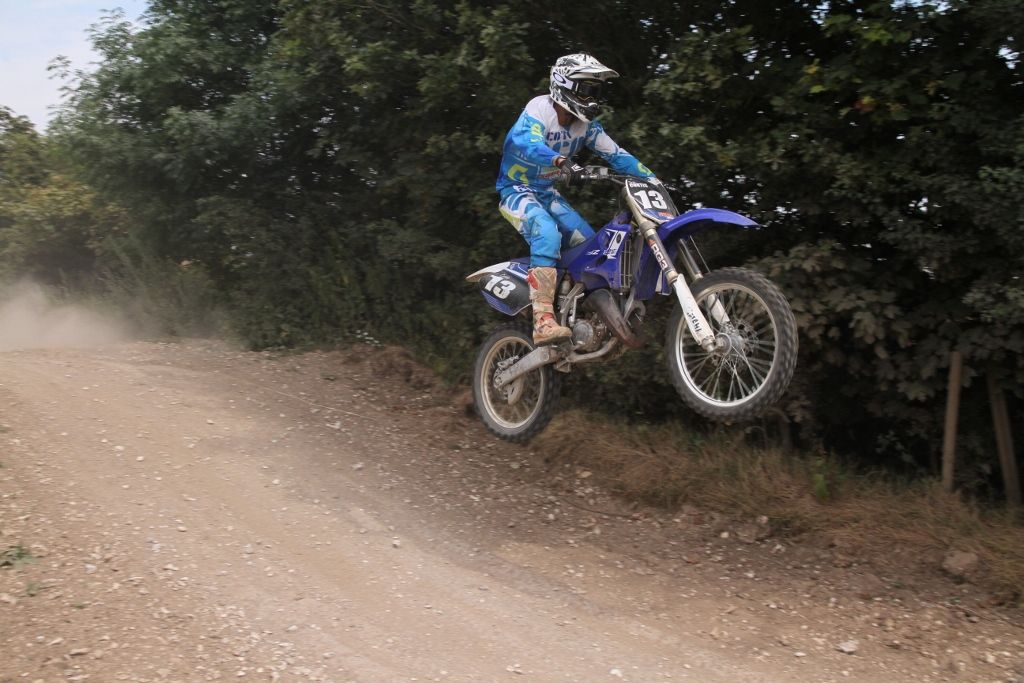 I pushed past the two hour mark for another lap, then pulled in for fuel. A quick three quarter fill and off I went again. Then I suddenly realised something – I'd made a massive cock up. I hadn't checked the time when I started the race – doh! I thought about this for a bit then remembered Nicky took photos so when I spotted her I pulled over and quickly told her to look at the photo's time stamp.
second last lap and i'm just hanging in there, about to get overtaken

The next lap she told me the time so I was able to calculate my end time. It was on this lap I had a tree body interface, a very painful one! I was pushing on a bit trying to make it back to the pits so I'd be able to start another lap (at the same time being quite disappointed that it looked like I have time to start another) and just passed a couple of guys when all of a sudden I hit something very hard and solid with my left hip bone. It made a hard klonk sound like a hammer hitting something hard, and my whole body reacted. I felt sick, I was in pain and in a little bit of shock I think. I didn't stop as I knew I had to keep moving. I made it out the trees, over the bumpy field, the two jumps and then it got so bad I pulled over and slumped in the seat. One of the riders I'd just overtaken actually stopped and asked if I was ok. I said I was in pain from hitting a tree but that made me feel daft so I set off again and somehow finished the lap to start my last one. By now I was in a lot of discomfort, my hands were painful as I'd left on my hard grips, as it had been muddy recently and i could feel my calluses were blistering off. My forearms were seizing up, my hip was throbbing and of course the heat was still ever present and draining. On the run up to the fair mile on the homeward stretch I ran out of water/energy drink. Pulling into the pits for the last time I was ever so grateful, I had finished – and was finished!
Film of the lap plus a few bits at the end. Filmed in HD so select hd in settings

Back at the car Nicky and Tony were sitting in the shade of the gazebo. I could hardly talk, I slumped onto the cool box as Tony had nicked my chair. I was done, completely knackered, I felt sick and drained. Nicky helped me get my body armour off and I slumped into her chair trying to drink a cold coke, I felt sick. Nicky got out the cake she'd made and the pair of them tucked into it, but I was too ill to eat any – which was when they realised I wasn't well. Nicky offered to call the medic but I said no (well I shook my head) but secretly was hoping she would as I felt like crap, like the worst kind of flue. Nicky poured water over my arms and now bare legs to cool me down, which made me feel a little better. The pair of them then started to pack up while I leaned against the car and threw up a litre of energy drink and half a can of coke!
RESULTS!

I felt pretty gotten the rest of the day, an indication of which was I didn't eat all my dinner, a very rare occurrence indeed! But it was all worth it (I think?) as the preliminary results are out and I got third place in Clubman A! I'm very pleased with this result I must say. To get a top three finish in my first race back from injury and seven months off the bike is fantastic.