Part One: Richtersveld Trans frontier National Park
Having not had an international holiday for a few years now, I was really looking forward to this trip. We would be retuning to the Rigtersveld once again (camping for the week) and then moving on to the Kalahari for a further two weeks.
After a very smooth fight curtsey of SAA we were in and out of the new refurbished Jo`burg airport within 20 minutes. After a short ride back to Philip's house to dump our gear we popped to the local shopping mall for some essential supplies of Biltong and Droewors. For those of you that don't know what they are it's dried raw meat – delicious! Looking out of the car window I was amazed just how much building work and development is going on in and around Jo`burg. It seems that every patch of land now has a new 'secure' housing estate on it and there are shopping malls going up everywhere. Once we were chilling out at the house, the warm sun was such a welcome change after the UK's cold & grey skies. That night Philip cooked a fantastic rib eye steak on the braai (BBQ to the English) and true to his word it was one of the best steaks I have ever had – and I know steaks! 4am start the next day and we hooked up the 4x4 trailer to the Toyota Land cruiser and set off for the Richtersveld. Leaving the secure compound (sign of the times in SA) ie the housing estate where Philip lives, the horizon was just showing signs of getting light. Due to the immense distances in Africa we would not make our destination that night and had planned a stop over in the small town of Springbok.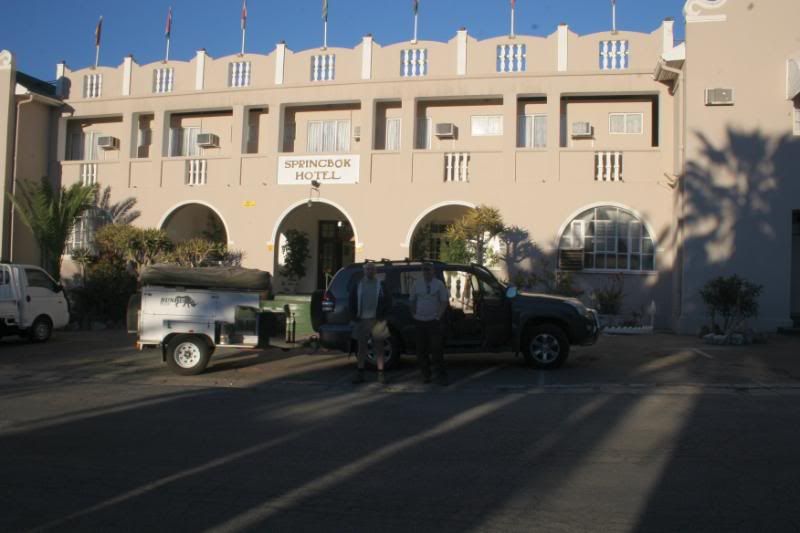 The Springbok Hotel in the town of Springbok
After many many hours of travel we stopped off for a cold drink in Sishen and hoped for a coffee and cake in the small coffee shop built into the large earth mover that they have on permanent display. We where out of luck for a change, as it appears to be closed now, so we opted for some Redbull instead. That night we had a pleasant burger in a really quaint restaurant and sunk a few Windhoek lagers before hitting the sack early. There was still a long way to go in the morning so we had another early start to look forward to. We drifted off to sleep with the air con rattling to death in the corner of the room.
The country was getting very arid now the nearer we got to our destination. As the country side gets more and more remote, the size of the towns diminish as well, accompanied by the general state of the place to boot. Pretty soon we were in places like Eksteenfountein – a town where the donkey (not posh enough for a horse) had died many years ago! A bottle store and a small shop selling cold drinks, sweets and chocolates was all they can muster here, but as always, the locals were very friendly.
We eventually made the entrance to the park and we filled the trailer's water tank to the brim as well as the two 20ltr emergency use jerry cans. The Toyota was also topped up (with diesel - duh) and we were soon on our way. Oh yes I forgot to say – you have to be completely self sufficient in the park, i.e. you need to take all your own water, food and firewood with you as there is no support of any kind once inside. You get a permit which states your exit date. If you are not out by then they'll come looking. Of course if you get into trouble at the start of the week you cannot expect help until the end of your stay or another visitor comes along, so it pays to be prepared as well as sensible.

Klipspringers - small antelope found all over the park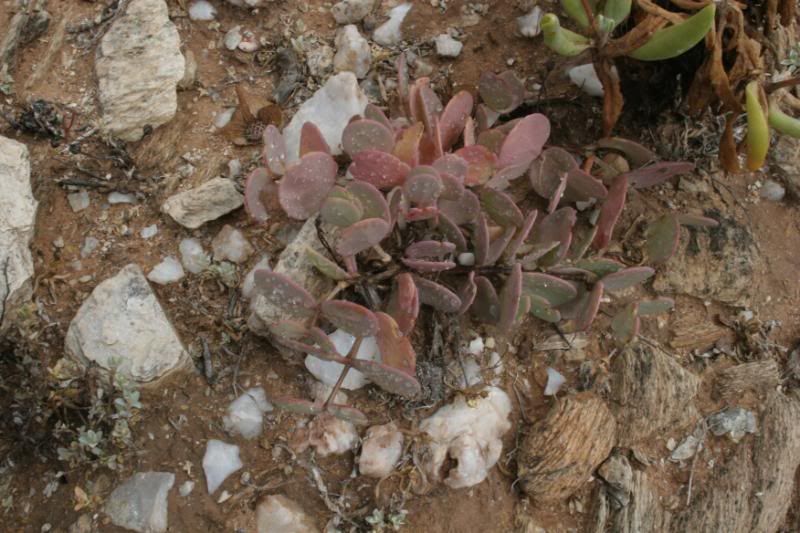 a few of the different types of succulent plants that can be found in the park.
desert plants tend to have fat waxy leaves to store water
The Richtersveld, if you don't know already, is a mountainous desert on the far western side of South Africa. The Orange River runs through the area and forms the border with Namibia. Geologically speaking it is the geologists dream area due to it being exceptionally old and the huge amount of 'folding' that has gone on. Mountains have been formed and tuned on their heads and the entire landscape looks like something you see in Martian scenes in the movies. Not only are the mountains folded and bent, but they are constantly intersected by dark volcanic dykes. Huge seams of quartz can also be found snaking across the red, orange and multiple brown coloured rocky landscape. The area is very arid and at first glance the mountains are completely bare of vegetation. However, once you get up close there are loads of small little plants covering the ground and mountains - just not what you are expecting to see at all.

the Richtersveld - the most magical place on earth
Making our way down to De Hoop (our camp for the next week) you have to cross the mountains using Akkedis Pass which is lizard pass in English. While this pass might be easy on an enduro bike it's a different story in a fully loaded 4x4 with a trailer, even if it is a specially designed 'off-road' trailer build for the job. Ok it's all do'able but the going is slow due to the rocks and as usual I jumped out to film. Compared to our last visit it was very cool with the temp gauge only getting into the mid thirties. I have video footage of the first time we entered the park and it got up to 56 deg C in this section (yes, that is no exaggeration!)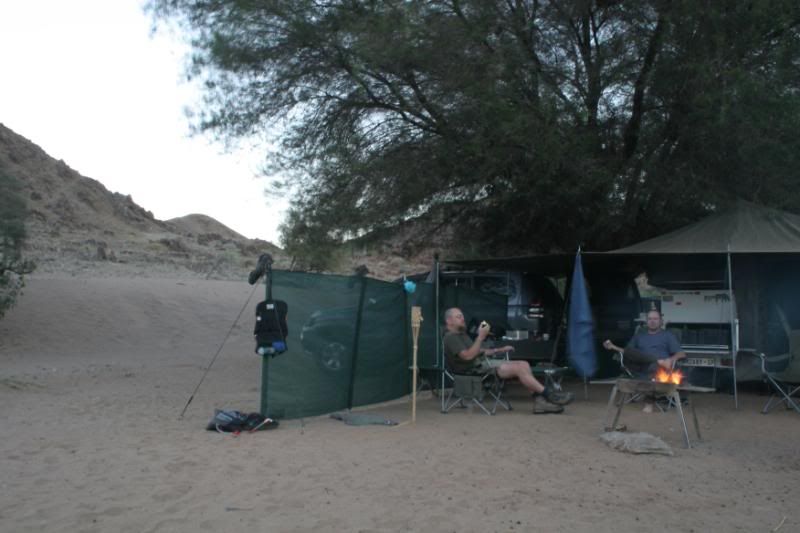 Our camp at De Hoop - Philip certainly knows how to camp!
We eventually arrived at the De Hoop campsite on the Orange River in late afternoon and quickly set up camp under the shade of a large camel thorn tree. Once we'd had a mooch around the area, checking out the fishing spots, we were happy to find out that we were alone. Settling down with a drink it become quite clear the local bird life had no fear of man. The weaver birds, white eyes and bulbuls flocked into camp to see what we had to eat. They would quite happily land on your knees and feet looking for a tasty titbit and within no time at all I had a white eye landing on my hand eating bread. In fact they were so tame that one of them wouldn't even fly away when walking over the top of him, he just crouched down as if to say 'don't step on me'. We called this one 'scruff' as his feathers always seemed to be a bit ruffled. He always seemed to be sitting between your feet waiting for a dropped crumb or two. When moving your feet you had to always look to make sure you didn't squash him.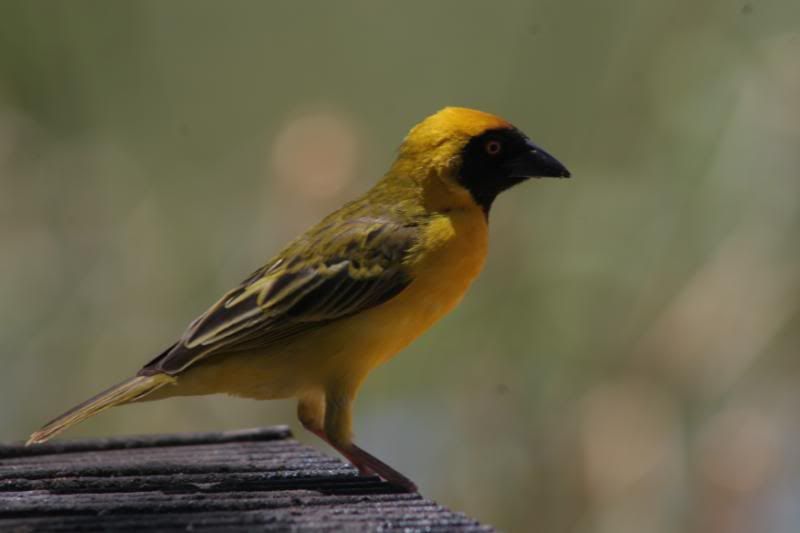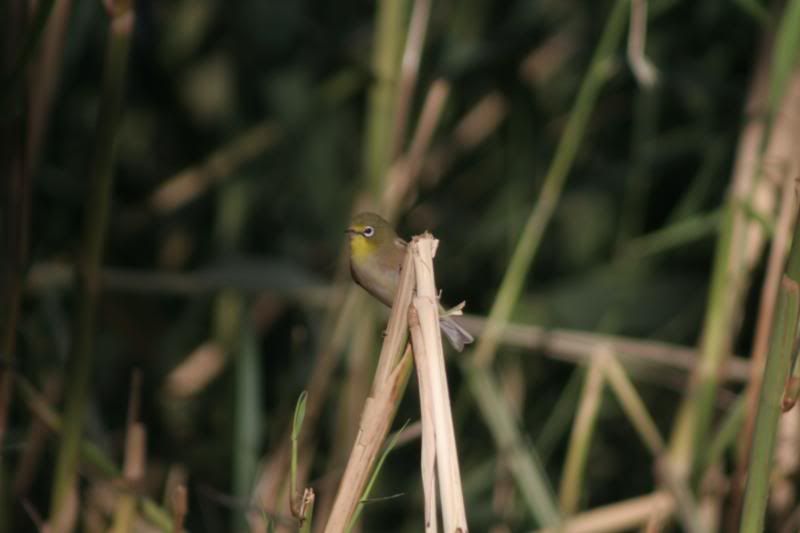 a selection of birds in our camp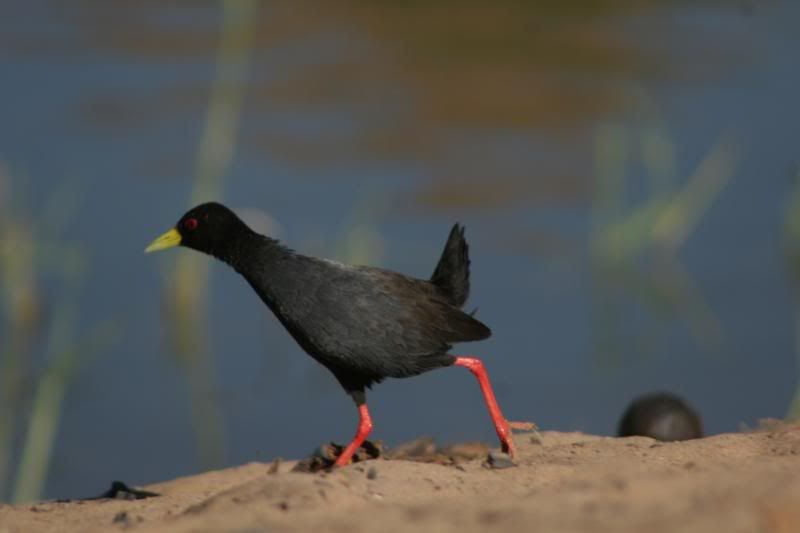 chilling out with a beer at the end of the first day in the Richtersveld, far in the distance is what we call 'windy corner' you can see the contant sand storm colouring the sky from where we were sitting.
The next day it was 'learning how to fly fish day'. Philip is a mad keen fly fisherman and unlike in the UK where it's reserved for trout, the fly fishing scene in SA has expanded to include all types of fish and water – they even fly fish in the sea! I tried 'dry casting' on land for a while, then moved into the river. It was a little faster flowing than I would have liked. Walking in a rocky bottomed river is never easy; throw in a fast moving current and you struggle. Needless to say I didn't have much luck but I did manage to get a few good tangles in the line! After lunch we tried again but still weren't having much luck so Philip moved across the river to fish off another point and caught his first fish of the day. I didn't see where he crossed the river so when he called over for me to join him I was little unsure where to go. The river was running fairly hard here and having now become an English softy, it started to freak me out a little, so much so that I got out the water and sat and watched. I love a pool, but have never been a big fan of the sea or rivers, it just makes me uneasy. To make matters worse Philip caught another fish!

me struggling to cross the river with the current running hard
That night we decided to go on a bit of a hike the following day. Philip was keen to attempt walking down stream to where the Fish River meets the Orange River. The Fish River runs through Namibia and the canyon is second only to the Grand Canyon. I've hiked 90km through this canyon when in school (that's another story) and hope to do it again one day. In the morning I filled my three litre camelback to the brim, as did Philip, but Nicky's was a smaller 2ltr affair. I slid another 2ltr bottle of water into the back of the pack plus a can of pickled fish. I managed to convince Philip to take another can of fish, plus a packet of Provita biscuits. We set off on our day hike and by 9am we were already putting on suntan lotion. Even though it was starting to look like a very hot day, the morning was a lovely time to walk. We came across some Vervet monkeys that were a bit perturbed by our presence and I stopped to film them for a while. After several km's we had moved away from the river due to the thick stands of low slung impenetrable trees. Here the going was harder as we were walking in sand and without the cooling effect of the river. A little further on we came to a small washout that had made a route back down to the river. We found the shedded skin of a large Cape Cobra laying on the rocks as we made our way through the brush bent over double. The wash came out in a wonderful part of the river where it narrows between some rocks. Following this part of the river we carried on down stream as there was a clear bank to walk on, unfortunately after half a km or so it petered out and we had to crawl under and over the brush and fallen trees to get back out again.

the cobra skin - picked up and stretched out it was over 4 foot in length, remember the snake will be a lot longer than that now, as this skin was too small for it!
We pressed on for several hours stopping to film here and there. Eventually we reached what we jokingly call 'windy corner'. When up in camp you look down river and in the distance this area is always covered in a dust storm, and boy it wasn't any better today! Sand and contact lenses don't mix too well so I was having a hard time of it. We continued until we were convinced we had reached the spot where the two rivers converged. All the signs were right for it - we were standing on what must be the worlds largest pile of pebbles. It stretched for about 1 km and was easy 50 to 100m deep. When in flood, this had to be the spot where the Fish River would push its` load of pebbles as it joins the Orange River. Unfortunately we didn't have an un-interrupted view of the opposite bank, but the mountain side was very broken up and could have hidden the Fish River from us. We waypointed the spot on the GPS to check up on the laptop later and headed back, practically dragging Nicky away from the pebble mountain!

me and Philip at the convergence of the Fish and Orange Rivers
Having already covered twelve kilometres through the hot desert the journey back tuned into a bit of a slog. The temperature was up into the mid 40's by now, and the wind had dropped off, leaving us to bake in the searing suns rays. Without any breeze the heat reflects off the mountains and can really cook the surrounding area. We stopped off for a swim and some lunch at a clear spot at midday, but we were boiling within minutes of starting the hike again. Somewhere along the way we came across a Nama kraal and a kid (young goat) latched onto Philip's leg as he stopped to say hello. It was obvious that it was very very young and was possibly only born the day before. He walked off and the kid followed. Mmmm, we could see he had every intention of walking back with us! Nicky and I walked ahead and Philip stood there and waited – then burst into a sprint to get away. I guessed what would happen and had the camcorder ready. Yep you guessed it, Philip came running past with the kid hot on his heels, balling its head off! We found a kraal that had one side open and popped the kid into that. His mother could get to him when she came back but he didn't have the knowhow to get out and follow us. It was heart breaking to hear its cries as we walked off though.
The last few km's was quite an effort and Nicky had run out of water by now so was sharing mine. The thought of a nice ice cold beer was very uplifting as we got near camp. Oh yes Philip doesn't do camping by half, the Toyota has a large freezer in the back and a dual battery system. It keeps the meat at the bottom frozen and the beers at the top ice cold!
Having hiked through the desert all day in the searing heat we decided that the following day was going to be what we call an 'easy day' – lazing around camp and chilling out. We tried fishing again in the morning but nothing was biting. In the afternoon I convinced Philip to re-hook my rod as I was keen to try upstream. Nicky was also keen on this spot as it had a fantastic view of the mountains across the river. So loaded with a fishing rod, camera and art materials we set off. I settled down in the river and fished, getting in some well needed practice on the casting side, while Nicky painted and took the occasional photo.

almost getting the hang of the 'art of fly fishing'
It wasn't too long and Philip joined us, fishing for a while but when they still weren't biting he headed off back to camp. I carried on and enjoyed the afternoon soaking up the atmosphere. Words can't do it justice really. The sun beating down, standing in the river with a cooling wind and the fantastic orange/rust coloured mountains looking down on you with birds flying past – heaven. Eventually I noticed an occasional splash of a fish jumping or the flash of a fin, so I knew the fish were starting to get active. Would I be able to catch the buggers though?
Suddenly the strike marker dipped below the water and I struck the rod to secure the hook – I had one on line! I'm not sure who was more surprised, me, Nicky or the fish! After a bit of a fight I had him in my hands and posed for the 'look how clever I am shot' holding the fish proudly. Within ten minutes I had another even bigger one on the line and I was even more chuffed with this one as it showed the first one wasn't a fluke. Of course no fishing trip is complete without the 'one that got away' story. I hooked something else (what felt like a very large fish) but being inexperienced I must have put too much pressure on the line as it snapped near the hook and that was that.

me with fish number one

fish number two!
The following day we spent driving out to Kokerboom kloof. This is a valley or kloof that has a high concentration of the endangered Quiver or Kokerboom trees. They are amazingly photographic and it's a great place to walk about looking for bits of sparklies, I picked up a lovely piece of smoky quartz here one year. The whole area is amazing as the rocks are different here in that they are granite boulders that are naturally round in shape and the contrasting seasonal extreme temperatures cause large sections to peel off like an onion. On a previous trip I'd climbed the large outcrop in the centre of the valley, and nearly met a sticky end when a section of rock broke off in my hand and I slid towards the edge with me digging my fingers into the rock like crazy! Once I got to the top I explored a bit and then the unmistakeable stench of rotten meat came out from within some rocks. This is a possible sign of a leopard's den so I backed off and climbed back down. Anyway, this time I chose the opposite side of the valley and set off to climb the ridge. Halfway up I spotted some Klipspringer, a small antelope that is abundant in these areas. They skedaddled as soon as they saw me but I hoped to get them on film once I got to the top, as I didn't think they'd expect me to climb right to the top. Its hard going climbing any of these hills and mountains as there's so little grip most of the time. The granite crumbles into gravel that acts like rollers on the harder rocks below.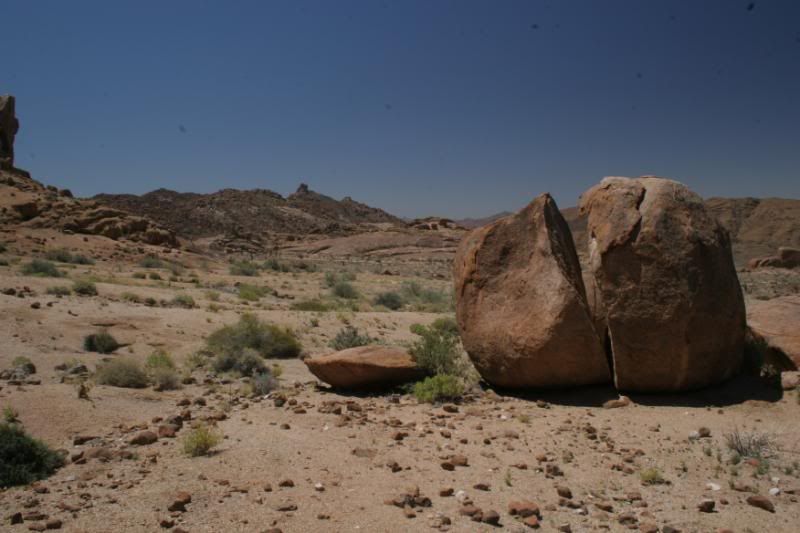 a huge boulder split in half by the extream temperature changes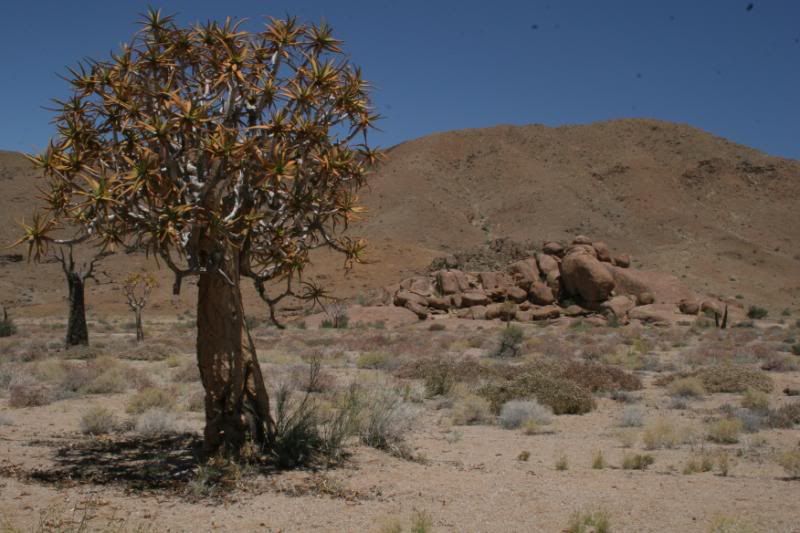 some more examples from the kloof
Once I made it to the top I had a good look about but there was nothing to be seen other than breathtaking views out across the vast Richtersveld National Park. I walked along the ridge for a while and suddenly I heard the alarm bark of the Klipspringer right in front of me. I'd been looking down watching where I put my feet and hadn't noticed I'd caught out the antelope. The wind was blowing fairly hard here and that must have masked my approach. I tried to get them on film but I was too late due to the camcorder being powered down at the time. I started to make my way back down and could hear the baboons barking their displeasure at Nicky. They can be right buggers sometimes and after getting chassed in Namibia a few years ago I'm a bit wary of them, but that's a story for another day!
Once back in the Landcruiser we made our way down to the Richtersberg which is another campsite upstream from ours at De Hoop. It's a nice spot for a swim and the cool river water was lovely as we floated about. We slowly swam over to the Namibian side trying to sneak up on some birdlife on the opposite bank. After scaring off the locals a short picnic was in order and I managed to catch a fish eagle on film as it soared past. Time was getting on so it was time to head back. There is a 4x4 trail that links the two sites and this can get fairly rough in spots but we've done it several times before. Years ago on this trail we saw the highest figure ever on the car ambient temperature gauge – 58 deg C. While the temperatures were well down this year, the trail itself seemed to be a bit rougher in places and Philip managed to wreck his LHS running board on a large bolder. While surveying the situation an old Nama gentleman popped up out of nowhere and assured me that the two of us could move it. It didn't so much as twitch so we called on Philip to lend a hand while the Nama and I dug out the stones from behind it. With an eye popping effort we managed to flip the boulder over and out the way. We slipped him R20 as a small tip and carried on. Philip was a bit pissed off about the running board but suffered in silence. Vehicle damage is one of those things that can happen when you venture off-road, unfortunately when it happens to a top of the range Landcruiser it smarts a little!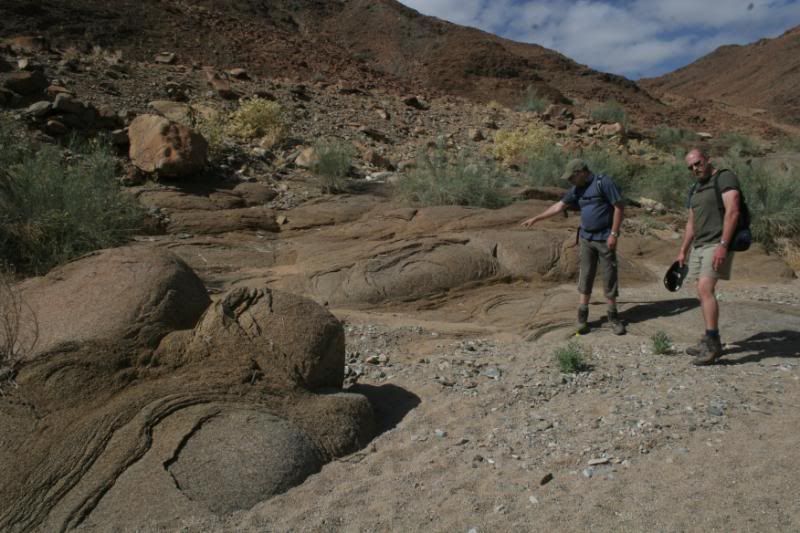 Philip and I in the dry river bed we explored
After another quiet night we went for another small hike up a dry river bed near our camp. Once again it was a baking hot day but there is always so much to see when you go walkies in the desert. Nicky and I had walked this bed before many years ago when it was just a parched sand bed. This year however there was plenty of small interesting plants to look at and there was even a small amount of ground water welling up in some spots. We found some spoor of a Leopard, which is always a nice find and Philip found some droppings (dry!) that he inspected to find out what had been the cats last meal. A little further on there were a few small shallow 'cave like' openings high above us so he climbed up to see if there was any evidence of the big cat. I kept the camcorder running and filming as I thought the sight of a leopard bursting out of the cave with a surprised looking Philip back-pedalling like mad too good a prospect to miss. Unfortunately the only excitement was Philip finding a few Dassie (rock hyrax) bones lying about the cave opening.

the small tomato plant we found growing in the desert
Carrying on we came across a tomato like plant growing in the river bed. It had tiny little fruit on it. It looked and smelt just like the real thing but Nicky warned that some of the tomato plant cousins can be toxic. Nicky guessed that maybe a baboon or bird had eaten a tomato from one of the campers and passed the seeds through. These then grew when the rains came but had to adapt to the conditions so only produced miniature fruits? We carried on exploring and Philip started climbing the ridge that makes up part of the mountain that I christened 'John's Mountain' on our first trip to the area (I climbed to the top on our first trip). After a bit he decided to have a go himself so set off for the top. I busied myself by trying to film a little rat like creature and Nicky took photos of all the interesting plants that grow naturally in this area. She was particularly surprised to find a wild Geranium growing in amongst the rocks!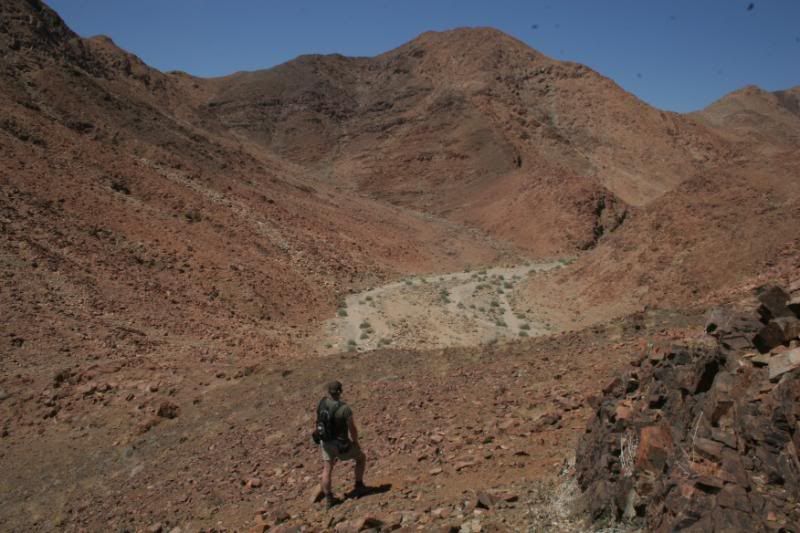 standing on the ridge looking back down to the riverbed
Philip was making good progress and I thought my claim on the mountain was going to fall but he got stuck by a small cliff face and when I called out we where going back to camp for lunch he came back down. Didn't stop him claiming dual status though! However I'm still the only one to make it to the very top, with pictures to prove it! So with that our stay had come to an end and we had to move on. But that night the Richtersveld had another thing to surprise us with – rain! The night before we left a cold front must have blown up from the south as the temperatures dropped right down and we ended up putting on long pants and hoodies. We woke up the next morning and were packed up and ready to go when the sun was coming up. The skies were dark and threatened rain, and indeed it started to fall once we were on our way – something I thought I'd never see in this desert.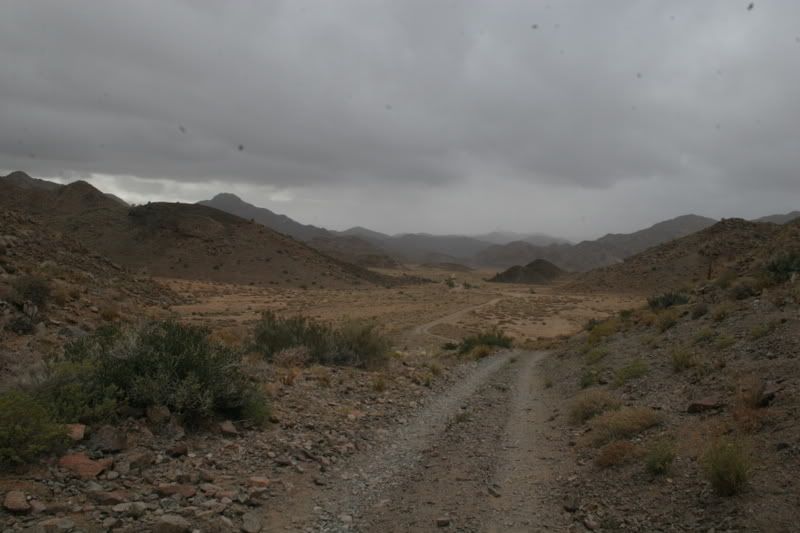 leaving the park - rain clouds in the Richtersveld???!!!
--------------------------------------------------------------------
Part Two: Augrabies National Park
We pressed on throughout the day, arriving at our next stop by late afternoon. Augrabies National Park is host to the incredible Augrabies Falls, which is where the mighty Orange River runs through a narrow gorge. When the river is in flood the sound can be heard for many miles away and the spray can be seen for just as far. Unfortunately the river was fairly low at this time, so while the falls were still impressive it didn't thunder like it can.
As soon as we had settled into the chalet Philip and I headed off down to the fall's new viewing platforms while Nicky jumped in the shower. We were standing on the middle platform when we became aware that some young Peregrine Falcons were flying about. We counted five in the end and Philip and I both made some futile attempts at catching the bird with our cameras. Just then there was a flapping noise behind us, I assumed it was a pigeon but Philip turned around and had an eye to eye view with a Peregrine that wanted to land on the arm rail! That night we tucked into springbok pie and steak washed down by loads of beers and JD & coke – ah the pleasures of staying in a tourist spot.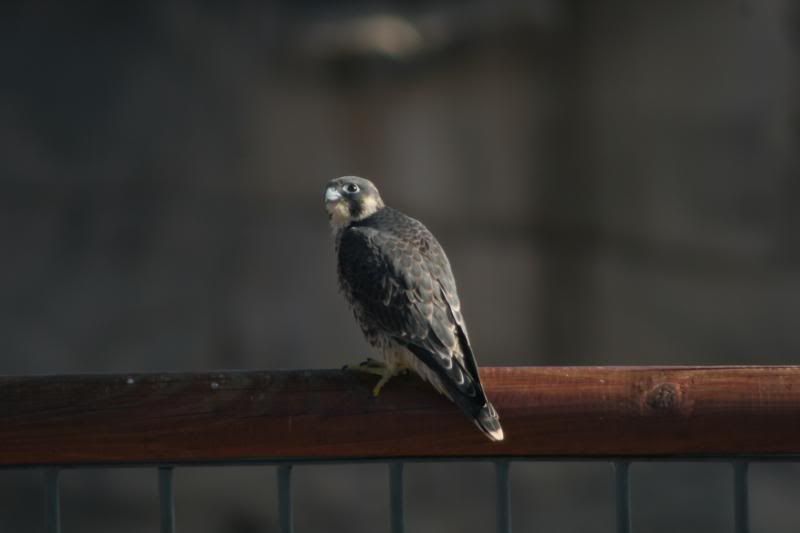 the peregrine falcon happy to have his perch back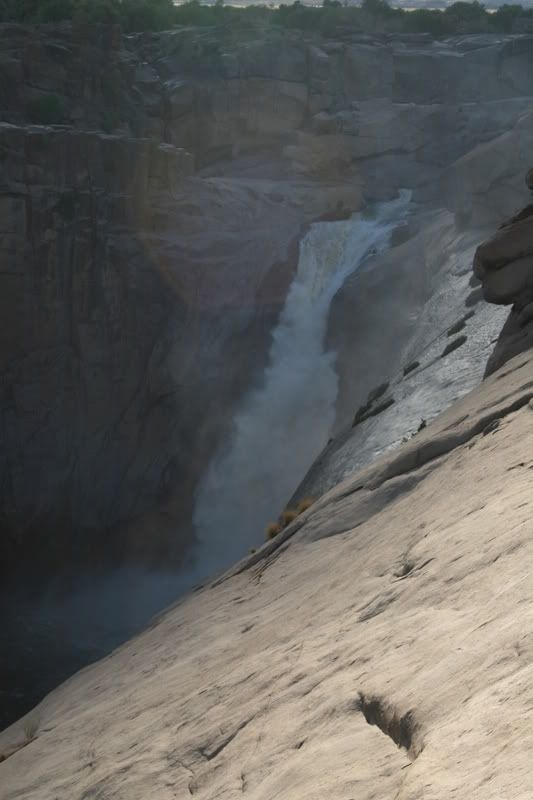 the falls - Augrabies National Park
The following day we had a quick drive around the park and popped down to one of our favourite spots to look for pieces of rose quartz. That afternoon we stocked up on more meat and beer (plus a few veggies) for the next part of our trip – the Kalahari.
-------------------------------------------------------------------------------------------
Part Three - The Kalahari

the gemsbok are synonymous with the Kalahari - the park used to be called the Kalahari Gemsbok National Park
After a 12 hour drive we eventually arrived in our camp for the night called Grootkolk. It is one of the newer camps that have been built further to the North of Nossob which is the main 'central' camp. Our camp comprises of four semi-tented chalets and a communal kitchen (that no one seems to use). The kitchen/dining tent sits in the middle with two chalets to either side. There are no fences of any kind so night time visitors are a real possibility. The chalets have their own small little patio with tables and chairs complete with a small washing up sink and a two ring gas stove. Stepping off the patio into the chalet you have the bedroom equipped with two single beds and the on-suite shower room. Everything is on the ground floor with the lower parts of the walls being sandbags covered in a form of blasted on cement. From waist height the walls are made of heavy duty tent canvas with fly screen mesh for windows. They've added a token gesture of safety by putting light weight wooden bars across these openings!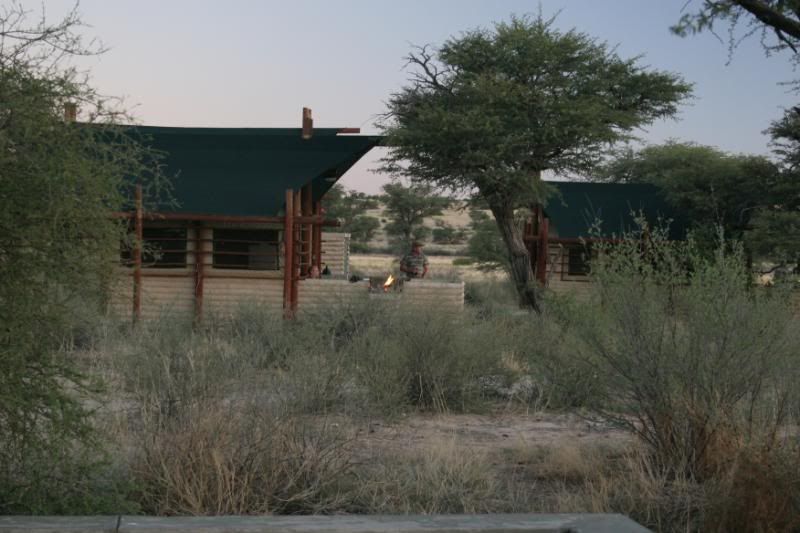 the chalets at Grootkolk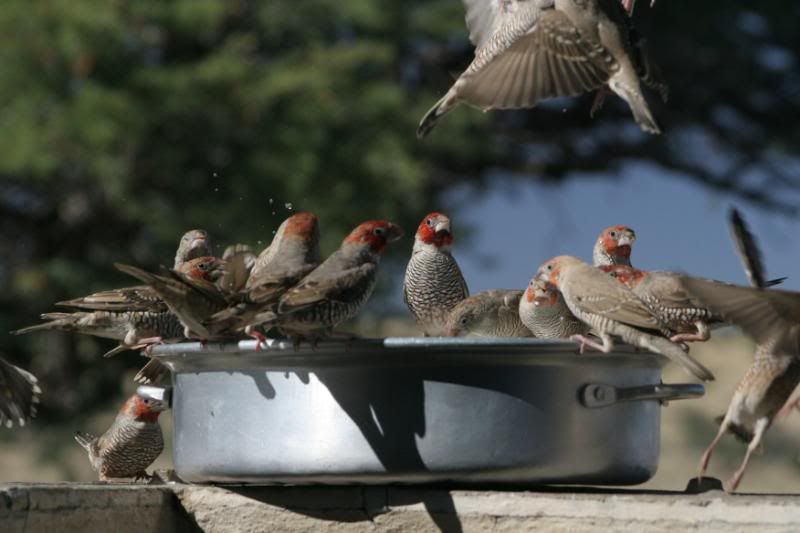 our friends for the week, sociable weaver & quillea birds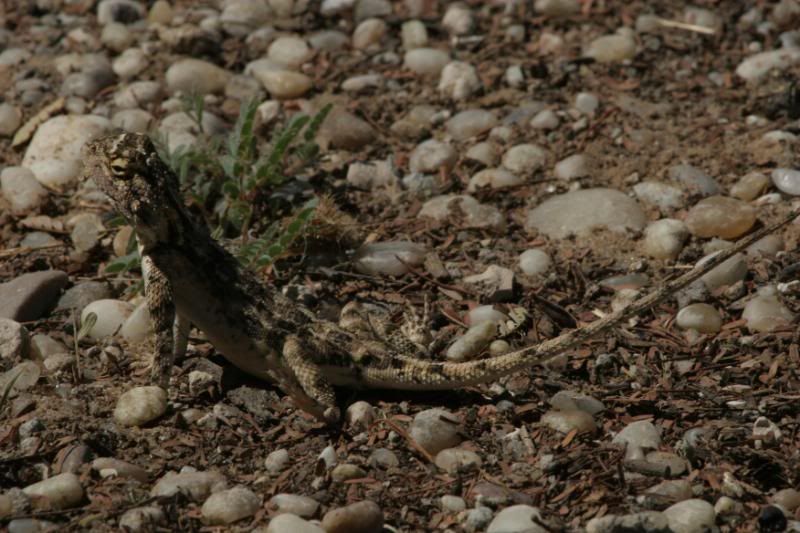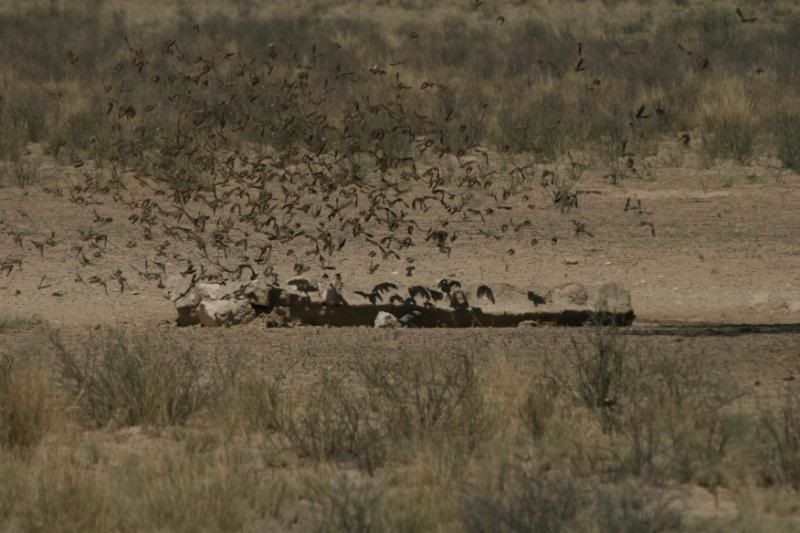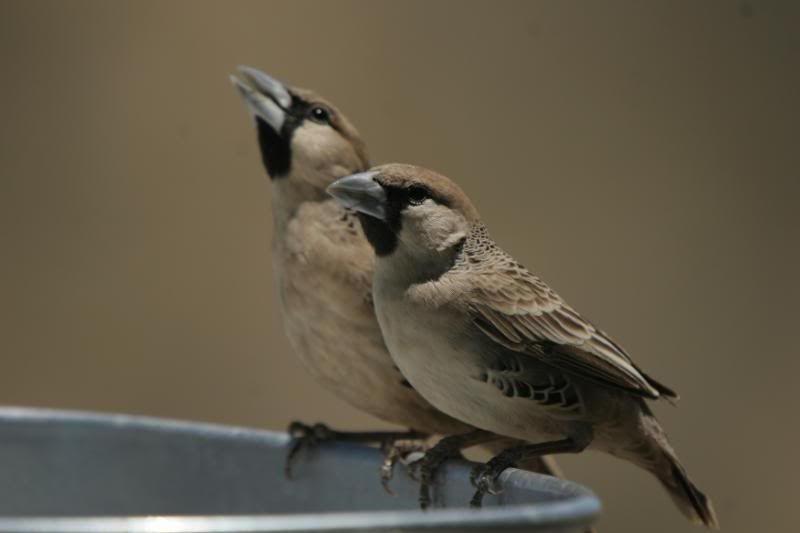 a lizard, the birds flocking down to the waterhole & another couple of birdy shots
All the chalets overlook the waterhole which is the main feature of the camp but we had the best view from ours. There is a massive population of sociable weaver birds, as well as quillea birds at this waterhole. Wherever there is abundant prey there are things to eat them so Lanner Falcons made passes every 20 minutes or so looking for a meal. It would appear that plenty of birds have now learnt that they can get a 'death free' drink of water at the chalets due the washing up sinks being outside. We placed large pans of water on the patio wall and for the next five days we had several thousand birds chattering away in the trees above our heads. Well I say chatter but they make a funny beep beep sound so we nicknamed them 'beeps' from then on.
We enjoyed another braai that night (every night) and had a great viewing of three female lions with clubs that came down to the waterhole. Philip and I both had night vision scopes and now this was a perfect chance to try them out. Three large lionesses less than 100 metres away and no fence makes for exciting viewing. Not only that but all the food was in Philips chalet so we ate there, then had to walk back to ours at bedtime. A careful look about with the maglight before setting off was required.

a lilac breasted roller
After all the long hours of travelling we spent most of the next day chilling out around the camp. We got to know the Ranger called Isaac who was looking after the camp and enjoyed swapping stories with him that night. Philip used to do research in the Kalahari when he was a student and camped out under the stars with rangers and professors, so has some pretty interesting (hairy) tails of lions and snakes etc. In the early evening we heard the unmistakable call of a lion. Not the MGM style roar but the softer umph type call. Ah nothing can be better than chilling out in the evening with a stomach full of good food (meat) and Windhoek Lager - listening to the sounds of a lion calling, mmm life is tough in Africa! The walk across the gap that night was exciting and we had a good look about first. I drifted off to sleep with the calls getting a little nearer. In the middle of the night I woke up with an almighty roar ringing in my ears, mmm that was close! I grabbed the night scope but couldn't see where the lion was. Nicky was hissing at me to stop making so much noise in case the sounds attracted the lion. I drifted off to sleep again but the large amount of lager drank earlier in the evening forced me awake. I got up and went to the loo, flushing it as normal. Nicky was woken up by the sound of the flush, but didn't know what it was or what was going on. I wasn't in the bed so she feared the worst and that freaked her out a bit. Once the panic was over a very angry Nicky gave me a right bollocking for flushing the loo at night – giving her a fright and waking her up! The next day we though we'd drive down to Nossob to pick up some more beers so we set off early after coffee.

mr lion - the animal responsible for waking us up during the night
We only got as far as the point where the camp access road meets the main river bed road and there sat the lion that had serenaded us (and frightened some) the night before. It was a very large, handsome looking, black maned lion. We took some photos and then followed him in the 4x4 as he walked up to camp and settled down under a tree just outside. We popped back into camp for a pee and then set of again for Nossob.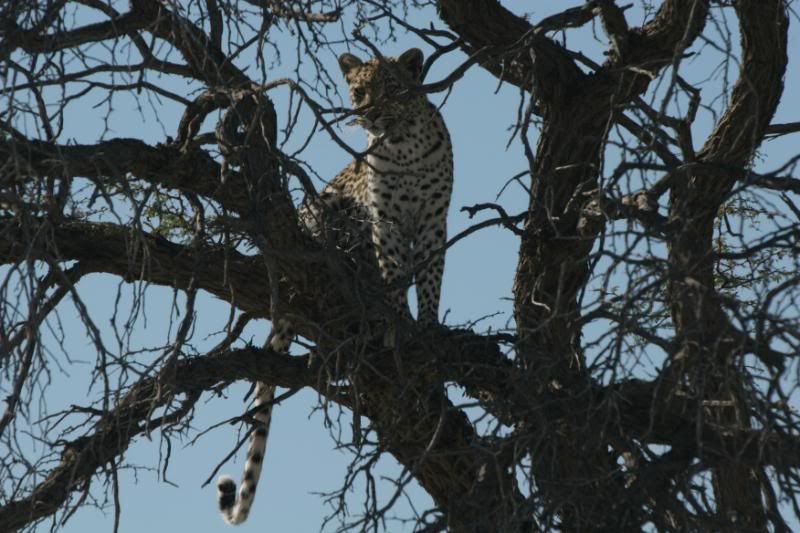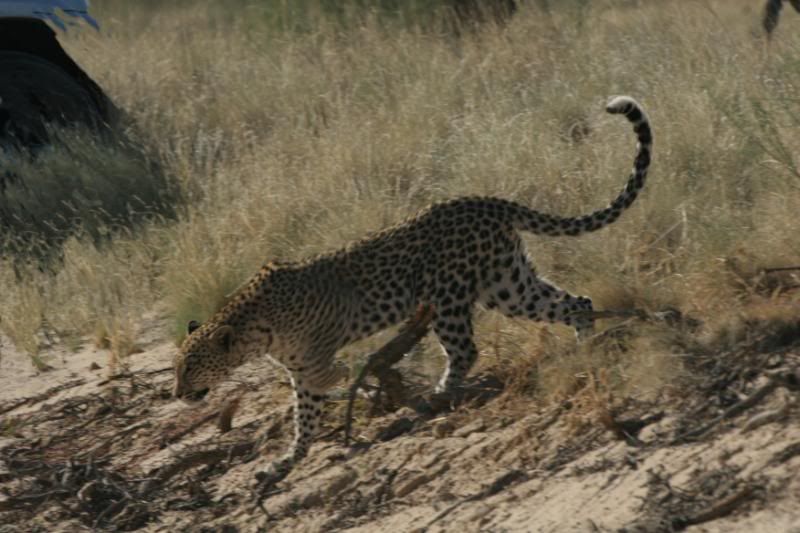 a leopard in the kalahari - it's very rare to get such a good sighting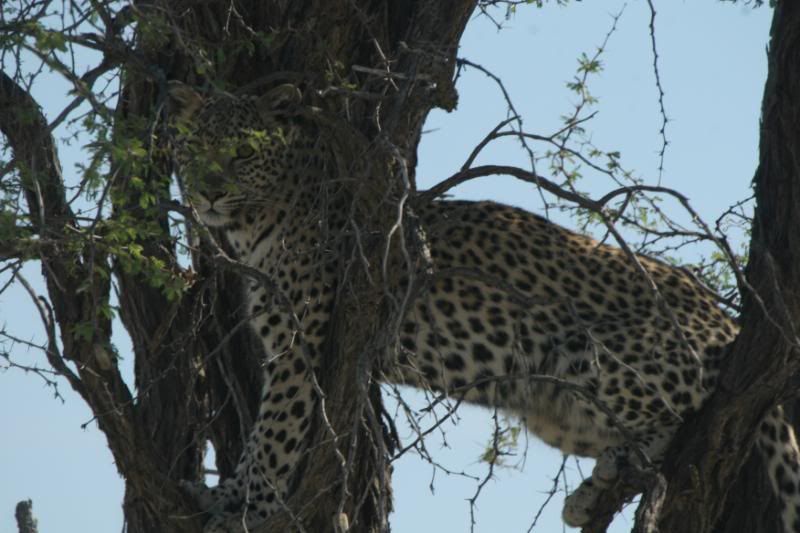 aaah a comfy branch at last..........mmm maybe not!
Low and behold within minutes we came across a leopard sitting in a tree right next to the road! Now these creatures are plentiful all over Africa, but you almost never see them, especially in the Kalahari. Getting a sighting like that doesn't come along very often. Nicky and I have made about six trips there with Philip and this was our first leopard in the Kalahari. It was a very laid back female leopard and she sat in the tree looking out over the dry river bed for quite some time with all three of us getting as much as we could on camera. She then climbed down, walked cross the road and did a little roll around in the sand almost like a catwalk model before climbing another tree on the opposite bank. She was obviously interested in the game down in the river bed, but this tree wasn't really built for leopards to climb in, so she ended up in some of the most unflattering positions for such an elegant animal.
Eventually she climbed down and lay in the grass for a while. By this time we were all busting for a pee again so we ended back at the camp - again. The ranger had a very puzzled look on his face when we got back the second time. You have to take out a travel permit so he knew we were supposed to be many miles to the south. On our third attempt to get to Nossob we stopped off where the leopard had last been and found her once more. On cue she jumped up and climbed the quintessential 'leopard type' tree and lay with one leg hanging down. It was a shot you see in 100's of magazines so Nicky purposely never shot that one! We did eventually make Nossob.

a female hyena that we found cooling down in the overspill of a waterhole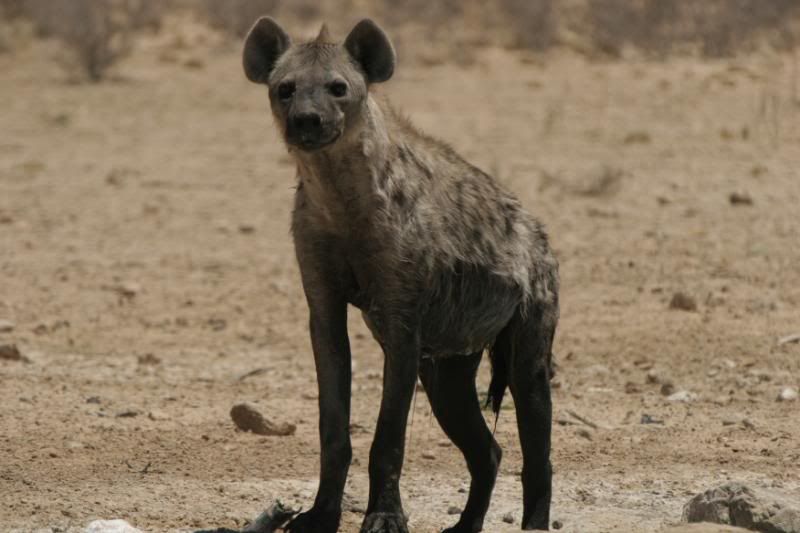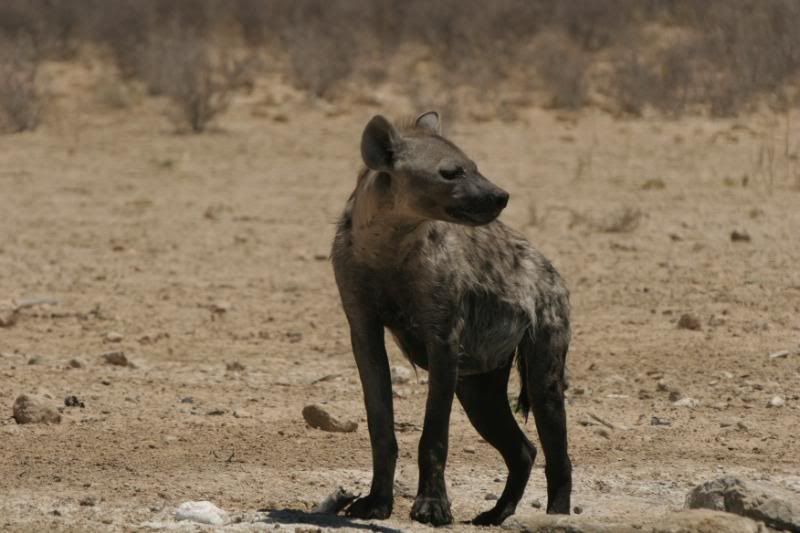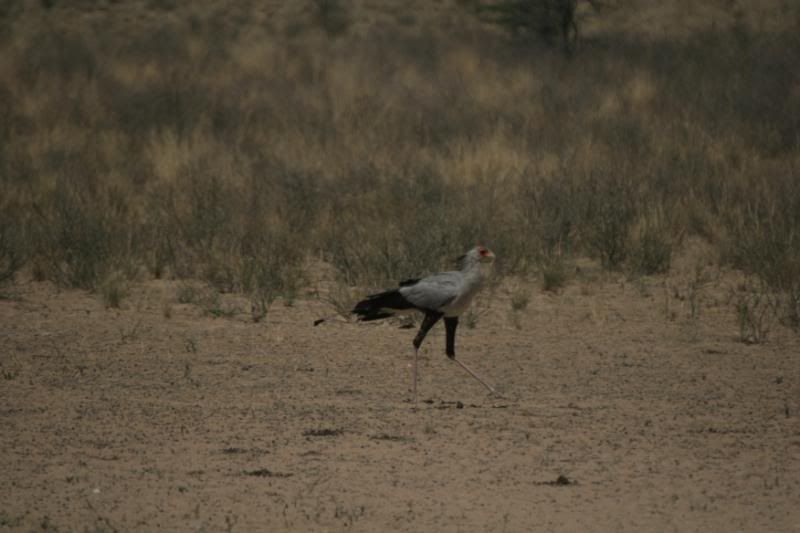 some more shots of the hyena plus a marshal eagle and secretary bird
Late in the afternoon back at camp Nicky was trying to do some watercolour painting and the ranger happened to notice. He asked her if she would show him how to use some art materials sent to him by a previous guest. He came back with what tuned out to be pastels (a coloured chalk) and I helped translate some of the lesson as Nicky's Afrikaans is not as good as it was. The surreal thing was that we were all standing around having art lessons with the fire on the go for the braai and the ranger's rifle propped up against the wall – with a full grown male lion laying under a tree less than 100 metres away! Now you might think that is far away, but make no mistake, lions are FAST. They can cover large distances in a few seconds, something many Europeans fail to take into account when getting out of their cars to pose for photos – at the cost of their lives. Later that night two female lions came down to the waterhole and Mr Lion came down to greet them, and it was quite clear what he had on his mind. A few sniffs round the back end earned him a clout around the ear but she was leading him on by swishing her tail in his face! We slept easy that night knowing that he'd only have rumpy pumpy on his mind.
The next few days went by without any major incidence and we went on a few drives, one of which was to Unions End. This is the meeting point between SA, Namibia and Botswana. It's always really dry this far north and this time was no exception. We had some nice sighting of cheetah and hyena about the waterhole at night and saw even more lions while driving about. We had another 'quiet day' when we didn't go out in the vehicle and I spent the whole day watching and filming the beep birds, lizards and the occasional larger animal that would wonder down to the waterhole. Actually coming down to drink was quite an ordeal for the animals. The larger ones were very wary as the area smelt of lions and some just stood and looked at the water for ages before walking off again. The birds were also having a hard time of it as the pair of lanner falcons made regular swoops into the flock trying to pick up a tasty treat.

"after you" ...... "oh no, you first - I insist"........"sod that"
A fairly large heard of wildebeest came down to drink but as usual the lion scent was putting them off. They all stood about the place for a long time and eventually the heat got too much for some of them and the wondered off back to the shade of the nearby trees. The main (largest) bull was obviously feeling the heat too, but he must have been feeling the pressure of leading the heard as well so he bravely edged forward until he eventually got close enough to drink. Once nothing had jumped out of the grass to eat him, the rest of the group came forward to join in and the others that had wondered off came running at full speed to get some water too. Everyone had a good drink and wondered off leaving one lone wildebeest drinking on his own. This made him decidedly nervous and it was very comical watching him dip his head down to the water but jerking it straight back up again as soon as he got his lips wet. We could almost see his big eyes rolling around looking for the lion to pounce at any moment!
After a quite night it was time to move on again and we packed up for Gharagab, which is another very similar camp, however this one is deep in the sand dunes themselves whereas most of the others are situated next to the (dry) Nossob riverbed. Gharagab (our new camp) can only be accessed by a 4x4 trail and only people staying at the camp may use this trail. This gives you access to parts of the park you'd normally not be able to see, and also ensures it's not too busy – we do like to be alone.

A small steenbok. we nickname them 'bambi' as they look like something Walt Disney would create
The countryside changes quite a lot once you get deeper into the dunes. There are lots of thorn trees and the grass is thick and plentiful. Strangely there appears to be less game in these parts. There are lots of factors influencing this that I won't go into now. That's not to say there's no game, they are just harder to see sometimes, but you also get different types of animals that live out in the dunes. The camp itself is situated near the top of a dune and looks down on the waterhole. Again only four chalets, but this time they are on stilts and the washing up/cooking area is inside each dwelling. There are no solid walls on these, just the protection of being three foot off the ground. As we drove up and got out we were greeted by an awful pong. It turned out to be a small tree that was in flower and smelt like cheesy stale socks. It sort of faded into the background after a while, but did take some getting used to. The first day in our new camp was spent sitting on the patio with a pair of binoculars gazing out over the veld examining every tree and clump of grass for signs of life.

Our new chalet at Garagab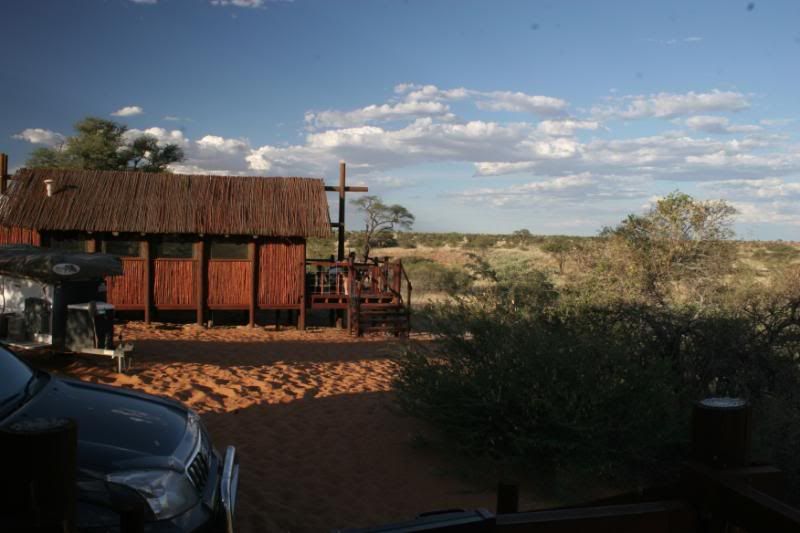 the chalet from the outside

Chilling out at the end of the day
Clouds were slowly gathering and building as the day worn on and it looked like we were in for a rain storm. The huge clouds got blacker and blacker and all around us we could see massive sheets of rain dropping out of the clouds and reaching the ground, accompanied by bolts of lightening that were a joy to watch. Unfortunately nothing came of it and after a bit the clouds broke up and it was only the horizon that got the rain. That evening just as the light was starting to fade two brown hyenas came down to the waterhole. We've seen these rather timid creatures several times before on previous trips but these two behaved completely different to those that I'd seen before. They both jumped straight into the waterhole and started wrestling with one another. I found out a few days later that this is a ritual used to work out dominance amongst strangers. They first bite and wrestle each other on the rough of the neck and muzzle until one decides he's had enough. The loser then breaks away and runs off as the victor chases him around and around for what seemed like ages. Having known these creatures to be so timid and relatively slow moving it was a real surprise to see them charging about the area at full speed. Unfortunately the light was so bad the camcorder was struggling to focus so I only got the swimming bit on film.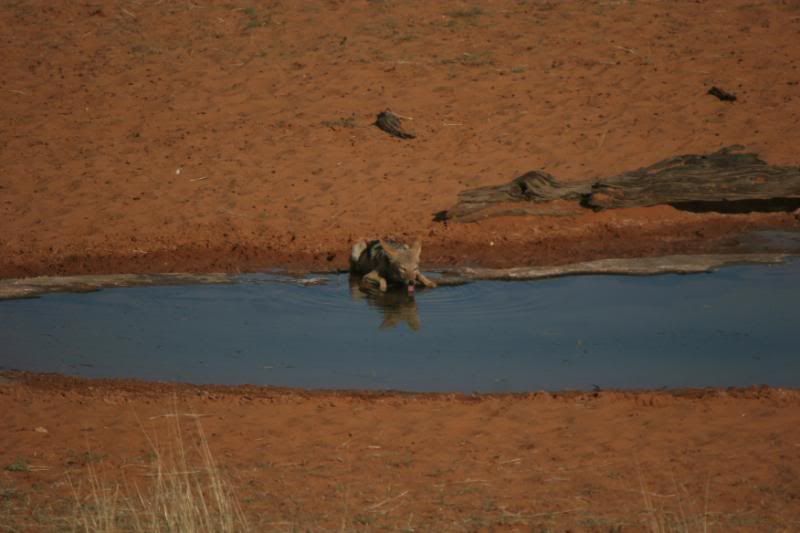 a jackal drinking, two shots of gemsbok and the lion that shot our early start
After we'd eaten we sat and watched the lightening while knocking back a few beers and Amarulas. We could smell the rain in the air but we went to bed still without a drop having fallen. Later still the wind picked up and the rain eventually came – along with some very impressive bolts of lightening, one of which crashed hard enough to loosen our fillings! Nothing is better than laying snug in bed while the weather crashes and bangs outside. We planed to rise early the next morning and go for a drive on the 4x4 trail through the dunes. Everything was going to plan but at the last moment we looked down at the waterhole and surprise surprise a lion was drinking there. Well that was the end of our early start so we watched her drinking for a long time until she eventually moved off.

drying out and warming up after the storm - three spotted eagle owl chicks

We managed a short drive after that and found three spotted eagle owl chicks drying out in the early morning sun sitting high up in a tree. We carried on, stopping off at the waterhole called 'dankbar', which is Africans for 'thankful'. It earned that name from the rangers who used to sleep out there in the early years. In those days there was a particularly active pride of lions and if you woke up in the morning with all your limbs intact you were truly thankful. Philip has some amazing stories of the days he spent doing research in this part of the park. As the day drew to a close we climbed up into the viewing platform to watch the sun go down. Rain clouds and lightening on the horizon made for a truly spectacular sunset.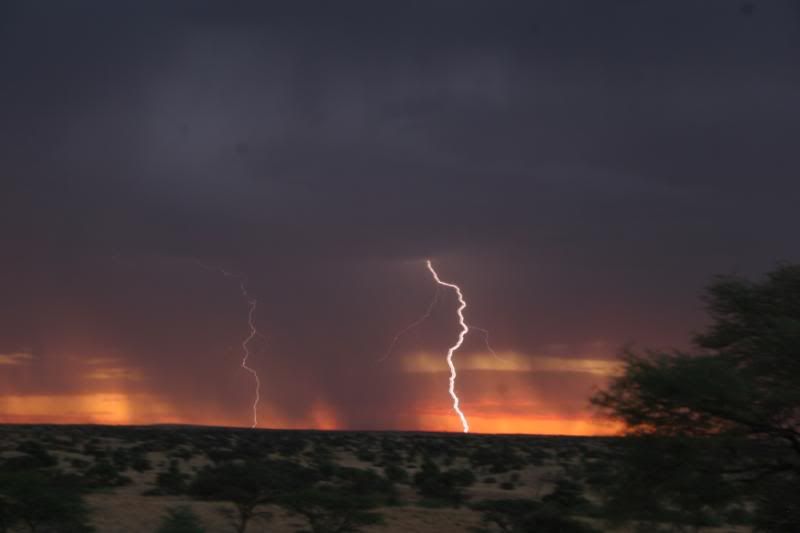 One of the most amazing shots of the holiday! Taken from the viewing tower at the end of the day

Some more sunrise/senset photos
The lighting was hitting the ground so often it actually started a fire at one point and we worriedly kept an eye on the smoke but the rain must have put it out as it only lasted a short time. Laying in bed that night I had the sensation of something crawling on me, but I told myself that it was only my imagination playing with my mind after my little ant/ear interface a few years back (again a story for another day). I drifted off to sleep again but every time I woke up I got the crawling feeling again. Once morning came I got up and found the torch. A quick check of the bed revealed a mass of ants crawling all over my bed and the roof of the chalet on my side – I knew it – they were after me again! Obviously the rain had brought them out in force as the previous night there'd been none. Luckily we were on our way down to the main Nossob camp to fetch more beer and meat that day, so I decided to have a look about for some crawling insect bug spray.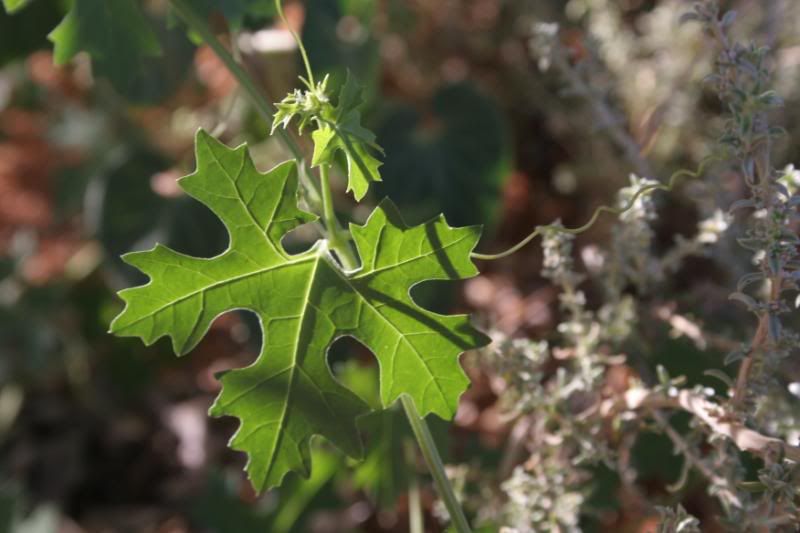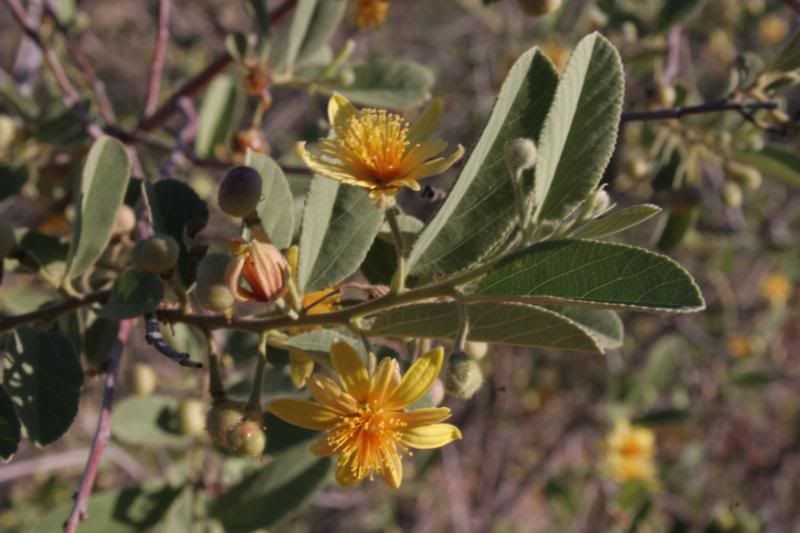 some more plants about camp. note the root that a porqupine dug up but got disturbed before he could run off with it
The 4x4 trail from the camp was in a bit of a state in some spots and we had to hang on tight as we bounced up to the top of some badly rutted dunes. According to Philip these ruts are caused by the poor driving standards of people using the trail. There is a skill to driving in these sand dunes, but I imagine no one actually gets any lessons. Getting an early start we were hoping to see either a ratel (honey bagger) or pangolin (scaly ant eater) both of which are only normally seen in the dunes. They are both nocturnal animals but sometimes you can see them just as the sun come up. Unfortunately we never saw them on this trip but we did get another treat that was quite a surprise for us, but could have quite easily turned nasty.
We'd had a 5.30 start so when we got to the main road we were dying for a pee. Now I'd not explained this before but you do get a few little rest camps or picnic spots dotted along the main north south road. These are made up of a few concrete picnic tables and a loo. The loos are just two portaloos that are hidden inside a curved natural stone wall with a thatched grass roof. Of course they have nice cool concrete floors and lions have been known to lie on these smooth, cool beds. Nicky always asks me to go and check them when we pull up and I always walk over never really expecting to find anything, but still a little wary as you never know. As we pulled up in the rest area I had a quick scan around and noticed a clump under a tree. "Mmm I think I'll give that a quick scan with the binoculars a little later" I thought to myself. Nicky once again asked me to check the loos but I was a little slow as I had to put my shoes on first. Philip was already out the car and just about to pee in the grass as I walked towards the loo. Nicky suddenly called out "shit, leopard – get back in the car!" Of course I looked in completely the wrong direction as I looked towards the clumps I'd seen earlier and said "where"? "Coming out the toilet" Nicky replied and by this time I was in the car already and seeing as we weren't in any imminent danger I grabbed the camcorder and managed to film the leopard as it slinked off through the grass, pausing to look back at us and giving us a dirty look for disturbing its early morning catnap. It certainly brightened up our day nearly walking in on a leopard I can tell you. What the hell I would have done with a cornered leopard looking at me I'll never know, but I've vowed to take the toilet checking duties a bit more seriously in the future!

The loo's with the fury visitor!
The excitement hadn't finished with us just yet as we came across three lions sitting right on the side of the road under a tree. Philip stopped and promptly wound down my window using the controls on his side. I of course found this profoundly stressful as I was now faced by three lions looking at me less than ten feet away with only a camcorder to fend them off with.

a bit too close for comfort with the window down!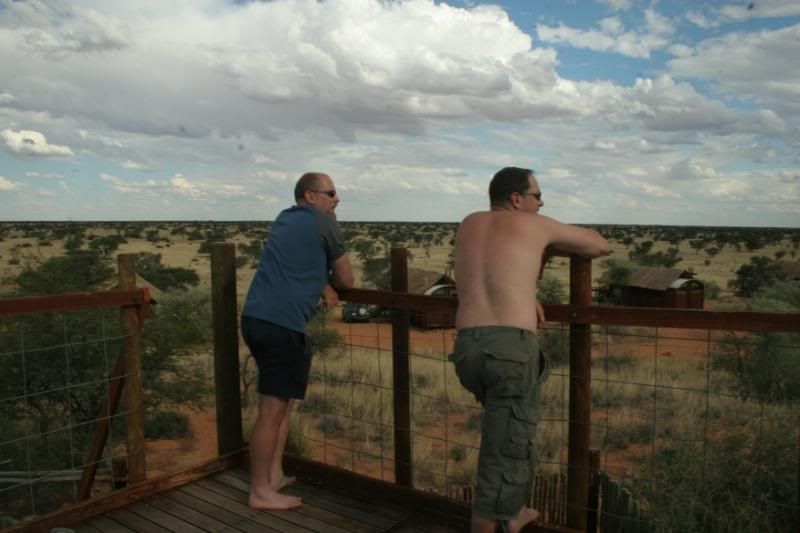 Philip and I in the viewing platform, a cold beer at the end of the day watching the lightening

a wildebest, lizard and some views over the dunes
That night it was the 'battle of the ants' and a pre-battle spray of the area put paid to a huge number of them but when we came back to the chalet after a good feed and drink they were out in force again. Another blast of the bug spray killed 'em all off, but I still slept with the torch in my hand and I covered my body in 'peaceful sleep', an anti- mosquito skin rub that I knew they didn't like. After a fitful night's sleep I was glad once the sun came up again and I could sit out on the patio in the sun once more. Isaac the ranger from the previous camp had now joined us at this one and Philip asked him if the rangers were still doing local guided walks. Apparently they had stopped doing them due to some problems of irresponsible behaviour of the walkers, but as we got on so well with him he said he'd take us out a little later on once the other guests had left. So with the ranger (rifle in hand) and us kitted out with cameras and water we set off on a short hike through the bush. We didn't go far, but it was a real treat to be out in the bush on foot. We saw where lions had been sleeping under a bush and found all sorts of tracks and burrows of little ratty like creatures. That night I expected 'battle of the ants II' so another liberal spraying of bug spray was applied and I'm pleased to report that this time the war was won.

Out on our little walk through the bush - it's the best way appreciate the bush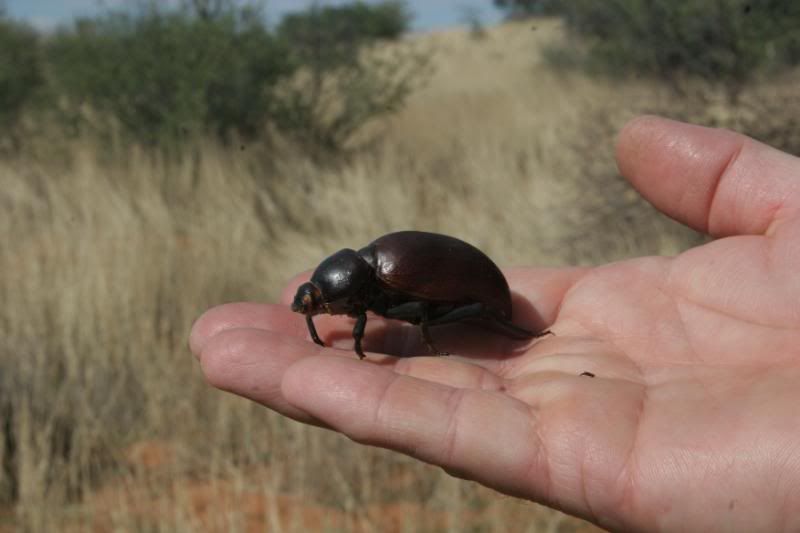 the empty shell of a large bug that we picked up
The following day was our last and we went for a short drive, nothing exciting happened but we did get to see some bat-eared foxes. A little further on we saw two large tortoises, again a first for me and not something I expected to see in the Kalahari. We did have one more treat lined up and that was a nice sized herd of kudus that we found at one of the waterholes to the north of the park. I've only ever caught fleeting glimpses of these in the Kalahari so it was a real treat to watch them interacting at the waterhole. Strangely enough it was the minerals in the sand they wanted more than anything else so it was a funny site watching them eat clumps of soil as if it was chewing gum. Most of the waterholes are very brackish in the Kalahari so salty minerals build up in the sand around the waterholes.

The kudu bull

kudu cows eating the soil to access the minerals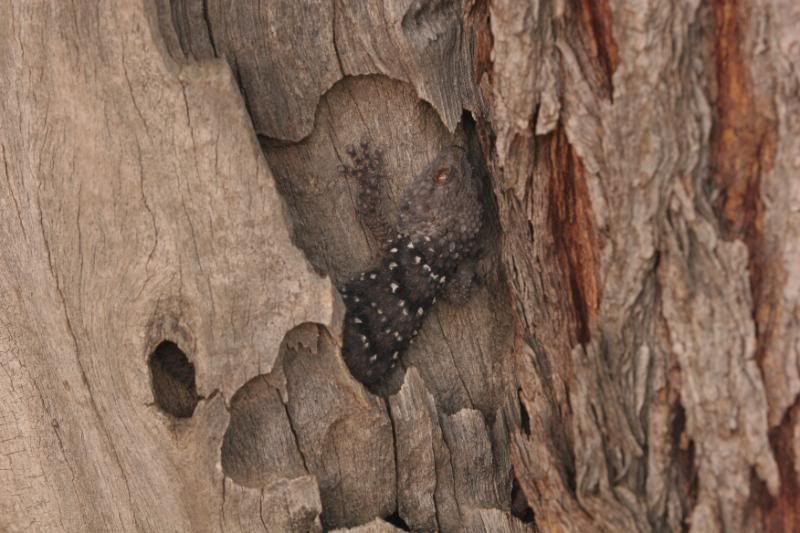 a little geko that we found hiding from the heat of the day
Another 5.30 start the next day and we cleared the park early even though there was a pride of lions and later a lone and very scarred male along the way. We'd seen so many by now we were getting a bit bored of them, so only stopped for a brief look before pressing on. The journey back can be done in one day but that is one hell of a trip so it was decided to stay at Molopo Lodge for the night. We'd stopped over here before and were looking forward to a nice cooling swim and a visit to the restaurant/bar. That night the others went to bed while I stayed up and watched 'knocked up' on the bar tv and attacked their bottle of Jack Daniels. All was going well until a small group of locals were told they had had enough drink for the night and had to leave. Pleading with the barmaid for ages they then turned to me ask if I'd buy them a bottle to take away. I put on my best English accent and pretended not to understand. Eventually the manageress was called and she convinced them to leave.
The journey back to Jo'burg the next day was a muted affair as the 'post holiday blues' was starting to take hold early. We did have to make a quick call into Van Zyl's Rus for a running repair. The electrical cable to the trailer had pulled out and had gone missing. We found a local farmers co-op that had some spare units and the lady at the local all-in-one supermarket said we needed to go and see the guy behind the shop. There we found a chap that had a garage of sorts with all manner of cars and bikes in various stages of disrepair. We stood around and watched while he and his helper tried to figure out which wires to connect up where. Having a look around his huge shed revealed a willies jeep chassis and an old horse drawn carriage. From the eves hung a multitude of paraphernalia from different car/truck spares to a badminton racket and even a prosthetic limb?! After about an hour and having fixed an earth problem on the car side of the plug as well, he was done. The cost? R100 – about seven quid. Philip gave him an extra R100.
We got back to Jo'burg before it was too late and the next day we had time for a last minute shopping trip to the Cresda Centre before catching our flight that night. Philip treated us to a nice lunch, I had a massive fillet steak and he and Nicky shared a massive seafood platter. He commented that it cost less than the burger he'd bought us in Covent Garden a few month ago while over on business. Leaving Jo'burgs 38 degrees C was bad enough, but walking out into 3 degrees C at Heathrow's car park was a bit of a shock! Back to reality and all the news of the credit crunch's latest victims.
One of the nice things about our holidays camping with Philip, is that you are completely cut off from the outside world. I never knew what day it was from one day to the next. You are out of cell phone coverage for most of the time and the world could come to an end without us knowing. I sure do love the desert – roll on the next one. Namibia again I think.

a few extra shots for the hell of it
If you enjoyed this report and would like to be notified of new reports or website updates then join the mailing list. To sign up to the list just click HERE>> and send me an email.