For more of our photos click here
The Snowrun Enduro 2015: the build up
For some reason the mega wet and rutty race of a few years ago put everyone I know off doing it again, so it was just me and Nicky that made the trip this year. The bike was in perfect shape and had new tyres fitted - a GT216 that I had sitting around in the garage and I picked up a FIM maxxis gear at the KTM Centre in Hemel. I'd serviced the scott damper earlier in the week and once again replaced the small pin that holds the arm in place. The original snapped some time ago and I've been trying different pins looking for one that will hold up, maybe I should get a scott one! However I was feeling a little unprepared myself though. Since the xmas break there hasn't been many dry days to cycle, but there's been plenty of biscuits and chocolates thanks to a visit to the in-laws. Doing bike prep after that kept me of the bicycle and meant that I've been putting weight on instead of taking it off, not good.
Saturday
I jumped in the car on Saturday and narrowly missed a total failure. I was just about to pull off and something made me check to see if I had the keys to the abus chain I had used to lock the bike to the trailer – I didn't! Stupidly I'd switched tops and they were in the one hanging on the banister. Lucky escape, as there would have been no chance of cutting that off just before the race!
Sunday
the event was living up to its name!
shot just after Brecon. cold? Oh Yes!
almost sunrise
A headache that had started the night before woke me up at 2am and I was feeling slightly nauseous too, so much so that I was not able to eat my breakfast. On the road by 6am and boy was it cold! The tiny roads around my sister's place were glistening with frost so we had to take our time until getting to the A465 to Abergavenny just outside Hereford. It was still dark and patches of fog slowed us right down to 30mph in places. Later when dawn broke we stopped to snap a few pictures. By now we were in Wales and there was plenty of snow up on the mountains, as well as all the fields being coated in a thick frost. Turning off the A road onto the small single track we followed the white arrows. Quite a while later and once we were onto the dirt tracks we were stopped by a van up ahead with its hazards flashing. Apparently a van up further up the track could not make it up a slope, and was having to reverse to take another bite at it. Eventually we got under way and this part was well iffy – snow had compacted into ice and the car went sideways for a bit – right by a drop off that would have totaled the car.

Getting the bike checked and then signing on went smoothly but pushing the bike up to the starting line-up was very difficult as the track was frozen and as slippery as – well ice! I'm still at a loss as to why we can't ride the bikes up the hill? We're miles from anyone so it's not like we have to be quite or anything? I munched on a bun so I could pop some ibuprofen to try and get rid of my bloody headache, then geared up and took all the pit tools and fuel to where the bike was sitting.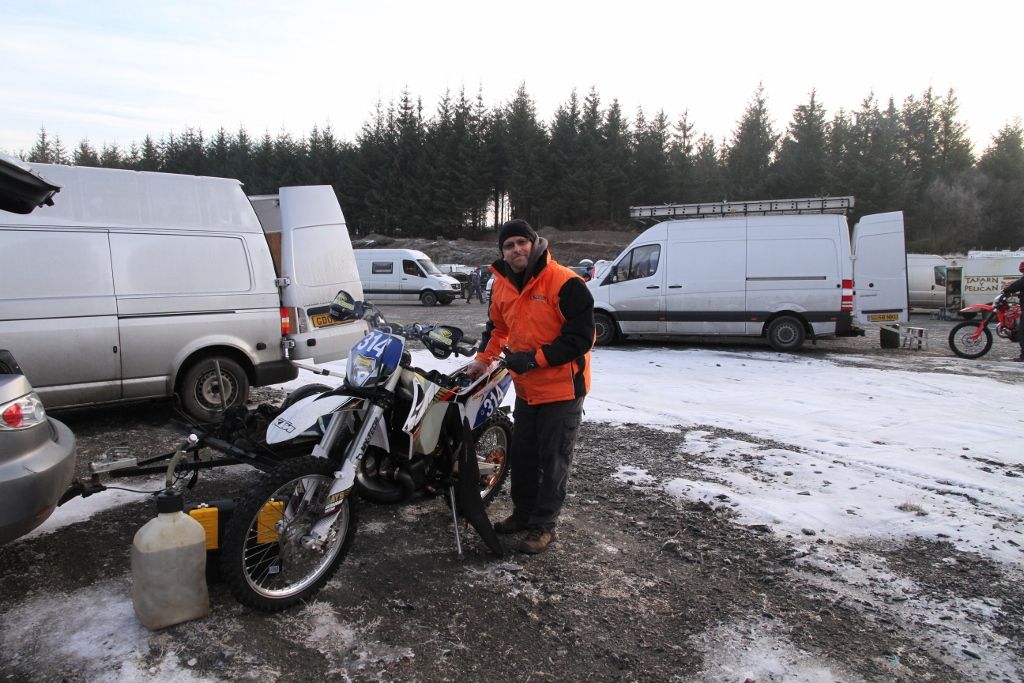 time to get unloaded
writing the check times on the bike for easy reference
lets go race!
Lap One
Lining up at the start I had the carb with it choke out, it fired first time as the clock clicked over to our start minute and I was off in front of the few other riders starting on my minute. The first part of the track was 'fireroad' and in was completely void of grip. Taking it easy we turned off the track onto a wide access track which was a little better under the tress but as it opened up the track turned right onto a smaller trail. I should have been ok but the rear end came sweeping round and dumped me on my butt – three minutes in and I'd crashed already! No harm done other than a bruised ego so I picked it up and carried on.
nice pic that shows you the woods, a few quick guys and the snow, bbbrrrr
The early parts of the course alternated between small tracks, 'fire roads of death' and rutted forest going. I wasn't too sure if it was just me being fitter, the bike being more suited to it, but I got the impression that there was less long forest slogs and more open tracks. There was a few moments on the fire roads that ensured you kept it very steady on these bits. The forest going looks very slow on film too, but there was no point in taking chances on these sections, you just had to make sure you got to the checks on time, the results would hang on the special test times.
We got to the first check with quite a few minutes to spare, enough time to clean goggles and have a pee. As soon as we set off from the check we rounded the corner and found the start of the special test, on the first lap it's not timed so there was no stopping and I carried on. The special test this year also seemed to have been opened up a bit with some nice fast bits, a few forest runs and even a few jumps on the track, it was a long test too.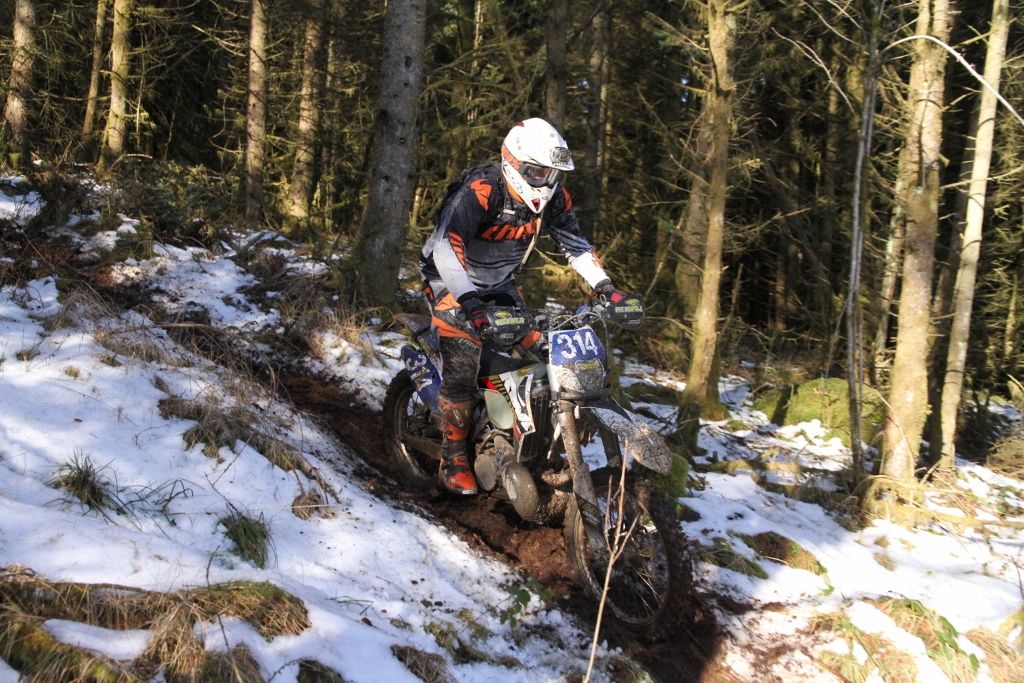 i come back round at the end of lap one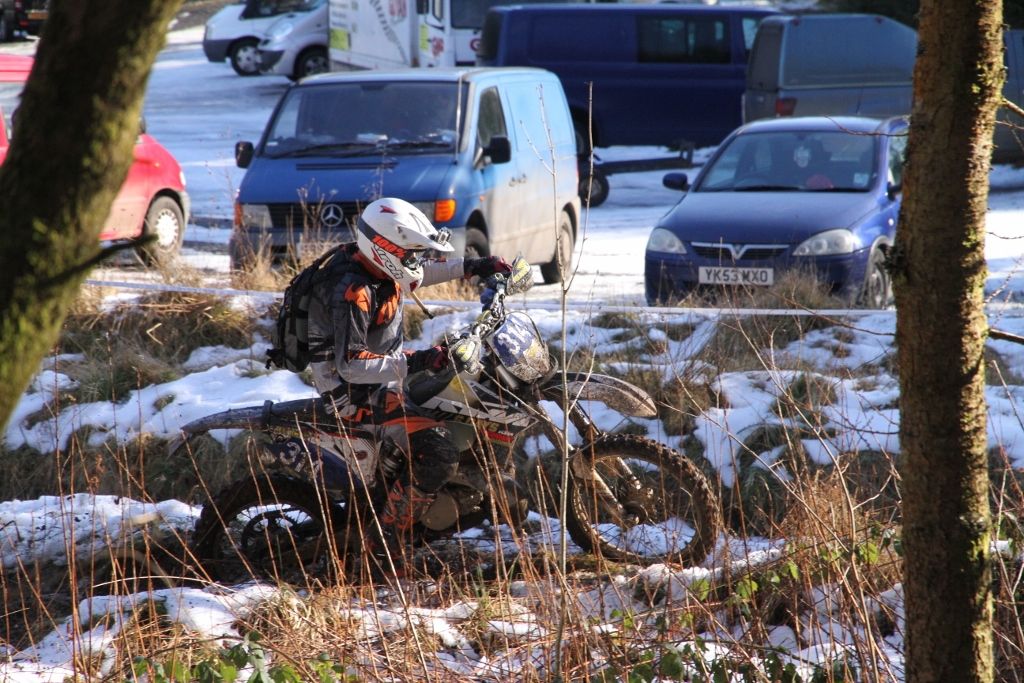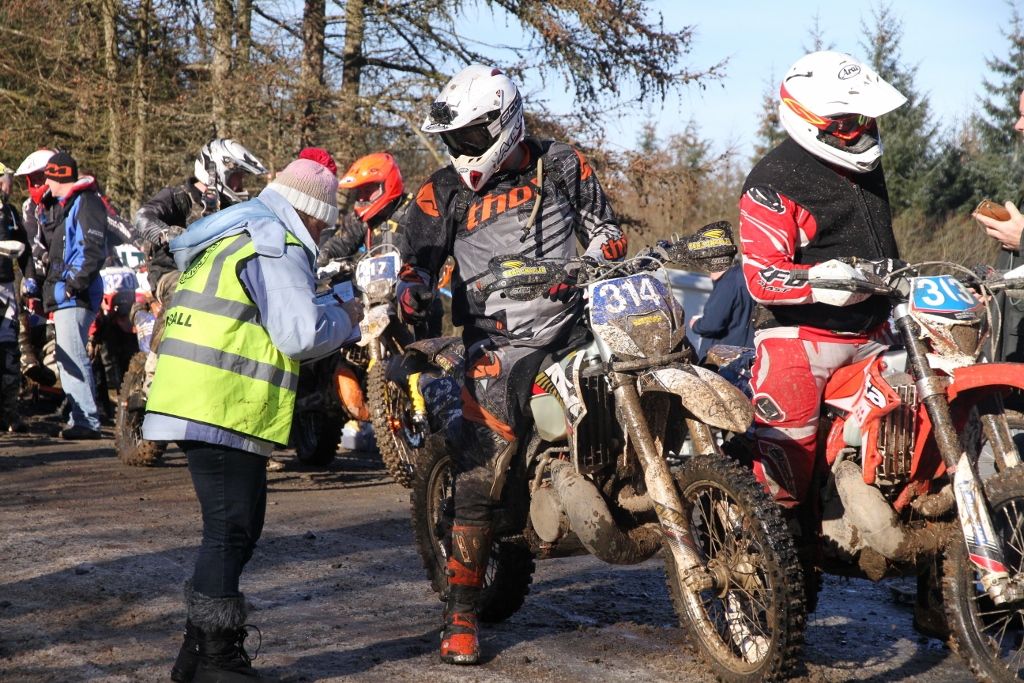 and back out for the second lap, after a re-fuel
The second part of the course was much of the same, but ended in the obligatory puddles, some of them pretty deep, so I took the chicken routes on the sides just to be on the safe side. After that was a few more tracks, we crossed a road and went up the climb that you could see on the way to the venue. This climb had to be taken with great care as it was one long bare rock climb, with an added layer of ice all the way up! One more ice covered fire track and a drop down into the woods brought us out at the car park. One short climb and we were back at the pits for the final check and start of lap two.
Lap Two
Lap two: just after the start I took it nice and careful on the right turn to avoid the crash like on the first lap. The first few fire roads were still just as ice bound as on the first lap, the sun was out but it hadn't had a chance to thaw these roads out yet. I had a few woah moments on the roads but the rekluse is a great thing to have in these situations as I can click it up a few gears and lug the engine. Any touch on the throttle at too high a revs on these roads resulted in a massive slide so a lot of care was required. The first few wooded sections went fine and the one forest track I wasn't looking forward to (the one where I got stuck before) had been ever so slightly changed to bypass the main rutted path which had become difficult to clear due to roots sticking out. Pulling up to the first check another rider stopped next to me (he was on my start time too) and asked me "do you have ice tyres on that" ? obviously enquiring into how I managed to find grip on the icy fire roads. Just had a thought "fire roads" covered in "ice" lol!
Video from the start to the first check
Straight after the first time check we pulled up to the special test timing lights and the was quite a crowd of riders waiting their turn to get going. A few minutes were lost but soon it was my turn and I set off trying to make a good run of it. I bogged on the line a little but quickly got into the swing of things and made good time passing a few riders who had started in front of me. I was a little held up by both of them but there wasn't much they could have done. I picked the wrong line and could have got past quicker and had to shut off a bit so couldn't make another pass but all in all it went ok. Looking at the data I was a little off the quickest time but this run was my fastest time. The run back to the pits/start area went without a hitch but the headache I had earlier had come back so while in the pits a rummaged about for my ibuprofen but couldn't find it, so I had to make do with a bite out of a pork pie instead.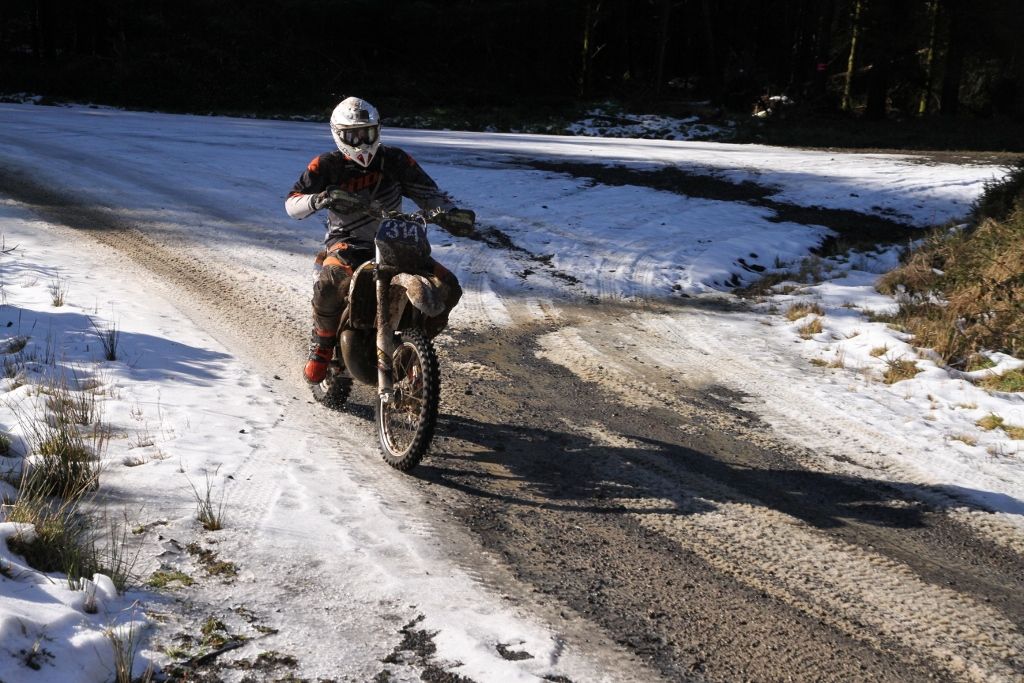 coming back in at the end of lap two.
i waved to nicky and had the back end give a little wiggle too - steady here!
yes that is the track !
Video of the Special Test filmed on lap two
the second check back to the start/finish area
Lap Three
Third lap and everything was going to plan. The far side of the mountain was in nice sunshine now and when you got into the sun you could feel the warmth of it through your gear. The first few fire roads and those still in the shade were still ice bound and I passed one rider who was just getting up having spun off on the road. I slowed to ask if he was ok and got a thumbs up so carried on. Although it was cold I hadn't suffered with the temperature all day actually. There was no wind and it wasn't raining so I remained neither too warm nor too cold. The only part that suffered was my face, from the cold wind blowing past my helmet.
Special test time: this time I gave it a bit extra and was really flying along quite nicely. Unfortunately I overshot on one section where you turn off the track to the left and lost a few seconds. I caught and passed at least three or four riders, one at least on the open jumpy track on the far side. Looking at the times now I was actually slower than my first lap which was a surprise, I suppose I lost more on the overshoot than I realised. However my time was the fastest out of the Vets (clubman) class so I was please with that.
near the end of lap three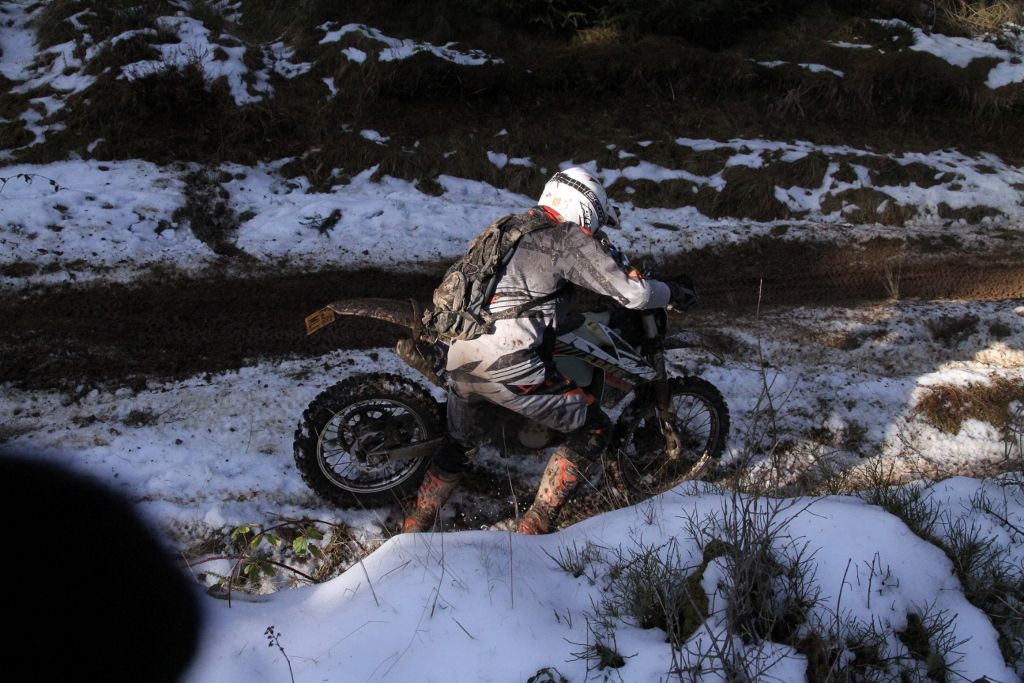 time to go painkiller fishing in the snow!
The run back to the start finish was pretty straight forward again with no issues, but by now my head was thumping so when I spotted Nicky near the end taking pictures I stopped to ask her what she had done with my headache tabs – they were in her pocket! She was too high up the banking to get down so she flicked them out and they plopped down way out of reach so I clambered off the bike to retrieve them and popped a few into my mouth.
Lap Four
Lap four: fully refueled we set off again. The bike hadn't been using much fuel at all but I didn't want to take any chances so each lap I filled it up. Nicky had got back to the pits before I went out so I asked her to fit a new battery backpack to the gopro. I'd heard it run flat earlier but I thought the new backpack would power it long enough to record the next special. Unfortunately I'd left it powered on (but not recording) so I didn't get all of the special on film – just as well really.
Yes it all went a little (lots) wrong in the fourth lap special test. I was well up for it and got the bike off the line very well and was flying through the test. Looking back now I could see tiredness had crept into my upper body as I was just getting a little out of control in some sections. Normally you can muscle the bike back into line and I went a little wide going up one climb, got crossed rutted a bit and wasn't able to muscle it back – I hit the deck hard, bending my left knee sideways and hitting it into a lose rock that I suspect was the cause of me hitting the deck too. I was gutted, knowing that any chance of a top result was gone. I got it going again after a bit, I struggled at first as it was laying downhill but I heaved it up, straightened up and set off. Feeling a little deflated I continued at a slower pace but soon picked it up a little but being distracted by a throbbing knee (only excuse I can come up with!) I got cross rutted again and lobbed it on a fast straight bit!!! A few choice words were muttered I can tell you as I was now a little on the pissed off scale of not happy. This made me brake my golden rule of "always kill the bike" before picking it up as the rekluse clutch helps it to not stall, and if you grab a handful of throttle by mistake ........ well yes I ended up running in circles with a somewhat angry ktm250xc barking at me. Finally I killed it and another rider stopped to say something along the lines of "bloody hell you need to stop falling off" - I can't remember how I replied but I finished the test feeling totally deflated. I road back to the pits, with a bit of a sulk on, struggling to shift gear due to the pain and stiffness in my knee.
coming back round on the last lap
its never too late to cock up!
this guy waited until the last 100 yard on the last lap to dump it in front of the camera!
this one too - end of lap enthusiasm!
nearly!
my signal to nicky to say it all went wrong :(
now you can see why everyone was going wrong - ice!
So all in all how would a sum up the day? Well it was a good day, the track was great. I supposed I was surprised that there wasn't too many wooded rutted sections, not that I mind too much as these are a pain to ride in the wet when they cut up terribly. I think there was more fire roads this year. Single track paths are better but I suppose there is a limit to how many there are available. We could not have asked for better weather as the sun was out all day. The fire roads were well iffy though. It was one of the easiest Welsh enduro's I've done. I'm not sure if this was because it was set up easier (I think it was) or I'm just fitter (which I know I am) as most riders remained 'on time' at the checks. Did I enjoy it? Well taking away the bitter disappointment of the special test crash then yes i did have a good time. Will I be back? Of course I will! See you all at the Drovers Enduro at Easter.
Results: well I got 9th in the vet clubman class. In a perfect world (which did not involve me crashing) and if I had matched my second test time I would have finished second in class. But you know what they say about ifs and buts!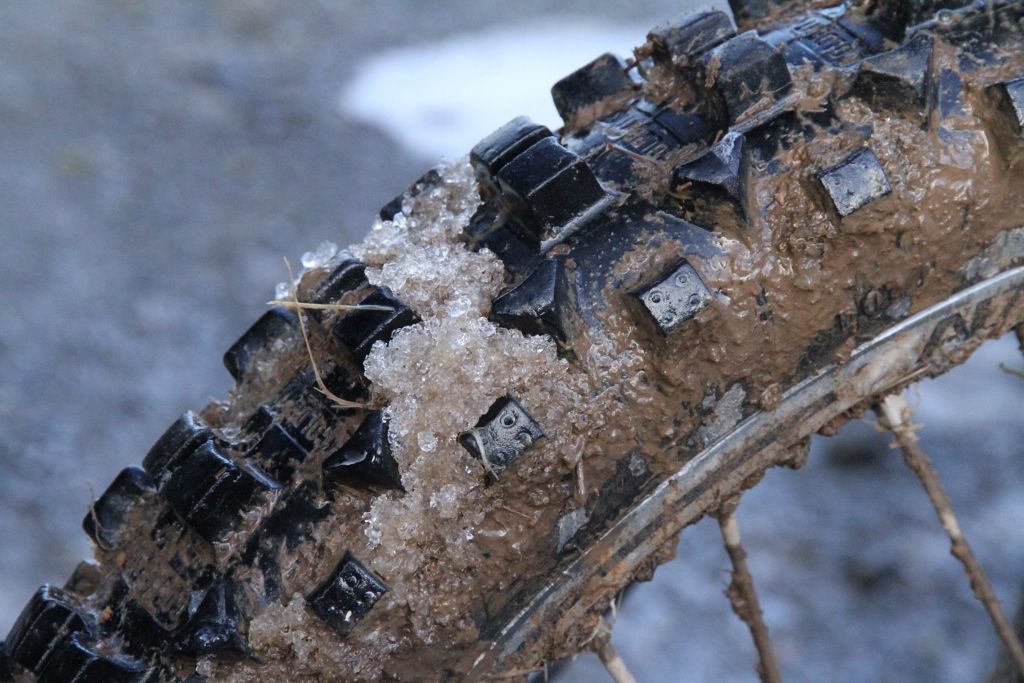 yep i went that way then woooaaah, and after that it was aaaaggggg and then bollocks!!!!!