After the last race of 2012 (an extreme enduro in Portland) the plan was to embark on a vigorous training schedule to get fit for the following year. What actually happened was I managed to get in a few jogs before the big marathon in December kicked off – yes the big feast otherwise known as Christmas. I did managed to complete the re-build of my mtb's rear hub (eventually) so in January I got out on the mtb for a couple of rides, just before the big snowfall and even had a great evening ride over to Tony's place – complete with snow that was busy falling. So what I'm trying to say is that as per every year so far the training isn't quite up to the level required just yet. That meant that I was seriously having second thought about doing the Snowrun enduro on the 3 of February 2013. The weeks of snow eased my nerves a bit as I was sure it would be re-scheduled for later in the year, but then it started to thaw, followed by masses of rain, oh great! Now I know what the Welsh forests can get like in the wet weather, so I was secretly hoping it would be called off due to the conditions, but no such luck was forthcoming.
I did some prep work to the bike in the form on fitting a new rear tyre (golden tyre GT216) and also plugged up the gaps under the tank and back of the seat to prevent water getting into the airbox from above and I also filled in the side gaps too. Being a proper enduro I fitted lights front and rear then popped on some hard grips as I knew it was going to be a muddy one and I wanted the extra grip. The final prep was to set up the mount for my new gopro hero 3 black. I liked the way Steve had his fitted to the front of the helmet so I more or less copied that.
i push the bike down to the start...

Saturday morning dawned nice and bright so Nicky and I set off for my sister's place in Hereford in bright sunshine. The plan being that we would sleep over at her place then drive over to the track early the next day. This time we were alone as Tony had got scarred for life the last time he ventured into the Welsh hills!
The wake up call at 5am was a bit rude and the plan was to be on the road by six, which we almost achieved, missing it by only ten minutes or so. By now I was totally doom and gloomed up. I knew I wasn't physically fit enough for a tough race and it was rattling me so much I turned to Nicky and said "I think this will be my last Welsh Enduro, they are supposed to be fun and in weather like this it's going to be too hard". I thought about that statement for a bit then added a get out clause, "of course, that all depends on how today goes I suppose". I was hoping to finish the event as quitting a very wet Red Kite enduro back in 2009 (?) bugs me to this day. The drive over is fairly straight forward but I keep on forgetting that there is another ten to fifteen minute drive alone small forest roads once you get to the turn off. We were still fairy early but it wasn't long before Darren and Tommy arrived, parking just behind us. Oh did I mention it was raining? Yep another trip to Wales and another wet soggy day was in store for us!
ready!
We got the scrutineering and signing on over and done with then wrote the times down when Darren rather quizzically mentioned something to do with the fact that I had opted to compete in the Clubman Over 40 class instead of the regular Clubman. "Well I'm fifty this year so I'm entitled to it I think" I replied but the general consensus was that I was cheating! What I didn't bank on when opting for the old man's class was the fact that the start time was quite a bit later than the others which means each obstacle you come to has been churned up by many other rides before you!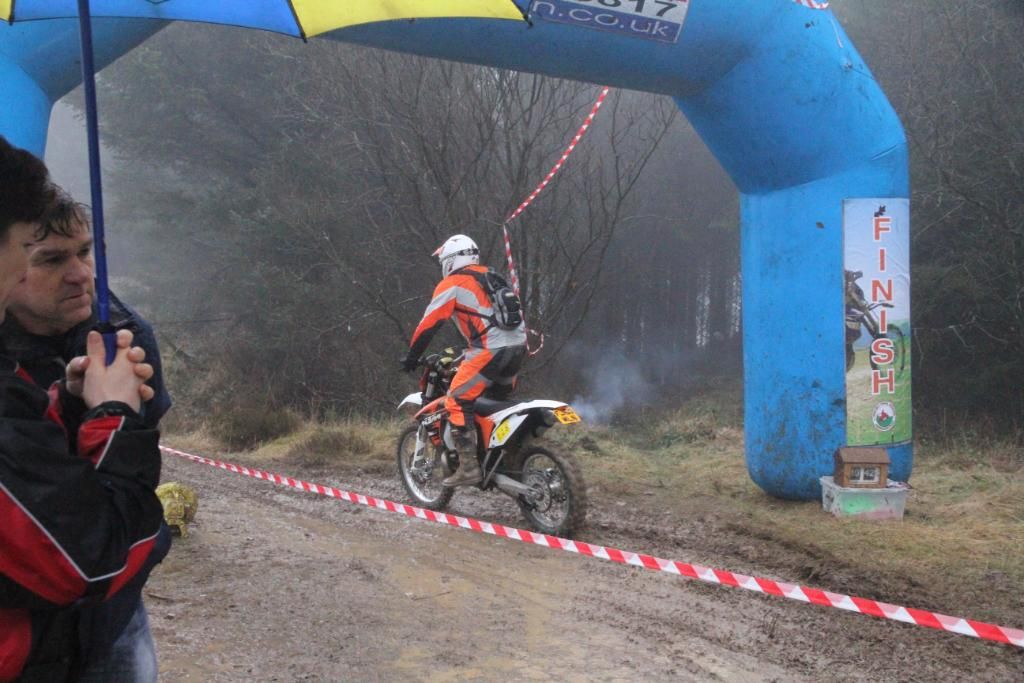 go! .. i make a clean get away
By now the nerves had go to me and I was in a bit of a tiz. I couldn't find the rainx to treat the lens of the gopro and with condition being so poor I decided to leave it in the car. My hands were trembling and I was a little breathless – all this waiting around was murder! "You'll be fine once you are on the bike" Nicky told me, I knew she was right but by now my head was all over the place.
Sitting at the start I could see several bikes were struggling to fire up, it being a cold engine start. I decided to start with the choke pulled out then pop it back quickly, pulling away at the same time. The plan worked fine and I was away first into the woods. This year we went the reverse of last year and so we were straight into the tight woods climb that ended last year's race but now we were going downhill, which was perfect for warming up the engine as we bounced up and over ruts and tree roots. Once at the bottom of the hill the track followed a series of fire roads with the odd bit of woods going every now and then and I had calmed down nicely. It was still drizzling with a veil of mist obscuring the view ahead so the fast tracks had to be taken with some care, but it wasn't long before I was catching riders ahead of me. I didn't want to go too mad as I wasn't sure what was in store for us further along the track.
an hour or so later i get back.....look how murky it is!
After a while I started to think that this might be all right after all. The bike was absolutely brilliant, pulling from nothing and the front end was a delight floating over everything as I blatted along. Some parts of the track were quite whooped with the odd gully or deep rut cutting across it, but the bike just skipped over these without any dramas. The steep downhill sections in the woods seemed to have lost all their ability to intimidate and I suddenly realised I was actually enjoying the course! I caught up to a rider and he turned tight right to follow a rider ahead of him. I didn't see an arrow to turn, but turned too without thinking, but then stopped when I saw there was a traffic jam ahead. Another two riders went up the slope but got stuck too and I waited until one of the front riders came back down and heard him saying that it was a dead end up there. The only way was straight on then so i set off once more trying to make up some time.
Somewhere along the course there was a descent down a stream that had cut into the forest floor so we were riding down in the water with rocks rolling along with us, the banks were several feet higher on either side. It was quite something and I was very disappointed I didn't have my gopro on at this point. But the conditions were so wet and muddy there wasn't much point as it would have got covered in mud in no time at all.
not looking quite so clean now eh!
I was getting to all my checks on time and had several minutes to spare so everything was going quite smoothly. I got to the special test which isn't timed on the first lap but I decided to speed up somewhat to test the water so to speak and look for good lines. I was relieved to find that it wasn't one big woods rut fest as in previous years and I was able to get a move on nicely up and over the various slopes and tracks, so I was hopeful for a good time on the second and third laps.

It was the final part of the course where things went a little wrong. There was a rider ahead of me stuck in a rut at the start of what looked like was going to be a bit of a slog. I went to the left of him and promptly got wedged into a rut too. With the rear spinning free I had to wiggle the rear about a bit then I wrapped my arm around the rear mudguard and lifted the rear wheel clear of the rut – my goodness it was sooooo much easier to lift that the old 450! The next mile or so was quite an effort. I couldn't get up to speed to stand up as the front was caked in mud so started sliding. The rear had grip (thanks to the GT216 and excellent engine of the 250xc) but I was trapped in vicious circle of not being able to go fast enough to clear mud off the front tyre, but needing the speed to fling the mud off and stand up – to be able to get the speed to fling the mud off!!
Eventually we got to the top with lots of paddling and walking. There was a bit of a bog/puddle in one spot and I can't remember which way I went but I got thought ok. On the final track leading back to the pits there were quite a few puddles so I slowed down and took it easy riding through them gently. Everything was going fine, then all of a sudden I hit a big hole in one of them and the wash covered me in ice cold water from head to already soaking toe! A little further on an innocent looking one also had a hidden depth and I got another soaking bbrrrrr....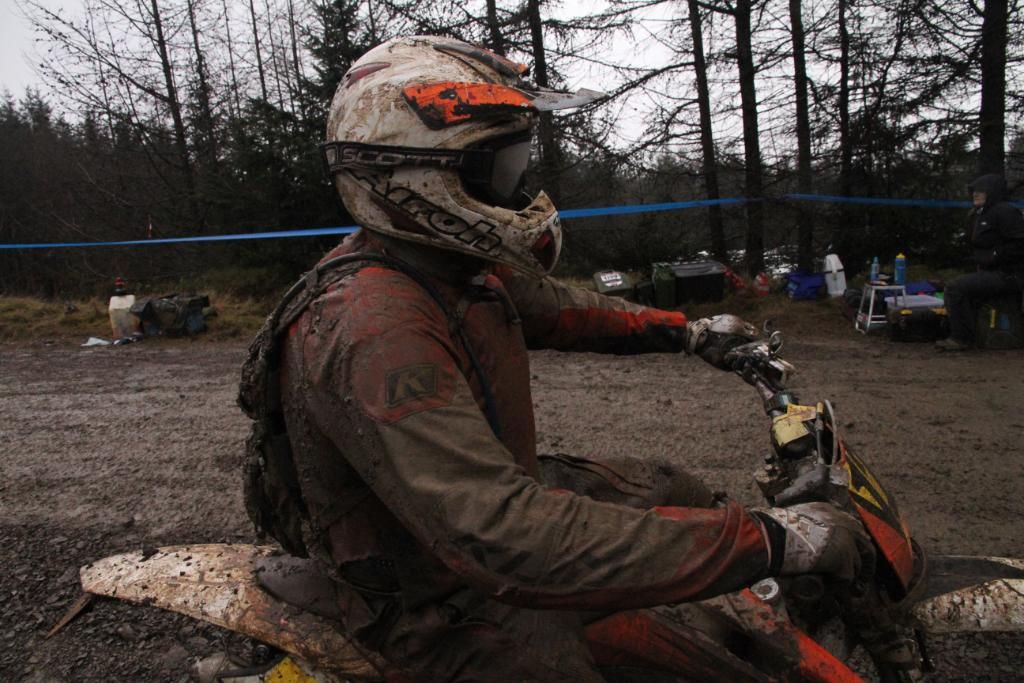 pulling up again to complete lap two, not looking any cleaner!
I cruised into the pits rather wet and bedraggled but I was sure I would be able to finish the day. Nicky was there to lend a hand and she had the gopro ready but I said not to bother as it was still too wet. I topped up the petrol while sucking on some drink and I asked her to clean my goggles as I wiped the mud off of my seat. It had gotten so covered in mud on the last section that I was sliding off the back of the bike. I took a few bites from a sandwich all the time thinking I had time to spare as I'd been on time the whole race so far. I asked Nicky how the other guys were getting on and she informed my that Tommy had already gone home as he'd lost his rear brake. that was a surprise but i had trouble of my own - only i didn't realise it yet! For some reason I got my times mixed up and all the time I was doing my 'pit work' the clock was ticking into the red! I'd gotten a bit confused and cocked up completely. I still didn't realise it until I walked down to the marshal to ask her and then she pointed out I was already eleven minutes late! Oh crap! I set off again with new dry clean goggles and gloves.
i spot nicky - the end of the final lap
So now I had to ride the course again only this time I also had to work out the added on times. I've never been late before in an enduro (discounting the one I quit) so working this out now took me by surprise a bit, but I knew you had to add the time you were late onto the next time. Well 11 minutes wasn't too hard to do so I set off and cracked on a bit getting to the next check quite early. I stopped for a pee then with the bike switched off I pushed forward while I was talking to the marshals telling them I was late before so had to add some time. One of them walked up and said "well now you've clocked in early too" and took my timecard out the holder! "What?" I exclaimed - "No I just pushed forward to have a chat that's all" I don't want to clock in yet. "Sorry mate you've crossed the flag with your front wheel" he replied. I looked down and noticed the little flag on a stick "But I didn't even see that" I pleaded "Come on that's not very nice is it"? "Sorry mate, same rules for all" was the reply. Bugger, how the hell was I supposed to work this out now? I got lots of advice from them but it only made me more confused so decided 'oh fuck it – I'll just ride the bloody course and not worry about times' – is that is what I did.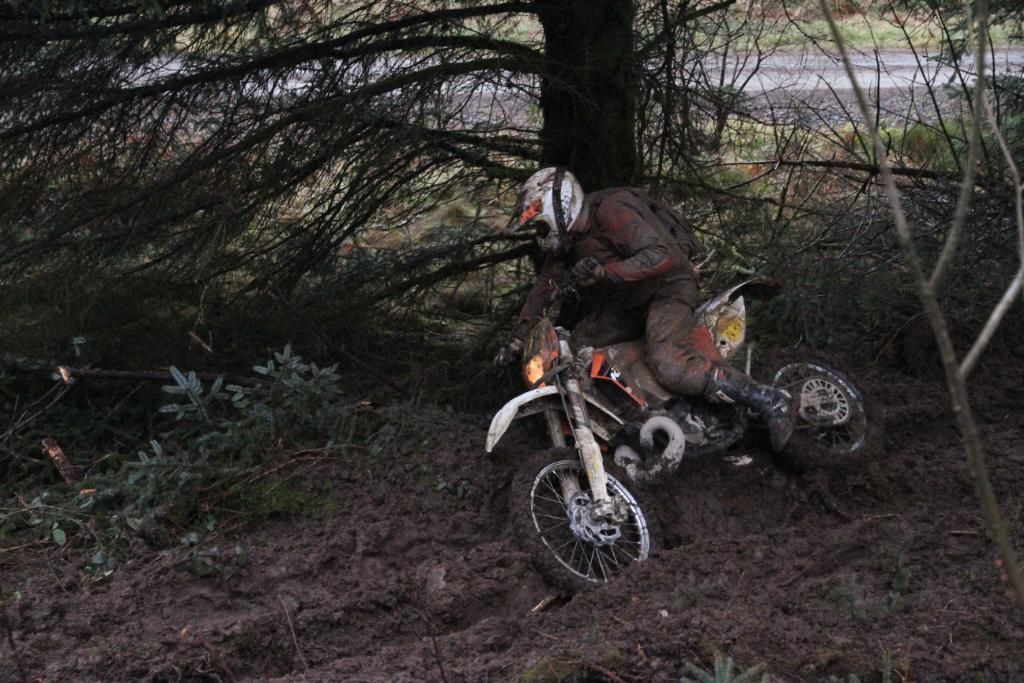 oh crap! my balance has gone.... I'm going in!
Getting to the special test I set off at a good pace and took a few chances but they all worked out – right up until it didn't anymore and I got slightly unbalanced in a cross rut kind of way - and ended up 90 deg to the track with the front end stuck up a bank! It took a while to get the bike heading in the right direction again. Normally I'd be well annoyed but as I was already out of contention due to timing problems I didn't fuss too much.
Somewhere out on the track there was an uphill on a rough'ish track with a lump of rock sticking out. This caught the back end and as it was just at the crest it pinged me out the saddle into a half superman, for a moment I thought it was all going to go wrong but I landed in the seat again and carried on. On lap two the stream down the hill was even more hairy with some large steps down but again the bike took it all in its stride with ease. The long gentle slope was easier this time round too. Not so easy that I could do it standing up but by taking my time and gentle use of the throttle I paddled the bike to the top. This time I took it nice and easy through the puddles and got to the pit relatively dry - who I'm I trying to kid - I was still soaked, just not quite as wet as the previous lap! There were plenty of bikes being stripped down on the side of the track, so either they had tumbles in the water or they hadn't taken the necessary preparation for deep water crossings.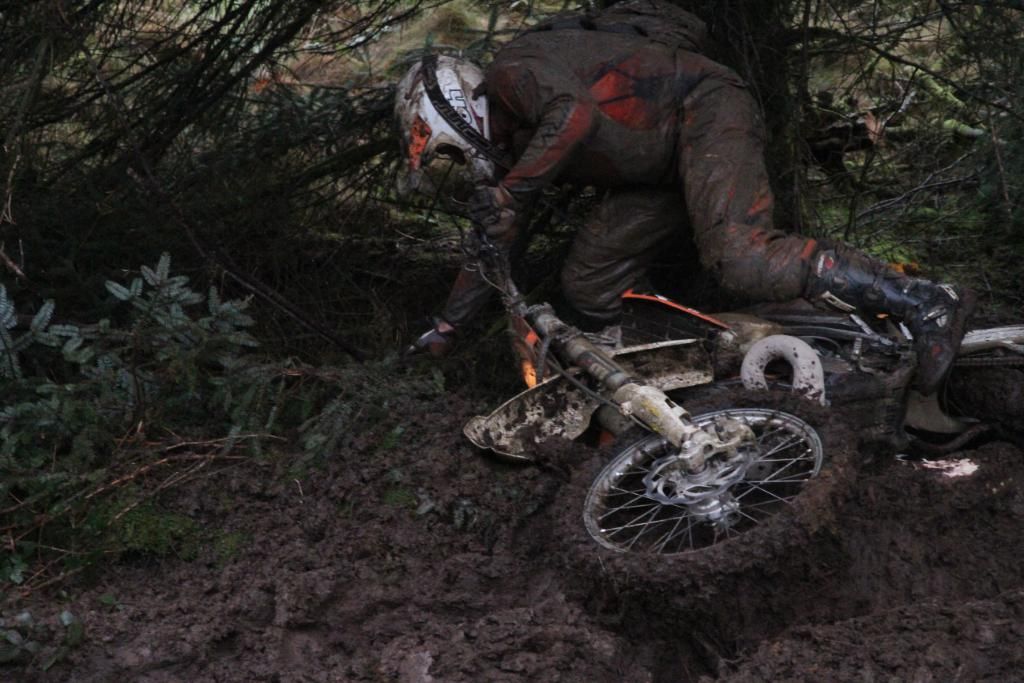 is that a choccy bar on the floor?
The third and final lap I just rode around enjoying the track. I went fast when I could, which was most of the rough going on tracks as the bike flies over them and the fire roads, then took it nice and easy in the woods so as not to fall off too much, just hitting the gas now and again to clear roots when the track had dug down into the forest floor. The last lap for me was the best one. Yes the riding was harder but the demons of the past had gone and I was enjoying it! One moment of inattention though and I picked a bad line in a wooded section just before the stream and buried the front end into a hole that had the front wheel almost submerged in gloop. A lot of worthless revving and pulling didn't work so I lifted the back end out and was tugging on the bike to try and free it (but not having much luck) when a marshal appeared from nowhere and helped my free the captured wheel.
i get going again, the end is in sight...
The second attempt at the special timed test went better than the first. I tempered my riding a little and put in an ok time I thought but not outstanding. However looking at the results now I see it was the fifth fastest time in my class on that third lap so I can be pleased with that. Eventually we had to get to the slippery slope again and once again gentle use of the throttle meant it was easy to paddle along. The only problem I had was sliding off the back of the seat due to the mud. We got to the puddle/bog in the middle and all routes seemed to be blocked by stricken bikes. A couple of other riders and I sat there eyeing the routes up and didn't fancy our chances on any of them, as they were all blocked by bikes. Another rider eased down to the bottom the disappeared into the trees to the side and then it looked like he reappeared again further up. We decided to give it a go too and while it wasn't exactly easy riding under the branches it did get us past the blockage. One more careful trip though the puddles , where I found that big hole again but luckily the bike burbled its way through and all that remained was the long rutted bit up though the trees to the last fire road by the pits. I was picking my way through this little lot and then noticed Nicky clicking away with the camera. I looked her way and in that small moment of inattention the front end caught a bit of wood and dumped me right in front of the camera! I could hear Nicky laughing and i had a smile too - the curse of the camera strikes again!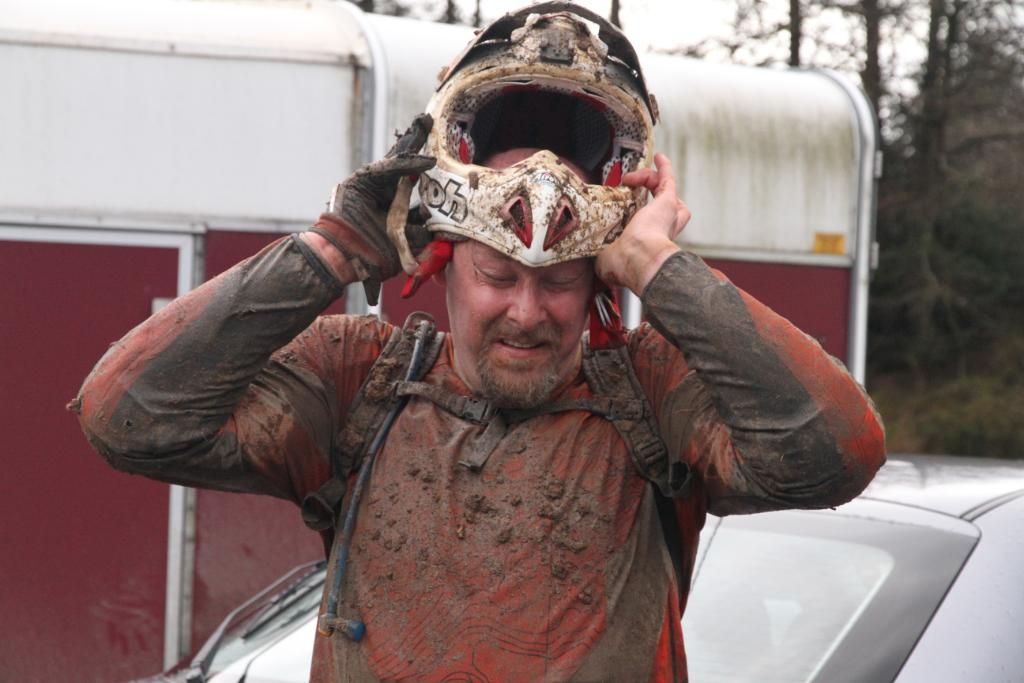 uurrggg!
is it over now?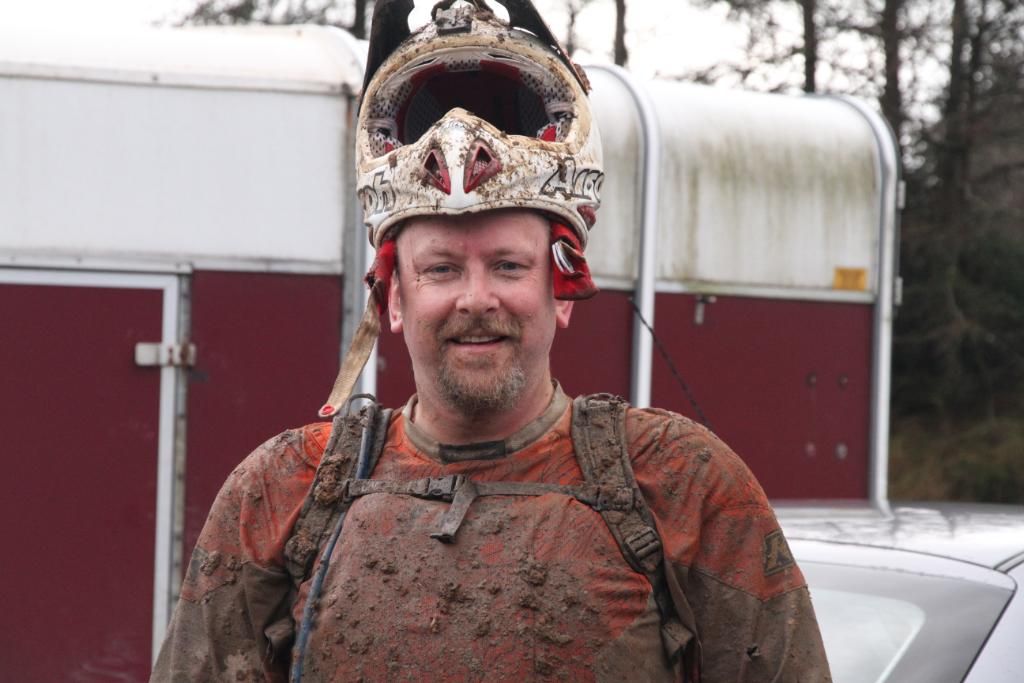 Back to the pits and i clocked out, receiving the coveted finishers meddle. Back at the car i asked Nicky where Darren was and how did he get on? She told me that Darren hadn't refueled in the pits on the first pitstop so had run out of juice ten minutes down the road. He'd got a drop of petrol from somewhere but had to push it back for ages and was too tired to continue. It took a while to get changed and i have to admit I've never been so covered in mud. It had got in everywhere too as when i dropped my padded shorts to put something dry on, I had about an inch of mud caked round my bollox! Luckily i was on a late shift the next day so we could stay over at my sisters again, instead of driving all the way home in one hit. The results were out nice and early and I'm pleasantly surprised to say i managed to get a tenth place finish in the over 40 clubman class. Seeing as i was so crap at working out my times i'm quite please with that!
give me something to eat and warm to drink!

If you enjoyed this report and would like to be notified of new reports or web site updates then join the mailing list. To sign up to the list just click HERE>> and send me an email.