See all 560 photos, download free (for personal use only)
Well the bike is ready ...but am I?
Fully prep 'ed and tarted up with coated frame and new plastics, with my own custom graphics
see the re-build thread now live!!!!
Snowrun 2012.......could have gone better I suppose. It would seem the good fortune fairies were taking some time off for our little group this year, but I'm jumping the gun slightly, so I'll start from the begriming! When the regs came out I mentioned the event to Darren and he signed up straight away. I then asked Tony if he was going to join us and to my surprise he said yes, having previously declined all invites to an tough Welsh enduro. I think he missed doing the Hafren with all of us last year, so was keen to give something new a go.
The event in early February was postponed till the end of February due to snow and ice on the course and access roads. Yes the irony of snow stopping an event called the 'Snowrun' wasn't lost on anyone. This isn't the first time snow has caused a delay in the running of the event though. I took part in the event back in 2009 I believe, and that rescheduled event was held later in the year. It was a bit of an eye opener for me as the steep downhill sections were a bit daunting and the forest section got so cut up they were a struggle, I still managed a silver finish in the clubman class though so I was very pleased. I think this year's course was tougher.
4th Feb and we are off.........for now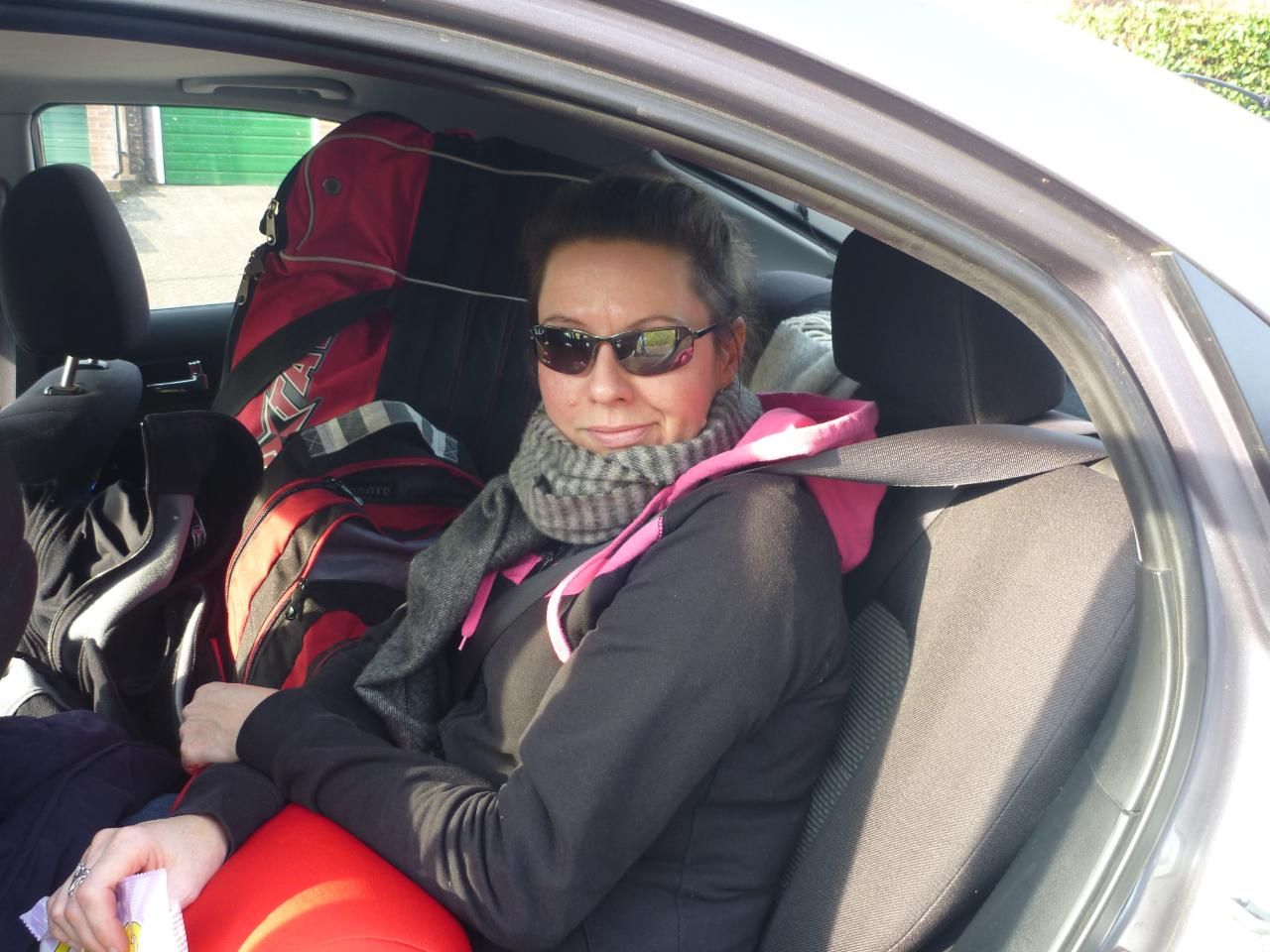 Nicky get comfy in the back
The abortive event on the 5th of Feb cost a packet as we were almost in Wales when we got the news it was cancelled and I had stopped off on the way to get a new rear GT216 golden tyre fitted, as the main supplier had run out of stock, due to the supply vehicle being stranded by snow in Italy!
The extra few weeks delay gave me a chance to do some final checks on the bike and have a second shakedown run out at Enduroland to get rid of any problems since the second re-build. Well it was more of a tart up really, i.e. frame and bodywork but I did do a little engine work too. See it here on my website very soon. Unfortunately I had a couple of small tumbles in the snow and tweaked a few muscles and joints so I did zero training in the run-up to the event proper.

Friday night I got a phone call from Tony saying he was dropping out. His front brake was binding badly and he couldn't seem to get it freed off. I offered to pop round in the morning at 8am to have a look. A 10pm finish at work, followed by a couple of jacks n coke later that night meant that the alarm clock going off for 'international rescue – motorbike division' wasn't very welcoming. I managed to get the bike fixed after doing all the usual checks then taking the pistons & seals out the caliper and giving them a good clean. I'm not sure if Tony was relieved or disappointed that he would have to go ahead with the event that he signed up to, while no doubt pickled on jacks n coke! So we were on our way - eventually, with Nicky wedged into the tiny space left on the back seat of the Mazda. Tony treated us to an 'Olympic Feast' fry-up on the way down as thanks for sorting the bike out at such short notice, athletes' to the core! I'd booked a fantastic looking B&B for the Saturday night and while it was tricky to find the place it was top notch and I'd recommend it to anyone. Views in the area are great and the two units are immaculate.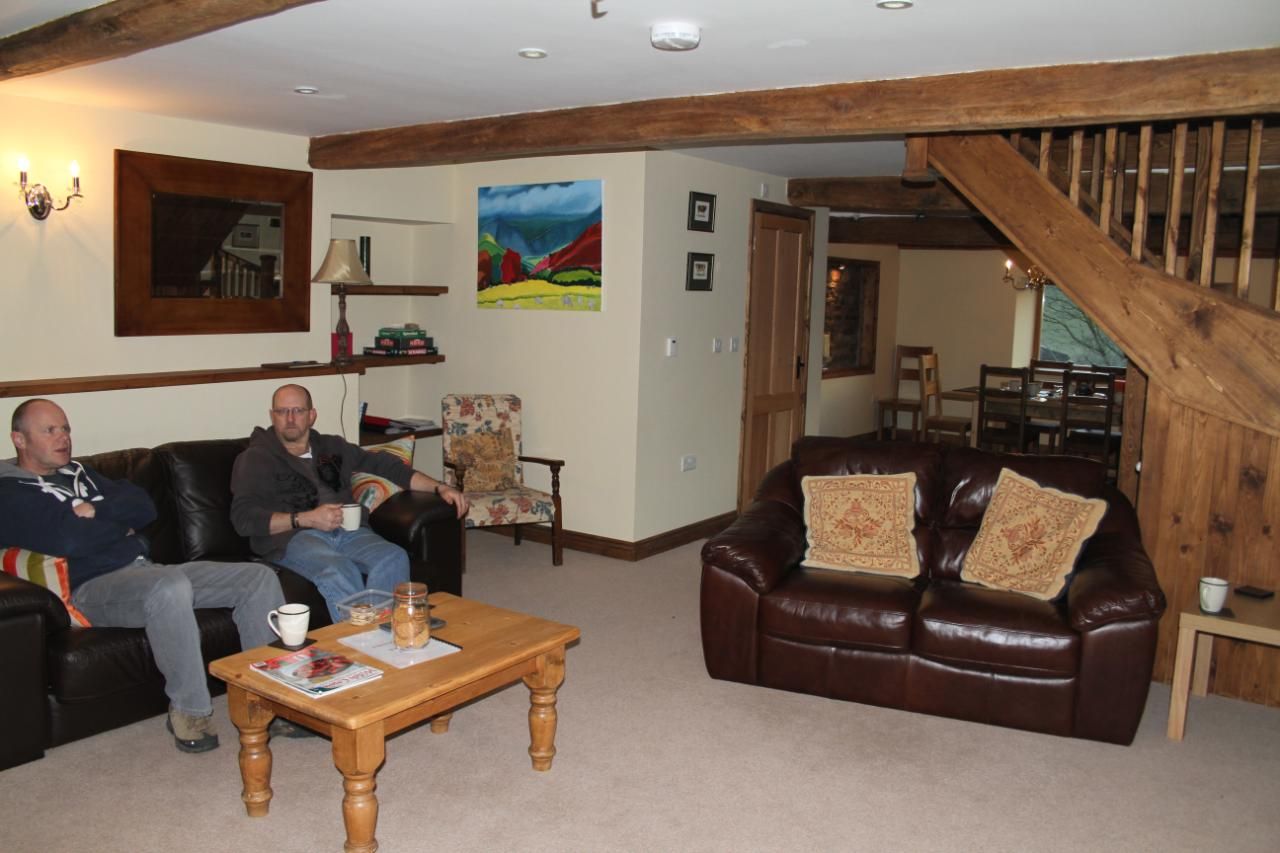 In the lap of luxury!
Check out the www.thebullpens.co.uk recommended
plenty room for cars and trailers too....
The B&B owner (Fiona) had booked a table for us in the pub that night and that was also tricky to find but Fiona made it easier as she supplied us with a hand drawn map! The pub food was great which was only topped by the breakfast that Fiona supplied at 6am the next morning! Getting to the venue took a lot longer than we thought due to the nature of the small roads but eventually we pulled up into the parking area and set about getting the bike through scrutineering, sorting out timecards and humping all the fuel/spares/tools to the pits.
me discussing what i'd been up to on the bike mod'ing front
a packed grid waiting for the start
Better get geared up!

thanks to enduroland for supplying me with some new Klim gear and a helmet for this year!
thanks Nigel !!!
Darren (on his new Husaberg 390) was starting number 50 while I was a few minutes back with number 59. Once the bikes started heading off I fired the 450 up to try and get some heat into the engine so the clutch would free up. The 'cold engine' starts that the wtra like are difficult when I don't have a clutch override function fitted yet. I never seem to have any problem at any other time but at Welsh enduro's cos once again it failed to fire in gear and the two other rides shot off while I was stuck on the line as per the Red Kite last year. I got it going at last and consoled myself with a big wheelie all the way up the hill. I wasn't too concerned anyway as it wasn't a H&H race and I only had to get to the first check on time. The fire road snaked up the hill and at a T junction Nicky was pointing gesticulating me to go straight on into the forest, I spotted the orange arrows and ramped up into the woods. Apparently the guys in front went to the left, following the road which wasn't taped off. Only about sixty bikes had been before me but the woods were getting cut up already with one or two roots peeking out with a smile, but ready to show their teeth a little later.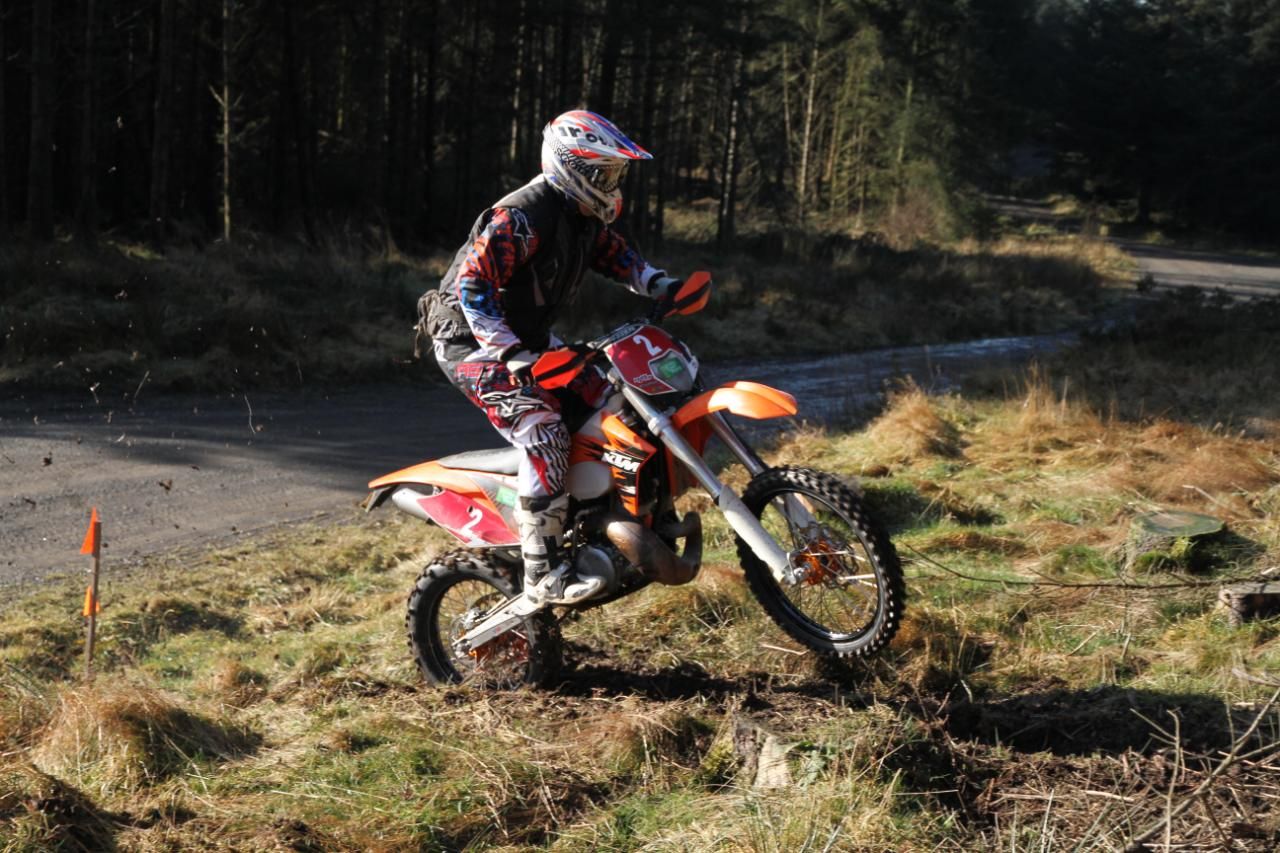 Gethin Price gets off first
Matt Ridgeway in close pursuit
Kevin Barnes looking like he means business
I cleared this stretch ok and from then on the going was a mix of cut up woods and roads – inter spaced with 'oh my god' steep descents! The first slope down wasn't too bad actually but a deep'ish rut had already been cut into the track so it was just a case of sliding down the hill. Mmmm that is so much easier to type than actually do! What I find it you are paddling like mad with your feet covered in lead like mud, your arms are locked and tensed to stop you going over the bars and your are breathing hard. So much for the bit of running I did to get fit ......not enough by a long way!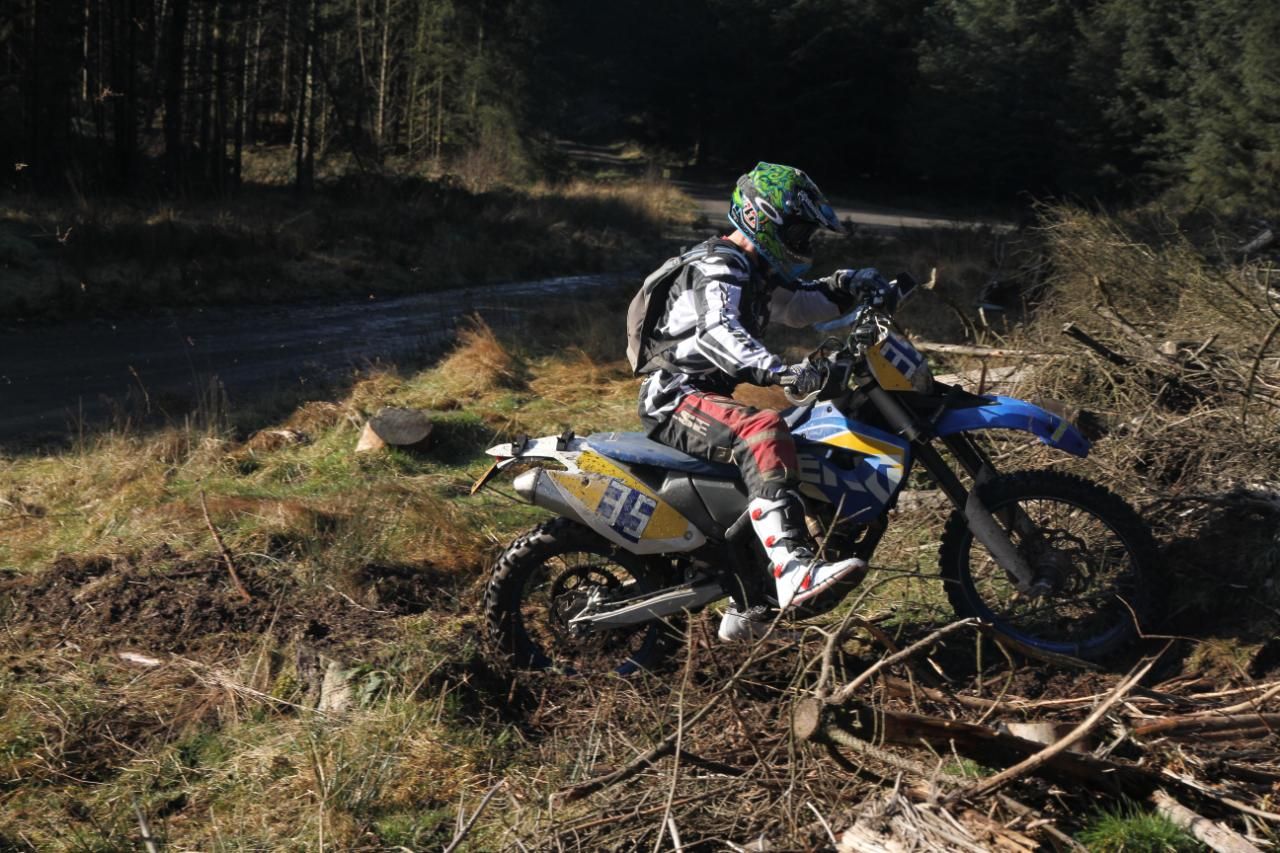 John Horton one of the riders staying at the B&B with us getting a wriggle on
Steve Bird (who also joined us at the B&B) in tow
Darren Running while sitting on his bike!
Me waving the old leg to keep things on an even keel
Some open going brought us back into the trees and another descent. My bike started cutting out on this drop and it was a problem as I couldn't fire it up by letting the clutch out due to the Rekluse so I had to fire it up on the button several times. Oh how I wished I never went on so much on the forum about how the bike didn't cut out with it in! I got to the track at the bottom and gave it some stick to clear it out and after a fast bumpy road we came up to the first check.
I wasn't too happy the way things were going so far. Not only did the bike let me down on the start but the cutting out was pissing me off and the woods going hadn't got any easier despite me saying several times in the run up that "it'll be fine". The back end of the bike felt too soft too, which was something I knew about, but didn't adjust as I knew it would be tight and muddy going. The fast bits were showing this up as a mistake though so I pulled out my mini stocking filler multi tool and added four more clicks compression damping. Edging forward for my start time the time keeper caught me off guard by gesticulating me forward saying "are you going"? I cocked up by pushing forward a minute early!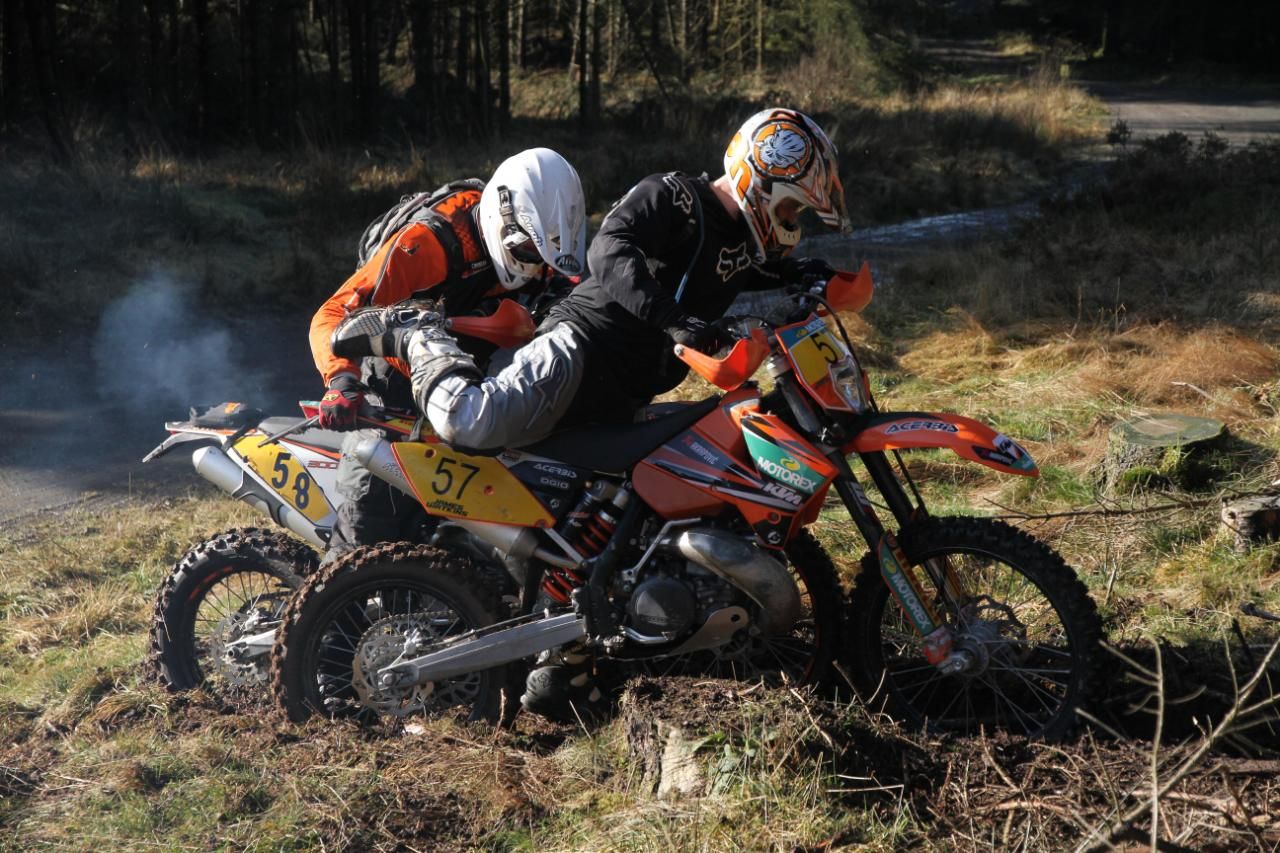 Push me pull you!
no 57 James Wakins gets a helping hand from no 58 Craig Jones
Dene John stops to have a rest on a tree stump
Ooops .... Jason Ager end up in a heap
I'm trying to remember where the special test fitted into this, but anyway I rolled up to it and sailed through without stopping as I remembered them saying the first one didn't count i.e. not timed. As soon as I started the test I thought to myself "shit I think you should have double checked they were not timing this one" otherwise your race is cooked. Well it wasn't yet, but it soon was.......
The Special Test was a typical conifer wood special. The underlying covering is fairly soft so bikes cut into it easily and in no time at all there a deep narrow ruts forming. For any average joe rider this means lots of paddling along sitting in the seat. Expert level riders might be able to ride them but not me that is for sure. But on the first lap it was still fairly ok, by that I mean I didn't have to stop and catch my breath once I got to the end of the test.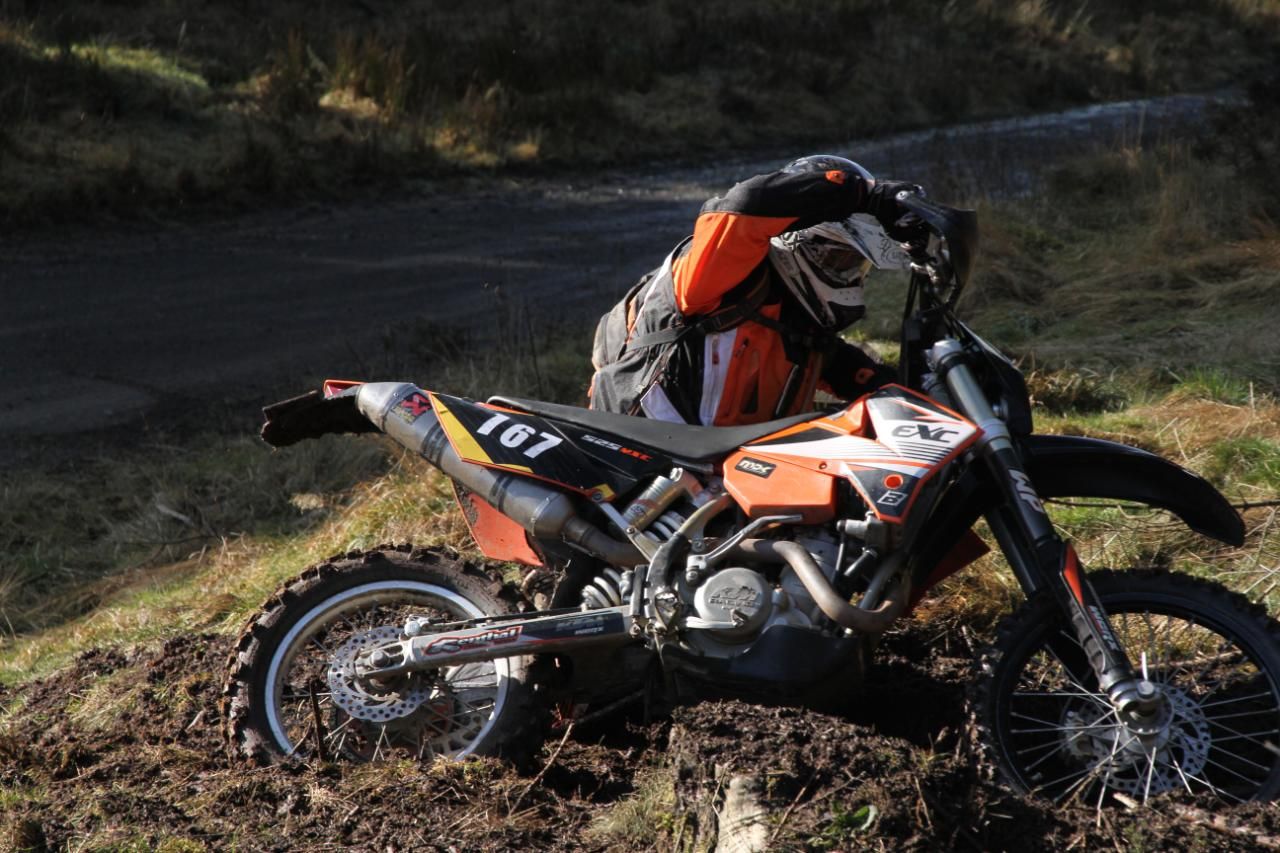 Steve Sharp makes sure his big 525 has something soft to land on!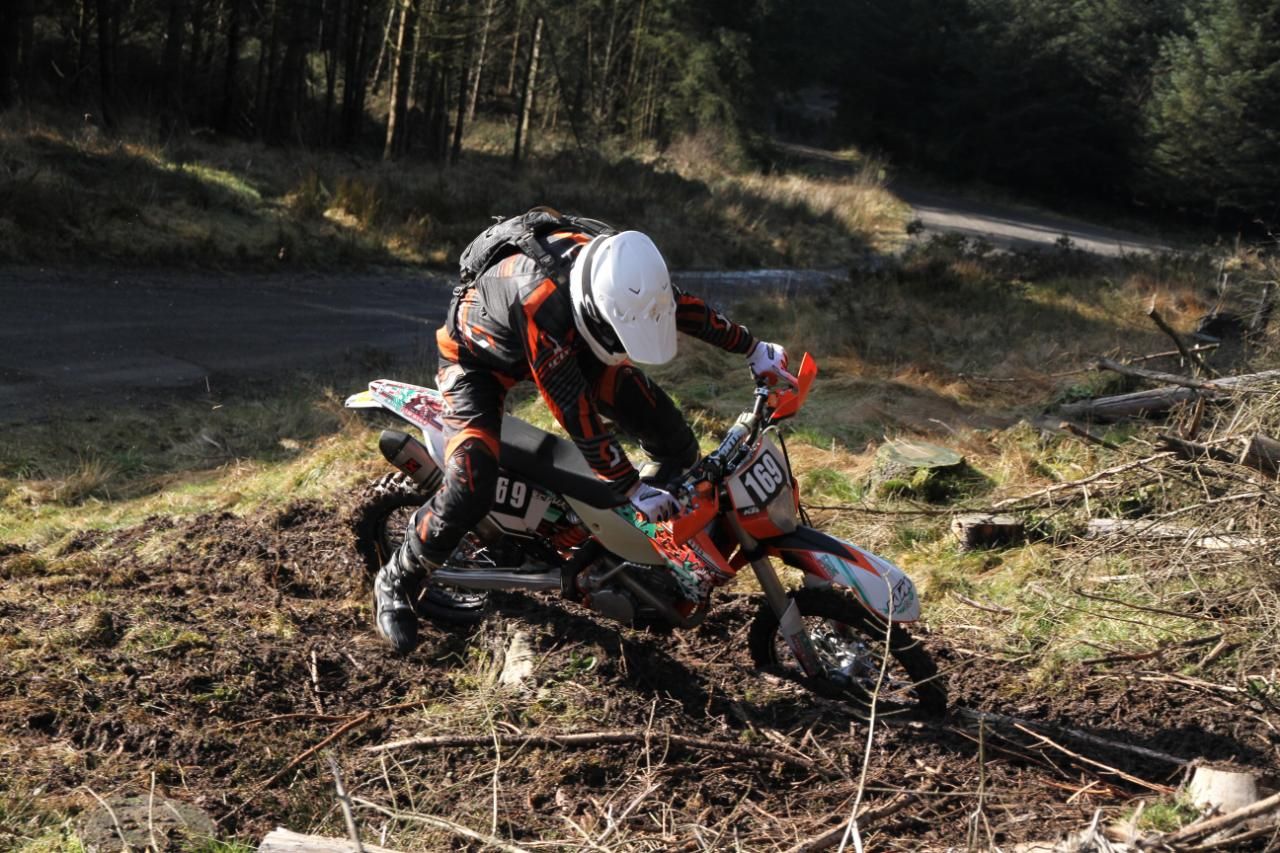 Simon Larner gets ejected from his ktm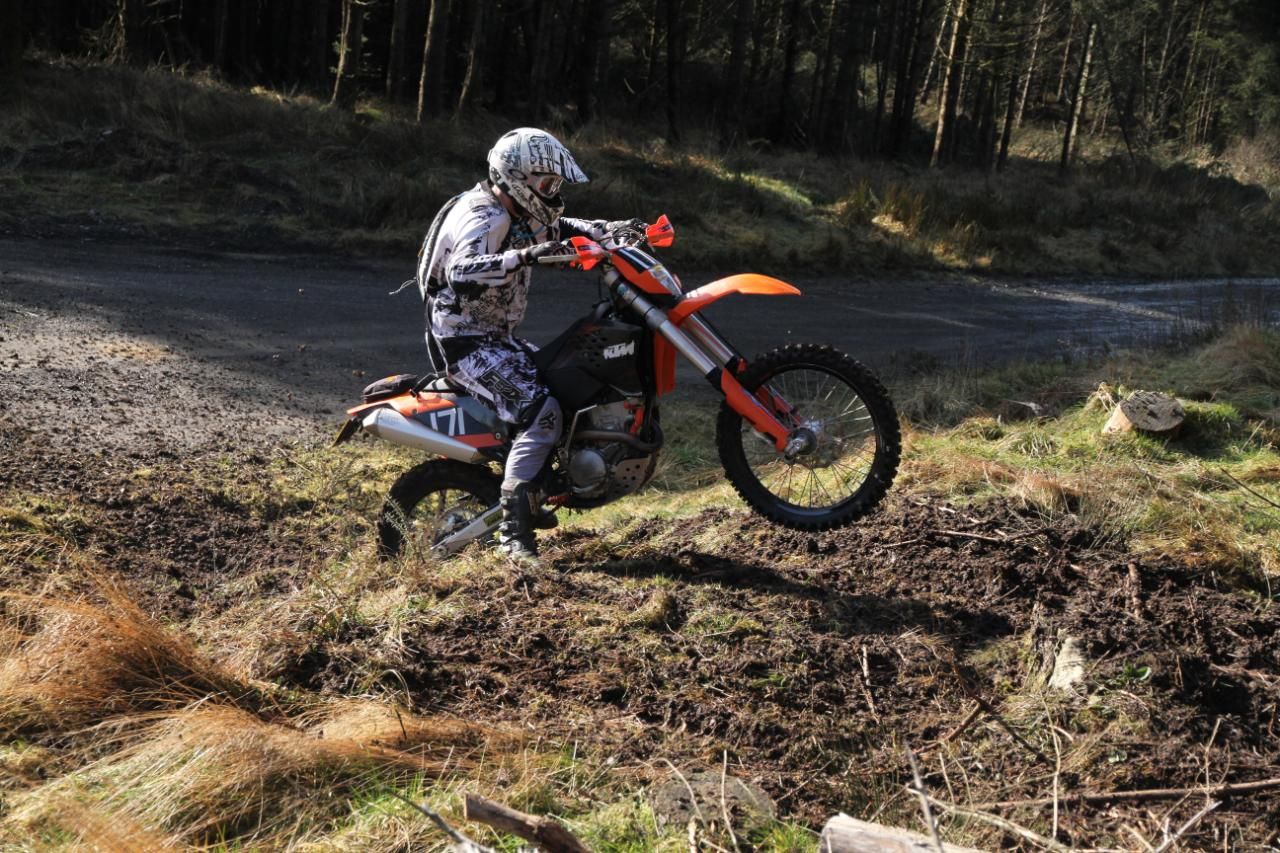 Tony looking good..............but
looks can be deceiving!
He gets stuck so tries to back out......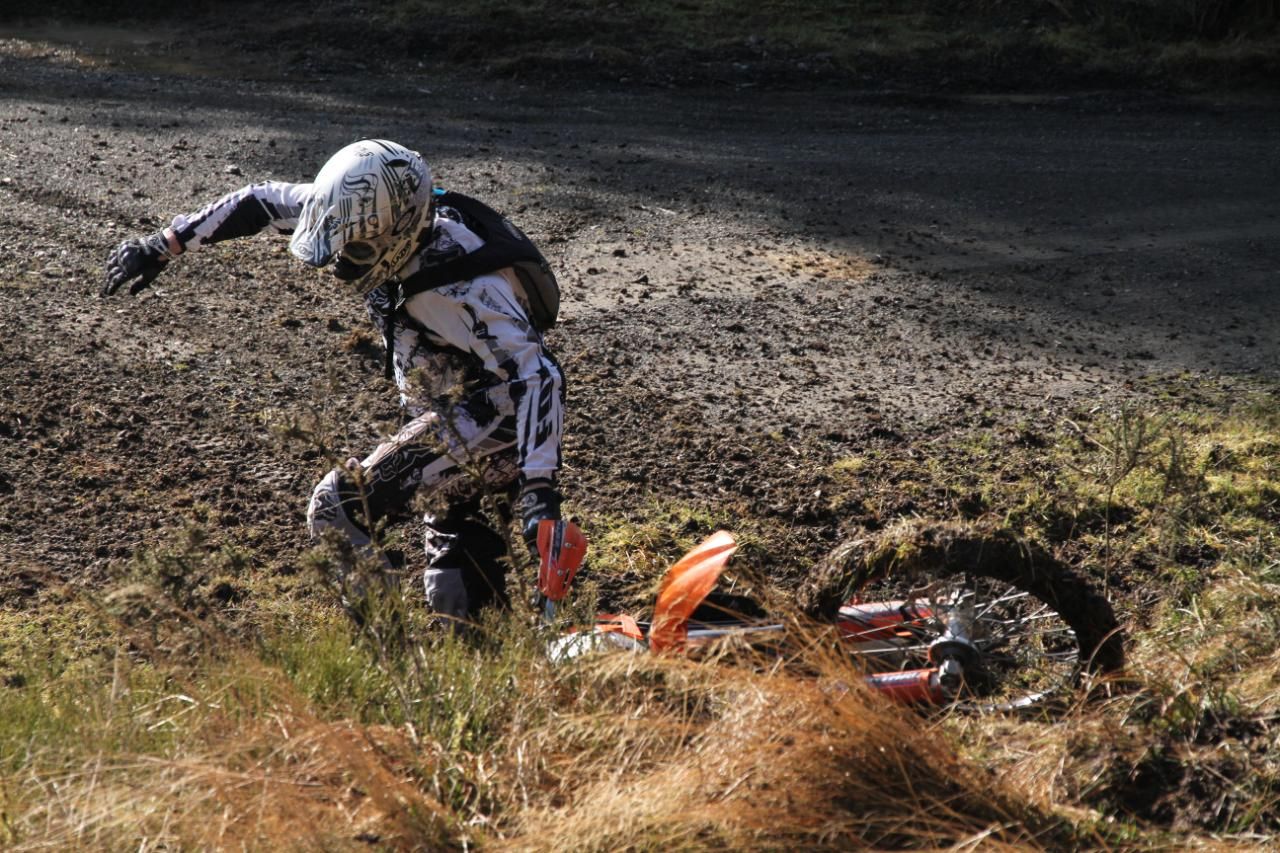 but ends up bailing out instead
After the test the going became nice tracks and roads up and over mountains and it was good fun. I caught Darren up on an uphill section and waited for a open track to overtake. Turning up into the woods on another track a rider caught me up so I opted to go through a puddle to give him more room to overtake. The bike died for a minute or two but fired again and I nailed it down the track as it opened up again. Braking into the next corner the bike just died. I tried to fire it up again but it would fire up then die again with lots of backfires. Darren stopped to ask what was wrong but I told him to keep going as there was nothing he could do. I more or less knew it was the plug cap already but seeing as I never had I spare cap on me I had to go through the motions of draining the carb just in case water had gotten into it. Several people stopped to ask what was wrong but unless they were carrying a ktm spares van in the camelpack there wasn't much they could do! Thanks all the same guys.


I drained the cab and tried again but it was still struggling to start and then wouldn't idle. This was accompanied by a soundtrack of electric starter (getting ever slower) and loud backfires, getting ever louder! No doubt coming to investigate who was shooting at their enduro riders, two marshals arrived on the scene. The elder one of the two insisted that we take the bottom plug out the carb to drain it, just in case there was crap in there. I still insisted it was the plug cap and seeing as neither of them produced a spark plug cap with a loud "ta...da" I pulled off the seat and tank so we could swivel the carb around to get the bowl of the carb off. Quite a while later the bike wasn't much better but it was running in a sort of bang bang way. I was all for chucking in the towel as I knew I'd not be able to get it back like this. They weren't so keen on taking me back to the pits but said they'd follow me for a while. I ran next to the bike and fired it up and got underway again.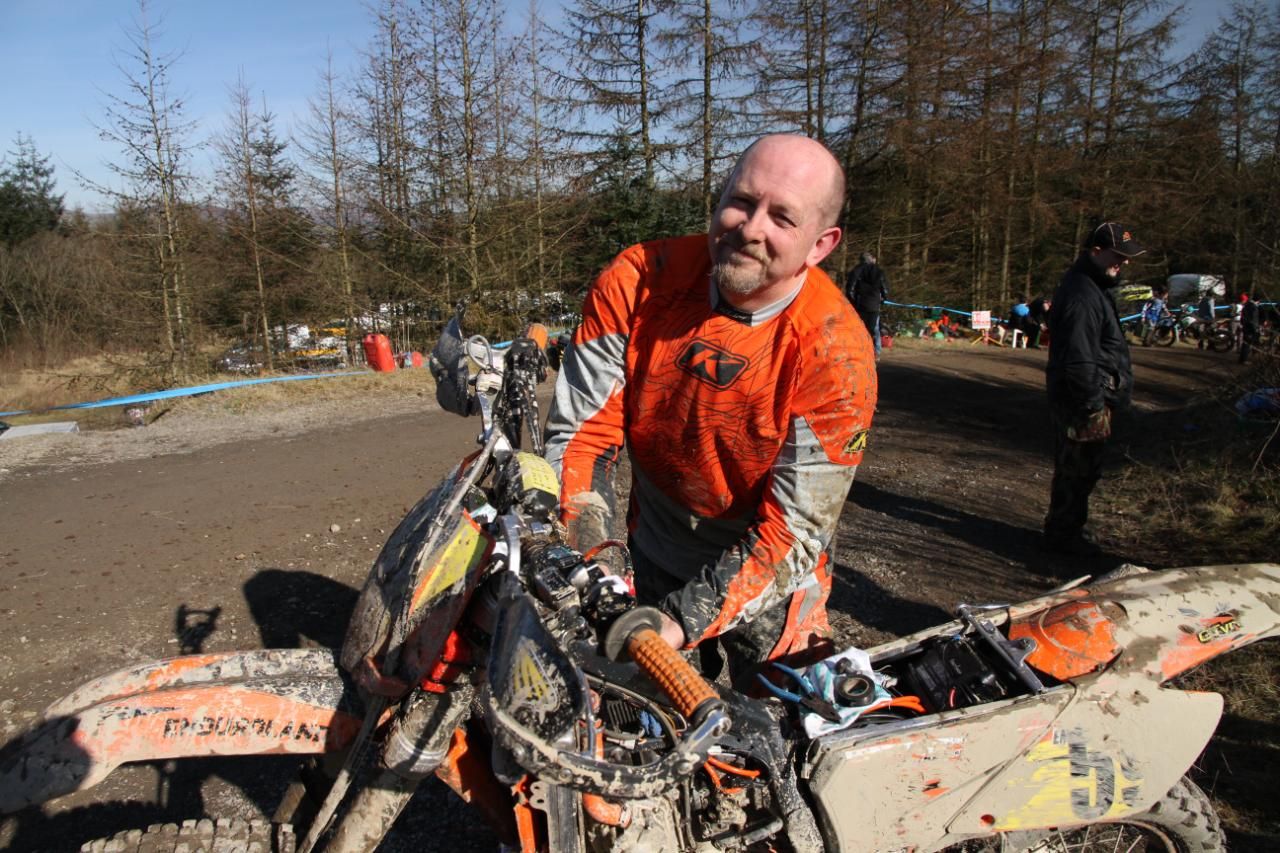 race over for me, might as well get it fixed and go for a jolly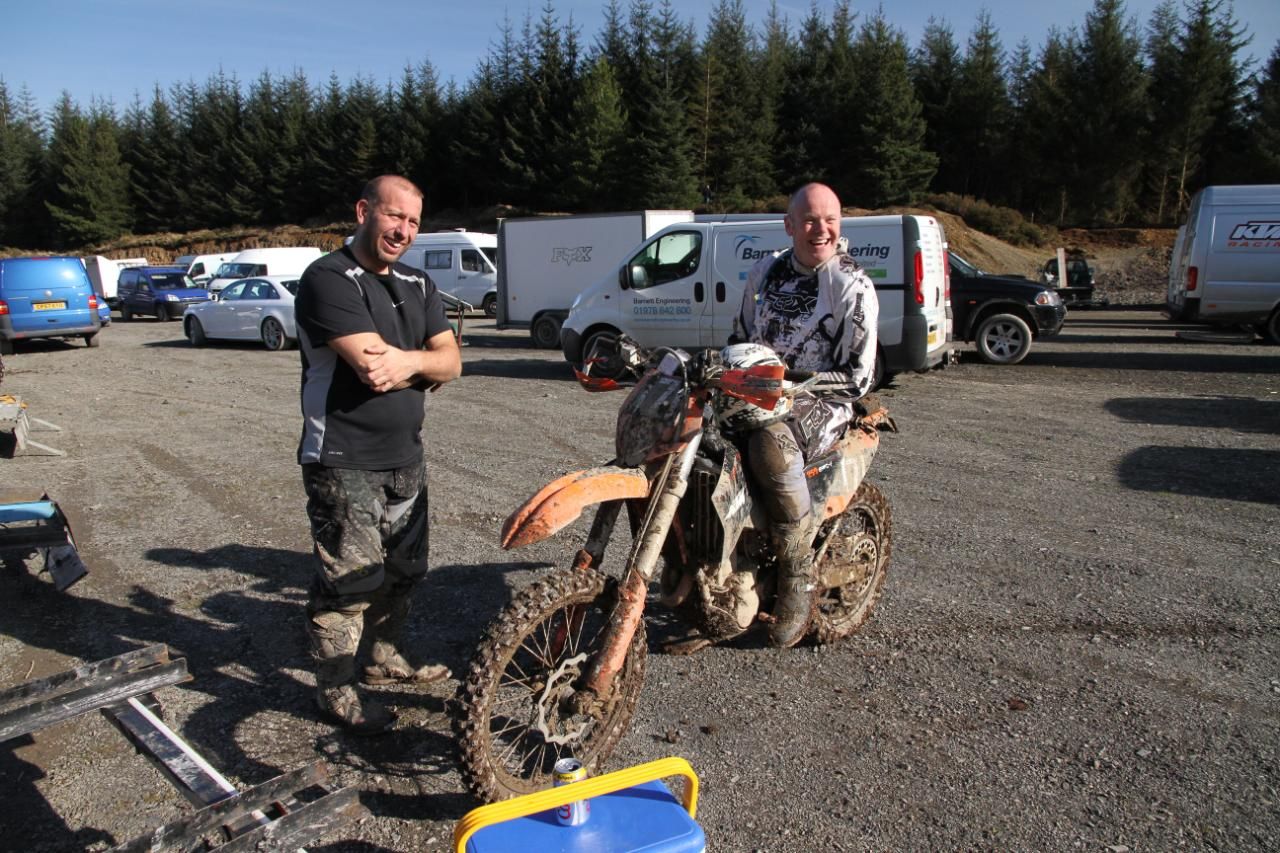 Little did i know that both Darren and Tony had pulled out ...
this is them having a laugh at the car while i was waiting up atthe pits for them to come round.....
one due to bike troubles (new bike and won't go) ...and one got a little tired!
A few tricky woods sections and many stalls later I was nearly wore out from pushing and kicking, without any marshals in sight. Another open section was followed by some more water which killed the bike stone dead and seeing as the battery had given up the ghost a while back I ended up trying to get the bike going by kicking over in a deep puddle. The marshals appeared again and said they would now take me back to the pits on the roads, but first I had to get the bike around and back to the road. I humped the back end around but there was no way I could push the bike in the thick muck. Pausing for a breath I noticed there were several thousand frog eggs floating on the puddle. I gave the button one last hopeful push and the bike fired and remained running long enough to get it out the bog, while the rear wheel rained down a ucky mix of water, mud and frogs eggs as I kept it nailed so it wouldn't die again. Once back onto the roads the bike kept running and annoyingly pulled quite well.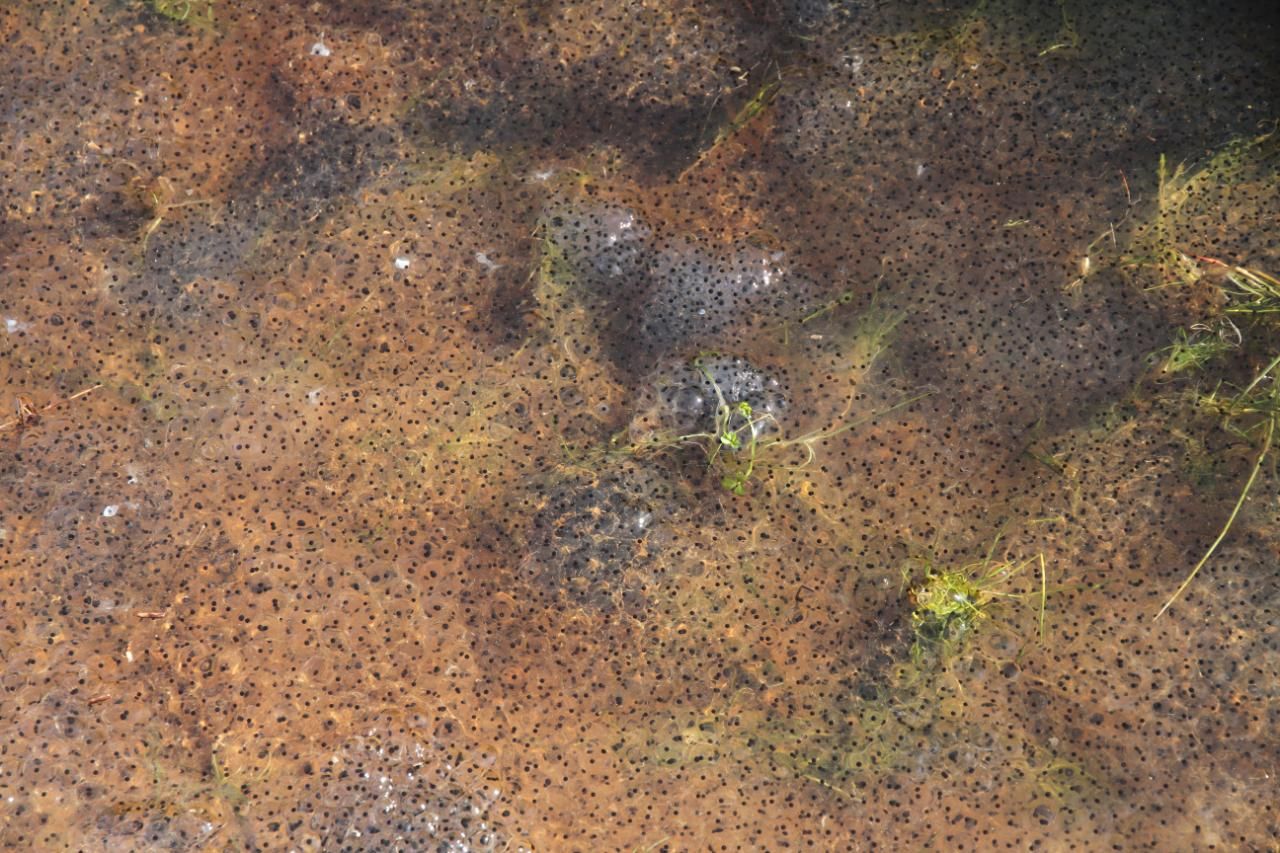 frog spawn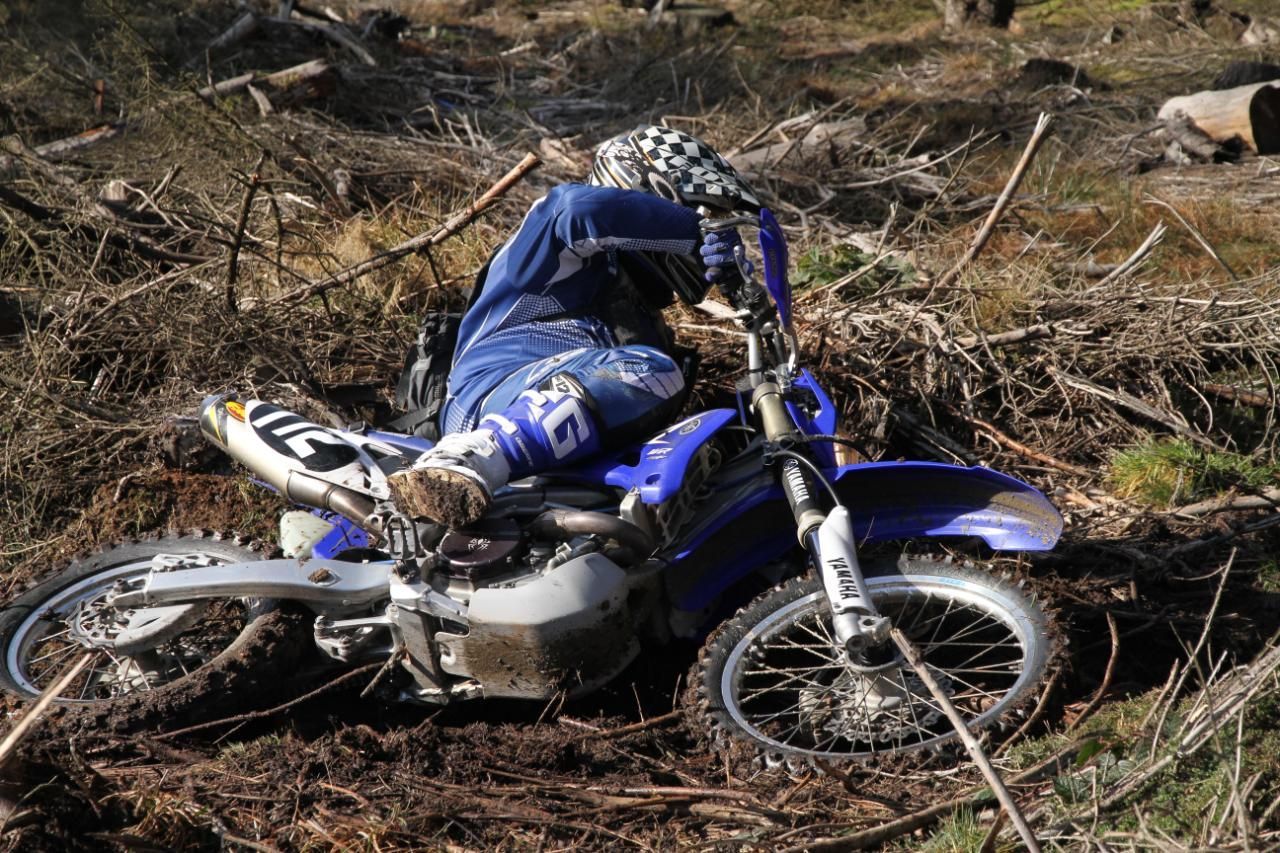 Cliff Fisher corners really hard ;)
Back at the pits I asked if I could go out again if I got my bike fixed. I was told I could but of course I wouldn't feature in the results as I'd come back via the roads, not the track proper. That was fine by me, at least I'd get some more track time in having traveled so far for only 75% of one lap.
I pulled the bike apart again and then Nicky arrived in the pits looking all worried. She didn't know what was going on as she'd not seen any of us for ages. I told her about my issues and she helped me get the cap changed for a spare I had in my toolbox. She also informed me Darren's bike was down at the cars so it looked like he'd pack in after one lap. I got the bike running after changing the plug and plug cap, then finished putting it all back together having found that it now ran like a dream. I decided to wait until Tony came round to do his second lap so we could ride together. I was out the race, so if I could I'd at least help him to a finish. I stood around eating a few bits and pieces but Tony never came. Time was ticking on so I decided that I'd head off on my own. Just then Nicky arrived back from a scout-about saying Tony had quit, and was parked up at the car too!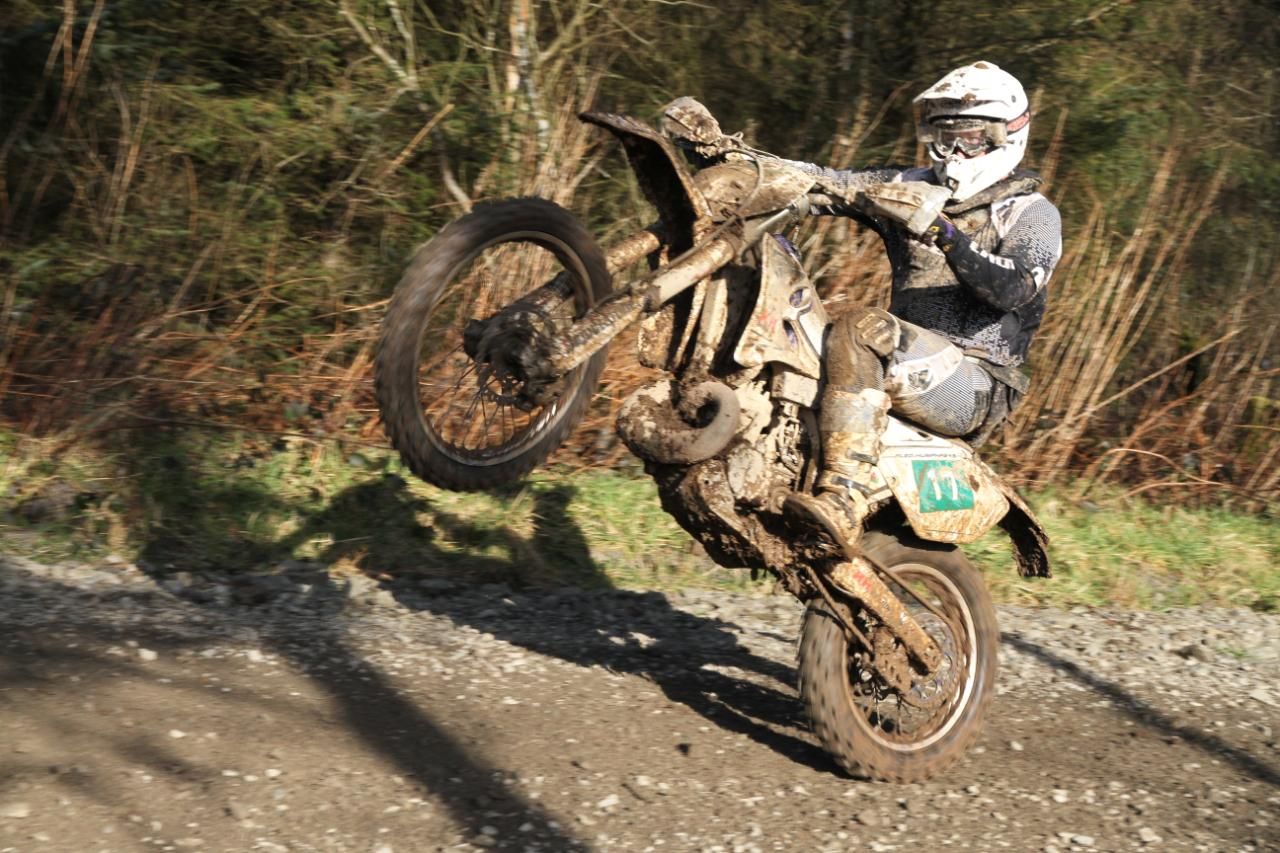 Aled Humphreys letting Nicky know he's spotted the camera!
I headed out on my second lap and was relieved to find the bike was once again back to its old self and running like a dream, without stalling on any of the steep hills. One of the first hills had become really cut up now and three quarter of the way down I spotted a section that looked like it would swallow the bike, the ruts were so deep. A photographer was there too so I can only guess at the photos he must have of people battling there. I was out the main rut on the side but couldn't see a way around, then put my foot down into a rut so had no option but to tumble of the bike, click went the camera! I managed to push through some adjacent undergrowth to get past the tank trap and carried on. It was all good going after that until the special test. I'm not sure what had happened in the interim period between my last lap and this one, but someone had taken the forest floor and turned it upside down! The roots were in full fight mode and several of them managed to bring me down as I kicked out with my boots and paddled for all I was worth. Several spots were so bad that there was spotters showing me the way as the original track had become impassable. I got to the end breathing very hard and had a little rest before setting off again. The next few miles was really great going and some of the climbs up the slopes were exhilarating, but the fun side was brought back into context when the inevitable woods and ruts came into play again. I had several tumbles in the woods when tree branches would work in conjunction with the roots and send the front wheel off into another direction.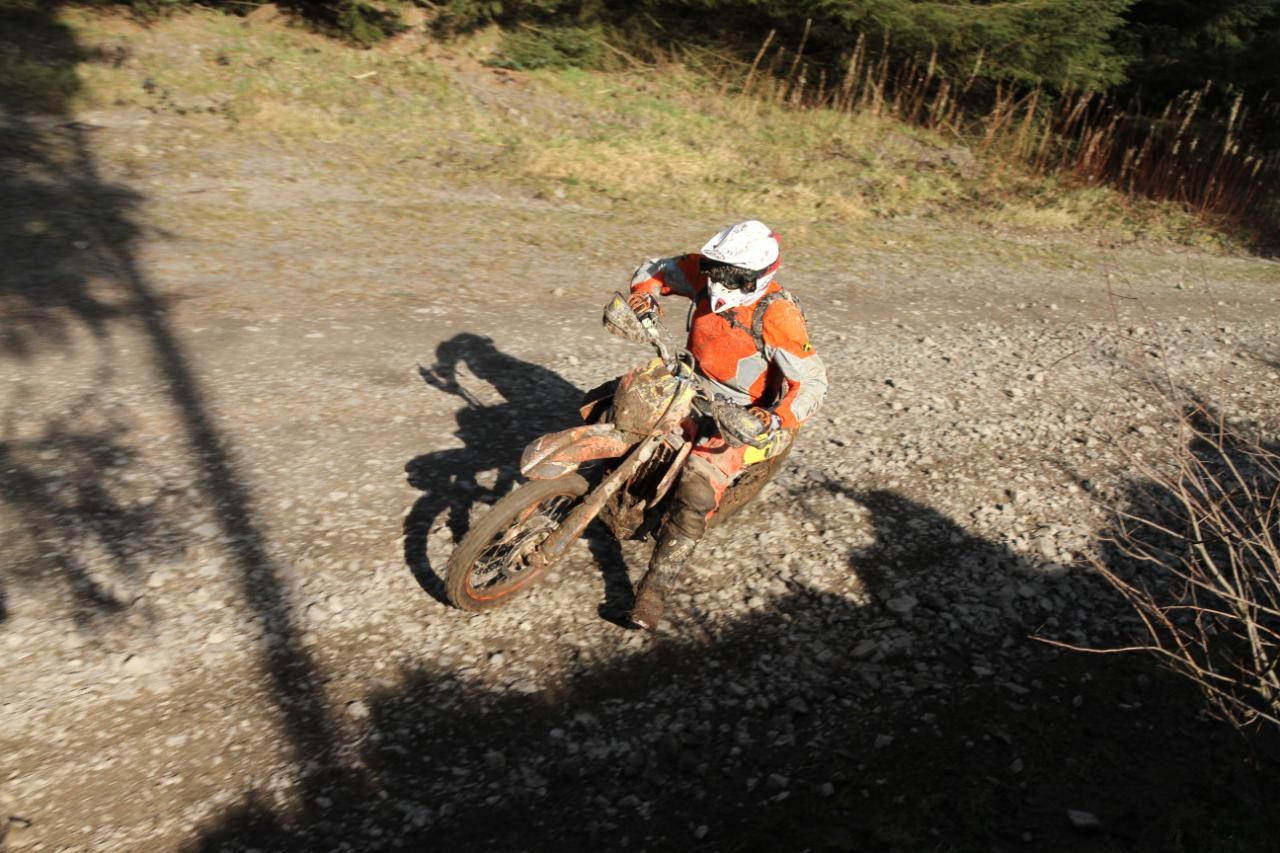 me on the homeward stretch

I also came across the narrow steep decent that had Tony tumbling down in the morning and the way ahead was blocked by two riders. Luckily I had looked well ahead and hadn't dropped down into the main rut so I was able to squeeze past on the outside and get past them both. I got through one woody boggy bit (almost into a lagoon like puddle in there but stopped in time) to be greeted by a scene similar to what you see on an 'extreme enduro' video. It was a steep climb up a slope but it has been cut to pieces and there must have been thirty people all standing on different vantage points, some pointing the way, some there to help and no doubt more than enough there to see the mad buggers on bikes suffer! Amazingly I cleared the slope in one hit, thanks to a combination of being pointed in the right direction (thanks guys), as well as the fantastically grippy GT216 rear tyre and the stonking engine on the 450, made even more so by the rekluse clutch.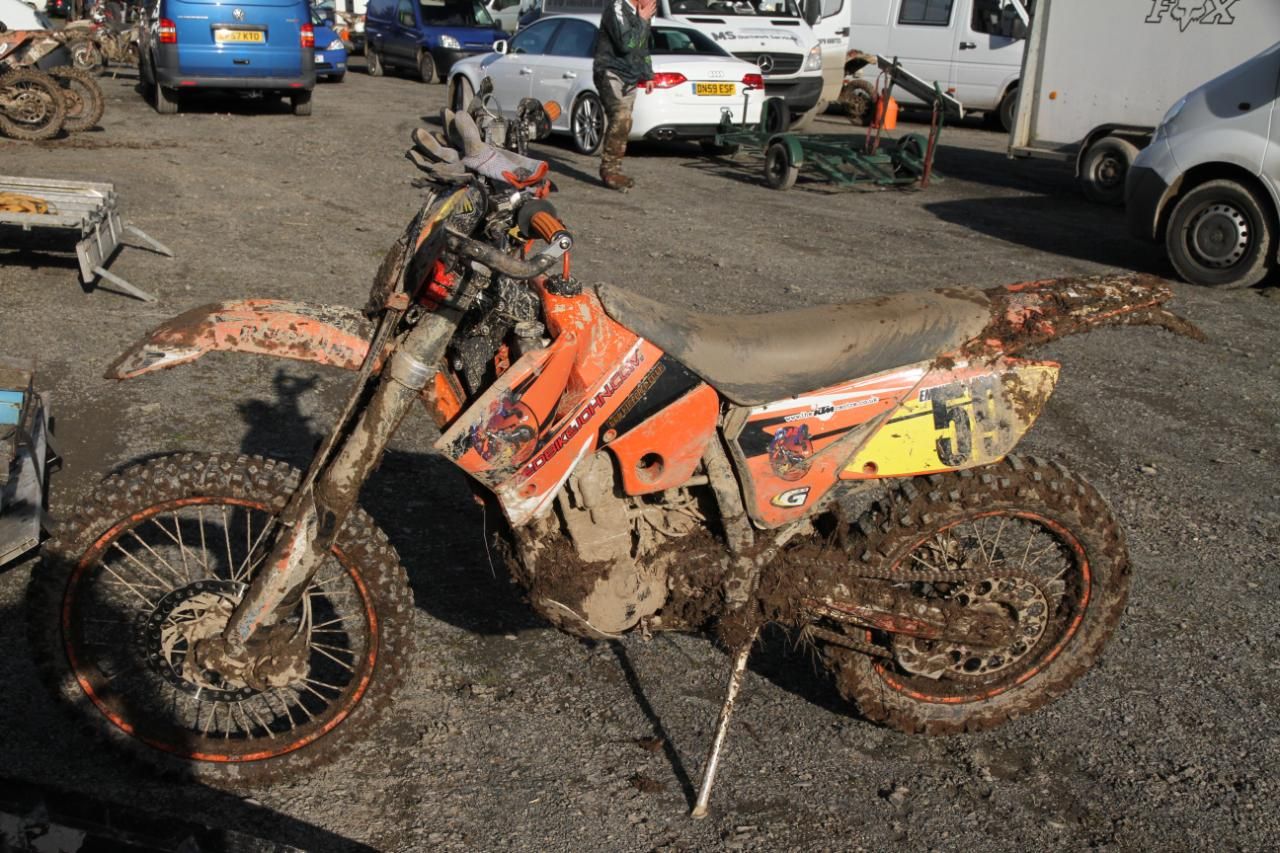 not quite so shiny now!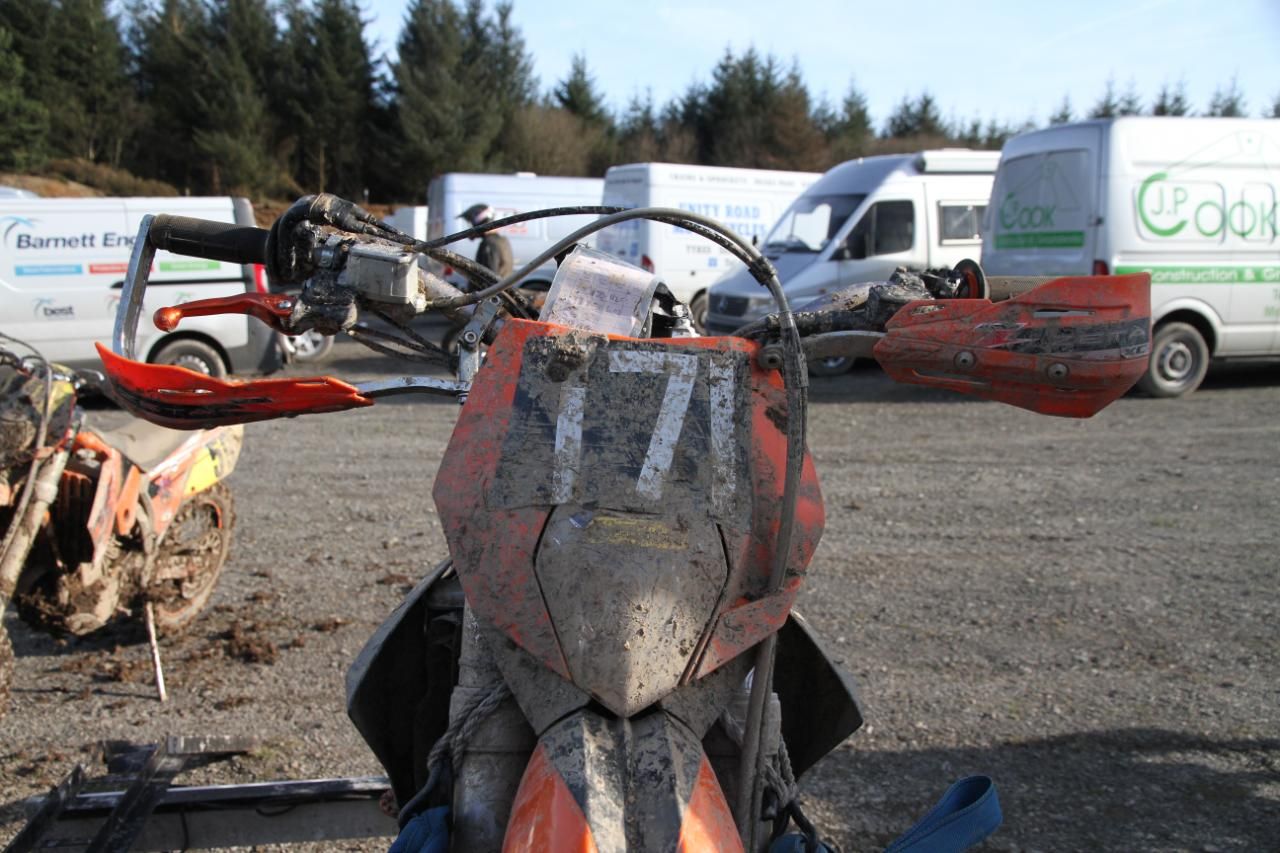 but it looks a whole lot better than Tony's bike!!!
So that was it, it done my lap and it was getting too late to carry on and there wasn't much point anyway so I handed in my timecard and handed a finishers medal. I gave it back saying I don't really deserve it but the other lady said "oh go on let him keep it". I was please at first but feel sort of guilty now. All the more reason to come back next year and do it all over again. Mind you there is always the Drover Enduro coming up!
Oh I nearly forgot…… the crap just carried on coming as we ended up having to change a wheel on the trailer on the way home, somewhere between 'middle' and 'nowhere' on a very dark but busy road, woohoo!


Take Two
Tony's view on proceedings!
Where did it all go wrong? Was it the fact a race called the Snow Run got cancelled because of the snow, but not until we made it to the Forest of Dean. Or was it England losing to the pit ponies at egg chasing guaranteeing the taffy's were in fine voice when we went down to the pub on our rescheduled trip. The accommodation was first class as was the welsh hospitality both at the pub and track, our host even supplying a full-English (Oops, Welsh!) breakfast for 6:00am bless her.
The weather was a complete contrast to our first visit and was beautiful with the scenery being spectacular. Starting in the idiot class, I was leaving half an hour after John and Darren who was clubman. After a short run up a fire road, the course proper started with a rutted incline into woods where I properly excited my machine stage right, in front of our very own smudger Nicky, John's long suffering Mrs.'Well, get the pratfall out of the way early' I say on our way through rutted dank wood land for ten minutes, exiting onto a fire road and a blast round to another single rutted decline that was punctuated with... tree roots. Oh joy. After another couple of fire roads, there was a lovely climb up rock and slate, when at the top being a rather exuberant with the throttle. My lack of ability meant when the bike went sideways for the second time, I was on my arse. At least it was soft as I'd managed to land in a bog.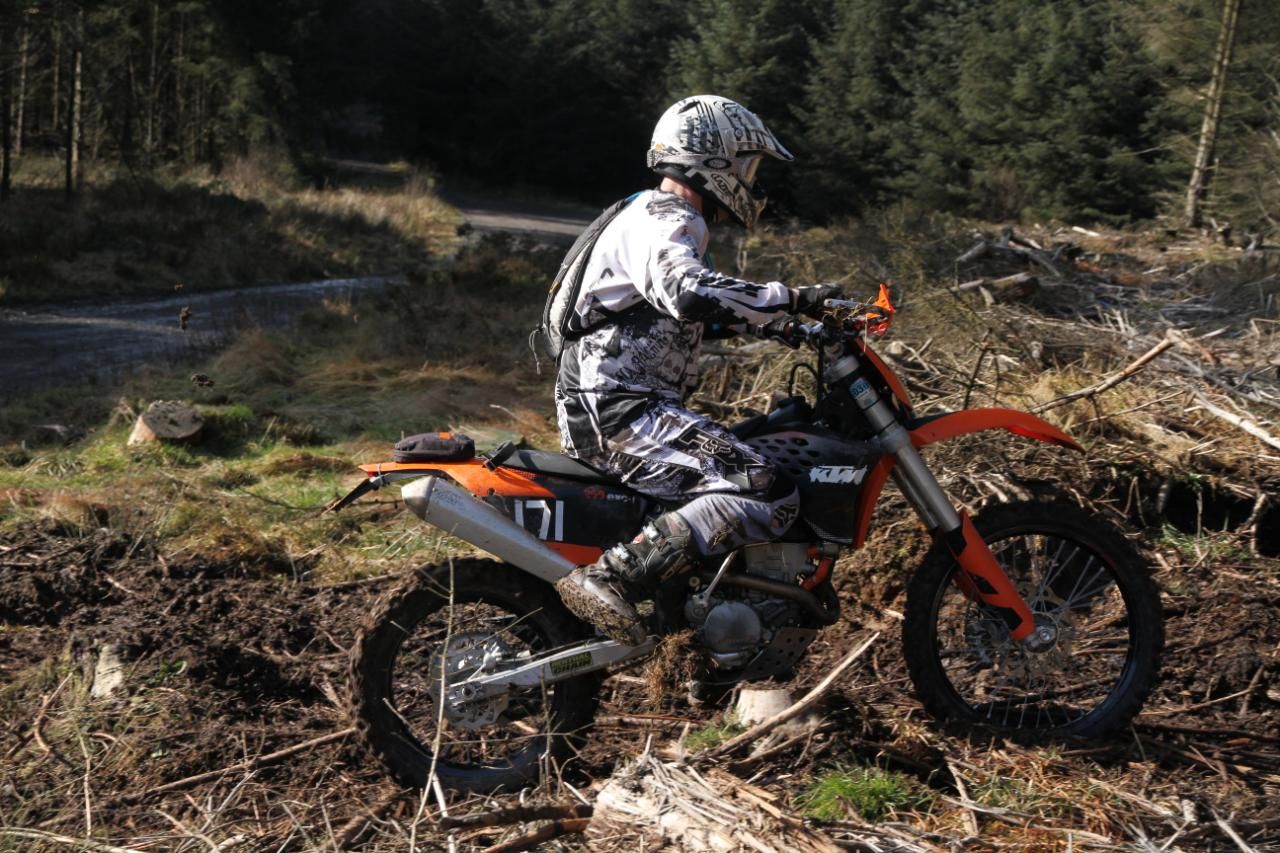 Tony makes it though on the second attempt after having a lay down
happy days!

So after a quick change of gloves it was onwards and upwards (not). Another steep decline, with a really nasty drop off to one side so, I dropped off. I thought 'oh this is gonna hurt' but amazingly, my twenty foot near vertical fall, only resulted in a more bruised ego and a near unattainable bike hung from a tree. Having extracted my bike, I realised I couldn't rejoin the track, so I headed off in the general direction, hoping for the best, only to get lost for a good ten minutes. This set the theme for the rest of the lap with the exception of the special test that was like the Somme, with deep muddy ruts and fallen bikes and bodies everywhere. I had a really good run through, overtaking about a dozen people and cleaning several fallen logs and deep ruts. Another big whoopsie later and I decided enough was enough and I wouldn't go out to do my second lap. Oh I know what a light weight, but I was way out of my comfort zone. Huge well done to everyone who completed their race and everyone who got their medal. Having had a go I was glad I went but obviously won't be rushing back and it has been confirmed my suspicions that I should stick to doing my local, much more conservative events. Many thanks to John for organising the trip. See you all at the CHEC!
If you enjoyed this report and would like to be notified of new reports or web site updates then join the mailing list. To sign up to the list just click HERE>> and send me an email.