The Sidcup XC is always a good day out so I was looking forward to it. For a while it looked like none of my friends were going to take part but Darren decided to enter in the end and brought George, his son, with him to race too. Darren was suppose to be taking it easy in the run up to his trip to the Romaniacs 2013, so initially wasn't going to enter but then changed his mind for some reason. He'd taken a tumble in Wales and landed on a stump hurting himself so reiterated the 'going to take it easy today' lark - but I wasn't too sure, it could have just been a rouse!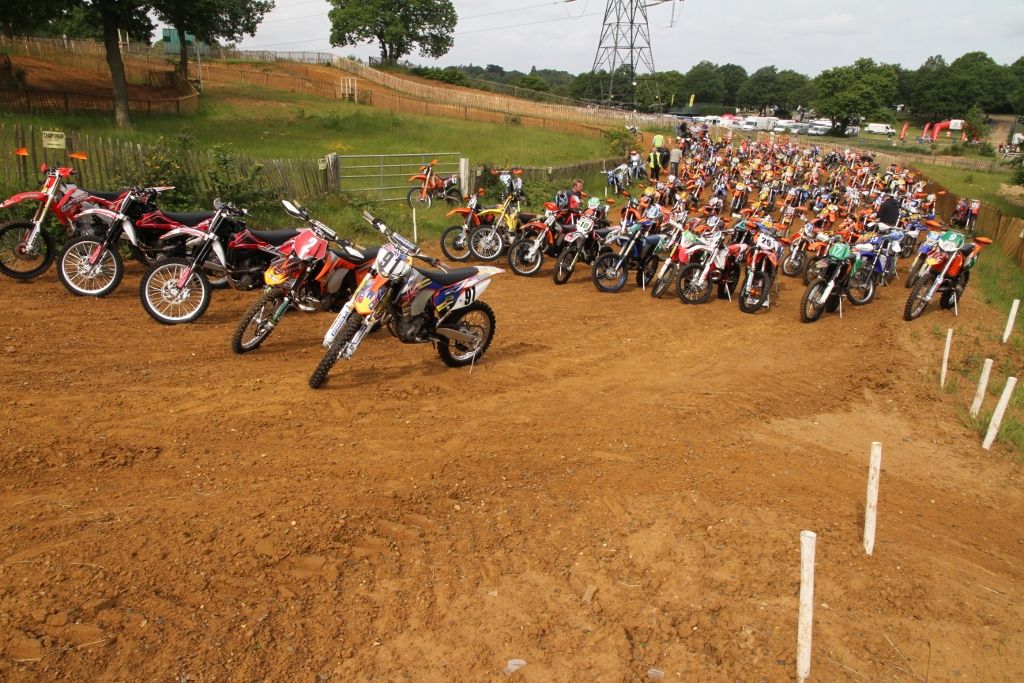 dogs of war
i'm in there - i stick out a bit in my orange outfit and white helmet
A restless night on Saturday was followed by an early morning rise to get down to Canada Height's early enough for a good parking spot. I saved a spot for Darren and went to get signed on and put the bike through inspection. After that it was the marathon push up the hill to the start line, boy was I glad I wasn't pushing the 450 up that hill! During scrutinering I was told the printed numbers (with yellow backgrounds) were a little on the small side and as they were going to be doing manual lap scoring it was up to me if I wanted to use them or not. Planning ahead I'd actually brought my roll of numbers with me, so once I'd positioned the bike on the start line I went back and swopped them to the full size six inch black numbers.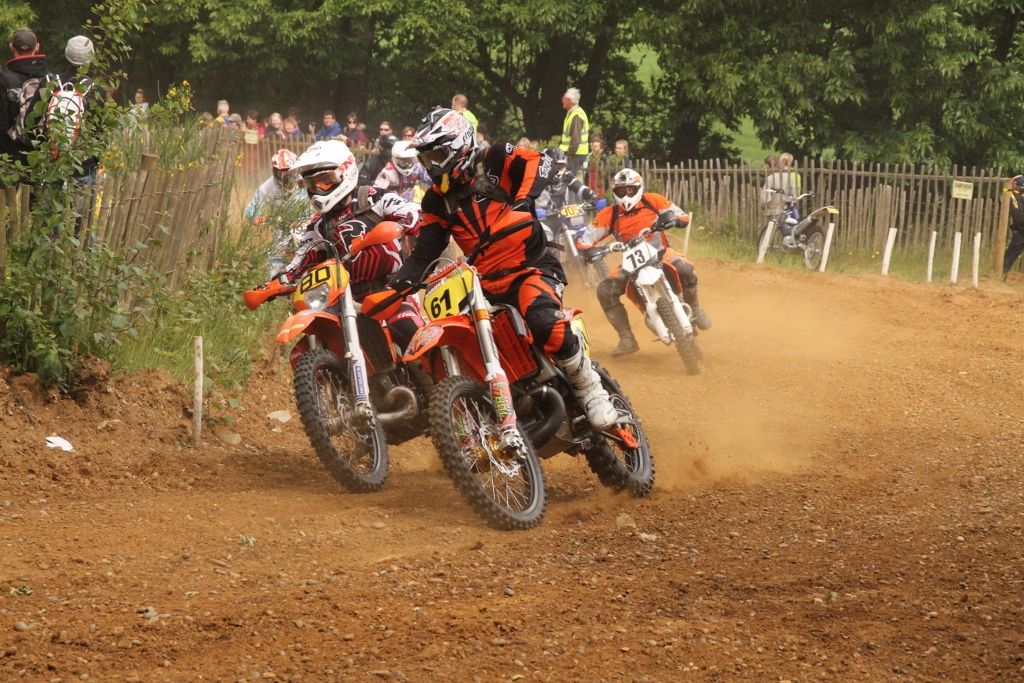 ok i didn't expect this - i'm in third spot going for the first corner
big slide as i nail the throttle open - check out the body language of the guys just to the right and rear of me..
it says - "OMG he's gonna crash and come into me" !!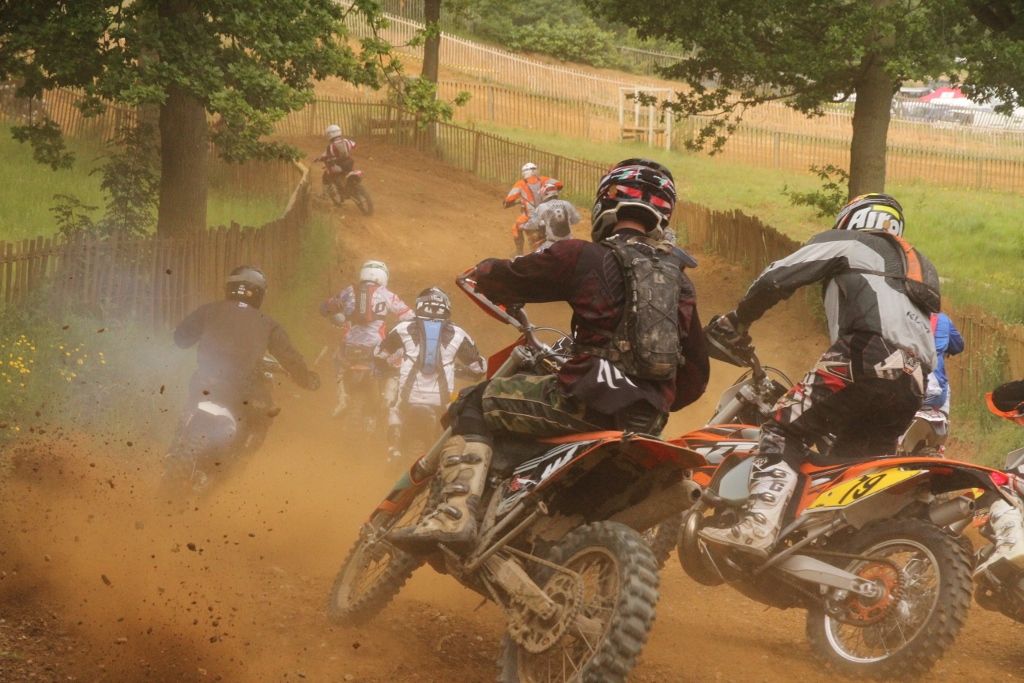 mayhem behind!
Soon it was time to start, but first we were given a few minutes to warm our bike's engines up. The cacophony of sound during the warm up made the silence that follow all the more nerve racking as it was to be a dead engine start. We were lined up in rows depending on which class you were in and the experts shot of first and 30 seconds later they were joined by the veterans. I'd been studying the starter and his flag action so I was ready, bike in gear and clutch in, thumb on the starter. In one swift movement the flag signalled us to start and while I didn't think I made a very good start (the guys either side of me short forward) it was still good enough for third place into the first turn! I lost one place, then regained one and tried to keep ahead but we were on the mx track and the regular the mx guys were really flying over some of the bumps and jumps whereas I took the more conservative approach to staying rubber side down and still holding onto the bike.

near the end of the first lap i catch up to some of the guys that passed me earlier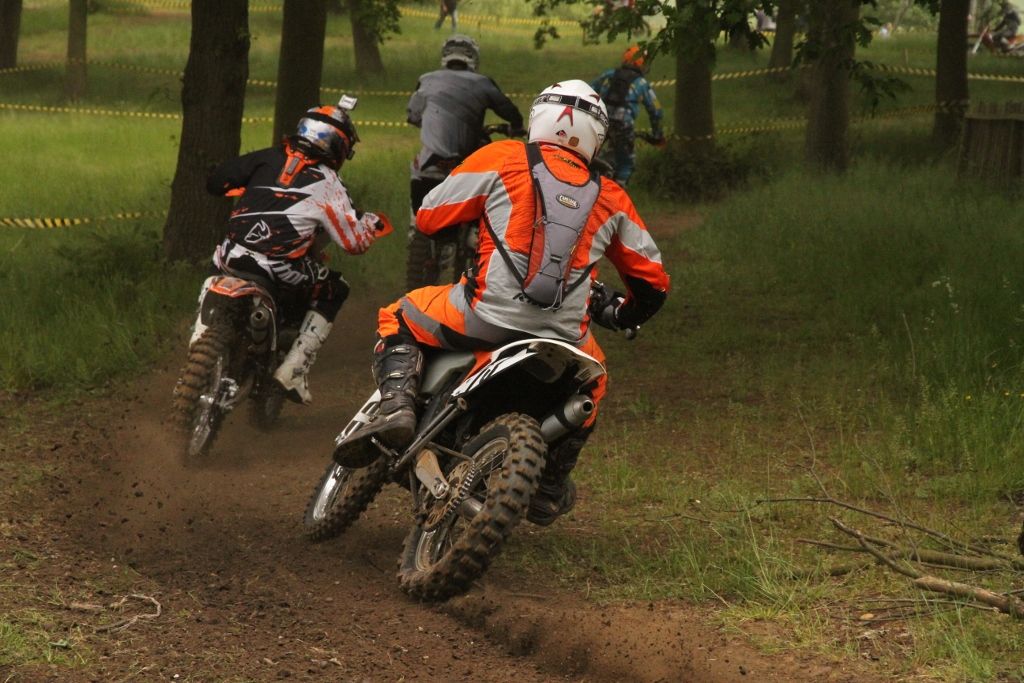 Darren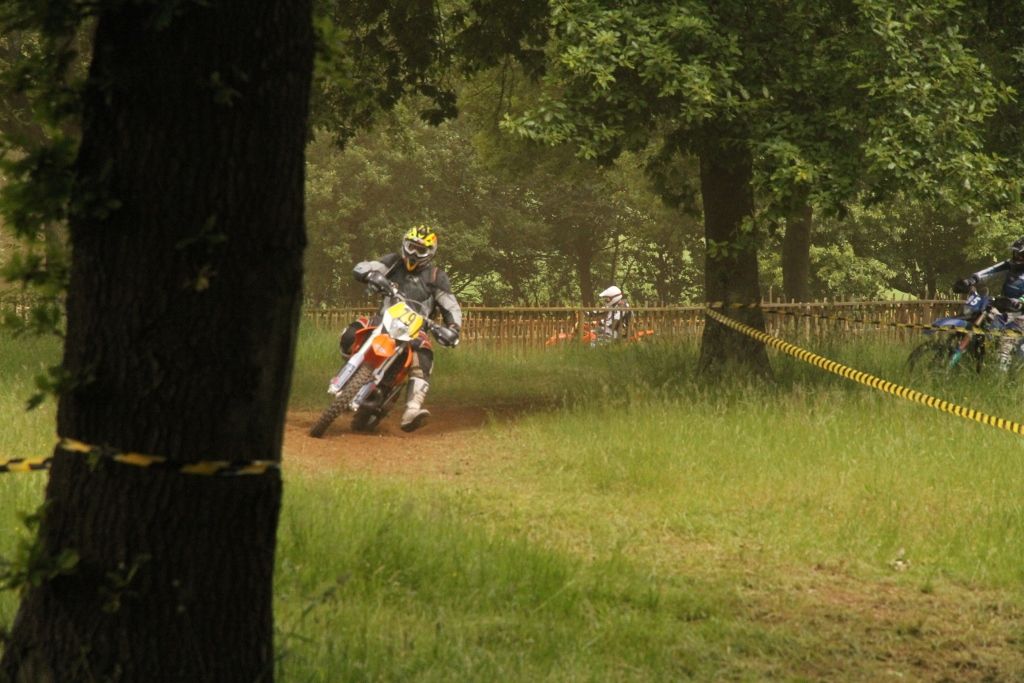 A quick lap of the mx track and some tighter stuff and we'd completed the first shortened lap, the end of which was signalled by the lap scoring area near the pits. We'd been catching some of the veteran riders and I'd also lost a few spots to clubman A riders, but overall it was going well and I was in a bit of a battle with riders in my class. Then it all went a bit wrong in the tight wooded section after the lap scoring area. I'd gained some places and was right on the rear wheel of another rider when he went down in front of me. I hit the brakes as hard as I could as there was no time to swerve and the bike went vertical in a stoppie, then clipped his back wheel and I went down too. I struggled up and got the bike going again but the worst thing was that the other rider (who caused the crash) managed to get in front of me and I was on his back wheel all the way through the woods and out into the open field. This was the fast part but the long grass needed to be ridden with care initially as it's quite slippery. It was hard for me to get by as the fast line was taken by the other rider and going off-line slowed me down. Eventually I powered alongside and then out braked him into a turn and made my escape. Ironically this rider (no:80) beat me in the results!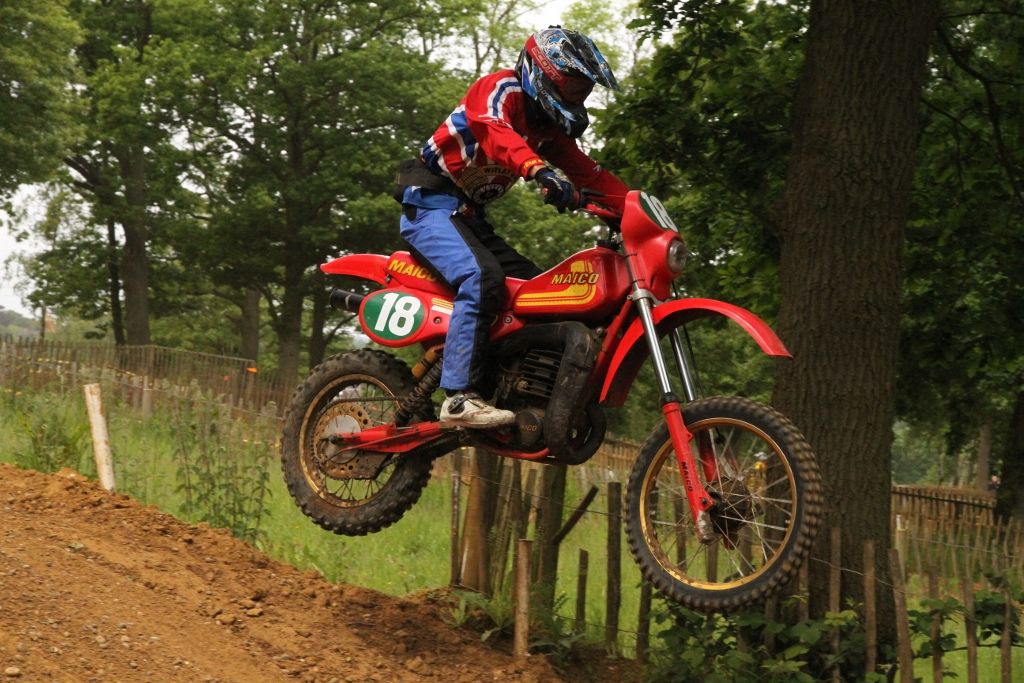 still doing it!
After the back field we looped back and re-entered the woods, through the bomb hole they always use and wound our way through the trees alongside the mx track, all the way down the hill until eventually rejoining the track at the bottom where we did a very quick turn or two before flicking right and doing some more tree work. After as lot of flat turns it was back into the mx track proper and a run to the lap scoring checkpoint again.
coming off a turn to the small drop-off, hitting a bump and leaving the ground!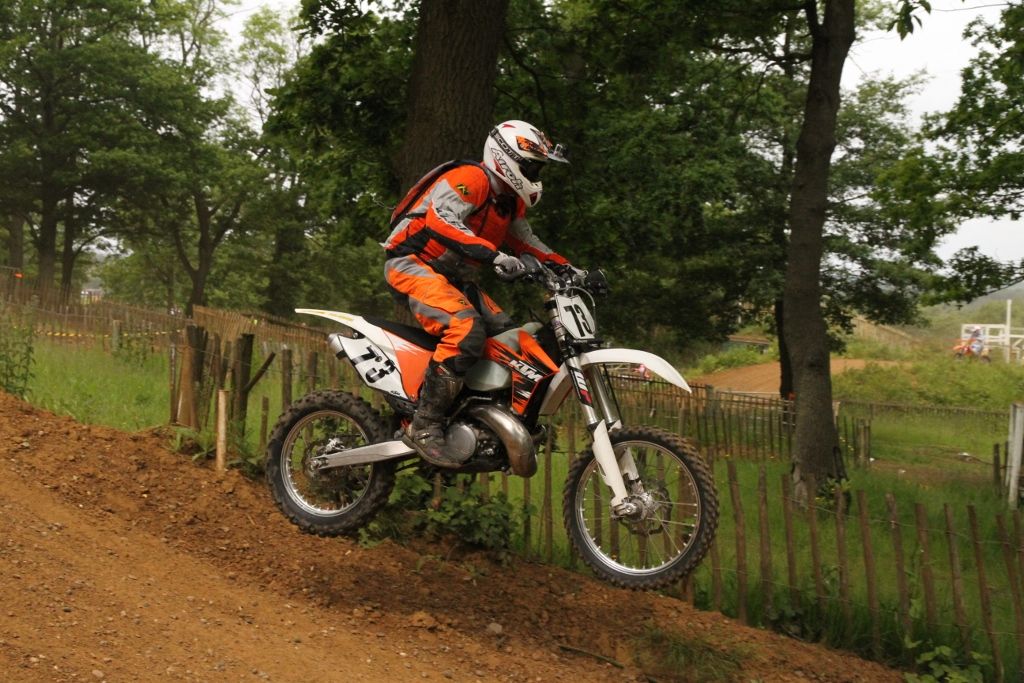 jumping the drop-off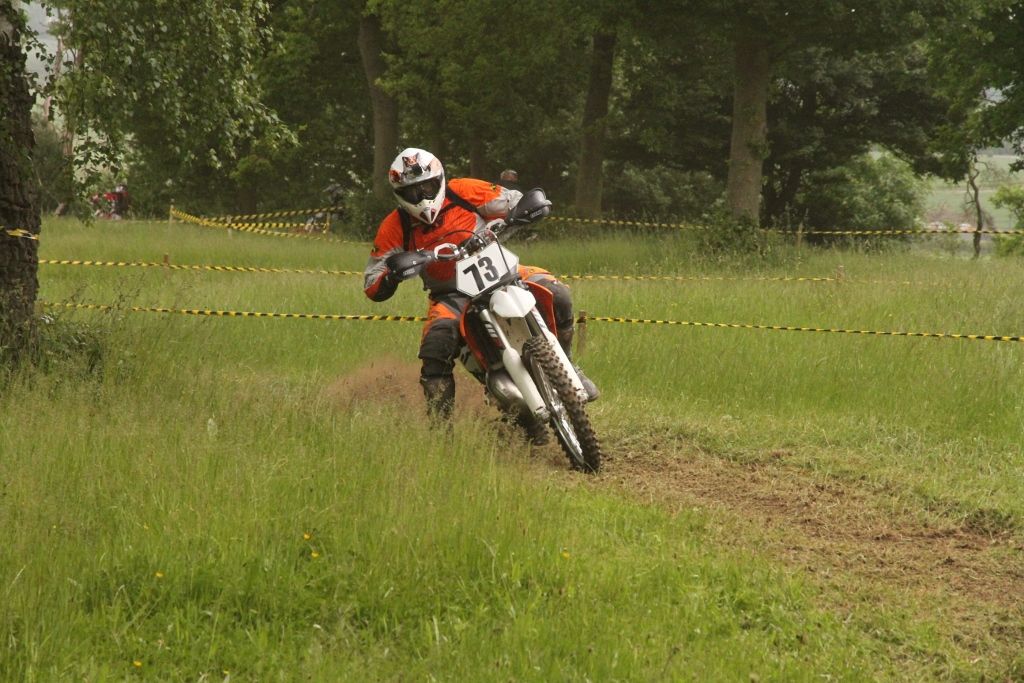 going for it a few corners further on
I'd set the bike up for the mx track, but I found I just didn't have the experience or gumption to attack the track properly. Many of the smaller jumps I knew could be taken as one but self-preservation took control of the throttle hand and I rolled them instead. On this second lap I'd caught right back up to some of the riders who'd pulled a gap on me and I was right on their back tyres trying to find a way past. Unfortunately once we got onto the mx track again they pulled some more time on me. I think I might have to do a beginners practice day there or something to get my head around the track.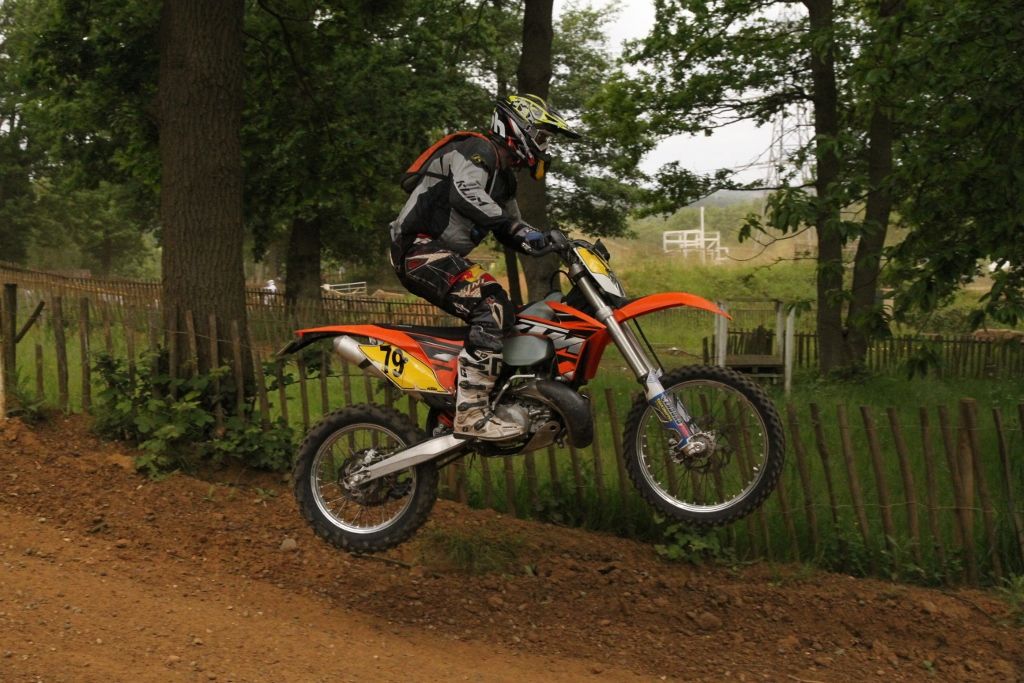 Darren jumping the drop-off
proof that it's not only me who can squash a bike flat!!

My third lap was my quickest of the day, I was still going for it and in a battle with a few guys from my class. On the forth lap I made a mistake and tipped off near the back of the course just after the first part of the field. I'd just overtaken a rider to gain a place when I came out a left turn but got overbalanced with not enough throttle and caught my leg on a branch – down I went. This gifted the place I'd just made up back to the other rider.
another one of Darren
me coming up to the checkpoint/end of lap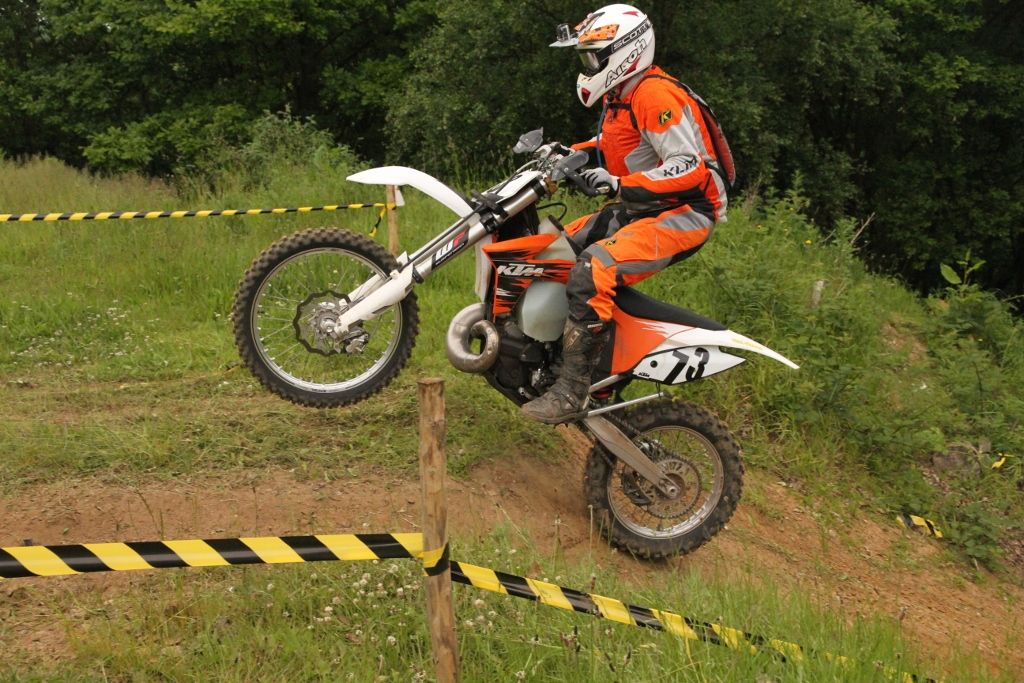 me again - exit the first part of the technical going just after the start
Having lost about 30 sec on that lap the next one was my second fastest lap but after that my fitness or rather the lack of it came into play and my times increased by about 20 to 25 seconds a lap. The track was extremely cut up by now and it was hammering my arms a lot so I took off two clicks of compression damping on either side of the forks (on the fly) and that helped a fair bit. This was easier side than done as the track was so rough it was difficult just reaching for a drink of water. By now I had sort of expected Darren to come past as I knew I'd been having a few lacklustre laps due to getting tired. It didn't help that the track was emptying out and not having anyone to chase down made me get a bit lazy, I always go better when I can see a target ahead so I can try and haul him in.
a video of the start of the race and a lap and a half of the track
I can't really remember where but I very nearly had a monster off at high speed. The front end caught something which then pushed and tucked. The back end bounced around and I flew out the seat completely out of control and my leg hit something hard which I pretty sure was the front forks. Just as I thought I was going home via A&E the bike straightened itself out and I was on my way again! I has one other close call on the back fields where I gave it a bit too much gas and it went completely sideways for a while before the bike flicked itself straight again.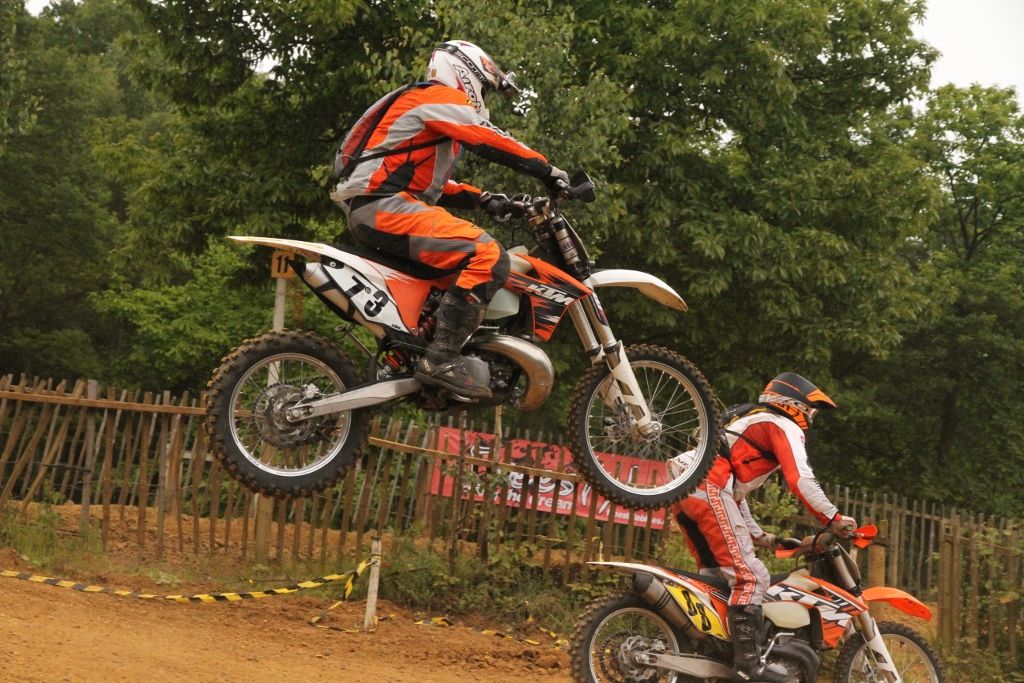 Two hours came and went and instead of pitting I carried on but turned the tank to reserve just in case. I lapped until the fuel looked low then ducked into the pits for a splash and dash. George was sitting on his bike in the pits and it looked like he'd had enough already. It had been raining softly for a while now but apart from getting the goggles mucky it hadn't really affected anything else as it just wasn't raining hard enough. I was getting very tired and I almost caused a bit of calamity at the start/checkpoint as the right hand guard plastic got caught on the barrel and I very nearly pulled it off into the track with me, much to the amusement to a spectator.
i really like this shot
and this one..
Having now re-fuelled I needed to get a move on and I managed to up my pace a bit and dropped back into the 17 minute bracket. I knew I needed to get round in enough time to start another lap and I managed it so I attacked the last lap with some vigour, ridding a little wild at times! I kept on pushing but it was hard to see my watch, so I didn't really know if there was time for another lap yet again. Cruising into the last straight I overtook one last rider on the railway sleepers and was hoping to myself that there wasn't time for another one! Luckily the chequered flag was out. I rode back to the car and slumped onto the trailer, completely drained.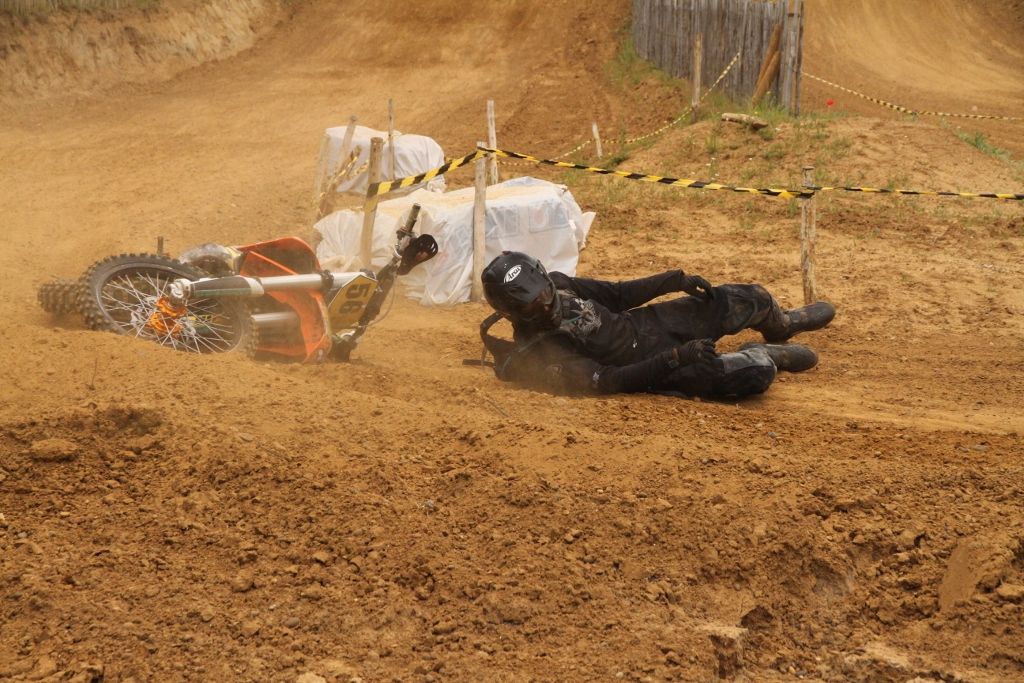 oops!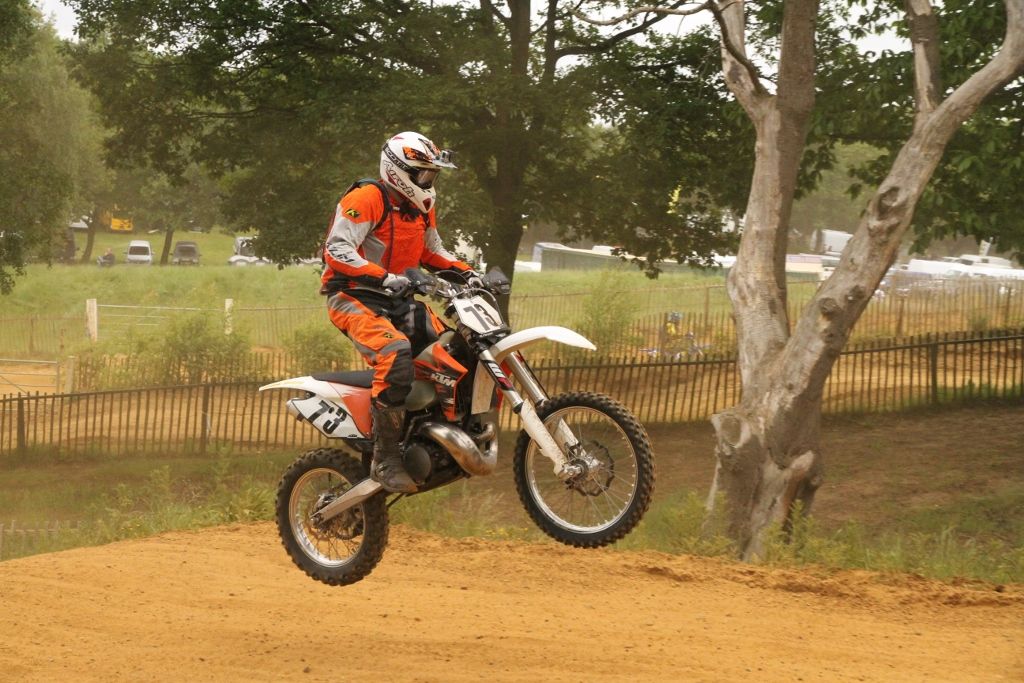 I still wasn't sure if Darren had overtaken me somewhere but in the post race chat it appeared he hadn't, so that was good (for me). George was a little pissed off as he'd just fitted a new front pipe and he'd managed to fall off and dent it! Nicky was mortified by the state of her camera due to dust and rain. It was a long drive home but it all became worth it when the results came out – sixth place for me in Clubman A with Darren just behind me in seventh. edit - since then me and Darren got bumped down a spot each as they adjusted the results :(