For more of our photos click here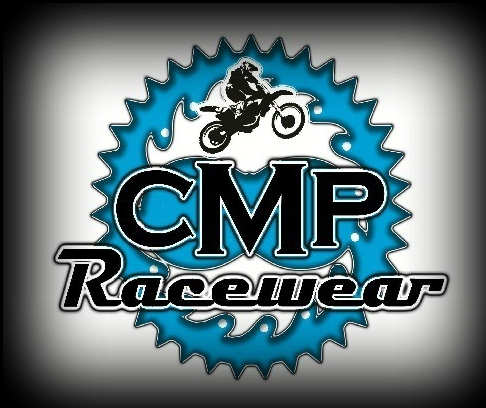 Sidcup & District MCC H&H is a favourite of mine and I've been taking part in this event on and off for a few years, so I was really looking forward to this round of the SEEC championship having missed it in the last couple of years. The first round of the championship went fairly well with a fourth place in Clubman A, but I was a little disappointed in not getting into the top three, especially as Darren won the class. So with him away on honeymoon I intended to take full advantage to score some good championship points. However I didn't help my chances by sustaining an injury the week before during a race with South Reading (see here). I managed to knacker my ribs in the race and was in quite a lot of pain all week and would not have considered racing had it not been a SEEC round. Taking painkillers at nigh so I could sleep and dreading every sneeze or cough did not bode well for the Sunday's race but by taking it easy all week I felt a little better by the weekend. Prepping the bike by fitting a new (second hand) mousse up front and a maxis IT tyre on the rear was a bit of a chore and I realised I'd lost quite a bit of strength on my left side. Tony was out of the race as he'd been too late in trying to enter – despite several reminders from myself. Gary would be there though so it would be good to catch up. Gary is an old 'adversary' of mine from several years ago when the chec club still ran a full season's racing and we've had some great battles where each of us has had the pleasure of winning and disappointment in losing to each other.
start of the race - can you see me?
nope - cos i'm not in the picture!
It was an early start with drizzle and rain from the start but by the time we got to Canada Heights (near brands hatch in Kent) the rain was just about holding off with just a little dampness in the air from the full cloud cover. After signing on and picking up the transponder (a typical slick affair with Sidcup) I pushed the bike up to the start line. Getting geared up I was still confident of doing ok but when I put the body armour on and the chest plate pushed on the ribs a little doubt crept in as i was already uncomfortable.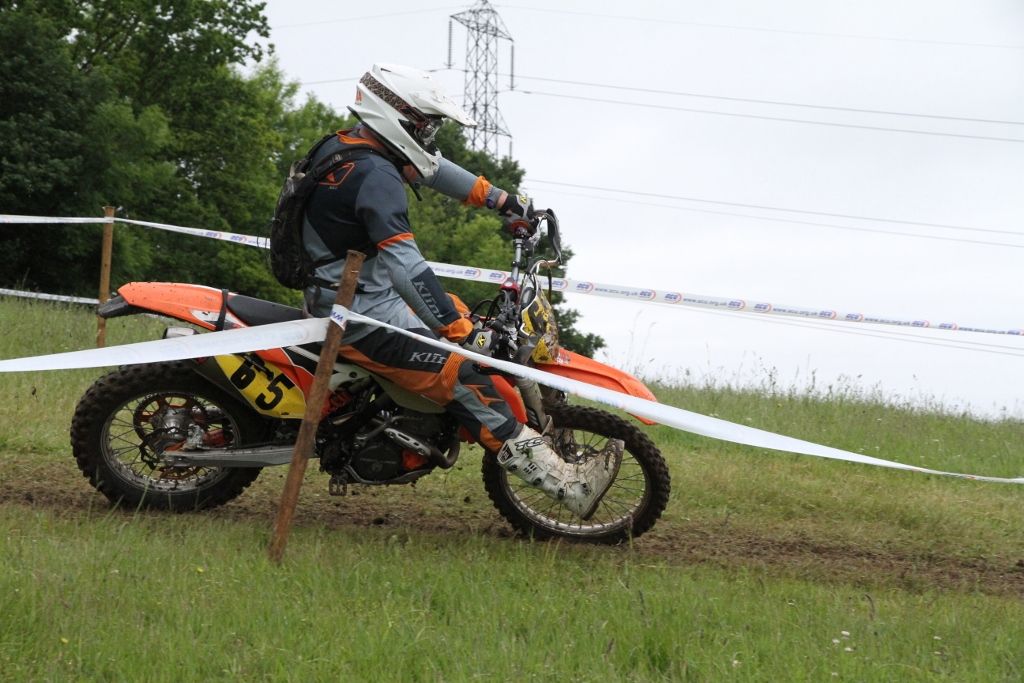 Gary out on the far fields on his first lap
i come along - somewhat more relaxed
and get a bollicking from nicky and told to get moving
This year the Clubman A class was starting just behind the front row and Gary was next to me on the line. Soon it was time to warm the bikes up for the start and my bike fired fine from cold with the choke on (as it has done so already twice that morning) and I pulled the clutch in while the recluse was expanded so I was already for the mass start – which I'm normally quite good at. The front row roared off and Gary tried his starter and it limped the engine over without firing. "That's not good" I said to him just before the flag dropped. A few second later the flag was dropped and – nothing. The bike did a chugga chugga chugga sound as everyone else roared off into the distance! WTF?!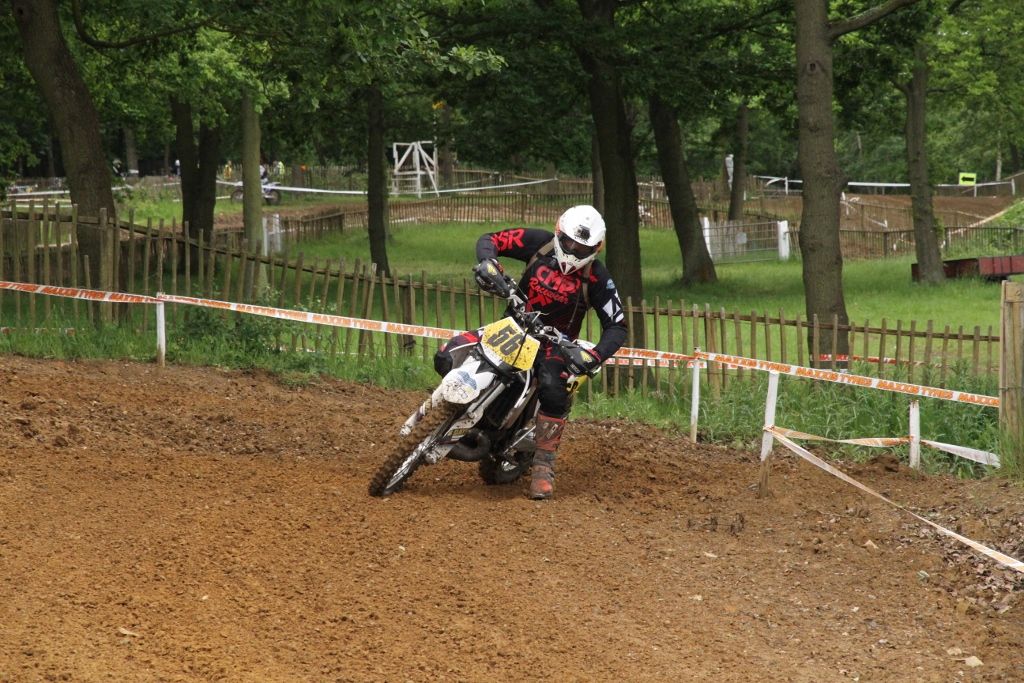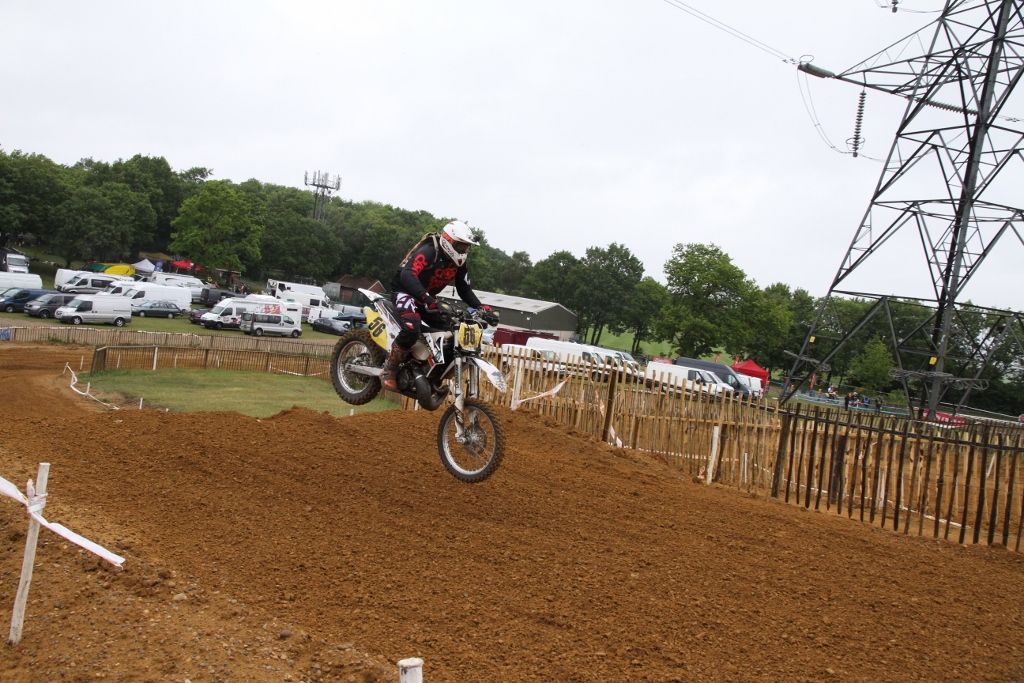 oops a bit front heavy
woooaaa!

What I'd mistakenly done was put the bike into gear to try and get a jump on everyone else but I hadn't run it like that while warming the bike up, I'd clicked it down into first once I'd killed the engine (big mistake), so the oil between the plates was still too sticky and causing drag on the engine and not enabling it to fire. Of course I wasn't too aware of this at the time so I pulled out the choke again and then it fired, I was almost last away, and not how I intended to start the day.
Gary again
and again
Of course I'd left out the choke too so the bike spluttered and coughed for a while until I slowed down and groped under the tank to push it back in. A few jumps and a couple of rough bumps later and I knew that without the red mist of being in the front group there just wasn't enough adrenalin to mask the pain in my ribs so it was going to be a long slog of a race.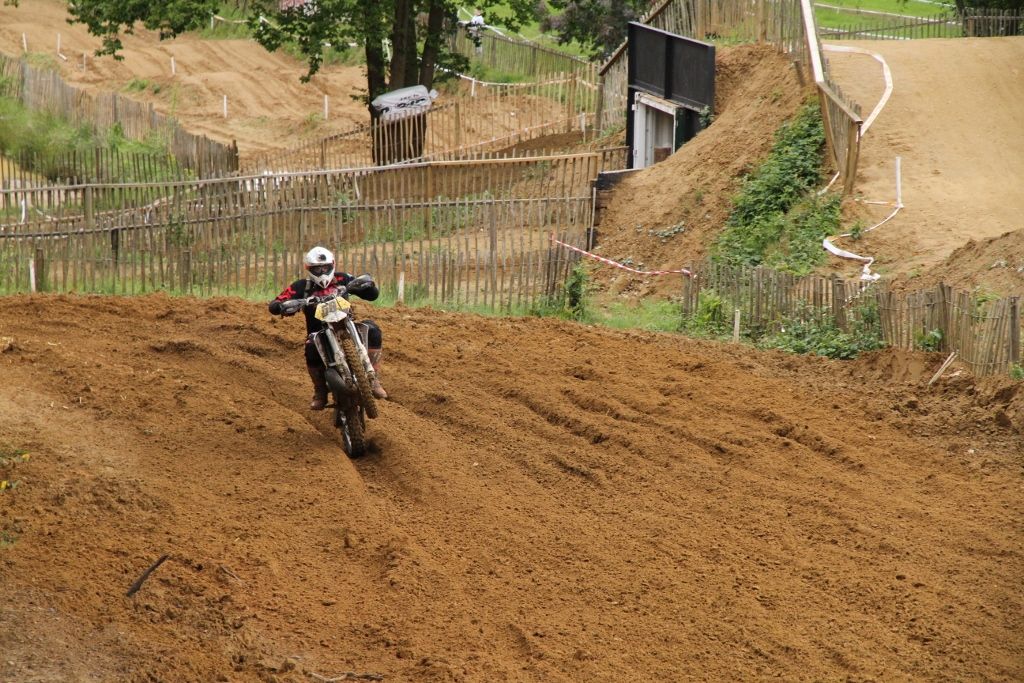 i find some grip coming out a turn!
Gary leading a group at the bottom of the track just before the small climb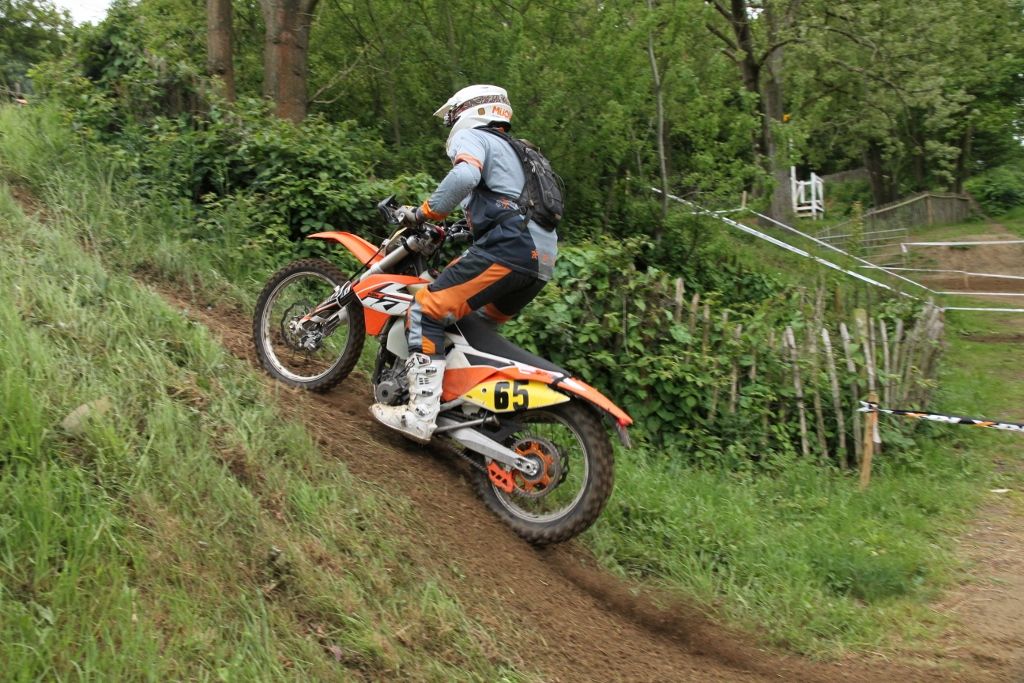 oomph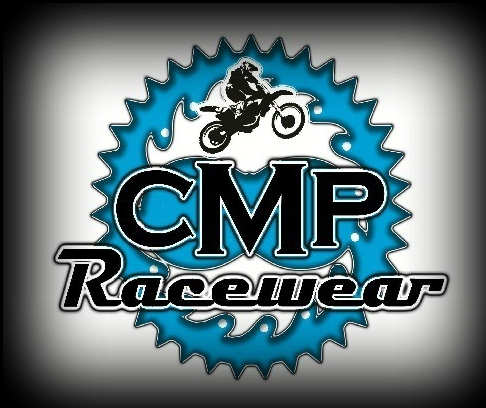 After a short section of the mx track I made a few places up once we got to the open going on the far fields. I was expecting these to be mega slippery seeing as they are grass but they weren't too bad. I was ok on the faster open stuff but then we had to get over some logs on the way back more rib wrenching occurred. Once back into the trees there was another log to cross and there was a bike in the way so I tried to go right, didn't have enough momentum and tipped off too. Just after the log was a dip that only had one line so formed a bottleneck on the first couple of laps. I'm not sure if it was the second lap but some of the vets caught up to us and a poor sportsman (?) on an old Honda xr was stuck and the vets were going mad shouting for him to clear the track (I'm sure he wanted to) and for the marshals to open up a bypass for them to get past.
me jumping out the small dip just before the last section and back to the pits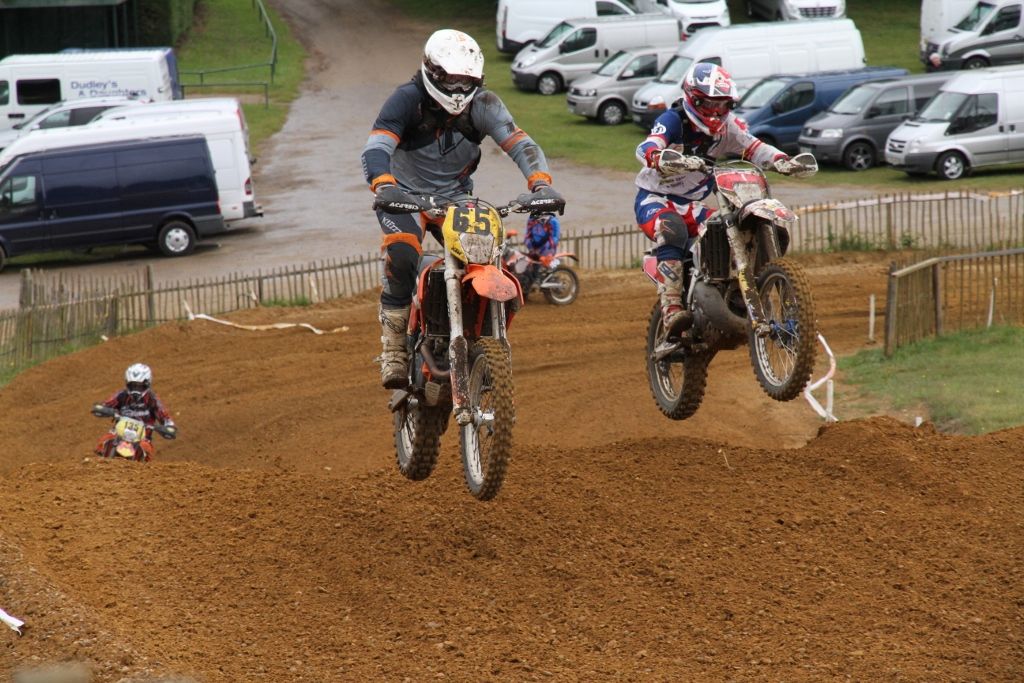 gary in mid air
After this there was a short section of woods where we came up to a series of obstacles made up of several piles of logs and concrete slabs piled into a heap. the first time you see them they can intimidate you a bit but they weren't hard to get over, however for the next two hours I dreaded going over these each lap as it really hurt my ribs. The next set of woods was no better for me either as it had a few drop-offs that put strain on the upper body. After the woods we did a little loop around a field and then rejoined the bottom of the mx track, hit a few jumps and a short whooped section then ended up near the pits but headed back out into the woods just behind the buildings. This bit of woods flowed nicely but on the first section I missed a turn arrow and continued along the track. I stopped and wanted to turn around but two guys followed my too and overtook so while I was sure we should have turned I didn't fancy riding head first into another bike so carried on the track. I knew it loop'ed back in a short while and I wasn't too fussed at the moment as I knew my race for a top spot was over already. We rejoined the track shortly and came out on the lower field behind the pits and did a couple of loops around that before a short wooden section brought us back for the end of the lap.
something about this jump made my bike kick up at the rear
shot from a great angle

A couple of laps later and it started to rain too, just to really make my day! Luckily however it never built into heavy rain, just that sort of make your goggles wet type light rain. The 100% goggles with the double lens that CMP racewear supplied ensured I didn't suffer any misting or fogging of the lens so it wasn't too bad getting round. I resisted wiping the lens as sometimes that can make it worse. I thought the grass areas would get very tricky in these sort of conditions but surprisingly there was still a lot of grip on the back field (excluding one or two turns).
At one point early in the race I came to the lower section of the woods and there was a bike sitting across the track near a small log (the rider had just picked it up). I stopped, looking left and right and decided to go right and was just riding round the stationary bike when another impatient rider tried to go round the outside of me, but there wasn't really a good line there so he fell off and his bike fell on top of mine, pushing that one over too, onto the front wheel of the first bike being picked up. My left leg was under the bike with the weight of me and the bike on top of it and it was slightly downhill too so there was no way I could pick it up as I'd be trying to pick myself up at the same time! The third rider picked his bike up and just as I was saying "I'm stuck" he rode off! The first rider left too and several others near enough rode over the top of my wheels while I was still trapped by my own weight on the bike. I had to sort of throw myself onto my back (downhill) and squirm backwards while kicking the bike's seat with my right boot. I was just about clear when someone did actually stop and ask if I was ok (thanks – I only noticed this on the film later) but I didn't hear him at the time and by now I was almost free. This footage is in the youtube lap if you want a little laugh!
some footage from the race - not the start though!
As far as I can remember that was the end of the drama and for the next few hours I plugged away at the laps. Around the two hours and twenty minutes mark I began to feel a little better and picked up the pace a bit. From the two hour mark I'd been keeping a eye on the fuel situation and thought maybe I might be able to squeeze three hours out the xc tank (which is a little bigger). I normally fill up around the two hour twenty mark but have never chanced the full three hours. This was a good time to try I thought as it would enable me to haul back quite a bit of time. I decided to ride until the bike hit reserve and hope it wasn't on a tricky section. I was having a little race with no 68 on the back field when it died and luckily I managed to get it onto reserve before it cut out completely. So there was no option but to fill up but there was quite a long way to go before the pits so that got me worrying whether it would make it. Luckily it did and a quick splash & dash in the pits and I was out for the last two laps.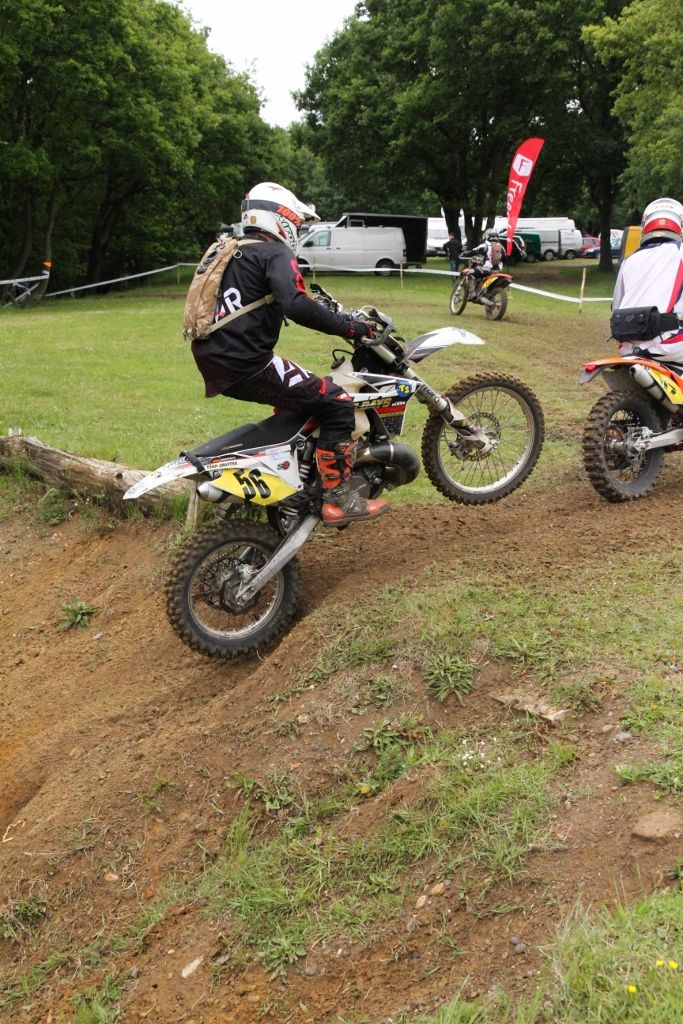 Like i said i was feeling ok now so i pushed a bit harder and soon i'd caught up to the riders that I'd been racing with before my pit stop but just as i was going up the small sharp climb at the bottom of the venue (just before you rejoin the mx track) the guy in front of me paused and i nearly ran into the back of him. My front was next to his back wheel so he turned in and this took mt front wheel out so i ended up on the deck, again. Pushing on the last lap I set my quickest lap time of the day.
So all in all not a great day and i was feeling pretty down afterwards, full of doom and gloom but then felt a bit daft once the results came out as I'd managed to get home in 7th spot! Not a bad result really as I was expecting to be way outside the top ten. Gary had a great result - third!