Exploring the coast on a kayak is something I've wanted to do for a long time, but the more than healthy respect I have for the sea has always made me hesitate going any further. Well ok that and my unhealthy addiction to everything motorbike! I normally race dirt bikes on the weekend but a particularly hard crash left me nursing very tender ribs and soft tissue damage for so long I wrote off this year's season and sent the time at home and with the wife. With a two week holiday booked and the weather up in Scotland looking bleak we changed plans and decided to hang out in the South of England where we were enjoying the last gasp of summer in mid September. Laying in bed catching up with Facebook posts and all of a sudden Sea kayak Devon popped up in my timeline – fate perhaps? I broached the subject with my wife Nicky and after giving the forecast a quick check we decided to email them (Sea kayak Devon) to find out if they could take out two total beginners. Off we went to the motorbike museum in Greenford (well worth a visit) and during the day we received a reply that yes they could take us out on our preferred day (Wednesday) – we sorted out the payment and then a Google session sorted out a B&B in Dartmouth itself within a sort walk to Sea Kayak Devon's meeting point.
its murky first thing
Not a bad drive down to Devon the day before our big outing, if a bit on the hot side as the aircon was u/s and the google satnav took us on some iffy roads near the end, but we got there early despite that. We drove into Dartmouth to check it out as we'd never been there before the took a roundabout route out of town ending up in the carpark at Blackpool Sands. We chilled out on the beach with a picnic and Nicky tried unsuccessfully to lure me into the sea but to no avail. She swam for about 40 minutes though and came out feeling like an ice block declaring "I want to live here"!
Once we were all booked into the B&B we set off into town to explore the place and check out exactly where the meeting point was. Using directions on my phone's maps again we found the place easily enough. It right beside the ferry loading/unloading point and all of the kayaks and equipment is stored on a sort of communal park area. Now that we knew where it was the was just the matter of the evening meal to sort out so we crossed the road to the pub and had a nice meal up on their roof terrace so we could watch the ferry coming and going. We were accompanied by some hungry looking seagulls sitting nearby but thankfully they didn't resort to trying to mug us and I declined to feed them as this can provoke bad behavior. After dinner it was time for a walk along the promenade and Dartmouth turned out to be quite a nice place.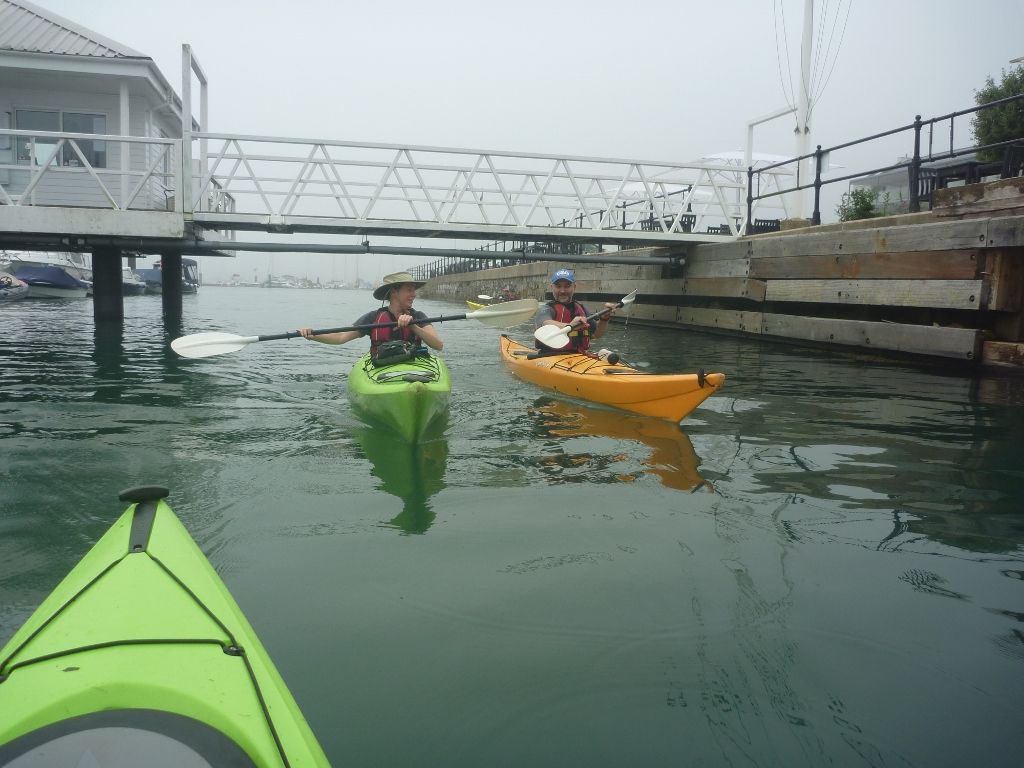 Nicky gets to grips with the paddle
we paddle under the walkways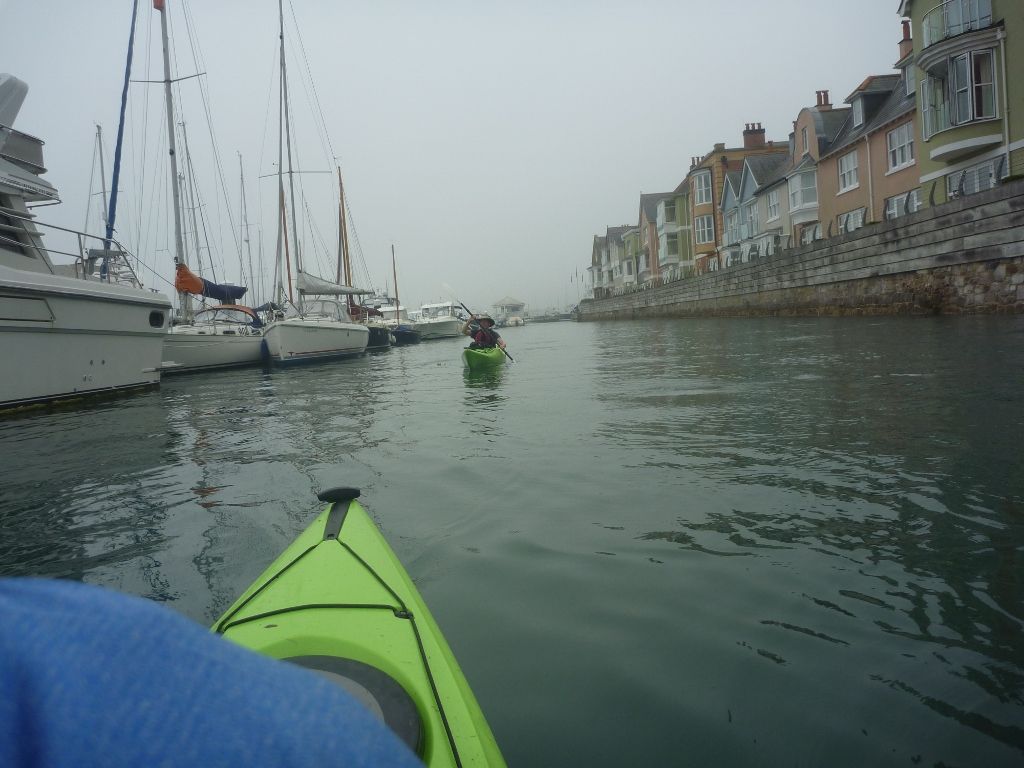 to the outskirts of town
out of town now - still foggy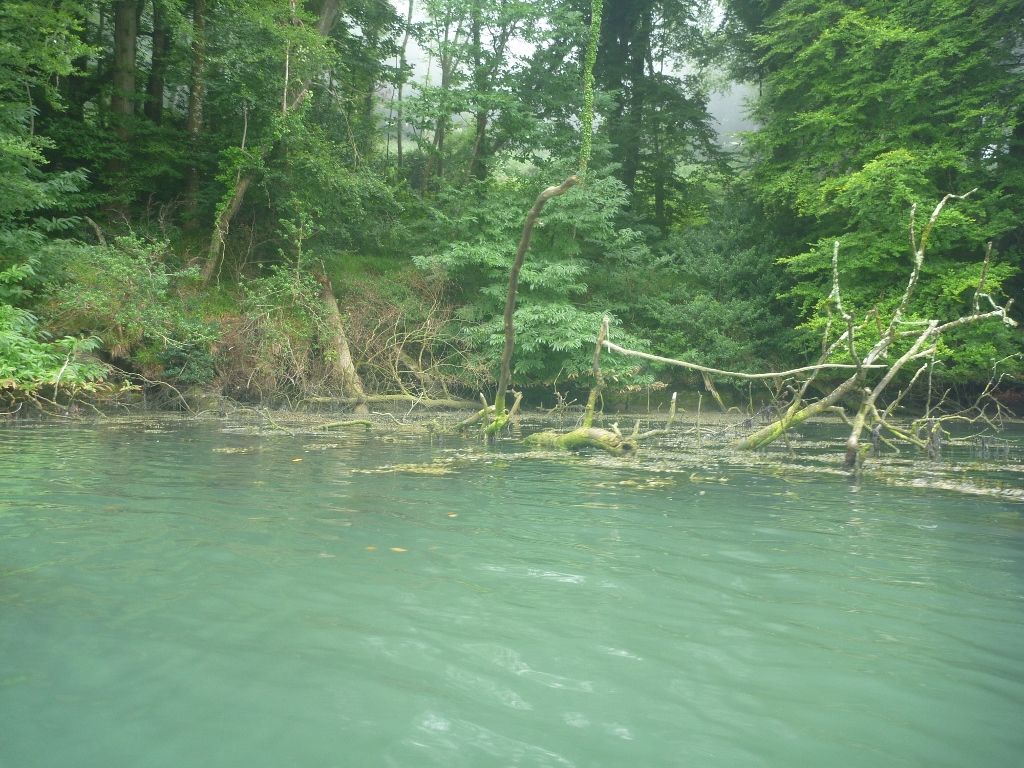 no houses now! swamp like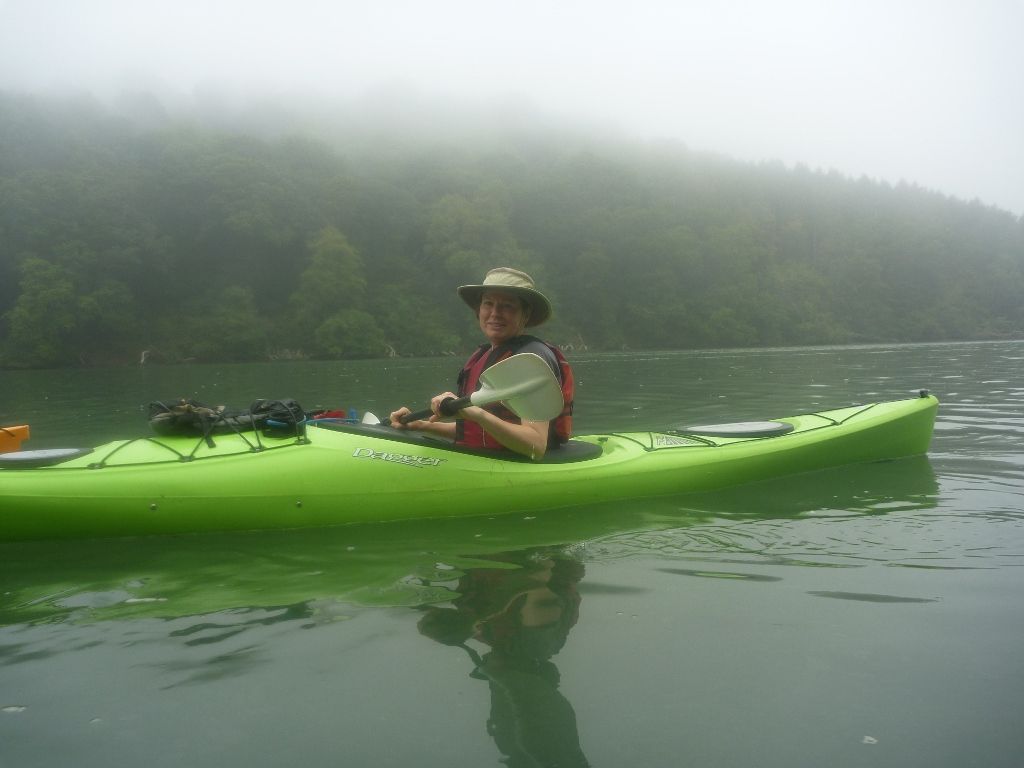 nicky hates photos but she's trapped in a kayak!
After tucking into some lovely fresh fruit and yogurt followed by hot croissants and freshly brewed coffee we packed our picnic an sun cream into rucksacks and set off – but it was looking decidedly murky outside as a thick sea mist had come in overnight, however all the local were very quick to point out that this would burn off in no time – we hoped so!
some old battlement?
old boat repair yard - this is in the creek area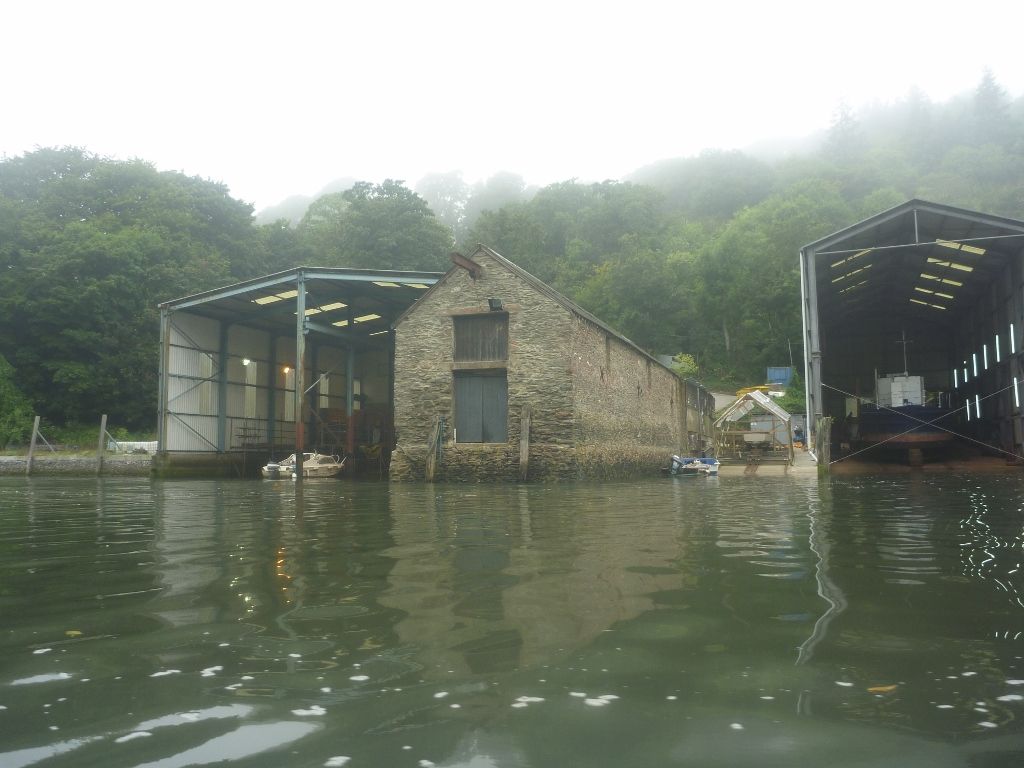 We arrived at the meeting point and were greeted by Ben who introduced us to our guide for the day, Elizabeth and we quickly set about sort out our hire Kayaks and equipment for ourselves and then helped Elizabeth by sponging out the kayaks. I was then glad to spot the public loos just opposite the park as the coffee and walk down ensured I needed to visit the facilities. Once we met the other couple (who had done Kayaking a few times before) we had sort but informative talk/training session from Elizabeth which covered things like how to hold the paddle properly and the best way to paddle etc plus what to do if we tipped off – not that we had any intention of doing that!
Once we were all kited out and our gear stored into the waterproof compartments of our Kayaks we carried them down to the waters edge on the slipway and Elizabeth helped us all get settled in the Kayaks and made sure our neoprene splash covers were all securely fixed to the Kayaks. In no time at all we were all setting off up the River Dart estuary and getting the hang of the kayaks and paddling. I was pleasantly surprised that the kayaks we had were nice and sable and confidence inspiring so I immediately felt at ease in the water and loved it straight away!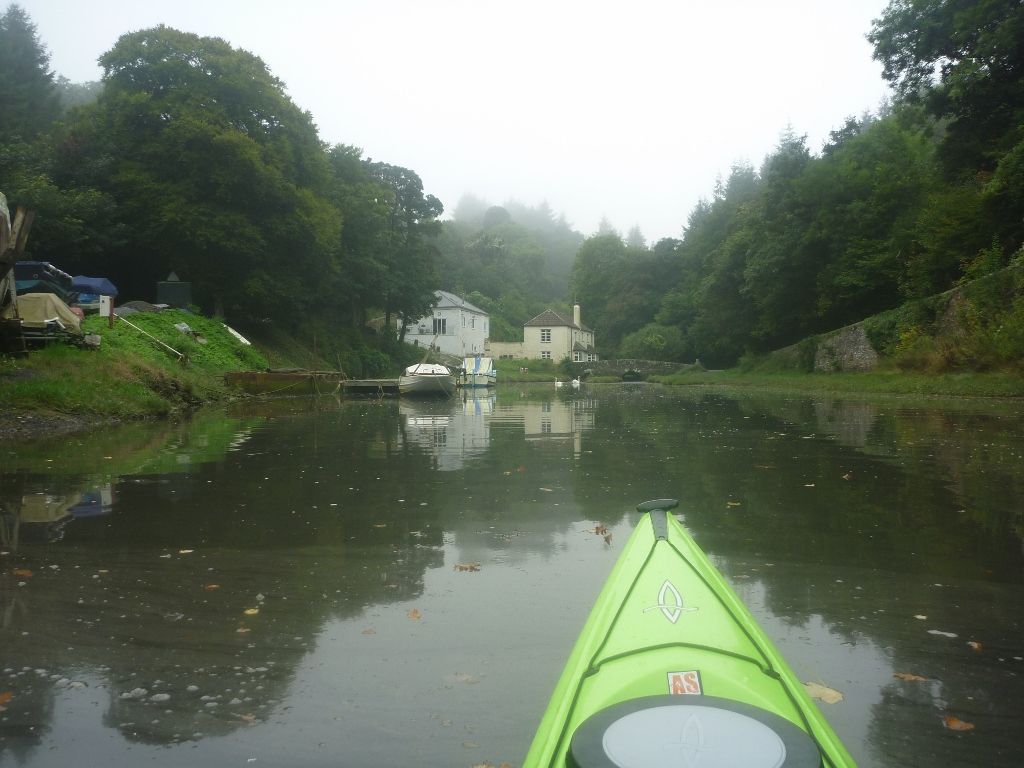 we reach the end of the creek
we head backon the other side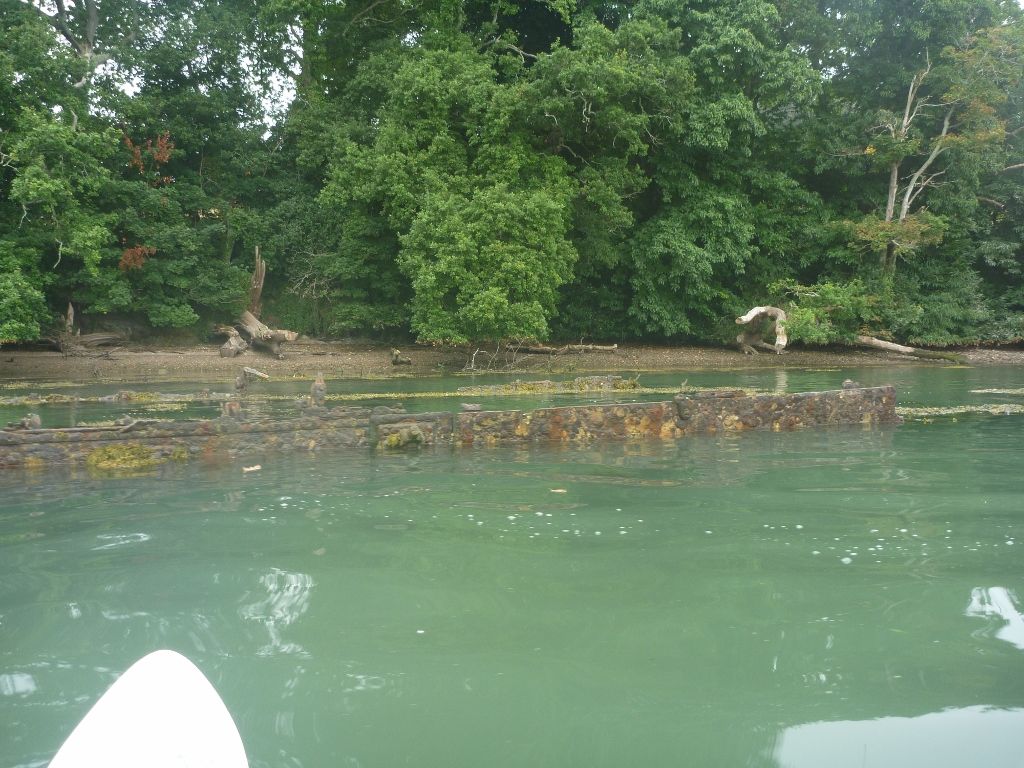 old sunken wreck
i manage to snap a heron taking off
We paddled along hugging the side and slipped under several jetties and walkways to floating pontoons - I felt a little small next to some of the yachts. Soon we were away from the boat moorings and on the outskirts of town being overlooked by some houses with fancy price tags no doubt. These then gave way to some industrial units and finally these too ended and we were then greeted by overhanging trees that came right up to the water. Now we could see plenty of fish jumping and almost all suitable trees had cormorants or herons sitting in them but both of these were rather shy and would take flight when we got closer. A seal popped up its head for a brief moment and that was a great treat.
just leaving our coffe and cake break spot
the paddle steamer come past making waves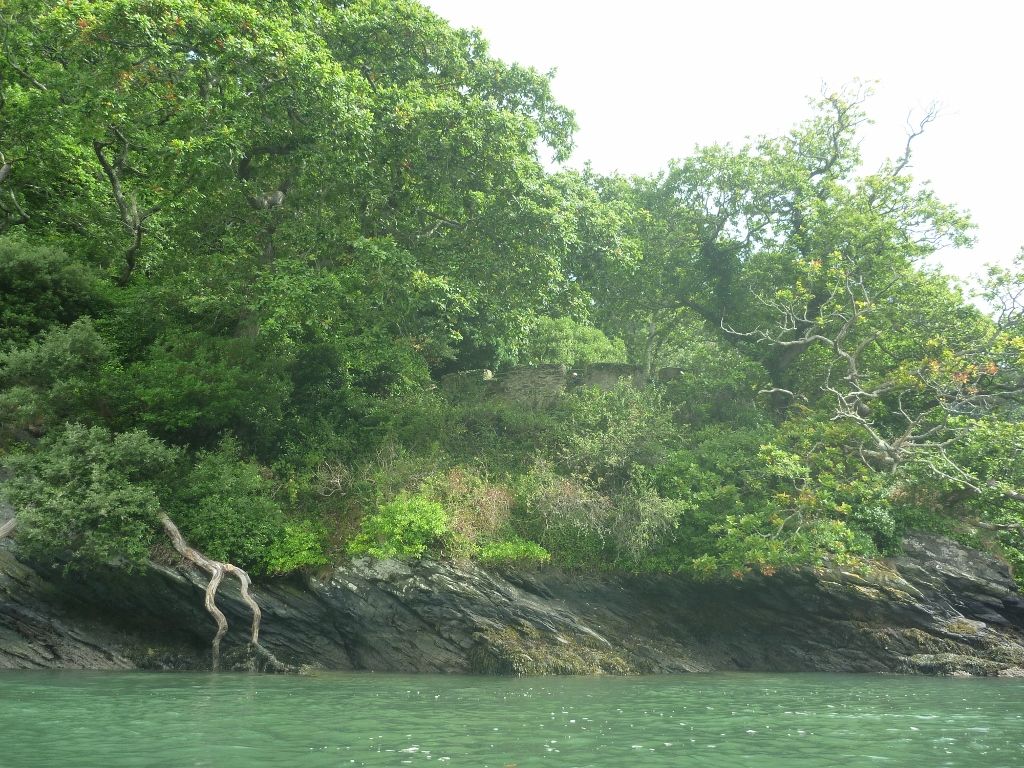 old battlements again?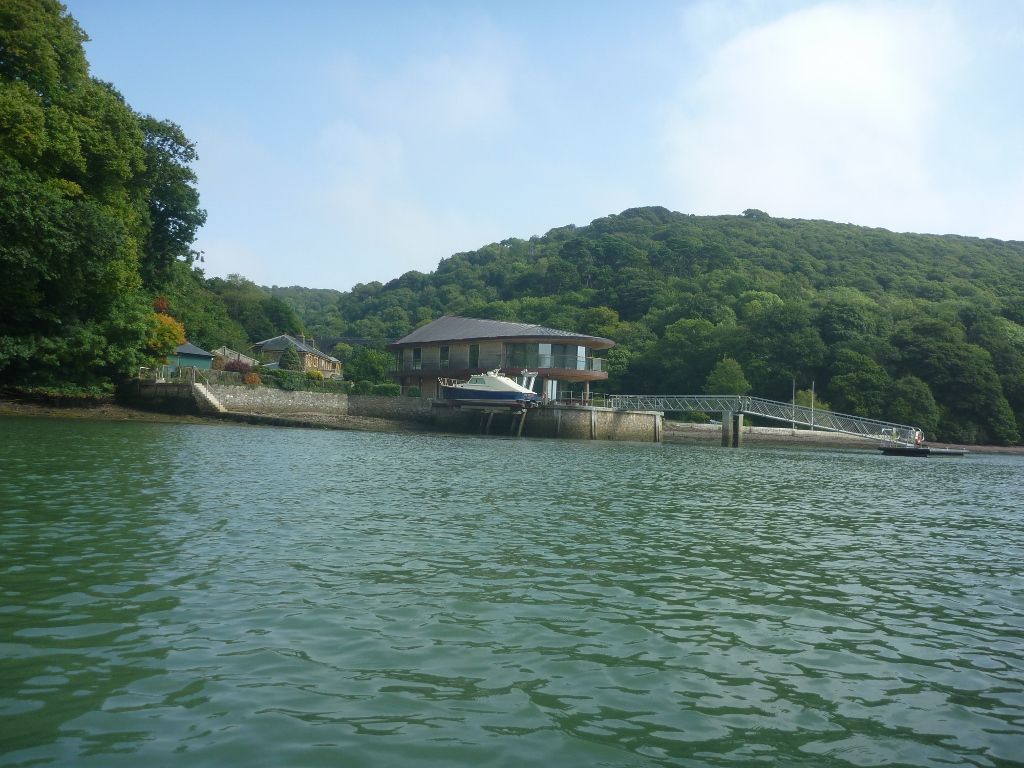 how the other half live!
By now we had branched off into Old Mill Creek and we followed that for a while and passed some real old school boat yards were there was plenty of banging of hammers and sparks flying from grinding etc. Was the creek narrowed to its end there was a pair of swans with what it looked like their only remaining signet so we kept our distance so as not to disturb them. We retraced our steps and then continued on up the river, again passing some nice houses until we got to our mid morning rest spot at Dittisham where we went ashore and sampled some amazing cake in The Anchor Stone Cafe, proper homemade and a decent size too! The sun was out by this time too.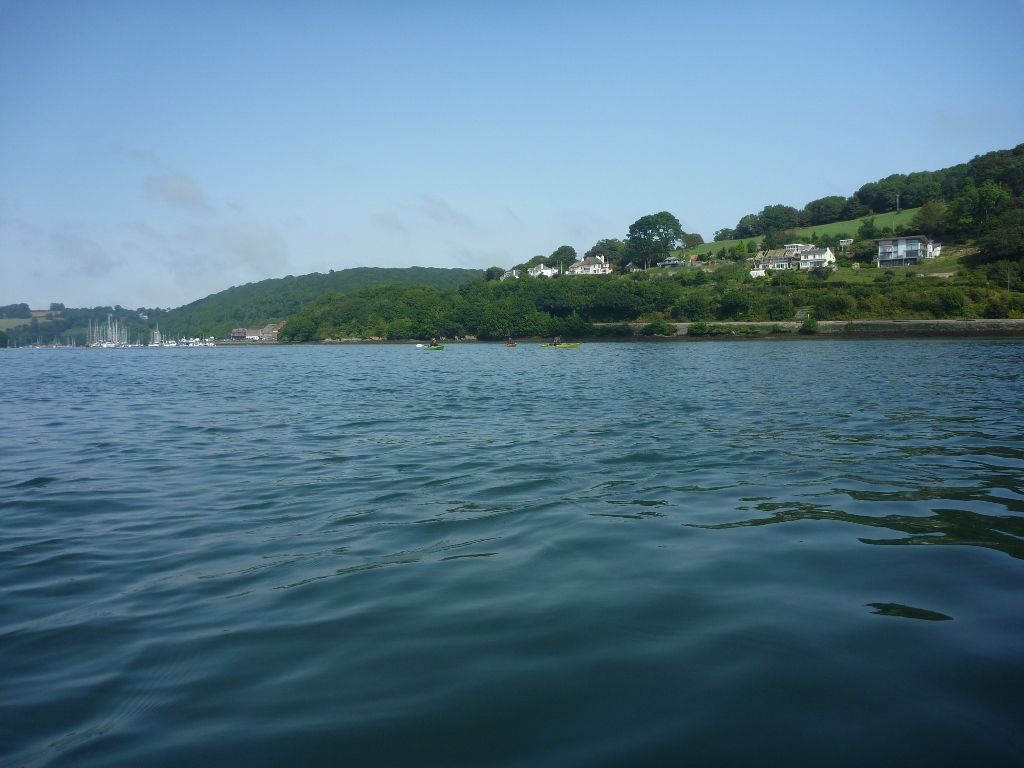 nearly back in Dartmouth - nice views for those houses!
our guide Elizabeth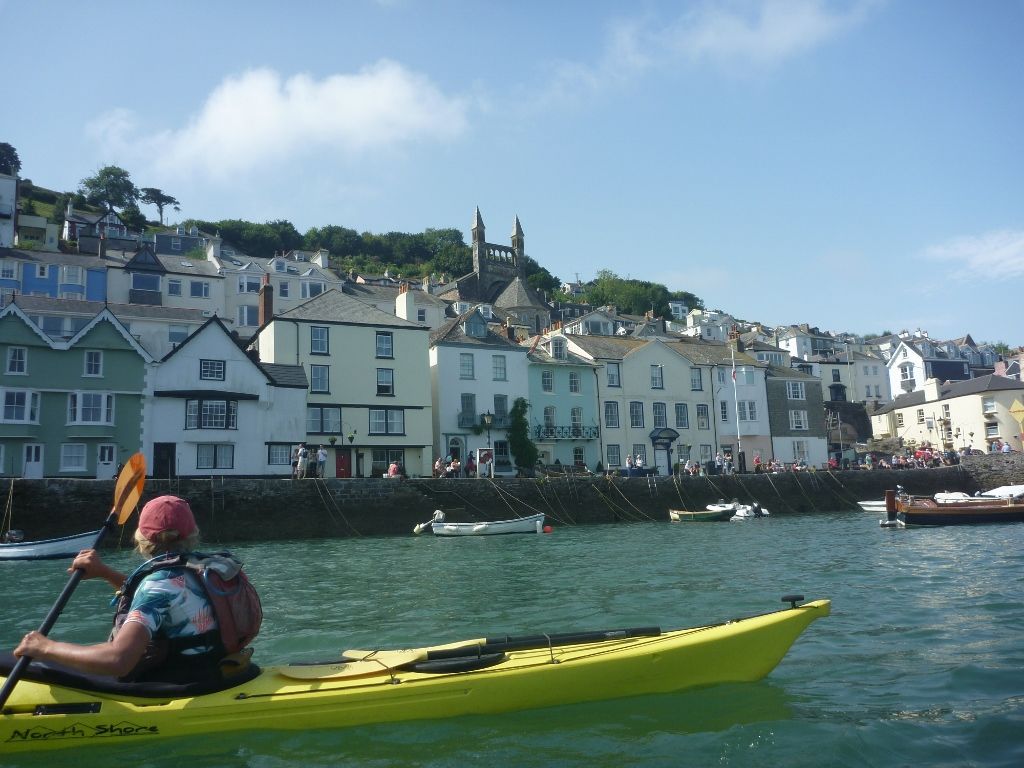 making our way to the the harbour mouth in Dartmouth
After the break we clambered back into the Kayaks and were instructed to paddle hard to cross the river to the other side. Ferries and pleasure boats use the river so Elizabeth didn't want us to hang about in the middle. I set off in front and just as I got to the other side I spotted and blue streak zooming along the side of the river just in front of me – my first sighting of a British King Fisher - yay! We headed back downstream and enjoyed the varying sight of the riverbank from old sunken wrecks, yea old abandoned structures and disused industrial yards and also some million pound houses.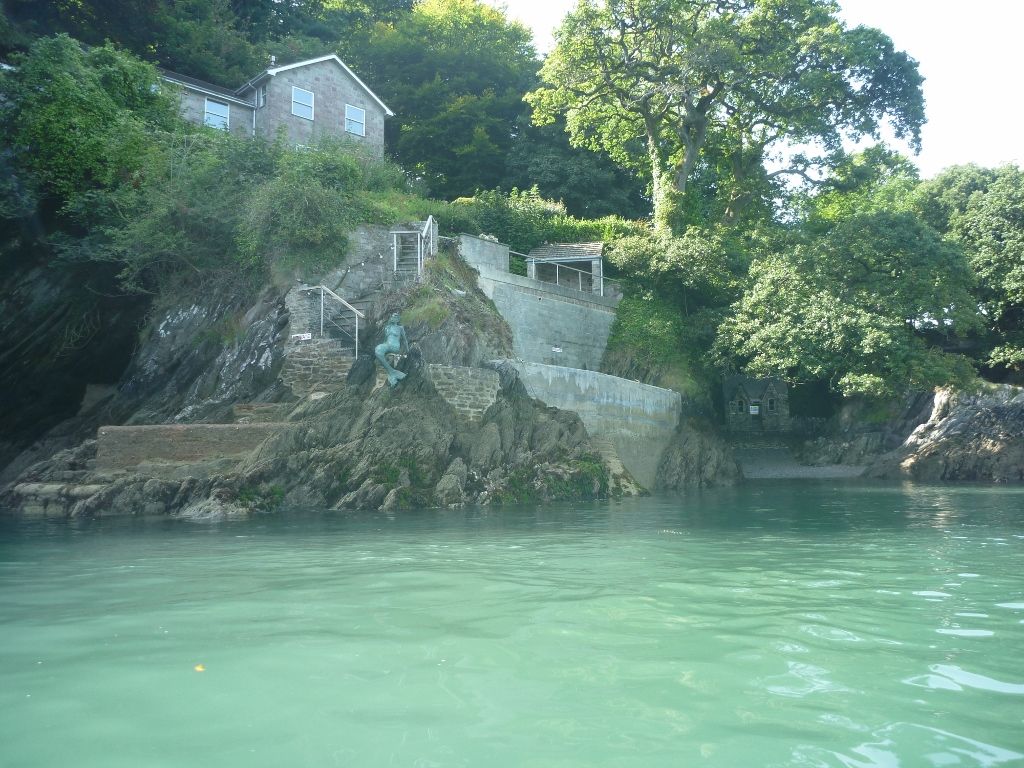 the sculpture that Elizabeth created
the main protection of the harbour
sun was a bit bright!
crossing the harbour mouth (getting exciting) to the other battlements
So earlier Elizabeth had said that there was a bit of a breeze out at sea and this would make things a bit choppy but hopefully things would settle a bit later, wind and tide allowing. I was hoping we'd be go out to sea proper to see more seals. By now we were back in Dartmouth and we skirted the harbour wall looking at all the houses on the side, until we got to the sculpture that Elizabeth had been commissioned to do for a client. It was very well done and fair size too. It must be nice to have something you've created greeting everyone traveling into the harbour. A little further on Elizabeth took us to see a wreck of a place right on the water edge that was for sale and under offer. Obviously it had not been lived in for years and you were buying the land not the property but the asking price was still 750K! A short paddle later and we were getting into some of the swell from the sea for the first time by the old harbour defensive castle. This gave me a little bit of excitement and had the heart going for a bit. We then set off paddling hard to the other side of the harbour mouth and again the heart pumped harder as we crossed the swells. The followed the coast for a bit and enjoyed looking at the rock formations and generally taking in the views.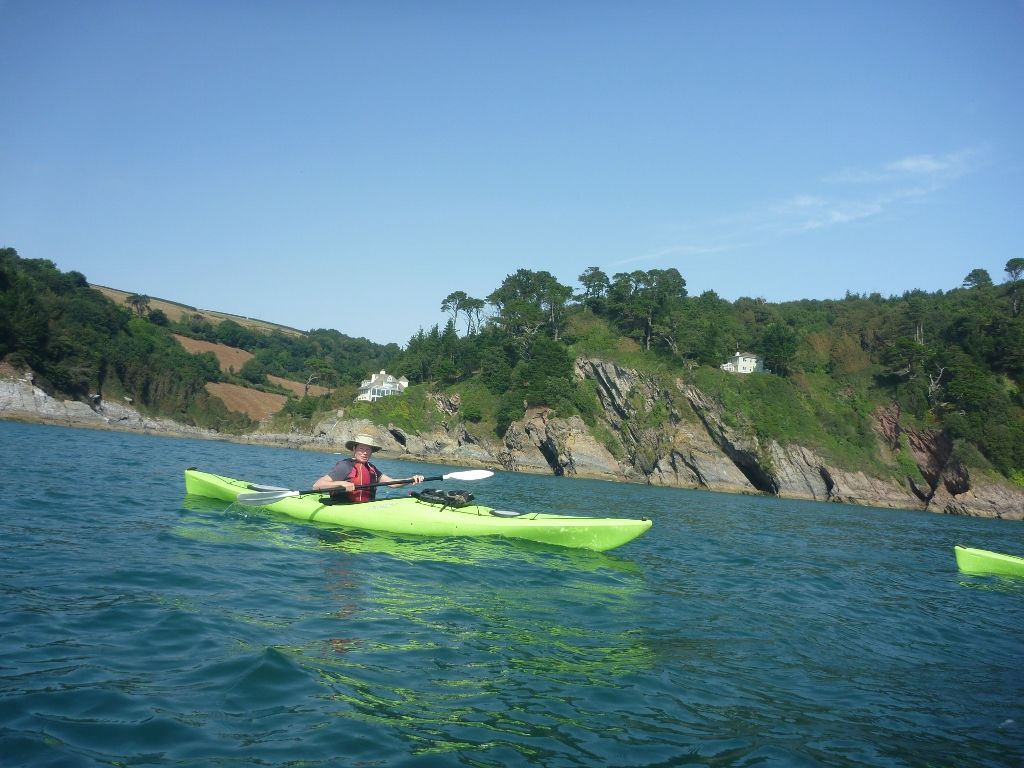 heading up the coast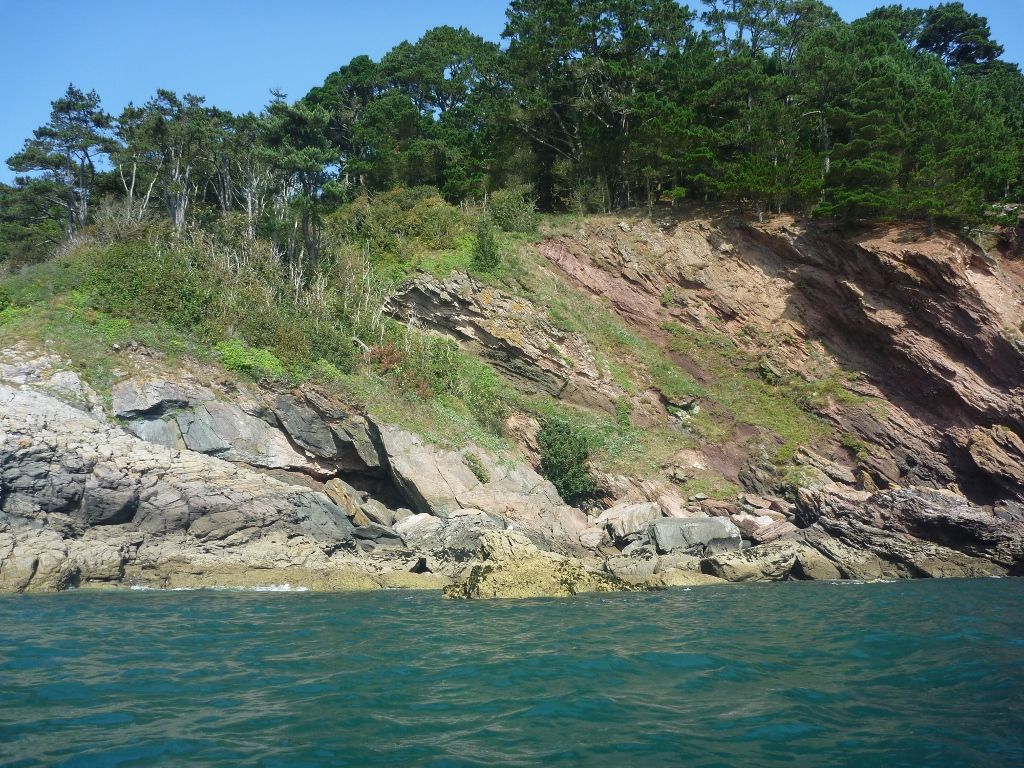 Elizabeth then realised we'd not eaten so we beached in a small cove and sat on the rocks in the sun tucking into our picnic. We were entertained by a guy and his golden retriever who swam to shore from a boat anchored in the cove. He then threw rocks for him to chase in the surf.
our picnic spot
looking back to where we had lunch
we paddle off into the mist - "THE FOG"
Getting back out to sea wasn't as hard as I thought it might be and then we set off for some rocks called the "Mew Stone" where there were plenty of seals – hopefully. Strange but we left the cove in brilliant sunshine but as we paddled out towards the rocks there was a big bank of mist enveloping them. The wind was blowing a bit and the swell was quite a bit bigger now but didn't unsettle the kayaks so I was feeling quite happy. In a group to paddled on then Elizabeth looked round and asked if Nicky was ok. I looked round to and Nicky seemed to be having some trouble and was facing the wrong way. I offered to go find out what the matter was and paddled hard to join Nicky as I feared she and gotten scared of the size of the swell. Far from being scarred she had just been struggling to control the kayak in the wind as by now she was getting tired and lacked the strength to power it straight. She had tried to using the wind to swing the kayak about but it hadn't worked. Anyway Elizabeth fixed a line to the front of her kayak and was prepared to give her a tow but as soon as the kayak was pointing the right way Nicky managed to keep it going on her own.
seals come over to check us out
some of them just lay on the rocks
cormorant drying its wings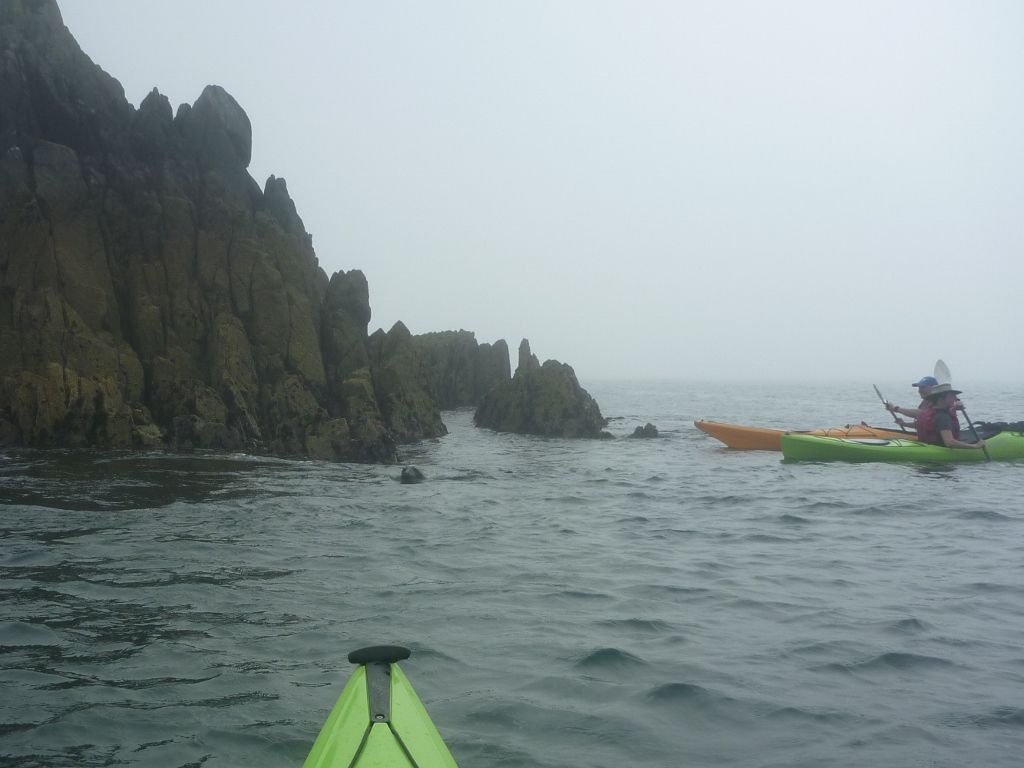 behind you nicky!
everyone looks keen to go.
i lag behind to snap more pics but its very murcky and seal only pop up for a quick moment
With all the mist enveloping the rocks it was a little eerie especially as the land could no longer be seen from where we were and the scene sort of reminded me of the King Kong film where the boat arrives at the island for the first time! Once we got to the rocks the first rock of three and the second one (called Shag Stone) formed a small ring inside which there were several seals swimming about and several more laying on the rocks. This was great to see and the big male came over and popped his head up several times to check us out. The current running in the rocks meant that you had to continually manoeuvre the Kayak by paddling to keep yourself in one spot and not bump into the rocks. Eventually we had to head back and within moments of leaving the seals to themselves we broke out the mist once more and paddled back in sunshine.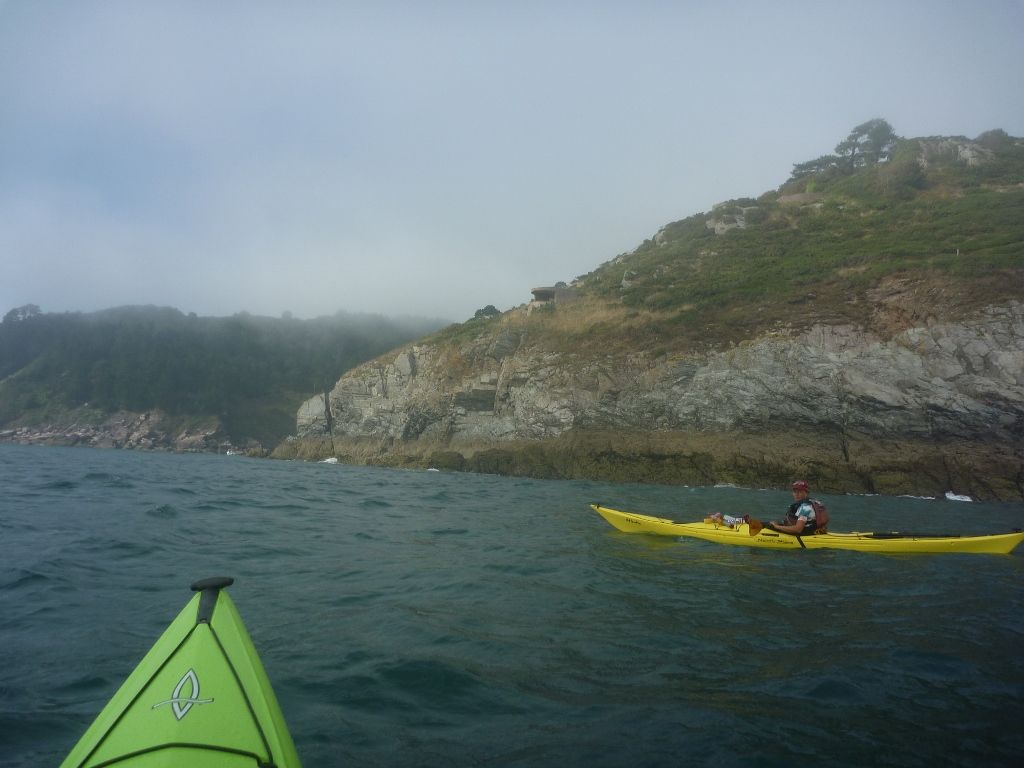 within minutes we are back out of the mist
Elizabeth snapped this one on the way back
Getting back to the slipway we packed up, chatted some more then said our goodbyes. What a great day, we all thoroughly enjoyed it and I can recommend Sea kayak Devon to anyone wanting a day out. That night Nicky's arms felt like they were going to fall off and I had to help her several times getting shirts on and off – muscles used paddling are evidently not exercised by office work or even digging on the allotment! That night I was searching ebay for a kayak!