For more of our photos click here
So another season's racing is here. I didn't do much in 2014 – racing that is. Firstly for obvious reasons i.e. the injury to my arm, but I did do a fair few practice days once I was given the all clear. I filmed most of the days out so they are available on my youtube channel but as they were only practice days I felt they didn't warrant a written report so again it's been fairly quiet on the website. Some of you may have noticed I lost quite a bit of weight in 2014 as well. I went one step further and massively increased my cycling in September to the point where I was commuting to work roughly 25 miles away. After two weeks I managed a full week – 250 miles commuting. Weather and work started to interfere with my schedule and then xmas arrived so things have slowed down quite a bit, but it's safe to say I'm a lot fitter now than two years ago! I'm trying to step it up again training wise but winter makes it hard.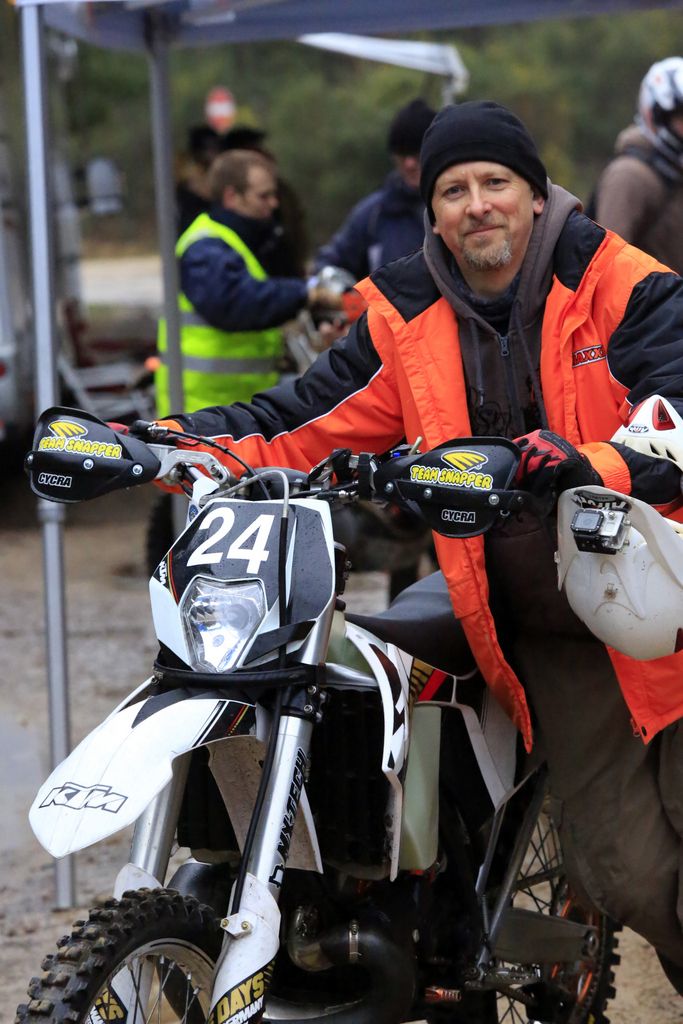 all smiles now - and nice n clean too!
(thanks to teamsnapper for supplying some extra pics for the report)
Anyway back to dirt bikes. I've done quite a few practice days with the blue light off road club at Bagshot, so when Darren suggested we do the RAF Enduro club's race on the 18th of January I signed up straight away. The bike didn't need much doing to it as it was good to go, other than a new rear tyre. The GT240 was ok tread wise, but a couple of the knobs had broken off and I was expecting a snotty race so I decided to replace it. My normal tyre supplier was nowhere to be found so I ended up buying one from the ktm centre in hemel. As it was a H&H and not a timecard race (FIM only)I picked out a Maxxis mx tyre. Fitting it I found the rear mousse has split quite badly. I didn't want to fit a new one, as that would make it too hard and the one second hand one I had was too soft, and seeing as the maxis is quite tall I felt it wouldn't fill the tyre properly. I pulled the tyre of my spare wheel and used the mousse from that. I umm'ed and ah'ed about the exhaust pipe and gearing, the ktm fmf pipe gives more oomph but loses a bit low down, but the 52 rear sprocket would give that back – so that is what I decided in the end. Giving it a test run up and down the road the starter failed to work, as in nothing at all, then fired it up, strange? I forgot about it but the next day I was tidying up the wiring and the wires pulled off the connector block! Ah so that was why it failed to start. I couldn't get the pins out the ktm connector block and after a lot of bother I swapped the connector block out for one I stripped out some emergency light fitting at work. It's easy to pop out the pins in those so you can re-use them on different wiring. See I told you the bike was good to go!
yes it was wet about and raining - then sleet and it tried to snow too for a bit
An early start to go and pick up Tony and we headed off down to Bagshot. Well I thought it was early enough but a lot of people had got up even earlier so we ended up parked in a puddle filled parking track and I was boxed in once to took the bike up to the Clubman starting line. Signing on prior to that we were given a little tag that was going to be used as a lap counter. I was feeling the nerves a bit and went for my fourth pee since leaving the house! Nicky was feeling a little under the weather so I was already told not to expect her to go marching all over the hills to get pics but luckily Teamsnapper was on hand to get some action shots out in field. Check them out at teamsnapper.co.uk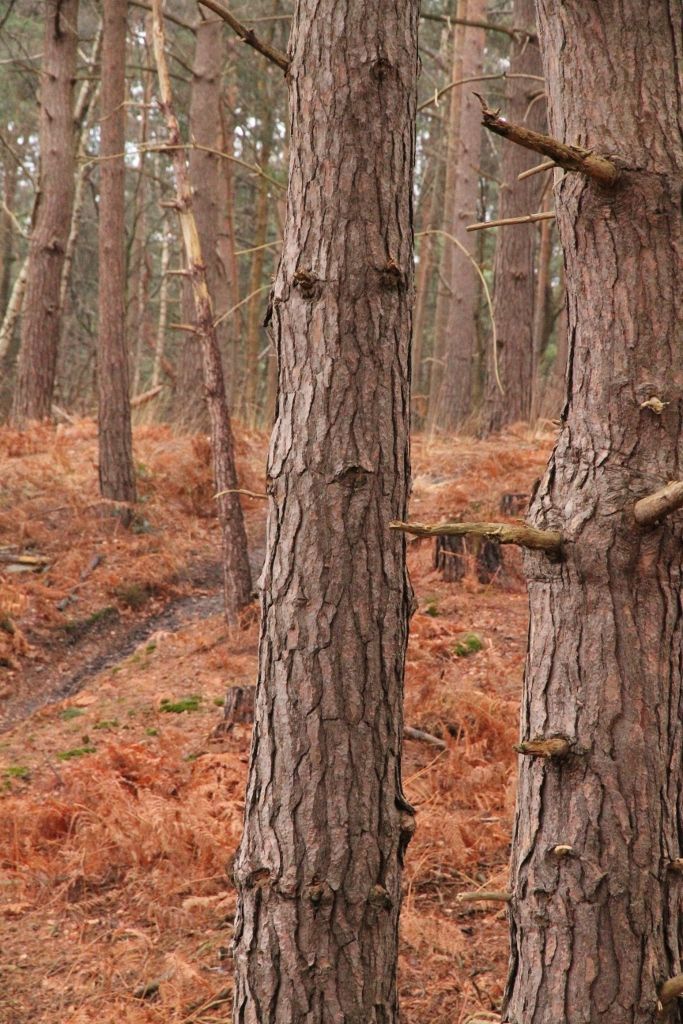 plenty of these to hit - i mean ride around!
Snow of all things was forecast for later in the day, but it wasn't raining so I went for a normal anti fog Oakely goggle and had an RNR as well as a scott double lens goggle in the pit box as backup. In the riders briefing they said the lap tag needed to be on the left bar and of course I'd fitted it to the right so I rushed off to change it. When the other guys got to the bikes I found I was just behind and to the left of Darren, but boxed in behind another rider. Despite it being only a few degrease above freezing I was starting to get warm on the line and my bloody goggles were already starting to fog up! I took them off for a quick wipe as the championship and then elite classes shot off and I was all set to go. I thought we were next but it must have been the vets, as all the clubman didn't move – well all accept the guy in front of me who took off with the row in front. He was a clubman rider as far as I could make out – jump start! Great - this allowed me to move forward next to Darren and have a clean run to the first turn. Only problem was I was fogging up again! I pulled the goggles off quick for a hurried wipe and hunched forward keeping an eye of the starting flag. Go!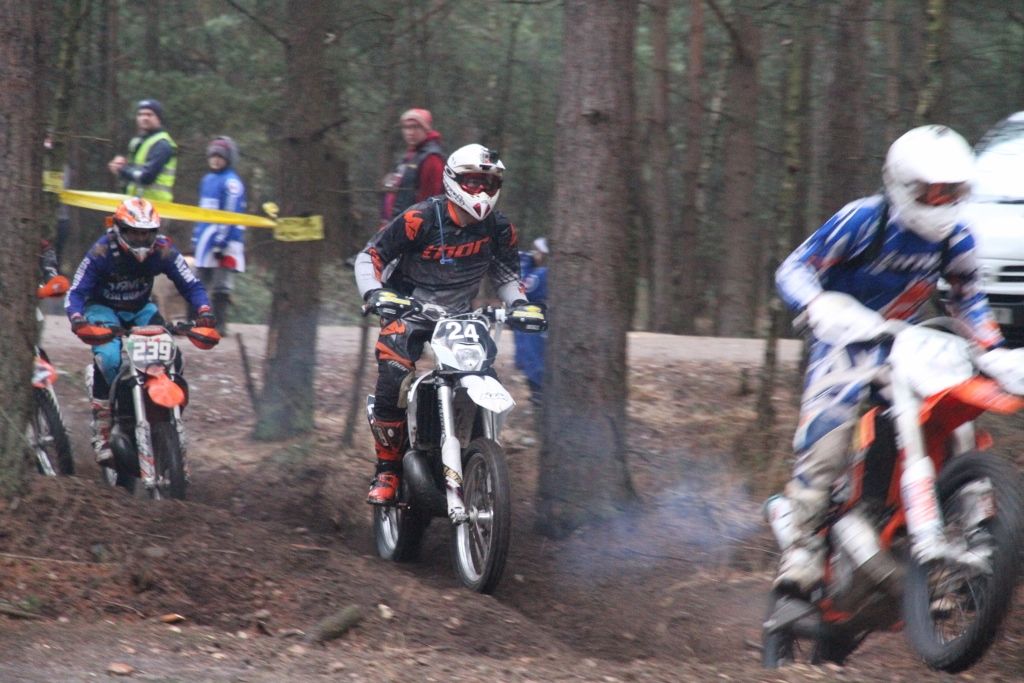 i get a good start - second or third into the trees
then its over the road and down the first of many slopes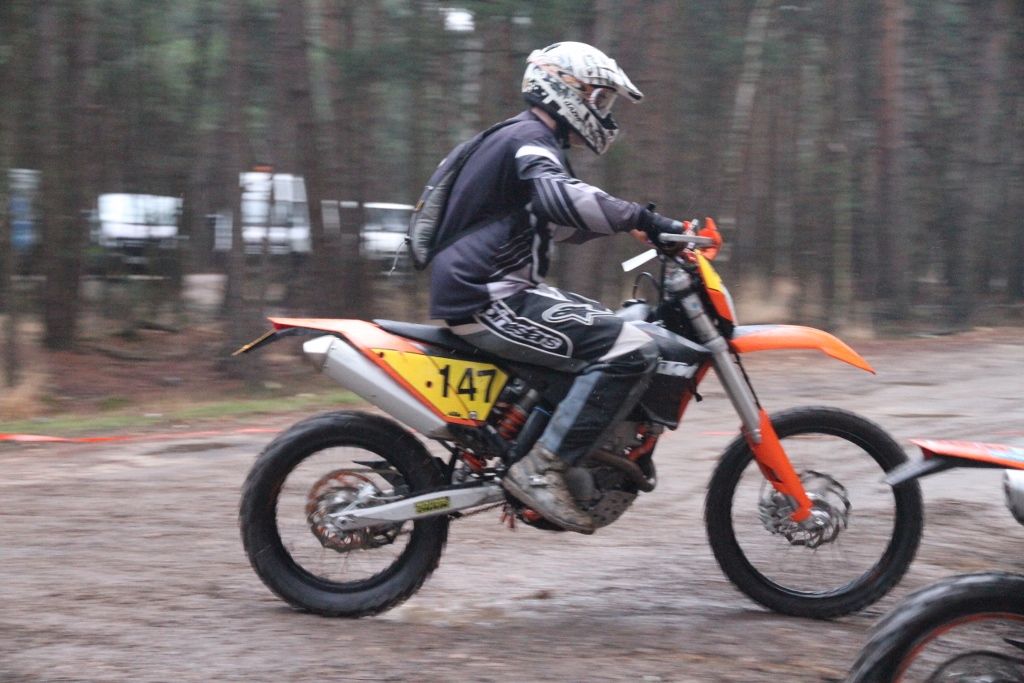 Tony starts in the next wave - in the sportsman class
The bike fired in a millisecond and I was off making a great start. I couldn't see anyone in my peripheral vision and was almost into the woods first but eased off a bit too much and a couple of guys slipped past and lost one more spot a few moments later. Within a few moments we'd caught the slower veteran class riders and it became a bit frantic trying to find a way past. I got blocked quite a few times and while I was trying to 'make a move' I've always tried to be well mannered when I race and didn't want be too forceful.
a slope somewhere out on the track
(teamsnapper pic)
I was trying to push, but the dam goggles were fogging up horribly and I was having to reach up and pull them away from my face to try and help clear the moisture from inside. This problem and the rain meant I was giving less than my all as I was finding it hard to concentrate and "get in the zone" so to speak. Quite often I'd pick another line to overtake and I'd get in the soft stuff and either lose the front, catching and preventing an off with my leg or lose the rear and have to take a second bite at the throttle. I managed a few sneaky moves but at other times I'd see an alternate line too late and miss my chance to get by. Getting baulked was also an issue on the many steep climbs, it only takes the rider in front to have a little wobble and you have to close off or take a different line. Luckily the rekluse came into its own here and getting going again once I'd been forced to stop wasn't an issue at all.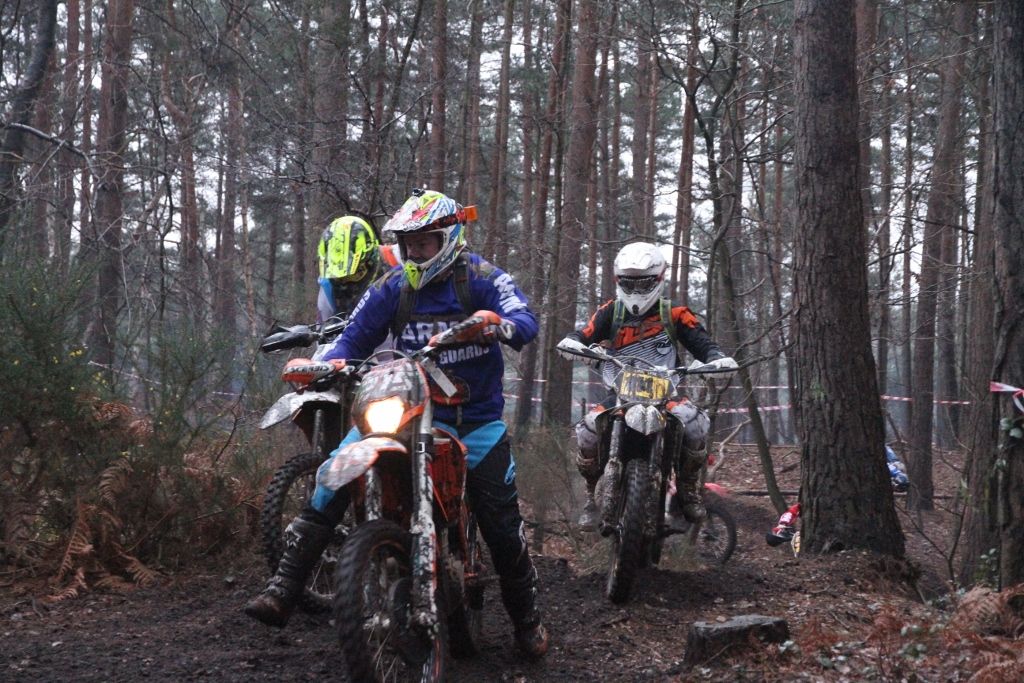 its busy out on track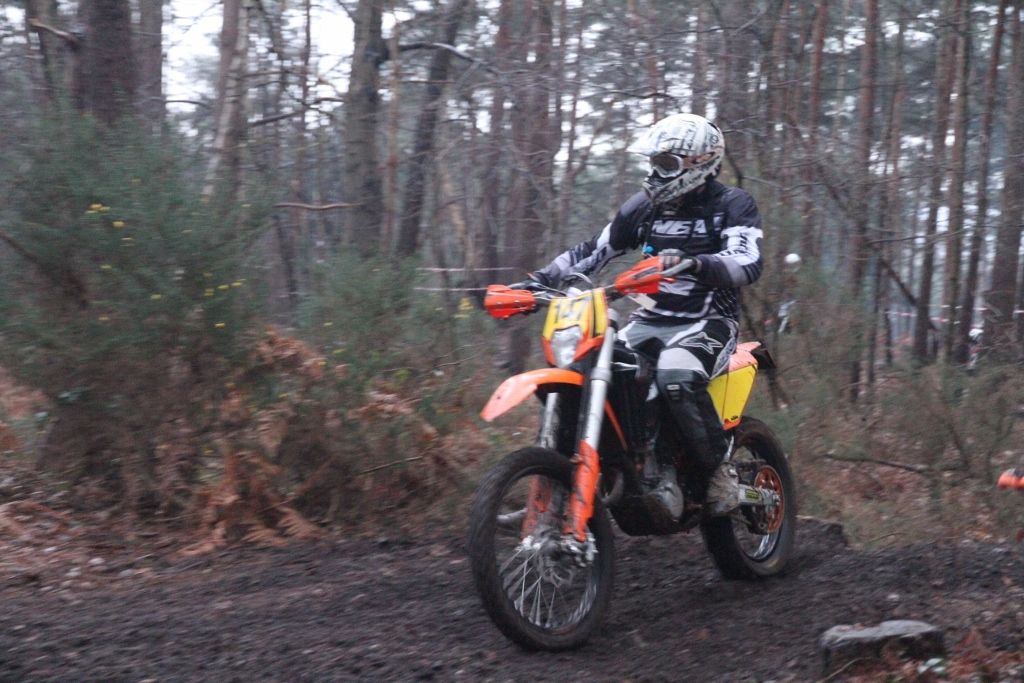 Tony make an appearance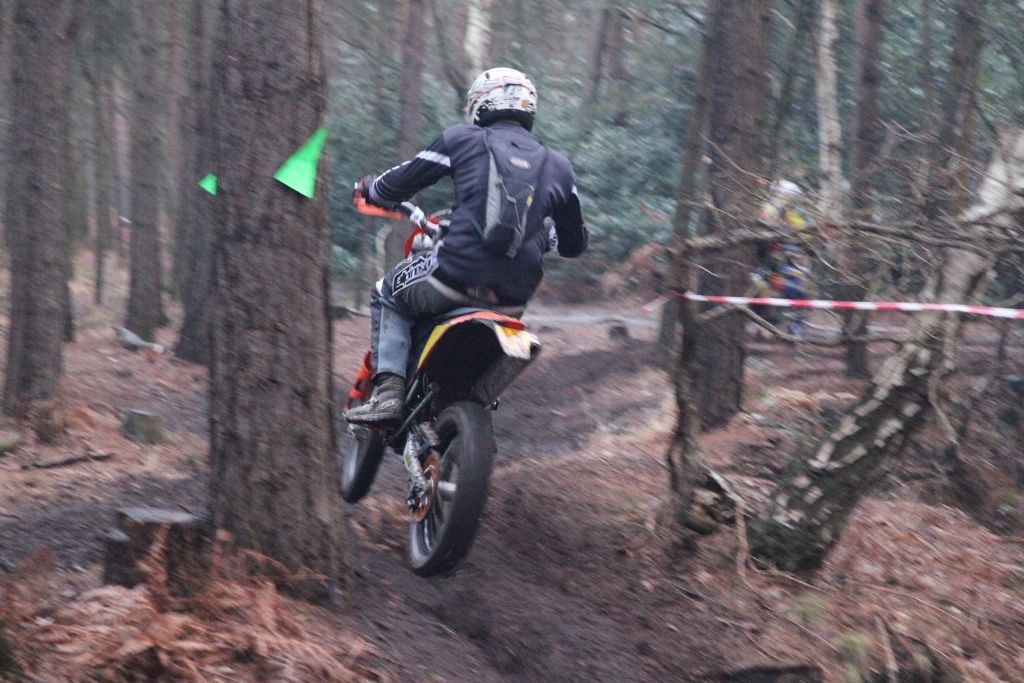 then heads off again
Trying to find an overtaking spot can be a bit iffy if you get over excited - quite often a bit of undergrowth would look rather inviting to blast past but there are plenty of big holes just waiting to entrap and swallow a errant bike and rider. This undergrowth can hold many other nasty things like log laying at an angle waiting to grab the wheels out from underneath you. Short stumps were plentiful all about the course but I was very impressed with the RAF's track prep as all of these where spay painted white to make them stand out – an absolute fantastic idea and not something I've seen before, the RAF enduro club's track team should be applauded. I eventually got a bit of clear track but immediately had one of those "wtf?" moments and fell off for no reason what so ever! I was up and going again but not quite quick enough to keep the rider I'd just passed behind me. Oh well I'd just have to wait for another clearing to get by.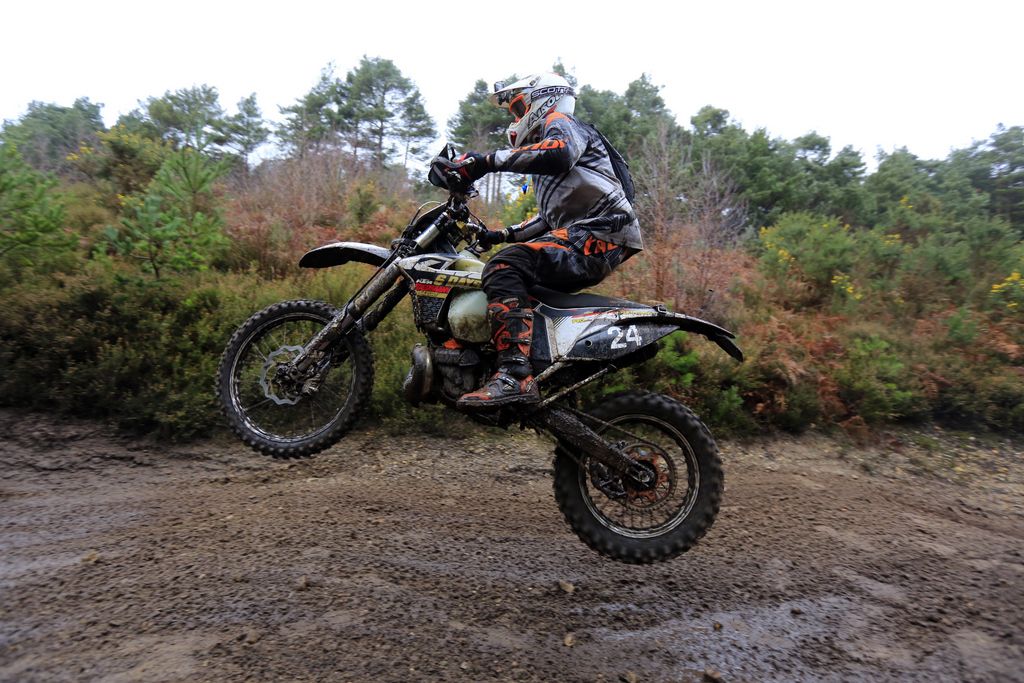 the whoops section
(teamsnapper pic)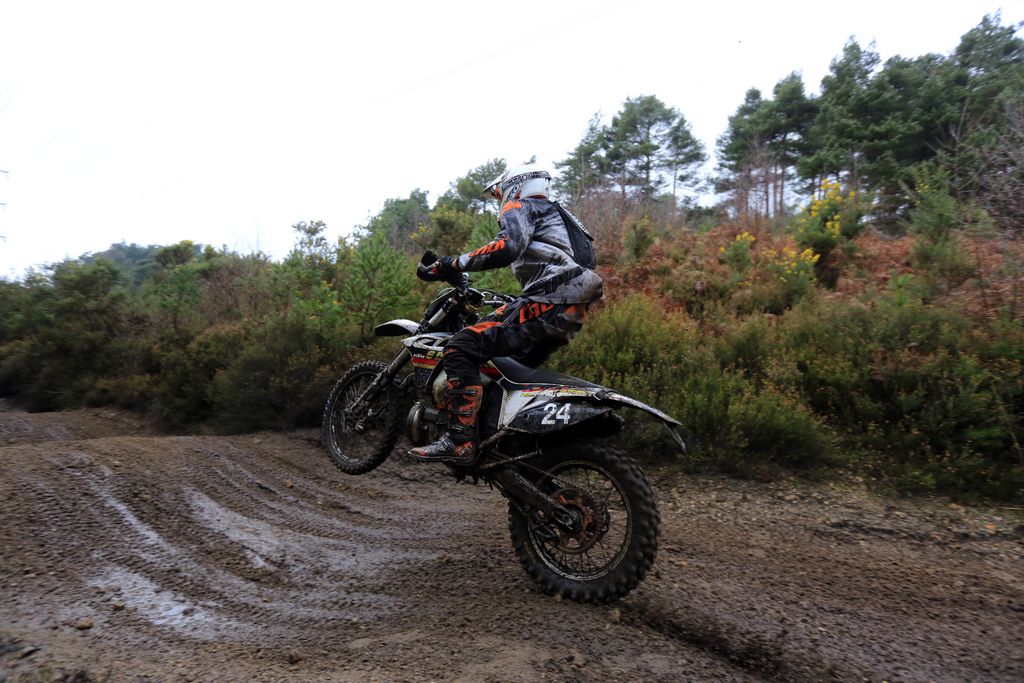 teamsnapper makes it look like i know what i'm doing...
but in the helmet its more a case of ffff*******!
The track was surprisingly long. We were told it was nine miles and it seemed like it as it took a long time to get round. Just about every hill on the property had been used, most taking a slightly differing route to the normal BLORC track. What was nice to see was the inclusion of 'hard' and 'easy' option to some climbs. We were also given the hard or easy option by a fallen log and on the first lap I went for it on the big log. Logs however are my 'anti super power' so of course I stalled it half way over and had to hump the back wheel the rest of the way over. A little while later there was a series of three logs. I saw the first one too late and could not get any momentum going so tipped off on the first one, but got going again and cleared the next two – not pretty but I got over!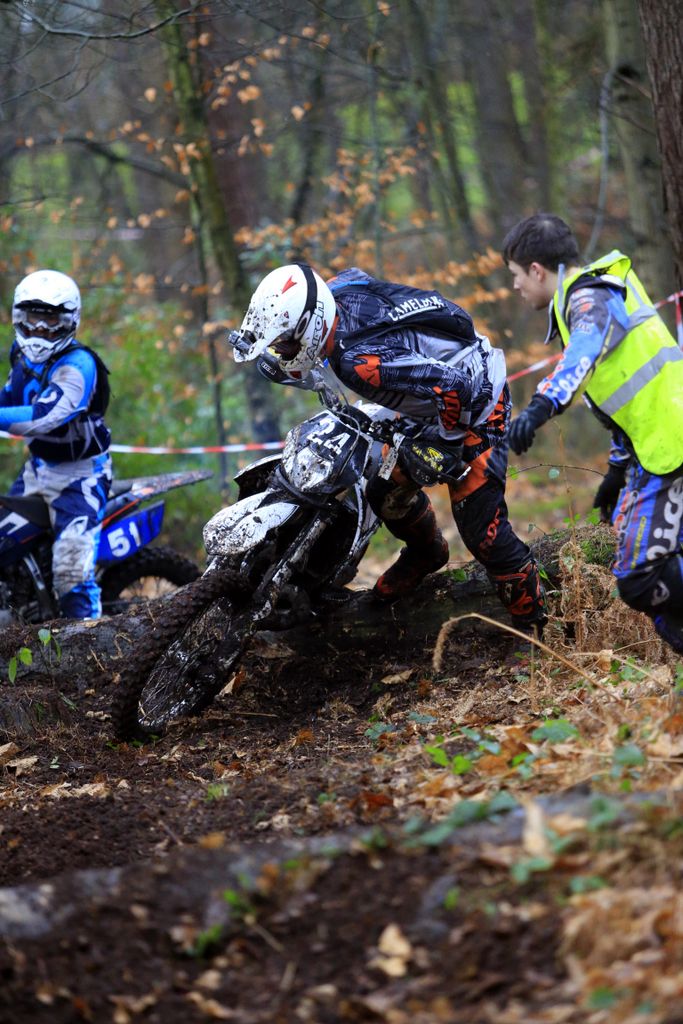 first log and i'm down!
(teamsnapper pic)
i get going again and hit no:2
(teamsnapper pic)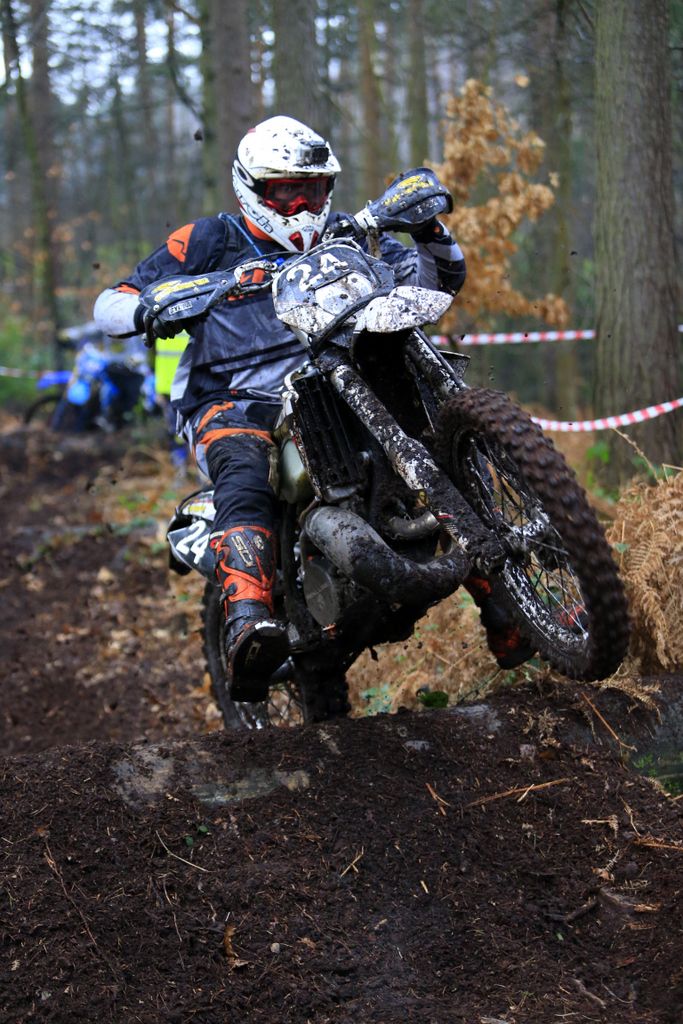 and then its into, up, and over no:3
(teamsnapper pic)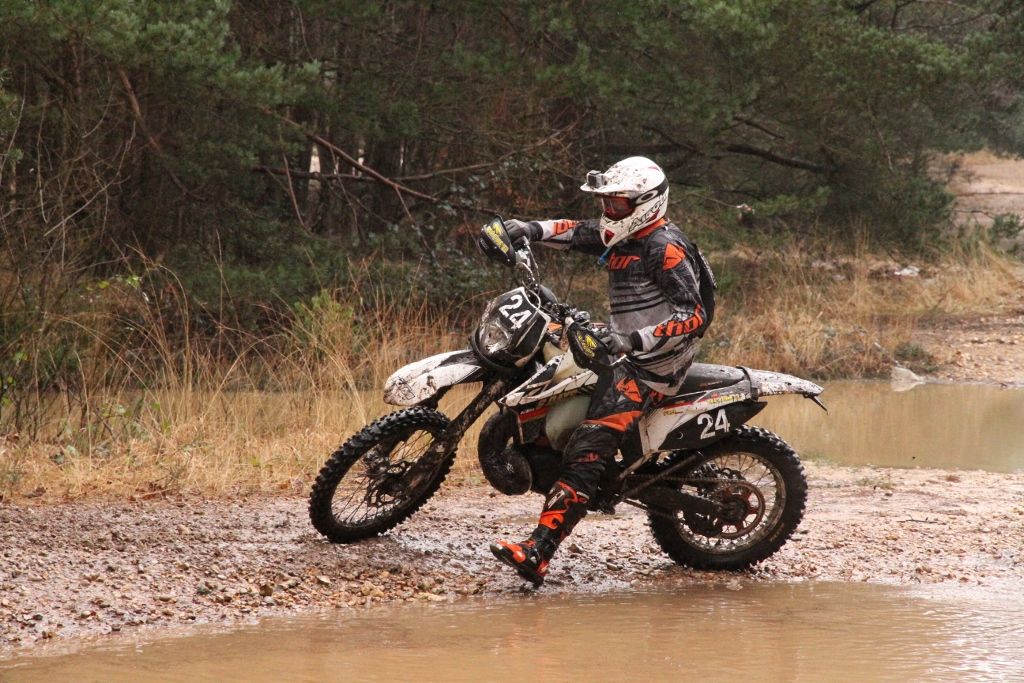 end of the lap - not quite so clean now!
A couple of more miles and countless climbs and the lap was over. I pulled into the pits to grab a new pair of goggles and opted for my red RNR as opposed to my new'ish scott goggles as the scott's tend to push down onto my nose too much. I set off on lap two and kept up the pace but I was starting to feel the strain in my upper arms and shoulders. Gym work to build up my strength is still on my 'to do list' so at the moment that is my weak point –well that and logs! I wasn't doing much better with my new goggles, the lens are only a year or so old but fogging was once again an issue. The outside was getting pretty crud encrusted too so at one point I stopped to give them a quick wipe with the cloth I keep on the bars. Normally there is at least somewhere on the course where I can clean them with the rag on the go, but today there was no rest for the wicked – or enduro rider!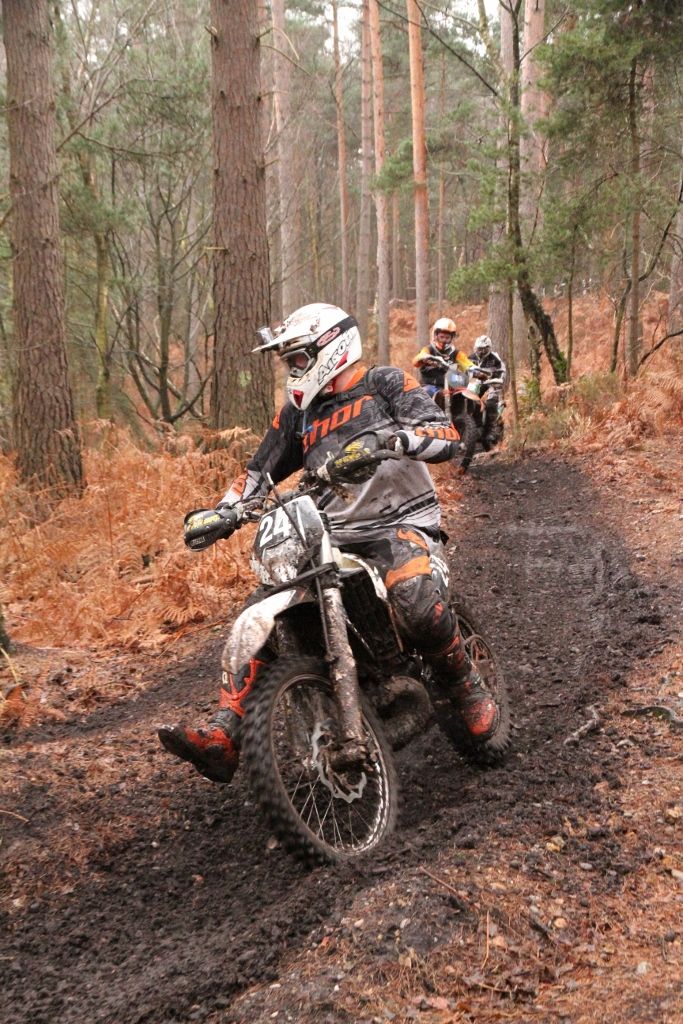 I think on the next lap I gave up on the goggles altogether and pulled them down around my neck. The track had cleared out by now and I could immediately up my pace a bit. The rain was eased too so it wasn't a problem anymore and I managed to pass several riders without getting an eye full, but of course inevitably I came up behind someone just as he had a wobble, then gave it a big handful! Aaaggg...... I could see a massive shower of roost heading straight into my face! I just had time to close my eyes to avoid contact lens / dirt interaction as several handfuls of muck hit me full in the face. Luckily it was kind of dry powdery stuff so once it had dropped out the bottom of the helmet it was fine again. Over the next few laps I noticed my pace had dropped off a little. I had been worried if I pushed too hard the whole race my arms would give out so I'd eased off a bit after lap two. Fitness wise I felt fine though, so I was quite pleased with that. All those 3.30 am starts and 12 midnight finishes on the bicycle had helped.
I'm not sure what lap it was but i lapped Tony as he was trying to retrieve his stricken bike (and himself) from a steep slope - did i stop and help? did i heck LOL!
an interesting 'point of view' that gives you a feel of the terrain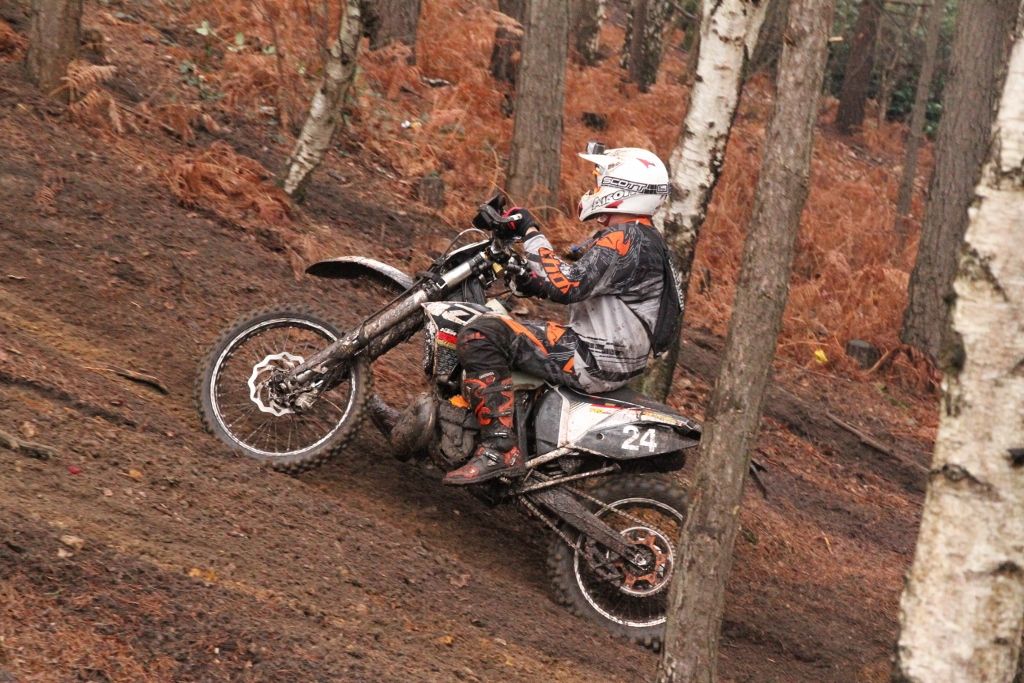 I had the odd tumble ever so often. Simple things like getting into the soft stuff and washing out on a turn, or getting pinged off course by a root on a climb and losing momentum. The logs were still a pain in the – well everywhere, but soon they opened up a bypass route on the triple log crossing so I took that each lap.
tony again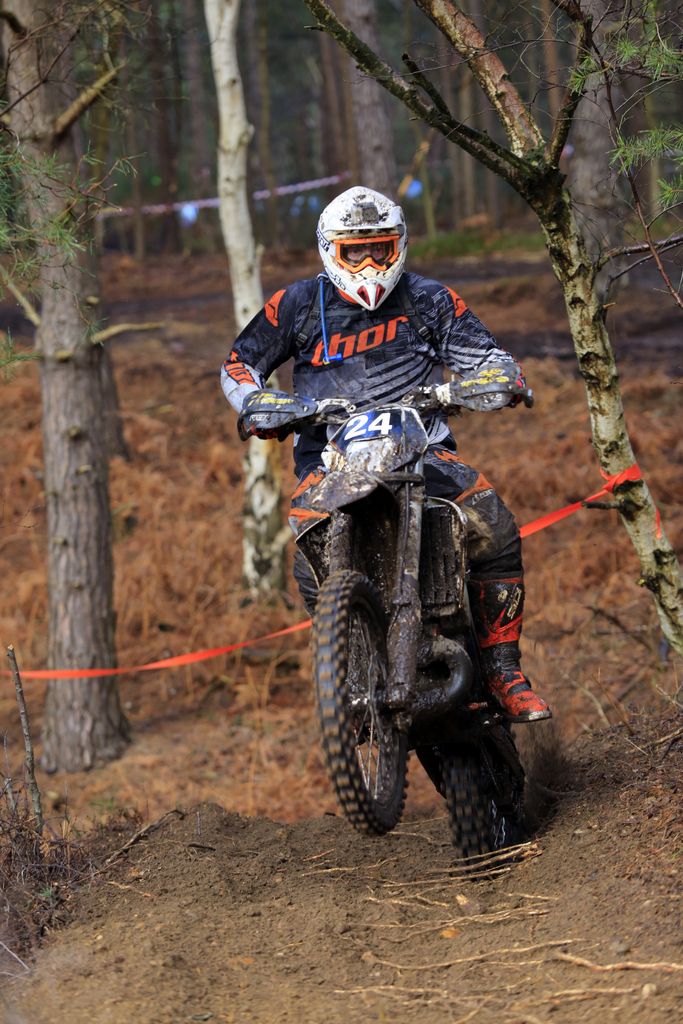 lifting the wheel on a climb
(teamsnapper again)
I'd been concentrating on my riding and hadn't even looked at the clock so I tried to focus on the two watches on my bars but it was hard to make them out what with them jumping all over the place on their own – very inconsiderate of them. Eventually I realised almost two hours were up and normally I'd keep going for an extra half hour, but as the track was so long I didn't want to get caught out and ruin the day. I swung into the pits and dumped almost a full tank into the bike then changed gloves and gave my face a quick wipe with my fleece before pulling on the nose squashing scott goggles.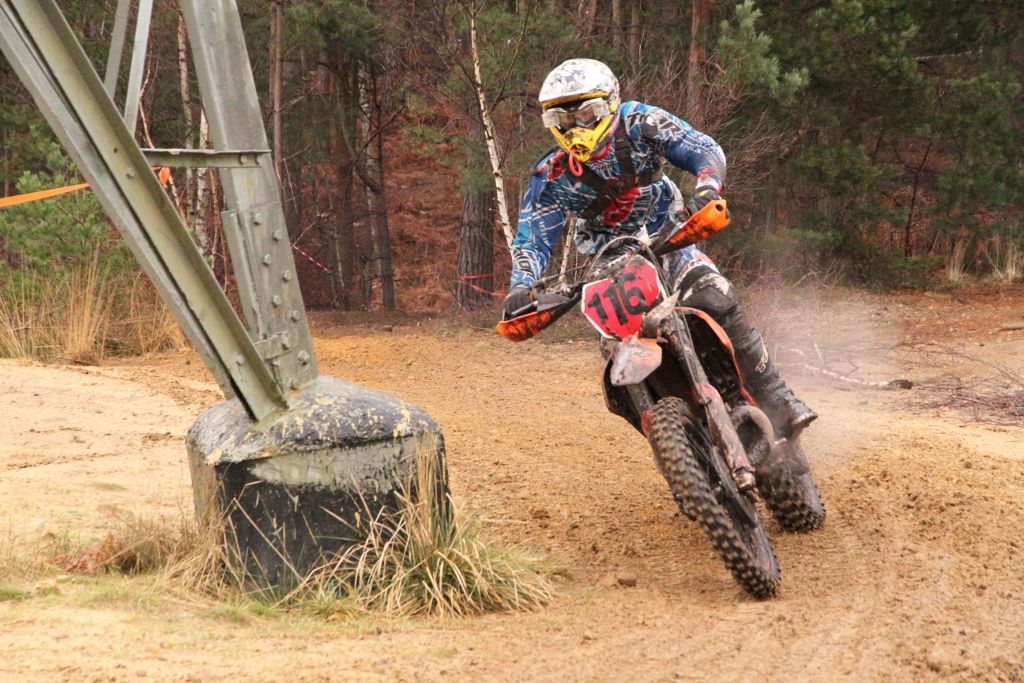 With new clear vision I tried to up the pace somewhat and things were going ok. I had a couple of off's but nothing mega, in fact one was quite amusing (looking back) but alarming at the time. My left boot went into a snare like trap of a tree root and for a moment I had a vision of it snapping off, but luckily it only resulted in me doing a one handed superman with me at full stretch until the inevitable happened and we parted company, with the bike continuing for a few meter until it flopped over - it must have got confused, seeing there was nobody at the helm. I felt a bit like I'd been put on the old fashioned torture device "the rack" but thankfully no bones were cracked this particular time!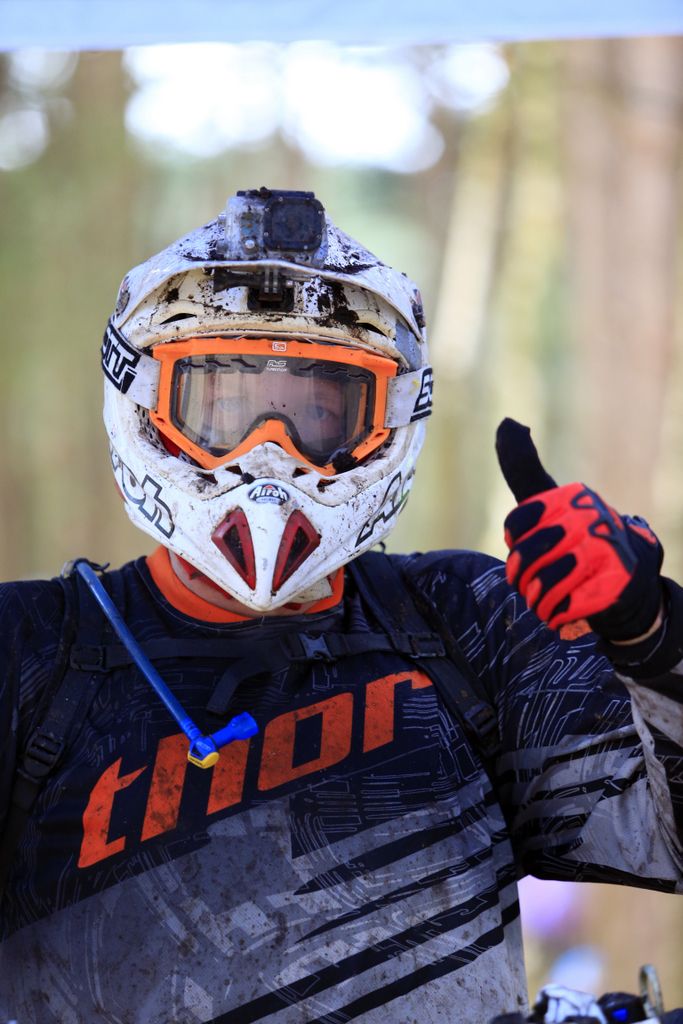 teamsnapper snaps me in the timing area in the latter part of the race
A few of the champ/elite riders were coming through now and I tried my best to pull over when I could. I fell off on a climb for some unknown reason and was busy trying to pick it up when a manic rider flew past shouting his head off for me to get out the way – there's always one!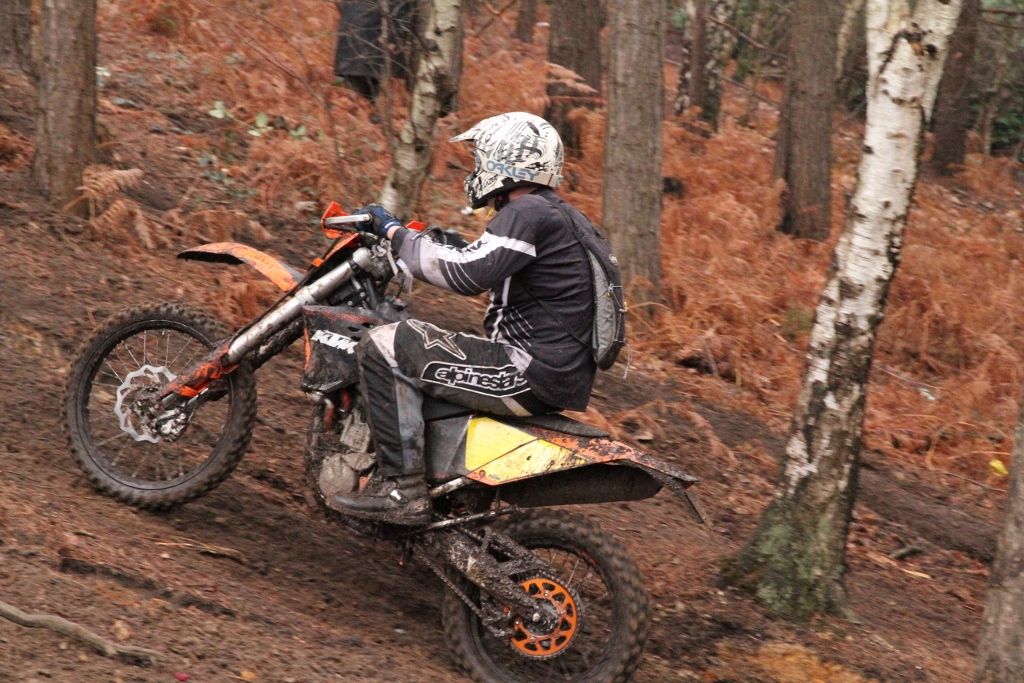 Coming round to the start finish area I looked at the time and calculated that I should be back in time for another lap – if I got my head down and went for it. I had a good run round the lap coming in just in time. The timekeeper asked if I wanted another lap and I think he was surprised when I said yes so it was goggles off time again and I attacked the course one more time. I pushed hard and had now run out of water. I'd drunk more on the last lap as one leg muscle felt like it wanted to cramp up but now I had nothing left. Most of the track was fine and surprisingly empty, of just about everyone. Near the end I was starting to feel it a bit, but I managed to overtake a couple of clubman riders just before the end, it was nice to be at the finish eventually but didn't feel nearly as tired as I would have a year or so ago.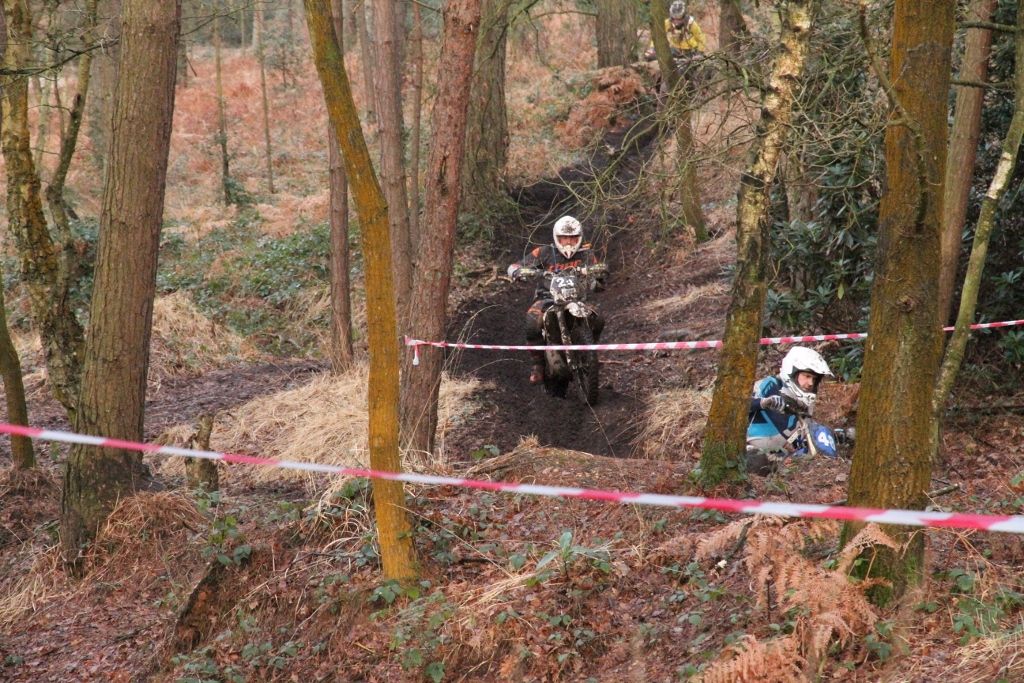 video lap on the first lap. in HD so adjust to suit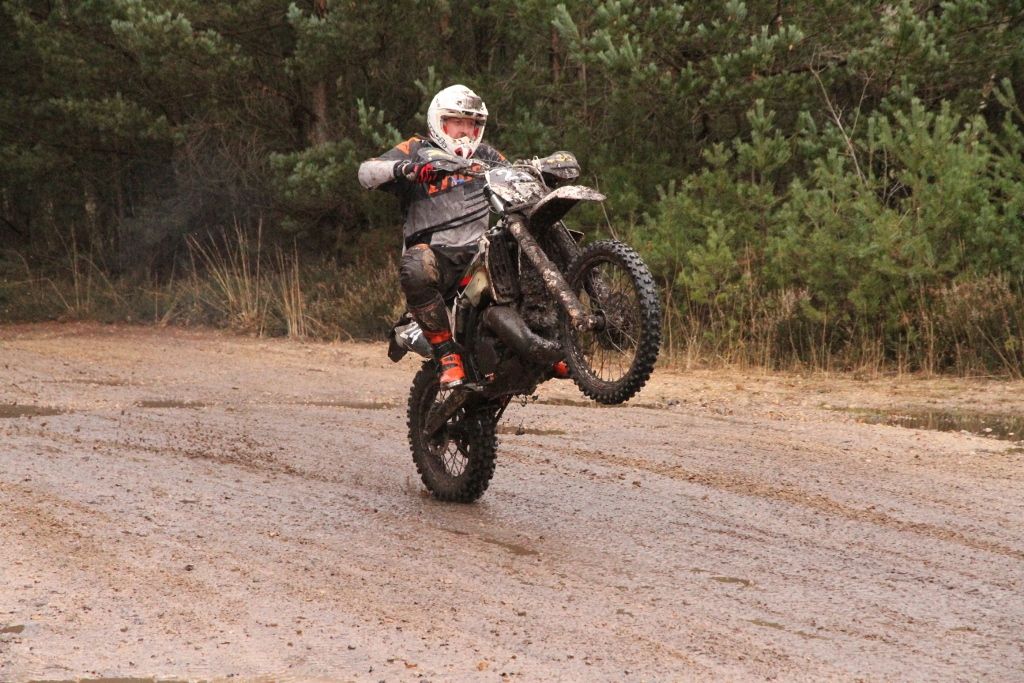 on way back - end of last lap
Results wise I wasn't sure how I did. There was some confusion as to whether Darren beat me or not on the day and while I didn't see him pass me on track he could have slipped past while I was in the pits as he had a large tank on so didn't need to stop. I was hoping for a top ten but wasn't really sure how well I'd been going as I don't know the riders and seeing as the track was so long it was hard to tell. Monday we were all waiting for the results without any luck, but I was amazed to see teamsnapper had all their pics up and online for viewing/purchasing. How the hell they sort through so many thousands of pics in such a short time is amazing. Tuesday night late the email arrived with the results..... I'd come in third in Clubman!
Following a stewards enquiry (Darren shouting "recount" LOL) the results were revised and Darren were awarded joint second! Seeing as I was keeping fingers crossed for a top ten this was like a win for me! I need to get my training back on track to keep the results coming in – I just wish it wasn't winter! SnowRun is next – see you there?!
Many thanks once again to regular sports photographer "Teamsnapper" for being there and taking some great shots - check them out at http://www.teamsnapper.co.uk/