For more photos click here & here & here
So my wife and I eventually got our Pyrenees bike trip! It's been a long while in the making as things kept getting in the way. The most recent glitch was when I had already agreed to rent a cottage from a user on the ABR forum – only to discover my passport had expired! Franticly trying to get the passport back in time resulted in failure and I had no option but to cancel that particular trip. But by now I was determined to have a break anyway so I started looking for something myself. Finding a few options I showed them to my wife but she suggested we go more towards the western part of the Pyrenees as she wanted to visit some of the sights that the Victorian artist, Marianne North, spoke about and painted. While most (or many) of the adventure bike riders opt for camping to keep cost down and aid flexibility, I found that trying to pack two people and all the camping kit onto a xt660z was a tall ask. The one weekend we tried was marred by heavy rain and crawling into a tent wet is not my wife's idea of fun (nor mine) so this holiday was going to be strictly non camping – and boy was I glad! More internet searching and I found a place that seemed to tick all the boxes. A Little B&B called Le Pélouha, it was in the middle of nowhere, looked nice, with a patio and a pool. A couple of emails later and we had a room booked. See the website here: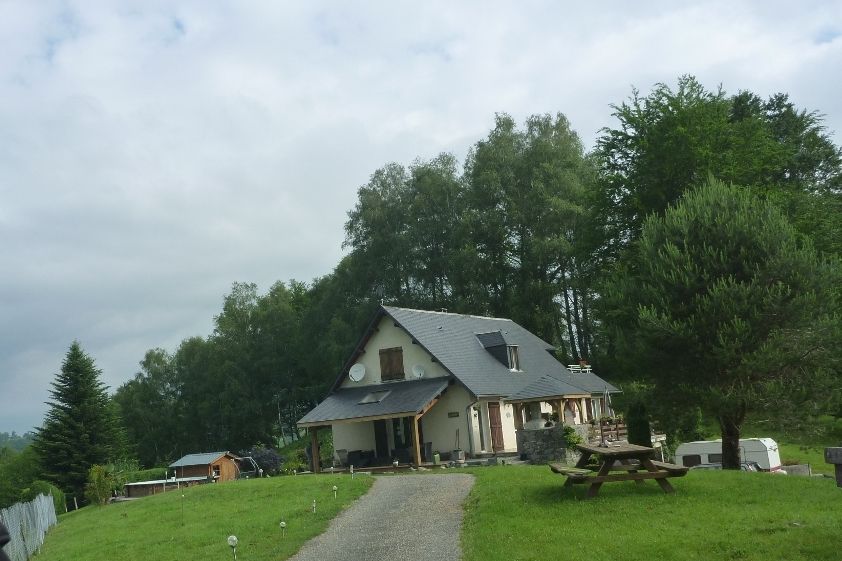 this is where we were headed
Next up I booked the train and onward accommodation for the first two days. Looking at the distance and knowing the bum sitting limit of my wife to be about 300 miles I decided to break the journey down into several parts.
Day one: High Wycombe to Alencon worked out to be +/- 370 miles so was do'able.

Day two : Alencon to just outside Bordeaux was another good 300 miles

Day three: going to be a short one so we could be there early and get to see some of the Pyrenees straight away so only about 180 miles – if only things were so simple!

So with the B&B and train booked I turned to the internet again and used google maps to find the stopovers. Alencon was a difficult one and in the end I opted for a corporate hotel that was easy to get to and they had restaurant on site too, so it would be easy for us on the first (long) day. The second stop down near Bordeaux was not that easy to pick, as most of the hotels etc. are in town and that is not for us. Again I used Google maps to search for a B&B/Hotel out of mega built up areas and eventually I found a great place called 'Edaine parc des vignes de Bordeaux' that looked ideal and had to be ok as they were bikers too – the husband is a taxi bike rider!
So the bike.......a few days before I was giving it a good clean and the rear tyre was looking a little on the worn side. It had been ok for the trip I'd planned earlier but daily use to work and back had tipped it into the 'going to be well fooked by the time I get back' category. This wasn't too big a problem as I had a set of GoldenTyres to test and this would give me a chance to do that. I also nipped up the steering head bearings (again), as they seem to like clonking. At the same time I fitted a pair of progressive front fork springs that I've had sitting in the garage for a while. The local bike shop didn't have the recommended weight of oil (15w) so I had no option but to use 10w – but was told by the person selling me the springs that his worked better with the lighter oil anyway. Finally I treated the xt to an oil change.
Packing
Panniers
What to pack? A pair of Merrel walking trainers was a must as we wanted to do some walking. As we expected it to be hot, and didn't want to be stuck in textile (waterproof) bike pants, a pair of jeans were also added to the pile. Socks, t-shirts and underpants for each day - Ok we have a problem. The small OE panniers would not take all of that along with my wash bag and phone charger etc. My size 10.5 shoes take up a lot of room, so some socks/ underpants were ejected along with some t-shirts - I'd just have to double up! I slipped some cargo shorts in too and a monkey charger pack for the phone/ipod just in case.

Topbox:
This was holding my spare tubes, air compressor (+ co2 Pump) and a triple pack of small tyre levers. A head torch, some gloves, a mini can of wd40 and finally some rags completed the emergency supplies. This left the topbox half empty – just as I wanted it, as I needed a place to put things like jacket pants linings when it got hotter during the day, and any item we might buy on the way. Last minute change – Nicky's digital SLR sneaked its way into the topbox.....ggrrr.
Documents:
Bike logbook, home/travel insurance, bike insurance documents were wrapped in a plastic bag.
Hi viz, breathaliser? Ah sod it, don't have, and don't care. It's only the English that ride with hi-viz on, the French don't give a damn.

Day One

So Monday morning and we set off more or less on time (7am) and headed down to catch the train. Booking in closes half an hour before the train and with a pee break added to the trip we were spot on for a 10.15 train. We got there early and selected the earliest train on the options screen. For anyone that doesn't know – when you book the tickets using a card just put the same card into the machine when you pull up at the gate, and it automatically recognises who you are and what trains you are booked onto - but also gives you options to take other trains as well. There was barely time for another bathroom break before boarding was called, so off we went and joined the queue – only to be pulled to one side (as usual) so that the bikes get loaded last. We were loaded at the back all on our own.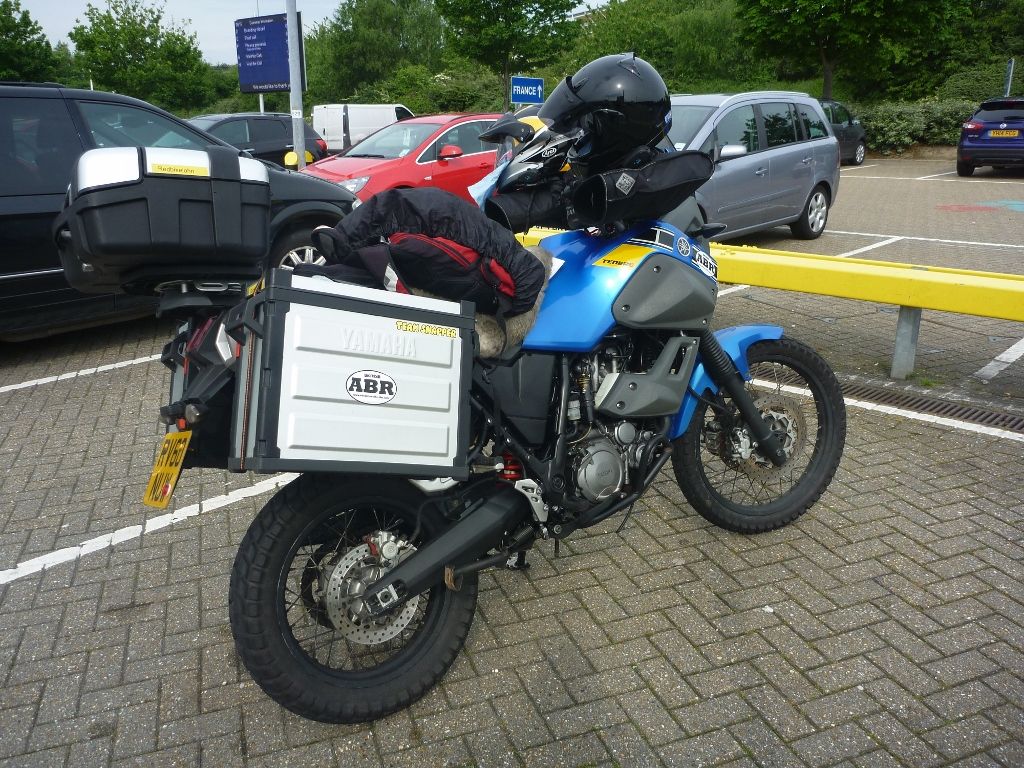 we arrive at the euro tunnel

Pulling out the train in France I was once again guided by the WGS over the Bluetooth headset (wife guidance system) reminding me to "keep to the right" as I kept an eye on the Garmin on the front of the bike. From Calais we jumped onto the nearest motorway and headed down to Alencon but the clear skies of the UK were quickly replaced by the all covering clouds in France and soon we had to wrap up to deal with the rain that kept us company for several hours. We stopped off at the services near the Somme and sat outside drinking coffee and a cake of some sort – oh yes and one of those delightful little cube chocolates too! (please note – the diet was well and truly on hold for this trip....well it would have to be in country where they serve cake and yummies for breakfast!!!?).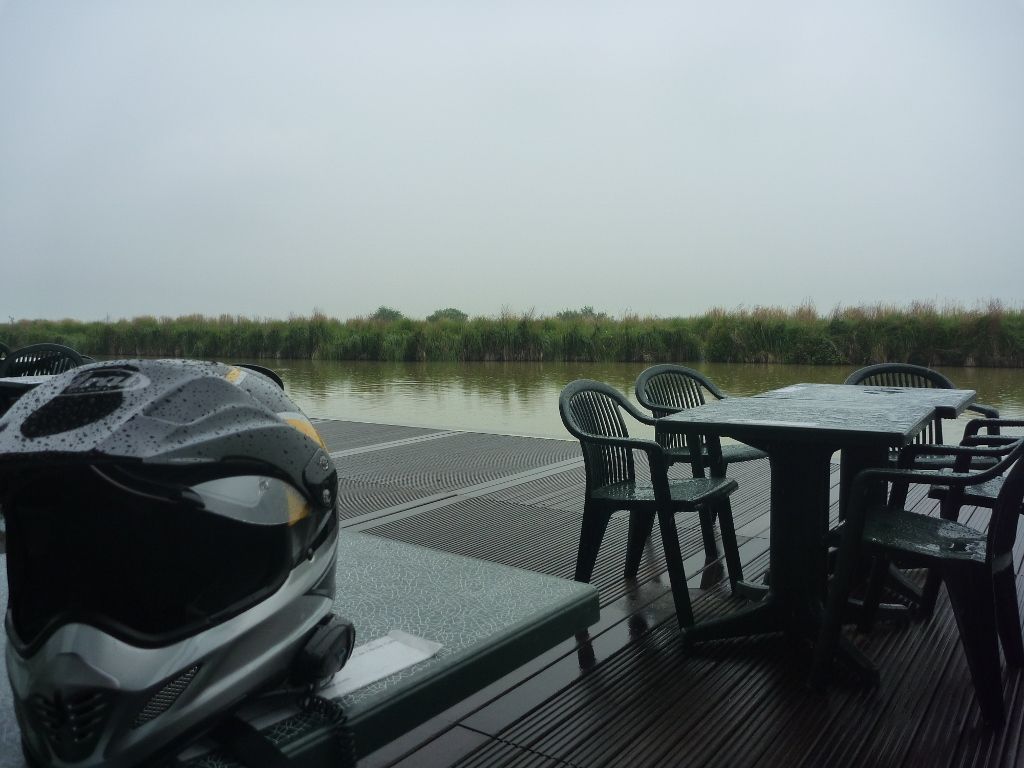 rain greets us in France - Somme services

Another hour or so on the bike and we stopped again for lunch in a services and I watched a herd of cows wonder around a field. It would appear that they moved around the field whenever another cow had a better patch of meadow – a true life case of 'the grass is always greener on the other side'?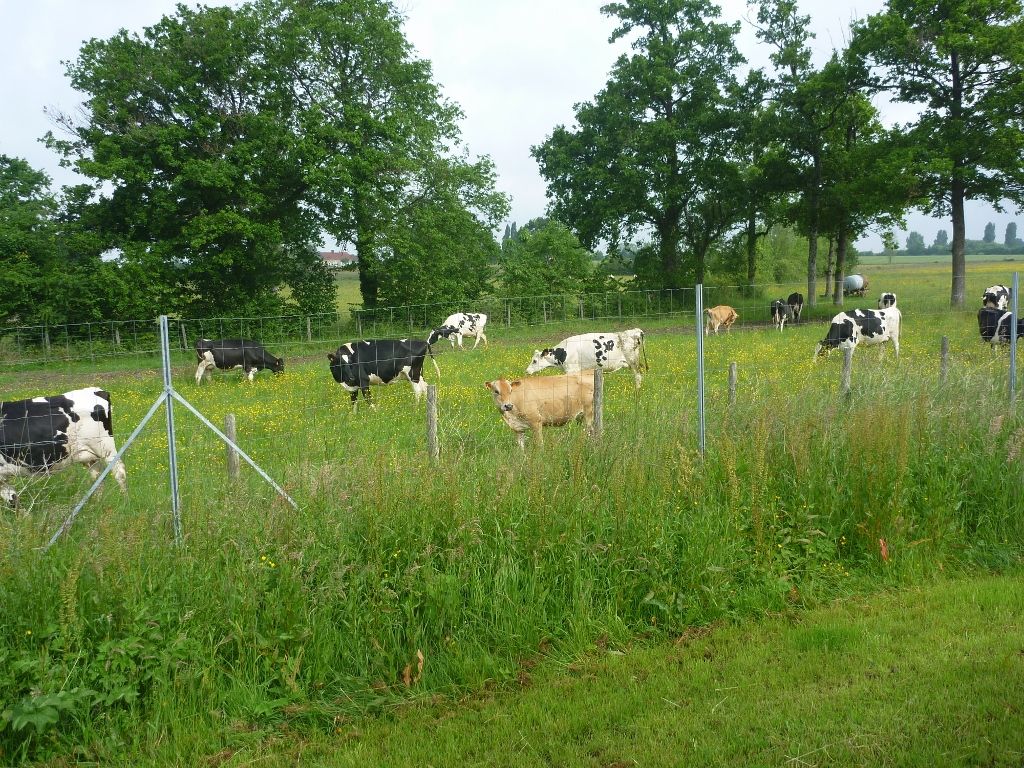 'the grass is always greener on the other side'
cows play follow my leader in the field

Nearing Rouen I kept a close eye on the gps as last time I got waylaid by my wife who took us on one of those "oh I made this mistake last time too" detours. However I should have being taking more notice of the signs telling us the through route was closed! Well in my defence they were most likely in French so not much good to me, but pretty soon we were faced by a concrete barrier across the road and a confused gps that was of course trying to take us back to the some route. Luckily for the gps it could not hear the two of us shouting at one another. The gps, the French diversions (or lack of) and other drivers all got a good telling off. After going up and down several dual carriageways we pulled over and consulted the map we had bought earlier at the Somme services. One little ear splitting "wrong side of the road" exclamation later followed by some island hopping and miraculously we were back on track and heading the right way!
Excitement over the miles clocked up and soon we were outside the hotel in Alencon. It was a typical corporate affair but nice enough with a clean room and fairly good restaurant on site. I'd picked this one as it was easy to get to and the fact that it had onsite food meant we didn't have to mess about after a long day. We were given a room out of sight of the main road (I'd requested that in an email due to being on a bike). A quick ribeye steak and off to bed to update facebook on their free wifi and to let my sister know we were still ok.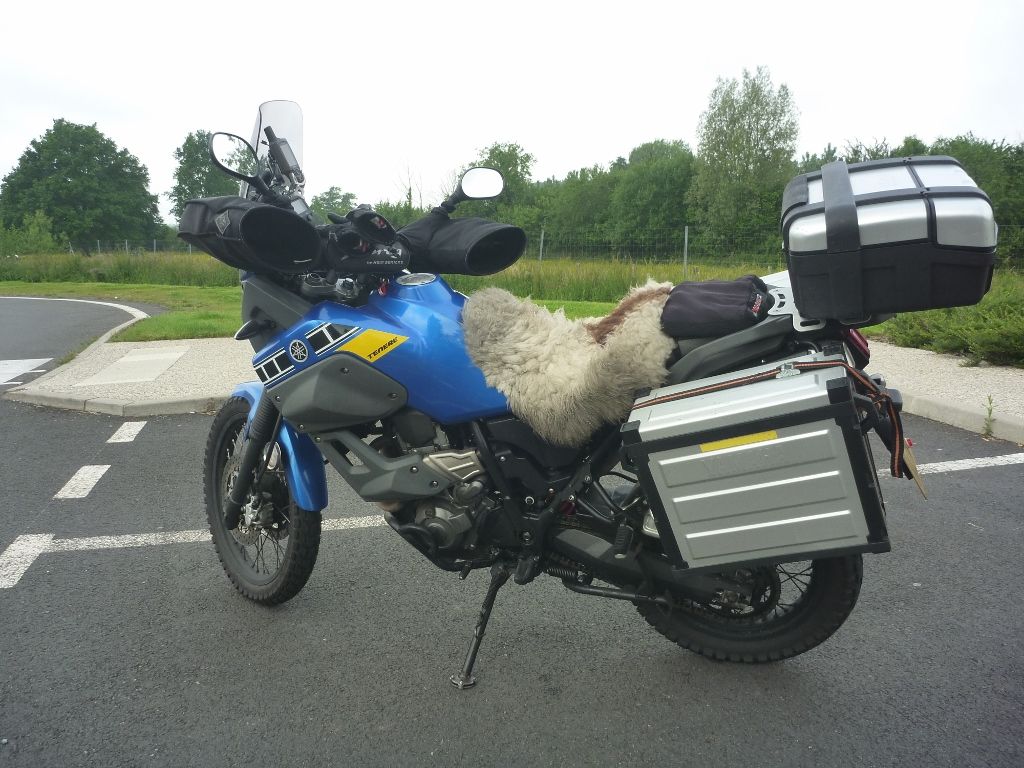 rest stop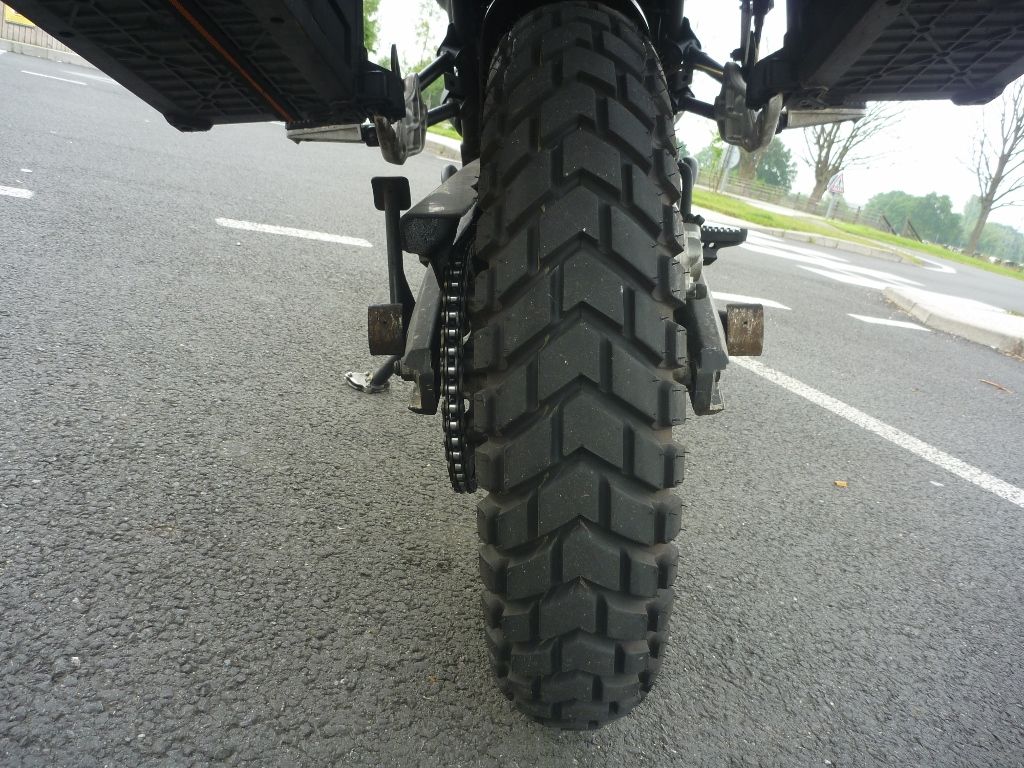 new set of Goldentyres I was given to test

Day Two

Breakfast over (fresh warm bread with cold meat and cheese, pain au chocolat and croissants ) we set off South once more heading for Bordeaux. Bit of a boring ride with quite terrible toll cost. I only found out later that bikes pay less but you have to go to a manned lane, if you can find one, or press the buzzer. In much improved weather we arrived a little early at the second day's B&B (just gone five pm). The owners only get home at 6pm so we stretched out on the grass and chilled out for a while.
Eventually Catherine arrived and we got to know one another and took the panniers up to the room we were staying in, which was decorated in a seaside theme. We changed into jeans and had a cup of coffee with our host then headed out to look for something to eat. Catherine had pointed us in the direction of a pizza place, but this was closed, so we drove around for a while looking for something else. There wasn't much happening and restaurants were in short supply. Eventually the gps was called on again and it found a MacDonald's less than a km away. The golden arches have not seen me for many a year, but beggars can't be choosers so the two tired and hungry travellers tucked into a 'grande' meal and surprisingly it wasn't too bad! Back at the hotel we sorted out our breakfast time and headed to bed, dog tired.
lovely little garden in one of the motorway services

Day Three
Up at 7am and breakfast at 8am was a typical continental affair so we tucked into yogurt followed by plenty of fresh warm bread, pain au chocolat and croissants (again) – all washed down with several cups of strong black coffee. We reserved a room for the homeward trip at breakfast. After the previous nights failed attempt to find somewhere to eat Catherine offered to make us dinner on the return leg of our journey. We set off that morning and thankfully I'd planned it so that we had less of a journey and would be at the main B&B fairly early – or so I'd planned. Even before we'd cleared Bordeaux the grey skies were dropping rain again – welcome to sunny France!

The motorway trip down south was pretty boring to say the least. Most of the scenery was pine plantations being harvested, all seen through a heavy splatter of rain. Initially it wasn't too bad and all my gear is waterproof and I had an anti-fog pinlock visor fitted to my Aria helmet. The only problem was my 'waterproof' Sidi adventure boots had now decided they no longer liked being called waterproof and my feet were soaking wet. The pinlock joined in the malfunction malarkey and let water behind the lens. At least my hands were warm and dry, thank goodness I'd left the muffs on the bike – and that was for the homeward journey once we were back in the UK as I was convinced we'd hit rain!
wet cold and not too happy
By now we'd left the motorway and were making our way on smaller roads and it was painfully slow going. I was beginning to wish I'd brought my heated jacket and neither of us were very happy. I was looking for a coffee shop or somewhere to eat but there were none to be seen or anything resembling a restaurant – well none that were open anyway. I saw the sign to – yes you guessed it, another MacDonald's and cold & hunger got the better of me so we followed the signs and pulled into the car park – it was still tipping it down. At least we had somewhere to warm up for a while. Fed and warm we set off again in heavy rain and the roads got progressively smaller and smaller as we climbed up into the mountains. Once again I commented to Nicky that everything we saw was shut – does no one live or shop in France? We needed something to eat that night but the one Intermarche we saw was closed, of course.

Finally we were on tiny single carriage roads picking our way up into the clouds themselves and riding through ghost towns. One of the last roads was the D241 and we turned off this by Lourdios-Ichère. The final turn was onto a path barely wide enough for a car and we slowly made our way along the track with some iffy drops to the side. On two occasions the off camber, near 360' turn (uphill) forced me to take a second bite at the turn as I wasn't confident enough to 'clear it in one' with the heavily loaded bike. A standard xt660 has a tendency to cough stall at low revs in these situations and I was very glad I had the 'CO2 mod' fitted to mine, which eliminates this problem. I still needed plenty of clutch slip though as the tallish first gear was an issue on these tight climbing turns.
we arrive - its briefly stoped raining but skies are heavy

Finally we'd arrived! The surrounding mountains were shielded by low hanging clouds but you could tell the views would be fantastic once it cleared up. Once we'd unpacked, Marie our host, offered us a cup of coffee and we got the directions to the nearest Intermarche (a supermarket) as we still needed something for dinner! Once more we set off into the rain, on the D241 again and while the views might have been great, most of it was covered in clouds. Almost all the roads from now on would have a severe drop to one side so caution was a must. This meant that going anywhere took a long time, much like in the UK. Unlike traffic congestion in the UK, here it was a several hundred foot drop off to one side! The D241 ended in the E7 and here we turned right on towards Bedous where amazingly, the supermarket was open! We stocked up on some soup, fresh bread, cheese, saucisson sec (dried cured sausage), chocolate and crisps – we were on holiday after all!
Day Three
(our holiday begins)
we awake to better weather but still plenty of clouds - Spain here we come!

After a good night's sleep and another decadent French breakfast we decided to give France a miss and to head to Spain via the Tunnel du Somport. This involved another run over the D241 to the E7 and then to follow that down to Spain and the tunnel. Marie told us the tunnel did not go down too well with the locals in France. The Spanish have received plenty of Euro funds to upgrade their roads and France did not. Subsequently the roads on the French side were in a poor state and were now closed to trucks, as the road had suffered major damage and was being repaired. Mmm they obviously haven't seen the UK roads after two hard winters! The tunnel was quite something. It's almost 9km long and one has to admire the engineering involved. There was a strict speed limit of 80kmph in the tunnel and it was fairly cold inside, but we were welcomed to bright warm sunshine when we popped out the other side – yay!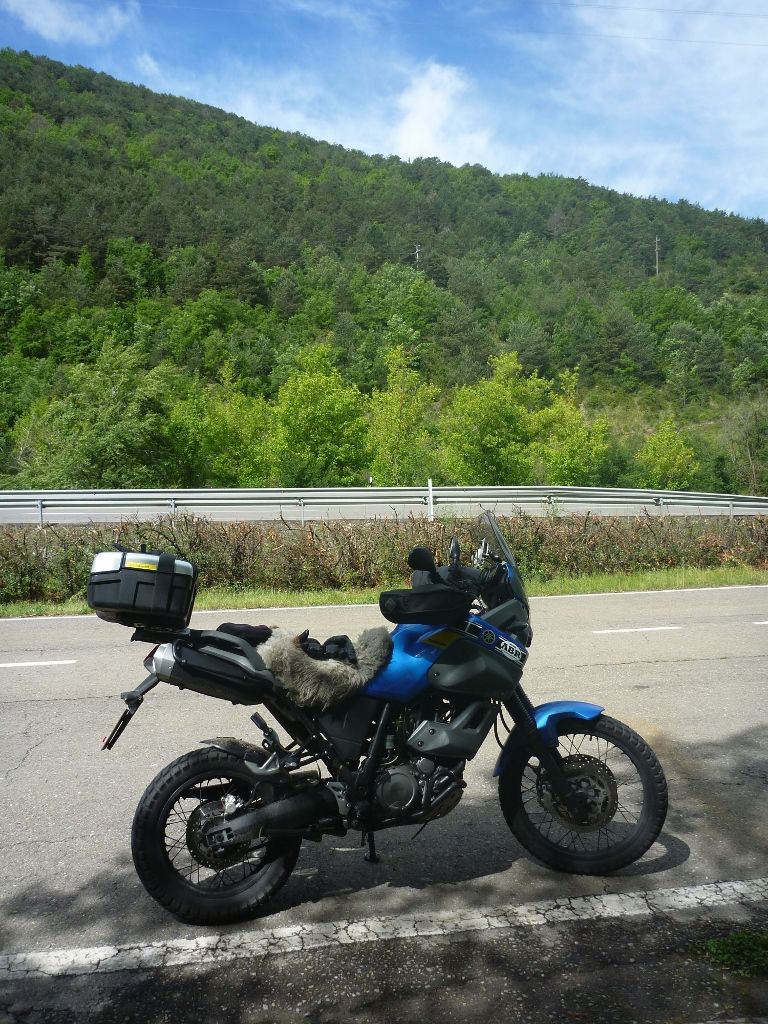 that is more like it - sunshine!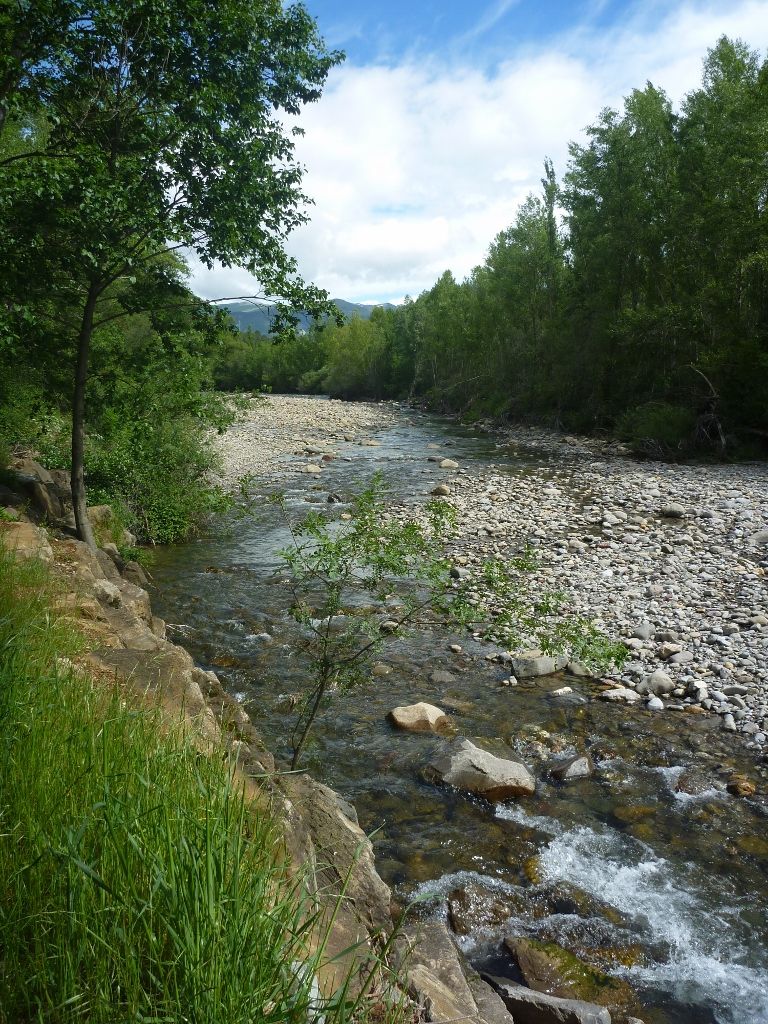 so...... first layby stop. views down by the stream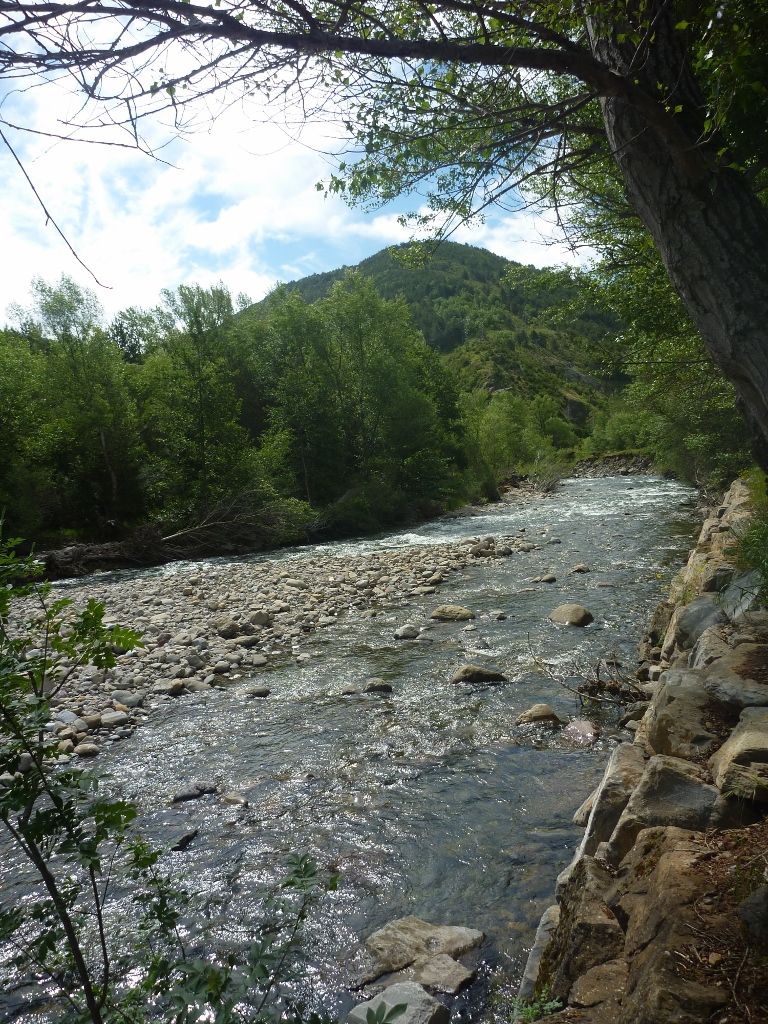 We pulled over at a lay-by to warm up and munch on some snacks – while admiring the views around us and the river below.
So where to go now? We followed the E7 down south to Jaca and then to the East towards SABIÑÁNIGO but this was all motorway and road works so we turned North once more on the N-260a towards Biescas. It was a little cloudy now but nice and dry and the scenery was starting to get better with each mile. Near Biescas we turned onto the A-136, it was our plan to cross back into France via the mountain pass road, the Col del Portalet. Before that though there were plenty of things to see, like the little lay-by overlooking what I think was the Río Gállego, that had a quaint little bridge crossing a deep gorge. More snacks and plenty of photos were taken then we headed further North once more.
quaint little bridge crossing a deep gorge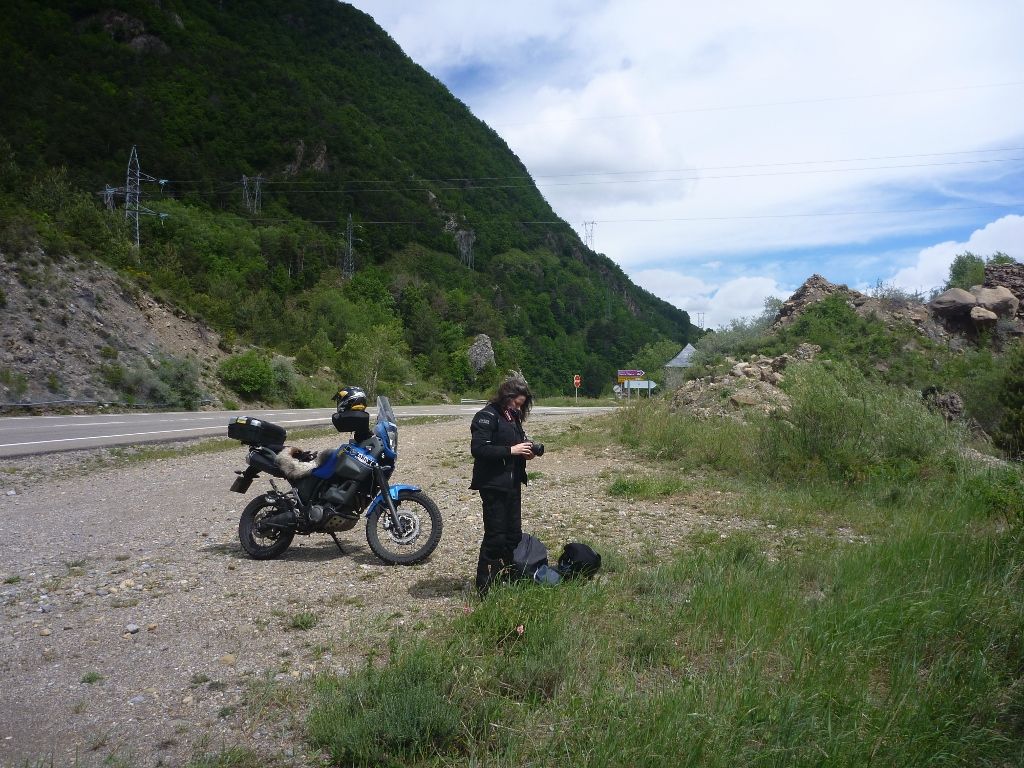 nicky gets her slr ready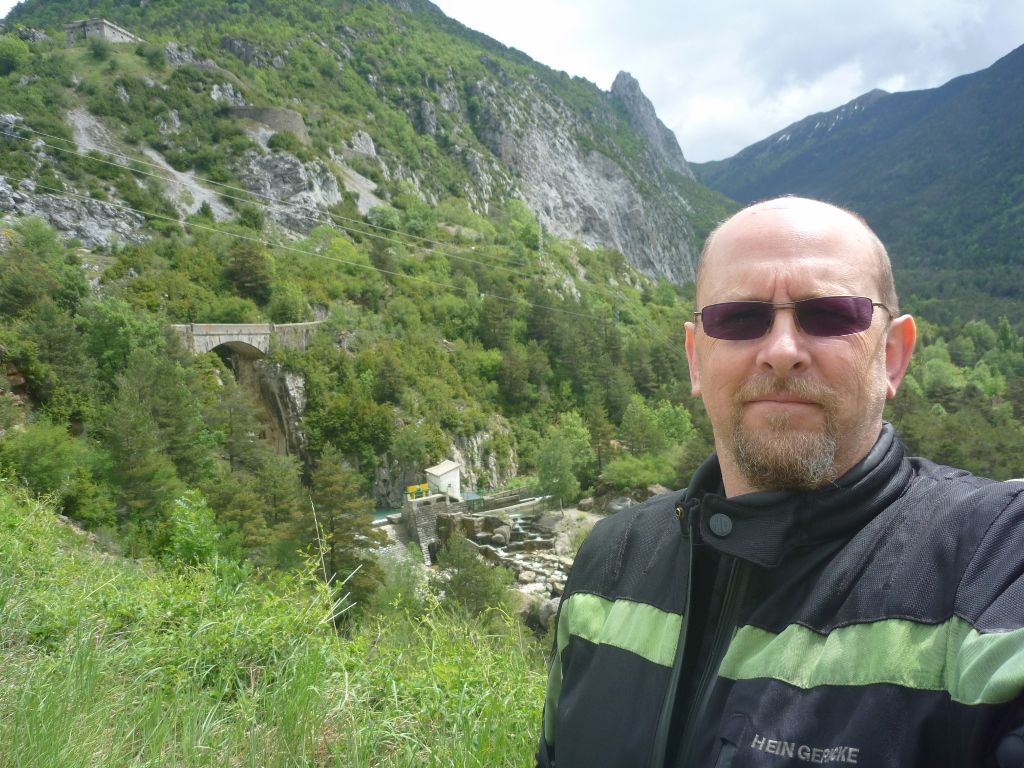 i snap a selfie with the brifge in the background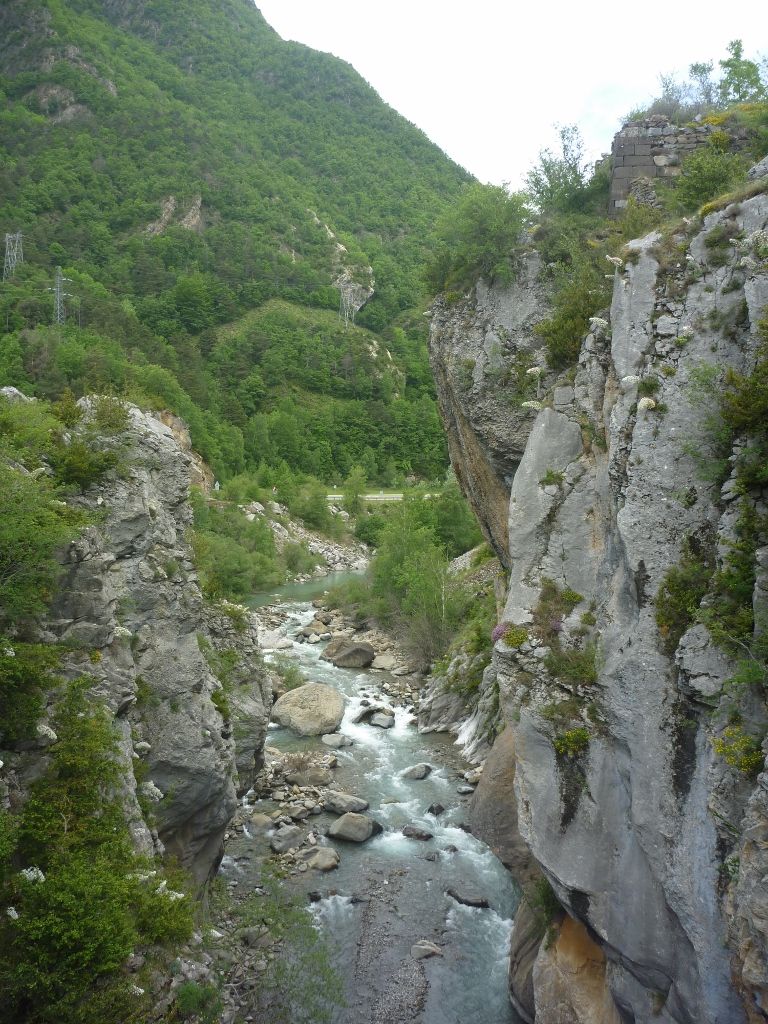 then i walk up to the bridge and take pics down into the river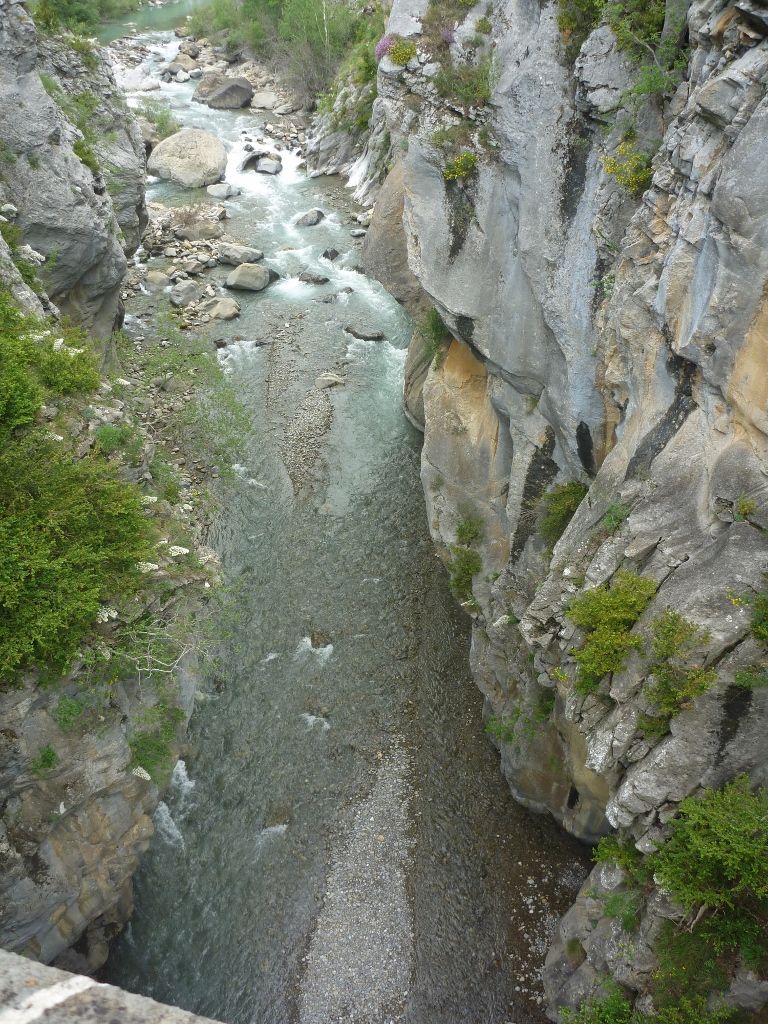 view back to the bike
zoomed in a little
We stopped at a reservoir that had magically coloured water when the sun shone. The clear water and underlying limestone ground make it shine a turquoise colour. I think it was the "Embalse de Lanuza". Reading up about it now it wasn't all magic for the residents of the village of Lanuza, as it was flooded in 1980 to make way for the reservoir! We didn't know it at the time but this was going to be a recurring theme in this area, but we only found this out once we got home and did some research on the places we went to. Apparently Lanuza is a bit of a tourist attraction now, the flooded town that is.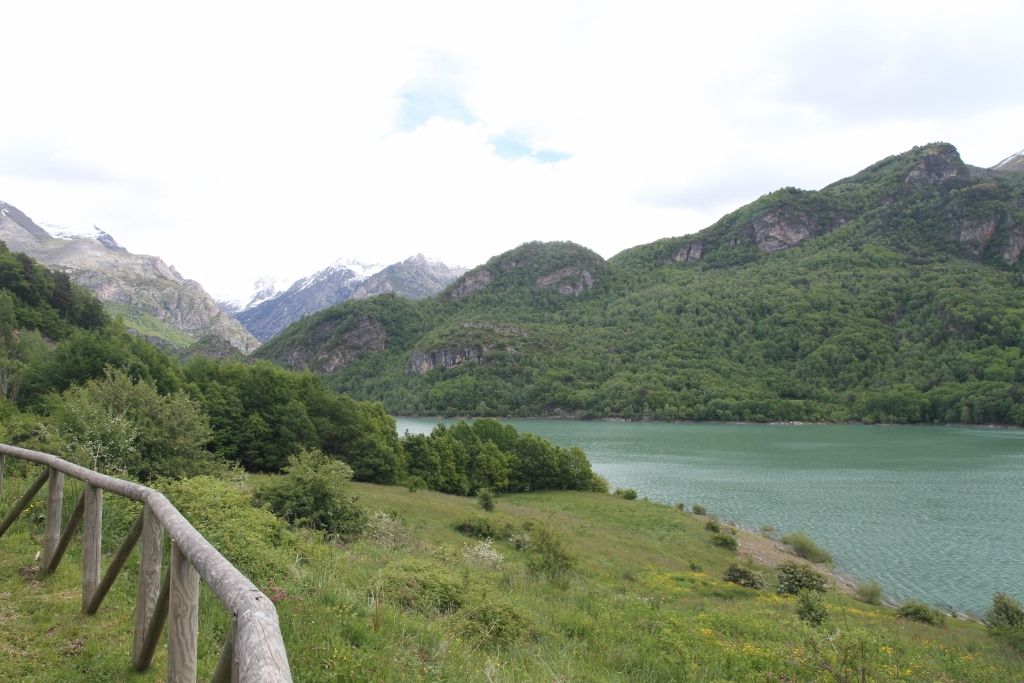 Embalse de Lanuza
Views to the rear of Embalse de Lanuza with some interesting rocks in the foreground and me in the background
looks cold up there!
ski town in the distance
:)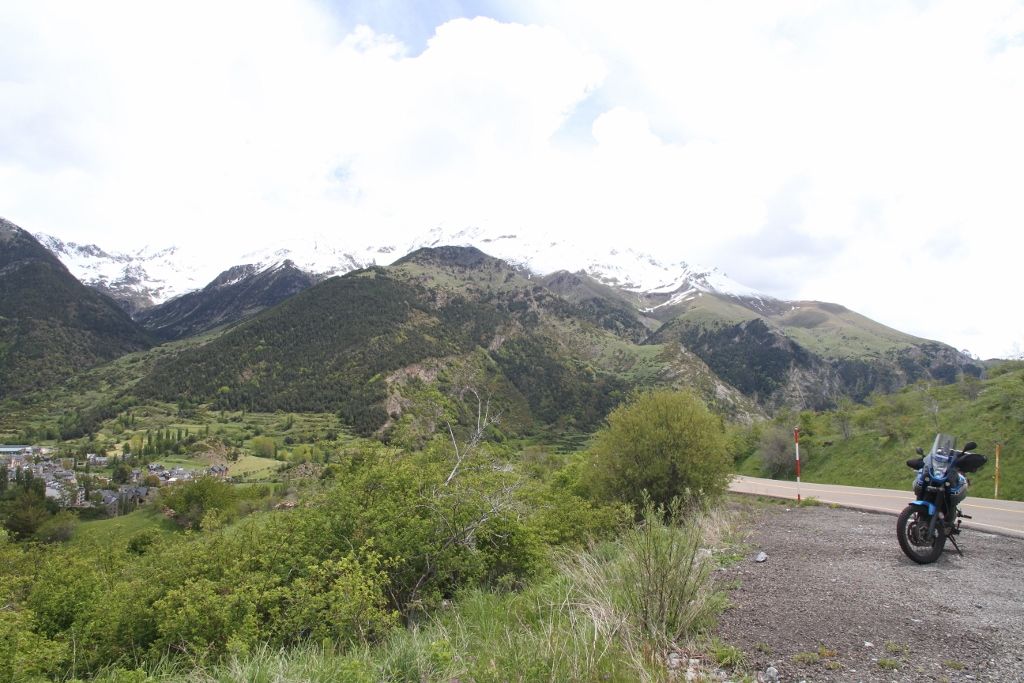 a little further up the 'col'
We carried on up the A-136 and again talked about how most of the towns are only geared up for the ski season, most places were shut. We were now following the Río Gállego that was to our left and the mountain views were great. The road was undergoing plenty of widening and upgrading and I remembered Marie complaining that the Spanish were getting plenty of cash to build roads!

Not far from the top of the Col del Portalet there was a handy little fuel stop/restaurant and we chilled out in the sun on the balcony overlooking the Río Gállego drinking coffee and admiring the snow-capped mountain tops. 2.60 euro for two coffees not bad at all and it was good coffee too. Pity the cups are so small in Europe – even if you ask for a 'big one'!
At the border crossing (which has stopped being anything of the sort long ago now) we pulled over in the car park for more photos. There was plenty of snow lying about and we pulled over on the bike to touch the somewhat tired and dirty snow – but it was still snow!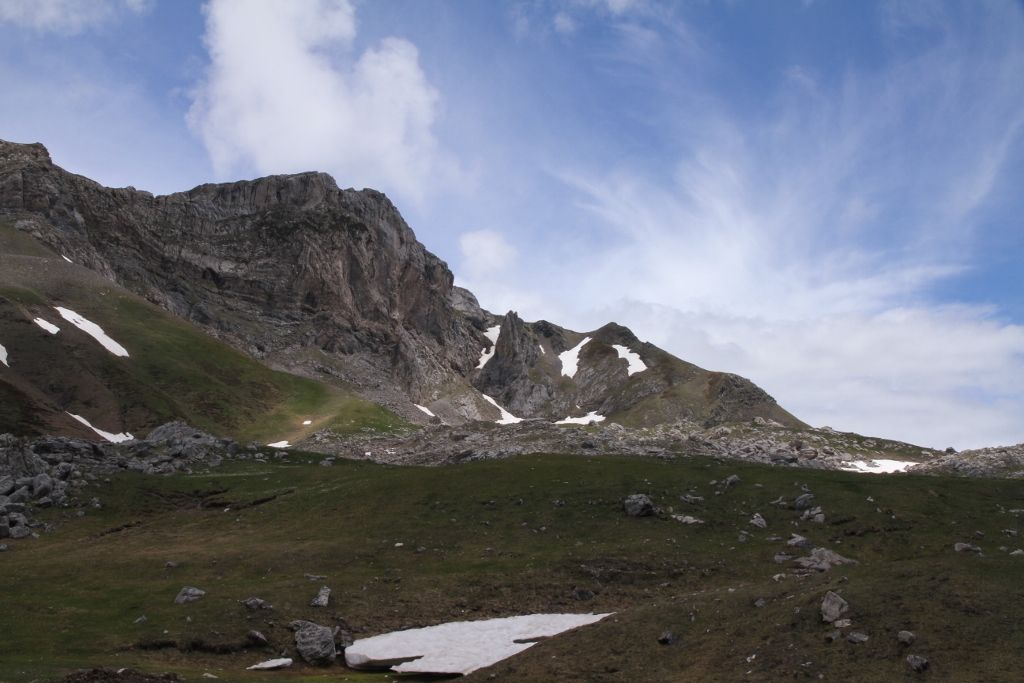 at the top of the Col del Portalet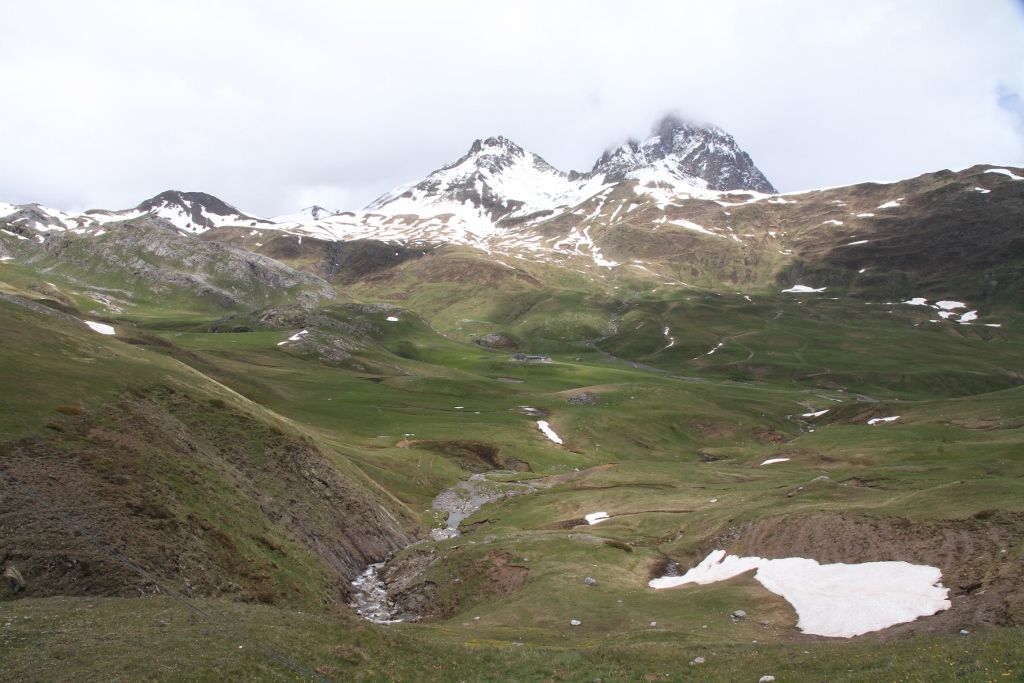 and view to the other side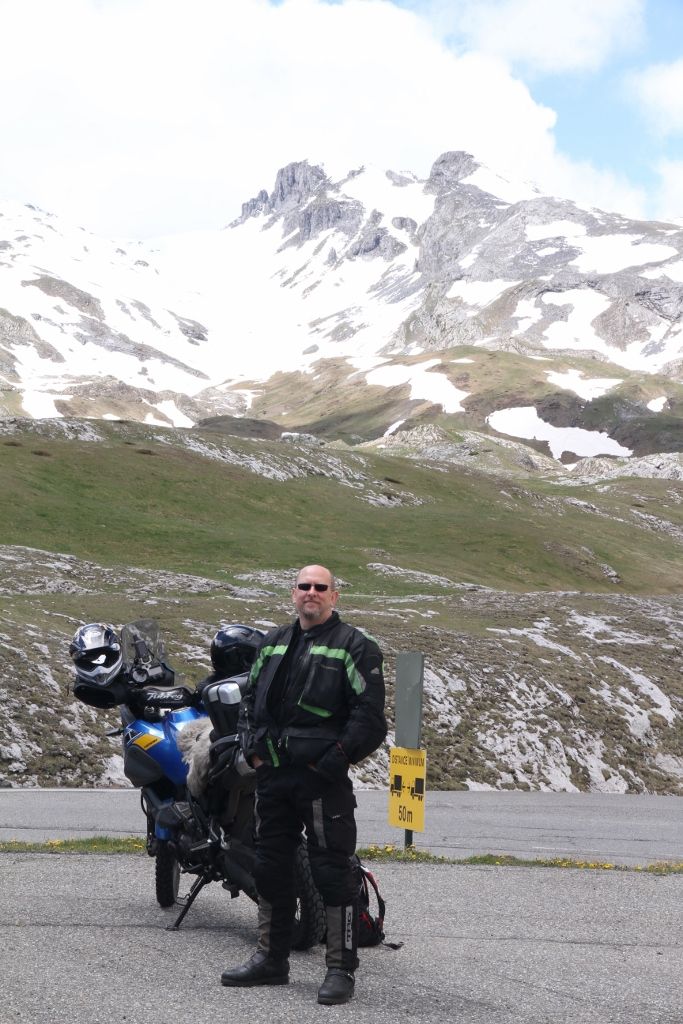 Nicky heads off to photograph rock n stuff - I wait patiently

The road changes into the D934 on the French side and we took it nice and easy on the tight roads plus we were stopping every five minutes to look at views. Initially we had the Gave de Brousset (river) to our left and once again the water would light up a turquoise colour when the sun shone. The road also had several little protection mini man-made tunnels to catch mountain tributary run offs. We stopped at a lovely spot for a break and chilled in the sun on the grass for a while, well I did, Nicky was off photographing rocks and the river (while I munched on crisps).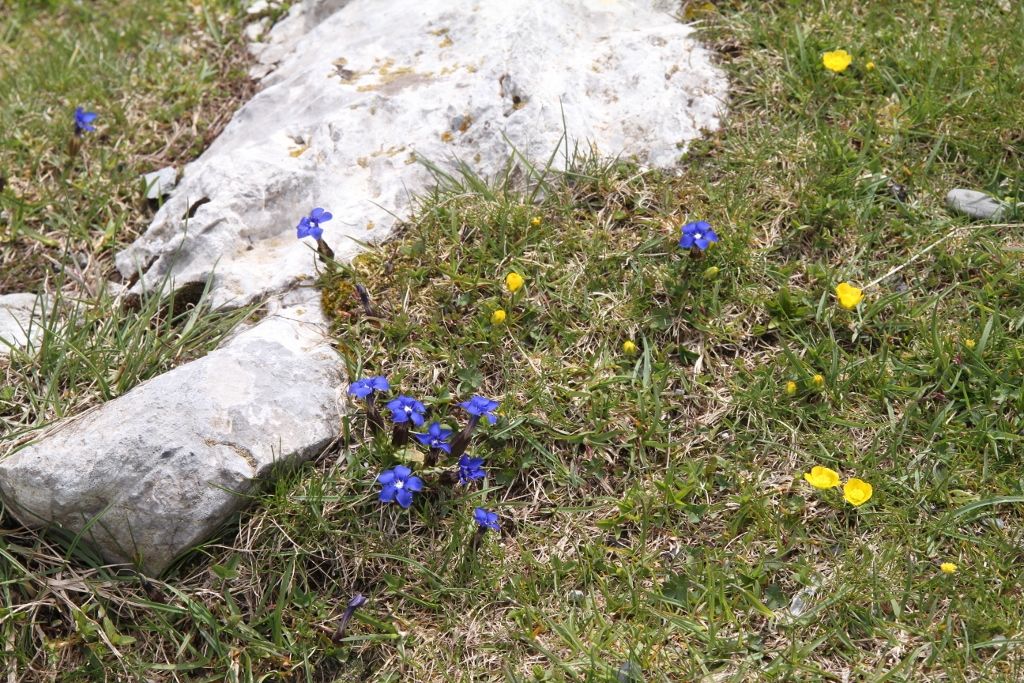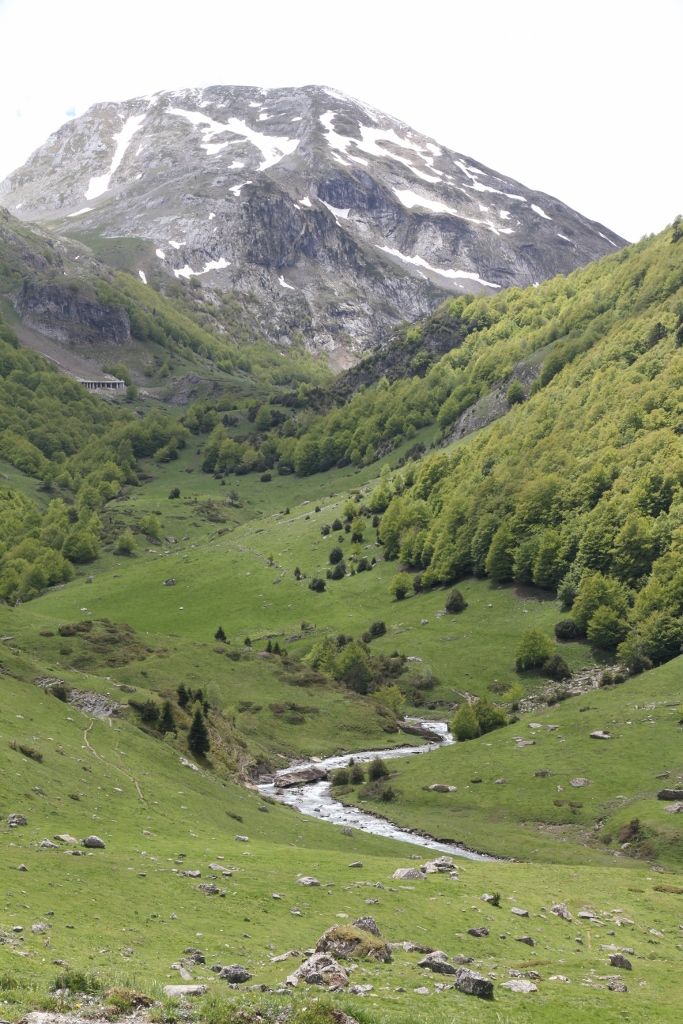 Heading further north we passed the Lac de Fabrèges – another beautiful expanse of water with an impressive looking dam wall. The road had some equally impressive tight hairpin bends right by the dam wall too. Someone clever had painted bear paw prints up the side of the dam wall. No doubt to highlight the fact that the area has links to bears – ironic that most have been shot and in fact there are only approximately 20 bears left in the whole of the Pyrenees. The river had changed now changed to the Gave d'Ossau (river d'Ossau) and was now on our right. Along the way there were quite a few smaller hydroelectric dams. We stopped at an idyllic little picnic spot with a little meadow for lunch. Right by the stream was a warning sign which informed / warned anyone from going down into the stream bed to fish or swim as the flow of the river can increase 200% within one minute! I think this was due the hydo dams.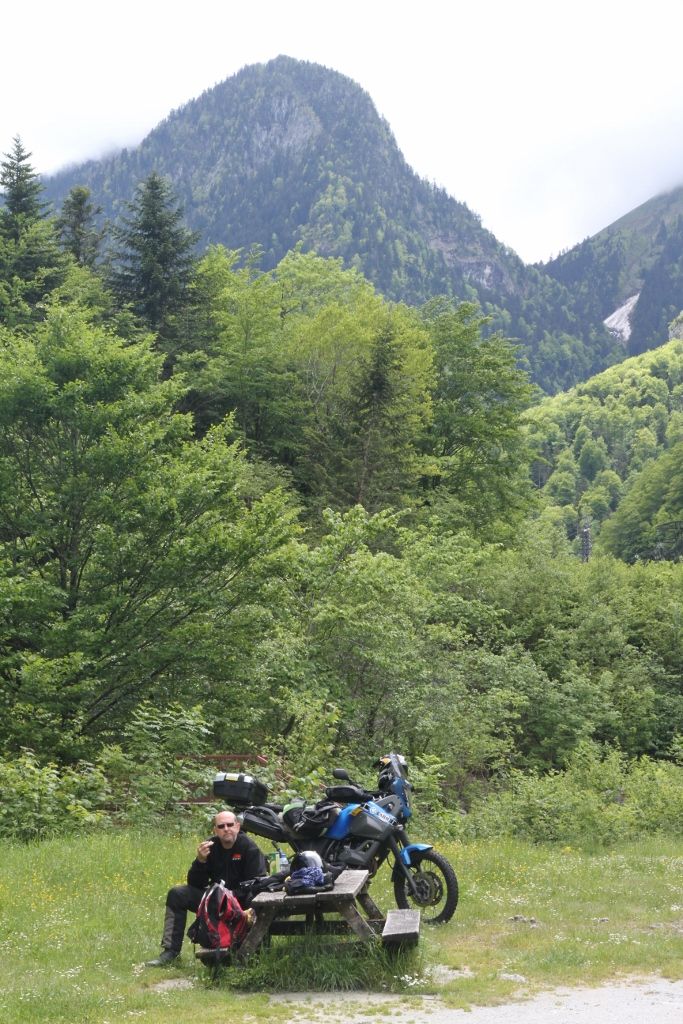 i chill for a bit while Nicky shoots the photos below at our picnic spot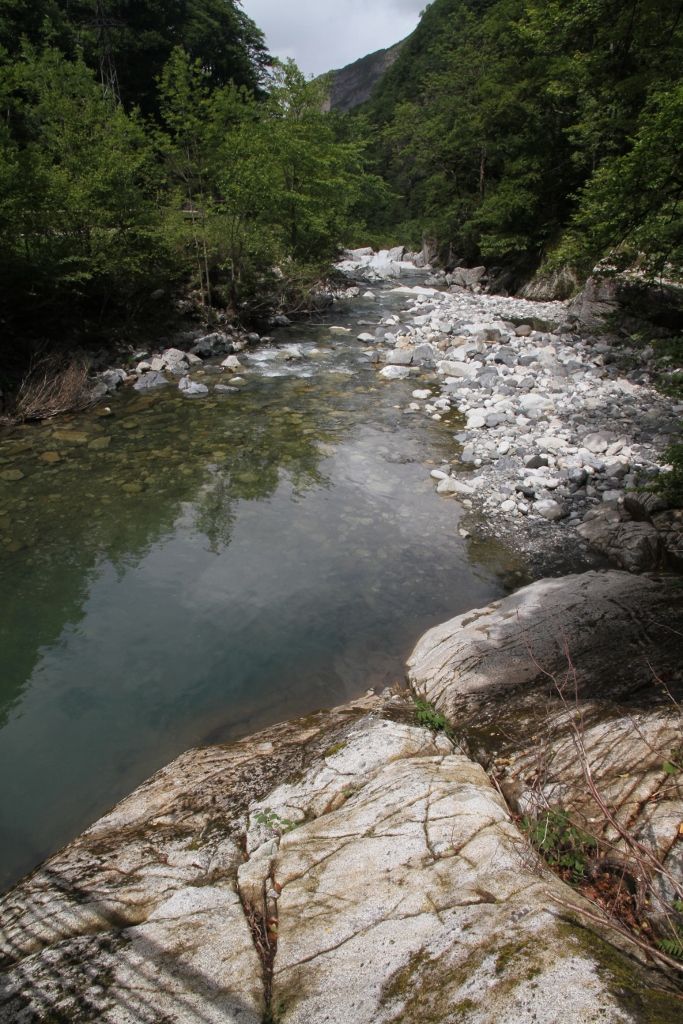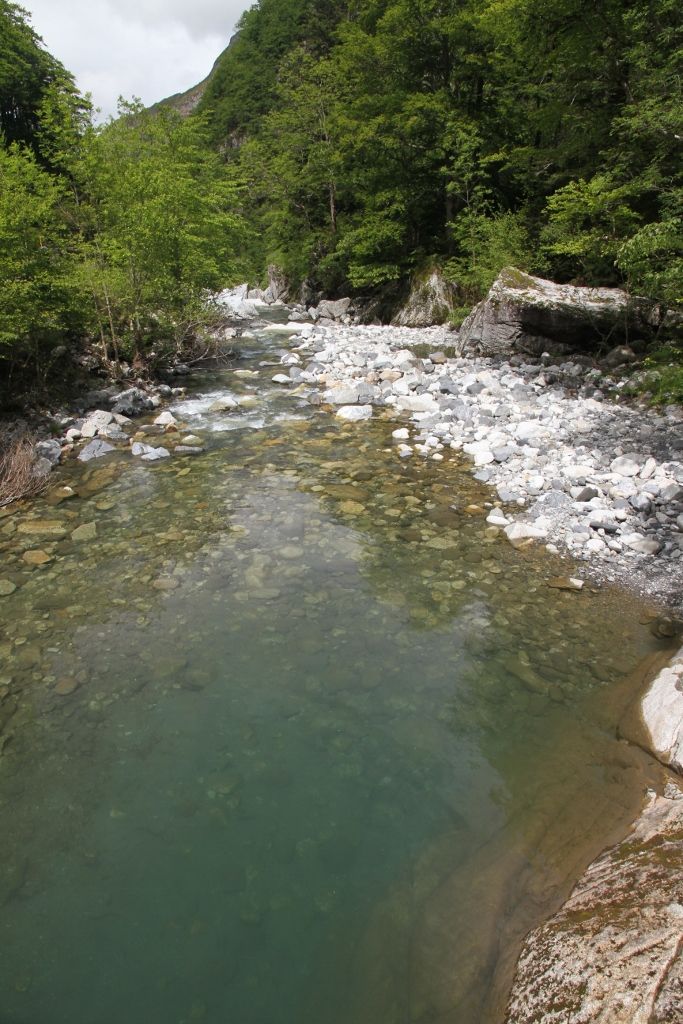 i also took some snaps below.....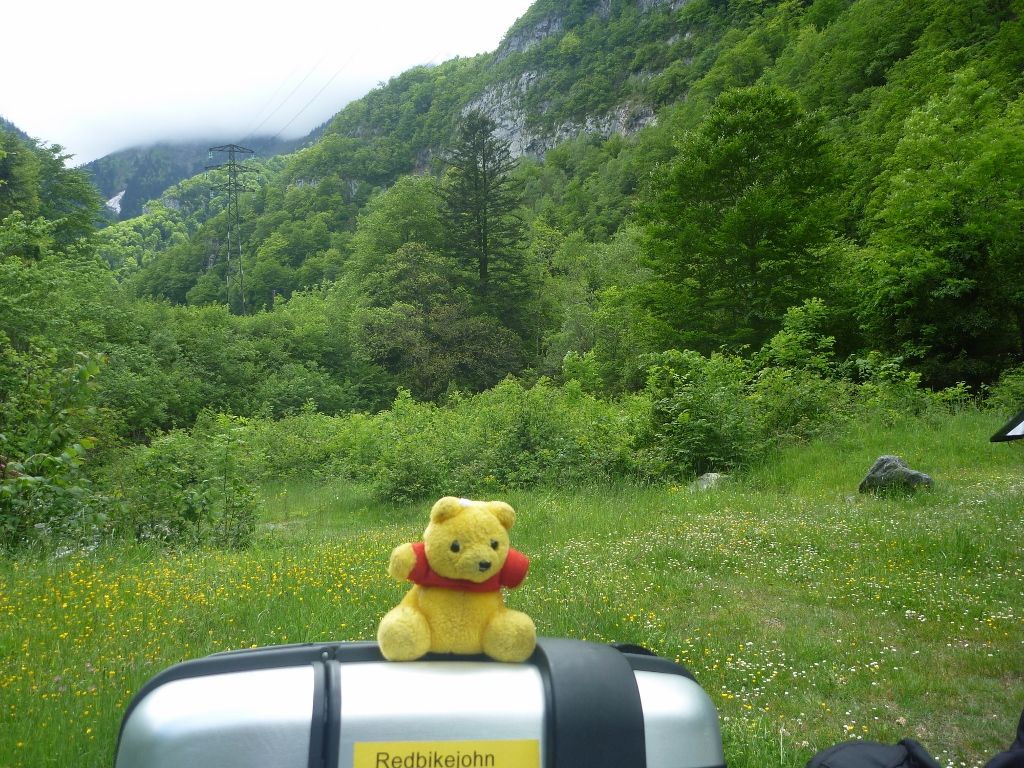 Nicky's travel teddy goes everywhere with her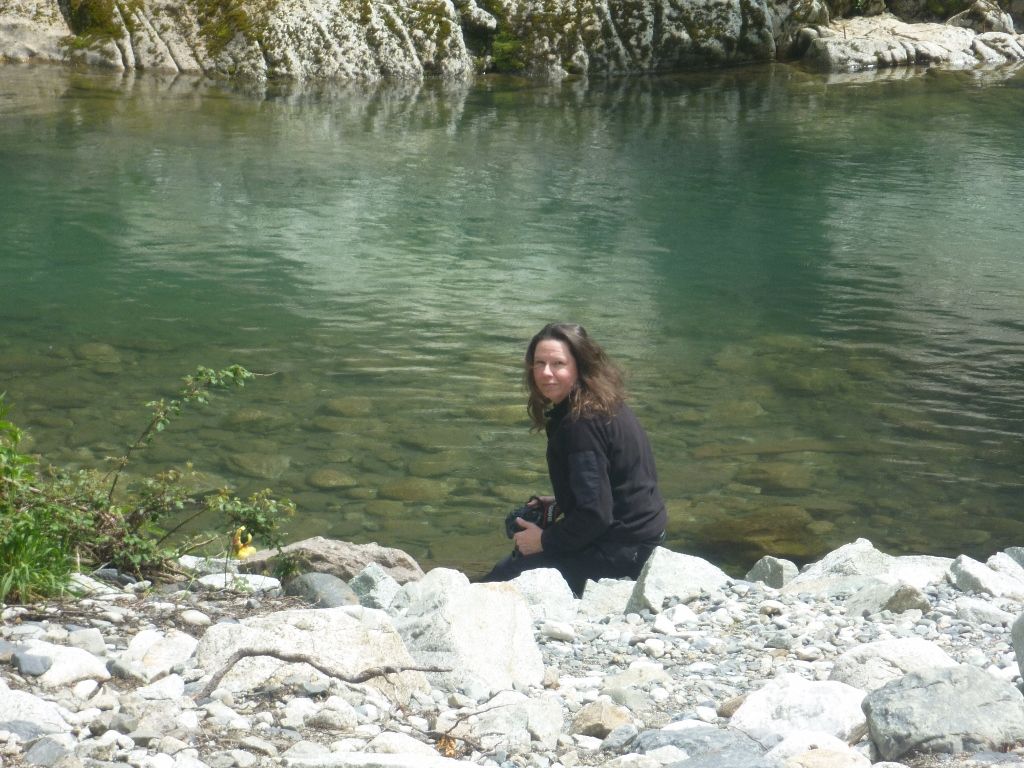 very rare shot of Nicky
We had to head further north than we actually required as there were no roads heading directly west back to our digs until we got to the D294 near Bielle. Turning off the D394 onto the D294 and the road became a little smaller with tighter hairpin bends and a lot of woods to either side of the road. We were still hoping to see a bear or some sort of other wild animal (other than the plentiful raptors) on these back roads but we were out of luck on that front. Cresting one of the passes we stopped for a break and walked up a dirt track for a better view of the vista. The views were fantastic but the highlight was a great view of a griffon vulture as it glided past us very close and at the same level to us. We continued to climb the track on foot and it was no easy task in big bike boots and gortex gear, especially as the sun was shining!
Walking back down there was a noticed board and the text informed us that a group of resistance fighters either held out there or sought refuge there from the Nazi's in ww2. Eventually it was time to go and we continued until we hit the E7 and followed that down to Bedous to pick up something for dinner then back to the D241 which would take us back to the B&B and a warm comfy bed for the night.
Explain B&B....
we go for a walk, looking back down to the carpark where the notice board was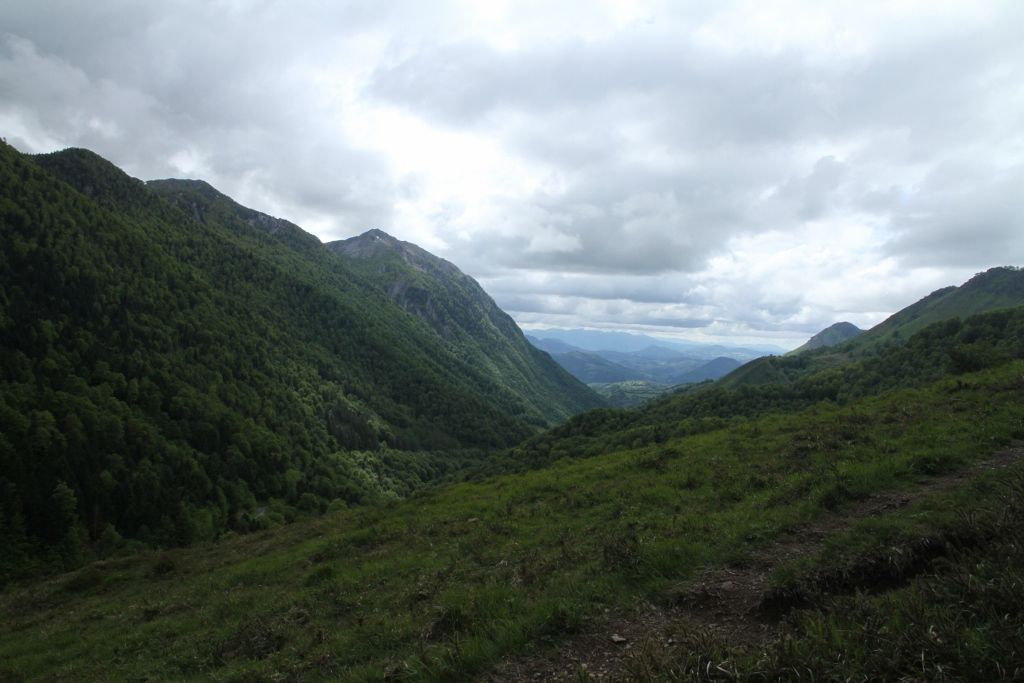 views down the valley
Day Four

Today we were going to make for a particular tourist destination the Cirque de Gavarnie. This entailed an extensive hike to actually get to the cirque after parking so we took the panniers with walking shoes etc. After another decadent breakfast we set off retracing our steps from the previous day but turned off the D934 (which heads down to Spain) onto the D914. The road was interesting with plenty of tight bends. Just before Gourette we spotted a park 'n ride for the winter ski lot. We followed the gps into Gourette (another ski ghost town) and out again on the other side – where we hit a little hitch – the road was closed! I turned around then despite complaints from the rear I did another about face and went round the closed sign saying to Nicky that we'd just go and have a look, if the bike could squeeze through whatever was blocking the road then we'd be fine. A couple of turns later and the road was completely closed off with barriers and we could see diggers etc. so we had no choice but to retrace our route again and head back. So change of plan – we'd head into Spain again on the D934/A-136 and do some exploring.
bit of a waterfall above the winter 'park n ride' car park
We had a nice trip back over the mountain and stopped again several times to photograph the little tunnel roof things and also the river. Once into Spain again we pulled into the garage/restaurant that we' d previously stopped at and filled up with petrol and then chilled on the balcony in the sun with another cup of their coffee.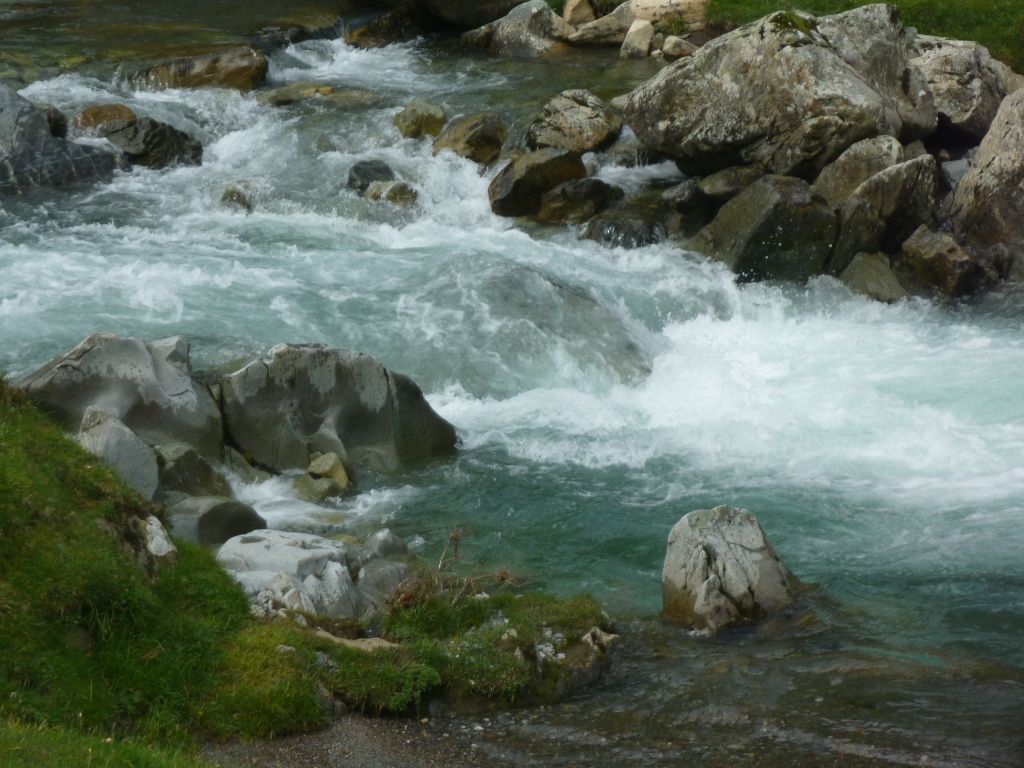 the river where we stopped the day before - i love the coloour of the water
the little man made roof thingies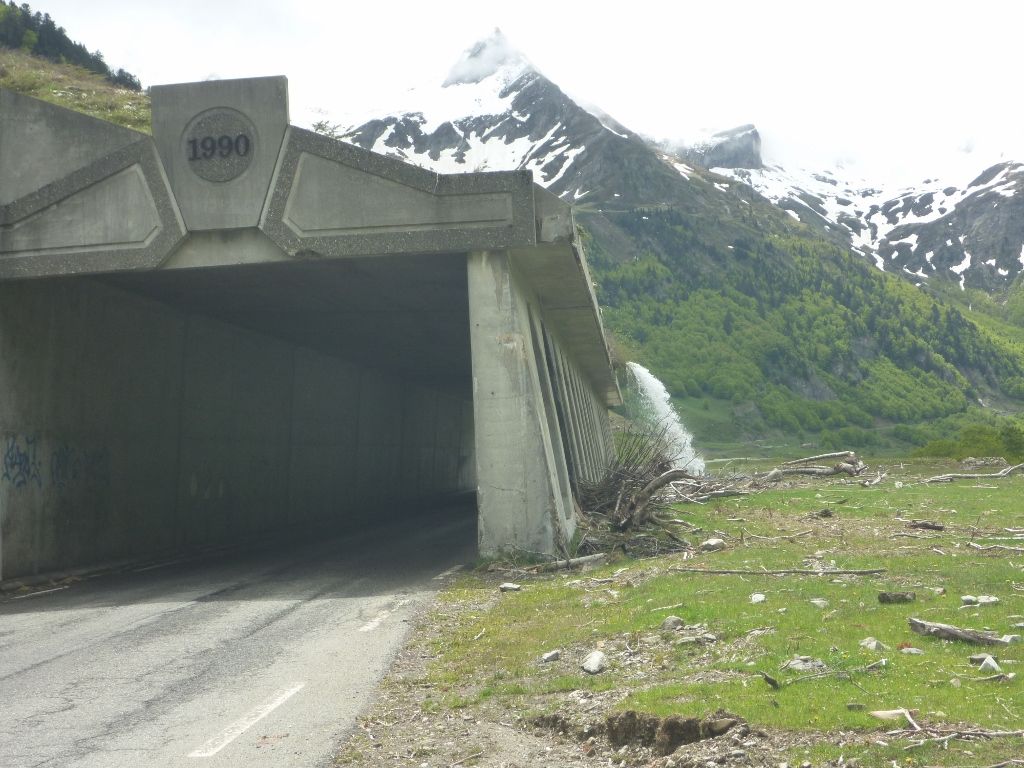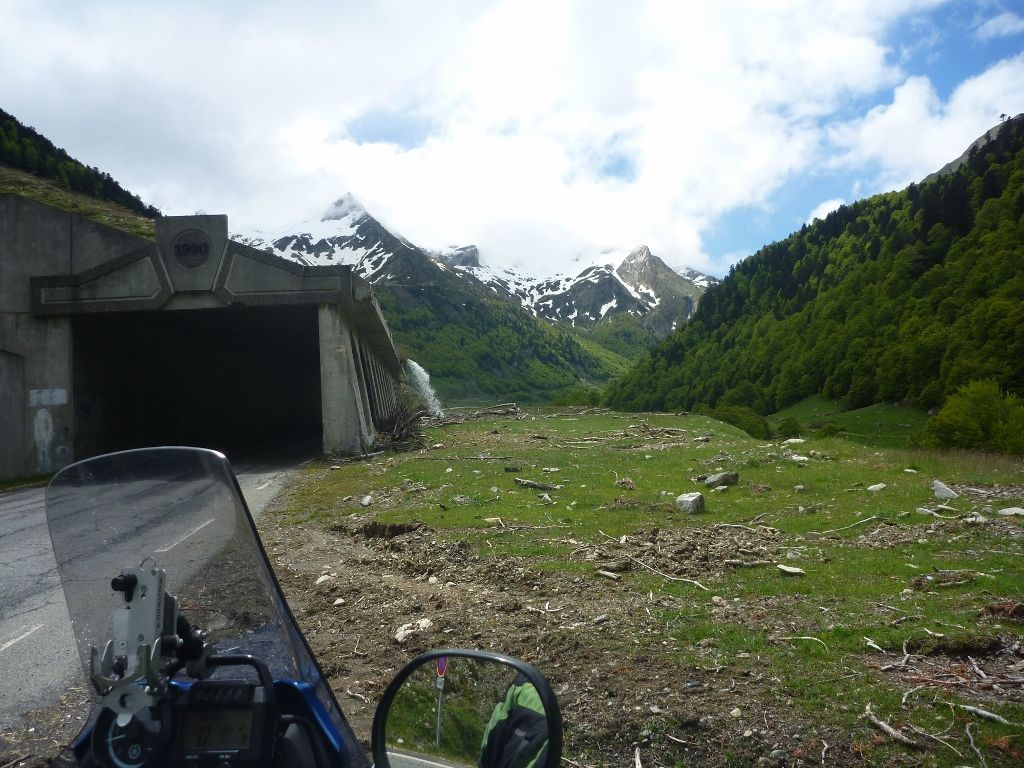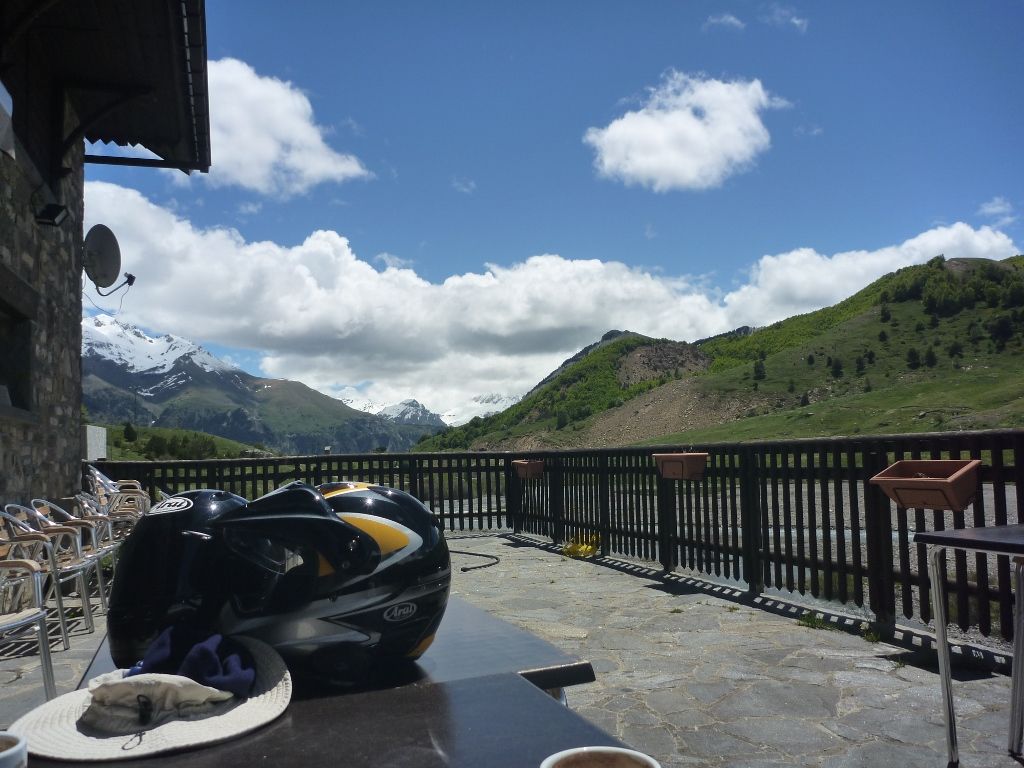 time to chill in the sun for a bit and drink coffee on the balcony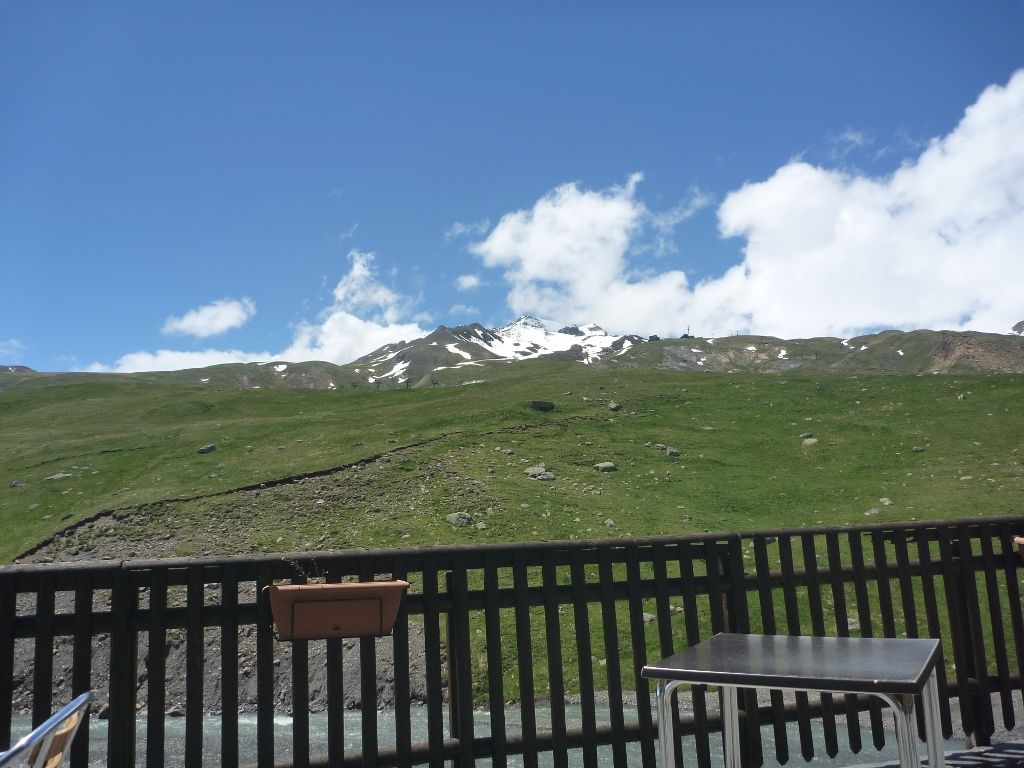 A little further on we turned off the A-136 onto the N-260a at Biescas. The weather was greatly improved now and we cruised along passing a town called Gavin of all things – very Spanish? The road here was fantastic. The surface was good, weather was warm and sunny and the views amazing – we eventually got what we wanted! The only problem was stopping every two minutes as we found a 'must stop' view around every second corner! But we had no agenda or need to get to another spot at a certain time and no one else in the group so we stopped often and took in the sights – especially more of those amazing turquoise rivers like the Barranco de Lanaza to our right. Heading in the general direction of Torla – in some sections the drop off to the right was something to behold. A small two foot high wall was all that was stopping a plummet to a squishy end. You know it's steep when you can see the tree has a thick trunk and it's only a few metres from the edge of the road – and you are looking at the top of the (pretty tall) tree!
we stop in a lay-by and its time to take some layers off .....its getting warm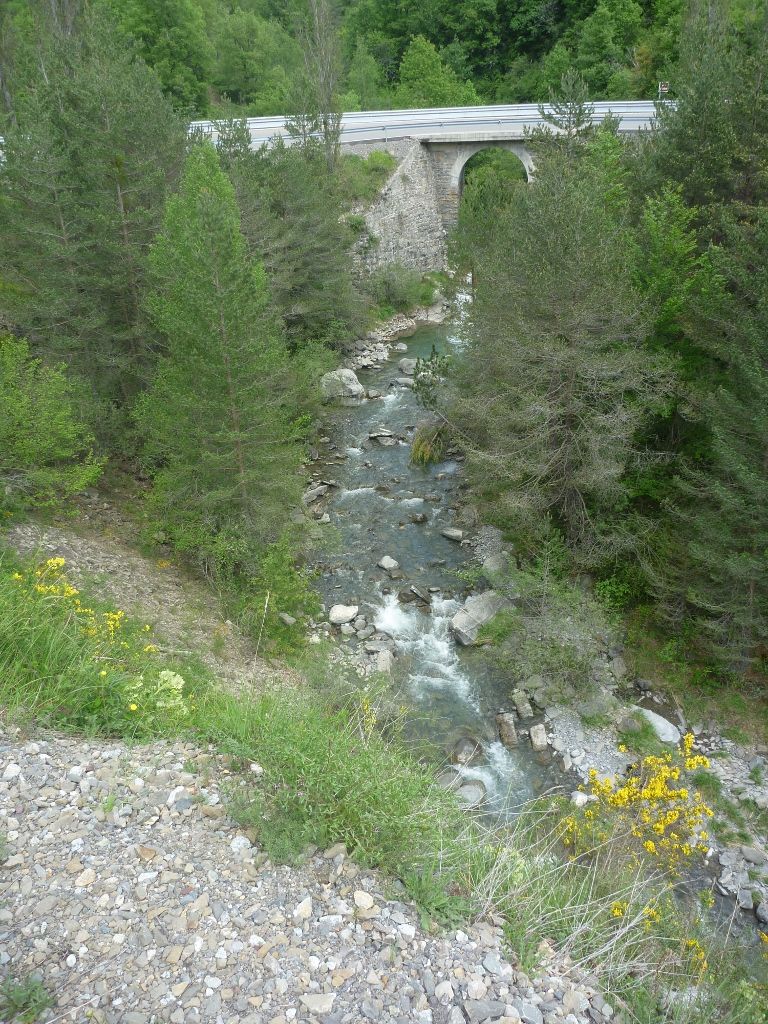 quick snap of the view down into the valley / river
a little further on we stop again
we get our first hint of ordesa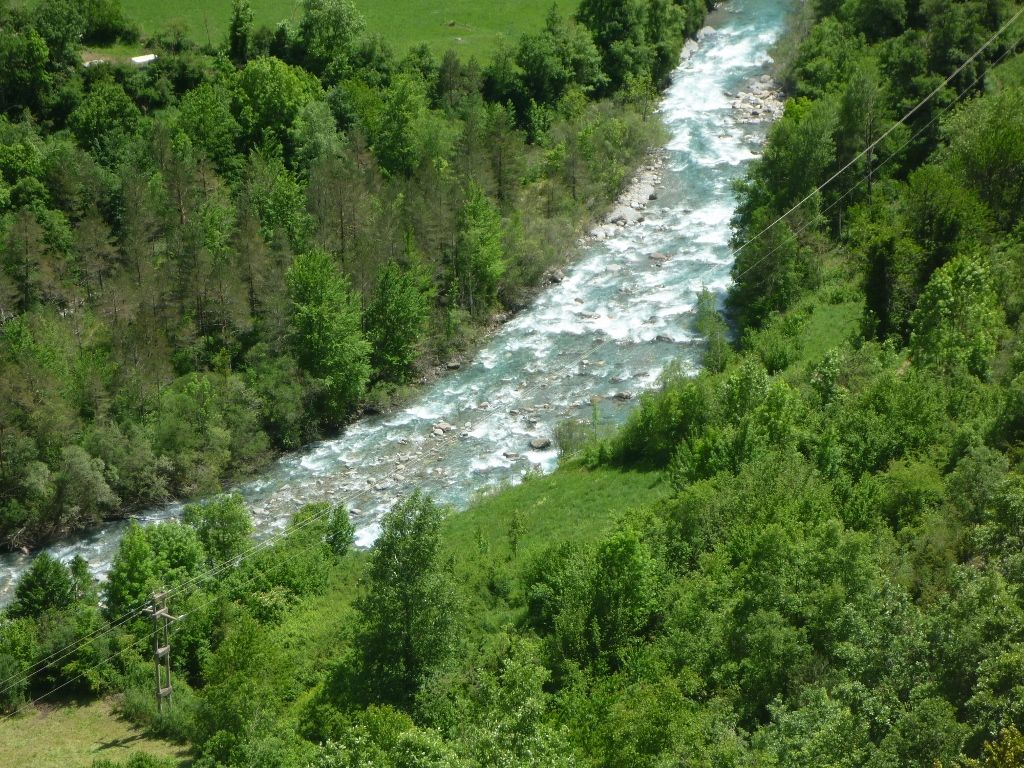 Eventually the road turned South at the Rio Ara but we turned north towards Ordesa on a smaller road. We followed this until we eventually got to the car park at the end and here we changed into shorts and shoes, bought an ice cream in the little shop and went walkies for a while. The views of the towering cliffs were breathtaking and no photo can do them justice. We walked down the road for a while then crossed over a little footbridge (the river was now the Rio Arazas) and followed a little path back up to the larger footbridge by the car park. I spotted a woodpecker at one point so that was a nice little bonus.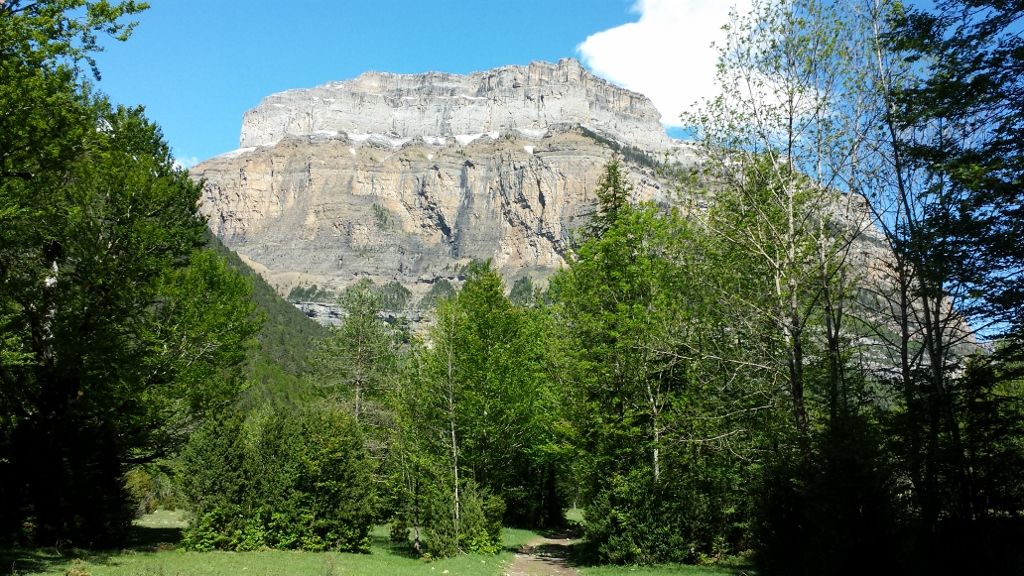 this series of pics are taken when we were in the Ordesa parking area and went ofr a walk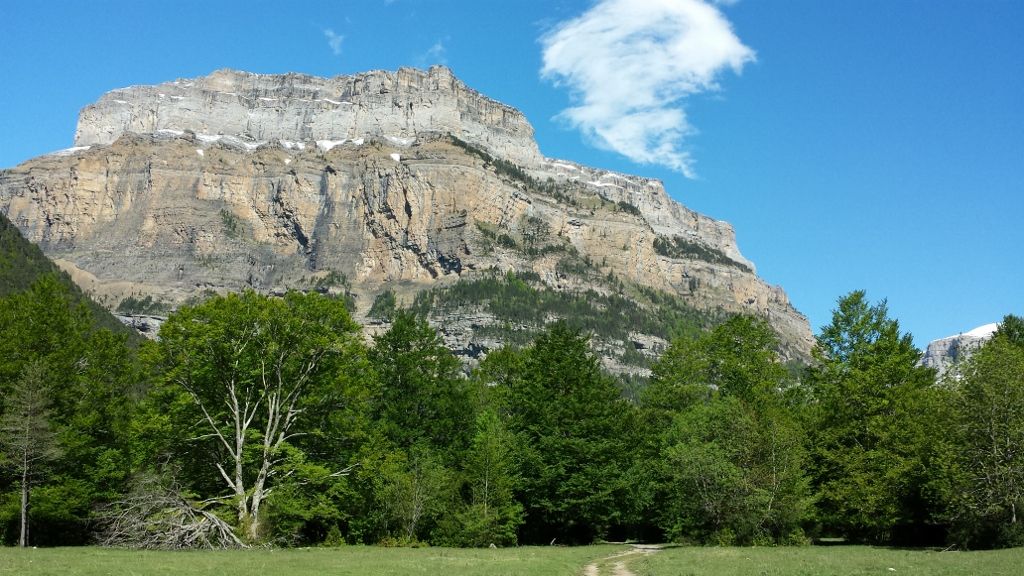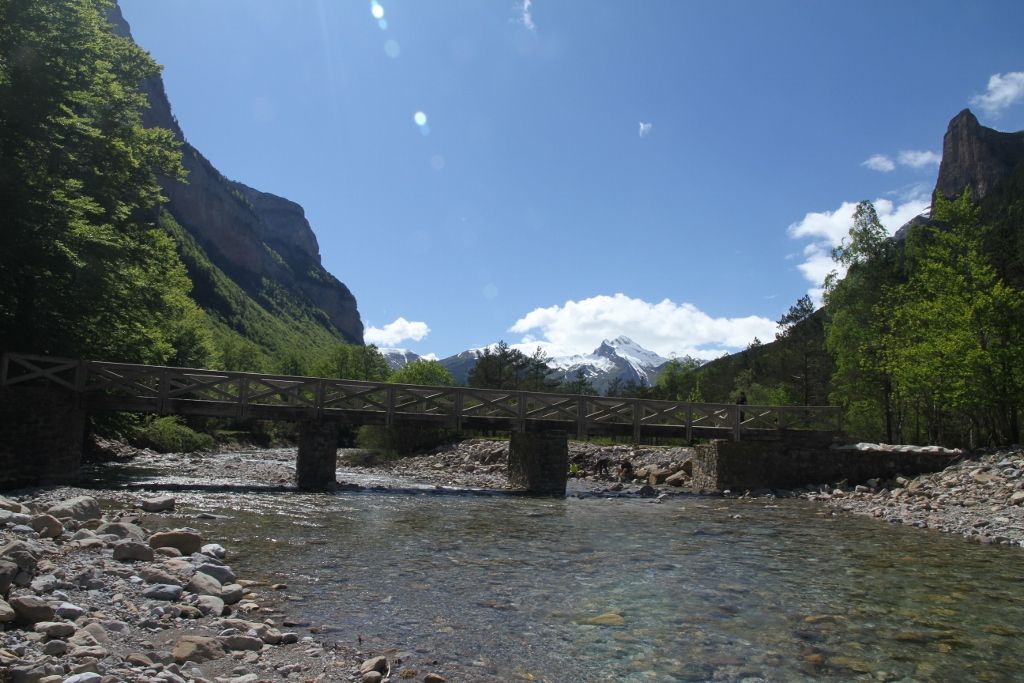 Back in the car park we spotted some little lizards basking in the sun on the rock wall by the path. Another coffee and it was time to start heading back. We had a quick discussion about which way we'd go i.e. through the tunnel further west or back over the top of the mountain via the Col de Portalet. I suggested over the top as it's a nice run and I enjoyed the ride – so we set off on what was to become a bit of a nightmare journey. Once we got into the French side the rain started and never stopped all the way back. Not just gentle rain but proper hammering down rain so there were rivers running across the road. It was cold, getting dark and conditions were frankly - pretty dangerous. The lovely small winding roads we'd travelled over previously now turned into horrible tight dodgy roads with streams running across them. There was nothing for it but to press on and get it over with but Nicky was having a hard time of it, she was cold and scared as the drops to the side of the road took on a whole different perspective in these conditions, the intercom was active for a lot of the time and I could hear whimpering through the headphones – funny now - but I felt sorry for her at the time. We survived the day and after tucking into the remaining bits of food we had, followed by plenty of chocolate we fell into bed.
Day Five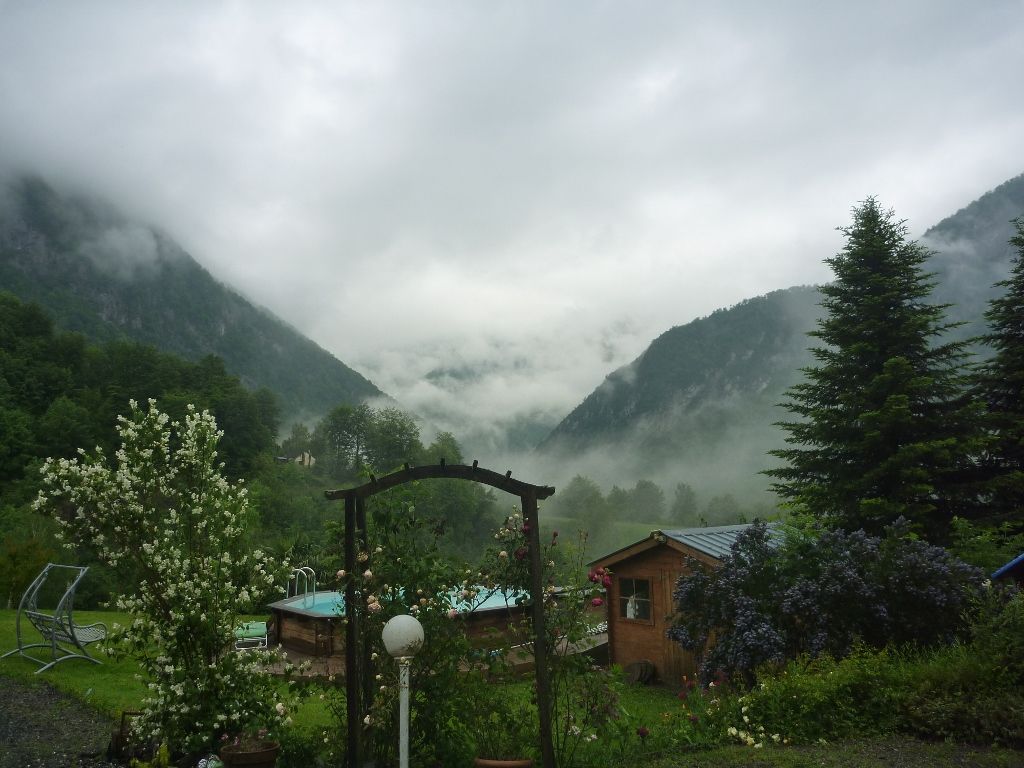 France is it wet and cold so guess where we are going!
It was back to Spain today to see more of the Torla area. The views were so brilliant we just had to see some more of them. We travelled along the N260a again but at this time instead of heading toward Ordesa we turned South to Broto and on to Fiscal where we turned left onto the N260 proper and this part of the road was one of those sections that take so long to ride as we were stopping every few miles for photos. There was so much to see, the river below (Rio Ara) was doing its turquoise thing in the sun, but it was fighting for attention by the truly amazing geological strata that had been turned every which way.
we stop for more snacks (yes again) and more photos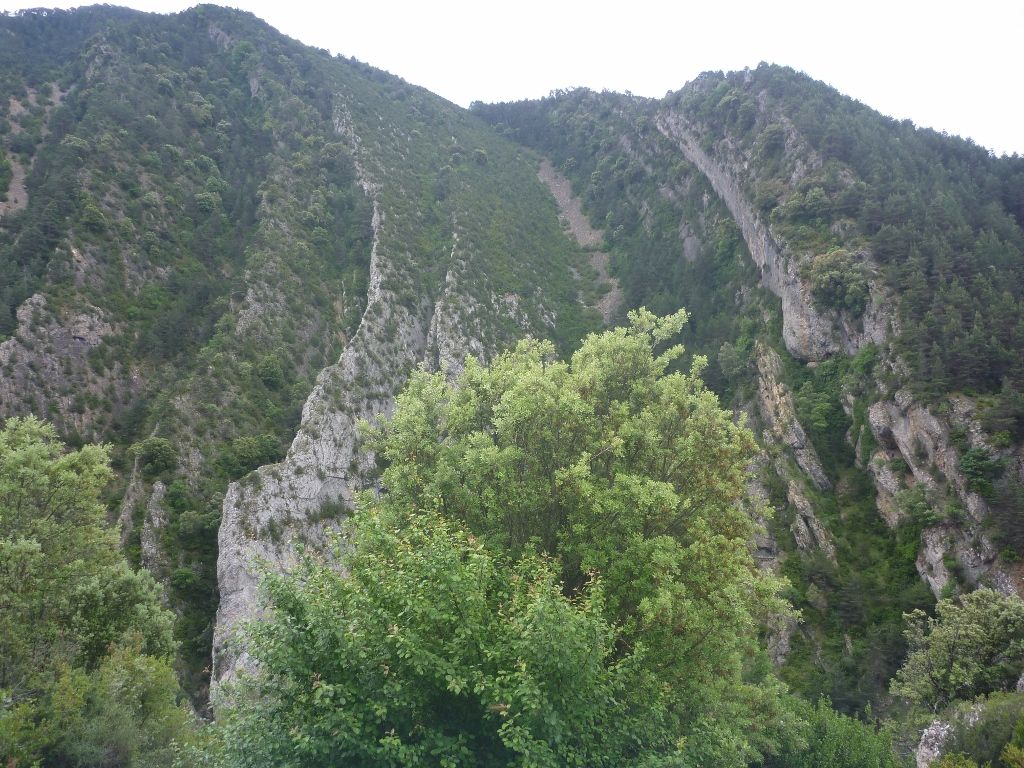 this pics shows just how much the rock strata has been bent and lifted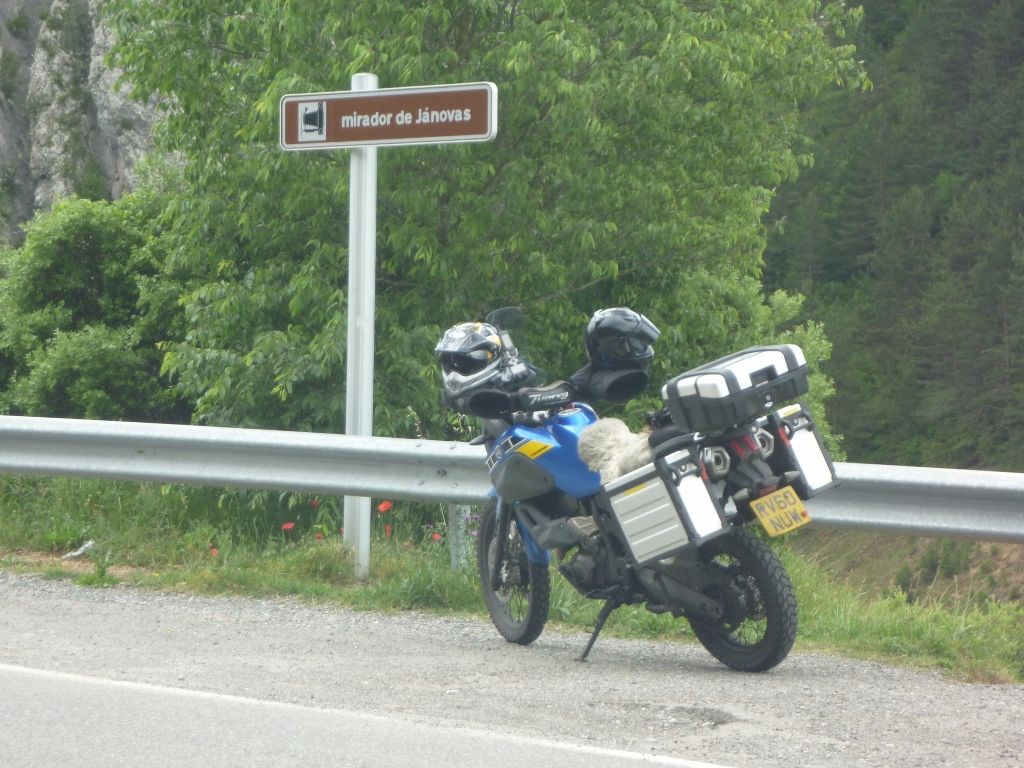 this series of pics is taken from the viewing area down in the....
" miradoe de Jamovas"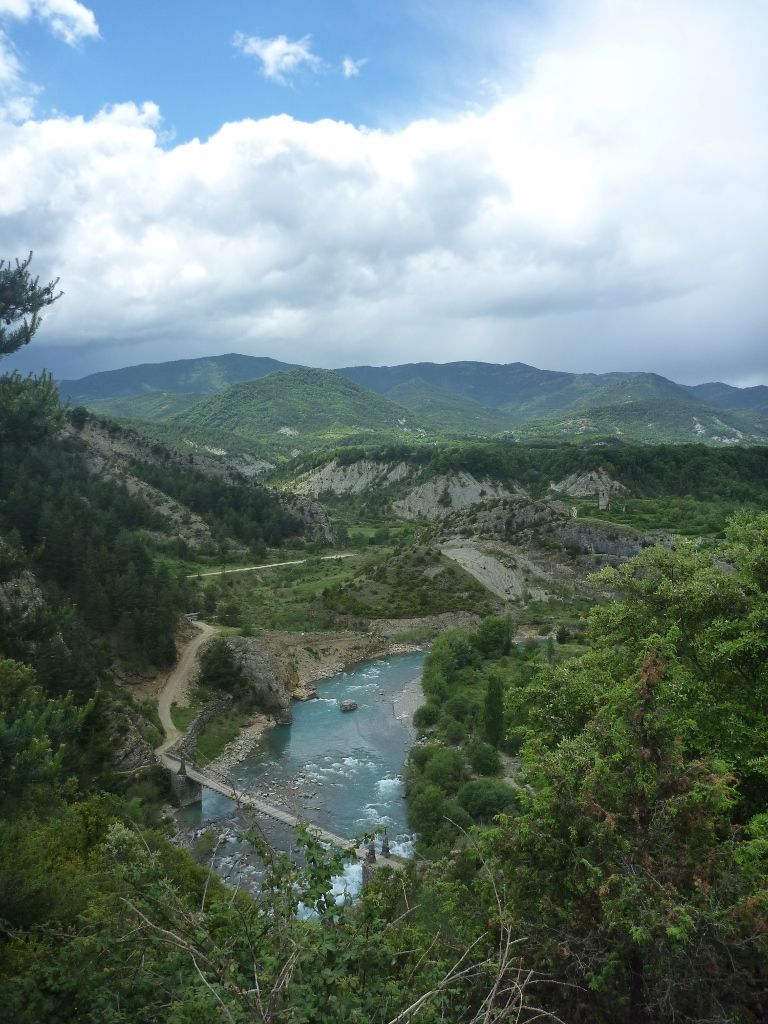 The differing layers of rock with their alternative hardness left the landscape with once horizontal, now sub-vertical ridge stripes proud of the rest of the rocks. We also noticed a fair amount of village ruins. Looking down into the valley with the magical river below and its ruins I took a snap of the signpost so I could look up about it later. Unfortunately this area has a rather unsettling history. The people of the villages were forced (coerced) to move to make way for a dam! The houses were dynamited as they left – while neighbours still lived nearby. The dam was never built in the end and there is still an ongoing fight for compensation. I found an internet blog that shows the village here: we didn't go down to it as we carried on looking for more interesting views........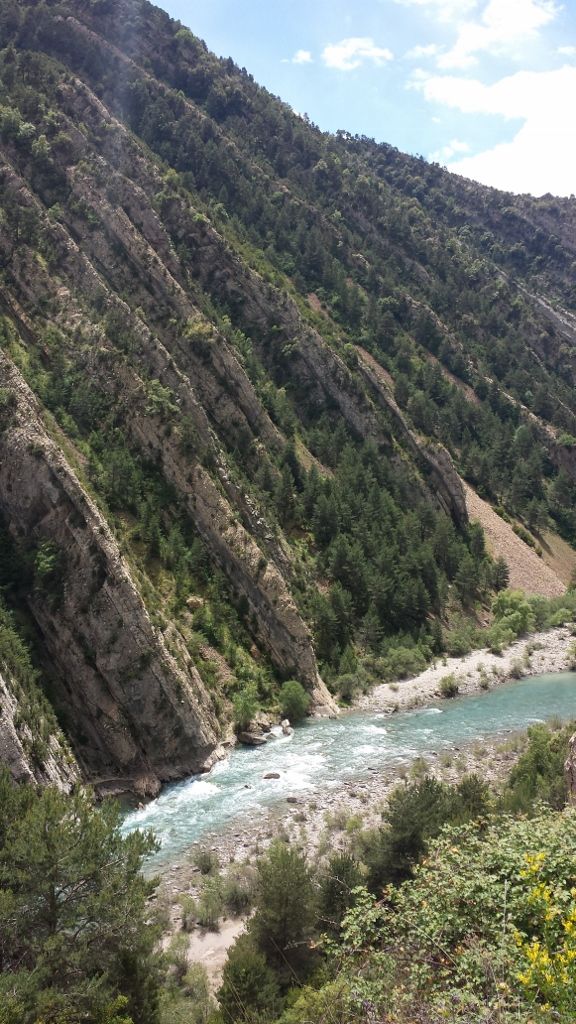 within 100 yards we've stopped again for more pics

Just down the way, the road went through a short little tunnel. Off to one side was a little side road that looked to be decommissioned. Once we were through the tunnel we decided to do an about turn and try the side road to get a better look down onto the river as the views were so good. We sneaked back and I turned down the road with I think a sign that said something along the lines of 'official vehicles only' but as it was in Spanish we decided to do the good old – 'they don't mean us' trick and headed round the bend. I'm glad we did too as the view down to the river was well worth it. Nicky walked while I stayed on the bike and went slowly made our way around the corner snapping pics of the water swirling between white rocks. The cliff above looked a bit iffy and the rocks lying in the road were clues as to why this bit was now closed, I kept my helmet on!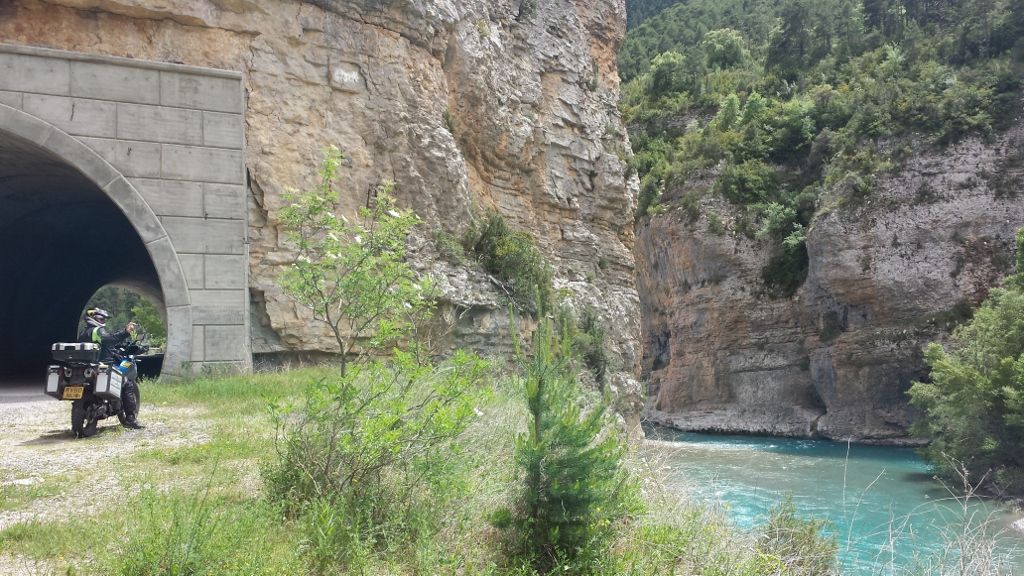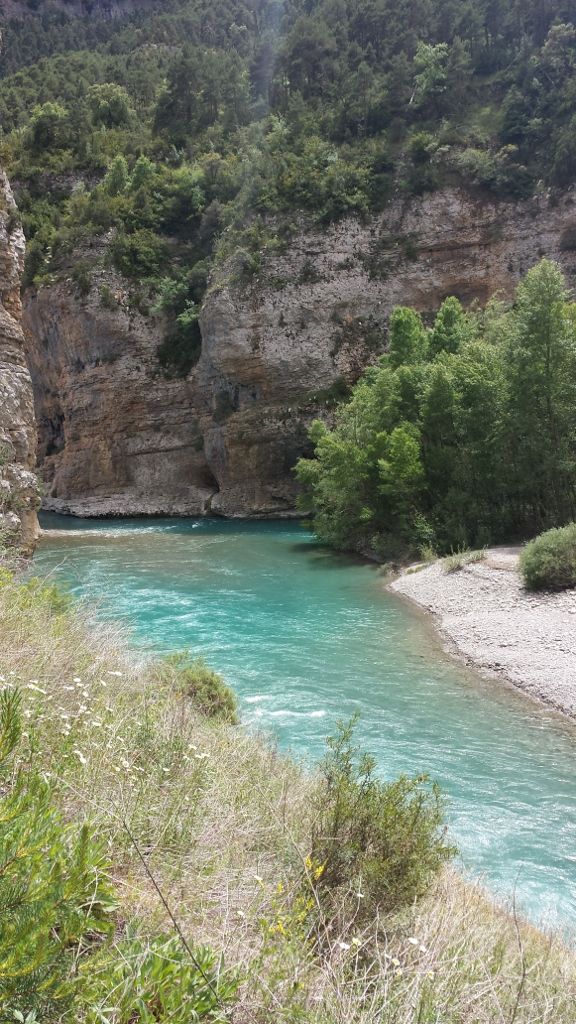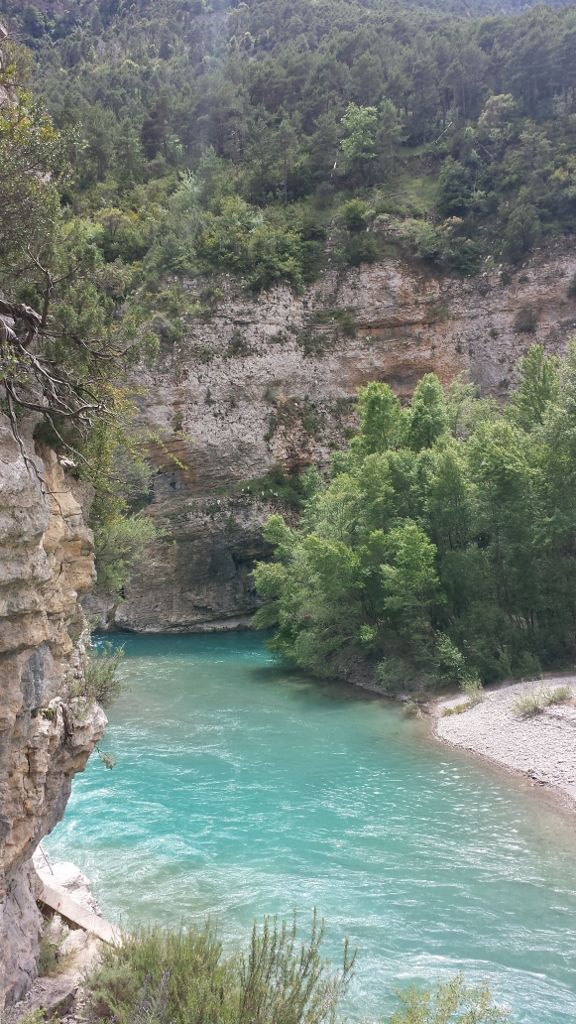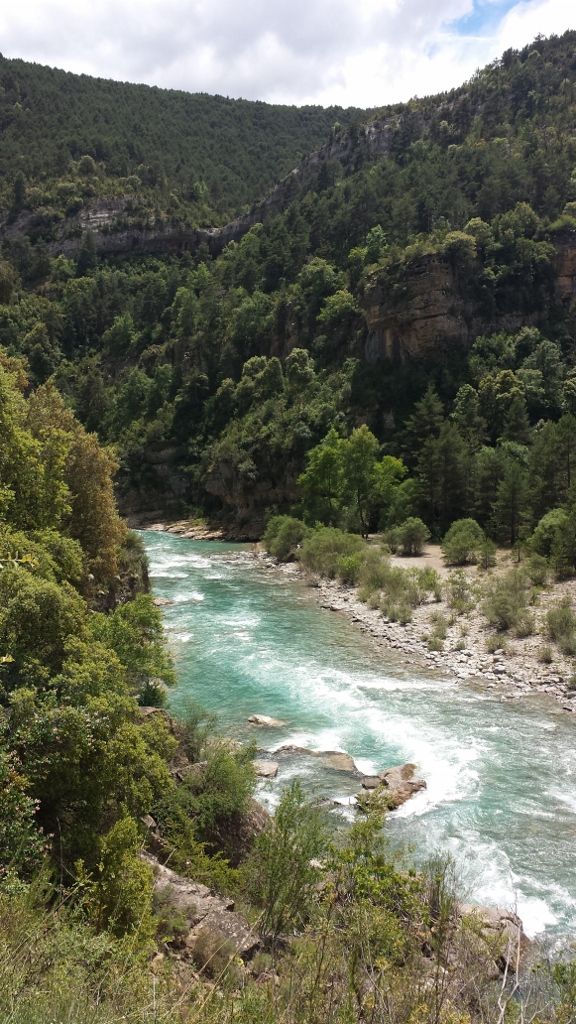 We carried on again on towards Boltana and here my memory fails me as I'm not sure which road we took after that, I think we remained on the N-260. I remember filling the bike up at a petrol station and buying some cold drinks with some ice creams too. We headed out onto the open road and pulled over in a little spot to eat our ice creams. Clouds had been building and it was strange standing there, a large group of vultures and other raptors flying to our left over the crops, heavy black cloud with visible rain falling to our right and snow-capped mountains to the front – all in hot heavy sun. The ice creams were delicious!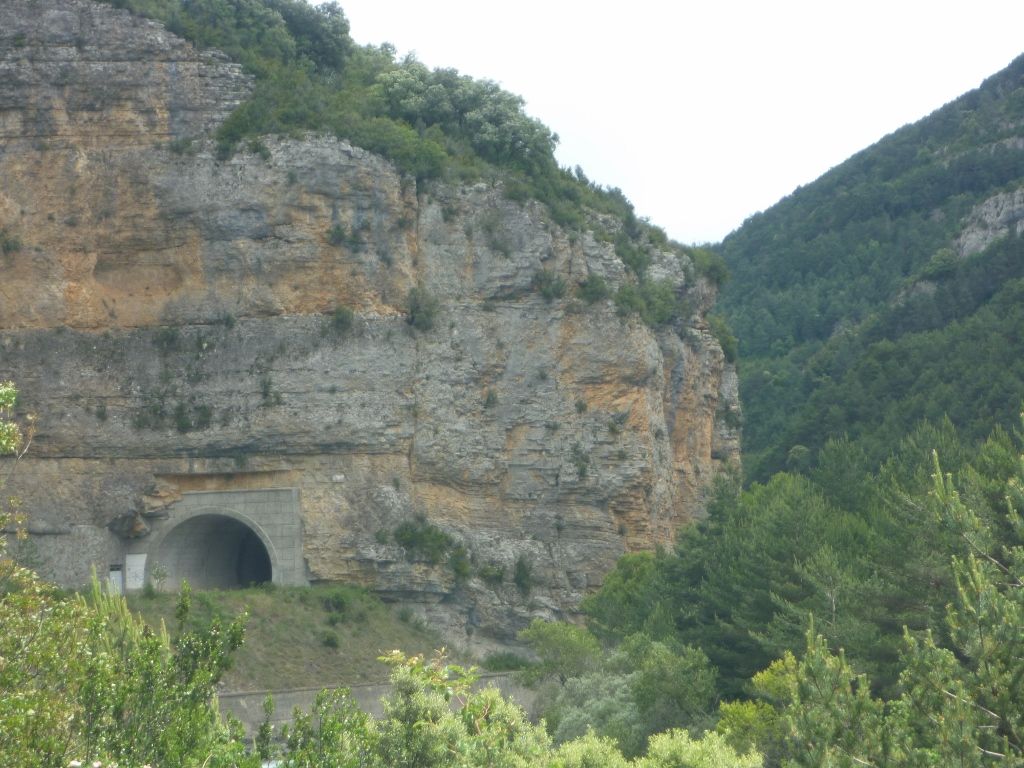 ok this is mor eof the pics above - sorry but i like this bit some much i have to show more pics!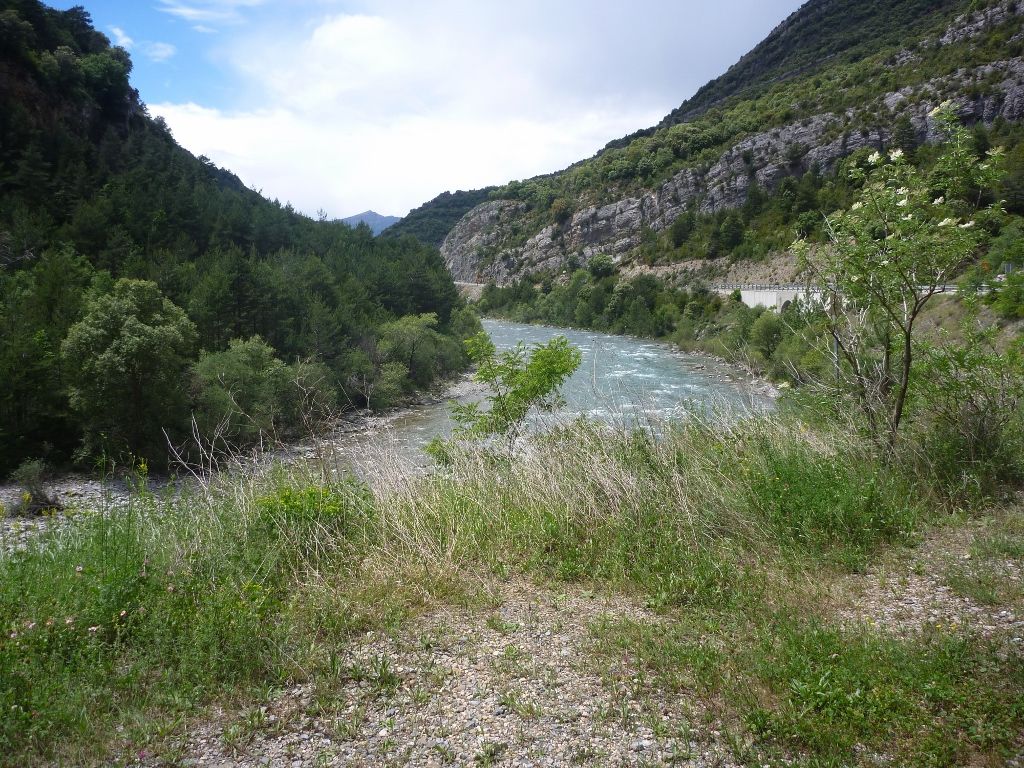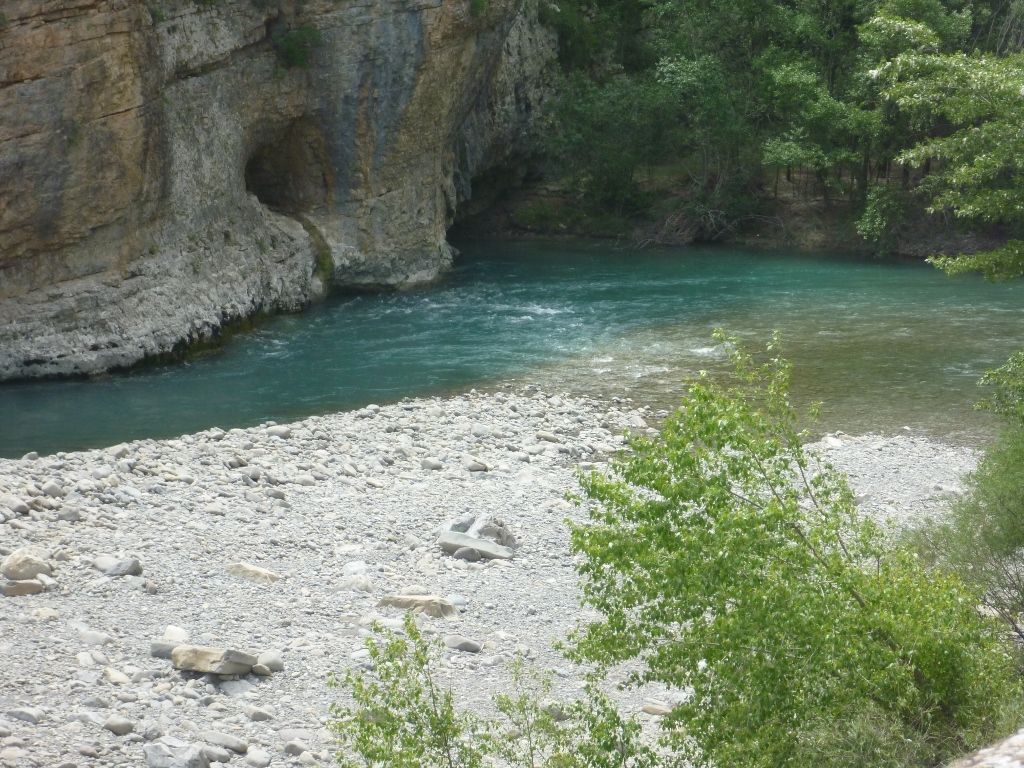 Then carried on for a while and decided to look for a place to get down to the river that was on our right. We found a spot where we could turn off the road into a little open patch of grass. I parked the bike out of sight, got out all the picnic stuff and we walked down to the river to chill and have lunch. Lunch was cut short by rain though so we tried to hide under the bridge but the river came right up to the stanchion so we had to resort to a large tree, which actually did a very good job of keeping us dry.

our ice cream eating location, rain all arround, hot....... loving it
view to the front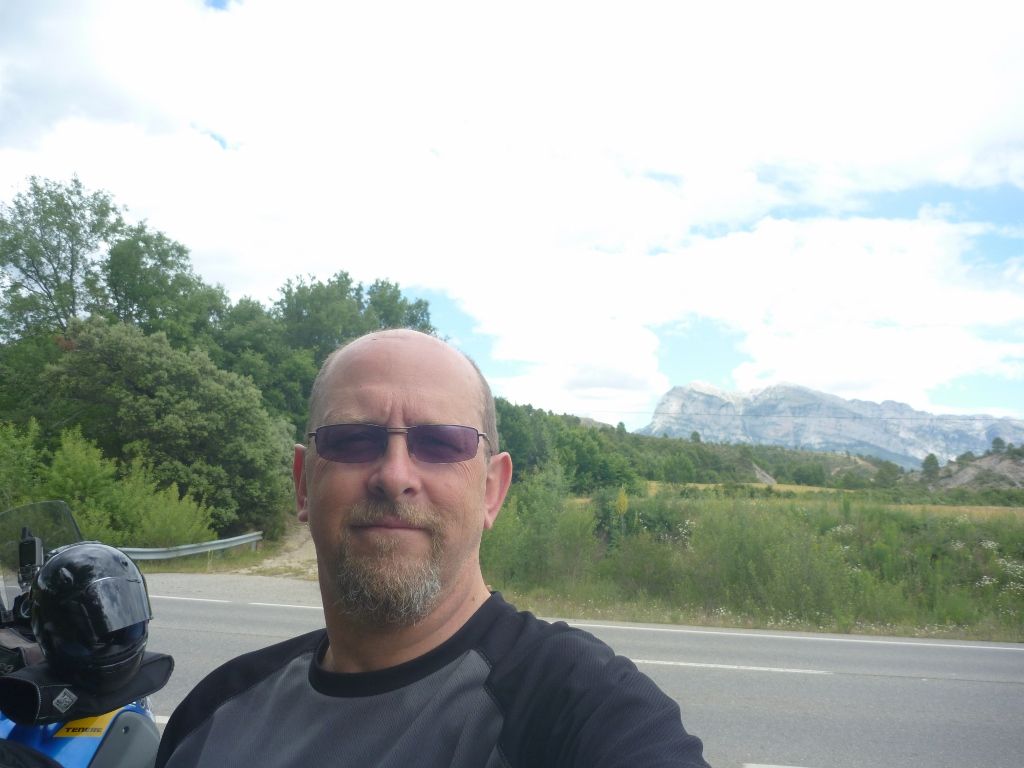 selfie
Eventually it was time to start heading back and we decided to try and find somewhere to eat on the way, again not the easiest thing, as not a lot looked open. We got to the turn off to the A-136 in Biescas and I spotted a couple of people sitting outside the Hotel Giral. I pulled into the cark park and went inside to see if we could get a meal. The lady behind the bar didn't speak English and my Spanish is non-existent but using signs i.e. two hands shovelling food into mouth (!) we made ourselves understood and translated the menu together between the three of us using three languages! We had a fantastic fry-up washed down with coke and then coffee. It was quite late by the time we got back to the B&B, a long day but one of the best yet.
Day Six

So weather wise France was a bust, so once again we headed to Spain and today we took the tunnel as we wanted to explore something we'd seen on the E7 route just after the tunnel. It was a sign to a 'geological route' and we hoped it was a ride'able road with specific geological views. We found the turning but after that it became a little unclear and we ended up riding through tiny little back roads in the built up area so in the end we gave up and took the nearby unnamed road towards BORAU.

The terrain had now completely changed to a more arid landscape and the temperature was already climbing. The road was basically a single track width and typical of the area loads of tight switchback bends as we climbed up the slopes. After BORAU I set the gps to Aisa and again followed the tiny road, it was baking hot now and we'd long since ejected warm gloves and jacket linings. Pretty soon it was time for a break so we found a nice spot on a corner and the picnic stuff came out. Snacks eaten Nicky went off to explore a bit while I lazed about and a little friend came over to see what all the fuss was about, I managed to snap a pic of the lizard as it walked over my jacket.
lovelly small quite roads - very warm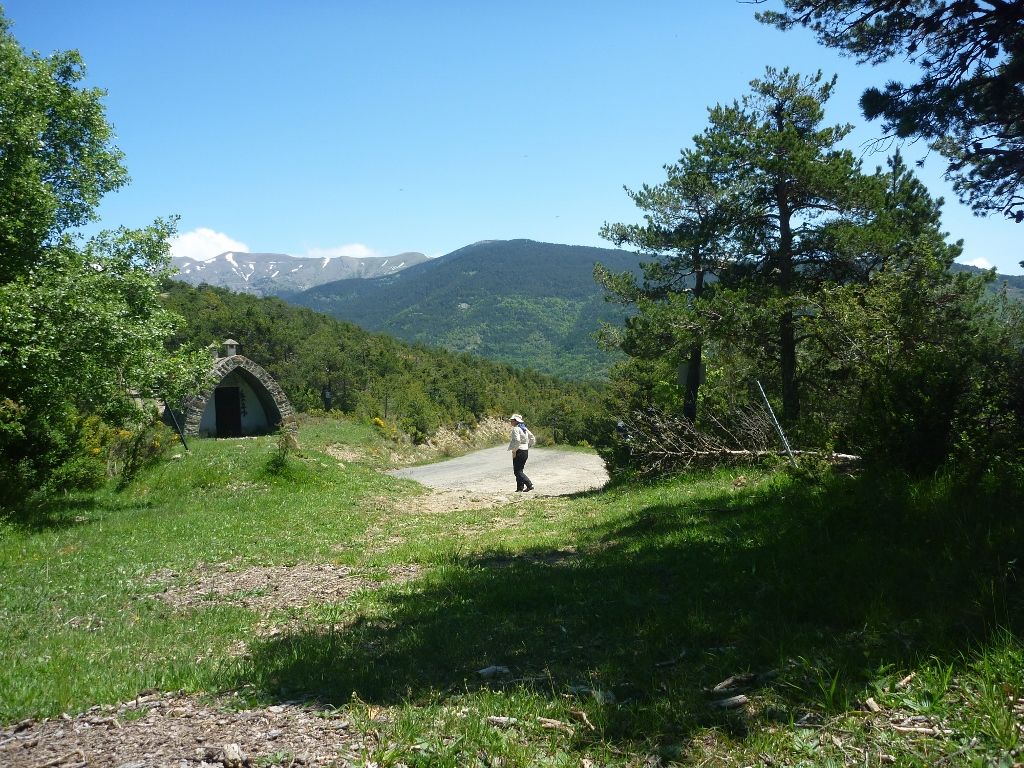 picnic time! Nicky is off exploring
me again
it would be great to explore some of these trails but i think its not allowed in national parks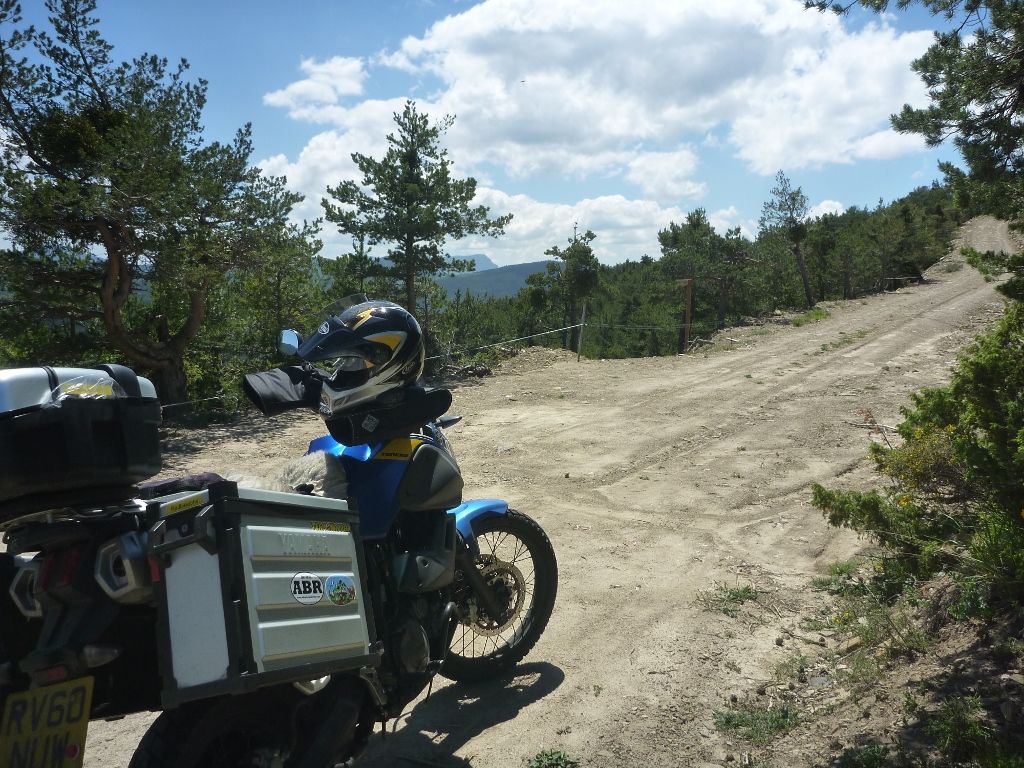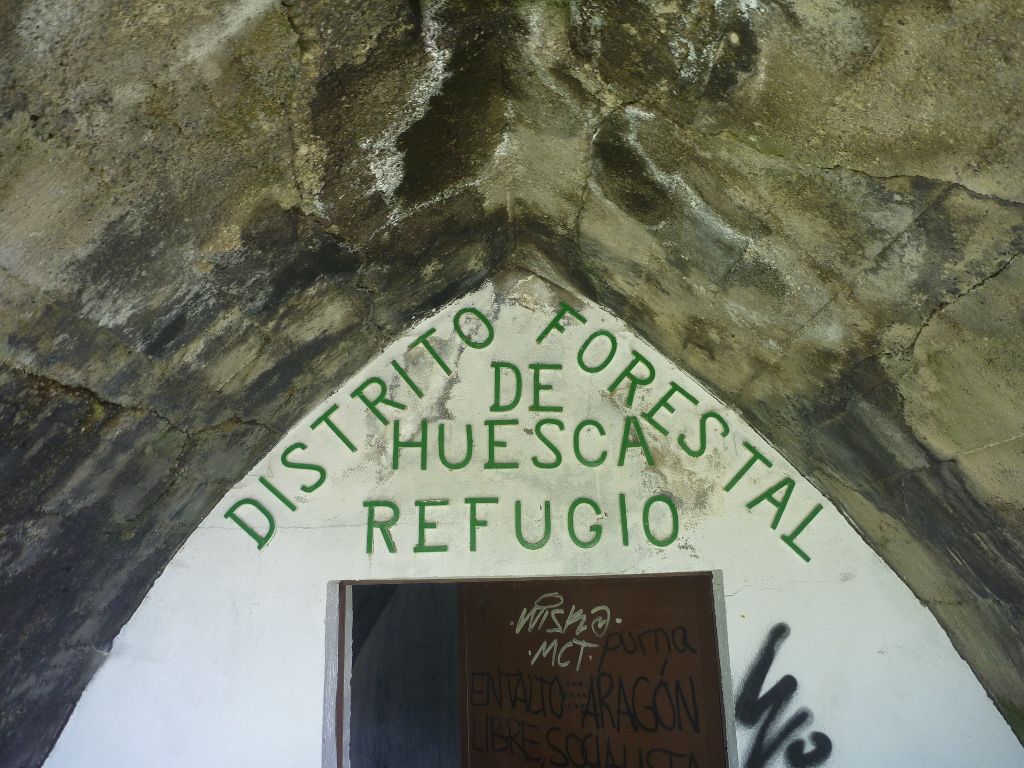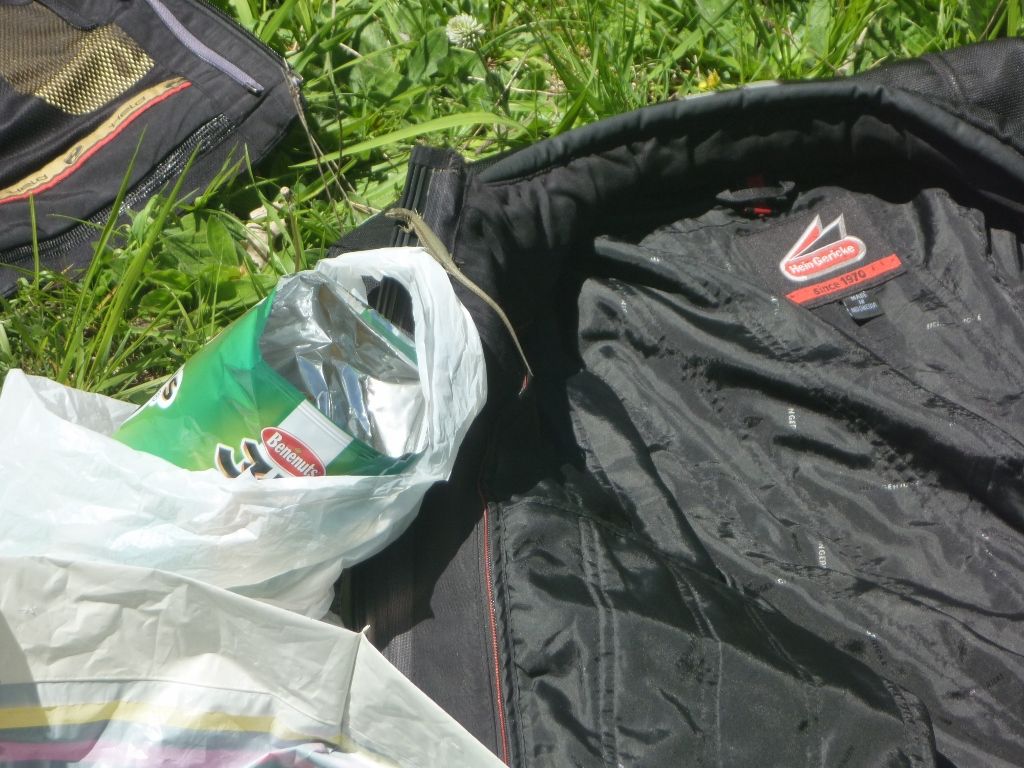 lunchtime visitor

After Aisa we headed down the A-2605 to the N-240 and followed that to the West for a while looking for more interesting roads to explore. We went up a small road that turned out to be a dead end but managed to get a brilliant view of an Egyptian vulture when we stopped. A little further on we turned up the A-176 towards Hecho and this was another highlight of the trip. The little road had some amazing views and there was one section that stood out. Wide enough for only one car the river to the right had cut deep into the rocks. Unfortunately there weren't a lot of places to stop and take pics.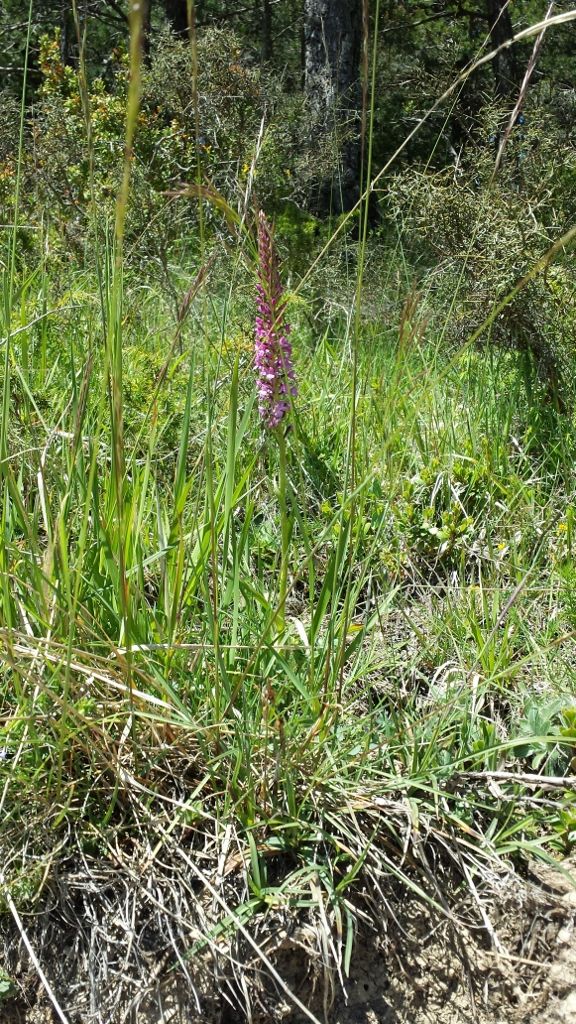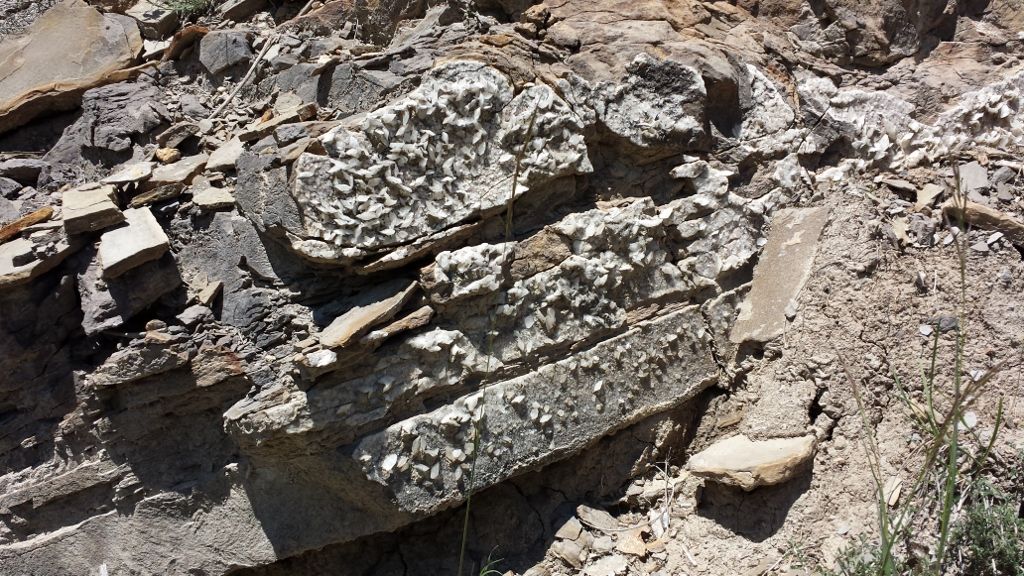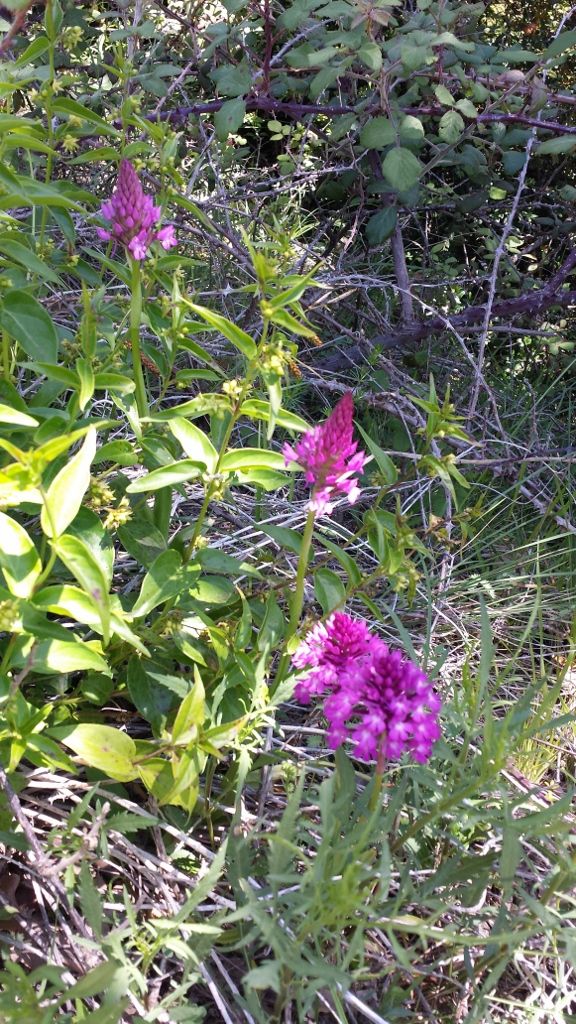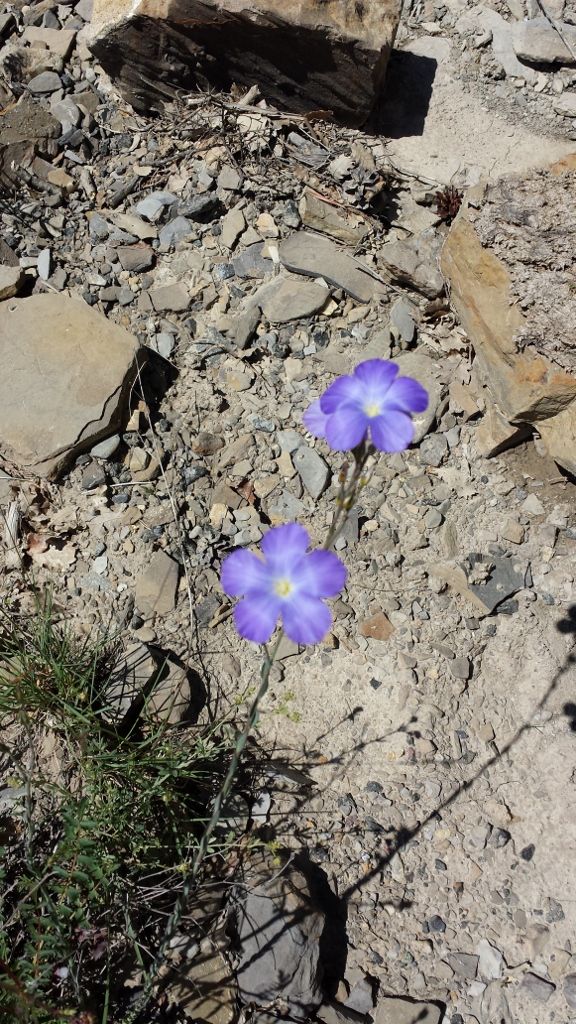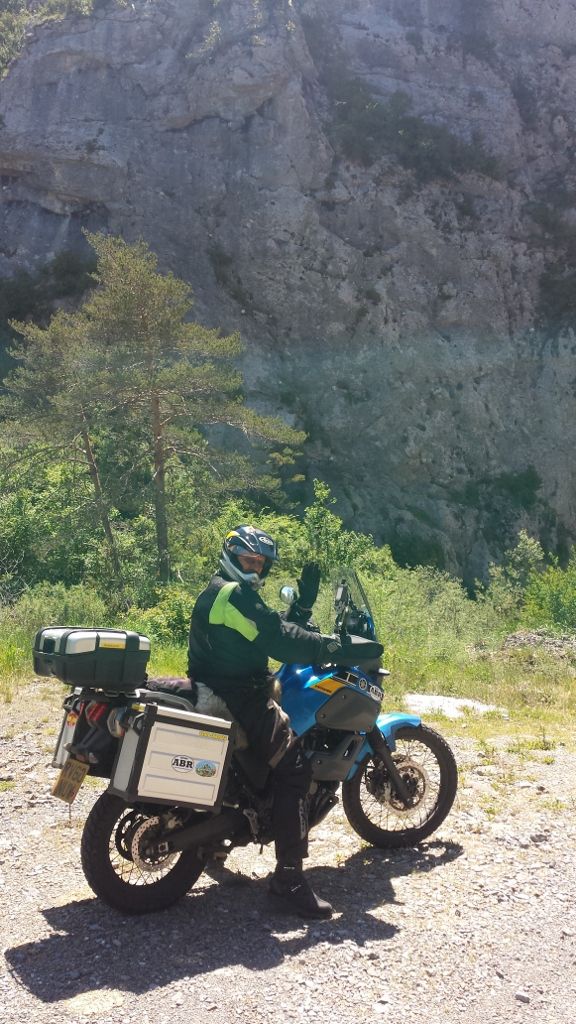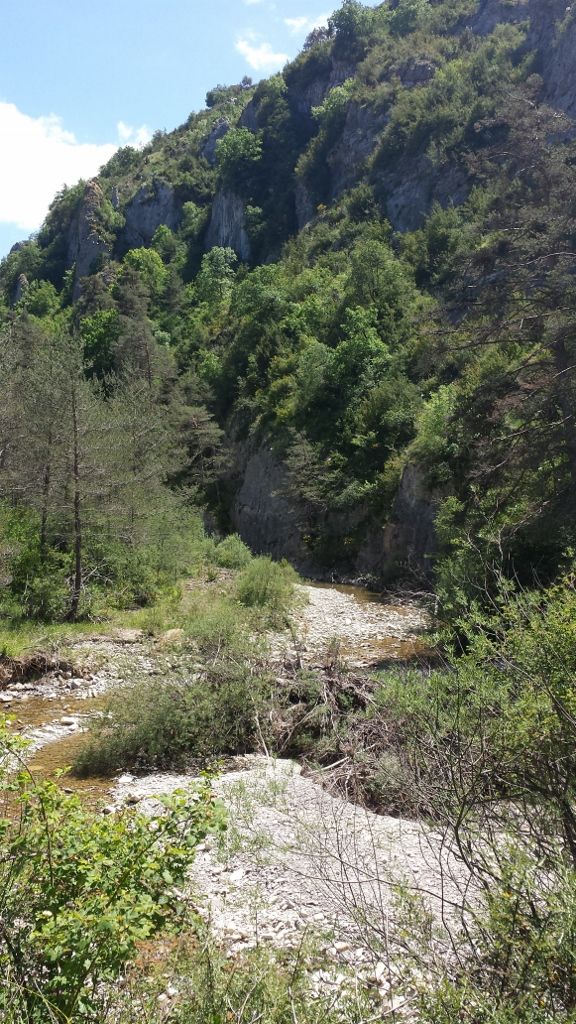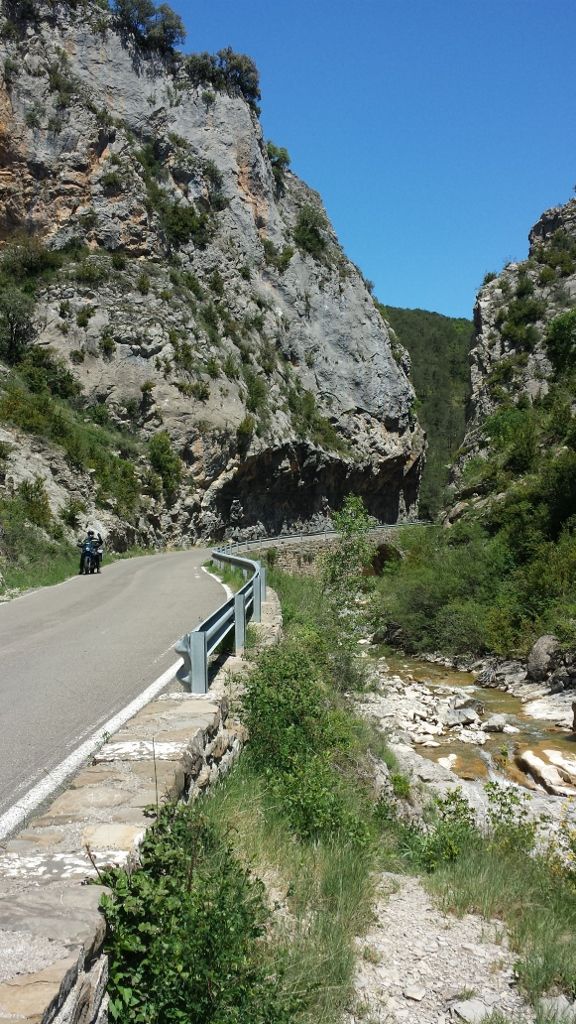 After the tight section it opened up a bit by the Refugio Selva de Oza and we had another break, ate snacks and refilled the water bottles with water from the stream. Carrying on the road slowly got worse and then it opened up a bit where plenty of people seem to have come and picnic. We carried on and now the road was a dirt track. We carried on for a while but I wasn't sure if it had vehicle rights. On the maps (OS Map borrowed from the B&B) it looked like the dirt road went all the way back into France but it was getting late and who knew what sort of condition it was in high up in the mountains? We turned around and retraced our step back down the road.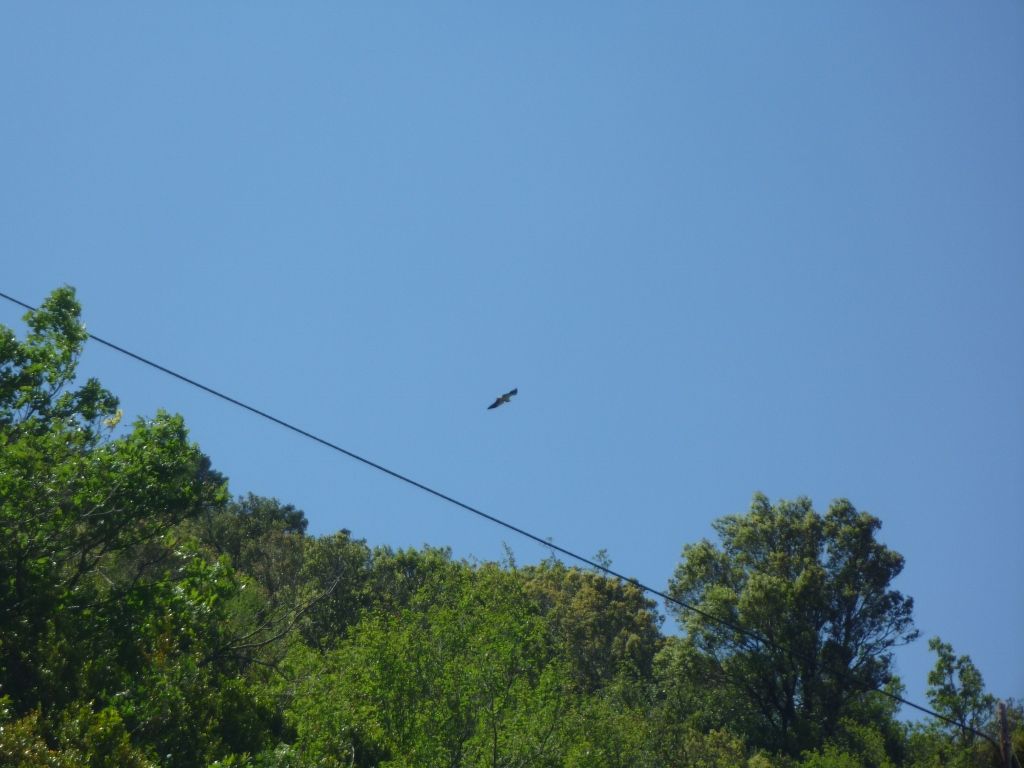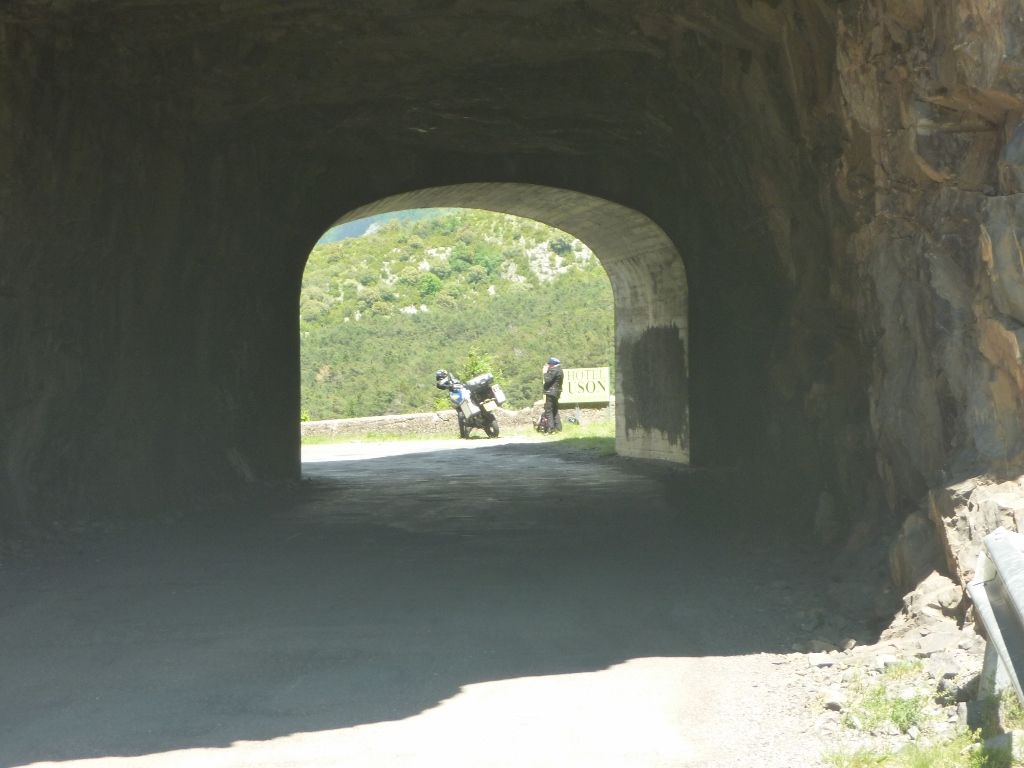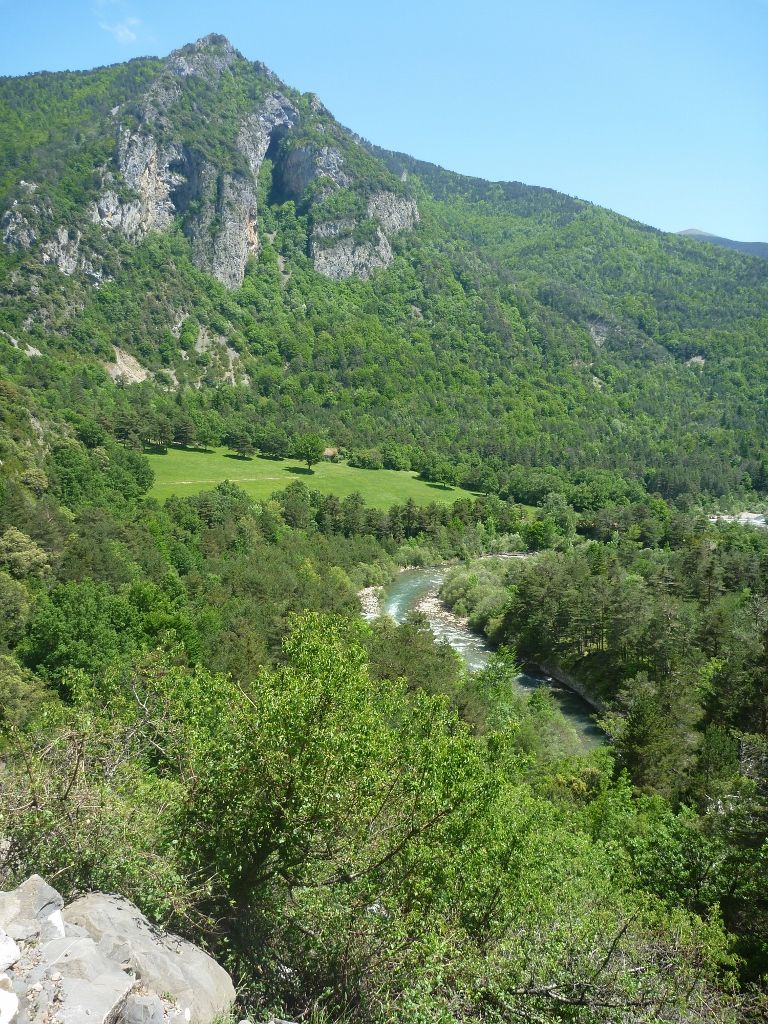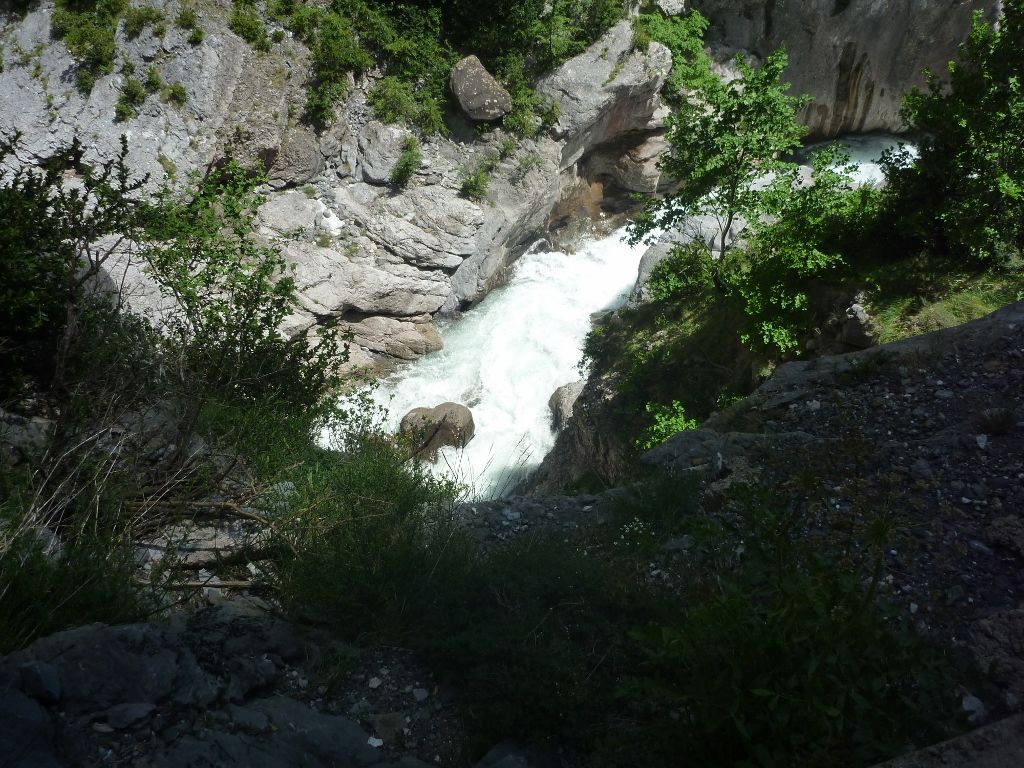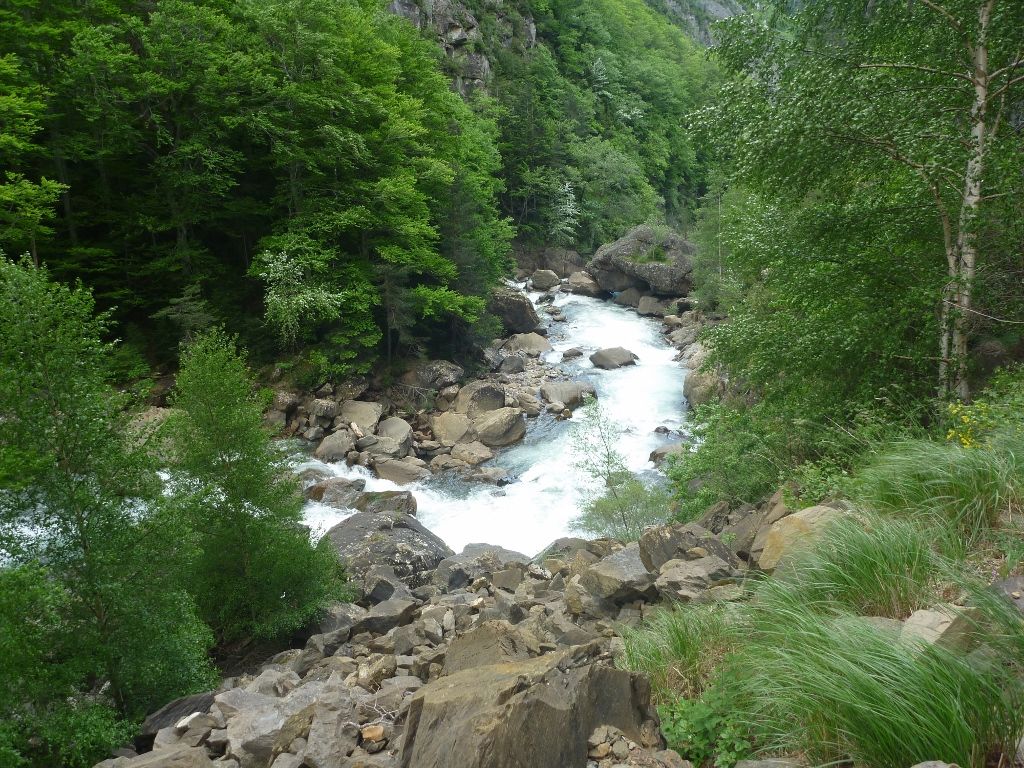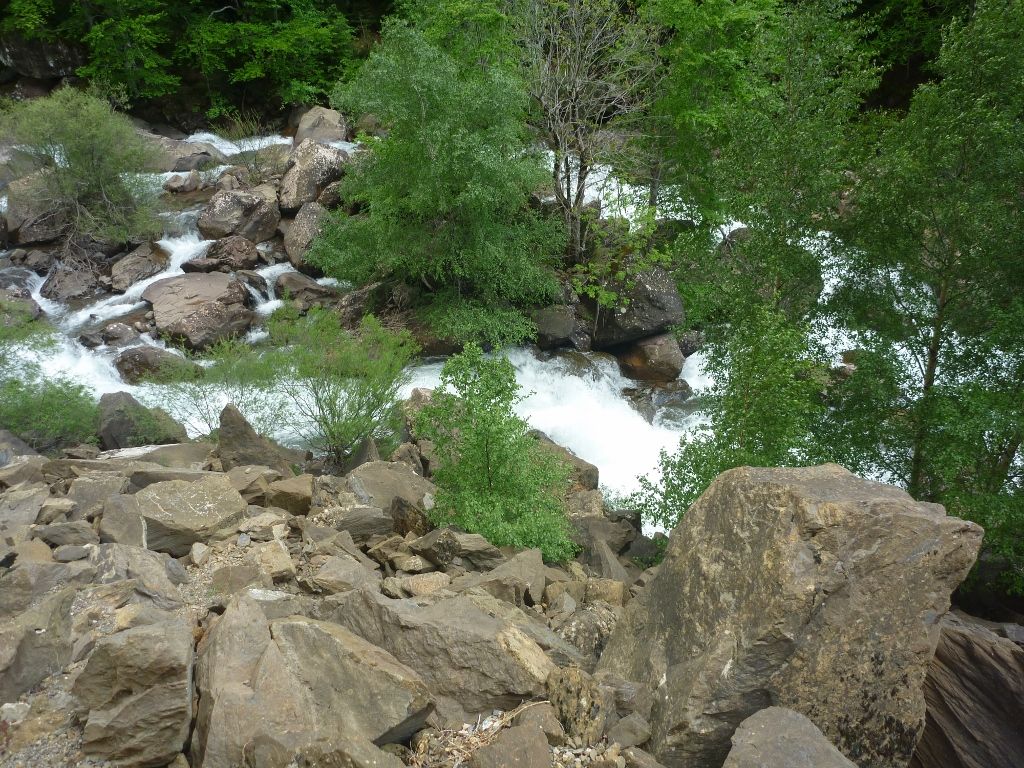 On the way back we stopped at the "Centro de Interpretación del Megalitismo Pirenaico y de la Val d'Echo" and had another brilliant coffee. They had an info board of the silhouettes of the different raptors, something Nicky and I are fairly good at but the variety in the Pyrenees was far greater than the UK, more akin to the Kalahari where we've spent quite a few holidays. We came to realise that from a process of elimination the large unidentifiable eagle we'd seen had to be a Golden Eagle – result! Back to the tunnel and the temperature had dropped enough to warrant us stopping at the tunnel entrance to break out the warm gloves and jacket lining. A long day/ride, but another fantastic day in Spain.
Refugio Selva de Oza

Day Seven

So that was our time in the Pyrenees over. The next day we set off for Pau where we picked up the D834 as opposed to the toll roads. To help with this I'd selected 'avoid tolls' on the gps. Pau was nondescript so we hit the road again. Initially the route was great as it was just like being on a main motorway (only it was two lanes) but later on it became a pain when we hit some towns. I was just following the gps and I'm not sure it took the best route. Later on as the roads became smaller – and I must say not much more interesting we hit on a major problem – there weren't many rest stops on this part with loos – especially for ladies!
the last day - and the sun comes out!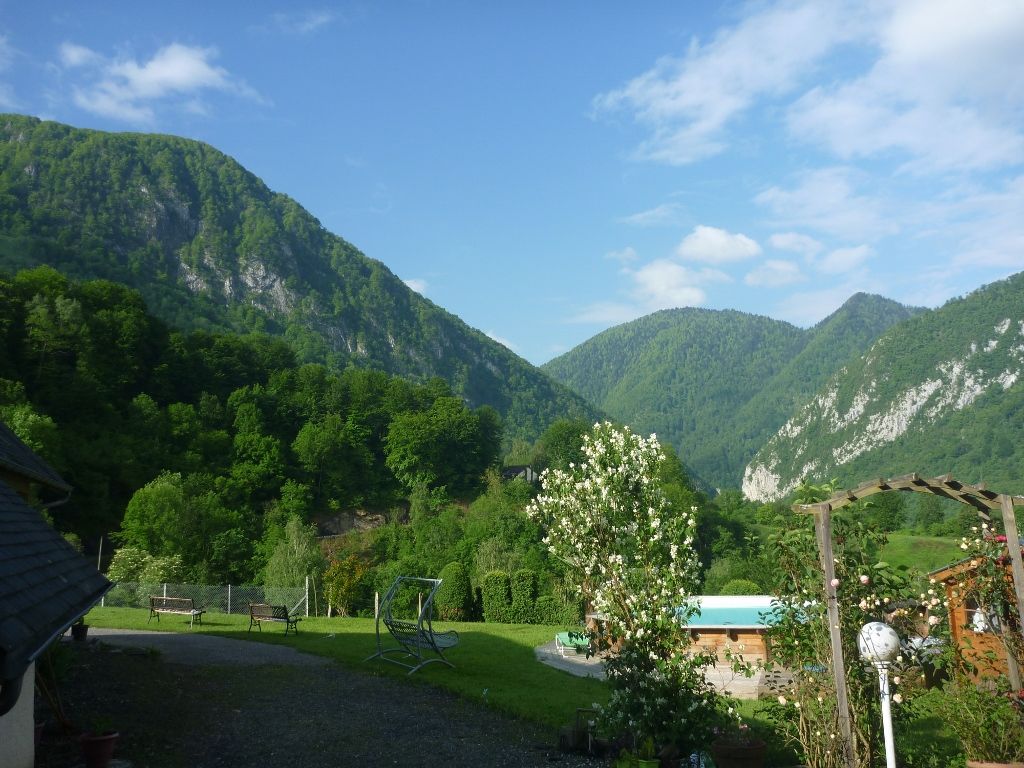 Nicky signing the guest book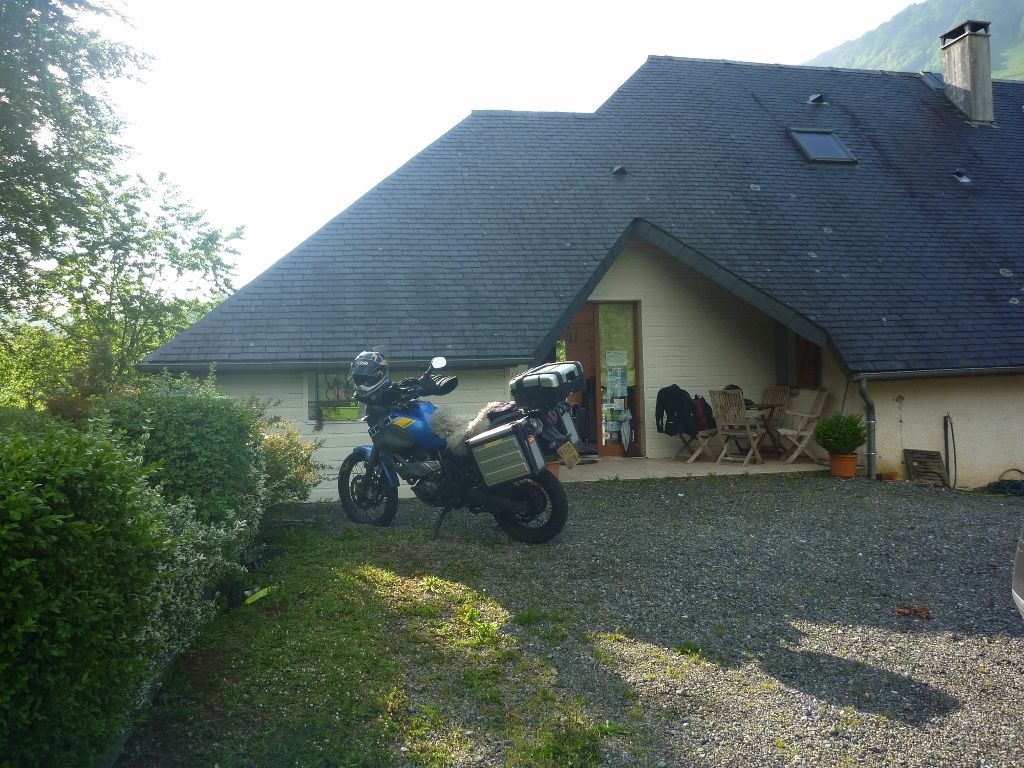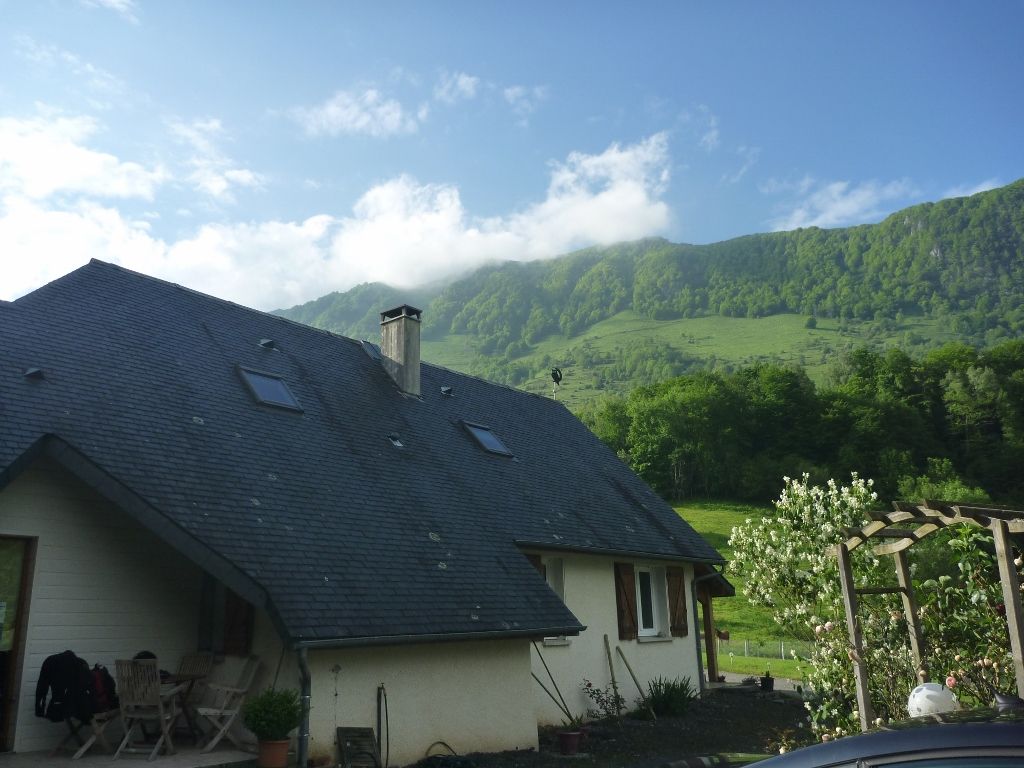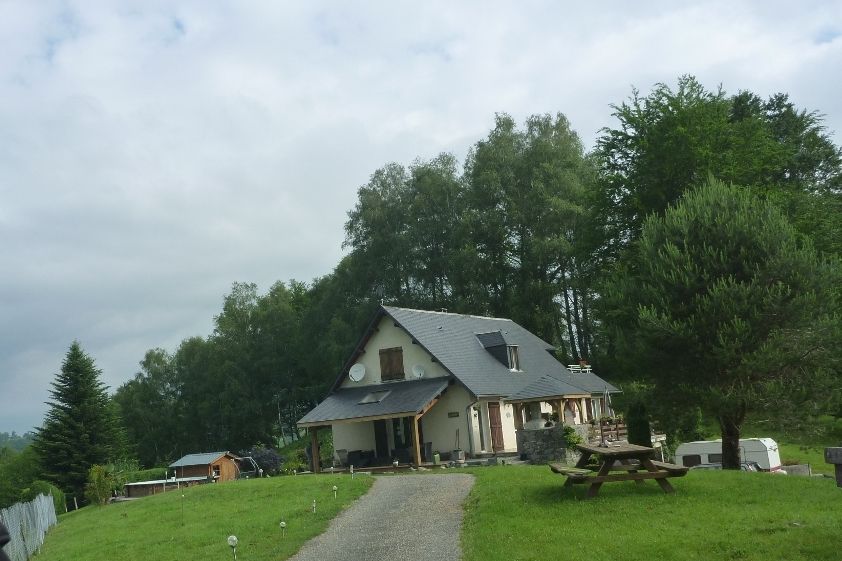 We stopped on the side of the road for lunch having bought some fresh bread and other bits and pieces in a supermarket. It was set slightly back from the road on the edge of a wood plantation. Not the best of places to stop but it was warm and we spotted quite a bit of interesting wildlife whilst we ate, a little lizard, a woodpecker and some insects. After this stop though it became increasingly difficult to find a loo stop as most laybys were in the open and there were no services as such. Eventually after another difficult crouching/hiding loo stop for Nicky I decided to hell with this and jumped back on the motorway.

Back at the edaine-parc-des-vignes-de-bordeaux hotel we were booked into their other room downstairs. We arrived quite hot and tired and luckily Michel was home and offered us a cold beer once we'd climbed out of the bike gear. Then another beer and another....... soon it was dinner time and during our typical French dinner of multiple dishes with plenty of wine our hosts entertained us with all sorts of stories and explanations to do with all sorts of things relating to France and the Bordeaux region. I was a little worse for wear when we went to bed as I think I was a little dehydrated from being on the bike all day – it had been very hot on the bike.

Day Eight

The last but one day of our trip and we spent it on the motorway, mostly. Not a lot to report really as it was just a slog back to the Hotel near Alencon but we did hit more rain which was in stark contrast to the day before when we'd been suffering from the heat.

Day Nine
the final day

we made great time back up to Calais and this time we were ready for the diversion near Rouen and followed the diversion signs without any dramas like on the way down. We got to the tunnel a bit early and decided not to do any shopping as we didn't have room to store anything anyway, so we went straight to the tunnel. I fed my card in and it offered and earlier train for an extra £6 so I opted for this one and basically we drove straight up to the train and were on our way in no time. Back in the UK the sheer number of other road users was very noticeable, and of course being so much more congested the driving standards were quite poor.
The M25 was hammered of course and I was tired so didn't mess about and I carved my way between stationary or slow moving lines of cars until we eventually got off onto the M40. Soon we were home and it's always nice to be sitting at home after a long trip with a cup of tea in front of the TV! Seems like a long time ago now though – time to start planning the next one.