All photos are free for personal use. 370 in album.
At this event they are mostly of me but go to page seven and there are some there of guys jumping
Mid November though to early February is normally a quiet time for me on the bike. This year however I felt I needed to get out a little more as since getting the 250xc 2T I'd not had much success on it. I loved the bike and the way it rode, but as I was still learning two strokes I felt I needed to get some more events under my belt. The Hafren was ok but I got the jetting wrong and fuel was spilling into the filter (report written but not published yet). I had a few nice practice days but then had another flop when I failed to get a new sprocket in time and the spares van never pitched up so it was a two lap day with all the associated cleaning that went with it.
I'd seen the coverage of the "Portland Extreme Enduro" that the Track n Trail club were going to host on the 2nd of December (on Enduronews) and liked the idea that it was an extreme event aimed at the amateur rider – not the top professionals. As the name suggests the event was going to be held in Portland on the south coast and that sounded like fun, but it's quite a drive down there so I umm'ed and ah'ed about it for a while, and put off entering it as I wasn't sure about me being up to the task. The forecast for good weather helped make up my mind, but I was still reticent to fork out the best part of £100 to stay overnight, so in the end I decided to get up early and drive down to Portland from the High Wycombe area on the morning of the event. Being slightly cautious I'd opted to enter the Over 40 Clubman class, however quite often the riders in this class are seasoned enduro riders and not old duffers like me!
we got there early - very early! oh and very COLD!
Bike prep - I'll cover all the modifications to the bike in a separate article but I needed to do some basic maintenance to it for the event so a new chain a sprocket kit was fitted. I also popped a GT216 front tyre on with a new mousse then rang my supplier up for the 'special rear tyre' I was promised. Unfortunately it ended up going to a rather more famous enduro rider who is way up on the pecking order compared to me, so I made do with a GT216HB rear tyre but fitted an older mousse in it to ensure it flattened out to provide extra rear grip on the rocks.
The drive down was easy enough – unlike the alarm clock going off at 4am! I'd had a difficult time getting to sleep the night before. I went to bed early but a combination of nerves and excitement (and lack of alcohol) and a too warm bedroom meant I struggled to get off to sleep. The temperature was well down in the morning and an exceptionally hard frost meant I couldn't get the off side rear door open to load the back of the car. I left the trailer attached to the car and had all my gear fully packed and ready to go the night before, so it was only a case of loading the bike on the trailer and setting off. I aimed to be on the road by 4.30 but missed that slightly but still managed to get under way within ten minutes of our scheduled time. The M40, M25 , M3 journey was straight forward and I kept the cruise control to a steady 75 all the way down, with only one stop on the way as one of the strap anchor points on the trailer snapped!
lovely sunrise pic
Finding the venue was simple enough and we'd made such good timing that we were there before the sun was up. We were way too early, but I prefer that to the mad rush if you have a hold up. Nicky & I had a look around the place and having a Geo-science degree Nicky was in her element looking at the rocks in and around the quarry. She also managed to snap a few nice sunrise shots as the sun came up over the horizon out to sea.
Once the scrutineering and booking in system was under way I took the xc to get checked and each bike was subjected to a sound meter test. Bike checked and it was on to the signing on desk where I was handed a wire loop. This wire loop is placed inside your helmet and it activates the timing system as you ride! They have a cage like structure where you ride though at the end of the lap and your name and number is displayed on a wide screen TV. It also shows you your position in the race and the distance to the next rider in front of you so you can push a bit harder if needed. This all sounded great but I'd never used it before so I wasn't too sure how it was going to work out.
the riders briefing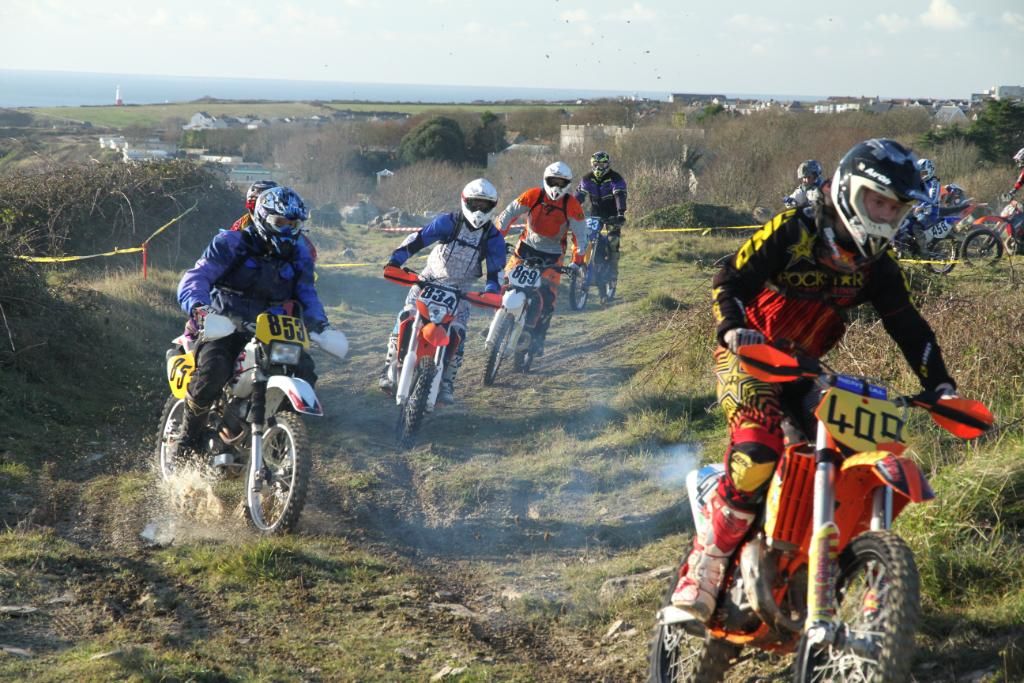 setting off on the sighting lap
A long nervous wait to the morning briefing where the track and the various hard/easy options were explained to us, and where we had to take a little bit of extra care, so as we never went off a particular iffy drop-off! The bikes were assembled in a holding area and we then rode up to the starting area for the 'sighting lap'. I thought this was a good idea as it would give us a bit of an idea where to go once we started the race, in theory anyway. I lined up with the other riders in the Clubman O40 class and we set off on the untimed lap. The first part as simple enough, just a few twists and turns on the flat, but slowly the obstacles and rocks got a little bigger. We dropped down into a hollow and after a few bends came the first tricky climb. It was an innocent looking slope, with a turn halfway up it so you arched back down to the flat. I watched the rider in front of me sail over and I followed suit but going up the incline the front wheel touched something and got deflected, sending me off line and into trouble. I couldn't believe it, the first test and I'd failed! I picked the bike up and with a bit of pushing and shoving I got going again, breathing harder now. I skipped the first two 'hard' sections for now and worked my way back then came to the third 'hard route'. Mmmm it had a rock step to get up and over, something I'd not had a chance to practice before, so I was going to give that one a miss too. Unfortunately the alternative was across a horrible rock garden and then up a tricky little slope that needed to be taken just right to get up. Of course being the first lap I got there outside of the 'just right' parameters and promptly cocked it up near the top of the slope, crashing again! This did not bode well for the race proper as I was already breathing hard and making too many mistakes.
its only the sighting lap and i'm already in trouble!
in the distance another rider needs a helping hand
Forming up again at the end of the lap it was a dead engine start and we watched the classes start ahead of us until it was our turn to go. Being a mass start made it interesting and we swapped places a couple of times as we tackled various sections of the track. Getting to the climb where I got stuck on the sighting lap, I concentrated to ensure I hit it with just the right amount of momentum, and this time I sailed up to the top and down again without any hiccups. The track then turned to the right where the first of three hard routes were. Taking the turn I looked up and saw about three riders stuck at the top of the first section of the climb so I opted to go the easy route and carried on along the track then hit the brakes hard to turn left, as that was where the course turned off the track. I was just going to turn to the left when I heard a yell and someone hit me from behind as he was unable to stop in time. The impact knocked me off the bike so I lost a few places as I was sorting myself out.

The easy route had a couple of short sharp climbs with zero run-up and in the red mist fueled first lap it was all going wrong for several riders as the guys in front of me both crashed. One stalled on the slope and the next one to try it flipped out as he got to the top, due to too much gas applied at the top, I slipped through the middle and carried on. A little further on we came to the first 'rock garden' were you have to ride over a patch of largish rocks. A couple of riders who had got away from me were stuck on these but I spotted a route to the right and overtook them both to pull away, only to fall again a little further on. Coming up to a climb I breathed out too hard and misted the outside of my goggles just as I hit the slope – into the sun. Blinded I lost all momentum and hit the deck at the top and once again had to lift the 'by now not so light' 250 xc up onto its wheels.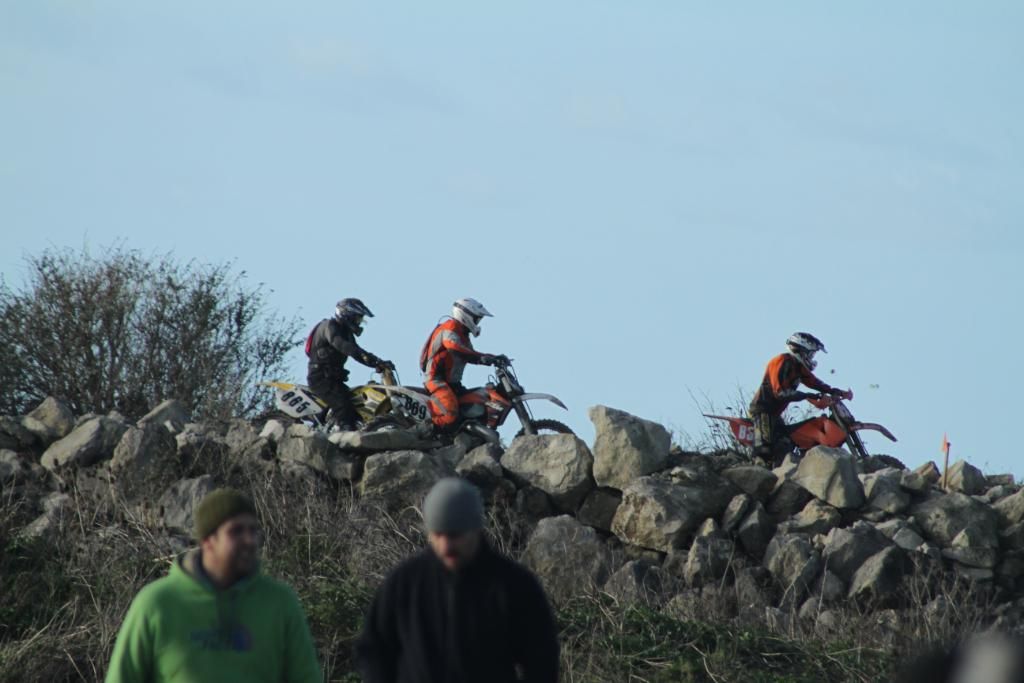 i catch up and overtake two riders in my class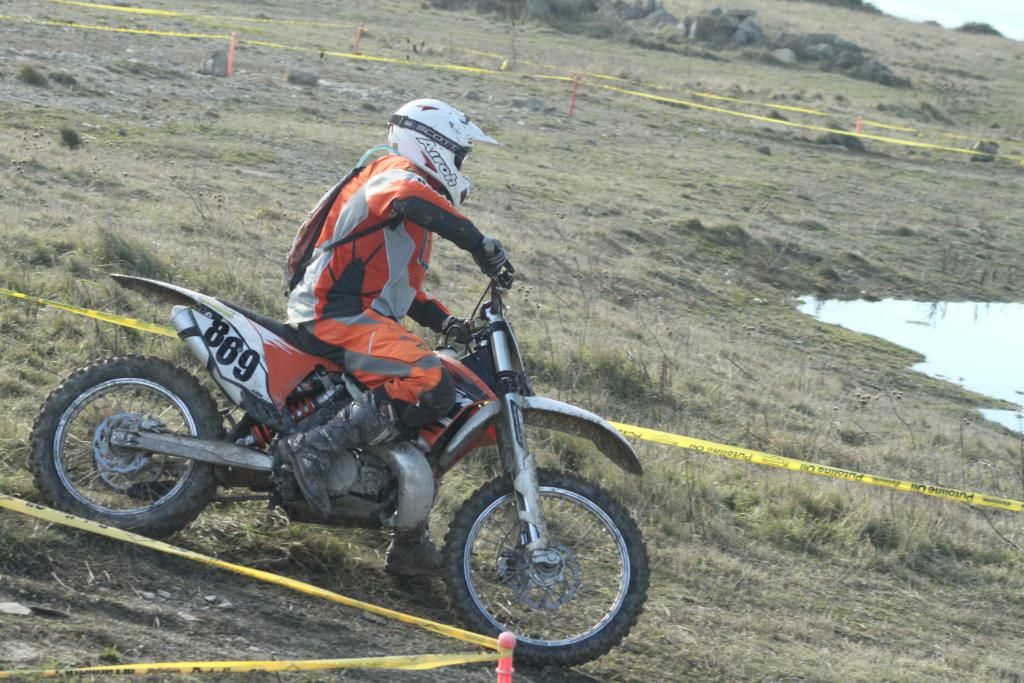 and make my escape
I carried on to the far side of the quarry where after a few drop off's we had to get over a short sharp peak of rocks. It looked innocent enough and I made it over ok (on this lap) and carried on to the top corner were we had to ride up onto a ledge, ride along it and up and over another peaked bank, this was another of those parts of the track that you don't want to get wrong.
Making our way back now, we started to descend and had another hard/easy option with regards to the slope or angle of the downward track. I once again decided to take the easy route as it didn't look that much slower, and we'd been warned in the briefing to be careful on this hard route as there was a drop off to one side, 'which would spoil your day' should you slip over the edge.
another shot of me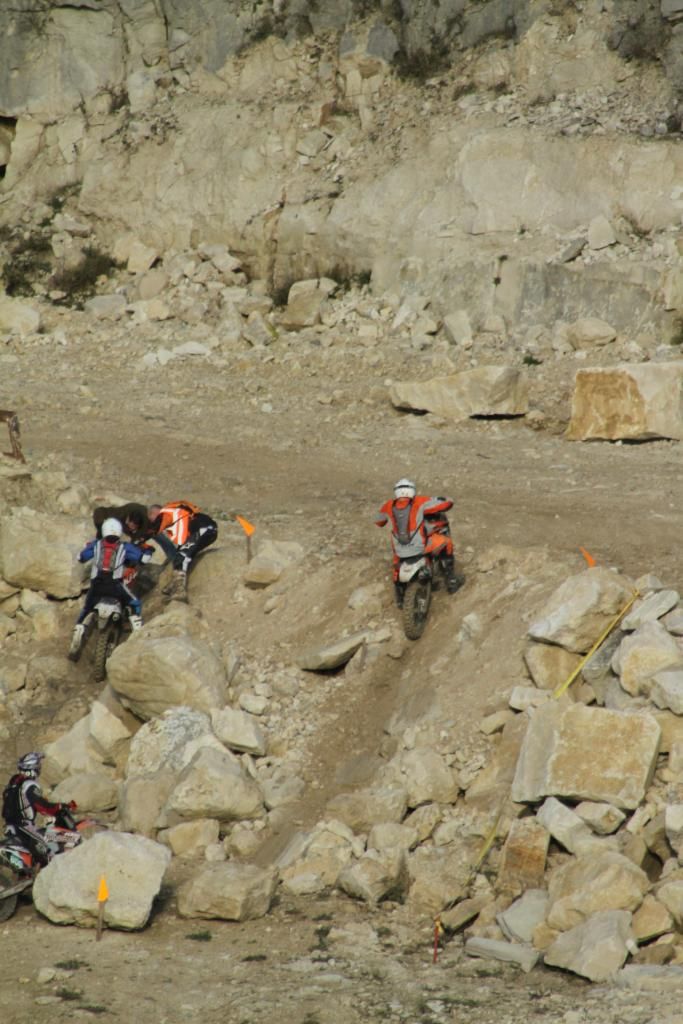 i go to the right as another rider gets a helping hand
A bit of a fast run on an open track lead to some more smaller climbs but this brought us out at hard section number three, which began with shear rock step of about a half meter to a meter (well it looked it at the time). This had disaster written all over it for me as I've never had the opportunity to practice going up steps like that so while I knew the theory to achieving it, I thought it best to err on the side of caution and go for the easy route. 'Easy' in this case was a bit of I misnomer as the track went across a nasty rock field and then had a tricky climb preceded by a ninety degree turn so it was hard to get speed up to reach the top. On this occasion I made it without any trouble though and got up pretty easy for the rest of the day too – excepting when it counted the most!
Next was an easy run to the end along some tracks, one of which was pretty close to the edge of a major drop and would have meant the end of proceedings for you had you slipped off of it. Coming into the start area I glanced at the TV screen to see whereabouts I was in the proceedings but the sun's glare was such that I couldn't see a thing so I carried on. I wasn't too sure how I was placed in the race so carried on trying to not make mistakes. What I didn't know was that I was sitting in third spot after the first lap.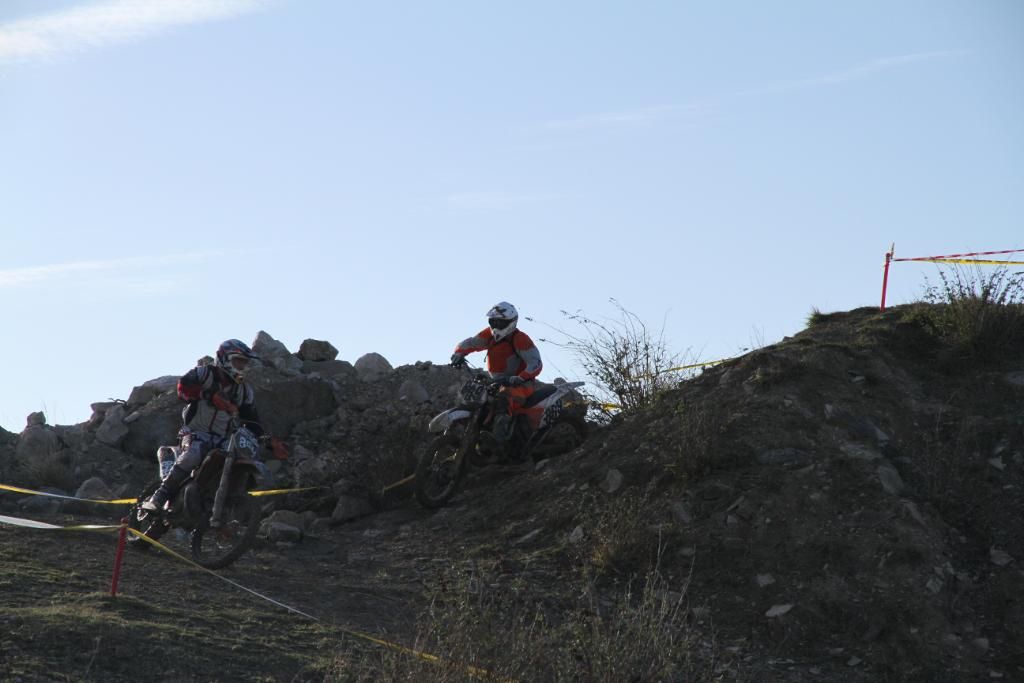 me catching another rider
still on his tail
Shortly after the start area there was a climb followed by a dip and then another climb, all very tight and compact. Nothing scary or anything but it was one of those spots where I really concentrated as I knew falling off there would be a major hassle to get going again due to there being zero room for run-up and plenty of pushing and heaving would leave you exhausted. Luckily I never slipped up there all day but plenty did and I could see the look of desperation on their faces as they were hemmed in by brambles on all sides.
The next lap went like clockwork and I cleared the first hard section and the rest of the lap without any major issues. I got back to the start having set the fastest time of that lap amongst our class and promptly put myself in the lead – but I was none the wiser for it, as I still could not see the timings due to the bright sunlight shining in my eyes!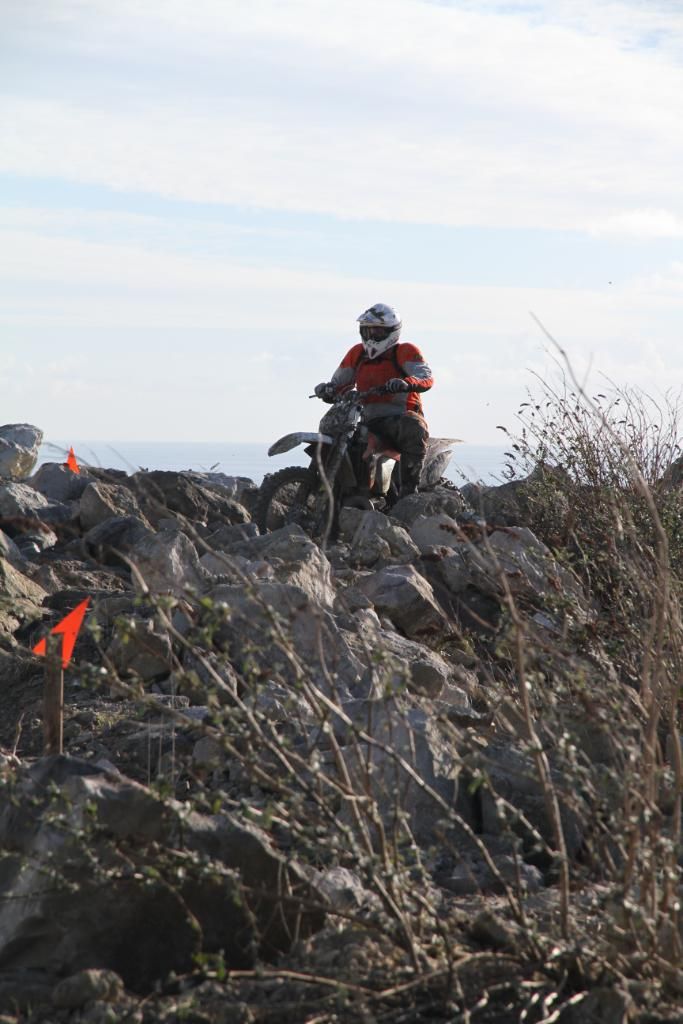 battling through the rock garden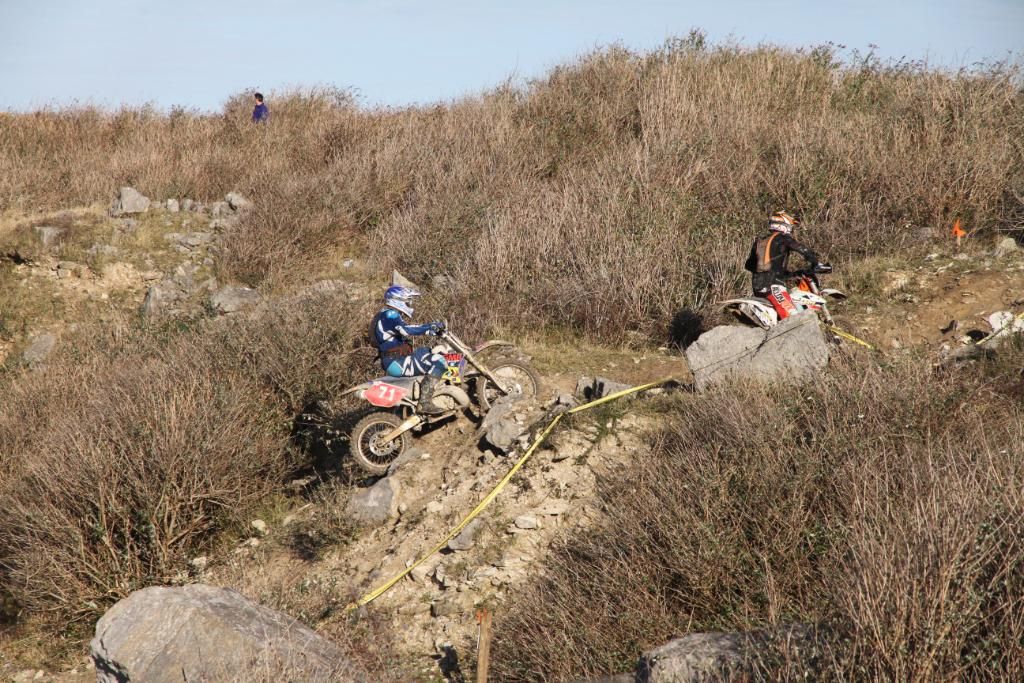 nice shot of rider 71 catching another rider on one of the optional hard routes
There were a couple of places where I was making up time. I seemed to be able to pull time back on the quick stuff as the bike was flying, but I also nipped up the inside of a few people on the steep slope that led to the incline into the quarry floor. I picked the right hand side rut on one lap to overtake a rider in front of me and then realised most people were swinging wide at the bottom so I took the tight line and during the day got past several riders there. I'm not too sure where it all went wrong as I lost the lead by the forth lap, having lost two whole minutes somewhere. I think I was just getting a bit complacent of certain areas of the track and just after the start there was a little up and over wall to climb. I had to slow down as there were some riders ahead and lost a little too much speed so lost all forward momentum and couldn't make the crest. I tumbled back down feeling a bit of a tit as several spectators were standing about. I'd crashed on one of the easiest parts of the track! During the day I had so many minor tip offs it's hard to say where they all were and on what lap!
i got past a few riders on this bit at the bottom by going tight....
from here you went to the right and down a steeper rocky slope to the bottom of the quarry
more rocks!

Lap five and I was still behind in second (but still oblivious of the fact) however I got my act together a little by once again setting the quickest time on that lap and retook the lead. Shane Trotter who had been leading must have taken a fall somewhere as he dropped some time and as I'd gained quite a bit and got out front once more. I think it helped that I was now doing the second hard route down into the quarry floor on the far side of the track. It was shorter than the direct route but it wasn't straight down and like I said earlier it had a nasty drop to the left that would have definitely spoilt your day should you slip off it! It saved time though and once I'd done it the first time it was ok, you just needed to keep your wits about you and not make any daft mistakes like locking up the rear.
up the hard route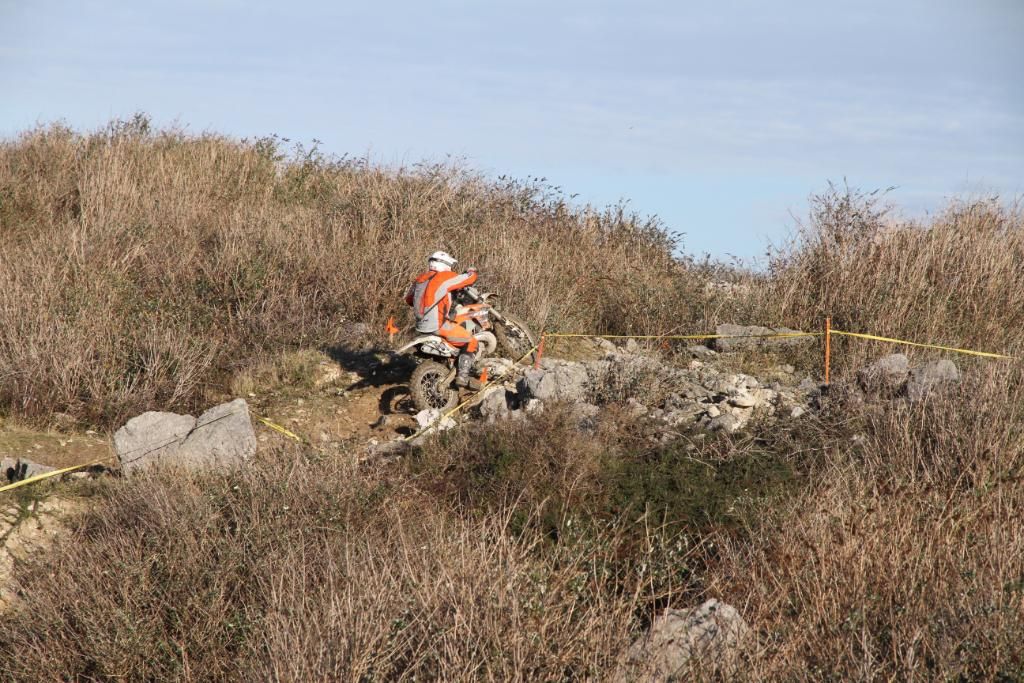 and over some more rocks!
By now (five or six laps in) I was feeling a little worn around the edges. I wasn't sure where I was in the race, and all the minor off's were taking their toll on me, so I was starting to wilt a little. I needed a bit of a boost to keep me going and I got that when I came around to finish lap six. I stopped dead by the tv and peered at the 'time behind rider ahead' section but it looked blank. Stupid thing isn't working I thought, or I can't read the bloody thing properly. Little did I know but of course I was in the lead again so it didn't have a 'behind time' to show. Pulling away I thought I noticed a 1st next to my number and that confused me for a bit, but after I had time to digest it I found that it had indeed given me a boost and I forced myself into opening the bike up a little more and didn't feel quite so tired now.
Coming down the 'hard route' slope on one lap (I'm not sure which) I opened the bike up flat out once on the deck and flew across to the other side of the quarry, only to find my throttle jammed open with the turn fast approaching! It cleared and I pulled on the cable a bit to figure out what was going on but it seemed fine so I carried on. It happen one more time in the same spot so I definitely need to do some routing checks with the cable.
865 and i swapped places throughout the race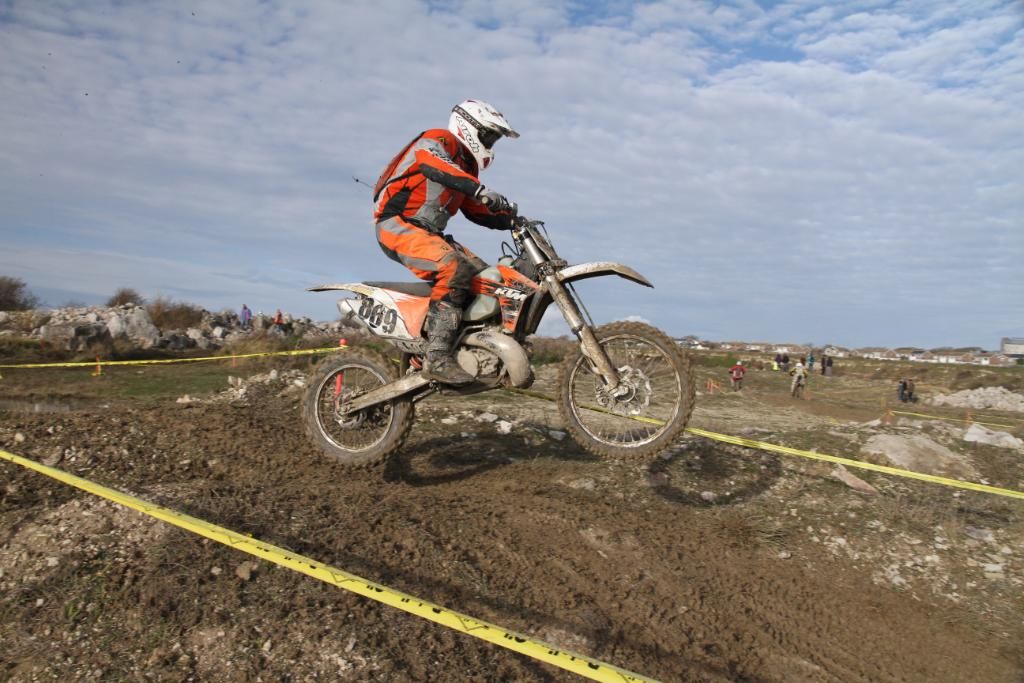 Coming in to record lap seven I again stopped at the board to double check my position and yep I could see 1st next to my name! I got a thumbs up from the lady at the start and off I went again feeling pretty happy with myself. The only problem was that I was starting to run out of steam again and slowed down or maybe took a couple of falls, but all of a sudden Shane Trotter on bike number 865 overtook me. Looking at his race number after he went past I started to dawn on me that he was in my class. I followed him around for a bit and when we went through the timing again it was confirmed – I'd slipped back to second spot. Right the fight was on now, he'd obviously been spurred on by seeing the time come down on the leader board TV screen, but now he seemed a little slower, and I was up for a fight! I really can't remember where I overtook him but I put on a burst of speed and managed to get clear as I looked behind and didn't see him.
doesn't look like much in the pic,
but you really don't want to go on the other side of the tape!

It was a short lived victory though as on the climb by the last easy route it all went wrong. Another rider was down so I had to stop, he beckoned me forward to go round him to the right but as I went forward I already knew I was in trouble. I got onto the steep section and the bike wasn't carrying enough speed so I had to take radical action. Seeing it was all going badly I did the old 'nail it and fling it out underneath' to fire it out from under me and try to get the bike to the top, upside down or not! It more or less worked but it was lying downhill and very awkward to get back up. I heaved and struggled, dropping it a few times but I was desperate to get going again.
looks innocent enough this little slope but it caught out loads of people
Just then Shane came into view and crashed at the top of the climb too! Unfortunately for me he got going again quite quickly and I was still struggling to stop the bike sliding down into the undergrowth. Once I was back on even ground and sitting on the bike I had to rest for a moment or two to catch by breath I was that knackered. Clocking in again I could see I was in second place still but missed how far behind I was. Still I thought that if I pushed hard and he had a tumble I could still catch him, on what was to be the last lap. The whole lap went well and I was flying along making up time everywhere but for some reason I got psyched out by that bloody climb again and crashed - again! Only this time I did a proper job and got the bike stuck in the brambles to the left and it was in danger of falling into the undergrowth down the hill. If it fell in there I'd never get it out. I lifted and heaved trying to get it free but it was stuck fast and I'd still be there had two spectators in blue sweatshirts not come to my rescue and helped my swivel it around so I could ride it back down to the bottom. I got to the top on the second attempt and finished off the course breathing hard with sweat pouring out everywhere. Clocking out for the last time with the chequered flag I was relieved to see that 2nd was still displayed next to my name, despite my last two crashes.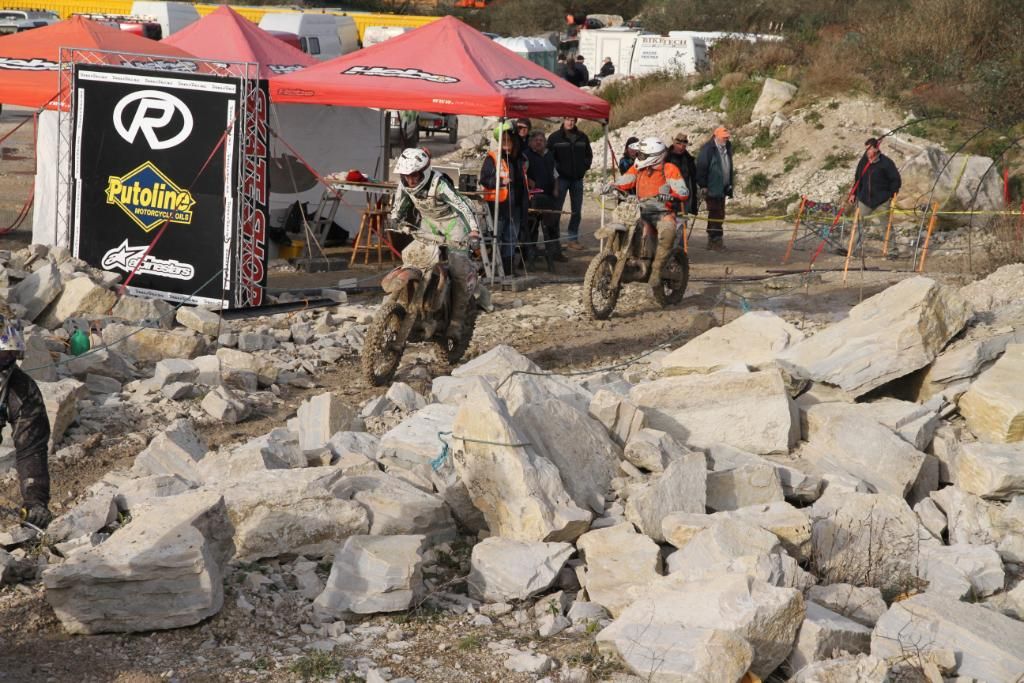 the start finish area. you can see the timing loops in the background
and the large TV screen that shows your lap times and position.
I didn't know what to expect of the day beforehand. I was worried it would be too hard but in the end it was a good mix of hard and easy. Remember it's not for pros so it's a good test for a clubman rider and I'd really recommend it to anyone next year. Had it been raining and or sleeting I'm not too sure I'd have found it too do'able though, that would have been very interesting indeed! I loved the lap timing that TnT use, as it adds another element to the day. Thanks a lot to all those involved with running this fun, well organised event. See you next year!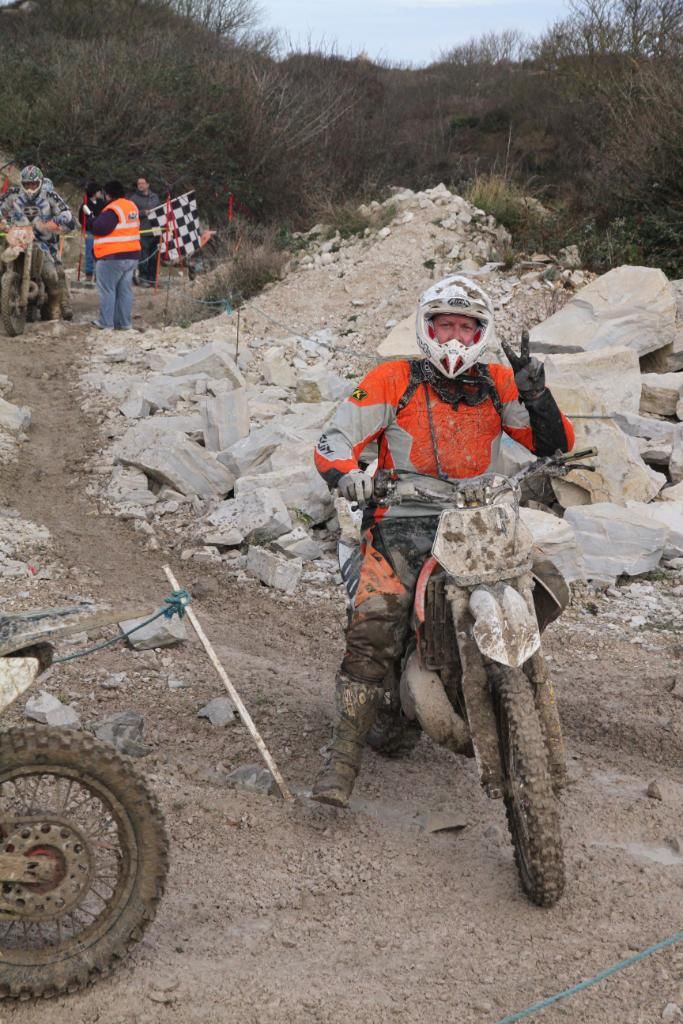 i got second!
eeerrrr do i have to drive home now?!


If you enjoyed this report and would like to be notified of new reports or web site updates then join the mailing list. To sign up to the list just click HERE>> and send me an email.