For more of our photos click here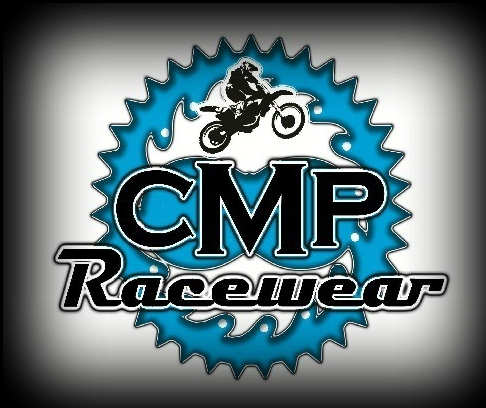 So my days on the bike seem to be filled with drama lately, but first the lead up to the race. Bike prep the week before was just a matter of giving the bike a good clean to get the Welsh forest mud off of it and to remove the lights etc as the next race was a H&H which traditionally does not require working light as per timecard enduro's. I also needed to give the gear lever another look as it came lose during the Drovers enduro. I tapped out the shaft thread then used some electrical cleaner on it and finally an airline to blow it dry and clean. Next I checked the depth of the thread on the shaft and found a slightly longer bolt to attach the gear lever. More threads holding should mean there is less chance of it coming lose. Once the bolt (note it needs to be a 10.9 strength bolt not one of the softer bolts used throughout the bike) was cleaned off too I used a different loctight to put it all back together.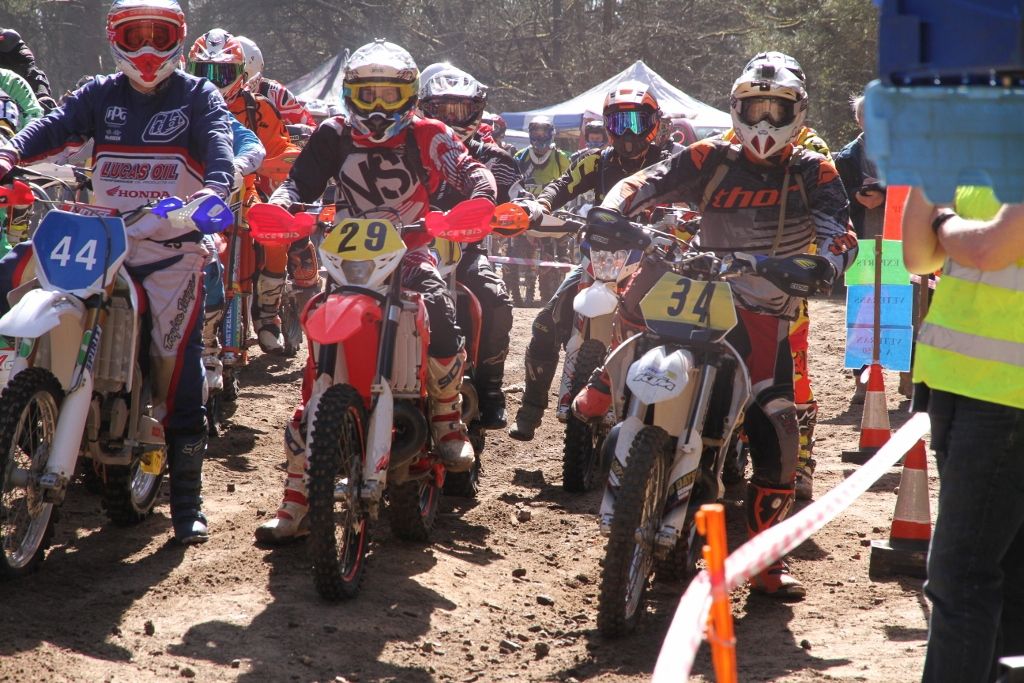 lined up at the start - foot on the kick start? read on!
As this was a H&H I'd managed to convince Tony to attend as well so Nicky and I were up early to drive over to his place to pick him up. A quick route round the M35 and down the M3 and we were there, no I didn't get lost this time! What I'd forgotten to read properly was the 'final instructions' as I was still under the impression it was a 10am start when in fact it was a 11am start! Oh well no big deal, at least we weren't relegated to the bottom of the car parking road as that was quite a walk back to the pits.We took all the gear up to the pits and at the same time signed on and got our transponders sorted out. Back at the car we fired up the bikes to take them to get checked – well Tony fired his up, mine just wizzzzzed. Crap, why now! The electric start has been 100% since upgrading it and the gearing/battery but now just before a race its just giving a wizzing sound of the starter turning but not engaging the bendix/motor. The bike giggled at my temper tantrum and wet itself too with petrol pouring out the overflow! Aaaaggggg! Now it was flooded so kicking it into life was proving difficult and after many kicks and a painful whack on my calf muscle by the kick start lever I got it to start by opening the throttle wide.
flag in half way down and we are already off! and running!
i keep up with the pack
i'm third in the first turn behind 25 and 29
Doom and gloom. I'm normally a quick starter and like to get to the first turn within the leading group. Now I had to kick it into life so I wasn't convinced I'd be able to get it fired and into gear fast enough. At scrutinising I pushed the bike past them and over to the pits where I took the crown wheel cover off to see if there was anything visibly wrong that I might fix, but everything seemed ok. I guessed the intermediate gear wasn't engaging for some reason, maybe there had been some wear and now it needed shimming again. I also noted that the start button was playing up (or something) as quite often I got no response when I pressed the 'go' button. Well there was nothing more to be done. I could have pulled it all apart (I had the extra hour) but in the end I decided to leave it and use the kick start. Once it was parked up we went back for coffee and a bun at the car, then we walked to first few turns so I'd know what to expect at the start.

The Start
I was right over on the left hand side and sat there paused with my foot on the kicker. The Clubman A class was mixed in with some other groups so the start was quite full. The seconds ticked down and the flag dropped. The bike fired straight away and I got away quite well, third into the first turn!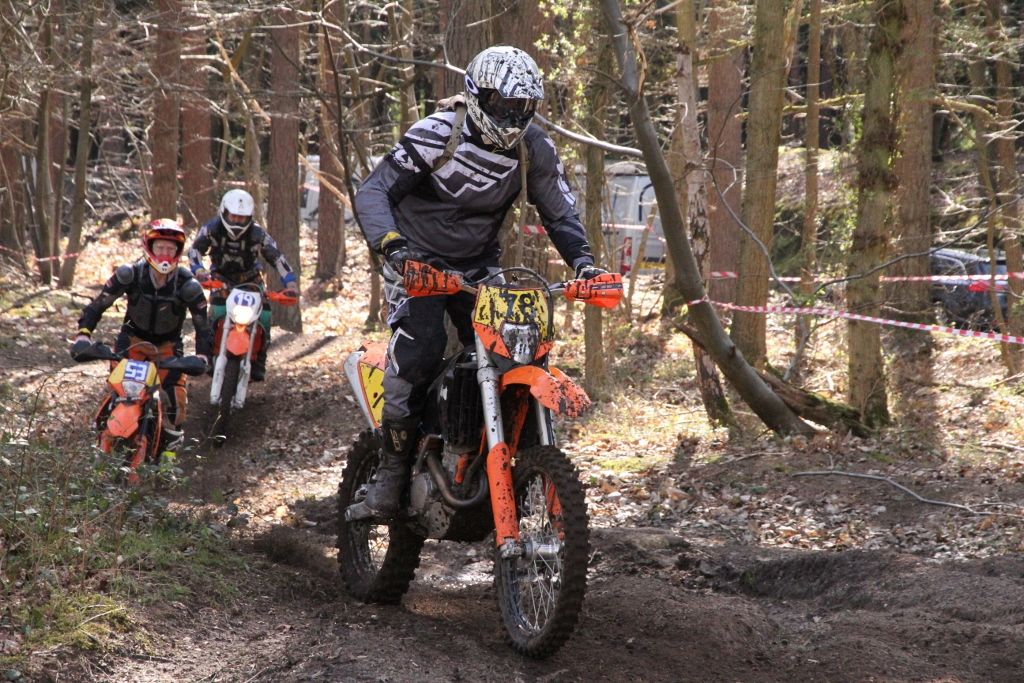 Tony on his first lap. looks like his had a load of mud in his face already!
second lap - after a bit of an issue i've had to fight back through the pack again
Tony about to get lapped by me and 29 on second lap
he admits to having a bit of an interesting first lap - he got lost!
red mist was such that i didn't even see him on this lap!!!
The first few turns were quite tight and the three of us were close together then it opened up a bit and we went along a track with deep ruts. I had a big moment, lost ground a little and the second rider slipped past the front runner. He was a little slower than me and I wanted to get past but when you don't know the track and doing similar speeds it's hard to plan an overtake.It took quite a while but eventually I slipped up the inside just as we were catching a rider from the group that started in front of us. After the next turn we ...... got lost! Somehow, most likely the tape was down, we got off the track and for a moment we went round in circles then headed back when the other riders in our class came streaming through. Great, now I had a load of work to do to try and pick my way through the field. Having made a great start, I was back in the pack.
in the middle of a several lap long race with no 29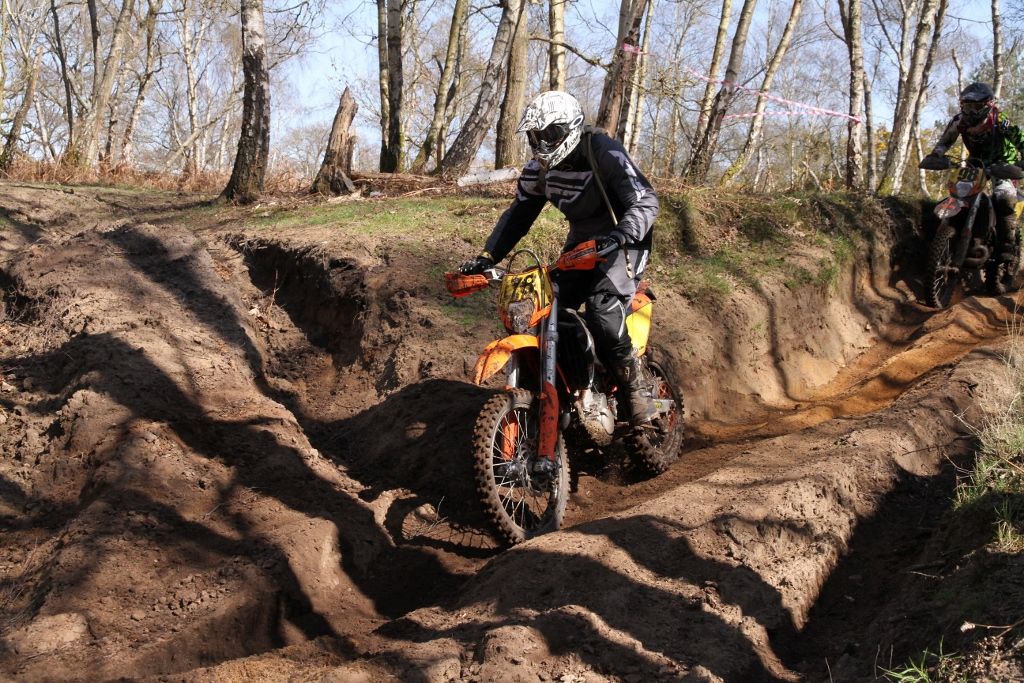 tony in the same spot
i give nicky a quick look
It wasn't easy as I still didn't know the track, it being the first lap and the guys were riding in groups of up to four riders, which makes it hard to see a way past. I made a few out-braking passes and dived up the inside a few times in the next few laps with a few 'on the power' overtakes between turns, a couple were slightly on the hard side so sorry to anyone that felt I did too hard a move.
in one of the open bits - i've got away from the main pack by now
unfortunately Darren is not far behind now!

The track was all sand based and very rough as it crossed a lot of old tracks that were rutted. There were a few boggy bits that you needed to keep out of and a couple of logs too. Only one was big enough to be an issue and this was at an 'easy/hard' route option. It wasn't too hard to get over but as you got more and more tired it would no doubt start to be tricky.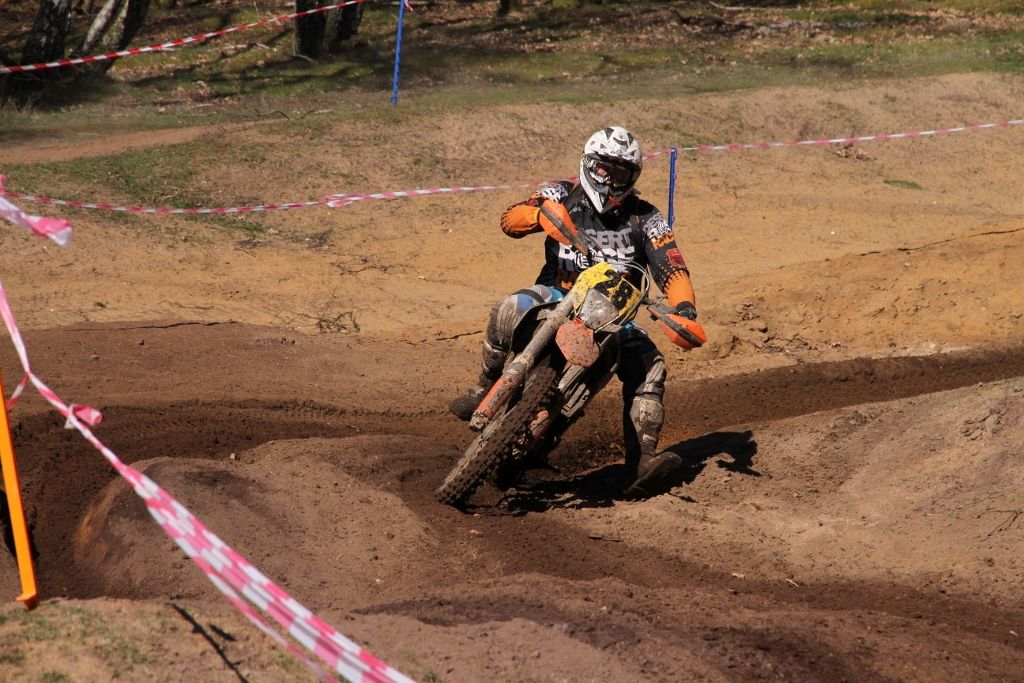 gaining on me
Tony
There were two jumps, one at the far end just after you went through a dip, cut back to the right and there were two little humps. I rode over them the first lap but the guy in front of me jumped them so either he was taking a chance or he had some insider knowledge! Having seen that I decided to jump them the next time too, but forgot, so it was only on the third lap that I cleared them properly. The second jump was near the other end and on a hump of sand that sloped away, so if you were going fast enough you could get some air under the tyres.
i like this shot of two other guys
dam - he's caught me now!
still right there!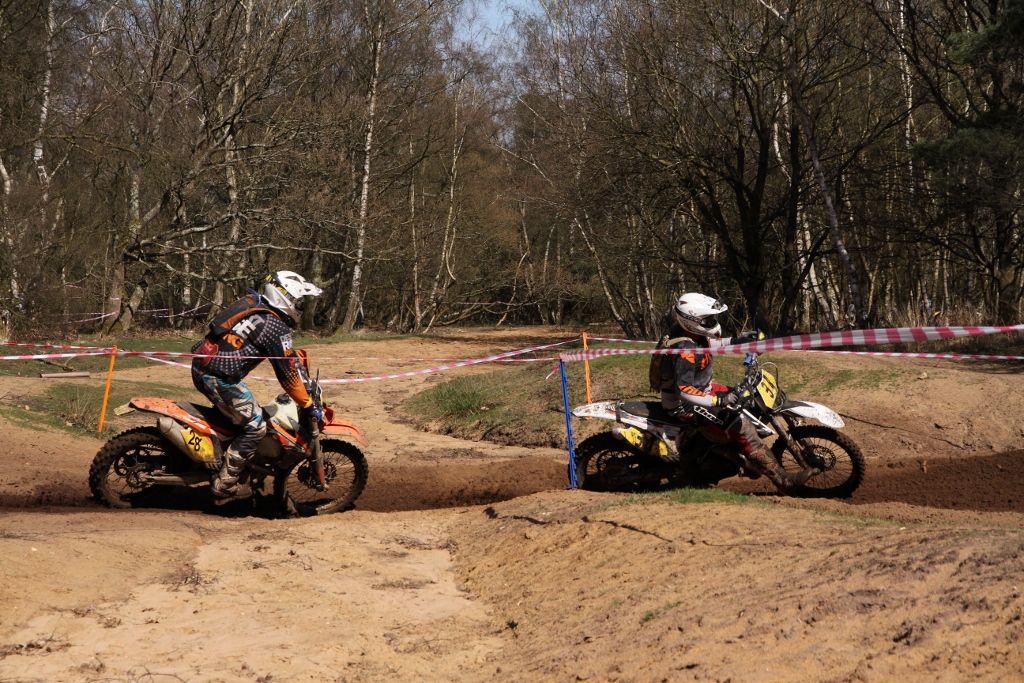 Like I said the track was rough and very tight so there was nowhere to rest or get a drink. The only time I got a chance to drink was when you came round to clock the transponders. As I approached them I'd brake one handed and grab the drinks tube and stuff it into my mouth. As it was so hard on the arms I didn't get an opportunity to wipe the gopro clean so most of the footage is unusable. I've used the first half a lap and then something happened that I had time to wipe the gopro's lens. There was a 'nothing special' log that I'd been going over all day just fine but for some reason all of a sudden I was flying through the air and landed real hard on my left side. I had been caught completely by surprise and was a little confused. I picked the bike up cleared mud out of its guards and set off again, but I did notice someone else picking his bike up too so I wasn't too sure if he'd crashed because of me falling off in front of him or had he clipped my rear wheel and sent me flying?
film from my helmet cam
the start of the race in shown, along with later footage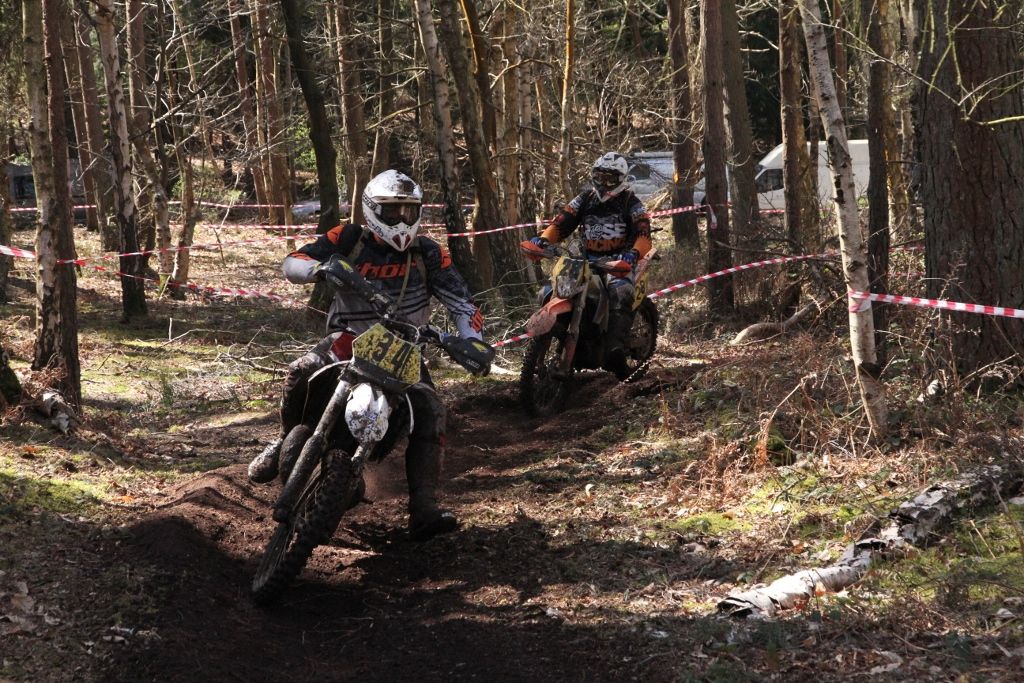 dam it - he's STILL there on my tail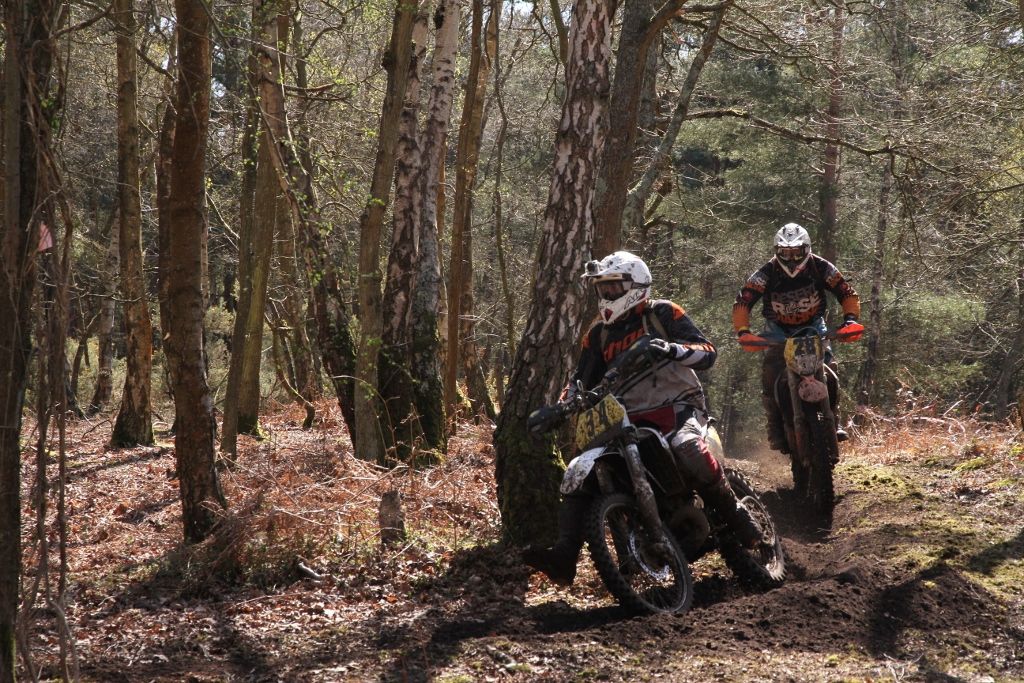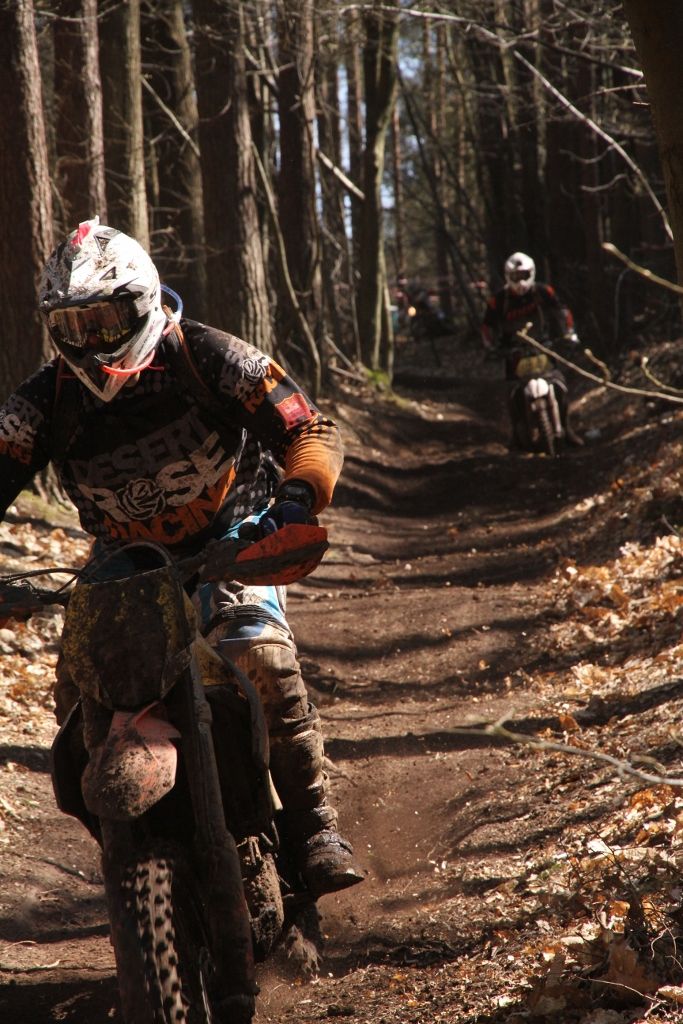 it was only a matter of time - Darren got past
I carried on but was a little de-tuned now. I picked up the pace eventually and worked my way past riders as and when I could. After several more laps I spotted Darren behind me. I tried to ride faster as he's quicker than me and I kept him behind me for a few laps, one of which we blitzed past Tony, but eventually he got past. Seeing as we were in the same class I wasn't going to make it easy for him! I tried to stick with him but he seems to ride so smooth with a good turn of speed so that after a while he pulled a gap on me, then I came round the bend and found him on the deck with another guy! I got by as he was picking his bike up but he caught me again and once again I tried to make it as hard as I could, but eventually he got past again.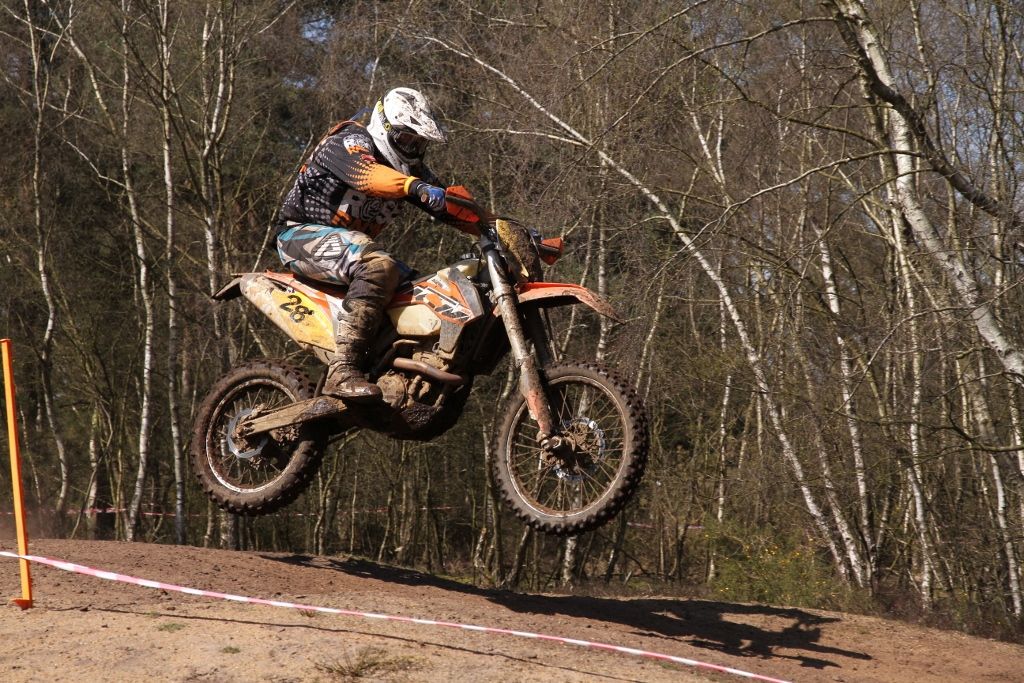 For some reason he stopped a little later, I'm not sure if he crashed or his bike stalled but I got by him again, and had to fend him off again! But it was inevitable and once he got past the last time he pulled a gap big enough for me to lose sight of him. Knowing I was beaten was a bit crap but I thought there was a small hope of me catching him later if he got tired, but I had a sneaky feeling he'd be pushing hard to the end as I'd teased him about beating him at the South Reading race when he slowed in the final few laps. I carried on and after a while I checked the time and was surprised that it was already well past the two hour mark. I had a quick look at the petrol situation when I came round to clock the transponder and it was pretty low.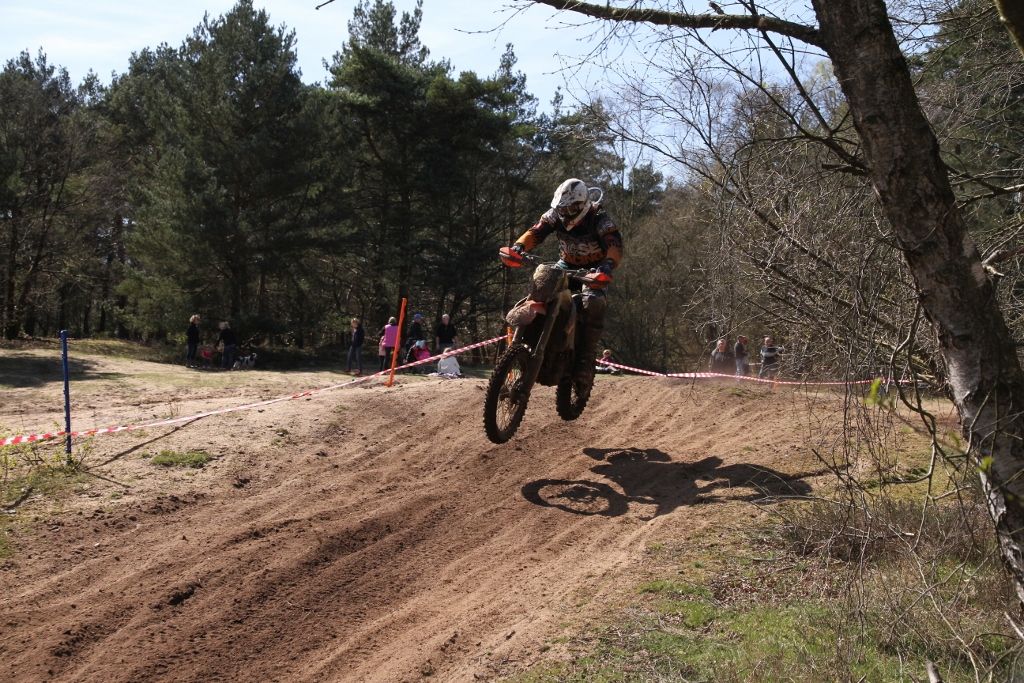 As it was too late to pit now I carried on but flicked the tap to the reserve position just in case. I'm not sure I'd used a lot or the float was leaking again but thankfully there was enough in the tank to make it round the whole lap and I pitted to dump some fuel in. By now there was only about 20minutes left and I pushed hard so got back in time for another lap and pushed hard again but took a small tumble that whacked my right knee. Nicky said I had closed the gap to Darren by quite a lot but there just wasn't enough time left. Although he did say later that he was keeping an eye out for me just in case I snuck up on him! So no idea how I did as the results are not out yet, fingers crossed its ok.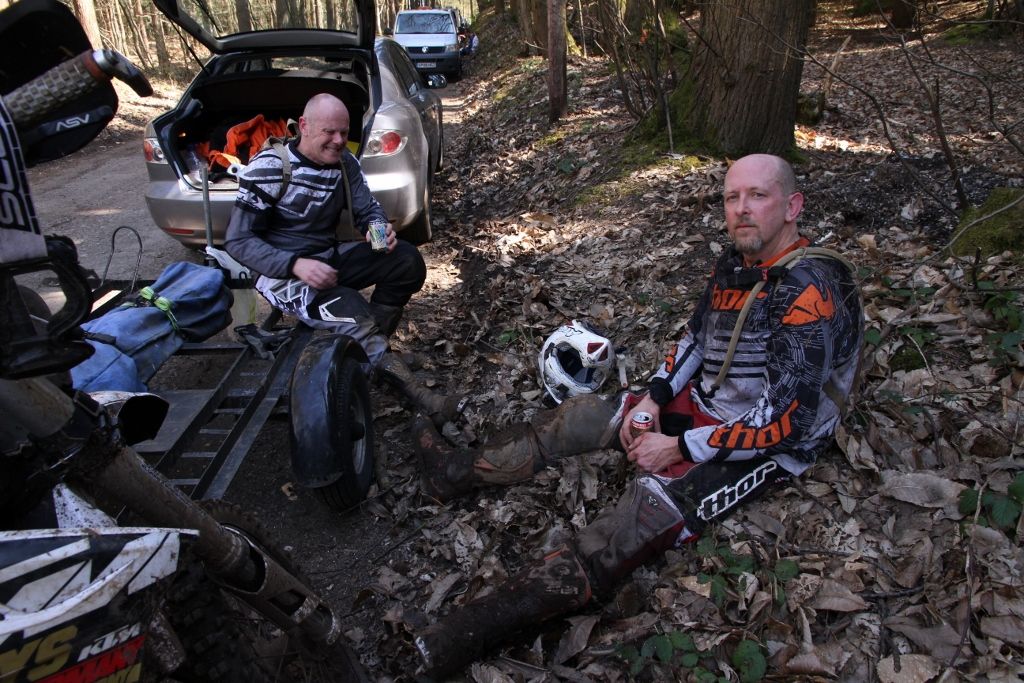 boy was i knackered!
Tony appears to be in pain :)
Monday morning and bike cleaning time. Three washes to get the sand out and I pulled the starter covers off. Everything looked fine so I fitted a shim and while it turned over first time it didn't sound right so I took that out again. The iffy start button was stripped down after I tested it and found there was a high ohm reading. I found a worn spot on the contact disc so cleaned that up and gave the whole thing a good clean with wd40 and a toothbrush. After that it started six times on the trot without any issues. So no idea what was wrong but its working again, happy days.