Enduroland 10-Hour Enduro 2014
So the yearly charity enduro that enduroland run was getting closer. I normally ride the event and quite enjoy it, but last year it grew into a proper race, whereas previously it was just a bit of fun. Last year I just went for a bit of a ride but this year I was keen to get a bit more serious. Unfortunately riding partners were in short supply so it looked like the only option was to ride for the full ten hours on my own – yes you read that correctly – ten hours solo in the Ironman Class. Could I do it? Well I dithered for quite a while but eventually I bit the bullet and signed up, Solo Ironman in the Supervet sub class ie old gits like me (50+). The plan was to do enough laps to get a decent result and wait for the other oldies to give up, well that was the plan anyway.
Nicky and I got to the venue (Chacombe near Banbury) nice and early and parked near Steve and Dan, who were riding in a two man team. Once all the signing on was done the bikes were parked in the starting area in their correct rows. All the fuel and food was located in the pits along with the tools and spares box. I'd filled up the 20ltr quick fill can along with another 10ltr can and finally a further emergency 5ltr (non mixed) can of super unleaded.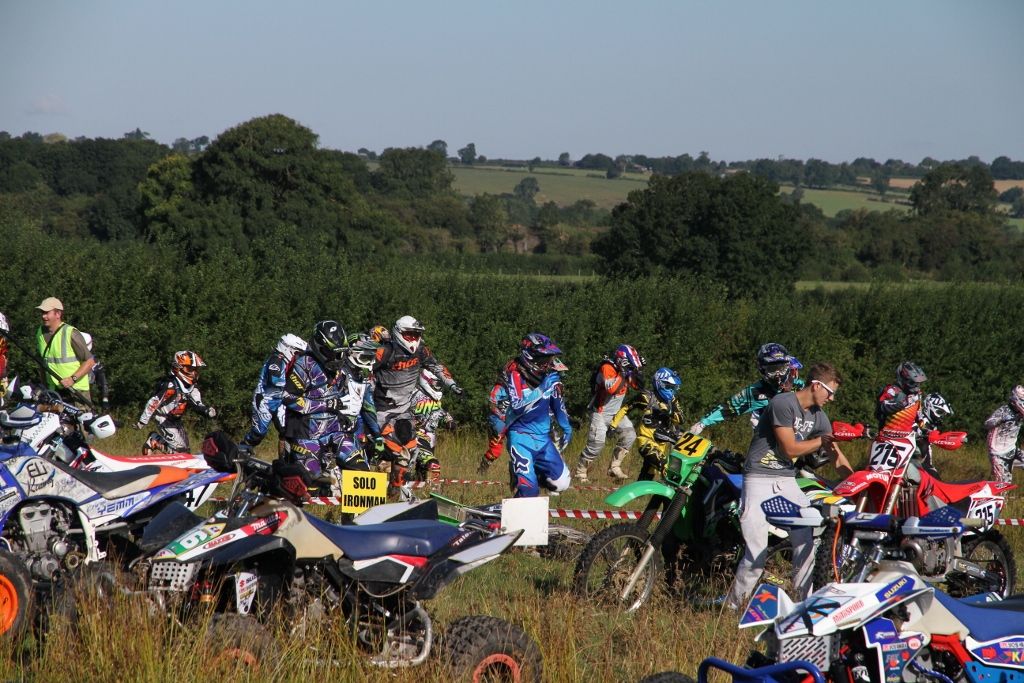 and their off!
The timing of the event was going to be handled by a new company and the 'tag' was a small RFID sticker that needed to be attached to the peak of your helmet. Steve seemed a little sceptical of the accuracy, something he would have a lot more to comment on come the following week! I omitted to give Nicky any pitlane instructions as I was sure there couldn't be another fifty plus mad enough to go for it all day.......... yea right.
slow start so i have to make up quite a lot of places
It was to be a full 'Le Mans' start, which meant everyone lining up by the edge of the field and running like mad to your bike - once the starting rocket went 'bang'. I switched the gopro on as we lined up and we all had a little laugh when a latecomer tripped over his mx boots and fell flat on his face in front of everyone. The rocket shot skywards and of course there was the inevitable surge forward that had to be contained as the rocket was still to 'bang'. As soon as I saw the white smoke I was running and another youngster went flying over a hump but I think he remained upright. I made ok time to the bike but the electric starter failed to start of course – payback for me always saying my starter is foolproof. So with everyone roaring off I gave it a few prods but it was having none of it so I had to resort to the kick starter. I was overly worried as 10 hours (oh that sounds so long when you say it) is a long old time to make up time. Once I got going I immediately began to carve my way through the pack but didn't go too mad, especially at the first bottleneck.
This turn just after the start was very slick in the early laps
no:8 has his rear step out...
another rider doesn't get away with it...
67 loses the front but saves it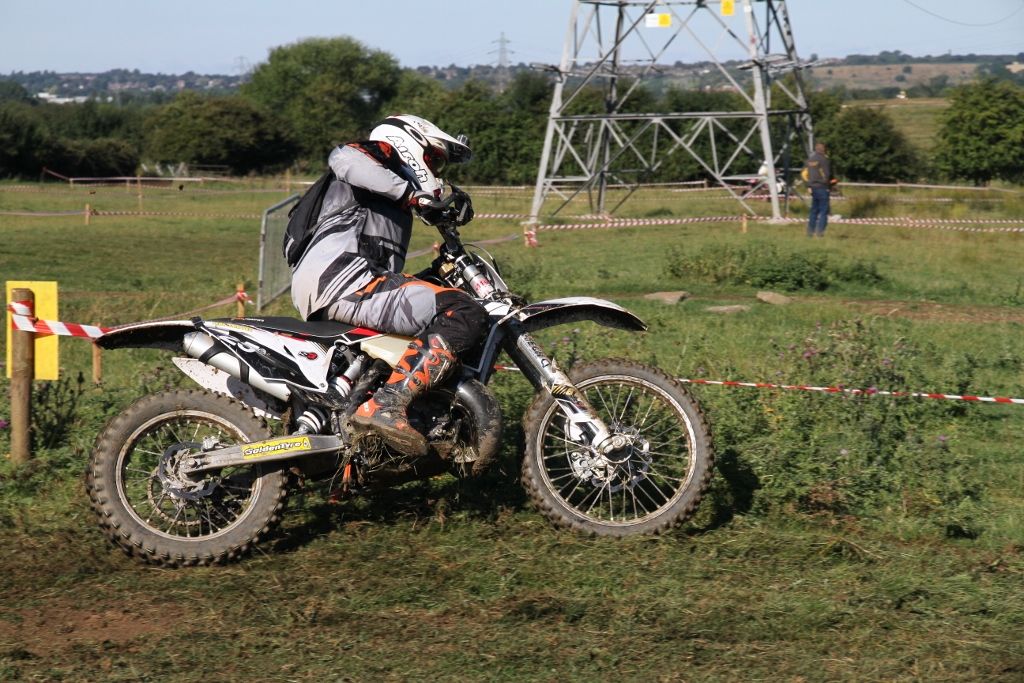 ooohhhhh close one! I lose the rear but manage to save it...

After the initial mini loop by the pits we headed down the field parallel to the access road and then turned right, through some tight turns, followed by some ditches. A quick run over towards the hill and as we climbed the first slope into and through the trees there was some tricky little tight turns that had exposed roots. Over the crest and a left turn down to a tree and a switch in direction back the way we came, before once again doing an about turn and heading downhill through the only boggy bit on the track. Once through the bog came the steep hills, a couple in the early laps but a third was opened up later on.
me on the run back down the hill
Garry Skelding at the small jump just after the start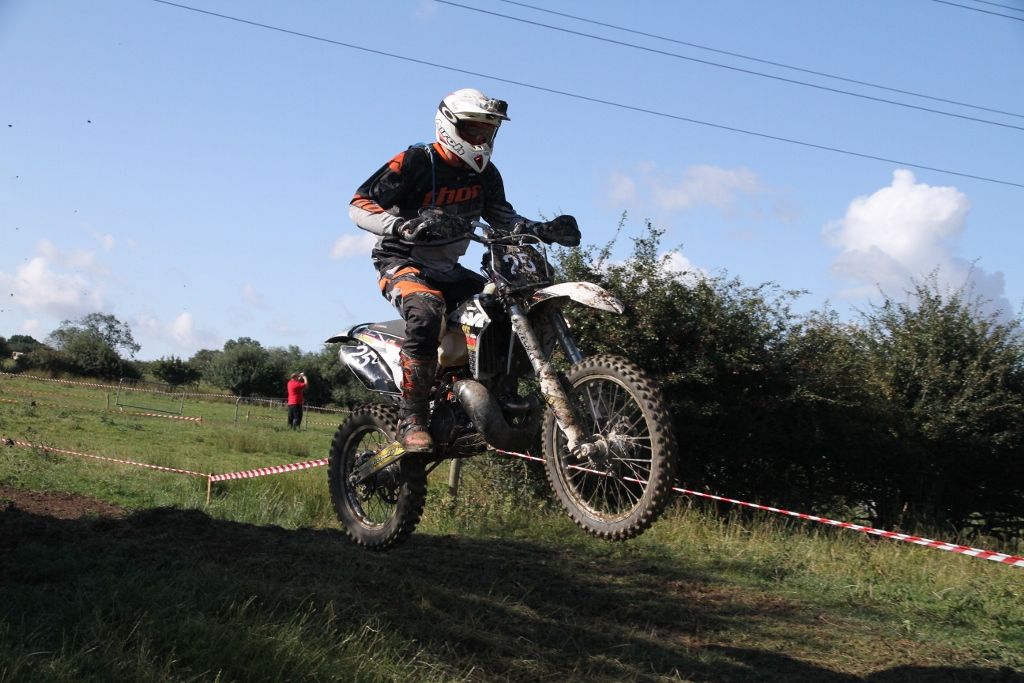 me
After the hills and a quick left right on a slope it was time to start heading back towards to the pits and this was via the edge of the field. This was quite rough if you took it flat out, but the next field after ducking through the hedge was even rougher. Turning back on ourselves we peeled off the hill to the left then turned tail and headed back up the hill. To get back onto the flat track meant you had to negotiate a series of exposed roots. This was best taken at speed so you could jump the final few roots. A short straight and we once again turned off to the left where we swept through a series of turns which was the start to a run back down to the original field. Once into this field we turned left onto a rough track with some humps that could catch you out. Now it tightened up a fair bit and we ducked in and out of depressions with overhanging tress and exposed roots. These tricky bits were followed by more turns, some of them bermed, as we climbed the hill once more. One more fast run down towards the start line but we were herded off to the left to skirt two massive fields to add some length the track. The runs across (the very furrowed) fields were very hard on the legs, it was hard to control the bike as it could get very flighty as the suspension got over stressed. Back round to the start – only nine hours and forty five odd minutes to go!!!
ok you can be in the report too !
Dan makes sure Nicky gets his pic...
i'm right behind him
So I'd made up quite a few places on the first lap and some more in the next few laps but I was very concerned about overstressing myself and running out of steam, so I had to take it a little more steady as it was still early in the day. Now that I'd passed the slower riders the track felt a lot more empty, so it was easy to settle into a rhythm, but this meant I inevitably slowed down. This wasn't a bad thing but as soon as I spotted a rider up ahead the racer in me would take over again and I'd speed up to sprint speed to catch up and overtake.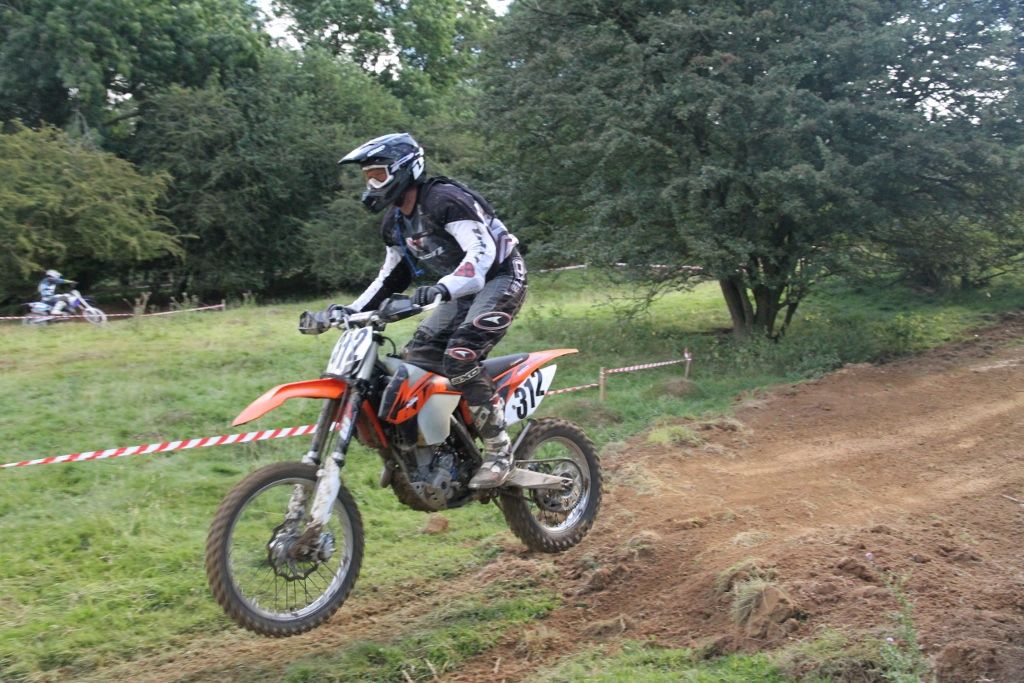 Dan again near the end of the lap on the main hill
followed by some pics of other riders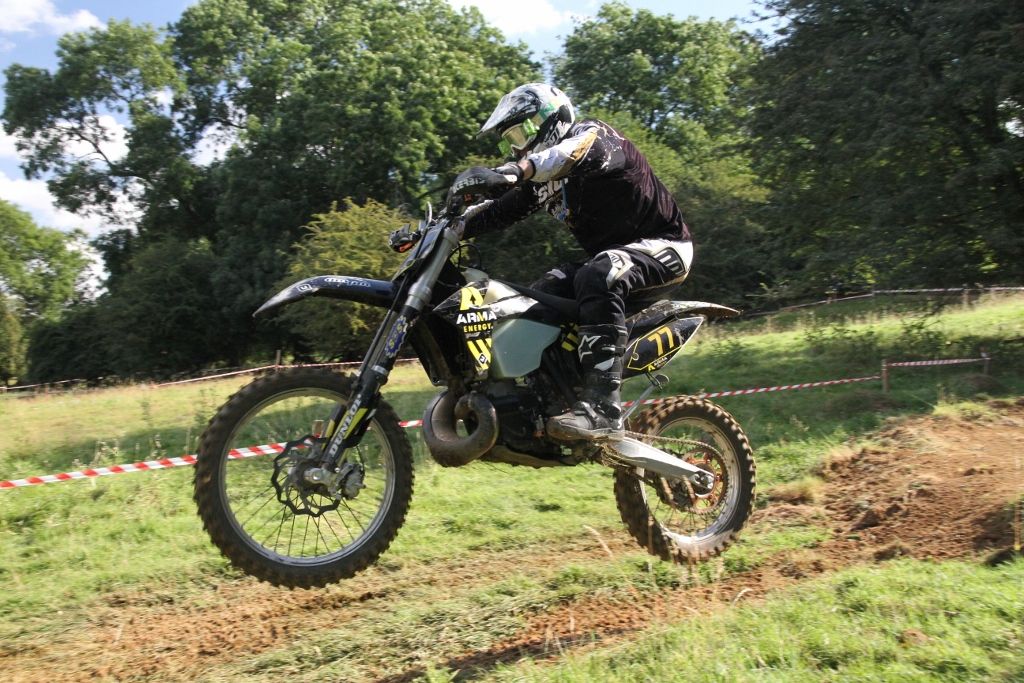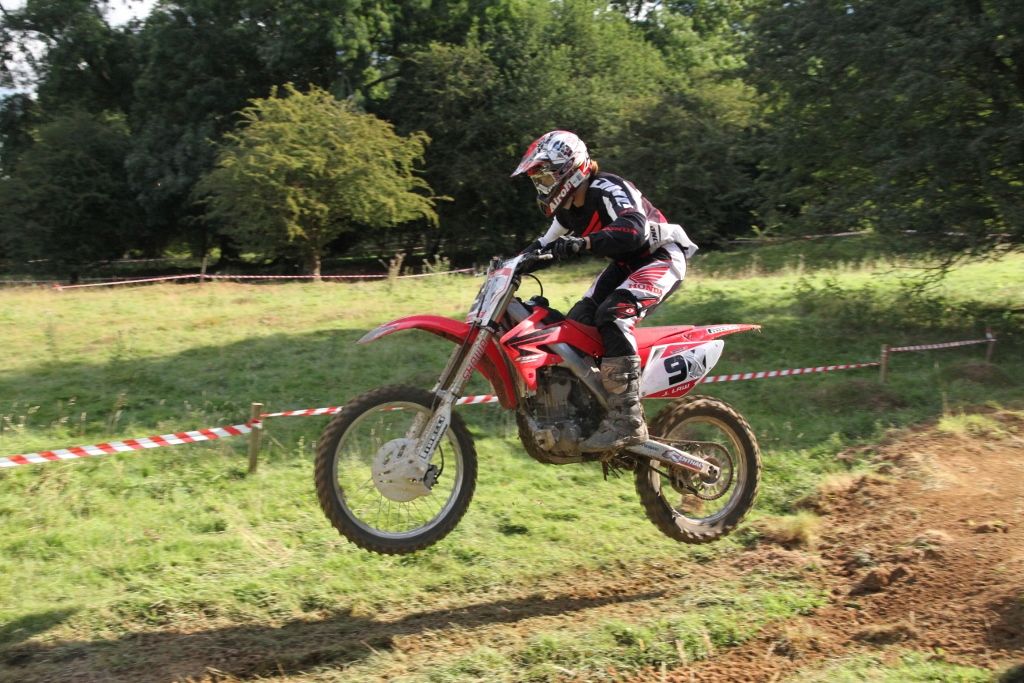 After about two and a half hours I pulled into the pits to re-fuel then shot off again as quick as I could. For the next two hours I plugged away at the laps and I was hoping Nicky would be in the pits at the next pit stop to help me out with re-fuelling, both the bike and myself. Unfortunately I'd failed to convey this strategy to Nicky before the race, so she was still out on the track taking pictures. Pulling into the pits for the second stop I dumped more petrol into the bike and topped up the camelpak with water, stuffing half a pork pie into my mouth at the same time.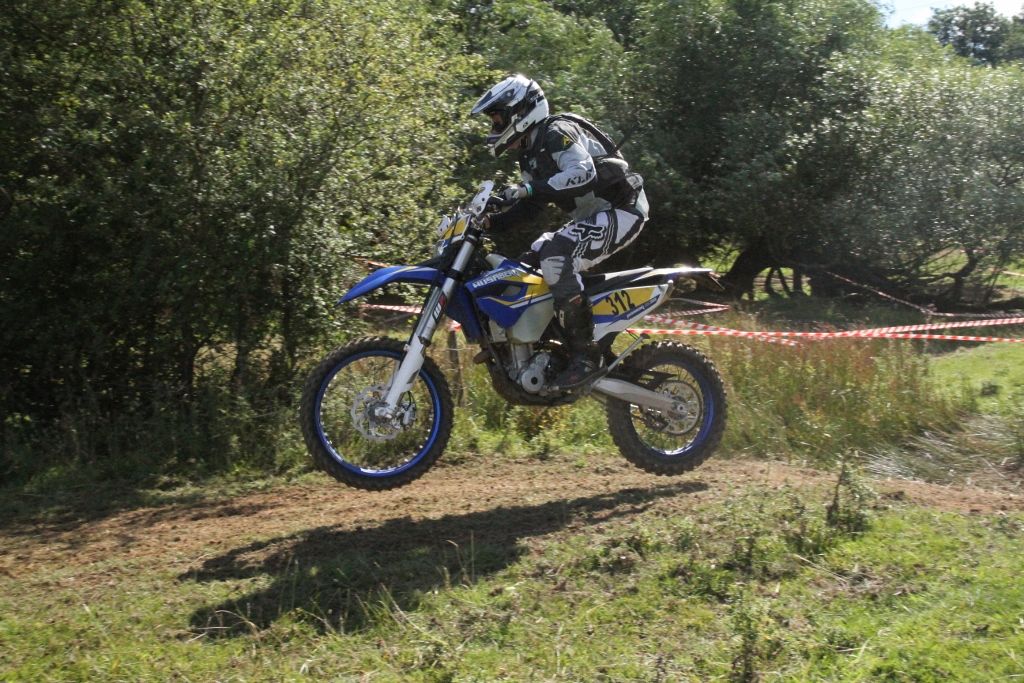 Steve (Dan's teammate) jumpinmg at the start of one of his laps
i'm hot on his heels
Steve again
me :)
Back out on track the four hour mark came and went and I could not help by thinking that in most races this would be the end of the day – and I still had SIX hours to go. More and more laps were completed and most parts of the track were getting a little rougher but one of the places I was really struggling with was the back field through the whoops, I could just not get it right. Too fast and I was getting out of control and too slow I felt like I was crawling along. Either way it was bloody hard on the body, especially the legs.
back down the hill and Steve is looking in top flight mode
me again
one more of Steve
I was feeling relatively ok still and riding steady but one of the top team riders came past on the back field and I decided to see if I could stick with him for a bit. I lost a lot of time on the first series of humps but pulled some distance back on the open going and tried really hard on the second set of whoops. Everything was going well at first but the extra speed turned from good to bad near the end of the run. I was a little out of control by the time I got to the last hump and flicked it into the right hand turn where the "little bit out of control" turned into "completely out of control" and I lost the front and fell heavily (and painfully) onto my knee, I managed to yank the bike upright and get going again fairly quickly, at least I managed to stay in front of the slower rider I'd just overtaken and didn't have to endure the embarrassment of having him pass me on the deck.
medical assistance not required :)
high flying after the start
By now I was starting to feel the strain and when I came round for another lap Nicky and Dan were standing in the pits so I stopped briefly to ask for a screwdriver and added two clicks of compression damping to the rear shock. I was hoping it would help control the bike on the humps in the back field. Coming round again Nicky was no longer in the pits so I carried on and spotted her taking pics so I pulled over momentarily to ask her to be in the pits at the next stop as I need some help to make a quick stop. From her side of the tape I stopped and shouted at her to get back to the bloody pits! I'm sure I didn't put it quite like that but obviously I was feeling a little stressed!
the three front runners for overall placing in the ironman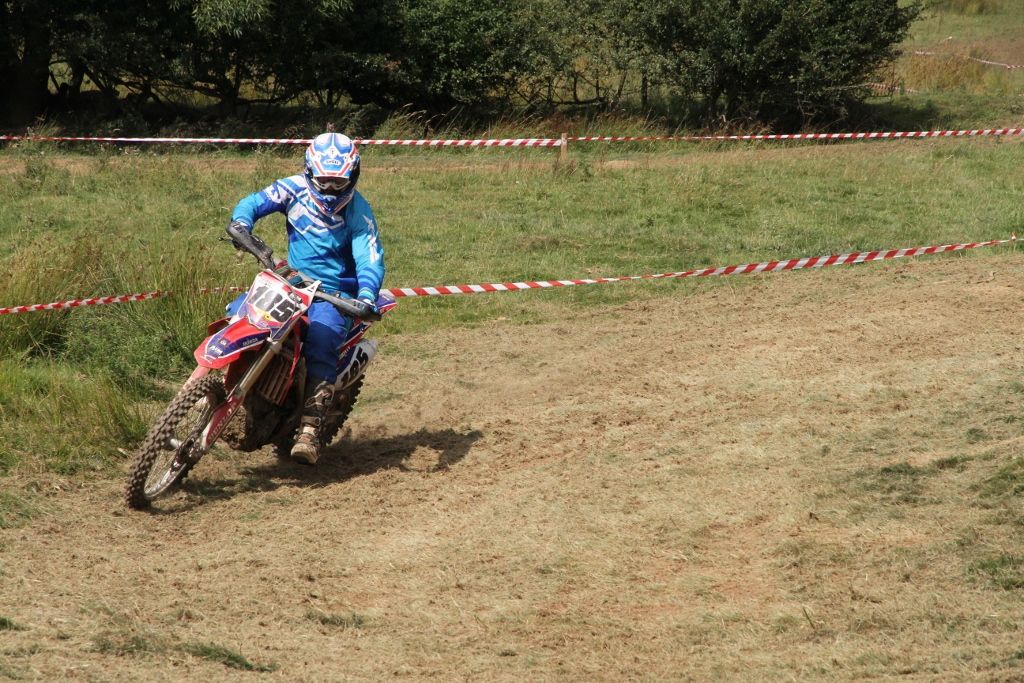 At the next stop we refilled the bike and camelpak and Nicky stuffed some fruit and nut bar into my mouth. I was getting a little concerned about the rate I was going through the petrol supply and hoped I'd have enough to last for the whole event. At one point I caught up to and overtook Dan and that spurred him on a bit, enough to re-pass me. He's going really well on his new bike and I wasn't able to push hard enough to stick on his tailpipe.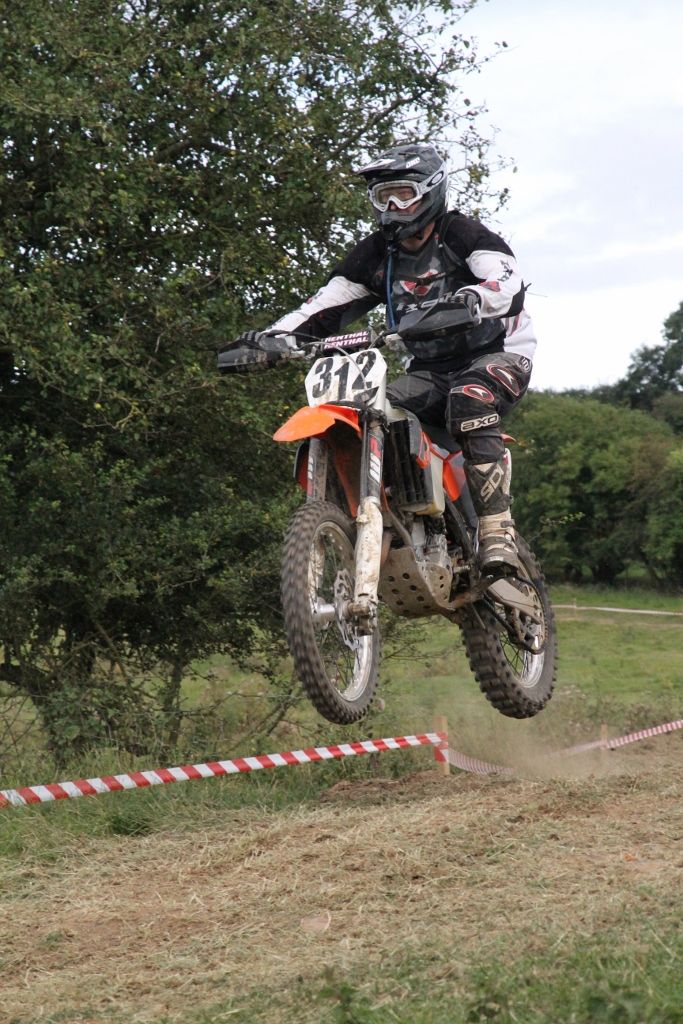 What I had forgotten to ask Nicky was exactly where I was in the standings. I was still going well but I was tiring and wondered just how much longer I could last. I was still hoping to out ride the other supervets but didn't want to lap unnecessary. This left me no option but to once again pull over to ask her to check the standings and to let me know the next time I came round. I was given the good/bad news that I was sitting in third place but only one minute behind second place, right the race was on! I pushed hard hoping to catch rider 185 who was up ahead somewhere. One more lap and I was still behind so I pushed again and pulled in to pit for fuel. Asking where I was now I was given the bad news that I'd lost time! This was not what I needed to hear and it really knocked my confidence. "I just can't catch him" I said to Nicky then added that I was knackered and was thinking of stopping. "What – but you can still get third" Nicky said incredulously, "third is still great, don't stop now". I set off again feeling tired, drained of enthusiasm and a bit low.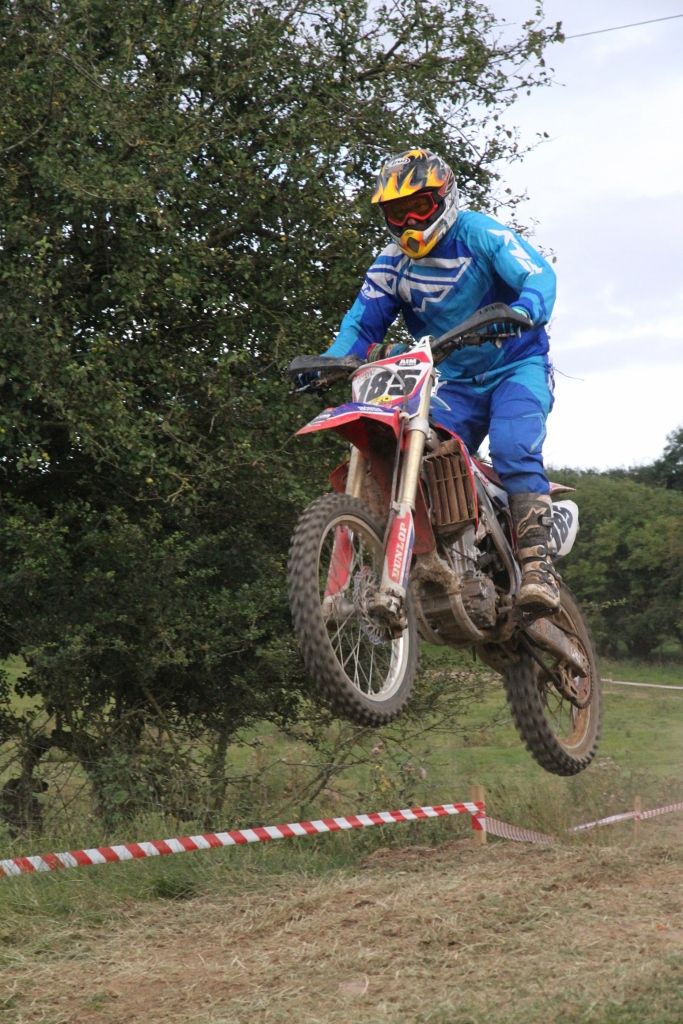 But things would change on the next lap as I came round and was waved down by Nicky who informed me both riders had pitted and I'd pulled back a lot of time on them. Thinking there was a chance of making a brake I was revitalised and it spurred me on to continue pushing…..well riding the bike at least! From then on it was a case of just putting in the laps again, and again. We were never quite sure exactly where I was in the race, but now I was determined to get a result, a win if possible, not just a finish. The petrol was going down fast. I'd finished the large 20ltr can and was half way through the 10ltr can. Nicky asked if she should fetch the 5ltr emergency fuel can. I thought this was a good idea. The bike was running like a train without any problems but I wasn't so good. It was my knees that were playing up and were quite painful. I could feel my hands were blistered too and no doubt these had burst. The one good thing was that my arm was holding up just fine. Overall I was feeling pretty tired and I asked Nicky to mix up some isotonic energy drink for the camelpak.
Video lap of the event.....
At one point Nicky flagged me down to tell me that the rider in the lead was in fact not a supervet and was in fact a youngster so we'd been misled initially and had been given the overall results not the supervets! This was good news for me but when I asked about the other rider she confirmed that he was an old git like me so we were going head to head. At one point it looked like I was in the lead by quite a margin but was losing time lap by lap.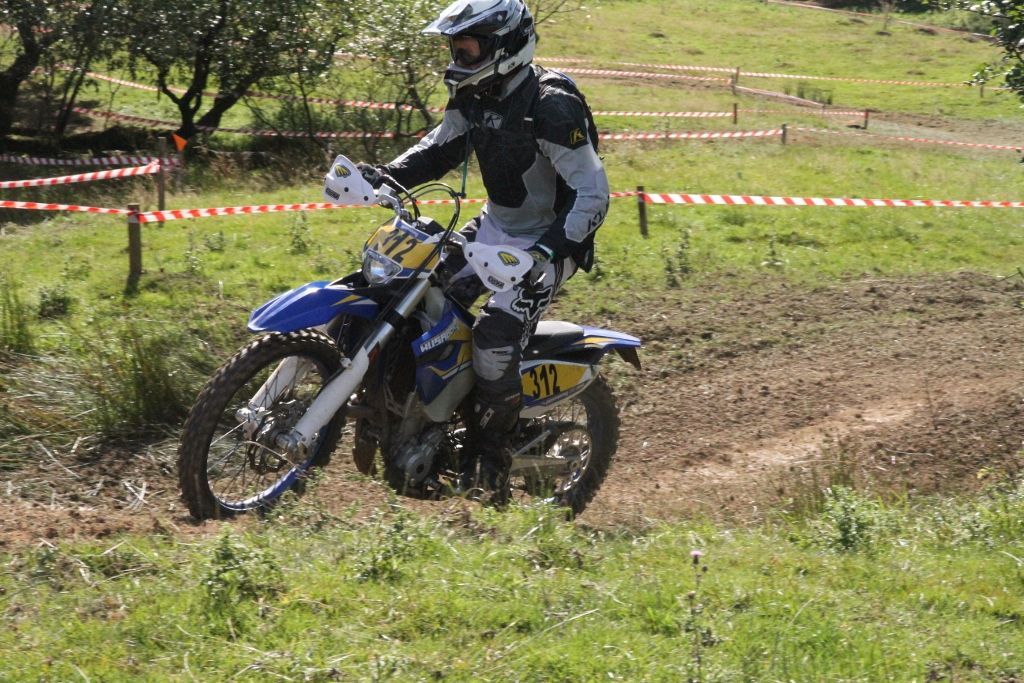 By now it was time for my last pit stop. I'd run out of nut bars by now and Nicky asked if I wanted a bun but there was no way I could get one down at this time. I emptied the 10ltr can into the tank and I could see that it would be enough as it nearly filled it and there was less than two hours left. So I knew I had enough fuel for the bike, all I needed to do now was keep going to the end. I didn't have any issues out on the track and it was hard to believe it was nearly over. The track was rough now and taking a hard toll on the body. Eventually I was on my last but one lap and all I could think of was "only one more lap".
By now the humps on the back field were torture on the knees and I was going very slowly through them. On the last lap I was so relieved it was over I put on a burst of speed as I no longer needed to conserve my energy. But there was a problem – while I was on the back field I looked at the time on the bars and unbelievably it looked like I was going to be back before the 7pm cut off time! I couldn't believe it, I was mortified that I'd have to do another one, especially since I'd just put in one of my quickest laps! Sure enough I came round and yes there was time for one more lap. That was a hard one for sure, but thankfully it was over at last and i parked the bike back to the car, killed the engine and slumped onto the bars – it was over! I climbed off the bike and fell to the ground lying on my side trying not to think of the pain in my knees and hands.
Garry Skelding finishes
Steve too...
finally - its over!
Nicky came back to the car with some of my kit from the pits and Dan and Steve came over to say hello. I was still lying on the ground, totally knackered and unable to move. Nicky put up a chair and got me to climb into it. My knees were now on fire and seeing as I was no longer riding and being distracted by the race, the pain took over and I wasn't very happy at all. My hands were in tatters as the blisters had all burst and skin was hanging off. Eventually Nicky dragged me out of my filthy clothing and gave me a wet cloth to clean my face. Dressed and a little cleaner we walked up to the bar tent to hear the results.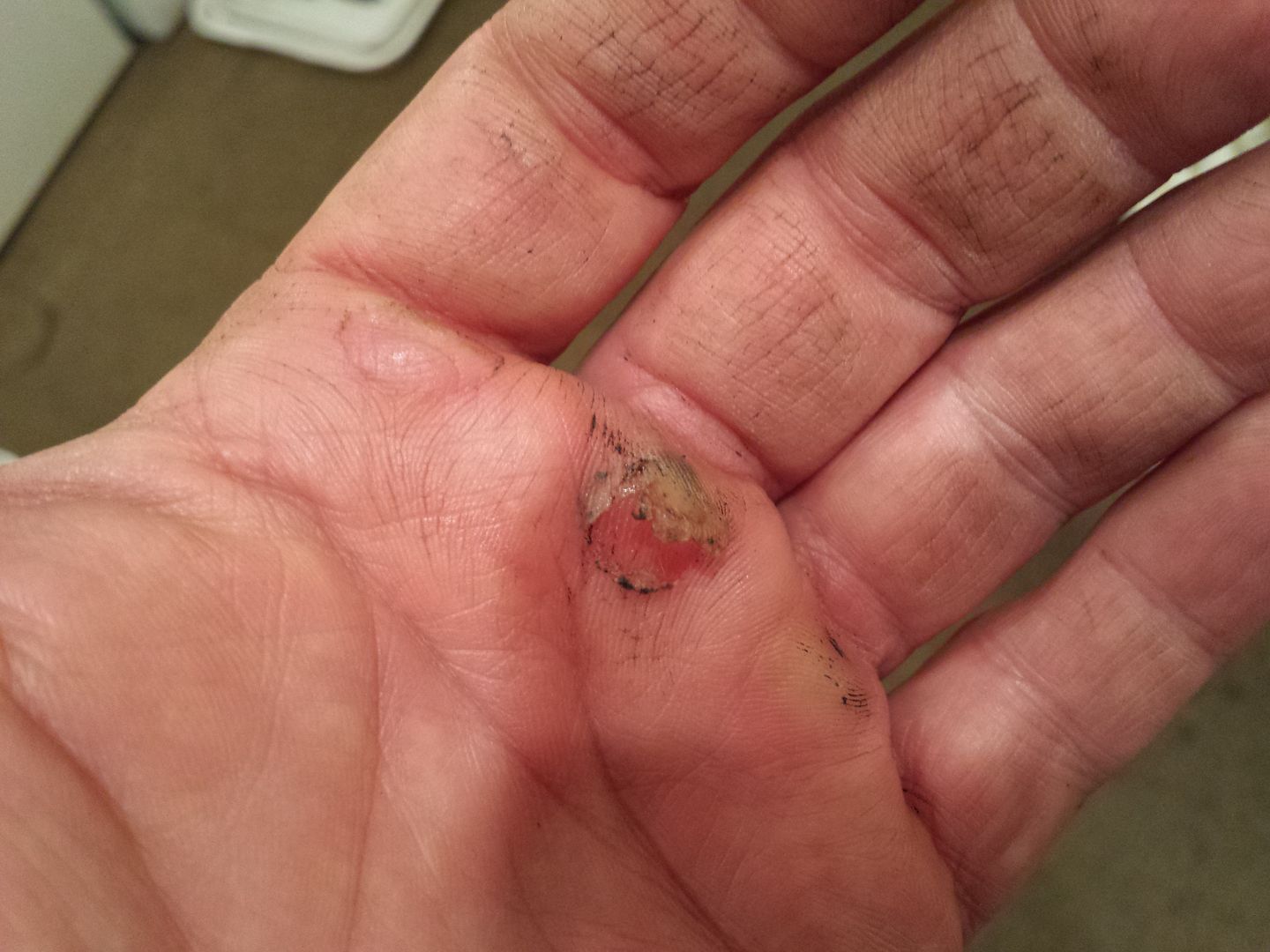 what ten hours hanging onto the bars will do
Good and bad news. I hadn't won, which was a bit of a blow, but I had managed to get second place! So a good result but I was a little gutted to have not won after all that effort. So we headed off down the M40 with me driving. I'd asked Nicky to drive but she wasn't keen to drive with the trailer so I had step up once more but by now the pain in my knees was almost too much to bear and I had to pull into the services to take some pain tabs and rub some gel into my knees. Nicky went off to buy a burger for dinner as I stretched my legs. Getting into the bath that night was iffy as everywhere my body armour touched my skin had been worn through. On the Sunday I spent most of the day chilling out on the sofa and eating. Once the full results were out I was happy to see that the other supervet (Garry Skelding) and I had pushed so much that only the young "Elite" rider had beaten us and we were second and third overall. After ten hours of racing there was less than three minutes separating us. Ten hours is a long time to race and I'm not too sure I'd do it again in a hurry but I'm glad I did it!
all worth it in the end......
pic of me in the TMX the following week