There wasn't much notice for the Charity Day at Enduroland. Nigel mentioned it during the rider briefing a few weeks prior to the event and it sounded like a good idea. Raise £25 (minimum) for charity (plus entrance fee) and you get 12 hours at Enduroland's home track at Adstone. Then you get to ride the following day FOC too. Sending a few text messages around most of my riding buddies were only going to do the Sunday, so I wasn't that keen to go up on the Saturday on my own. Luckily Darren and his son George also fancied doing both days and camping over too so at relatively short notice I was doing the Charity Ride. I took the form around work and as the first few managers dipped into their pockets to the tune of £5 and £10 sponsorship, most followed that lead, result.
The track was due to open at 9am but seeing as we had all day to do the minimum 12 laps required to qualify for 'having completed the task' I decided getting there for a 9am start was a bit too ambitious. Darren and George had said they were only going to be there about lunchtime which I thought was cutting it a bit fine to get 12 laps in, but as I was getting ready they arrived too, having no doubt thought it better to start early than do a mad dash later.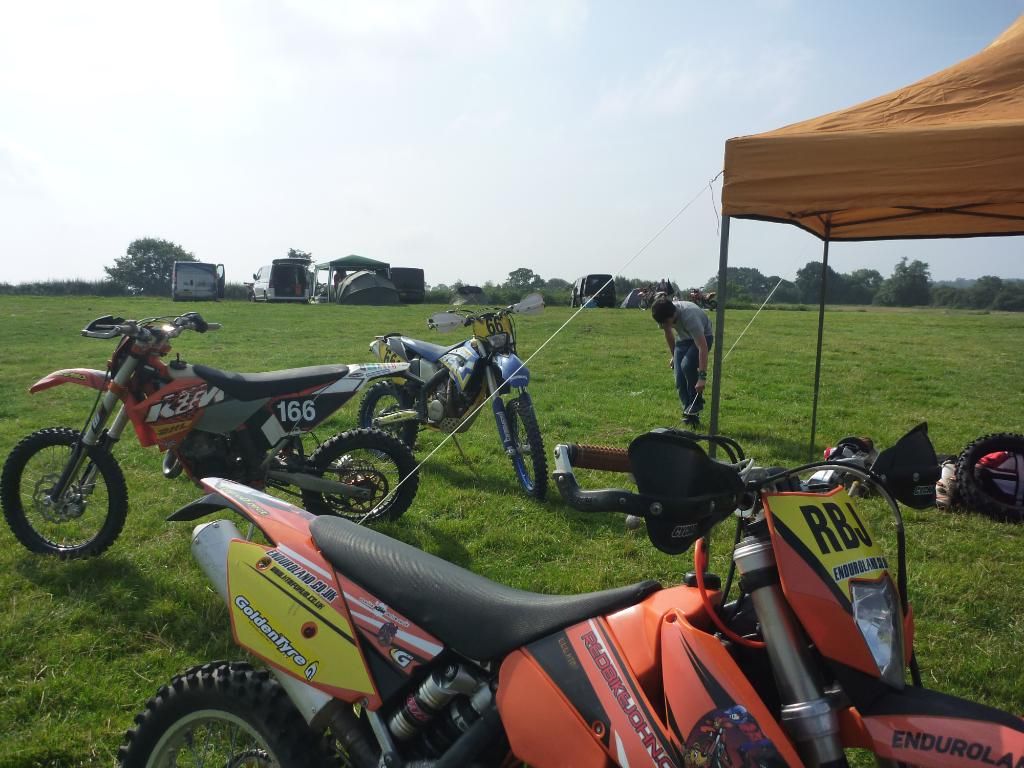 time to start making camp
After a bit of a chat about Darren's recent Redbull Romanics Ride I thought I'd head out onto the track for a few laps while Darren finished getting ready. Firing the bike up I noticed an odd sound from the engine. I'd noticed a bit of a whirling sound the ride before but had forgotten about it, however this time it sounded a bit different. I started the lap and tried to put it to the back of my mind. The track started off by going over most of the obstacles by the pits and I was caught out by the first small hump – that hid a steep drop and cut out ditch on the other side. Even though I was taking it pretty slowly I was still carrying too much speed to roll down the other side and my eyes popped out a little bigger when I realised I'd made a mistake. Luckily the front wheel cleared the ditch and I made it fine but I made sure I rolled the next one that was for sure which was just as well as the drop and ditch were deeper on this one. The bike was making good power and it didn't sound terminal so I decided to carry on and see how it went. During the first lap the sound disappeared so I decided to ignore it for now.
a pic of me taken by dave burton

About three quarters of the way round the lap you climb up the embankment at an angle and I passed a stricken bike half way up. When I got to the top I registered that it was a youngster and the bike was in a difficult position, as it was upside-down and half falling off the climb into the cutting. I walked back down and helped hump the 125 back onto the track, but that was more difficult than it sounded as it was caught on a hump of metal. I then tried to kick it into life but it had spent so long upside down that no matter how many times I kicked it, it refused to start. "Here - you kick the bloody thing, your younger than me" I said as I stood back for a rest. About fifty kicks later it fired into life and I helped push him and the bike back up to the top, half a lap in and I was worn out!
On my second lap a got up to speed, overtaking wherever I could but when I gave the engine full throttle and revs for a while the noise returned. Mmm not good, while I didn't want to damage the engine, I also didn't want to let everyone down who had given me sponsorship, so I decided to take it nice and easy until the 12 laps were done.
this little jump has a bit of a kick to it and its a totaly flat landing so i always take it easy
I overtook George a couple of times but never spotted Darren so I just carried on plugging away at the laps and resisted the temptation on the odd occasion anyone overtook me to go tearing off after them. Pretty soon my twelve laps were done as I'd completed the whole lot in one go, barring a quick fly past the cars to see if Darren was there. Time for a bit of a rest after all that, so I pulled out the chair and dug out my lunch of rolls and diet coke. While I was there Darren came back in with George and several other riders, one on a Touratech liveried Husqvarna four stroke and the other (a South African) on a KTM 300 XC. Mmm I've been trying to get a go on one of those for a while so I got up and joined in the conversation and dropped in the tint "I've not had a chance to ride one of those yet" while talking to the South African motioning towards his bike. "KTM do try out days, you should be able to try them there" he replied – oh well, no point asking for a ride then I thought.
After lunch we all headed out again and I thought to myself 'to hell with the engine' I want to see how the old bus stacks up against these newer and younger models, so the old 450 was given free rein and with Darren in hot pursuit we blitzed the track for a couple of laps at full race speed. Stopping at the end of the second lap I pulled over to get my breath as it was a hot old day and I just can't keep that sort of speed up for long. Darren was also puffing hard and we chilled out for five minutes wondering where our new friends had got to.
Heading out again I was behind Darren and began looking for a way past. Some parts he would gain ground on me and others I'd close right up on his back wheel but struggled to get past without resorting to a bock pass. Climbing back out the railway cutting I thought I'd be able to take him on the straight but it's very bumpy there and you can't go flat out. Not only that but the breaking zone is also rough and full of bumps so I could only just come alongside his bike but had to yield into the corner. I was trying everywhere to get past now and thinking how to outfox Darren somehow as he was up to also sorts of tricks to keep me behind. After the woods and several dips into and out of the cuttings there is another short straight followed by a right turn leading to two jumps. I picked this spot as a good opportunity to pass but Darren had the better position on track as he was on the right. I got better drive and power and came alongside on the straight then pulled some space – but the next bend has a narrow turn in, so it all got a bit messy as we both tried to out brake one another. Darren lost control a bit on the brakes and for a moment I thought he wasn't going to make it but somehow he did but I managed to manoeuvre my own bike well enough to ensure I was first into the turn and over the jumps first. By now I was knackered so we went back to the car for a cold drink and to rest a bit.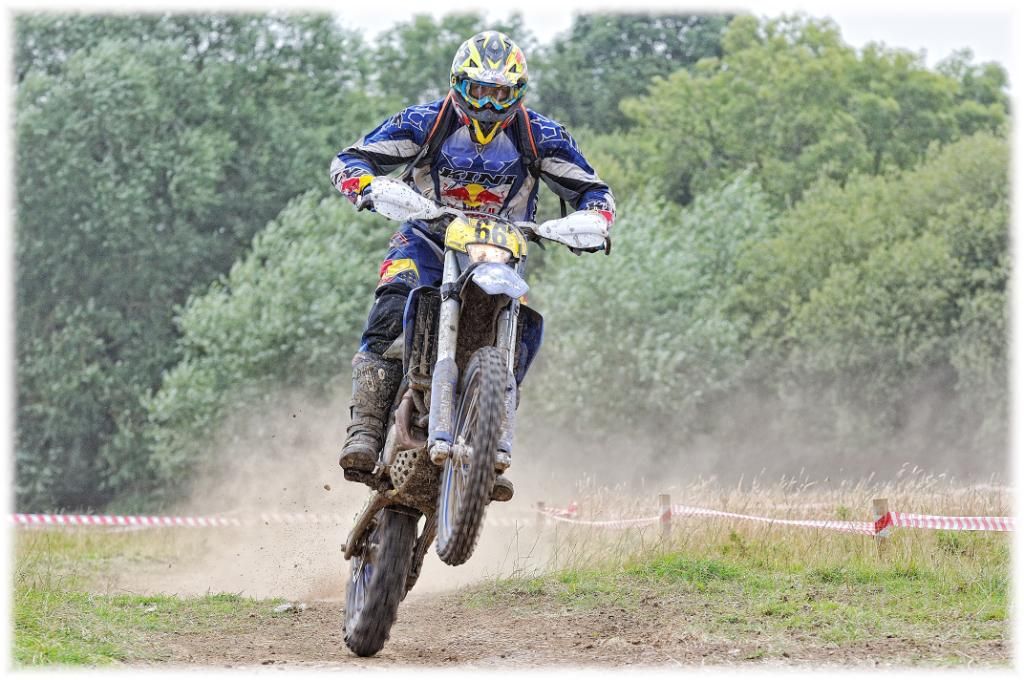 Darren
Darren rides a Husaberg 390, and I'd still not managed to have a go on it, so after a bit of a rest we set off again, but this time with me on the 390 and Darren on my 2005 KTM450EXC. Half way around the track and initial impressions were that it handled the bumps and going nicely (suspension has been worked on) and that it hooked up well out of turns due to there being less grunt compared to my bike. Less initial power meant I could get on the gas earlier and harder than on mine, without it spinning up. The revs were cutting in a little too early though and it felt a little lacking in engine 'snap'. I pulled over and asked Darren about the mode switch but seeing as it's a dial type he wasn't too sure which setting was what, as he'd never had it off the mild setting! After a bit of thought we guessed on a setting and off we went again. I could feel the difference straight away and the snap was there out of turns now and I'm not sure if I got used to rev'ing it lower or whether it raised the limiter higher but I didn't seem to be running into the limiter so much either. A real nice bike and just about the only thing I didn't like about it was the fact I couldn't get to the rear brake very easily, as it was set so high. That meant taking your foot off the peg and standing on it, locking it up immediately.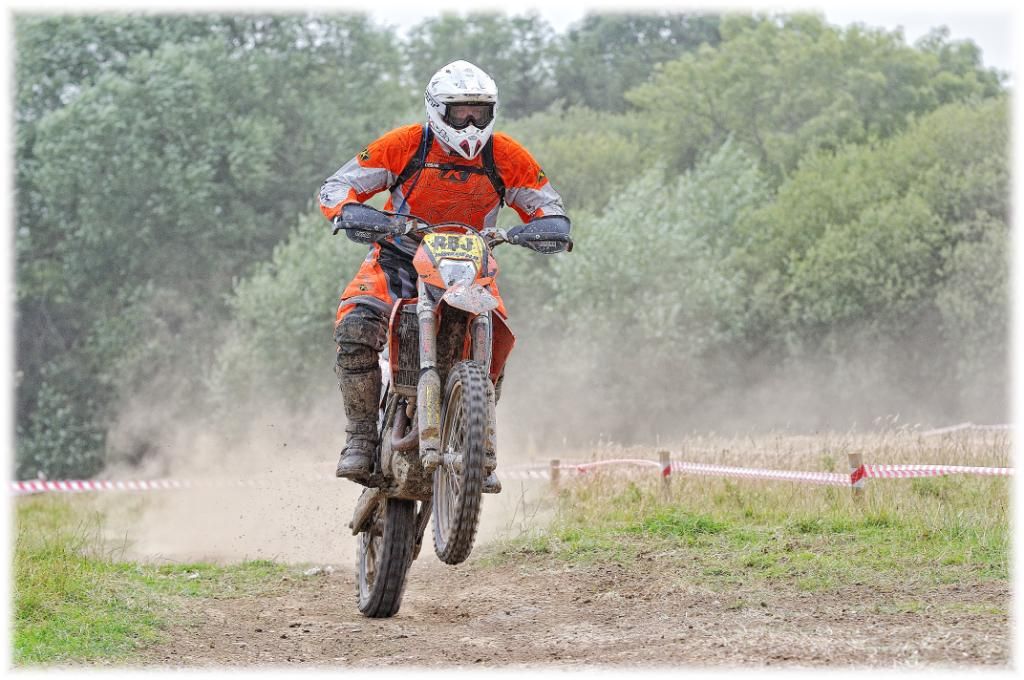 me again
Back to the pits for a breather and then I jumped on George's little 125 EXC. The bars were in a bit of an odd place but I very quickly got into the 2T mode of riding and hammered the little 125 about the track. I kept it screaming everywhere and used the clutch out of turns to ensure I had drive at all times – I loved it! Only one little woopsie and that was on a switchback up one of the inclines (again) but this time it was my own fault for trying to hook second as I climbed the slope. The little engine was screaming away and I was in a bit of a zone on the bike, so much so that I thought it would pull the next gear but it didn't and it gurgled to a halt half way up the incline. I managed to keep it upright and turned it around buy zigzagging the front on the slope, then spun it around at the bottom on the power and flew up the slope again. Getting back into the grove I could see Darren was unable to overtake in the twisties but when we got to the straight just before the woods it felt like it was broken as there just wasn't any 'go'. Getting back to the pits Darren said 'fucking hell you're quick on that" and I must say it was great fun. It's on the mild tune too, so with the power valve opened up it would be a right little flyer.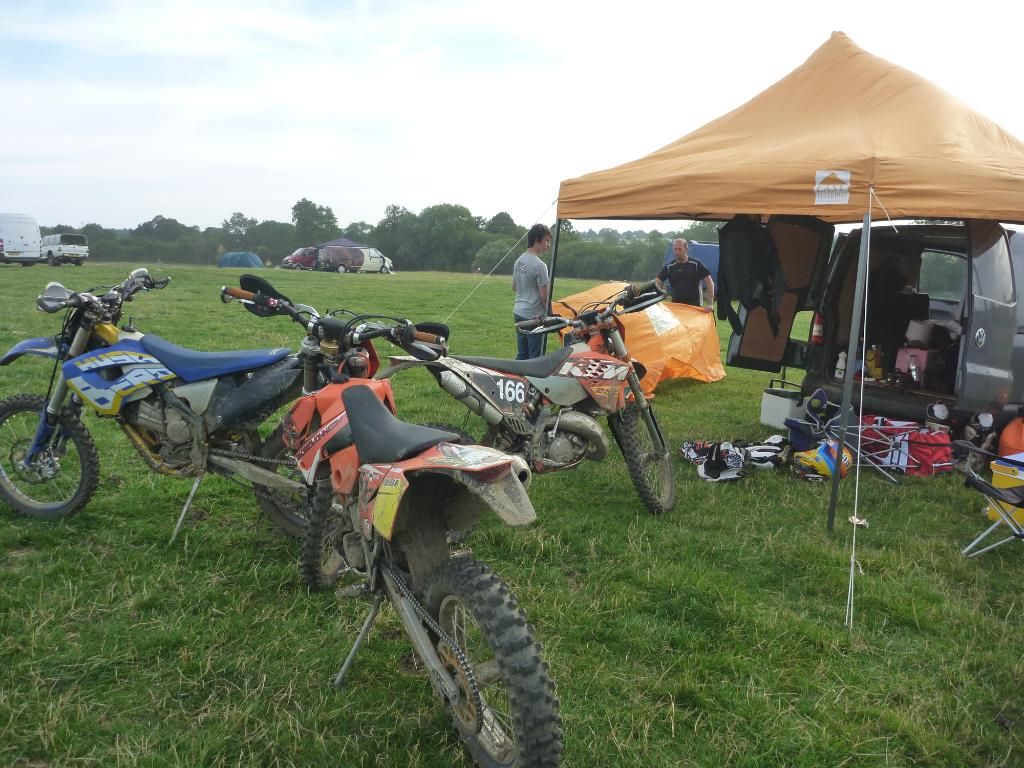 i didn't cover the 'how to put up a gazebo' conversation but you can only imagine how it went!
Back out on my bike and immediately I felt just how easy it was to spin up the rear wheel on the hard going, as the tyre had nothing to bite into. Less is more I think and this gave me all the more reason to look for something smaller. I had my head set on a 250XC but I've now met three people who all said that they had them and changed to a 300 instead, so I'm still undecided and confused. Anyway until my wife's bike (zxr400) is sold I can only window shop.
20 laps in and I decided to call it a day and went back to the car, stripped of the sweat soaked body armour and pitched the 'pop-up' tent. Darren and George had gone out for one or two more laps and by the time they were back I'd had a bit of a splash down with a bottle of water and was chilled out in my deckchair in my shorts and a beer in hand, life is tough.
Then came the pantomime of the Perry family, everything was a battle of verbal sparring, a little like an old married couple.
Putting up the wind break:
Darren - "how does this work"
George - "you're the expert"
Darren - "Hit the bloody thing"
George - "I'm sure this isn't right"
Darren - "What an amateur" (I heard this one a lot)
George - "well don't ask me"
Darren - "this is fucking wrong"
George - "you tit you've fucked it all up"
Darren – "I told you not to do it like that"
At this point the wind is blowing it over so I get up, pull the poles that have been hammered six inches into the dirt (the wrong way round) and find the magic bits of string (that were still in the bag) and show George how to support the post using the strings and pegs provided.
But the night pretty much went on like that..........
Darren - "Ahhh crap the meat still frozen"
George - "You amateur - why didn't you take it out?"
Darren - "Its your fault – you told me to put it in the freezer"
George - "I told you to take it out"
Darren - "No you never – you said to wait"
George - "Yes but not until now"
Darren - "Shall I boil some water to melt them?
ah the sides are up - safe to get changed at last....
Que the same with lighting the little gas fire! Eventually we were all settled and I helped Darren get the fire going, convincing him to put a lot more charcoal in the little mini barbeque. I walked down to the bar to hand in a cheque for the sponsorship. All in all I'd raised £157 for Marie Curie and the total was sitting around the 6K mark while I was there. Beer in hand (courtesy of Nigel) I walked back to the cars and the fire was just about ready to go so I took over the cooking duties and grilled up a the burgers and after that the chilly stuffed sausages – which were rather fiery.
We walked over to the other guys little group of tents/cars and asked if they want to come on down to the bar for a drink. Unfortunately there names escape me now but the young English guy had put up some tents and the group had convinced one of their mates (a young South African guy) to sleep over. Unfortunately he hadn't brought anything to sleep in, so wasn't looking forward to spending the night on the cold floor of the bare tent! He was also in a bit of pain as he'd had a fall in "a bleedy big rut" and hurt his shoulder – more on this later. The slightly older SA chap (the one with the 300XC) had also taken a spill and bent his thumb back so it was starting to swell up nicely.
all set up and time for BBQ - as bikes still ride around the track trying to get 'the most laps'
one of the friendly locals in the bar

As a group we all set off down to the bar and I got the first round in and we swopped stories about the days riding and our bikes. They were going on about Ertzberg a lot as they a regular visitors there and started to talk about Rekluse clutches and LHRB etc so I piped up that I had my bike set up like that which is when they realised I was 'redbikejohn'. Four or five beers later we headed back to their setup so we could listen to music, drink and tell tall stories. They were great hosts and I was never without a beer but it was starting to get a little chilly due to the wind having picked up. Never fear they had a little BBQ thingy that could double up as a heater too. It's a grill that folds into two and will burn slowly inside. The young English guy filled it up with charcoal and some fire lighters and the closed it up. Not happy with the heat output he opened up the vent and poured some paraffin onto the hot coals inside! Whoosh and three foot of flame filled the awning, almost touching the roof! Several more beers later and they were on the rum and the flame throwing continued. The older South African was nicely lubricated with drink now and while we were talking bikes he offered both Darren and myself a go in his 300XC – I just wondered if I was going to be in any state to ride the next day!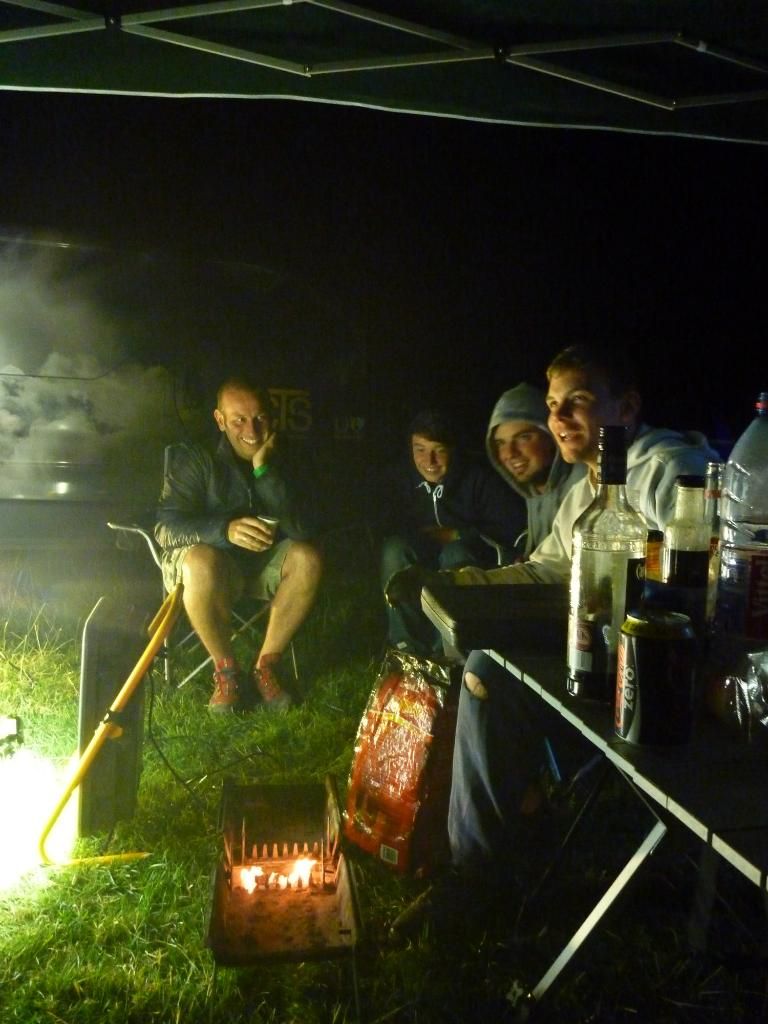 back to the camp and more drink, tunes and chat
bit cold - no problem i'll soon have this baby fired up!
fire in the hole!

I like I said earlier the young SA guy that had hurt his shoulder was going on about it quite a lot and of course he was looking for sympathy – only he wasn't going to find it with us tonight and we started to take the piss out of his "bleedy big rut". So much so that I went to fetch my torch and tape measure and marched off into the night to go and find this massive evil rut that and claimed him earlier. Taking photos as proof there was two ways of looking at it. Measured from the LHS it's a fairly tiny baby rut of 8cm or so. But if you took the bank on the RHS into account it became a very creditable 30 (?) cm. Of course the deeper measurement was good for him and we rushed back to proudly tell everyone that it was so deep only for me to show them the pictures and everyone fell about laughing all over again. Darren and George ducked out at about 11.30 and I stayed on, finishing off the beer and then getting offered a bottle of wine, and well - it's rude to refuse hospitality isn't it?
the infumous 'rut'
the rut and the 'victim'
(what do you mean its not normal to go off in the middle of the night and photograph parts of the track?)
I woke up at about seven thirty having slept solidly for a good couple of hours. Popping a couple of ibuprofen to stop the headache before it started and set about frying up some bacon on my little mini petrol stove and mini (crap) frying pan. The arguments started between Darren and his son again as they didn't have a frying pan so I lent them an old mess tin to cook in. A couple of bacon butties and tomato sauce went down a treat and Darren brewed up some coffee too so that set me up for the day.
Steve, Sara, Dan and co ended up next to us, I was a little slow getting ready for some reason but still looking forward to a good days ride, and trying out the 300XC, unfortunately it wasn't to be. Most of their group was carrying an injury of some sort and they had decided to call it a day so while we were getting ready to ride they were packing up. Great lads and we had a real laugh the night before.
Firing up the bike there were a few old noises coming from the engine but I decided to not worry about it too much as the bike was still pulling strong and going like hell. After a few laps it went away anyway so I'm still none the wiser as to what it could be.
i just miss getting a pic of one of the group on their side, a bit slow getting the camera out
Later on a tried Dan's Husaberg 450 and quite liked it. I'm still not a big fan of fuel injected bikes though. In tight corners when the speed was right down it almost felt like it wanted to falter. I must admit it never did, but then I was ready for it and was working the clutch in those very tight turns. Being a bit wary of a stall I got the impression that first gear was very tall as I was able to hang on to it between turns. Good thing in some respects as you don't have to waste time by shifting up a gear, but I couldn't get over the feeling it was a little over geared maybe? I thought the engine was nice once it got on song and had a good top end hit too. Dan had been saying about the excessive engine breaking into corners and in the first few turns I did notice it but quickly got used to it. I wasn't overly confident in the front tyre though as it wasn't too planted and felt like it wanted to tuck. This could have been the fact that I was using more front brake than on mine and thus holding on to it too long as I'd didn't have my left hand brake to rely on, but I'm fairly confident it was the Michelin comp 5 front tyre.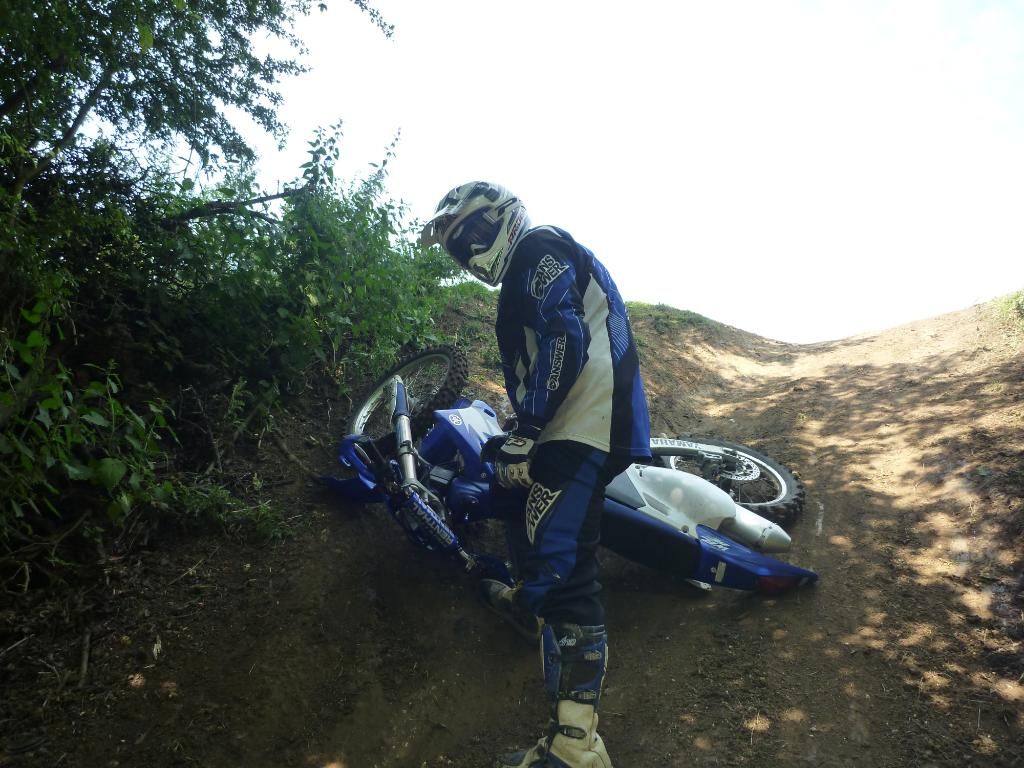 don't stand there taking pictures - give me a hand!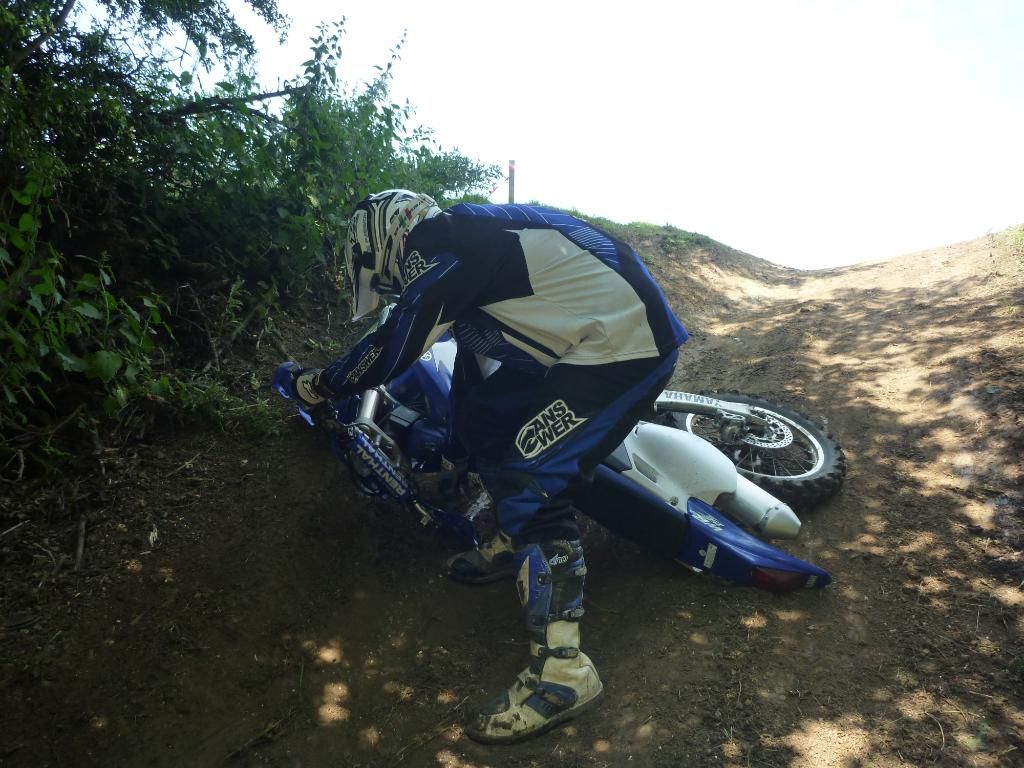 Re-grouping at one point I was behind Dan who was in turn behind one of his mates on a Yamaha. We were all in a line when the Yamaha rider launched it climbing one of the steep railway inclines. Riding in close formation Dan managed to sneak past on the right but by the time I was coming through the rider and bike were in the way so I had no option but to bail out to avoid riding over the top of him and the bike! I picked Dan's bike up and he was there fairly quickly and we got it turned around and down in no time at all. Getting the Yamaha up the right way was a bit more difficult as it was laying wheels upwards. Of course I first had to take a picture of the event, as you do. He wanted to get it up the slope, so with me pulling and him riding we managed to get it up on top but it was hard and hot work, he was so knackered he had to strip off and have a rest in the shade! I jumped back to my bike for the rest of the lap.
the victim taking a breather in the shade
a couple of youtube clips of the lap above
When we stopped for lunch the sky got blacker and blacker and then it chucked it down for a while. I was confident it would clear up and sure enough it wasn't long and the sun was back out. Getting back out again there were a few spots that were a bit tricky i.e. the grassy bits but overall it was still ok, the slippery bits soon dried up anyway. On one of the laps there was a guys down just after the woods section on the short straight. There were several guys stopped there already by I was in now real rush at this point so I stopped and asked if anything was ok. The guy on the deck lifted his leg and said "I don't think so" I and I could see his foot was pointing about way off to the side at almost 45 degrease ekk not good! Help was already on the way so I carried on, then wished I'd remembered to take a pic.
I think that was pretty much it for the weekend. I know we carried on riding for a while after lunch but I don't think anything happened worth mentioning. We did pack up a little earlier than normal as I was keen to get home and have a soak in the bath, followed by a Chinese take-away.


If you enjoyed this report and would like to be notified of new reports or web site updates then join the mailing list. To sign up to the list just click HERE>> and send me an email.