For more of our photos click here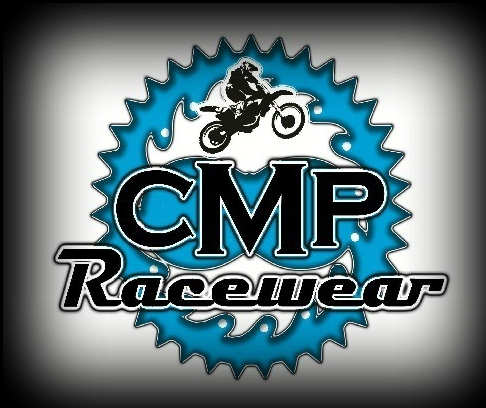 The next round of the SEEC H&H championship on the 16th August was being held at Rowlands Castle (hosted by the Croydon MCC) – another venue I'd never been to before. I knew it was woods based but that was it, so I decided to head off nice and early as it was a longish trip down to the coast, well it seemed to be, but in actual fact it was only just over 70 miles. Using the postcode on the final regulations we found the lane ok but didn't spot any orange arrows pointing the way. Being one of the first few cars there I managed to nab a prim spot right near the pits / signing on tent. Signing on was dead easy, as always, and I had the added bonus of picking up a winner's trophy from the Croydon Timecard Enduro earlier in the year. Nicky and I had plenty of time in hand so we walked the track's first section – from the start area and then it looped away then back towards the clocking in area. The track looked interesting as there were a few obstacles to negotiate, both natural and manmade. The row of tyres in the first 'hard route' looked tricky and these were to catch out many riders in the race, me included.
steve decides to change his spark plug on the start line!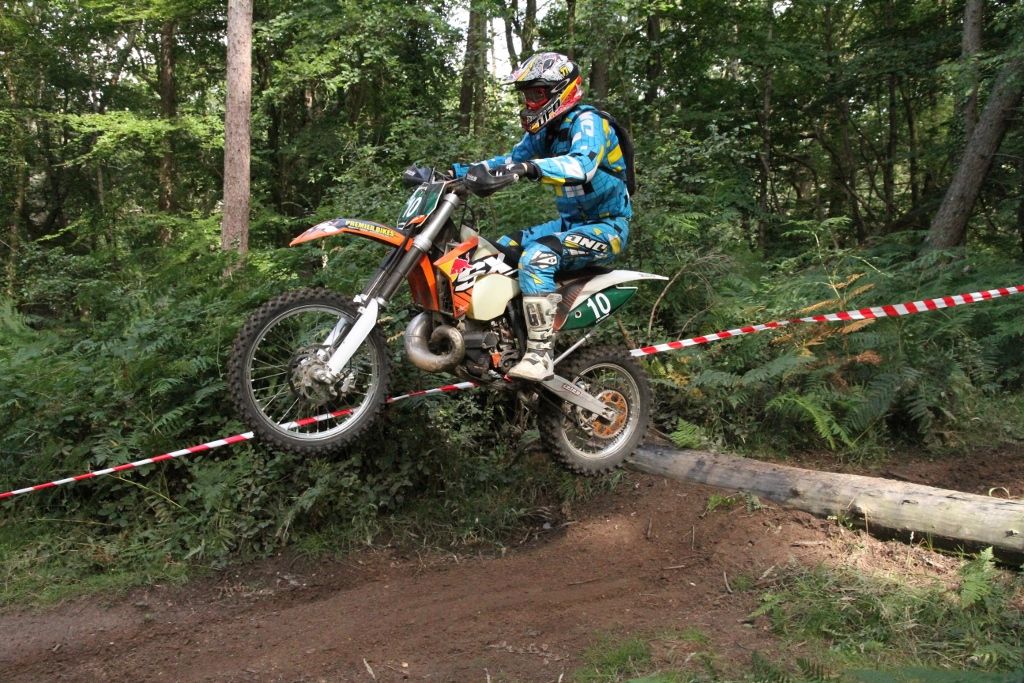 one of the earlier starters on a log jump

With plenty of time to kill we caught up with the two Steve's and John Horton and several of the regular SEEC riders. Darren looked like he was going to be absent from this one, despite being entered, which would be good for my championship position as he'd just managed to overtake me in the points standing. I think Tony was still in shock from the Slab Common round so he'd declined the invite, making up some sort of prior engagement! Not like me – as soon as someone mentions any sort of ……. well anything at all, I first check my race entries on my calendar. A man has to have his priorities sorted in life!
steve again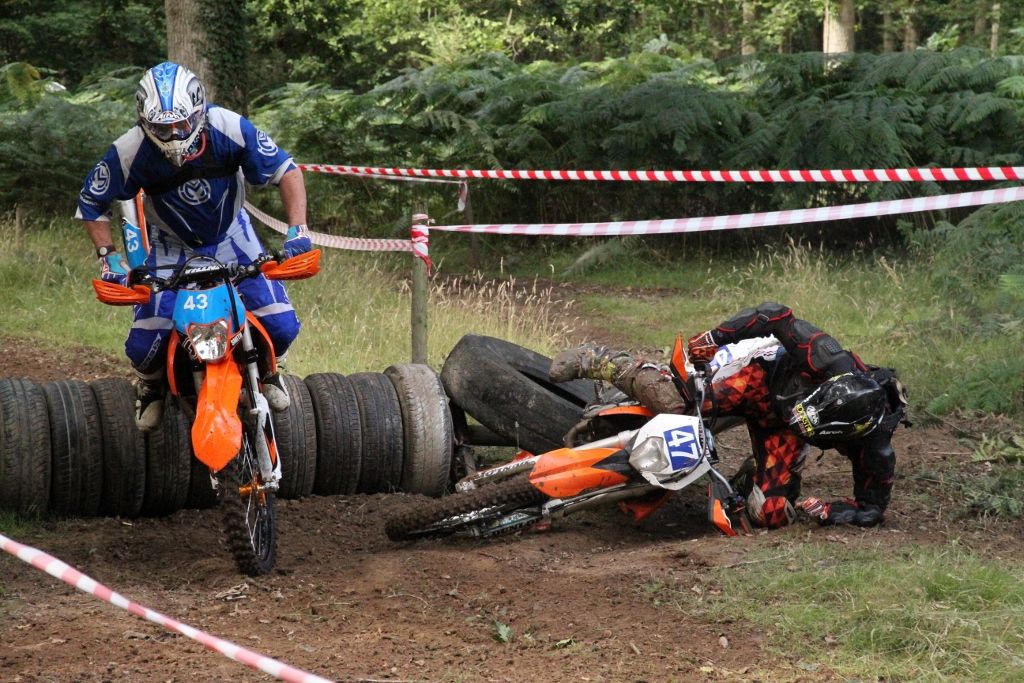 not so easy to get over !

Being the first to get the bike checked over I had first selection on the start line so I picked mid track alongside the Clubman A starting sign. This event was going to be a normal 'mass start' again and I generally get going quite well in these, or totally fail, so it would be interesting to see which one I would have today. Little did I know but I was to have both!
After the riders briefing we had the obligatory five minute engine warm up time ten and sat waiting patiently for the start, all of us that is apart from Steve Bird who frantically changed his bike's sparkplug as the seconds ticked by. This must have fired him up as he made it into the first turn in front of everyone else but apparently went head over heels on the tyres when the bike cut out!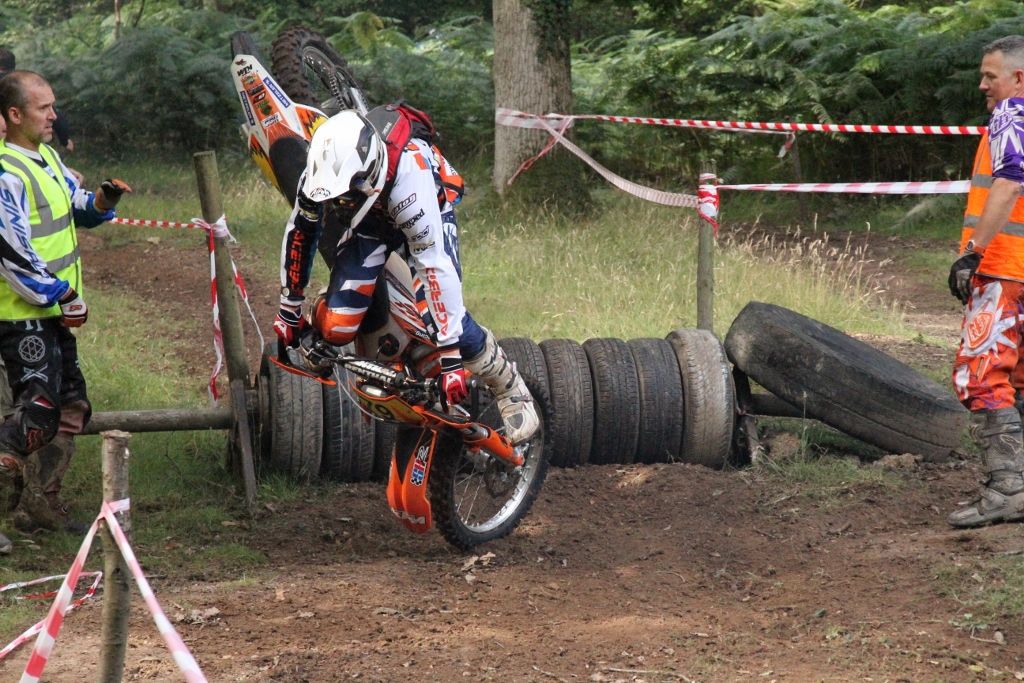 going
going
gone
My row was next (clubman A) and I got off fairly well when the start whistle blew and then pulled clear as we got nearer the first (right) turn. I was a little hot going in and was just tipping in when another ride overshot the turn by miles and as I turned in my front wheel got hung up on his rear wheel and down I went – first to almost last within fifty meters!
stuck in the pack - me at the back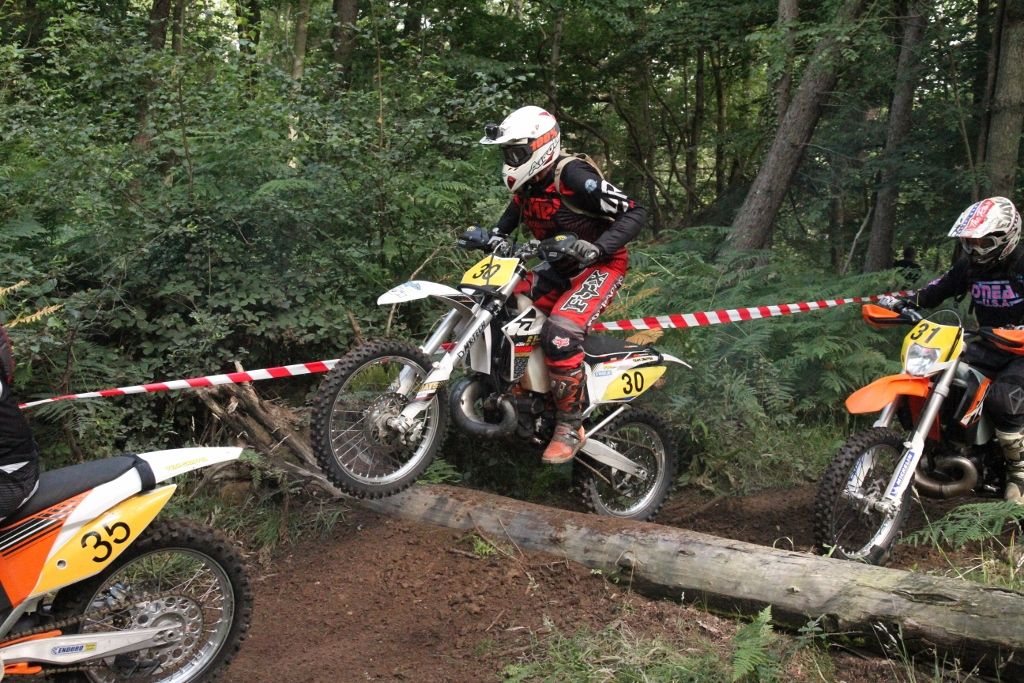 Picking the bike up I re-joined the race but of course by now I was well back in the pack and knew that the likelihood of a top four or five spot was remote as the top riders are so quick you can't give them a second, let alone a whole load of time stuck behind everyone else. The first hard/easy route is right by the start area as we looped back and I decided to skip it on the first lap as there were bound to be guys crashing on it, but that just lost me some more places! By now (even though it was still within minutes of the start) I was feeling rather demotivated. Racing is 90% in the head and my head was just not right at this point and it didn't get any better as the track was very tight and surprisingly slippery after the recent rain. Being so tight meant there weren't many places to get past the small pack ahead of me but in time I squeezed past the majority of them and only had one more to slip past when all of a sudden he stopped – we had bikes coming towards us! Crap, we'd gone wrong somewhere so had to do an about turn to re-join the track and of course this meant I was at the back again!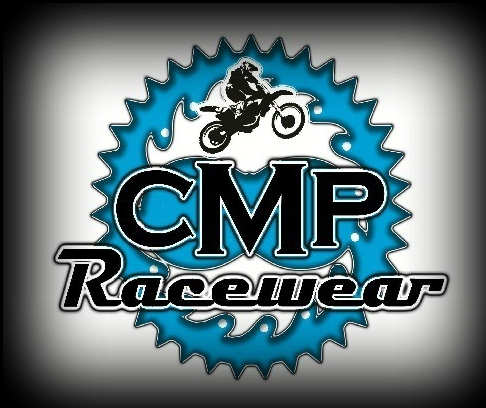 Eventually the first lap was completed and I had cleared the other guys but came up to overtake another rider on the series of log hops. I was a little quicker over them but on the second last one he pinged off to the right and fell into me so I went down too, while he remained relatively upright, then used my front wheel to get going again, preventing me from lifting my bike. Picking the bike up I was stuck in-between logs so had to ping it over the log and did it a bit enthusiastically so it got out of hand, quite literally, and I had to pick the bike up – again.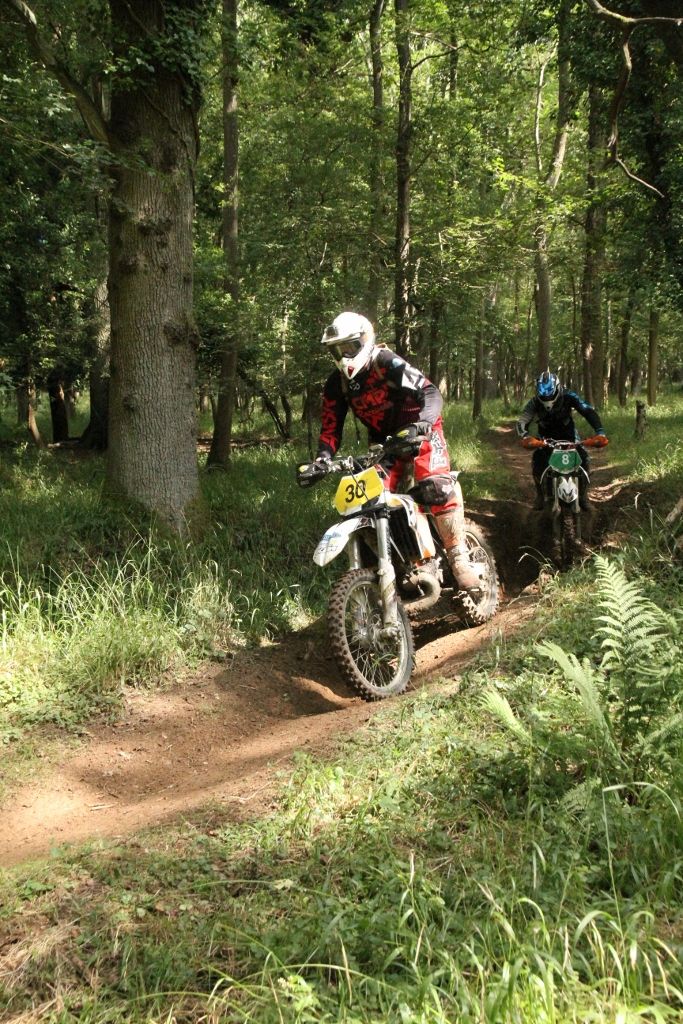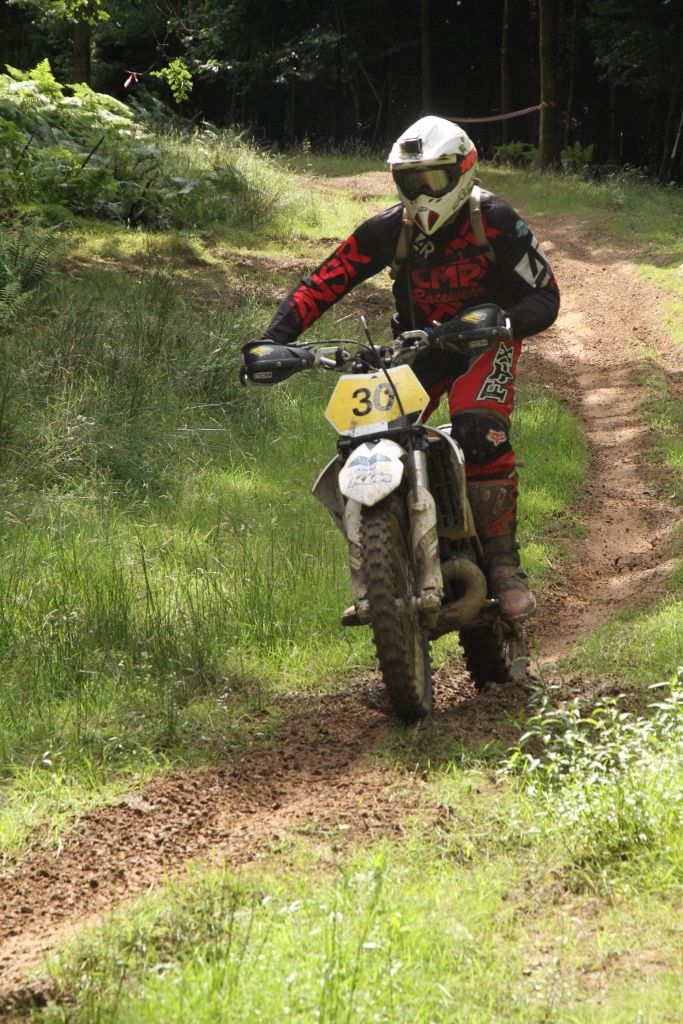 these early laps were very slippery

This new cock up of course didn't do my headspace any good and the track was still slippery and quite frankly I wasn't enjoying it very much. There wasn't anything wrong with the track, I just wasn't gelling with it. Several laps later and things were going a little better. I began to wonder how long we'd been riding and guessed at about 45 minutes. A quick look at the stopwatch gave me a little boost by letting me know I'd been out 1hr 15 minutes. This was a good sign to me and lifting my spirits a bit. The track was bedding in well now and with my new found 'happy head' I began to race the track as opposed to just riding round. By now I was riding the first hard route and while the tyre obstacle was tricky I managed it ok, although not always with much finesse.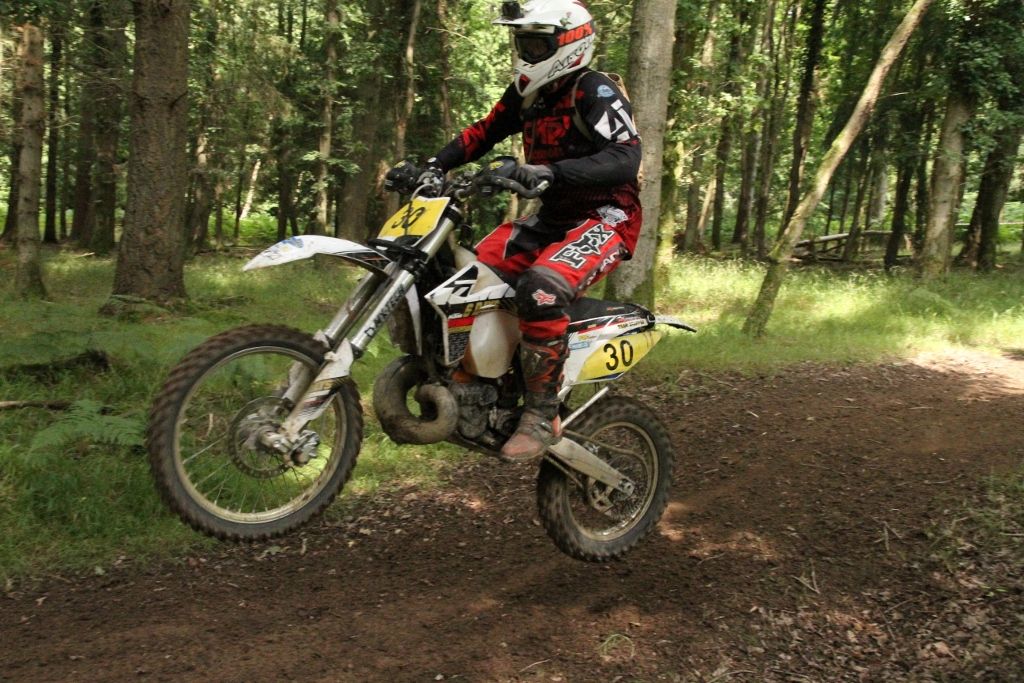 With my increased speed came more confidence and now I was jumping almost all the drainage ditches. Previously the going was a little slippery so jumping the ditches in the woods could have led to another embarrassing tumble but now most of the track was fine bar the odd tree root. The track was fairly empty and I got a lot more confident and it was all going fine so started thinking about tactics. The track was quite tight and speeds were low so I started to hatch a plan to forgo the fuel stop but I had to monitor the fuel consumption during the final hour.

As time wore on the fact that I was going to skip the fuel stop spurred me on some more and now I was really getting into the race but took a little knock when I got it all wrong by the muddy ditch just after the start and the rut had me off and in a heap. Picking myself up quickly I carried on, but this last crash must have thrown me slightly off kilter as I got it totally wrong at the tyre jump and didn't lift the wheel enough (at all?) so rode straight into it and got flipped right over the bars! I narrowly avoided being winded but was still in good spirits when I picked the bike up and got some advice on tackling the tyres from a friendly bystander.


The fuel situation was going to plan and I was going to take the risk of not stopping so attacked once more and the following lap (my second last lap of the race) was my fastest so far and I'd caught up to and overtaken some clubman A riders but as I came round to the start finish area I thought I saw one of them catching me up so tried a little harder – and ran into problems.

I'm not exactly sure what happened on the tyres, I think I got a little enthusiastic and the front end climbed into the air quite high, then the rear pinged and I went totally vertical – but head first. This meant I was fairly high in the air and had no chance of saving it as the rear overtook the front as we returned to earth. I was still holding on at this time so didn't put out my hands to slow me down but I needn't have worried as my shoulder and head did a good job of stopping me. The impact was shocking and I feared for the outcome but everything seemed to work ok as I stood up. The Croydon guy was there and worryingly asked if I was ok but all I could do was be as truthful as possible and replied "I don't know"! My head and side of my face was buzzing, burning and throbbing - like I'd just been slapped.
i spot Nicky trackside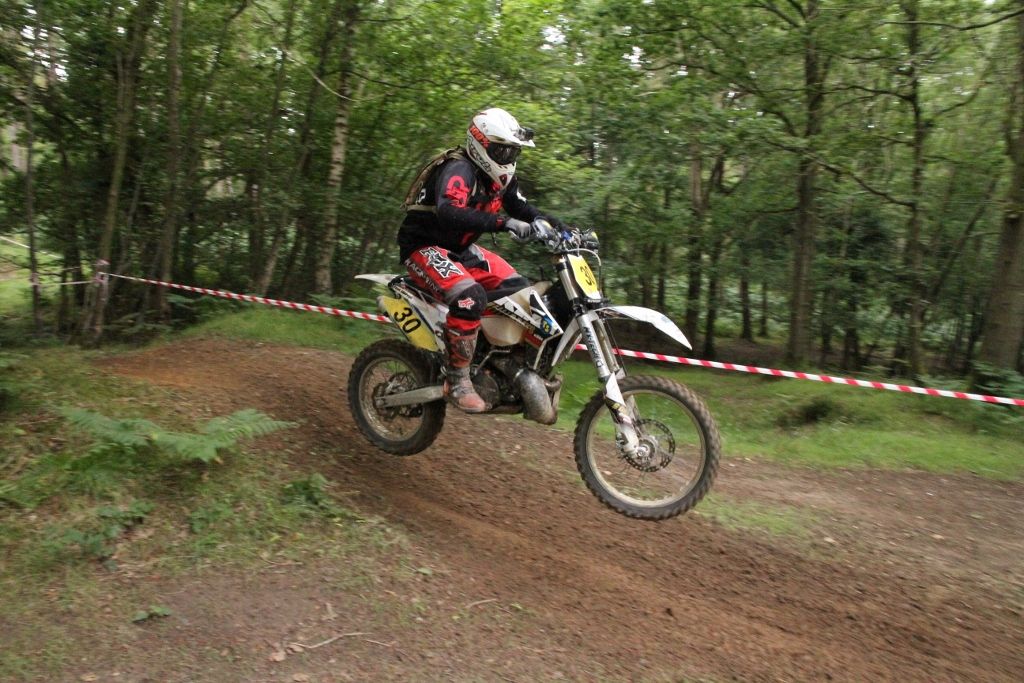 I was also surprised my shoulder was still working so I picked the bike up and carried on but at a fraction of the speed I was doing previously and felt very second hand. My head was burning and it was by far the hardest impact I'd had in racing. But the racer in me kicked back into action within minutes and I attacked again with the bike's fuel tap already switched to reserve. Considering the crash the lap went more or less fine – until the short straight on a fire road. The road had a ditch in it and I'd been jumping it on the right hand side all day but on this lap I'd drifted to the left and was going for it when I noticed the far side of the ditch was very squared off. Even before I attempted to jump it I knew this was going to be touch and go and I wasn't disappointed. The back end hit the flat face and got out of control then dumped me, going down on the left. Seeing as I'd just had my hardest impact – welcome to my fastest crash! The bike slide up the road and off into the undergrowth and I had a little panic as the fallen trees came closer and closer but thankfully neither I or the bike dug in so we stopped just in time, in water filled troughs.
video lap

I can tell you I was amazed I got away without any injury at all and the bike was straight so I picked it up for the final time and completed the lap. I caught up with Grant and Nicky just at the end of the lap and then looked at my hands, they had been hurting for ages. My gloves had blood spots on my thumbs where I'd worn though the skin! This hasn't been an issue for me before, but I had fitted new grips so this is something I need to look at.
wore through the skin on my thumbs!

The results were available straight away and in my own mind I was convinced I'd done quite well seeing as I'd skipped the fuel stop and had been riding hard in the later laps but nothing could overcome the dismal first hour so I had to make do with 8th place in Clubman A.

Back home I found a body armour patterned impact on my shoulder and a bruise from below my temple up to the top of my head. All the muscles from my shoulder connecting to my head/neck had been stretched and "pulled" so I was in quite a lot of pain. Sleeping has been difficult since then as I sleep on my right side so no matter how I fall asleep I end up on my right side which wakes me up. Luckily there are no races for the next few weeks so this will give me a chance to recuperate. Many thanks to the Croydon MCC for a well-run event – even if it was somewhat "interesting" race for me.