For more of our photos click here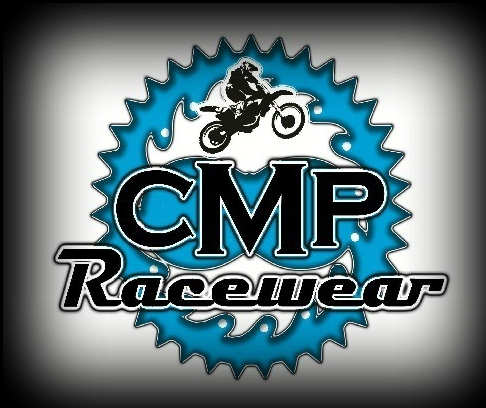 After a three week layoff the next event in the South East Enduro Combine championship was the Croydon MCC Ray Kennard Memorial Enduro. It was to be held in a forest near West Harting Down. Once again another venue I'd never been to before but if it was like all the other events so far this year it shouldn't disappoint.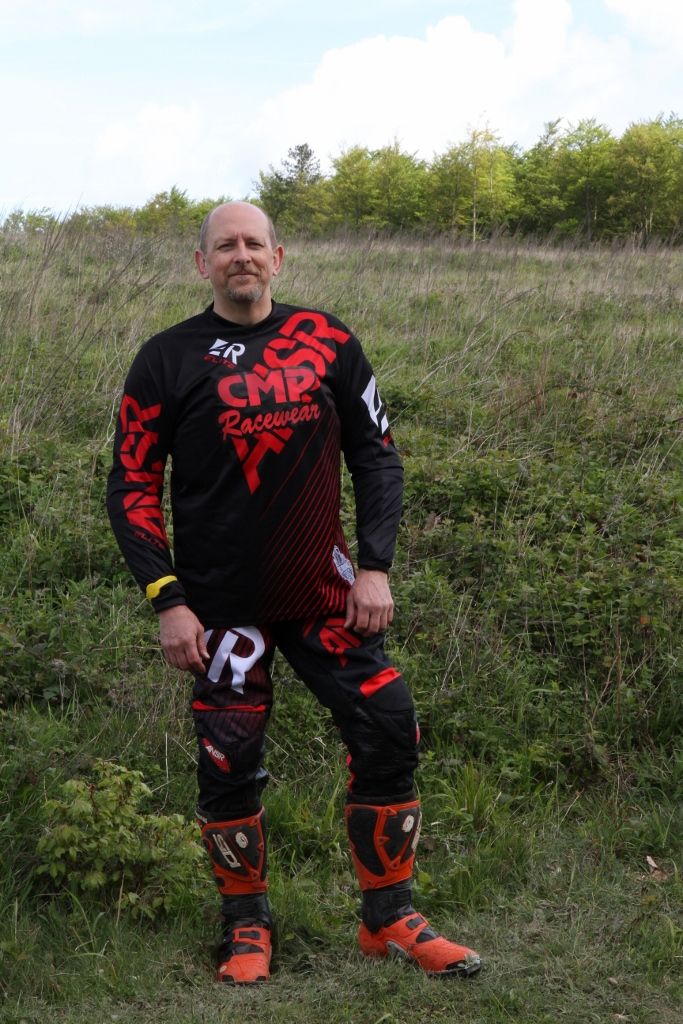 for this event I'd be sporting my new kit kindly supplied by CMP Racewear
click on the add above to check out their website...
or pop on down to their shop in High Wycombe

For once there wasn't a lot that I needed to do to the bike, other than refit the light front and rear and the FIM tyre on the back. As you may recall at the last H&H the electric starter gave up the ghost by not engaging the starter Bendix so it just spun in the air. After the event I took the cover off and check everything and could see nothing wrong. I thought perhaps the gear wheel needed shimming but the spec was fine and I could not find the little packet of shims I had in the bomb site that is my garage. Anyway I put it all back together with fresh oil and it fired the bike first time!
pre race discussion on our race strategy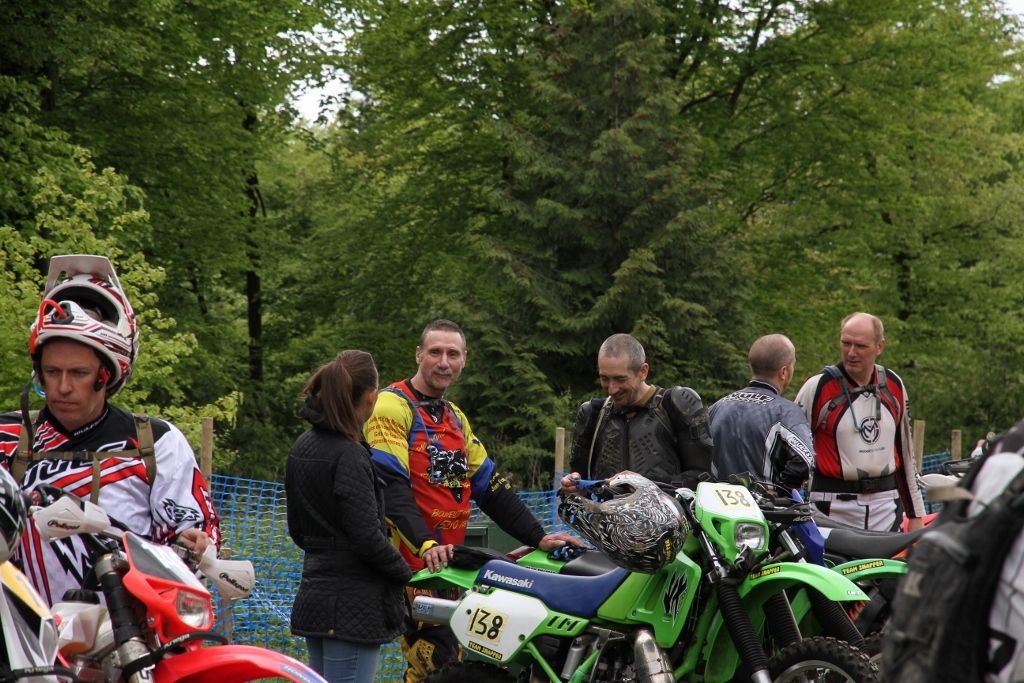 as do the two steve's
pushing the bike up to the start was a bit of a slog though

Tony had declined to enter the event but thankfully Nicky was with me once more so we set off in the direction of Portsmouth and after a hour and a half's drive we turned off into the woods. Very impressed that there was arrows on sign boards several miles away – so for once I didn't get lost and drove straight to the turning. This was partly helped by the fact that Croydon MCC published the gps co-ordinates on facebook and also in the (very well written) final instructions. It was an easy takes for me to quick translate the gps longitude and latitude co-ordinates into google and voila – I had the destination on the smartphone for google maps to follow come Sunday.
and i'm off!

Parking up we found that what we thought was an early arrive time was quite a bit later than most of the entrants so ended up parking miles away – well it felt like it! Signing on was quick and easy and we bumped into Darren there too when I brought the bike up to be checked over. Following on from a comment on the SEEC's facebook page where one of the organisers mentioned he was going to make this event a bit harder there were some rumours flying around that the track was tricky but just how much of this were mates trying to physic each other out I'm note sure! In the riders briefing we were informed that the first special test was hard and that the sportsman riders were not to attempt it. It also contained a hard and easy route in the test so once again everyone was discussing their strategy with one another. Seeing as the tests (there was two per lap) were untimed on the first lap I decided to give the hard route a go and see just how difficult it was and to make my final decision after that. One good thing was that being in the Over 50 class I had one less lap to do unlike Darren in the Clubman A class.
Darren
me
check out the roots!
Soon it was time for me to go and the bike fired up on que and I took off in the lead just as I like too. The forest has plenty of big hills in it and within a few hundred yards we were on a downhill run but needed to turn at the mid-point, on lose ground underneath so while I was ok and got it stopped I can imagine that plenty of people may have struggled as downhill braking turns have a habit of catching people out. After this the track flowed nicely on a narrow trail then turn up into the forest again and at this point the tree roots and already been exposed with the added complication of plenty of loose small logs laying non the track, simply add in some nice lose dirt and a innocent looking slope suddenly became tricky – speed and confidence was the key.
couple more of Darren
quick wave to nicky in the dark woods

From here on its hard to describe the track as it was so long and basically just weaved through miles of woodland. The going was surprisingly slick on places and a little further on a nearly had a big'ish off when the front wheel turned sideways on a innocent looking slope and pushed for a good few meters, running me clean off the track and into the trees! Dodging tress and stumps I thankfully missed them all (more by luck than skill) and made it back onto the track. There were several areas that stood out. One was tricky little climb out in the open up a slope covered in bracken. It was quite steep and had a right then left turn half way up. Somewhere, about mid way I think there was a slope with a large log across the track, I gave it a go but took it too slow and got my back wheel hooked up on the log allowing one of the guys to catch back up as I heaved the bike over the obstacle. I put on a bit of speed to try and pull away again.
coming down the slope later
arms are bit busy holding on so i wave a foot!


A little further on there was a section of the woods in a valley that was clearly older than the rest as it had loads of gnarled old trees in it. The track went up and down the valley on both sides cutting to the left mid slope several time and the tree roots were exposed in several of these turns so it made it tricky to say the least. Once again good momentum cured a lot of these problems. This area of woodland brought us to the first special test and by now I was a little apprehensive. There was a rider just setting off when I got there and after a short wait I set off in pursuit. As this lap was untimed there was no pressure to go fast so I rode steady and checked out the lay of the ground, trying to make my mind up on the best course of action. Push hard and risk a crash or safe and steady but clear it? Actually it wasn't too bad but on the first passing I was very aware of several off camber turns, on a slope too and with lose going underneath – too much throttle here was a one way ticket to crash city. In two places you needed to climb just after a turn and as it was so loose underneath it needed to be taken slowly – frustratingly slowly as the clock was ticking!The test then reached the top of a hill and we weaved along a small track and in and out loads of trees. At the finish we had to ride no more than fifty yards before the next test was ready for us.
forcing the bike to turn - chasing the guy in the distance

Special Test Two wasn't quite as tricky as the first and it was generally a bit quicker too, but there were plenty of roots and loose branches still about so you still needed to keep your wits about you and make sure you place your front wheel 'just right' or you'd be flying.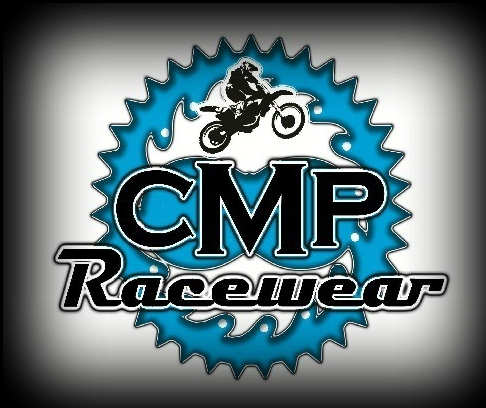 Straight after the end of the second special the lap was over. I pulled into the pits to refuel and half a sandwich, I had about ten minutes to spare so it was nice to get the helmet off of a short time. It was surprisingly warm in the woods at first. I'm not sure if it cooled down or I just got used to it after that but it didn't seem too hot after that.
video showing the full lap, including the special tests

Starting the next lap I tried to keep a nice steady pace going and it was a fairly uneventful lap. At the first special test we waited for a while and then I got the all clear so I set off in hot pursuit of the guy in front – hunting for a quick time. Things went quite well, I was still very frustrated with the lack of speed on some of the turning climbs but grip was in short supply so it was a case of 'less haste – more speed'. Then it happened, I caught the guy in front. Mad this was not something I wanted to do as in some parts of the track it's hard to get past. Thankfully the rider waved a foot to the right and I slipped past on an open section. It was very nice of him to give me some room during the test.


As soon as I finished the first test I was straight into the second and while I was slightly unhappy with my pace in the first test (once again) I felt the second one went a little better.

Lap three – more of the same but again a little tighter in time but I knew I could make it ok. Once again a fairly steady lap and at the start of the first test I asked for a little more of a gap to the rider ahead as I had caught a rider mid test. The Marshal said the rider told him he's fallen on the test but we waited for a little longer anyway. Setting off I felt more confident now and things went pretty good, some of the tricky climbs went well and I was happy with the way I was riding, I still caught a rider but once again I got past ok. The second test also went ok.

The forth lap was now a bit tighter still and filling up in the pits I was wondering if the bike could do two laps on one tank of fuel. The tank wasn't very empty so I think it might be possible. This was because I wasn't too sure if I'd get back in time to top up the tank for the final tight check. I started strongly and pushed during the lap but by the time I got to the first test I felt a bit tired and some of the small climbs slowed me down to a crawl, not good. I force myself to wake up a bit and stacked the second test. Approaching the pits I paused at the entrance to see how I was doing for time and was relieved to see I had a couple of minute in hand. I put in more fuel to be sure and rummaged around in my kit for an energy gel. I found one that said '+ caffeine' on it and thought "what the hell" and scoffed it down. Now I drink decaffeinate coffee and coke so I was hoping the kick in my pants would be enough to make the tightest check.
starting the last lap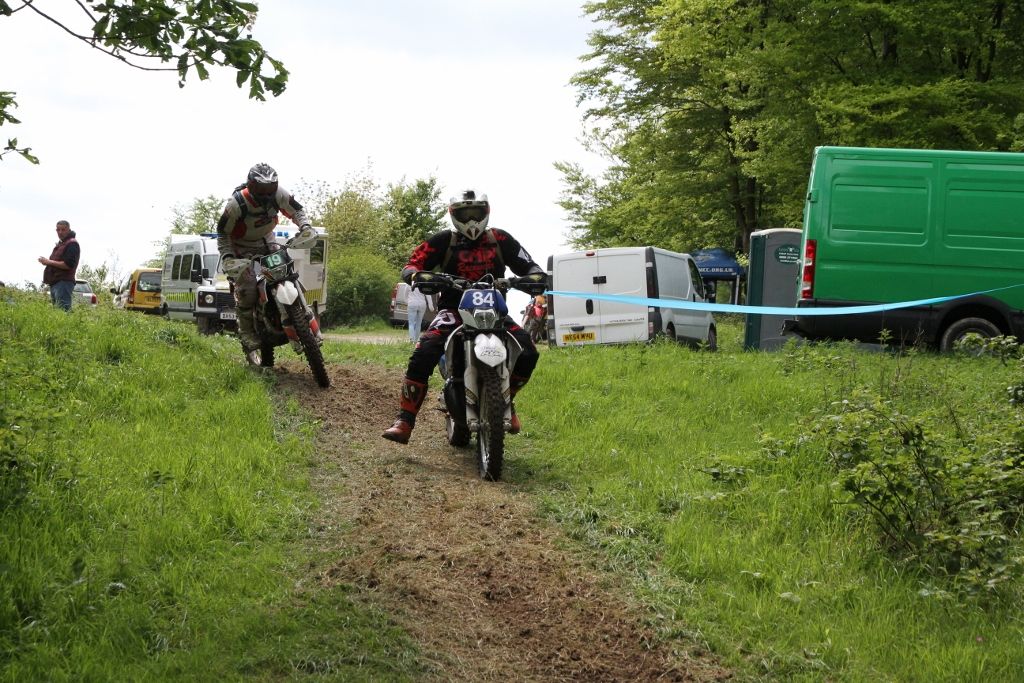 i wave a foot to let expert ride no:19 past
time to attack the course

Clocking out an expert rider came through so I pulled to one side to let him past then thought "right game on" and I got my head down to chase him. Gaining confidence all the time I was pleased that by upping my pace I could remain on his tail and I used the extra speed to attack the course. Fully focused now we had to deal with quite a few slower riders and a couple of times I got the crappy end of the stick when a rider would move over for him but cut me off but now I was on a mission and pushed hard so I actually hauled him back in again and as the lap progressed I found it easier. We came up to a few riders near the open bracken cover hill climb and I got past one then realised the next rider was going to be on the climb before I could get past. With the expert pulling clear I sat of the slower rider's tail and at the first right turn I spotted a gap on his inside and made one of the best overtakes I've ever done. I was over the moon and a little surprised it worked and by pushing some more I was once again on the experts tail. The lap carried on like this until disaster stuck, not for me but the rider ahead. We were going up the hill with the log across the track when he went very wide to the left, so wide in fact that he made contact with a long tree branch sticking out and it speared him like a jousting lance lifting him clean off the bike mid-air with the bike carrying on up the hill! It happened pretty quick and as he tumbled backwards I passed by to skirt the log to the right, then stopped to call out to him to see if he was ok. It looked like he was as he was already up and he confirmed all was ok so I cracked on. A couple of the climbs in the first test again felt like I was crawling but a bit of low flying later and I was hammering up to the pits/transponders. I knew I could clock out early on this lap so it wasn't necessary to check my time – but had I made it in time? Slowing down to legal speed I was desperately trying to read my clock and passed Nicky unnoticed who was in the pits, busy packing up my kit. Pulling up to the transponder I was glad to see I was on time – result!

I parked up and walked back down to the pits. Nicky was down the track a bit, poised with the camera, no doubt waiting for me to come past totally unaware I'd already finished! I was pretty please with myself for having got in on time as I wasn't sure I was going to be able to. The expert ride who had the big off came in and parked up and asked me if I was the one behind him. I said yes I was to which he replied "what the hell happened"? It happened so fast he had no idea what went wrong!

I caught up with a few guys after the race and got told off by Nicky for talking too much to too many people as she wanted to beat the rush on the M25. Well we didn't but all in all it was a cracking day. Hats off to the Croydon MCC for laying on such a well-run event, everything was spot on in my opinion, from the excellent final instructions, to the track layout (fantastic venue), timing and organisation on the day – well done. It gets better though, the provisional results are out and it would appear I have scored another class win, happy days!
another class win - hay!