It's been quite some time since my last race as I've been trying to get miles under the belt on my bicycle to try and regain some lost fitness and spending time with my wife working on the allotment digging up weeds - which is surprisingly hard work! Being somewhat out of shape meant the Witley race was real hard work (but I finished it) so I was a little put off doing anything else. Once the rain eased up I got three weeks of cycling in but the cold snap once again brought sleet in the evenings so I missed a few chances to cycle. So on to the next round of the SEEC time card championship and this time it was to be held at Bovington down in Dorset – bit of a trek for me and I was undecided for a while but with two weeks to go I got my entry in and for the following round too, plus the H&H at Canada Heights. Now that I had the entry in I had to give the bike a once over. Still without a new piston I thought I'd better treat it to some new tyres and new front sprocket as a compromise. The rear pads were shot after the Snowrun and the Witley race so new dunlopad pads were fitted at the rear and as Bovington was another sandy track I fitted new pads up front to be on the safe side. I would have liked to had time to pull the carb off and clean everything up as it been a little lean lately once the choke is switched off. I used to be able to fire it up on the choke, pop it back in and go. Ok it spluttered a lot until it was up to temp but would run. Lately it would die if I put the choke in too soon. What I did instead was fit the red powervalve spring and screw the adjusted flush with the body. A quick test ride seemed to confirm the power came in quicker but didn't make it an animal so it was left in for the race.
my new look - weirdie bearie
Up at 5am and on the road by 6am meant Nicky wasn't too happy but the journey down was painless and the venue was very easy to find. We were greeted by a huge smooth concrete parking area which makes a real change and the pits were concrete to. Makes a real difference to slopping though mud to get changed and lugging all the gear to the pits through mud or deep sand! It was all looking rosy as the sun was out too and it was surprisingly warm. We were parked up a few cars from Gary who was on the same start minute as me. Simon and his mate popped over for a chat too and to let Nicky know their race numbers so she could snap some pics. Signing on and scrutinering went smoothly as always but as I was talking to too many people I ended up at the back of the pits. Initially I was worried we would struggle to get to the front for our start time but as there was plenty of room there wasn't an issue.

Lap one - away we go...
coming back round riding the humps to the start of the special test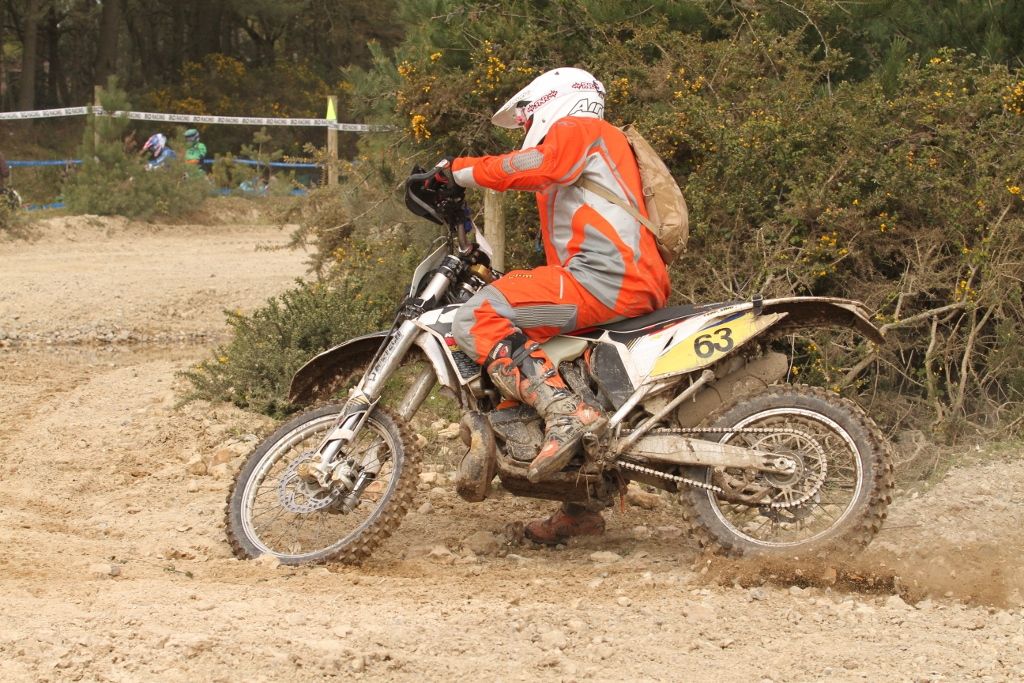 finished the test - back to the pits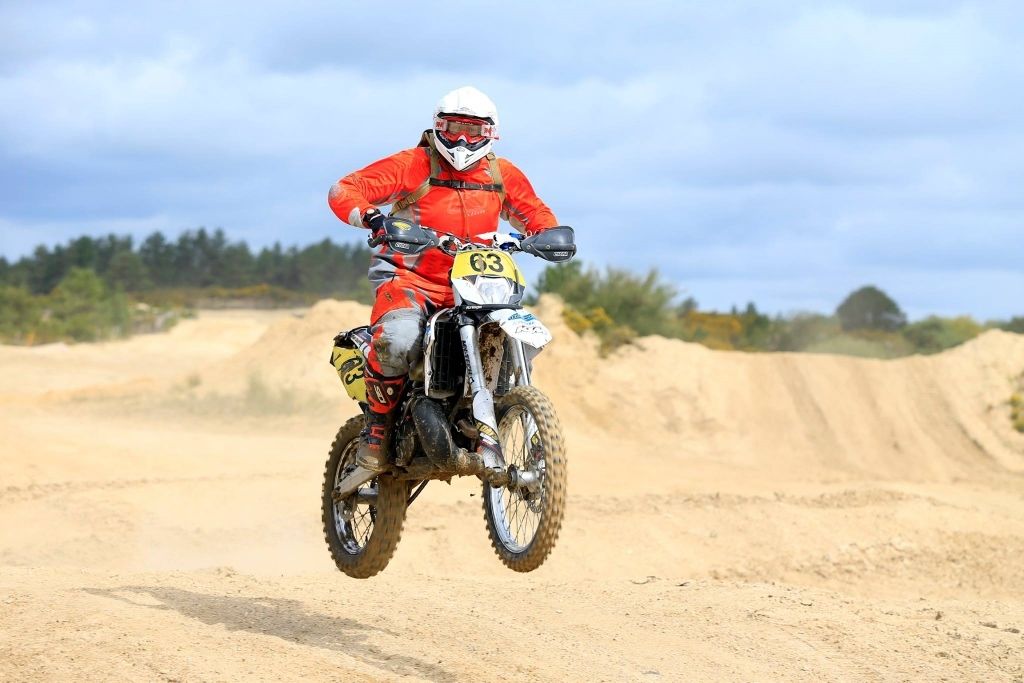 teamsnapper pic
The first three laps were quite slack being 45 minutes for the first two and then 40 minutes so there was plenty of time. It was said in the pre race meeting that this was done so that we could get to know the course as some of the fast straights had some hidden rough bits. The next three got progressively tighter with a 35 minute lap dropping to 30 and the "tight lap" of 28 minutes. These times were in clubman A the class I was riding in this year. We set off on the first lap into the trees on a flowing track but then came across a patch of boggy going that was already rutted. Going through in first gear I wondered if this was a sign of more things to come. Luckily the rest of the track was dry (with one exception) but there were a few puddles on the straights and being an army training area I kept well clear of puddles as you have no idea just how deep they could be. Without gopro footage It's hard to recite the layout of the track in accurate sequence or detail but I'll give it a go.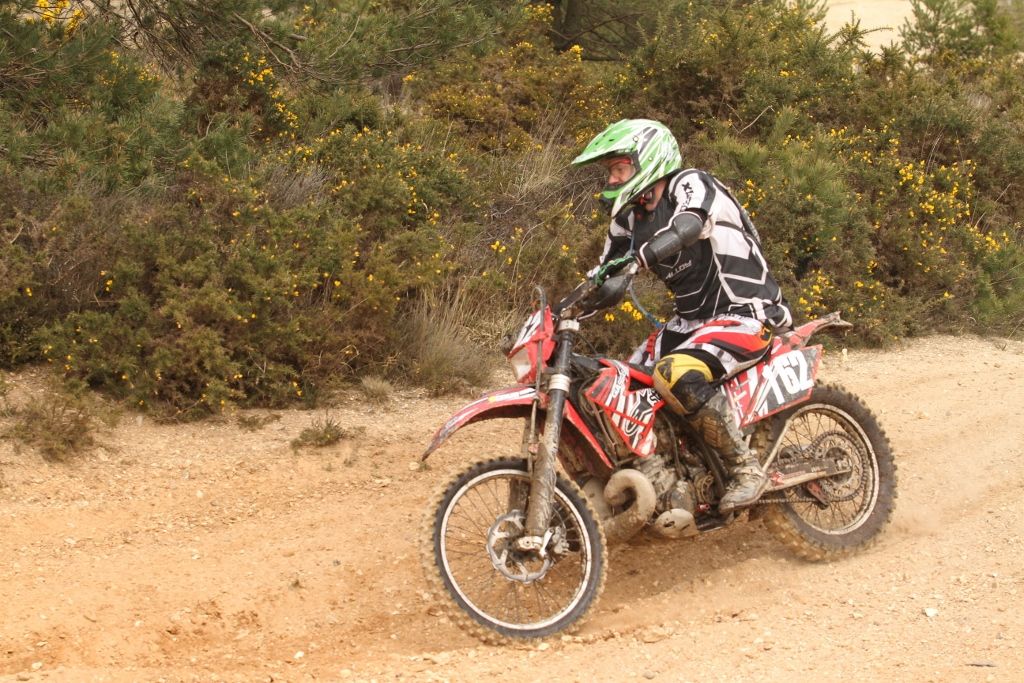 Simon Colvin
Simon's friend Nick Gifford
Gary
me trying to catch up to Gary
Having cleared the first set of woods there was a series of very wide open tracks where it was tempting to give it loads but the humps meant it was very easy to get out of control. This fed onto a concrete section where we peeled off into the woods again to tackle some nice little climbs. More straights followed and one almost caught me out when a tight right hand turn jumped out of nowhere and the track surface was quite cut up so you had to pick your line carefully. In one open sections there was a large hump to ride up and over where teamsnapper was camped out for a few laps. The other side had some puddles to steer clear off. Plenty more woods with nothing too hard but one section later in the lap was rutting up already as the going was soft and the tyres cut nasty narrow ruts.
Nick Gifford again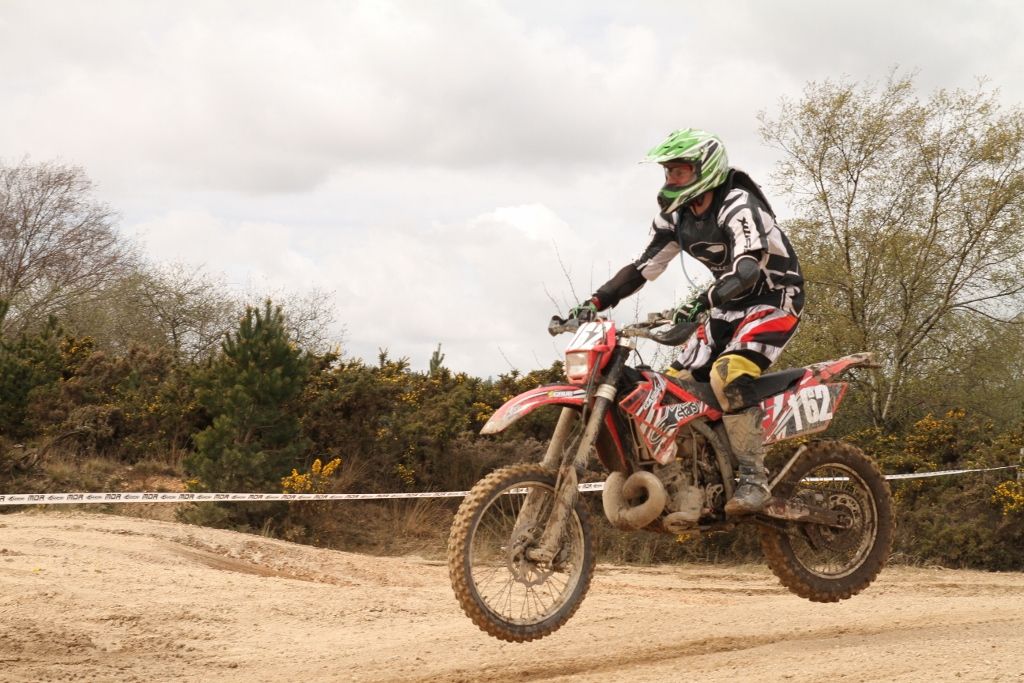 and Simon
Matthew Noad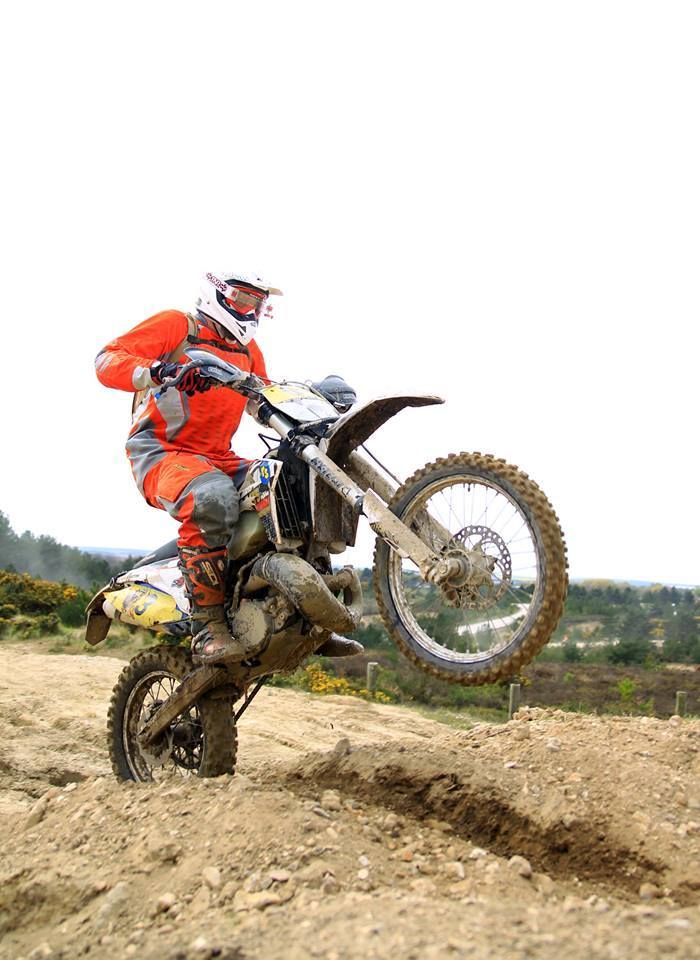 another teamsnapper pic
The newly fitted red spring had given the bike some extra snap when I wanted it but in iffy/tricky going it could be tamed by hooking up a gear and the recluse would still pull the bike forward. On the fast going the bike felt a bit lively as the humps where so big and or frequent but the suspension was well overdue a service so it was to be expected. I'd lost oil out of both in the past from having dirt under the seal and had meant to get them serviced ages ago.
Lewis Ranger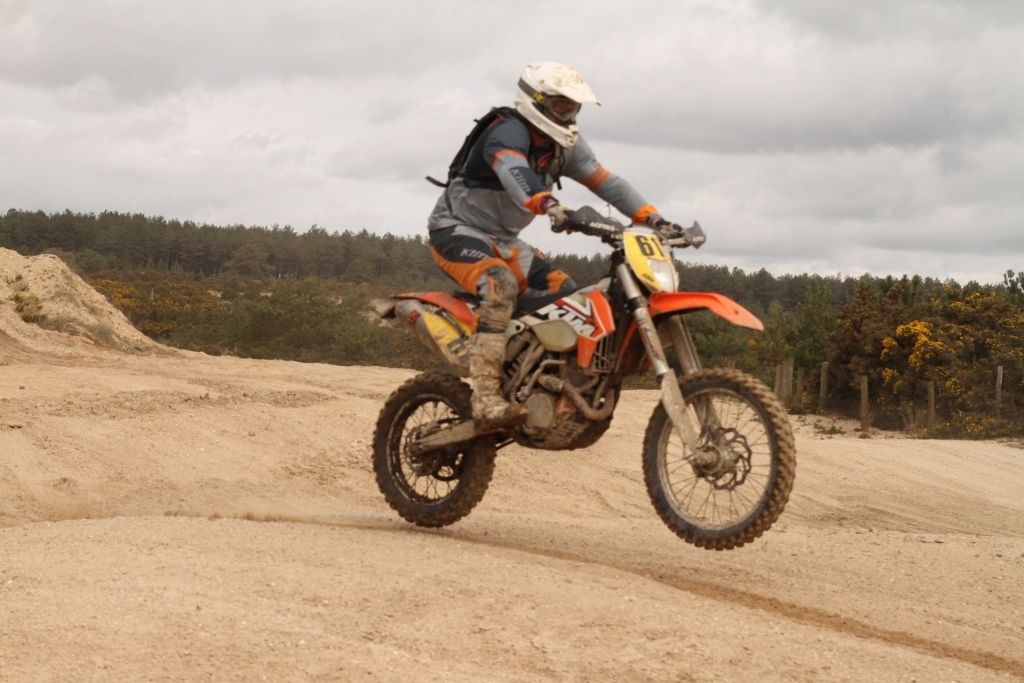 Gary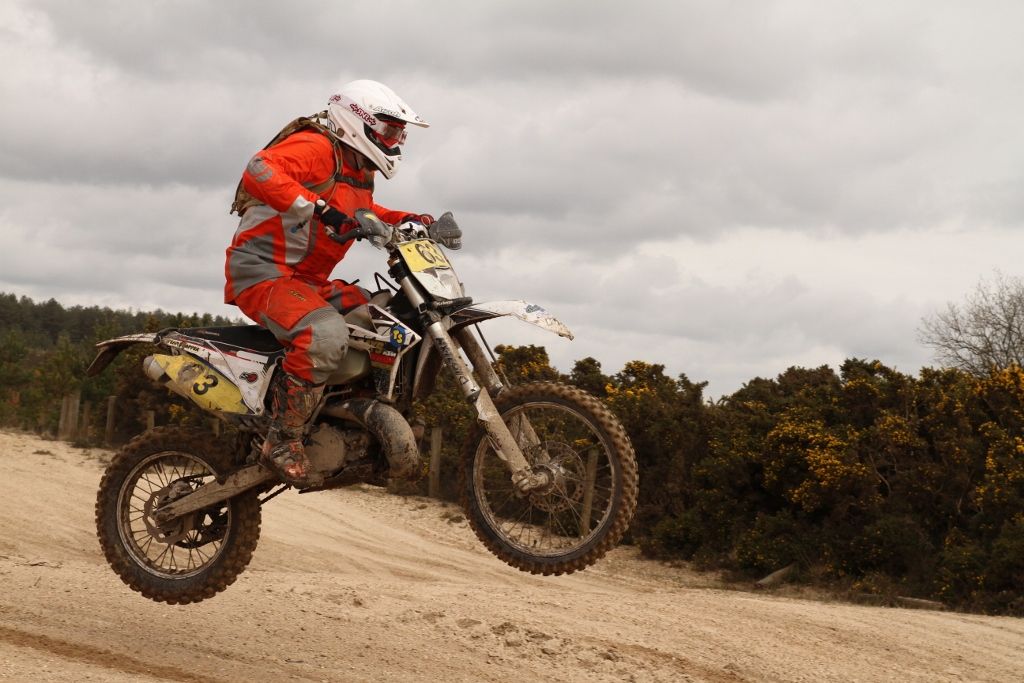 Me
The special test (not timed on lap one) had a good mix of fast bits and woods riding but maybe leant more to technical than outright speed. What it did contain was logs, my undoing. One of the larger ones I skirted round but the others I jumped - well ok lets be truthful - hit and bounced over. The first lap was over and apart from getting slightly lost in one spot it went ok. Not too many places gave you a rest, the straights were bumpy but overall a great (long) lap.
Anthony Millar was flying
Lap two I followed Gary to make sure I didn't cock up the turn again and I remained behind him for the majority of the lap but took the lead somewhere and remained in front for the remainder of the lap. At the special test (timed on this lap) I set about the fast stuff with gusto but once into the trees and the large log hop I bottled it and took the slow route.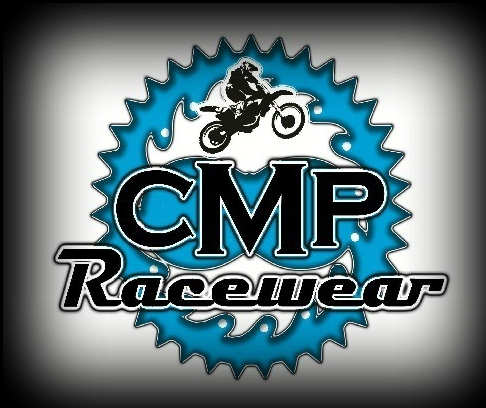 another couple of teamsnapper pics
Lap Three. Once again I followed Gary for the start of the lap but was speeding up now as I needed to make sure we had a chance at the tight laps. Dust was starting to be a bit of an issue on the fast going and on occasion the track would completely disappear, forcing us to slow down for a moment. On the second timed run of the special I opted to jump the large log and thankfully it went ok.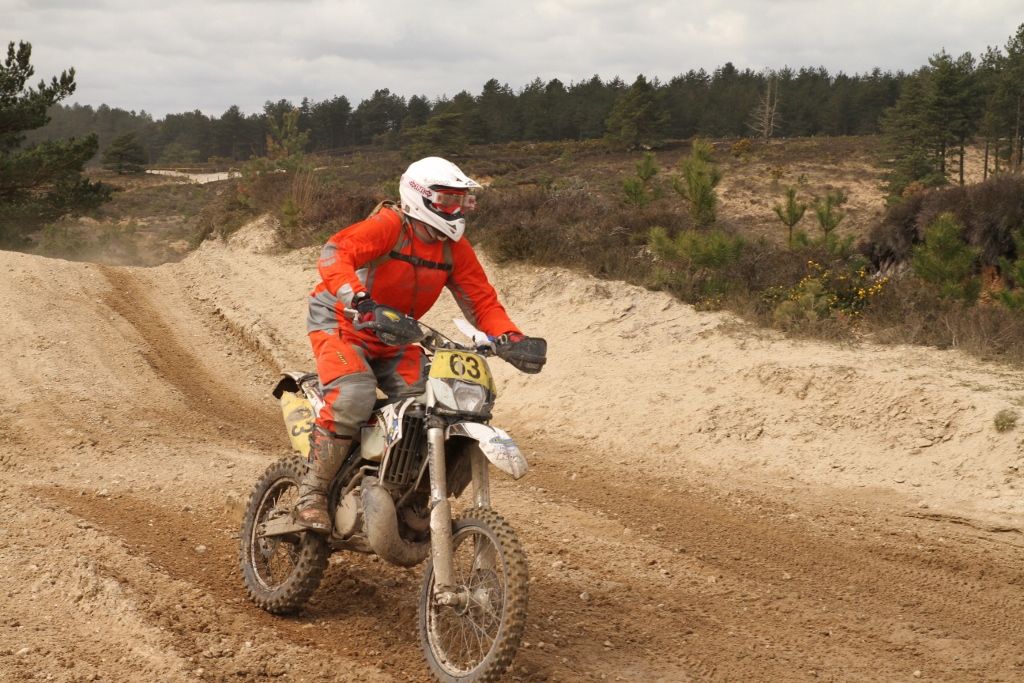 in this pic you can see the lay of the land to give you some idea of the venue
Gary
Lap Four was down to 35 minutes so it was time to crack on a bit. I was hot on Gary's heels coming onto an undulating open section and lined him up for an overtake. Unfortunately there was another rider on the track on this section too so Gary went wide and through a puddle – completely blinding me as I road full tilt into the muddy splash. I pulled frantically at the RNR goggle's toggle to get clear film and some of it did clear but the force of the water had pushed brown liquid up under the film so it was only partially clear. The test section of the track went fine and I made a lucky pass on one of the logs where several people had got hung up. I got back to the pits with 30 minutes on my stopwatch so I looked like I could make the next lap. I think Gary had got held up in the rutty section as I seem to remember him trying to re-pass me there but got a little unbalanced in the narrow ruts.
dust in the air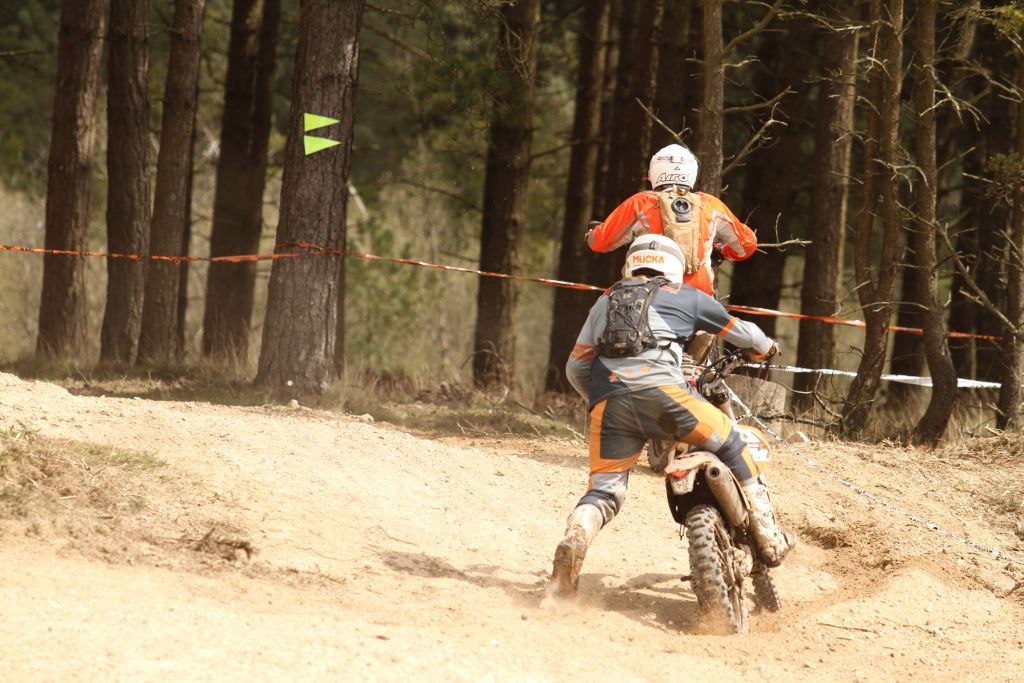 Gary in hot pursuit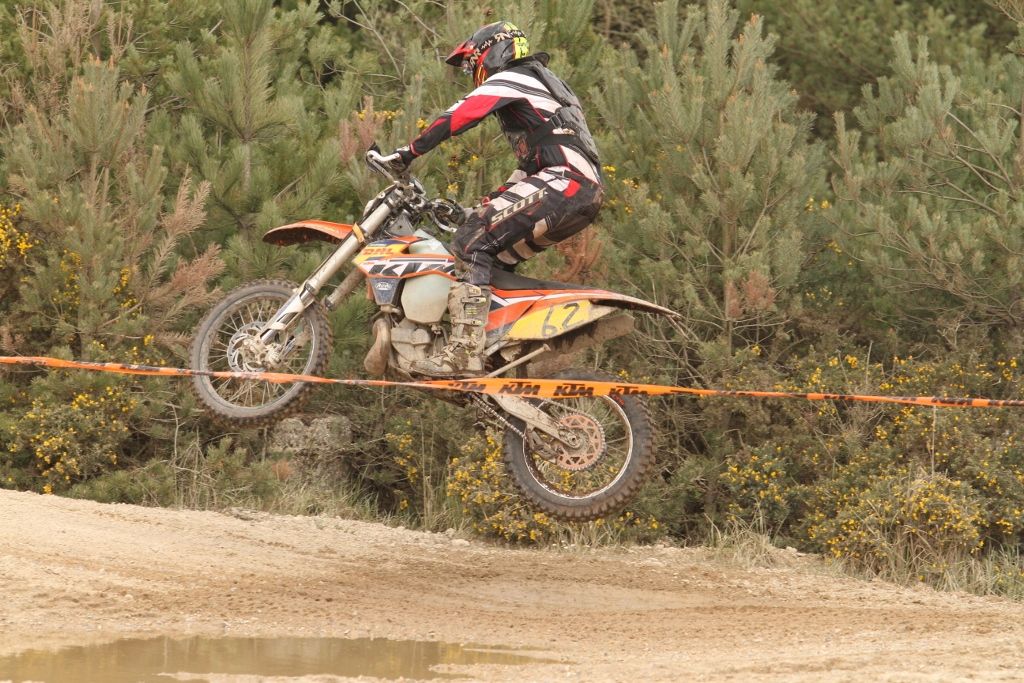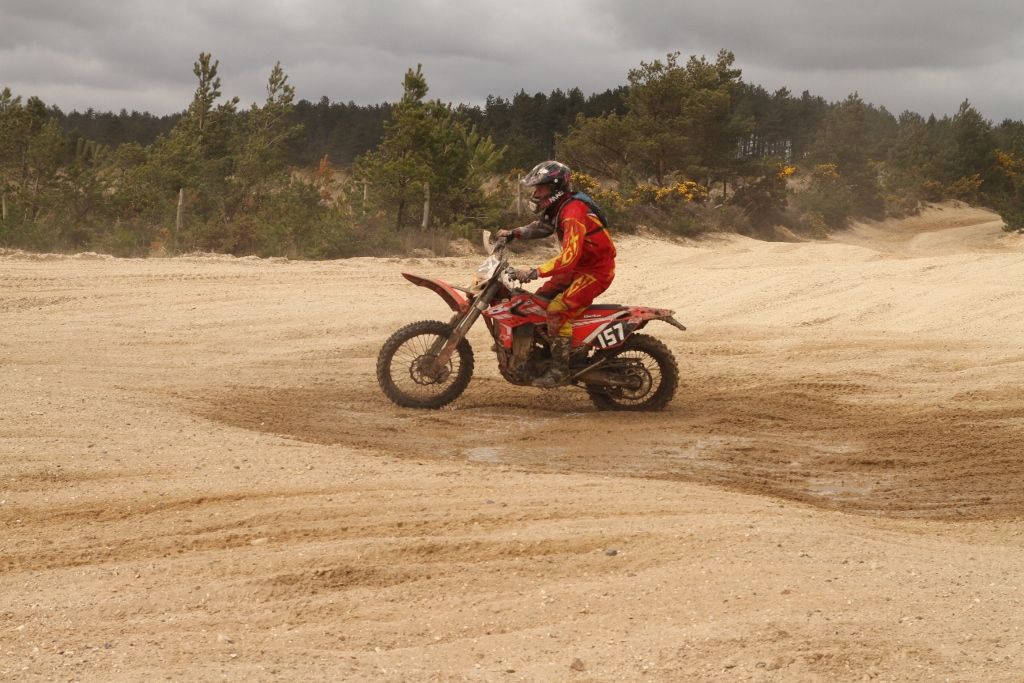 oops!
Lap Five was a tight 30 minute lap but I knew we could make it as I already had done a 30 min lap earlier. Gary and I set a quick time but had to slow on a straight due to dust. I was right on his back wheel the whole lap and in the narrow rutted section I took a different line and overtook him but then had to take avoiding action as a rider up ahead was stuck. It was at this point where it all went horribly wrong. As I went to the left the bike didn't have enough oomph to clear the next obstacle and got stuck in a nasty deep rut with a root in it. This was a disaster for sure and rocking the bike and pinning the throttle did nothing to alleviate the problem so swearing loudly I jumped off and gave the back end a pull trying to clear the root but it still would not budge so I had to wrap my arm under the back and lift the bike out into the next rut – where it got stuck again! More lifting and I was eventually out and on my way. But by now I was blowing out my arse having put so much effort to get the bike clear so my riding wasn't great. Also I was 100% sure there was no way I could make the lap on time. At the end of the lap I went straight to the clocking machines to start the next lap and I could see I was two minutes late.
another wide shot gives a good view of the fast open sections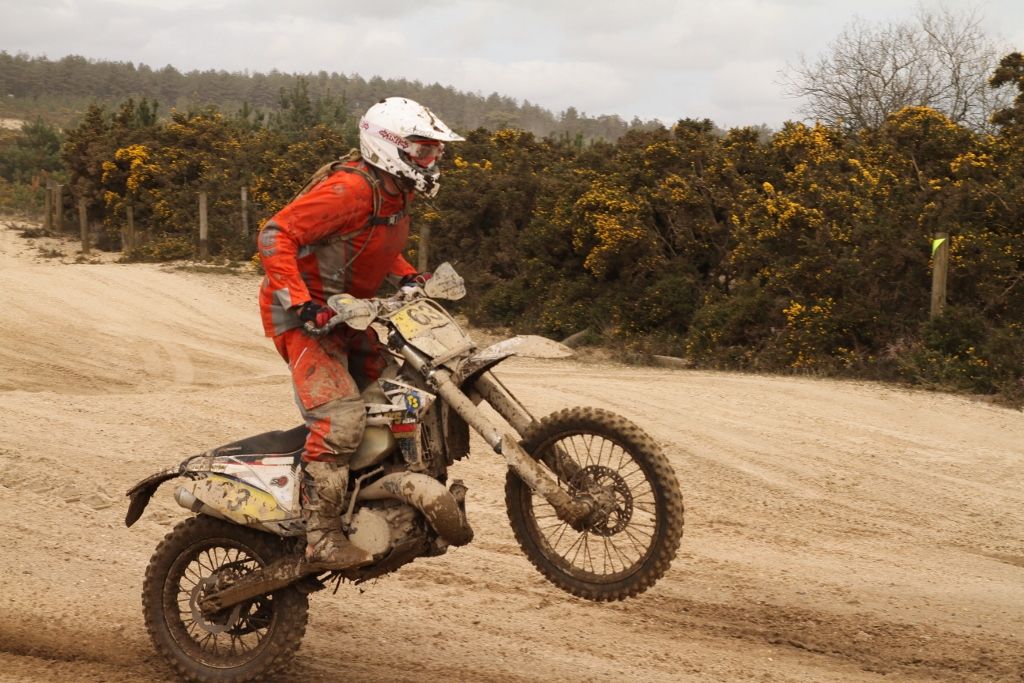 Lap Six – the last lap and tightest one of the day for clubman A. I was a little de-motivated now as I was already on a losing ride having dropped time unnecessarily on the last lap........ f*ck me if I didn't do exactly the same thing on the next lap, in the same place! This time the bike just got jammed into a narrow rut as it was so deep and it took several attempts to get it out. Once again I was breathing hard and my riding suffered, either my concentration lapsed or I was just plain tired as I tipped off on one of the logs in the test area then dropped it again on a tight turn that had a lot of lose sand on it.
last lap
Despite the great track I felt a little let down at the end of the day as the two instances of getting stuck had ruined an otherwise good race. Considering the lack of bike time I'd had this year I went into the weekend being realistic and hoped for a top ten finish. When the results came out I was pleased to see I had indeed just about managed to achieve that by coming home tenth in Clubman A. Well done to Gary who got 7 th.
I must say a quick thank you and well done to all those involved with putting on the event. It was very well run, good course marking, great parking and a cracking bit of land to ride/race on. All in all it was well worth the longish drive to the venue. I'll certainly be back.